If you're looking to bring loads of fun, lots of laughs, and a way to share great memories to your Christmas party, then these Christmas photo booth props printable are it.
Now that everybody walks around with their own camera in their pocket, photo booths have become a common feature at all sorts of parties.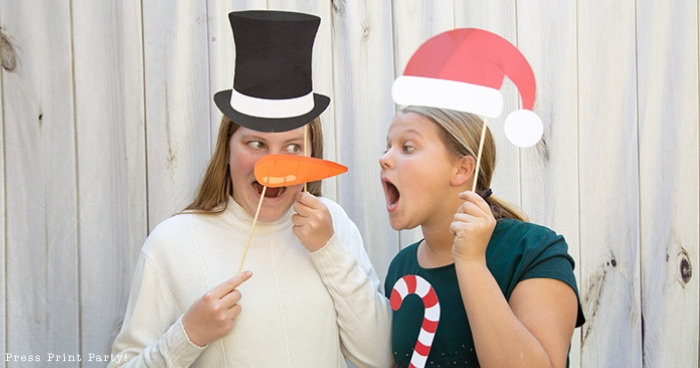 Especially if you're planning a big event like an office party or a church dinner, you need to keep your guests occupied and offer a way to have a little fun.
I created this photo prop set for a large church Christmas event. The booth was one of the highlights of the night with tons of families taking advantage of the backdrop and silly props to make some fun, holiday memories.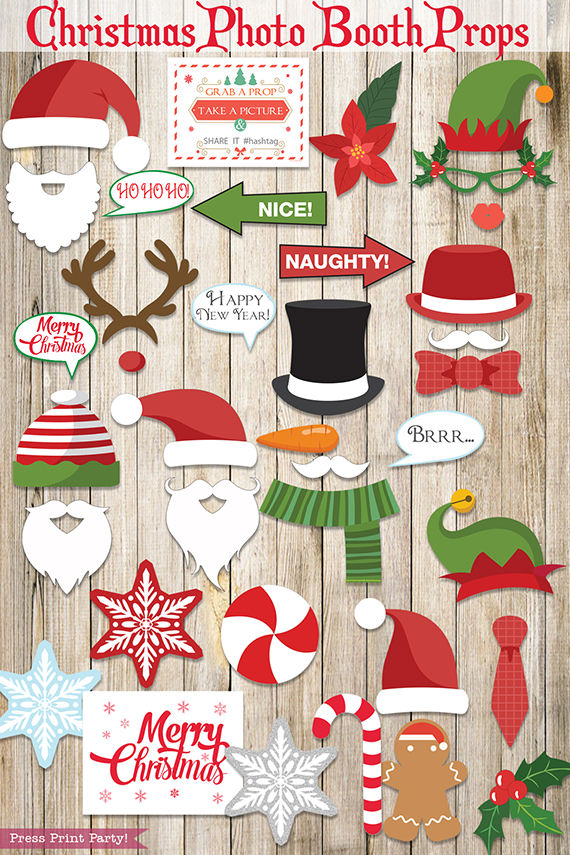 The sign with the event's hashtag increased their social shares that night and everyone was able to see all the silly pictures.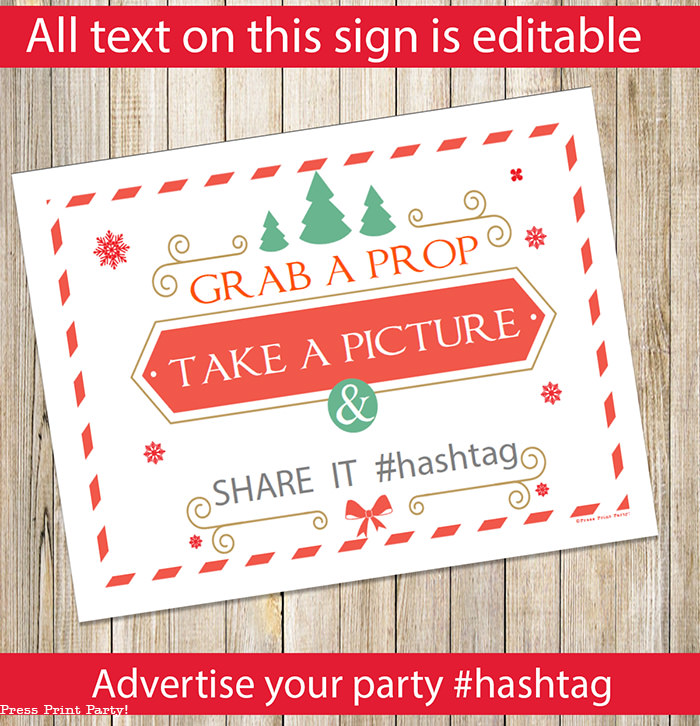 You can do the most fun things with these props. Like, pretend to be Santa Claus and Rudolph, a Snowman and snowflakes, or a couple of silly elves. Everyone will love using these props to spice up their Christmas photos.
You get everything you see on the picture. You can go to the Christmas photobooth props product description to see the full list. The white Santa beards also come with SVG cut files.
They're fun and creative and I guarantee you that all the children in your family will go nuts over these.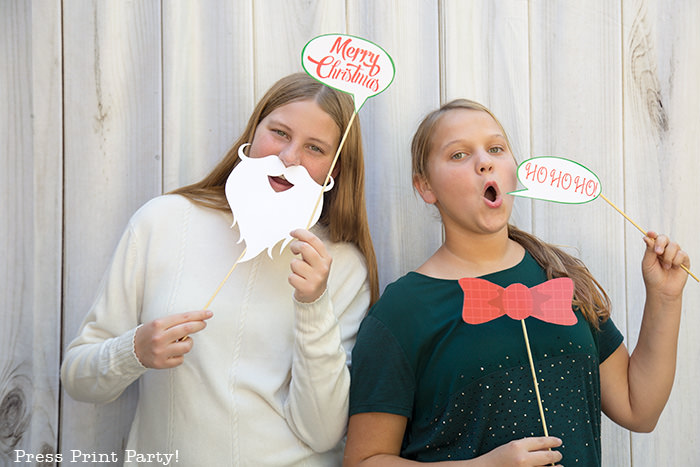 But I'll let my 12 year old daughter say it:
"I love these props so much. My sister and I had loads of fun pretending to do all sorts of silly things with these cool props. She pretended to be a snowman and I pretended to eat her carrot nose, or she pretended to be a sugar fiend and I pretended to think that she was crazy.
"We had the most fun time picking out different props and doing different things. You don't have to stick to the classic Santa Claus and elf, you can do goofy things like pretending to steal Santa Claus's hat, or Santa Claus could give you that questioning stare trying to figure out if you've been naughty or nice."
"The possibilities are nearly endless. With a supply of props like this, you could even try imitating a scene from a Christmas book or movie in your picture. You will love these. I'm sure of it."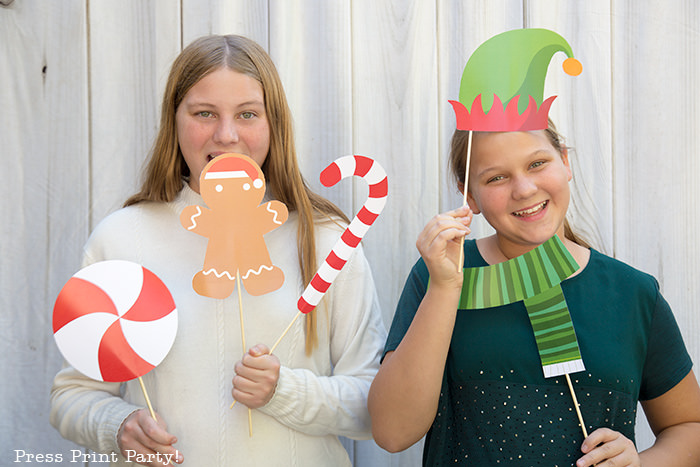 You're minutes away from the fun.
Just get your download, print on cardstock, cut, tape a BBQ stick on the back, find an empty wall, and you're in business!
If you want to make your photo booth a little fancier with a backdrop there are plenty of inexpensive paper and cloth backdrops available on Amazon.
My white wood backdrop is actually a cloth curtain that looks like wood, hung from a PVC frame. The PVC frame is simple to make, and rugged. I use it for all my parties.
No more boring Christmas photos on your wall! Use these props to make this year's Christmas photo the most fun you've ever seen.
Take a peek inside the file:
Don't lose it, pin these fun Christmas photo booth props printable: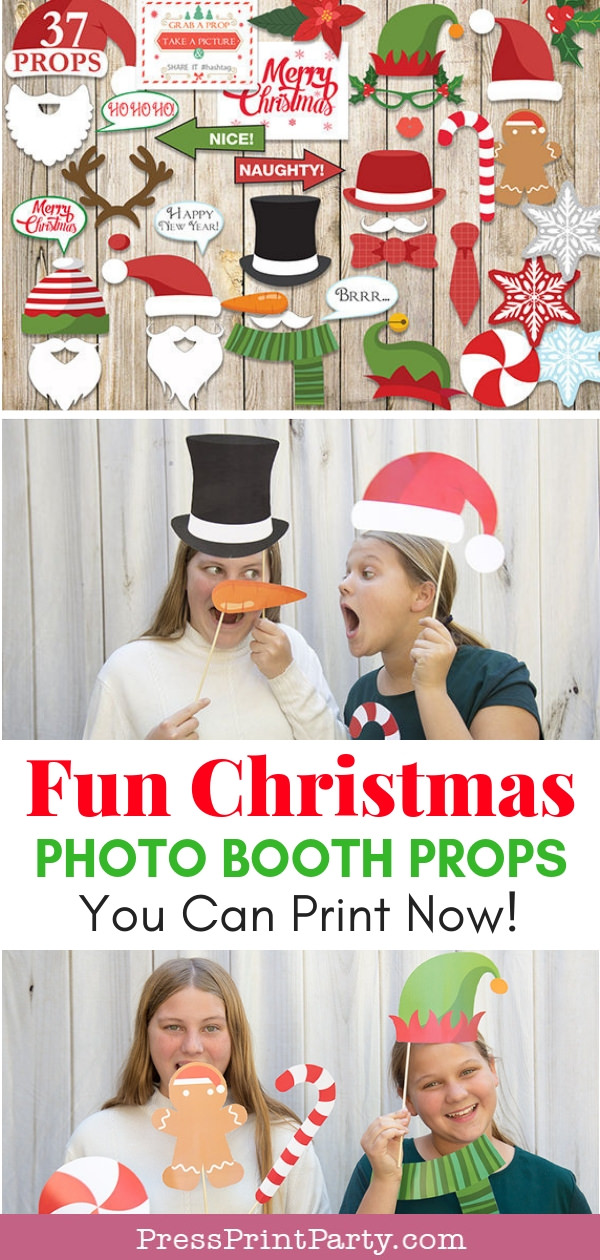 Check out our Christmas printables