It's Halloween night and my teenage daughter still does not have a costume. She'd been thinking about making a homemade jellyfish costume but had made no progress toward that end.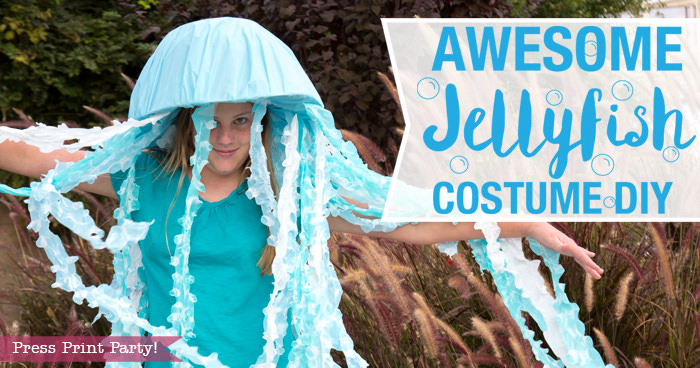 This post may contain affiliate links.
A quick search on Pinterest produced many tutorials on how to make jellyfish costumes with umbrellas.
That's a problem.
Living in Southern California means that I haven't seen an umbrella in years. I wasn't about to scour every store in town to find one, especially a clear umbrella. Maybe if you live on the East Coast you can just go to Walmart, but here, an umbrella is a specialty item.
She also wanted to have her hands free to grab all that sweet trick-or-treating candy, so holding an umbrella all night wasn't going to cut it.
Fortunately, I saw some Halloween jellyfish costumes made with a sombrero. We don't have a sombrero but we had an old gardener's hat.
Actually, we have several old gardeners' hats In various conditions.
It happens that my husband is a hopeless scrounge and that no hat flying off any gardener's truck is safe from his grasp. Highway, hillside, ditch, he'll retrieve 'em all. I guess I'm grateful. His hoarding came in handy this time.
After a quick trip to the dollar store to pick up some plastic tablecloths that we didn't have on hand, we were ready to start.
Other than the tablecloths, we used only items we had already at home so the total cost for us was $3.
We also put this adorable costume together last minute in under an hour. Winner!
I will show you how easy it was to make and how you can do it too. This sea creature costume ended up being very popular on the streets, we got lots of oohs and aahs while trick-or-treating.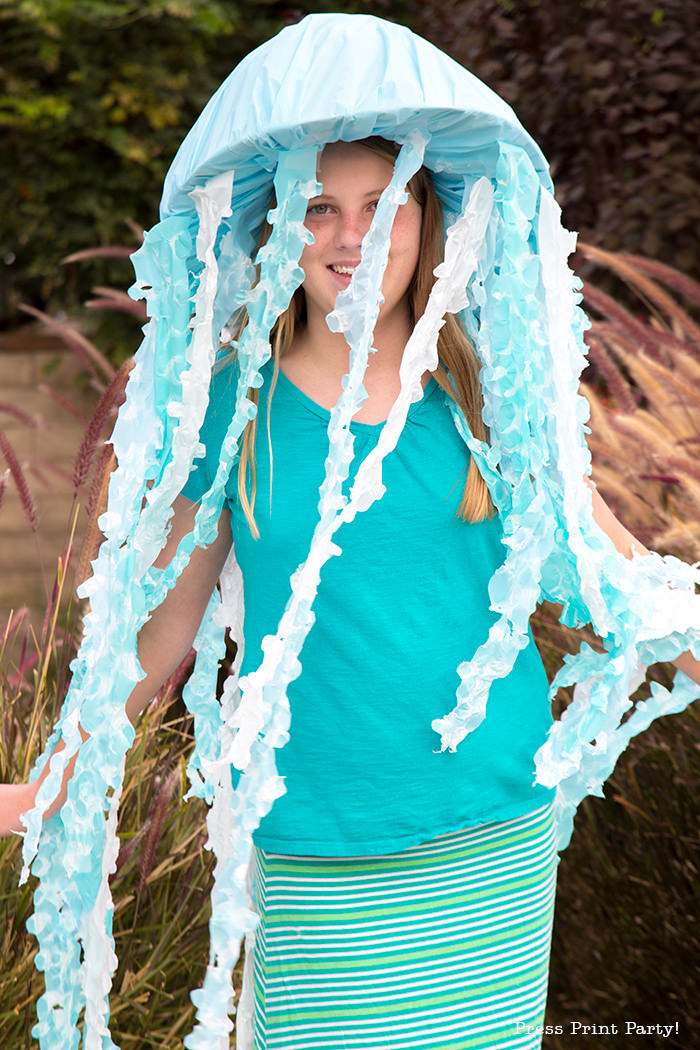 This light-up jellyfish costume would work great for an under the sea or finding Nemo theme party with other sea animals.
Easy Jellyfish Costume Tutorial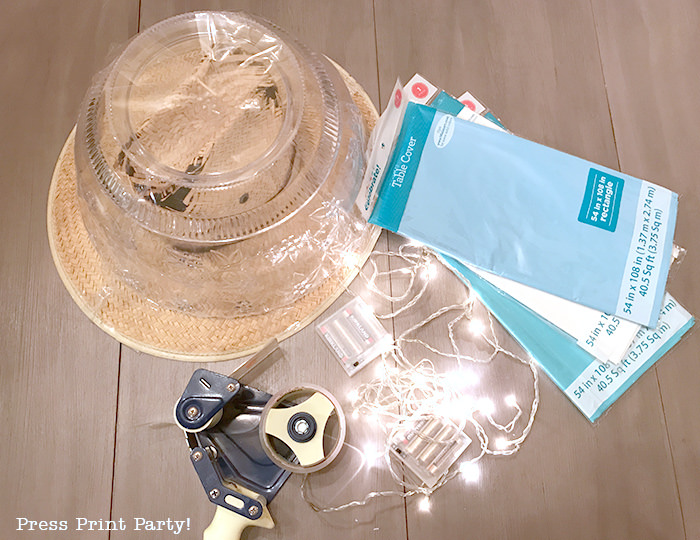 First, place the bowl upside down on top of the hat and tape it securely with the clear packing tape. Keep in mind that the LED lights will have to go in between the hat and the bowl.
Our sorry excuse of a hat was so old that it already had some very convenient holes on the top so we could tuck in the lights in at the end.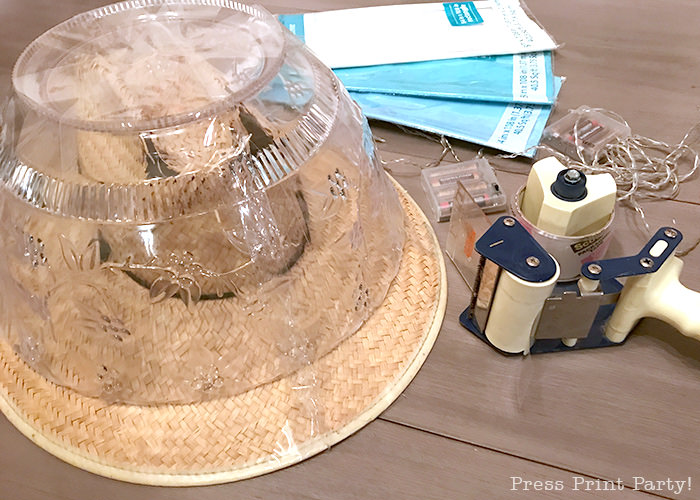 Then you will want to wrap the bowl-hat in a double thickness of the light blue plastic tablecloth. We just secured the tablecloth to the insides of the hat with more clear tape.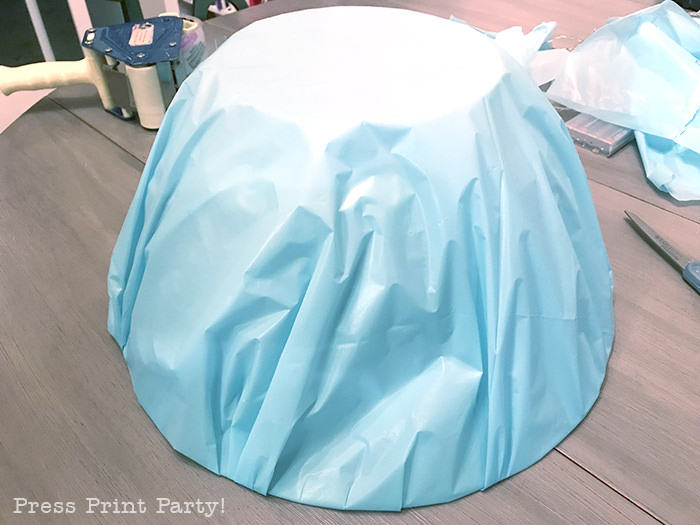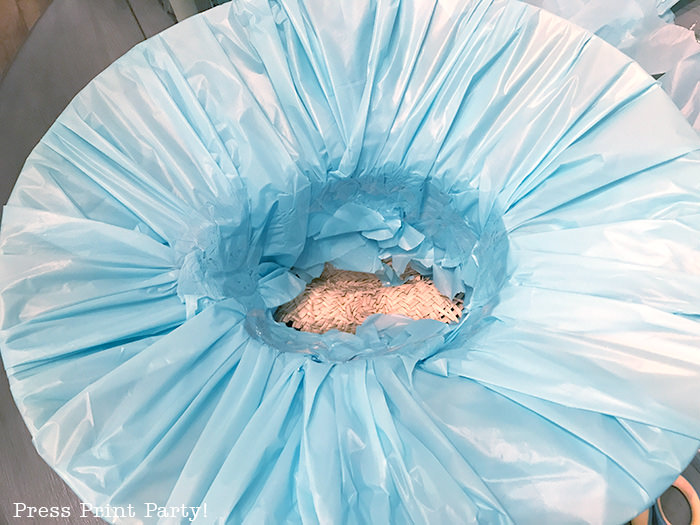 Now it's time to cut strips from all three colors of tablecloths.
Leave the tablecloths mostly folded and cut several 2-inch strips.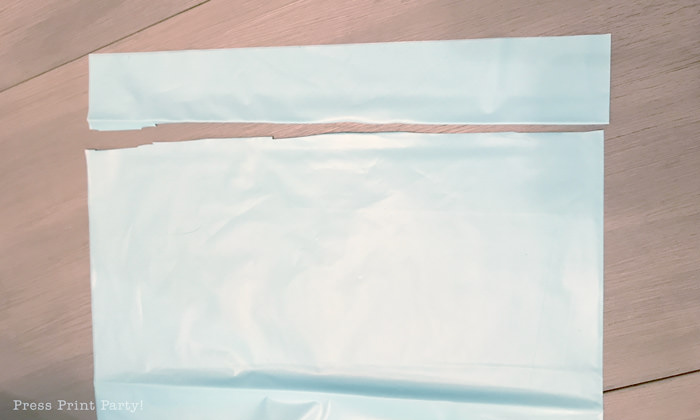 Unravel the strips.
You'll want to hold the strip in your hand and pull with your thumbs on each side of the plastic.
Proceed in this manner about every 1 to 2 inches all the way down the long edge of the strip. You could make them different widths if you want.
It will make the plastic look wavy, like thin tentacles. It's a trick I learned from our amazing Under the Sea decorations for Vacation Bible School.
Look at the pictures below for a visual.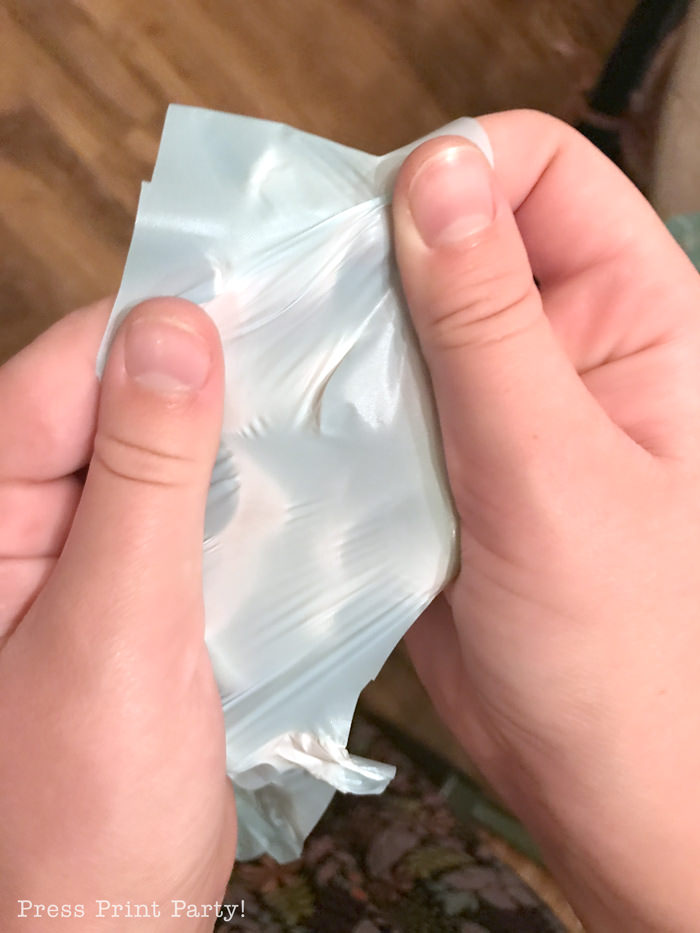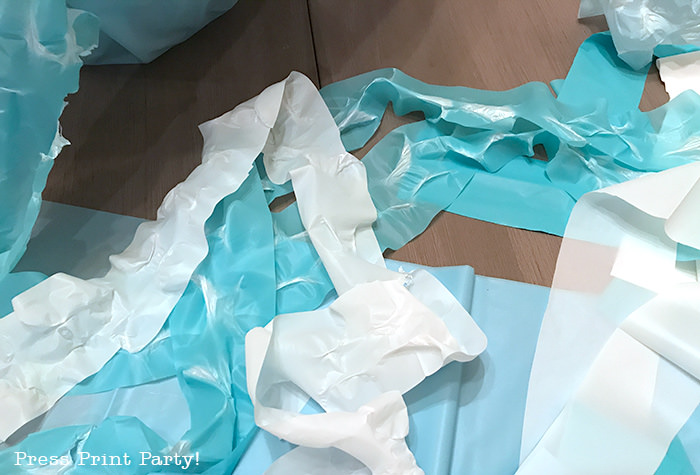 Do this for every strip of plastic. You will need about 30 to 40 strips in all. Making strips of various lenghs adds to the wavy effect.
You'll also need to keep in mind the height of the costume wearer for the length of your strips. You don't want them to trip over the tentacles.
You can see the strips of plastic looking like a beautiful wall of seaweed as well as many other Under the Sea decorations in my VBS post.
Now just tape your tentacles to the underside of the brim of the blue jellyfish hat with more packaging tape.
You could use a low temp hot glue gun for that too.
You could also add some long strips of ribbon if you have some in the right colors.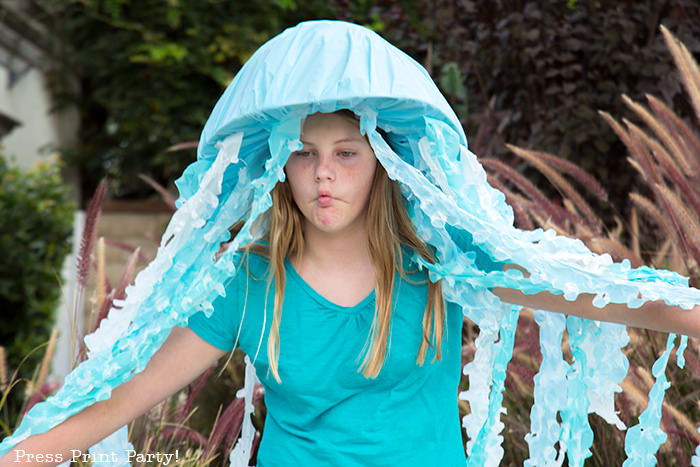 You're now ready to install the LED lights between the hat and the bowl. If your hat has not been scrounged by the side of the road and does not already have holes in it, you may need to create some to be able to tuck in the lights and battery pack.
I'm sure you could figure out some other way if you don't want to sacrifice your hat. But the "pre-installed" holes allowed me to turn the lights off and on at will.
My daughter crammed a bandana on the inside of the hat so it would fit her head better and stay put. And she put together a green outfit to match the jellyfish costume.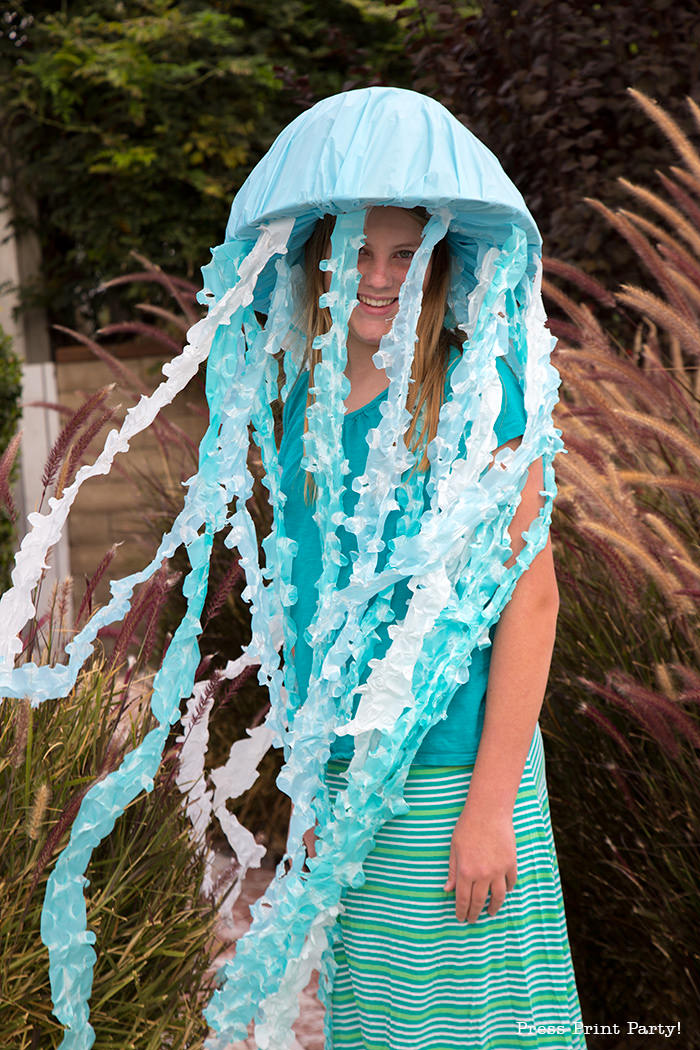 Now turn on your LED lights and get out trick or treating.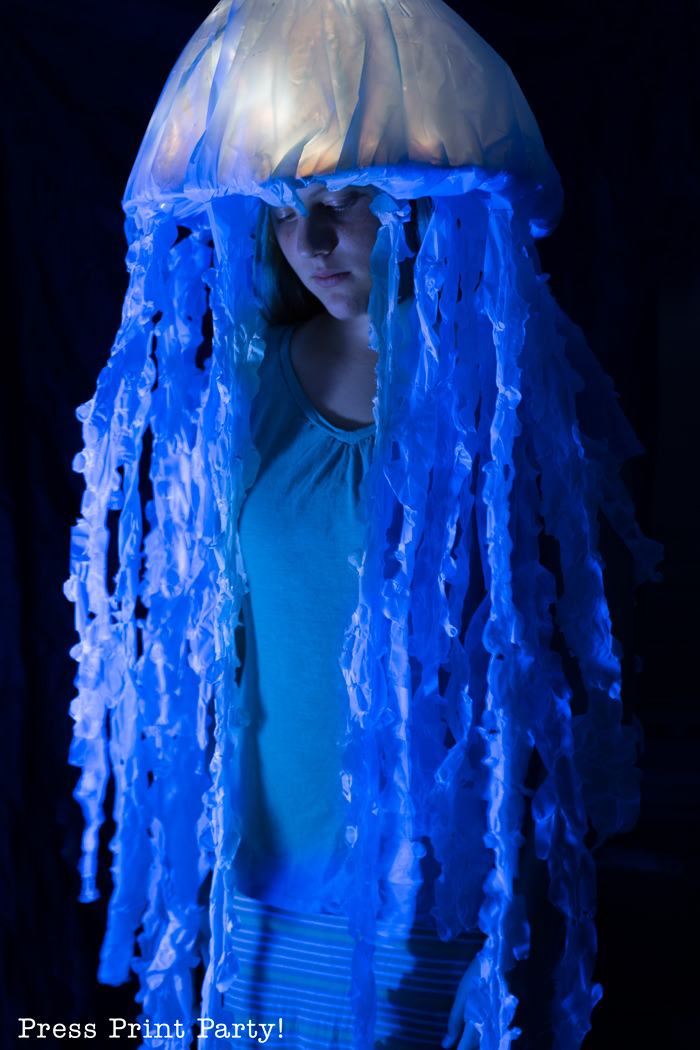 I promise a lot of stares and thumbs ups along the way.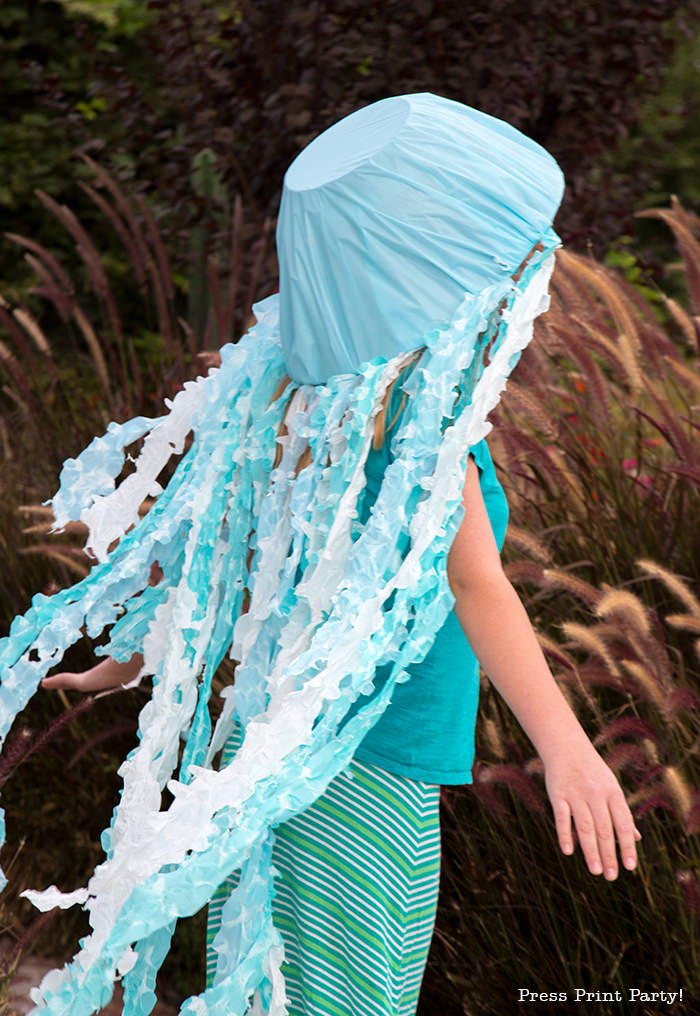 The costume was a huge hit and fared well all night. And the best part is that it was still intact the next year and my youngest daughter chose to wear it again.
I'm sure it will make another comeback on future Halloweens.
Let me know if you make this fun jellyfish costume. I would love to see your pictures especially if it was your first time making a costume.
I've got lots more tutorials and ideas for you to create some awesome costumes to ease the frenzied Halloween season.
Like my easy ghost, bat, butterfly, and black widow spider homemade costumes as well as a long list of last-minute Halloween DIY costume ideas.
Halloween is fast approaching and it's a boo-tiful thing.
And don't forget to pin this jellyfish costume tutorial for later.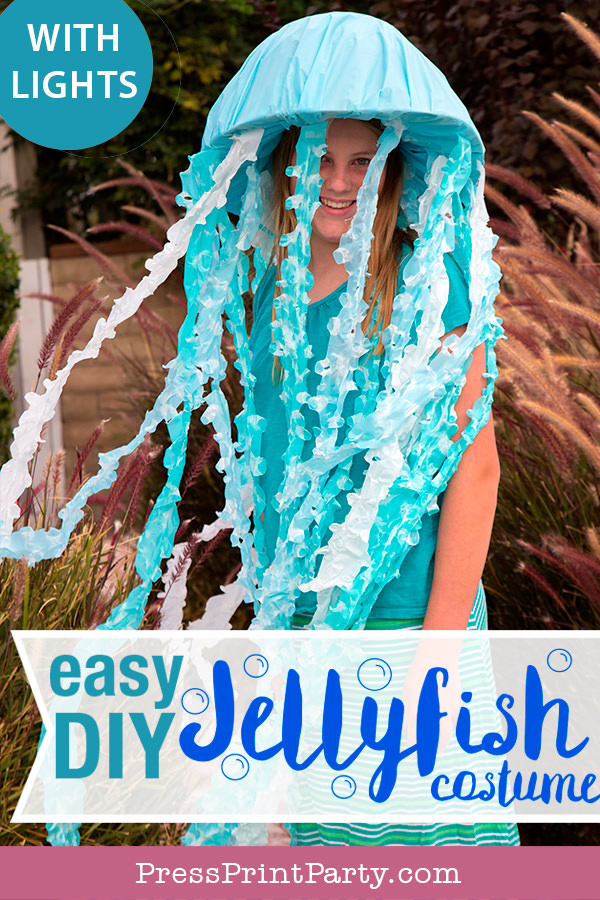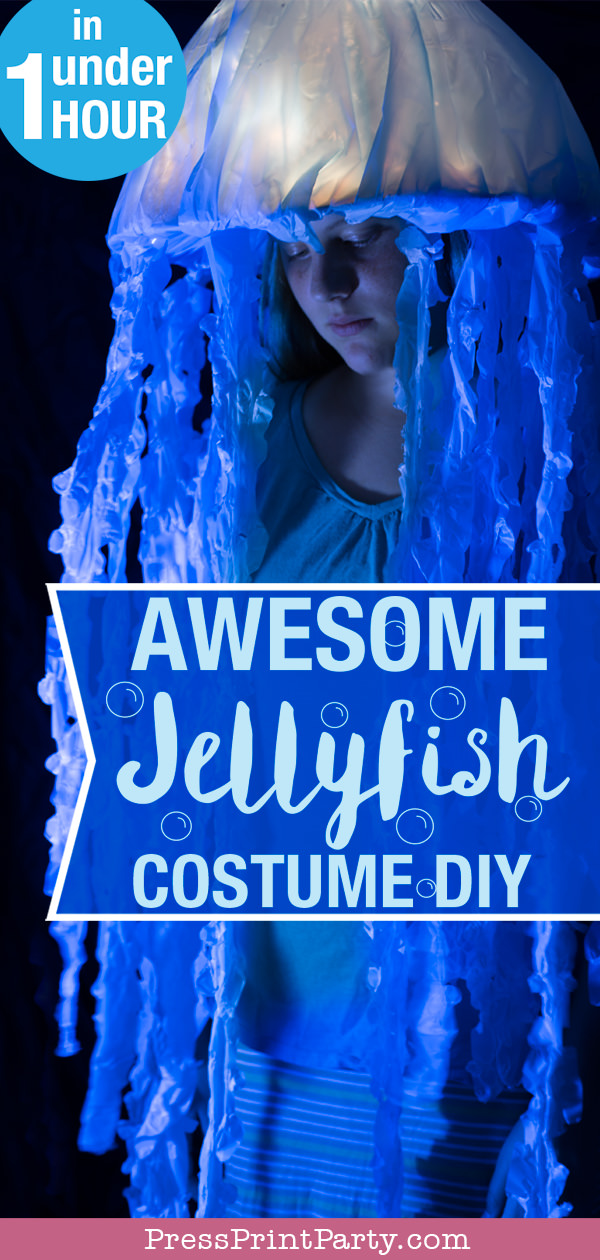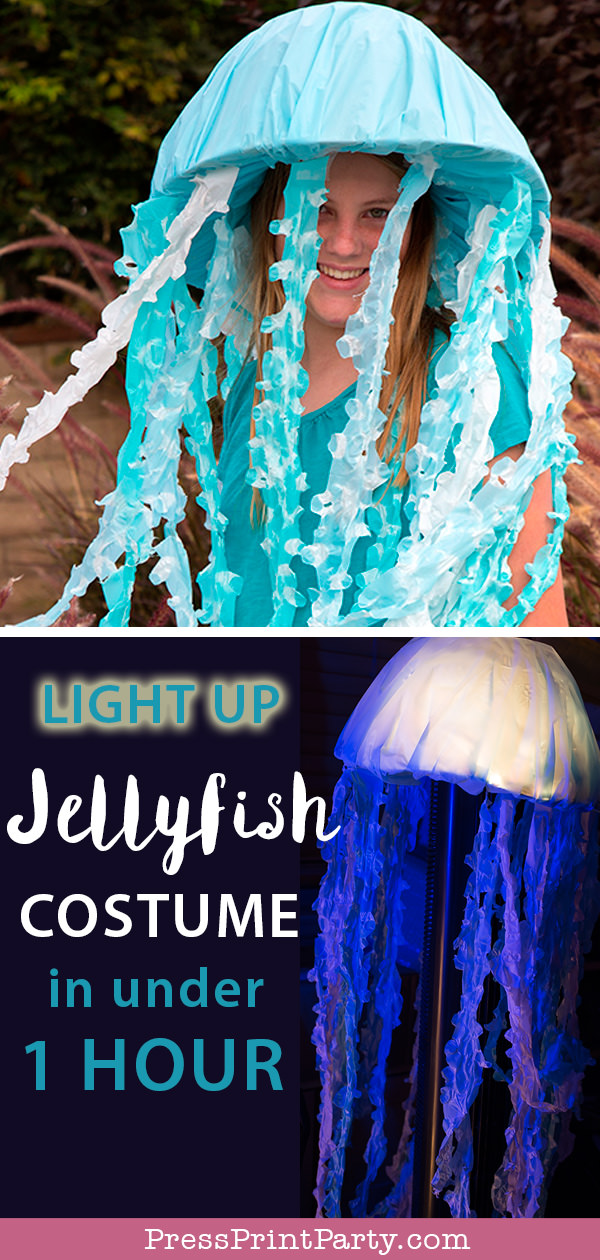 Check out our Holiday Printables!