Halloween is just around the corner. But there's no reason to panic.
There are tons and tons of fun, interesting, INEXPENSIVE last minute Halloween costumes DIY out there. And many of them you can make at home even at the last minute.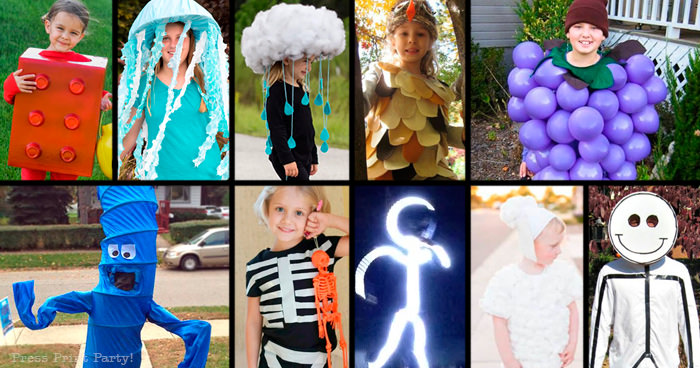 If waiting until the last possible moment is you're M.O. you're not alone. I've woken up more than once on Halloween morning with no idea what my kids were going to wear.
And more than once they've had no idea either.
I'm a little afraid that I may be teaching my kids poor time management and the fact that we've been able to pull off cool, last-minute costumes may only reinforce that, but we're going to look at it another way: You weren't irresponsible. You gave yourself the opportunity to flex your creative muscle and you proved to both you and the kids that you can perform under pressure.
Sure, that's how we're going to spin it. And if you pull off another DIY costume miracle very last minute — just seconds before the first trick-or-treater arrives at your doorstep, I officially give you permission to pilfer whatever you like out of your kids' candy bag. Or better yet, go re-familiarize yourself with all those warm-you-all-the-way-down adult beverages that make the cool weather so much more pleasant.
Either way, I curated a great list of easy DIY Halloween costumes. They're all creative and interesting but are also quick and easy to make. Some can be made in an hour, and others may take half a day or so. In any case, you'll love the ingenuity of these clever moms and dads.
---
Make a Cool Jellyfish Costume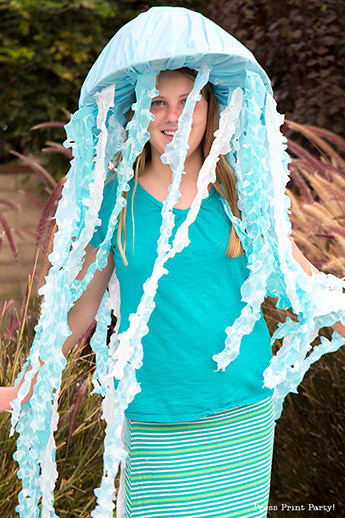 This Jellyfish costume is my most popular costume DIY by far. Once you have all the material gathered, it will take you about an hour to transform your kids into an impressive Jellyfish. And the costume even lights up!
As far as last-minute Halloween costume ideas go, this one is near the top of the list for making good use of things you already have at home. I imagine the only thing, or maybe two things, you might not have at home are plastic tablecloths and a lightweight clear bowl. Aside from that, kids can wear normal clothes that match their intended color scheme.
---
Be Original with this Flailing Tube Man Costume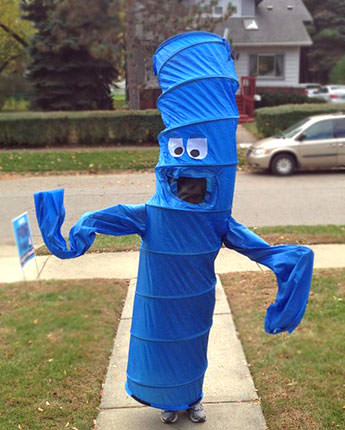 What a great way to re-use that old child fabric tunnel in the back of your closet. This homemade Flailing Tube Man costume is just hilarious. You'll find the full set of instructions on the DIY Network website. This is such a simple costume that your kids could use more than once.
---
Last Minute Halloween DIY Prisoner Costume
Black tape and a white shirt are a simple way to make a quick DIY prisoner costume. White pants complete the look but you could probably get away with black pants (especially if you have white tape). You'll also love how Crafts by Amanda also homemade the ball and chain.
---
Beautiful Owl Costume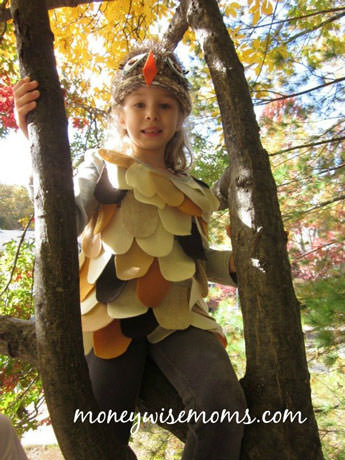 Money Wise Moms has a great no-sew method to create this homemade owl costume for kids. You'll be amazed how quickly this beautiful costume pulls together. Perfect for your little critter enthusiast.
While this costume requires a little more work than others, its base is just an old t-shirt. And did I mention you hot glue the feathers on? No sewing required.
---
Simple yet Fun Stick Figure Costumes
This might be one of my favorite easy costume ideas. These white-on-black stick figure costumes from Mommy of a Princess are adorable in the light and would be even more impressive in the dark. Want to add a pop of neon? Just use different colors of masking tape or duct tape.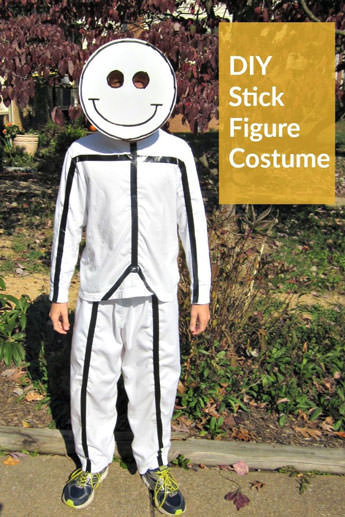 But you could go with the more traditional black-on-white stick figure from Money Wise Moms with a hands-free mask. This one might come in first place for "easy Halloween costume."
---
Stick Figure Costume with LEDs
---
Go Classic with an Easy Ghost Costume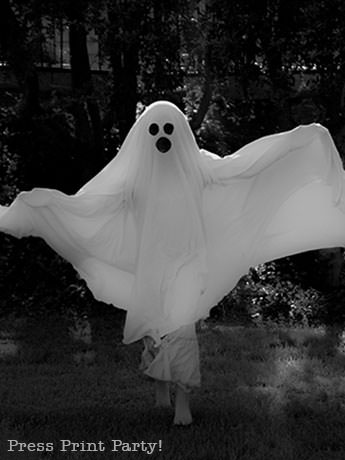 Taken from the pages of the Halloween classics textbook! This ghost costume is even made out of a sheet. The most tricky part is getting the eye and mouth holes right. Don't worry though, I have great instructions on my ghost costume post.
---
Turn Balloons into a Bunch of Grapes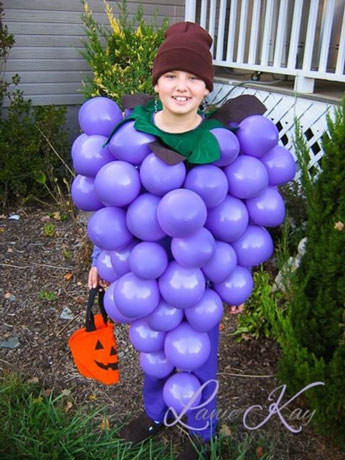 I'm so sad that I couldn't find instructions on how to make the bunch of grapes costume that I discovered on Pinterest.
But it looks pretty simple. Start below the shoulders and attach gently inflated purple balloons with safety pins. A few leaves made out of felt also keep the balloons away from the face.
Is anyone else thinking of Fruit of the Loom?
Bonus points if you have a grape body spray or lip balm to add scent to the costume.
---
Quick and Easy Halloween Skeleton Costume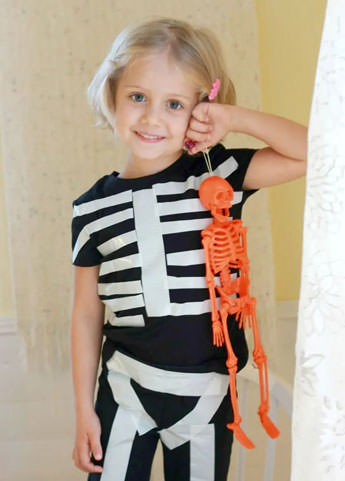 Another costume made with simple garments and tape. Find out how to make this last-minute Halloween skeleton costume on Artful Parent. I love this easy look! Plus it can double as an anatomy lesson on the skeletal system.
---
Super Simple Lego Costume for Kids
I'm loving the simplicity of this lego block costume from Simple Joy . Who doesn't have a cardboard box lying around? (Or even a collection of old cardboard boxes?) This is the perfect costume for your little Lego fan.
---
Sweet Baby Lamb Costume great for Younger Kids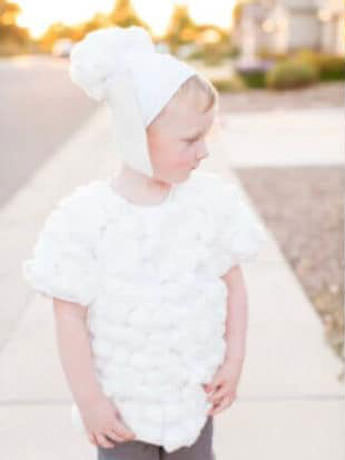 ---
Unique Raindrops and Rain Cloud Last Minute Costume
I love this raindrops and rain cloud costume. It's so clever and quick to make and if your kids are anything like mine they'll love twirling around with it. This design offers a similar look to my Jelly fish costume at the top.
You'll find the no-sew instructions on Make It & Love It.
I hope you enjoyed this quick list of last-minute DIY Halloween Costumes for kids. If you have a little more time on your hands you may also want to check out my Black Widow Spider costume DIY, as well as the bat and butterfly kids costumes.
And don't leave without checking out all the FREE Halloween printables on this site.
Don't forget to pin it these last minute Halloween costumes DIY: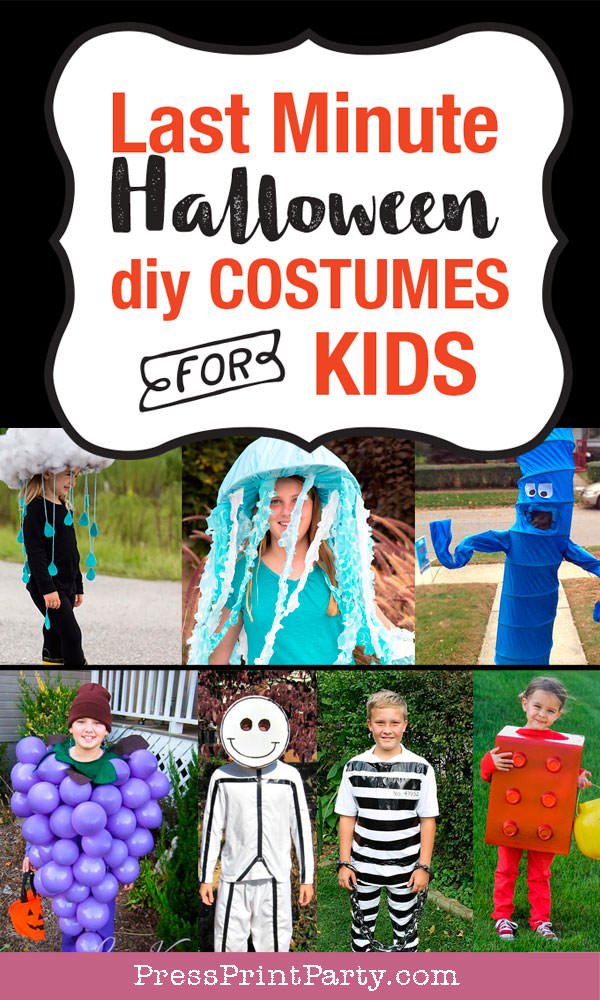 Check out our Holiday printables