Our outdoor movie night party was one of my all-time favorites. I loved making all the decorations for it including this simple light up movie night theater marquee.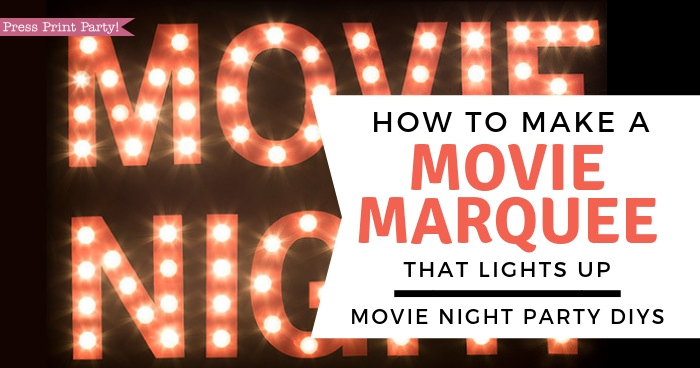 This post may contain affiliate links
Movie Night Marquee materials:
Print all the MOVIE NIGHT letters from my movie night party printable bundle, and trim them so there's no white on the edges. You could also use your own fonts and print any huge slab letter in red but if you use your own font you'll need to add the white dots.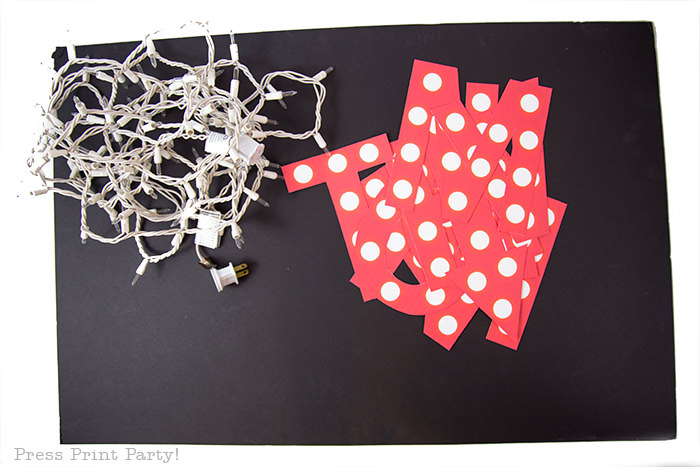 First, lay them out on your black foam board in position. Then glue them one by one. I like to use spray glue but craft glue would work great too. I spray the back of each letter and lay it in place on the board.
Hopefully, you'll be more alert than I was on my first attempt and won't manage to glue all the letters down before you realized that you spelled "Nihgt", not "Night". When I realized it I screamed so loud that my husband thought I was hurt.
The glue was too good to peel the letters off, so it was more letters, more cutting, and another foam board. And finally, I was back in business.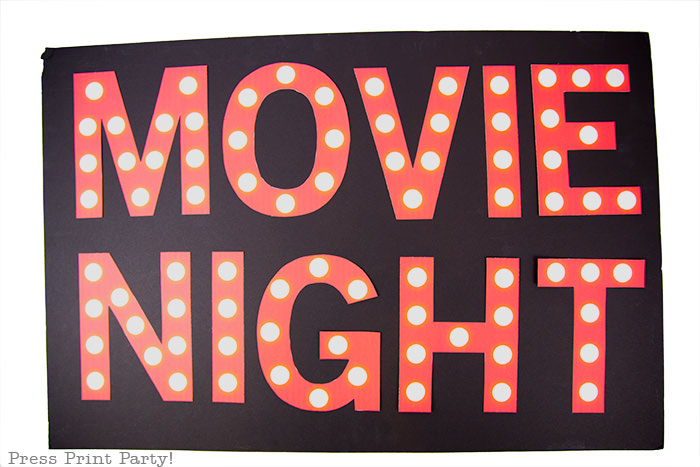 The letters have white dots on them. That way it looks like a lit sign even in the daytime. But adding the lights really makes it pop at night.
The first step to adding the lights is to make holes in the middle of each white dot. I tried several methods before settling on a small pair of scissors. You don't want the holes to be too big. You need the light to fit snugly in once you insert it. So you may want to practice on a scrap piece of foam board.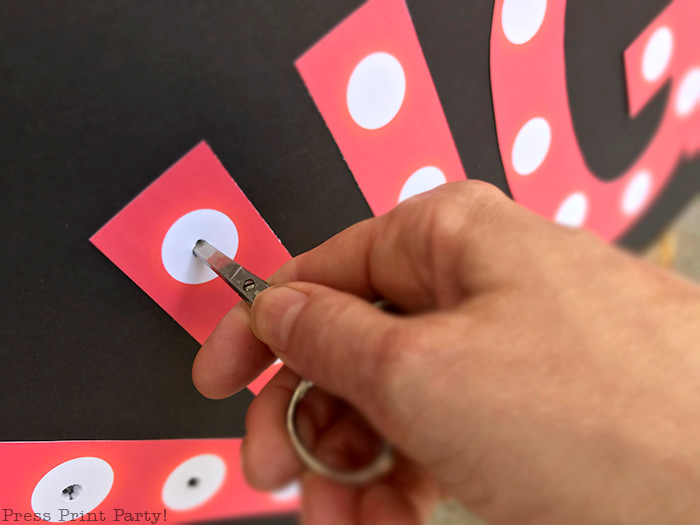 Once all the holes are made it's time to insert your lights. Start with the last light on the strand and start at one of the top corners of your sign. Then go from hole to hole inserting each light as you go. There will be times when the space between two lights is too short to reach the next hole. In that case, just skip that light and wrap it in black electrical tape. You don't want light coming from the back of your sign.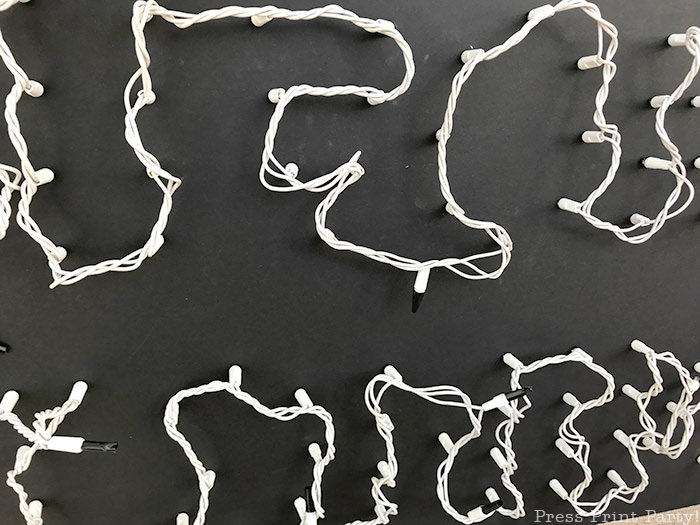 Once I had inserted all the lights, I still had three or four extra lights at the end of the strand. I just wrapped those in electric tape and tucked them in the back.
If I had the choice, I would have used lights with a black cord so that I'd be able to hide the cord more easily. Since I used two red curtains to flank my sign, I was able to hide the cord behind it. So, if like me, you already have white lights with a white cord, just use it. If not, buy a strand with a black or green cord.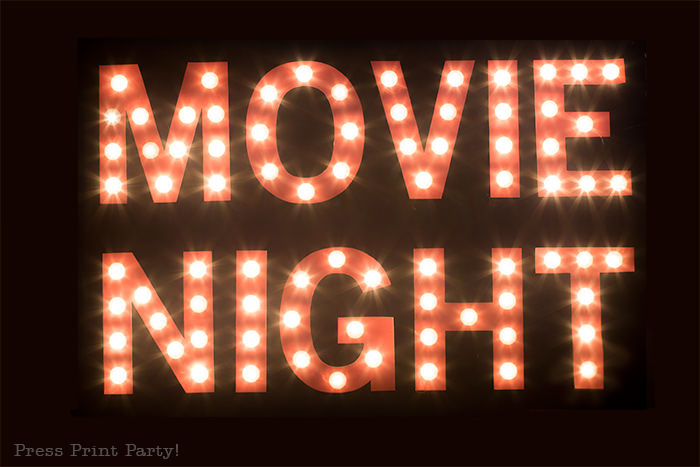 I made two small holes on the corner of the black foam boards and hung the sign with some black yarn to the corners of the PVC frame I was using.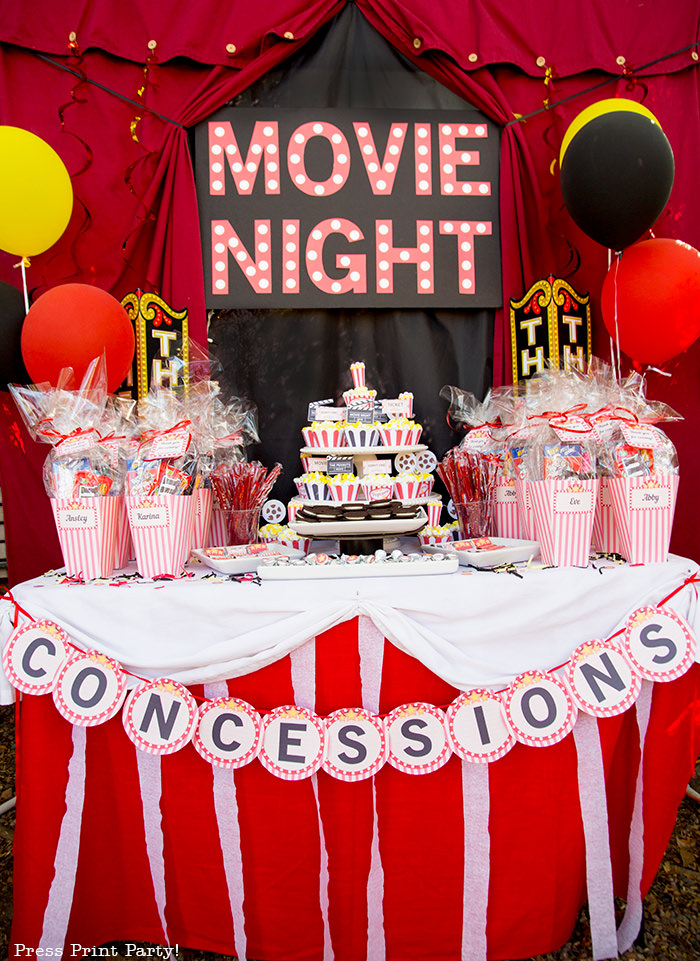 This movie night Marquee sign was the decoration centerpiece of the night. After all, an outdoor movie night is going to be mostly in the dark. You want your decorations to shine!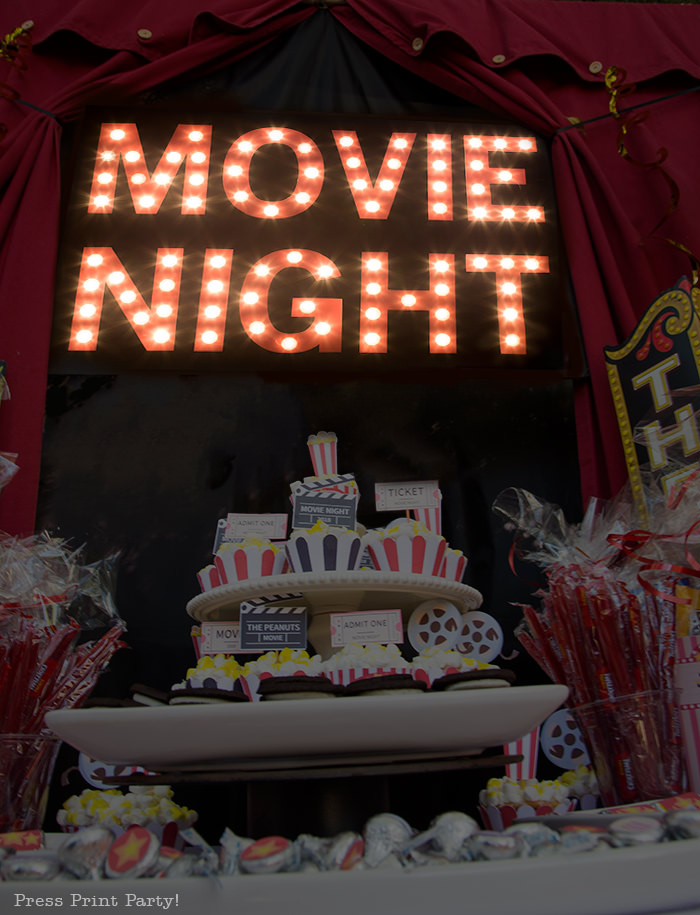 You could totally make this sign to use as decor for a home theater, not just for an outdoor movie party!
Don't forget to check out all the other movie night posts:
Don't lose it, pin it: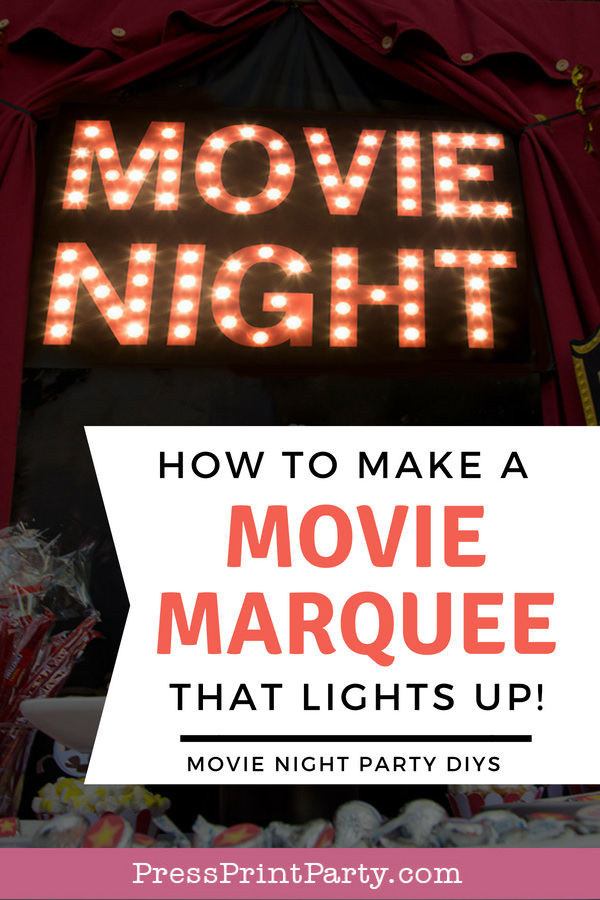 Check out our movie night printables