What!?! Is the year truly almost over? It's time to plan for an explosive New Year's Eve party! And having photo booth props is a great idea to keep things light and fun. And mostly to keep your guests occupied and awake for the big clock strike at midnight.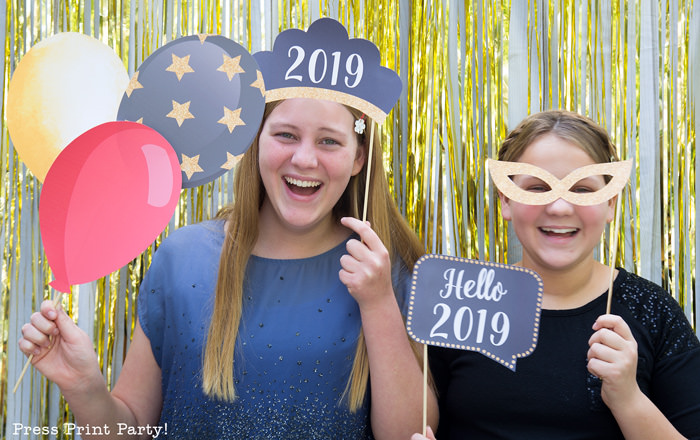 This post may contain affiliate links.
Setting up Your Photo Booth
Golds and blacks are all the rage on New Year's Eve. So an easy backdrop of gold curtains is sure to attract attention.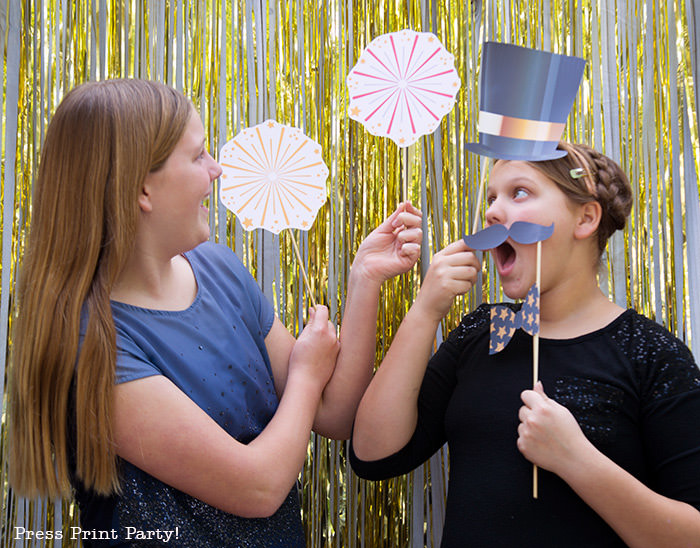 Make sure your photo booth area is well lit for fabulous photos. If you don't have a set of cheap photo lights (who does?! Well me, but I use them for business), getting a couple of daylight bulbs to put in regular lamps would truly help with the quality of the photos.
But don't worry too much about it, most modern phones can do miracles in low light. Just have fun
Making Your New Year's Eve Props
In this New Year's props package you get 48 props in all!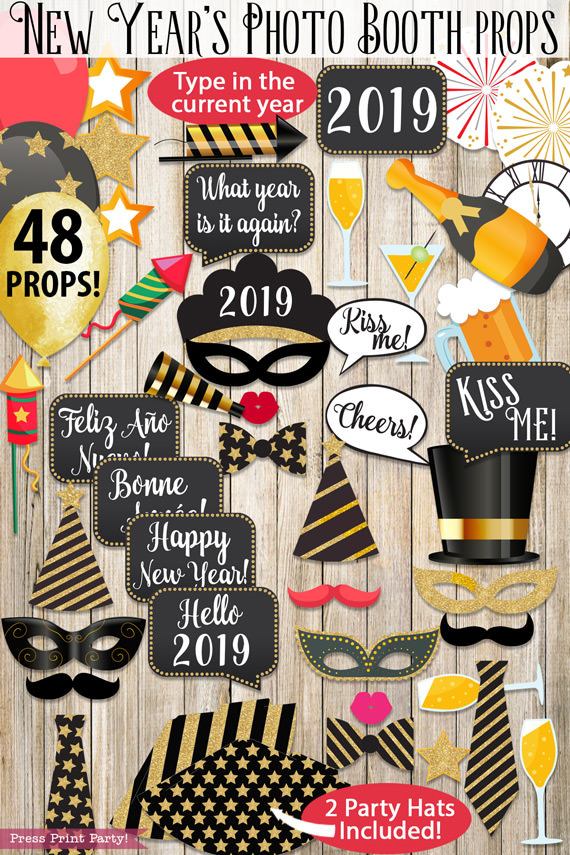 All the props with the year on them are EDITABLE! That's right! You don't have to buy new props year after year! Just change the year and re-print!
You also get lots of speech bubbles, like "Kiss me" and "What year is it anyways?", and even "Happy New Year" in French and Spanish!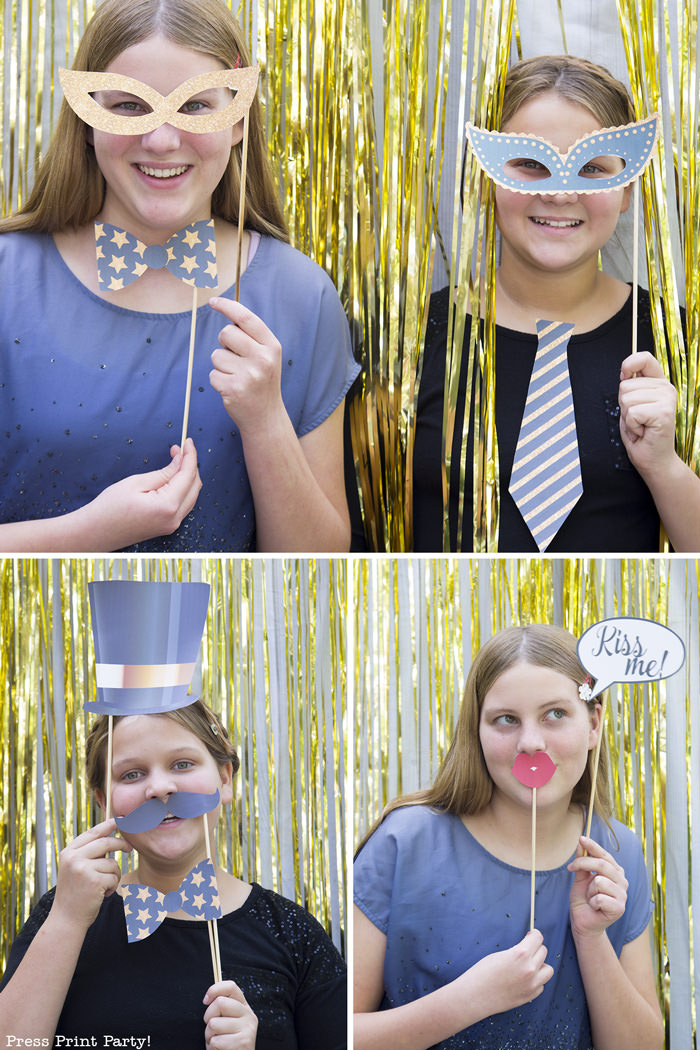 With balloons, mustaches, masks, hats, a bottle of champagne and even the fancy glasses you have all the photo props you need to ensure hours of fun. You can check out the full list of what's inside the file on the New Year's Props Printable package description page, or check out this video that shows you all the pages.
Did you see? The package also includes 2 actual party hats.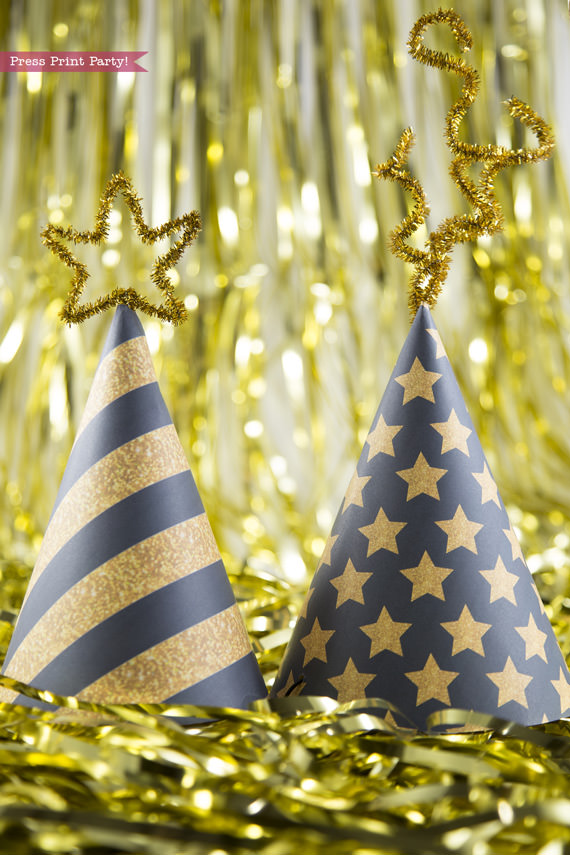 You can have fun with the party hats and add golden pipe cleaners or even a gold tissue paper tassel on the top.
Once you buy and download your file, just print the pages you need on white cardstock and cut. Scissors work great and honestly are faster than a cutting machine in this case. Which is why I didn't include the SVG files. You may need an Xacto knife for the eye opening of the masks.
Once the props are cut, just tape a wooden BBQ skewers to the back. Regular tape or packaging tape works great. I usually tape the pointy end to the prop so no-one accidentally gets poked.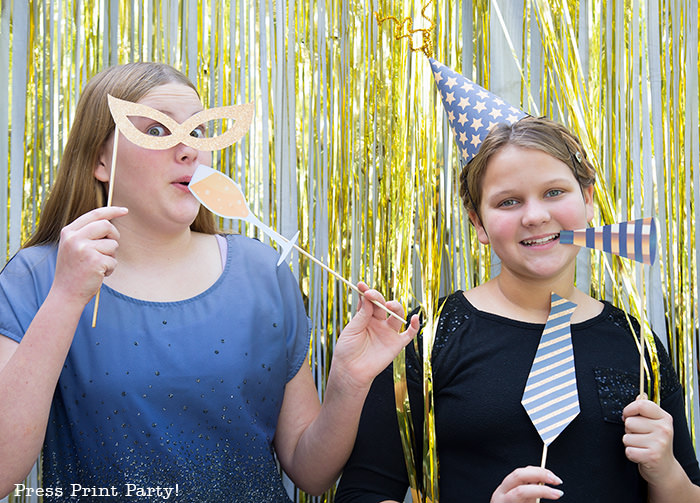 If you have a leftover piece of styrofoam, put it inside a basket and poke the props into it. You'll look like pro!
Get it now and start the fun!
Don't forget to pin it: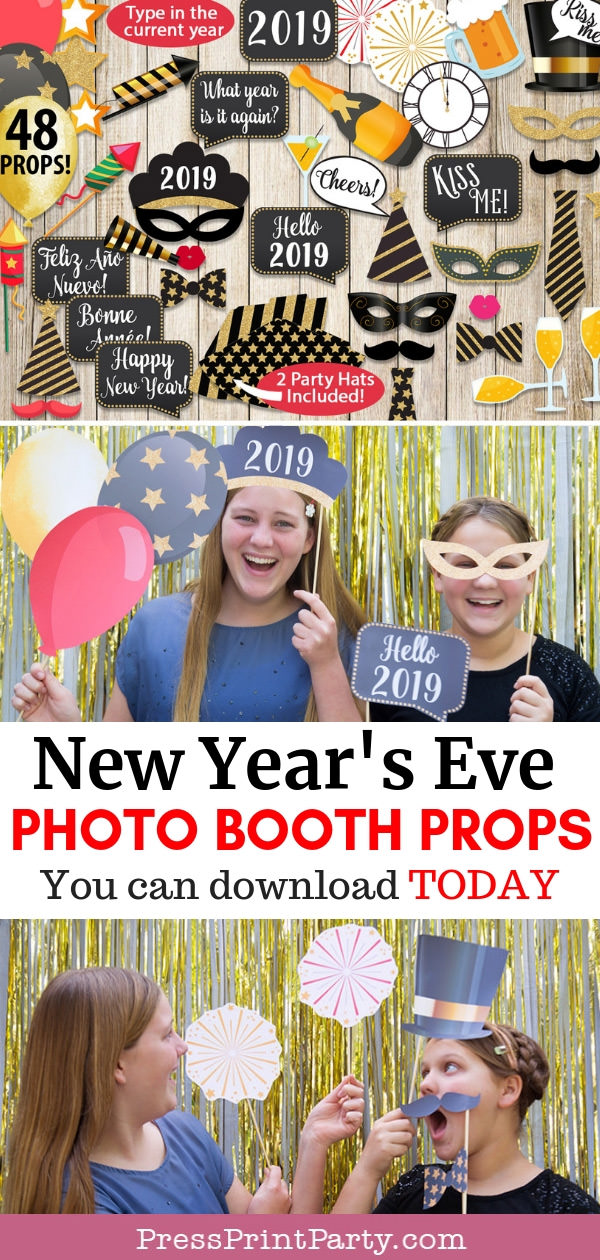 Check out our holiday printables