This year I was thrilled to be able to upgrade my Thanksgiving decor and especially the decoration for my Thanksgiving table. It's now a stunning golden Farmhouse Thanksgiving table courtesy of some amazing products from Oriental Trading.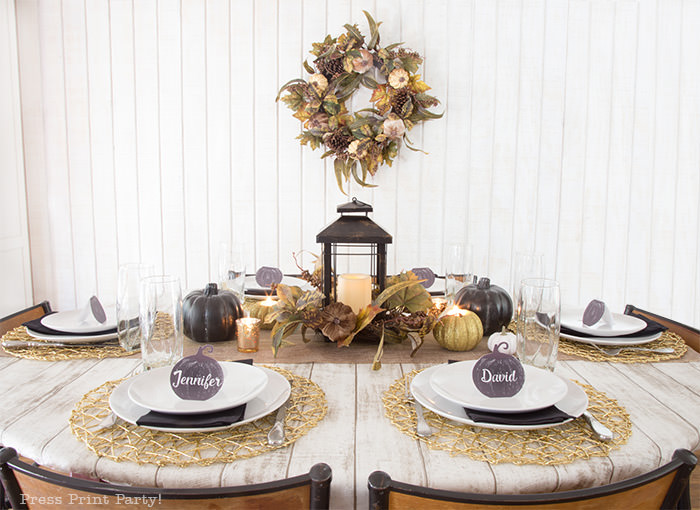 This post has been sponsored by Oriental Trading, I only work with brands I know and love so I know that you'll love 'em too. This post may also contain affiliate links.
Recently we've had a bit of a family exodus from our area, which will make this year more of a Friendsgiving than a family Thanksgiving. It sure is a blessing to be able to host friends who don't have family close by and can't afford to travel. So in honor of a new tradition, I wanted a new look.
Tired of all the oranges and reds of traditional Thanksgiving decorations, I opted for more of a farmhouse look this year. It must be all those hours of binge watching "Fixer Upper", or my recent trip to Waco Texas to see the silos at Magnolia Market that gave me inspiration and farmhouse decor ideas.
I chose to work with golden tones accented by blacks and whites. So I was excited to find a lot of very affordable gold and black decorations for Thanksgiving tables at Oriental Trading.
I especially loved the Gilded Harvest fall products from Oriental Trading. The wreath on the wall and the little wreath with a lantern as a centerpiece are a matching pair that set the tone and the colors for the rest of the look.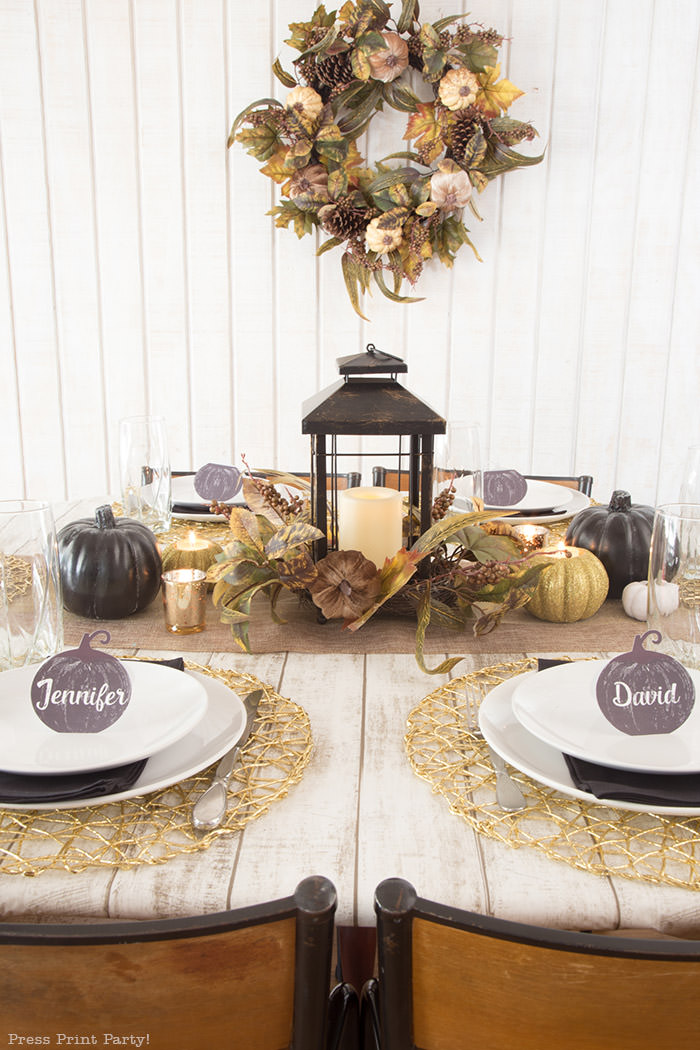 The large gilded wreath is generously sized and is truly stunning. Some of the pumpkins are covered in velvet which gives the wreath an array of warm and soft textures.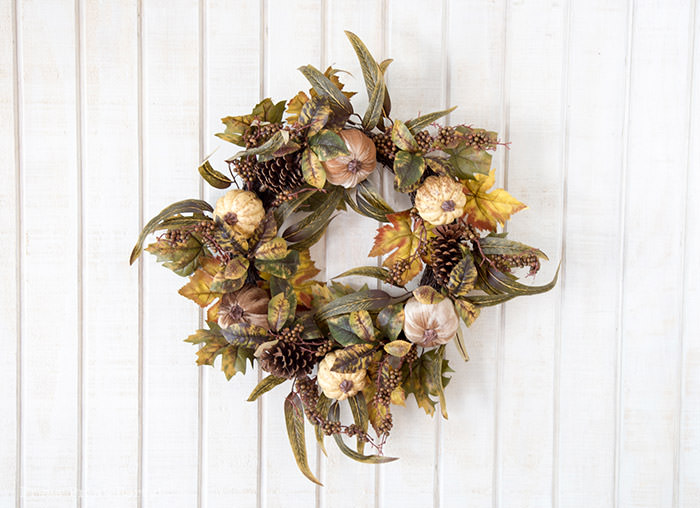 The matching Gilded Harvest black Lantern on the table has a battery-powered "candle" that flickers just like a real candle. It's attached to a little matching wreath with the same velvety pumpkins. They make a wonderful matching duo that is sure to make an appearance every fall for years to come.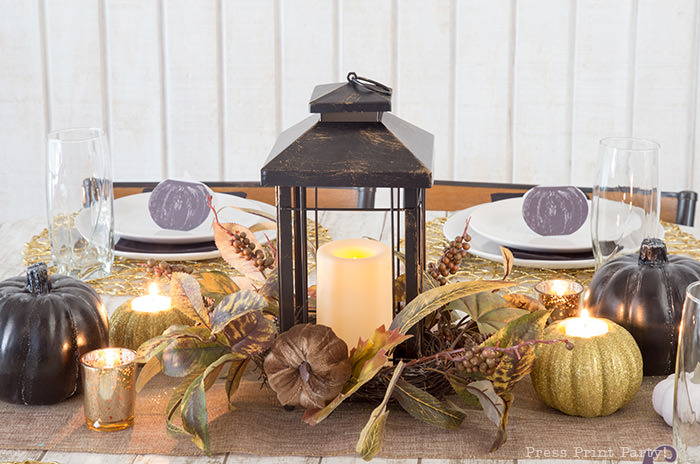 My table is actually painted gray, but with the magic of a simple (and yes plastic) tablecloth that looks like shiplap, I instantly transformed my gray table into a white farmhouse table. I chose to tape the plastic tablecloth to the underside of my table so it would look like a piece of wood on top (and not a tablecloth).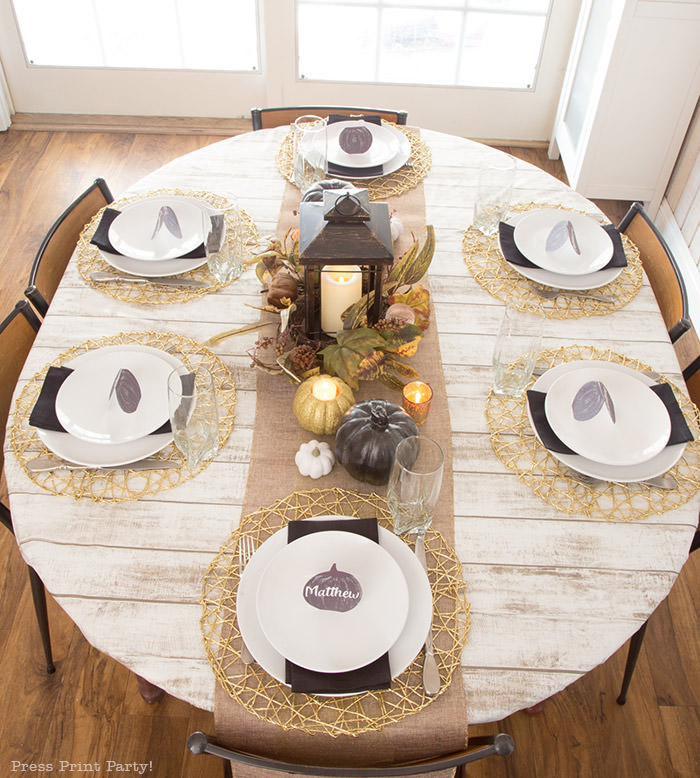 The Gold Shimmer burlap table runner was the perfect base for my centerpiece. Since my table is wide, I had to use two widths of the shiplap tablecloth. The burlap centerpiece hid the seam perfectly.
I added some gold glitter tulle over the top of it for a little bit of glam.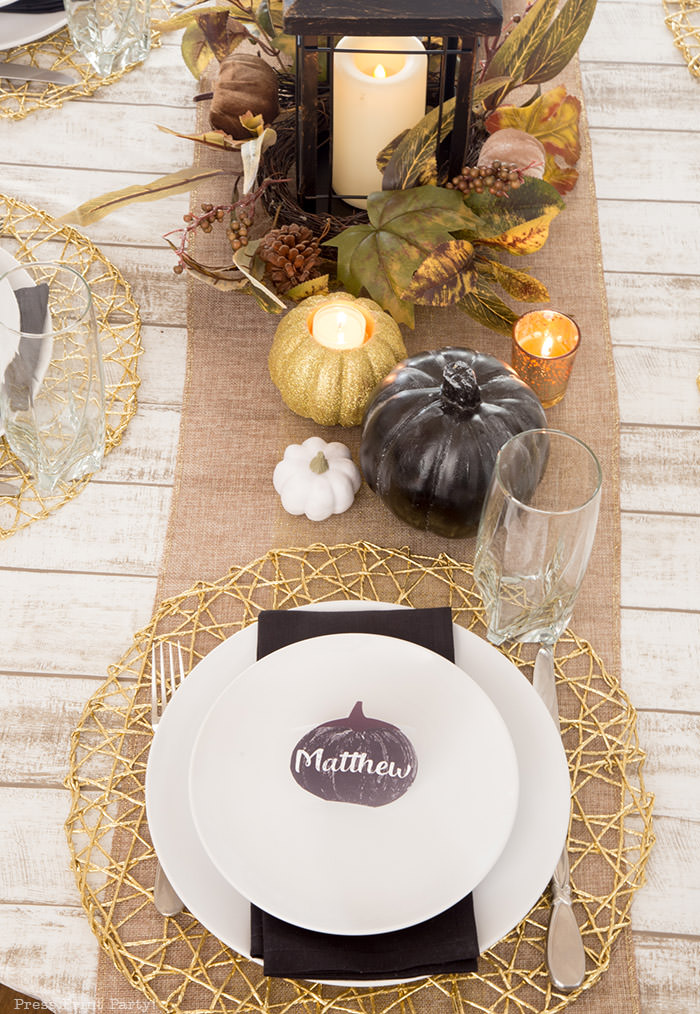 I fell in love with these gold metallic string placemats.
They were the perfect golden accent under my plain white plates.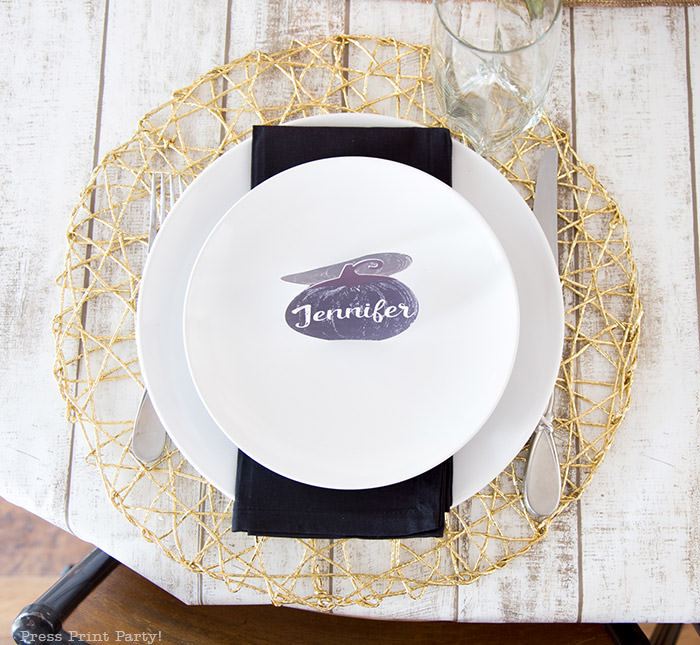 That's the amazing thing about a place mat or a charger; you don't need to keep a lot of different types of dishes for every occasion. A nice set of white dishes will take you from Easter to Christmas with no trouble just by changing the accents, the napkin colors and of course, the printables.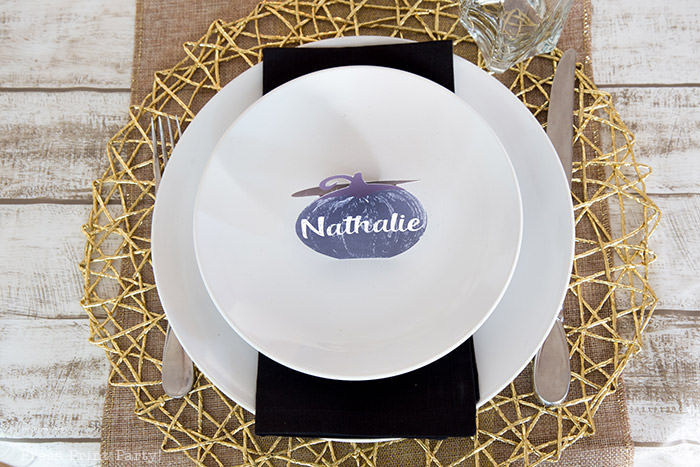 The black napkins were a great contrast to the white plates and accented the black chalkboard pumpkin place cards printables available in my shop.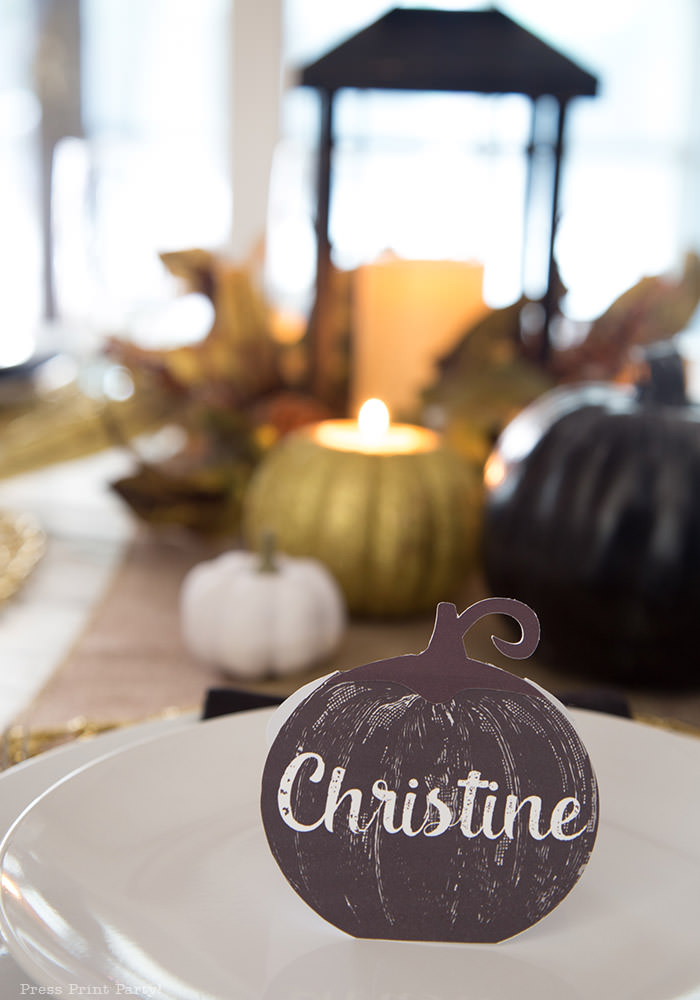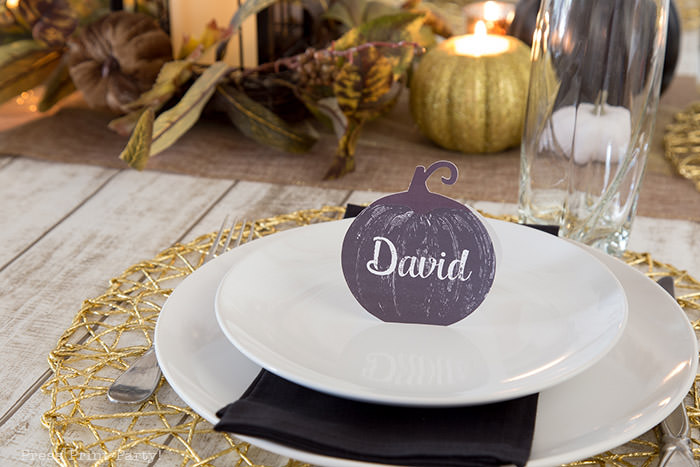 I used a little black craft pumpkin and I added some chalk into the crevices to give it some more texture and to match the place cards.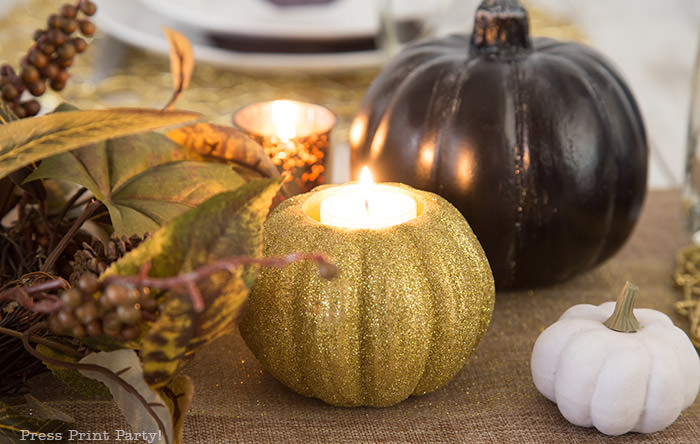 The sparkling golden pumpkin candle holders and the gold-flecked mercury votives all from Oriental Trading, give the table more shimmer and light, while the little white foam pumpkins bring back the white highlights to the centerpiece.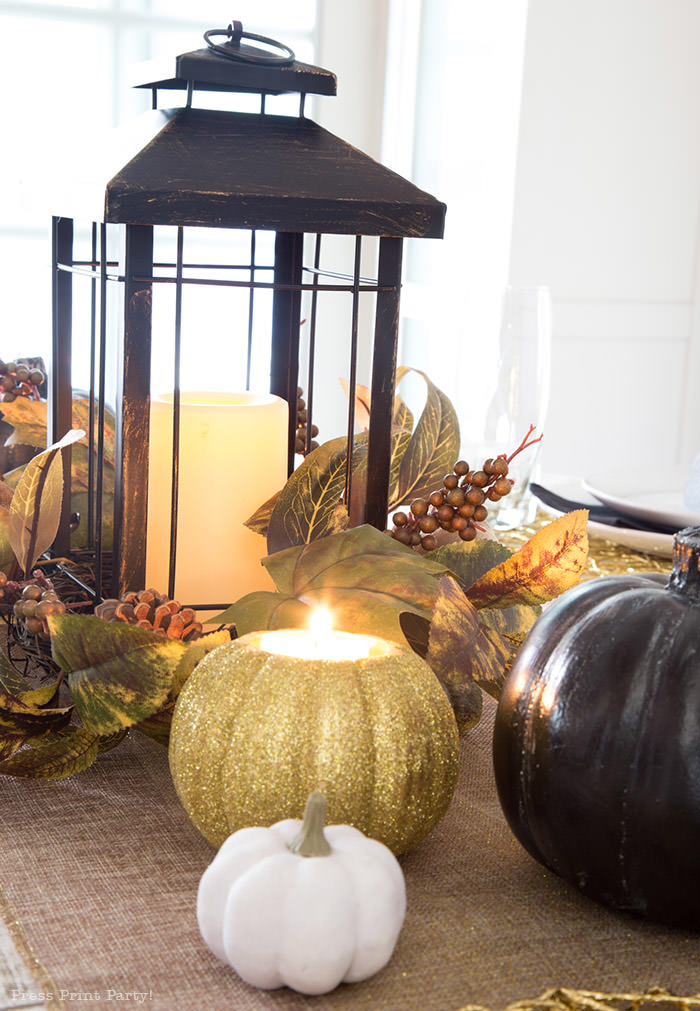 I adore the decorations for my Thanksgiving table, it's a real transformation from the actual table underneath. With that shiplap plastic tablecloth roll, you can transform even a folding table into a stunning Farmhouse table.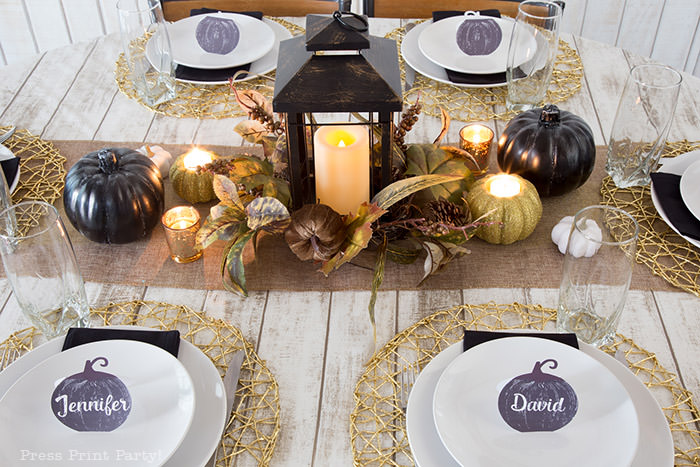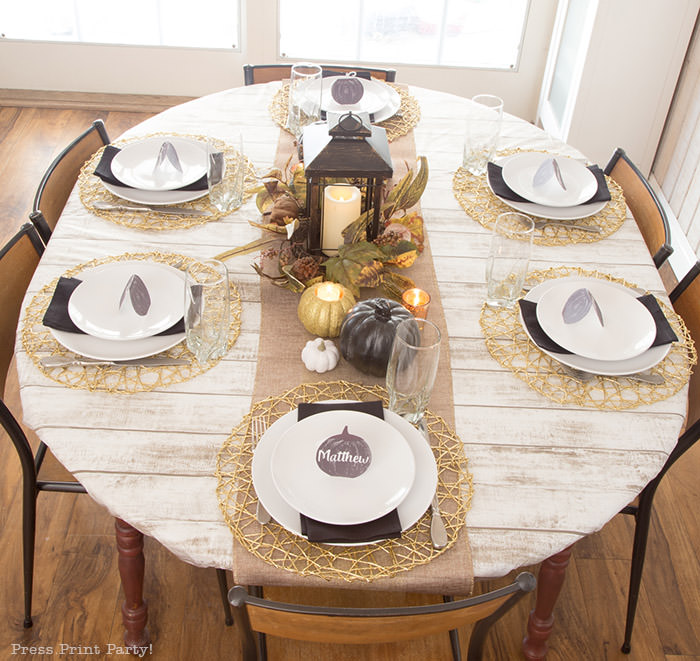 I'm sure Joanna Gaines would approve. When you don't have the real thing, faking it for a day sure feels good.
Don't forget to pin it: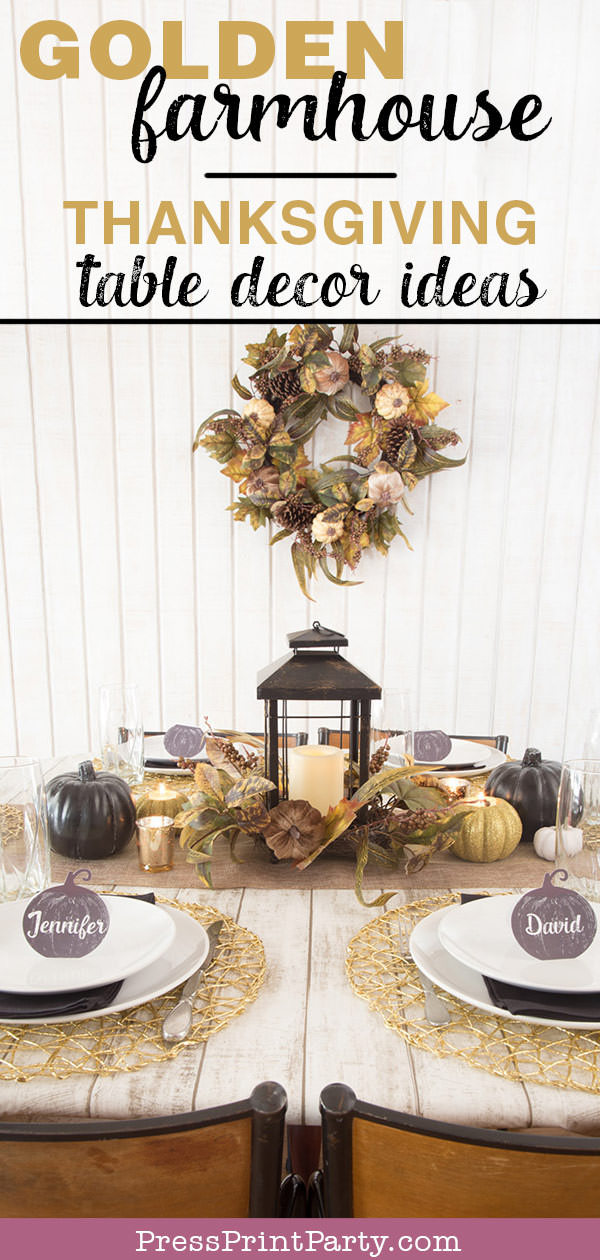 Check out our Fall printables