When the stores start selling holiday decor, the frosted pinecones always catch my eye. That snowy look just exudes rustic charm. My dilemma is it seems silly to buy a pinecone, which I can find for free anywhere there are pine trees.
Of course, the crafter in me decided to come up with a cheap and easy solution. As it turns out, frosting pinecones is a breeze.
So, on my last trip to the mountains, I picked up a crate full and got to work. As for the rest of the materials, you may already have them around the house. If not, they are super easy to find at Michaels stores and others.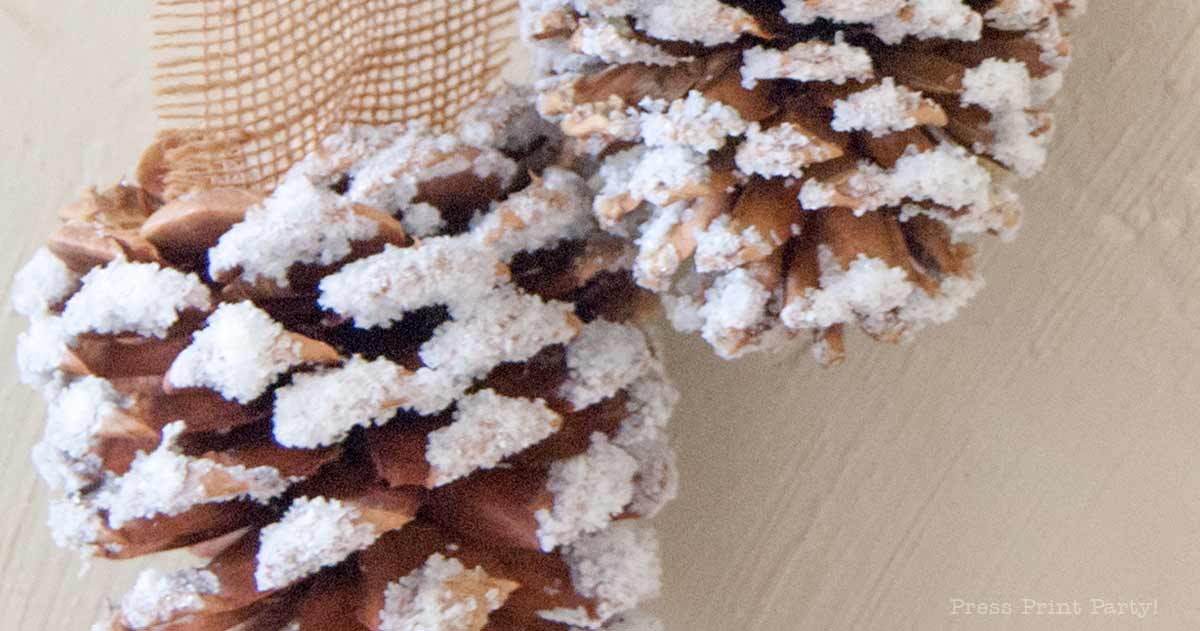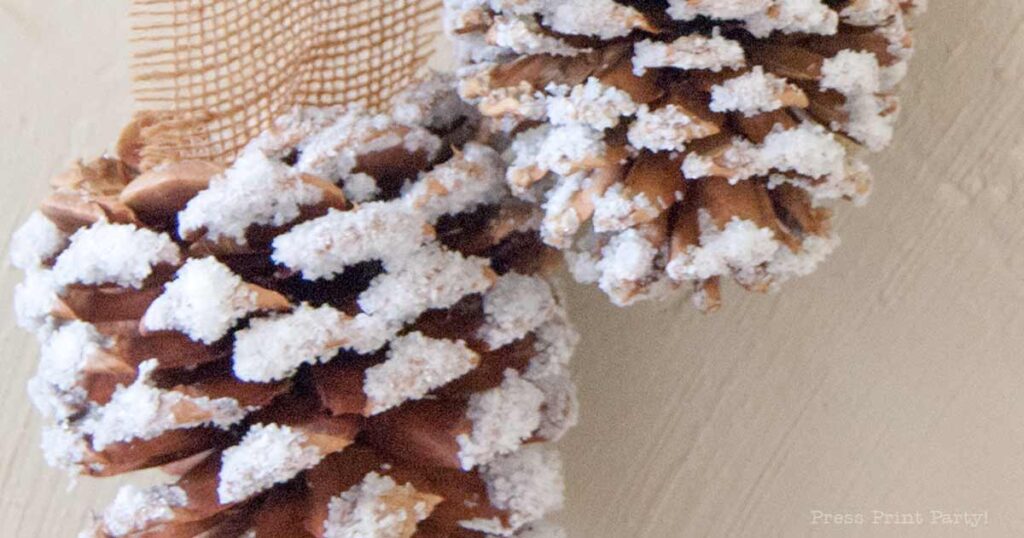 This post may contain affiliate links.
I'm excited to add making snowy pinecones to my list of easy tutorials. I will show you not only how to frost the pinecones, but also a pretty and simple way to hang them (like pinecone tassels if you will).
Bonus! They smell wonderful.
Frosted Pinecones Materials
Pinecones
Epsom Salt
White glue
Glitter (optional)
Strips of burlap (about 3 inches wide), different lengths
Glue gun
Pour some Epsom salt and glitter into a bowl and mix. This will be your artificial snow.
Squeeze glue onto the tips of your pinecones and immediately roll in in the Epsom salt mix.
Let dry overnight…
… then apply a generous amount of glue to the bottom of each pinecone with a glue gun to glue the burlap strips.
Hang the strips at different lengths to create visual interest. It looks great outdoors…
… or indoors. And the scent of the Epsom salt can add a clean, fresh scent wherever its hung. This is especially great to hang in a bathroom!
I've used these pretty pinecones in my NOEL wreaths and they are so easy to make that I make new ones each year to make the guest bathroom pleasantly scented.
If you are looking to enhance the pine scent, just sprinkle a drop or two of pine essential oils on the burlap. You'll want to be conservative with the essential oils though because even just a few drops can overwhelm a small space.
It's also super easy to add red or white berries. Or to make your your pinecones into Christmas ornaments to hang on the Christmas tree.
I've also just arranged them on my coffee table. Let me know how you used your frosted pinecones in the comments!