I made these giant beakers to decorate 3 walls for our science themed VBS at church. They'd also make fantastic decorations for any science themed party or event.
The walls are big and we needed a bunch of space filled in. But big science party backdrops can be expensive. I saw some giant beaker decorations online but they were way outside our budget.
So I made my own!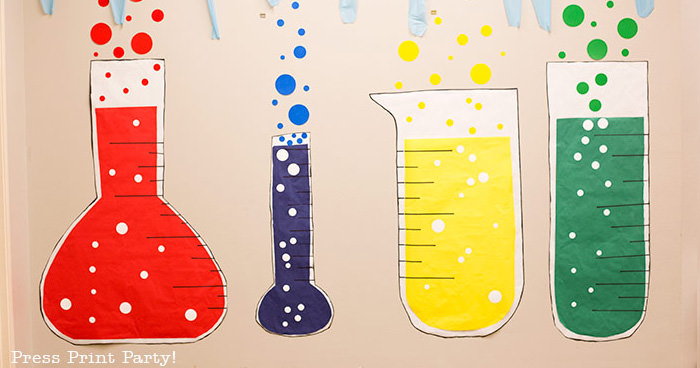 This post may contain affiliate links.
These giant beakers would work great to decorate your own walls for a mad scientist birthday party or for a school science fair. If you work at a school the art department probably has everything you need already!
Giant Beakers Materials
You'll need:
1 Roll of white paper (I recommend at least 36″ or 48″ wide, but you could make the longer skinnier beakers with 18″ wide paper)
Rolls of colored paper (You could use colored plastic tablecloth if you don't have rolls of colored paper. Keep in mind it will be trickier to stick to the white paper and will not look as bright.)
Fat Black marker
Scissors
Ruler
Stick glue
Optional: something to make circles of different sizes, like a puncher or a cutting machine
Science Wall Backdrop Instructions
Start with the colored paper. Roll out a piece as tall as you'd like the beaker to be.
I cut all my beakers freehand but you could draw them first. Look at the pictures to get inspiration on shapes.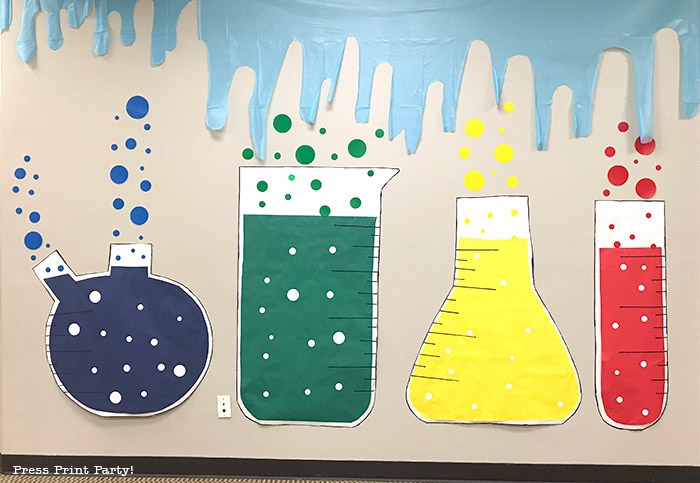 If the shape is symmetrical, fold the colored sheet in half lengthwise and cut freehand. When you open it up it will look the same on both sides.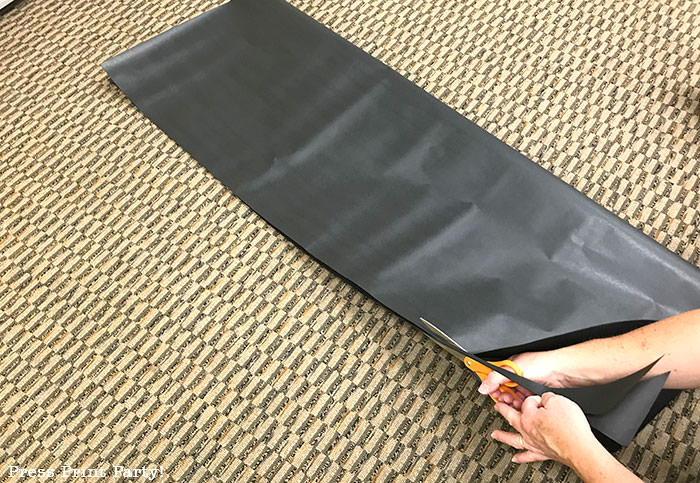 Place the colored sheet on a sheet of white paper that's a bit taller than the colored paper. The colored paper is going to be the fluid inside the beaker.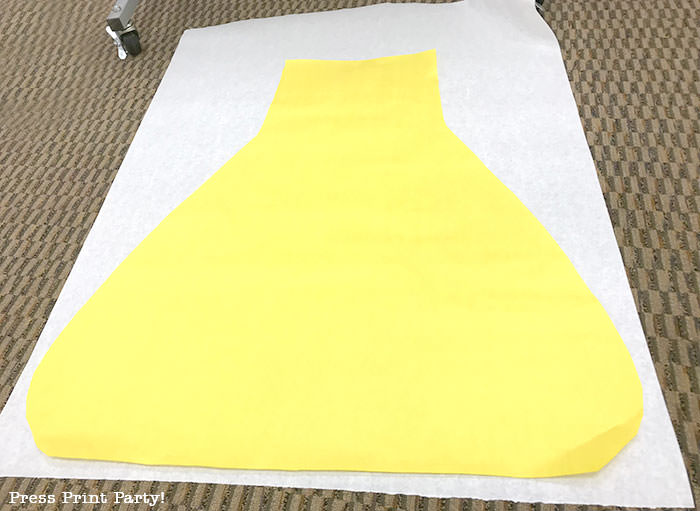 Cut the white paper around the colored paper leaving about one inch of space on the sides. This will be the glass of your beaker. And don't forget to leave some extra room on the top.
Now line the white paper with a fat black marker. This will make the design really pop against the wall. And it's even more important when you have light or neutral colored walls. I wasn't too excited about trying to explain why there was beaker shaped maker stains all over the carpet so we put more white paper underneath so we didn't mess it up.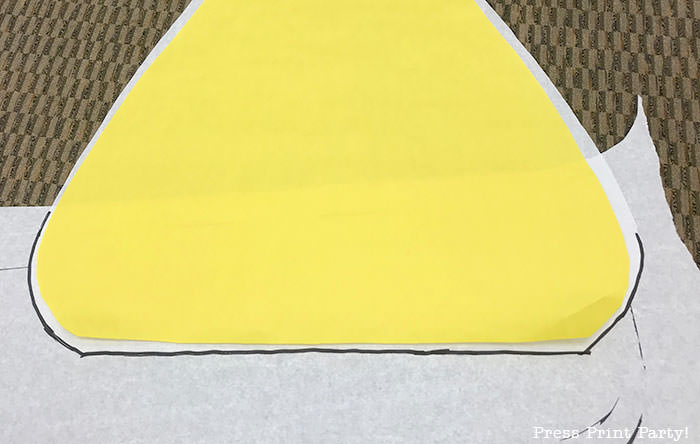 Stick the colored paper to the white paper with the U-Glue Dashes or just plain stick glue.
Draw horizontal lines on the side of the beaker to show measurements. Alternate between long and short lines.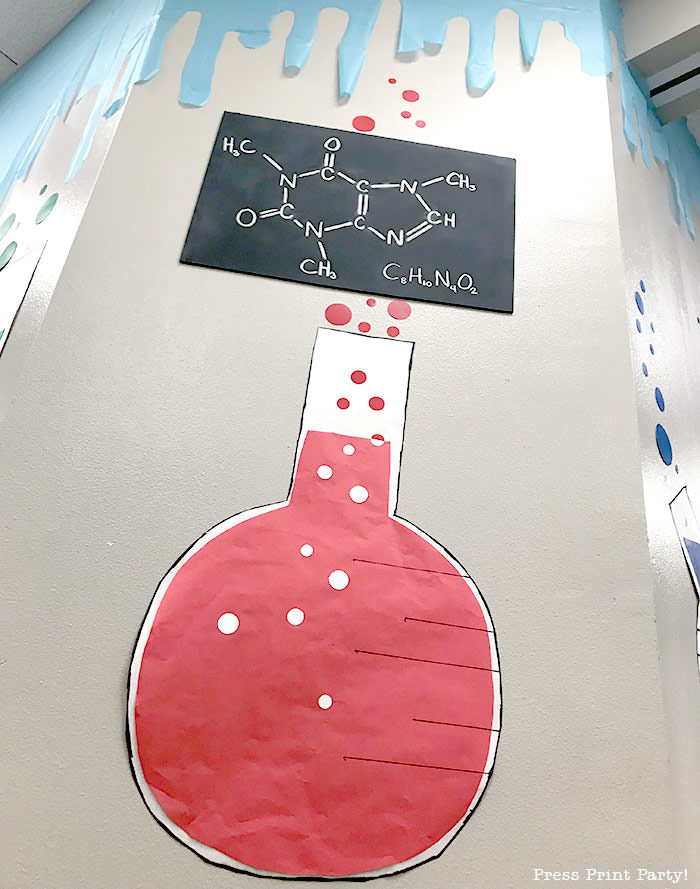 To make the bubbles, cut or punch some circles out of the white and colored paper.
Stick white circles on the colored part and colored circles on the white top part. And have some fun. See that bubble that's just coming out of the fluid? It's half red and half white. Or you could change up the bubble sizes in each beaker. One could be tiny, fizzy, champagne style bubbles while one next to it has big, bloopy-er bubbles. And we didn't do any bubbles that were mid-pop. That would have been fun too. A red beaker tilted next to a blue beaker making purple bubbles above them both? That would have been cool.
Stick your giant beakers to the wall using the U-Glue Dashes. Add some colored "bubbles" above the beaker. We used a lot of the circles that we cut out of the paper plates for our gear wall.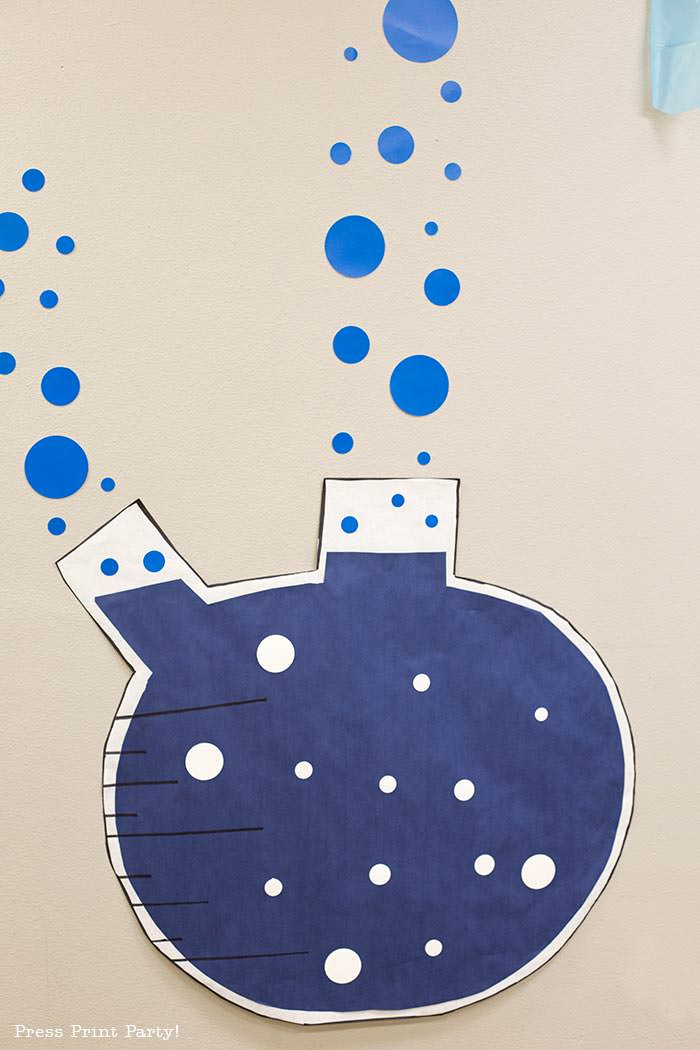 Here we go, 3 walls done with giant beaker decorations. Super easy to do and cost almost nothing. The slime is just a plastic tablecloth that we cut and hung from the ceiling. Again, we attached it with the U-Glue dashes as to not damage the walls.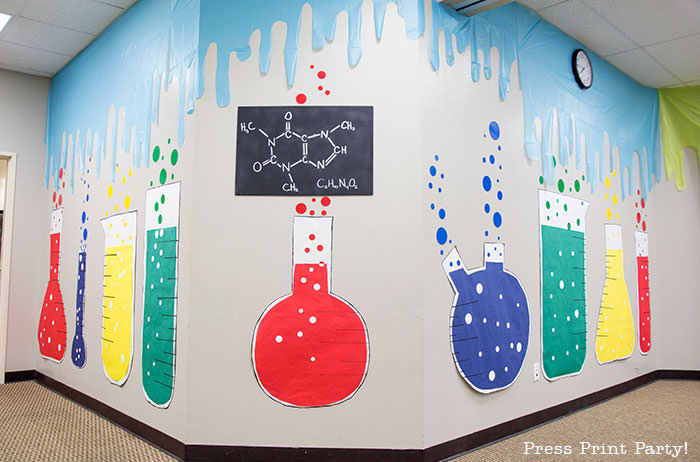 This beaker is oozing slime and is being prepped to go above the door frame. We just cut a slit close to the lip of the beaker and threaded a lime green plastic tablecloth through.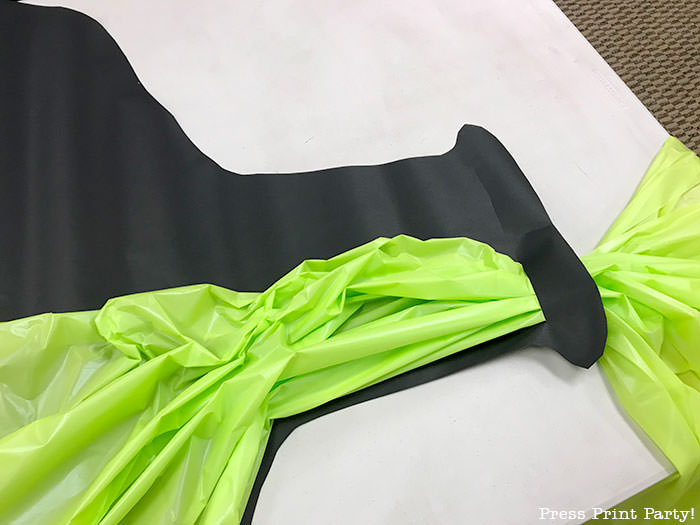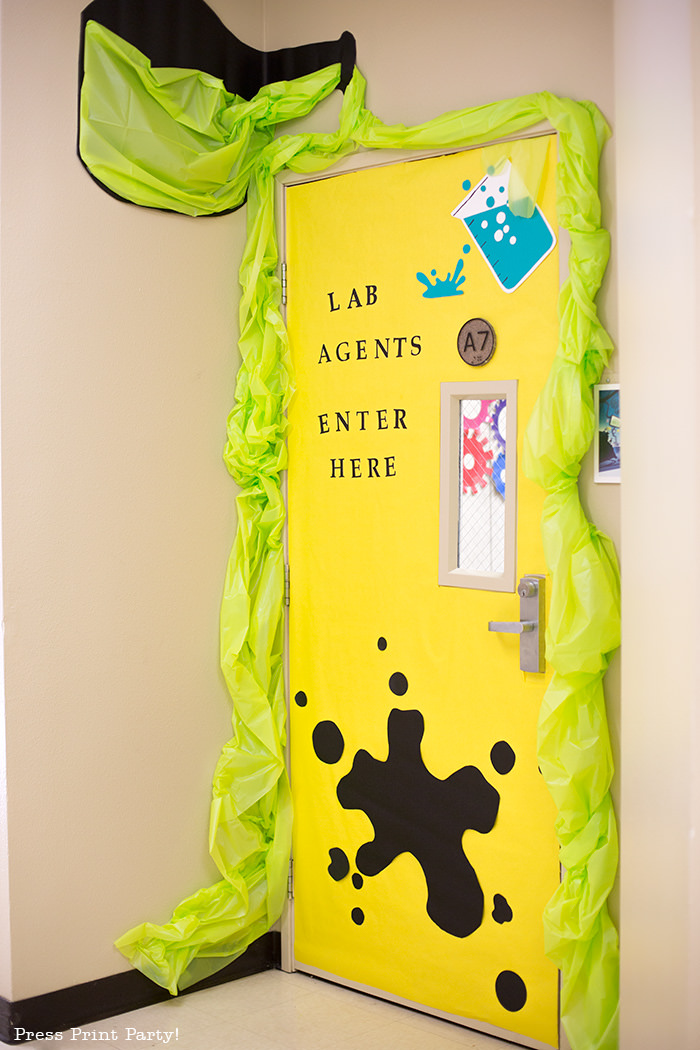 We had many more walls to fill so we made lots more science party decorations and 2 more large backdrops for our science VBS. You can see them on my Awesome Science Party Ideas post. They are both also easy and inexpensive to make.
Don't loose it, pin it: