This tutorial will teach you how to make this amazing and colorful Unicorn backdrop in no time. The unicorn horn, eyes and ears are printables and the flowers are from a template. I'll show you where to get everything you need and exactly how to put it all together.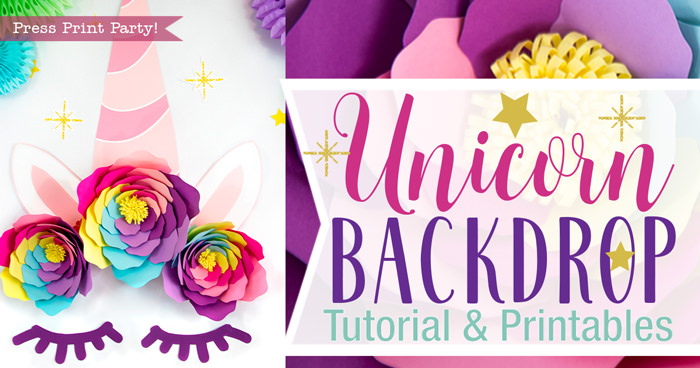 This post may contain affiliate links.
This striking unicorn backdrop stands 3 feet tall and is the perfect decoration for any unicorn birthday party.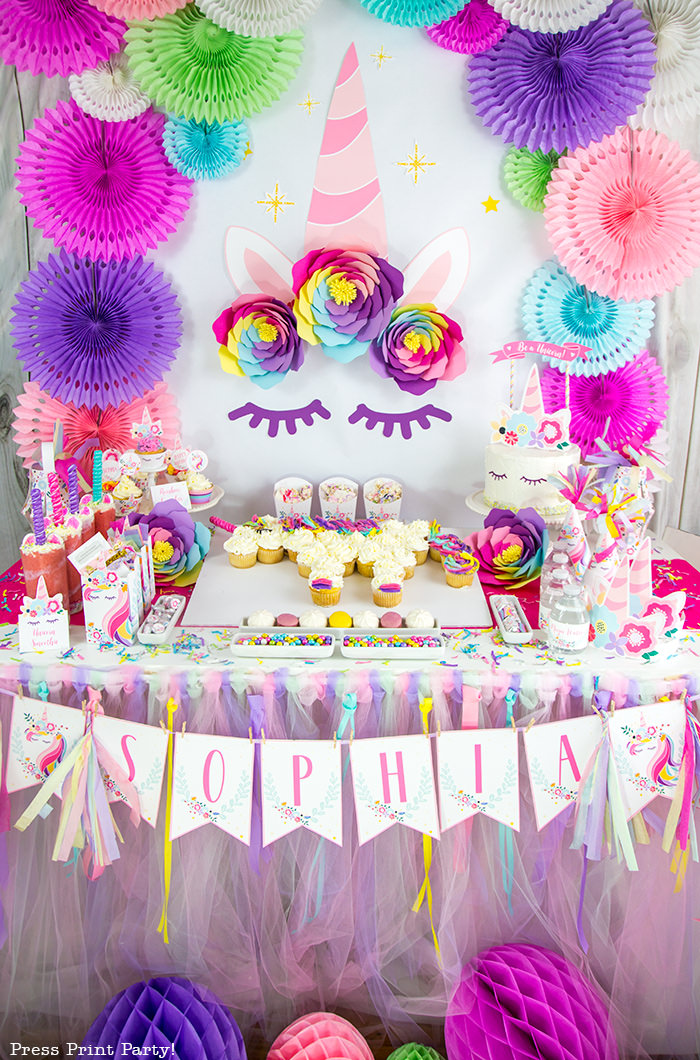 DIY Large Unicorn Backdrop Materials
Unicorn Printables
Print the large unicorn horn template pieces on the white card stock and use the directions in the file to cut and glue it together.
Print and cut the large ears, sleepy eyes, and stars.
Unicorn Paper Flowers
I used the fantastic unicorn flower template from Abbi at Abbi Kirsten Collections to make the 3 rainbow paper flowers. I scaled her pattern down and only used 6 colors instead of her 8.
For the large center flower, I scaled the petals to 75%.
The 2 outside flowers are scaled down to 62%.
If just printing the flower template from the pdf, chose a "Custom Scale" of 75% or 62% in the print dialog box of Adobe Reader.
If using the svg files, scale your petals accordingly in your cutting software. (I used Make the Cut and was able to reduce the number of pages by combining the petals).
For each flower, print one of the 5 petal sizes in each of the 6 colors. You'll end up with 30 petals in all for one flower.
Make yourself a round or hexagonal backing for each flower. Abbi has amazing instructions with her file, but basically, you're going to cut a slit in each petal, hot glue it together, bend it back, and hot glue each petal in turn to your base starting with the largest ones.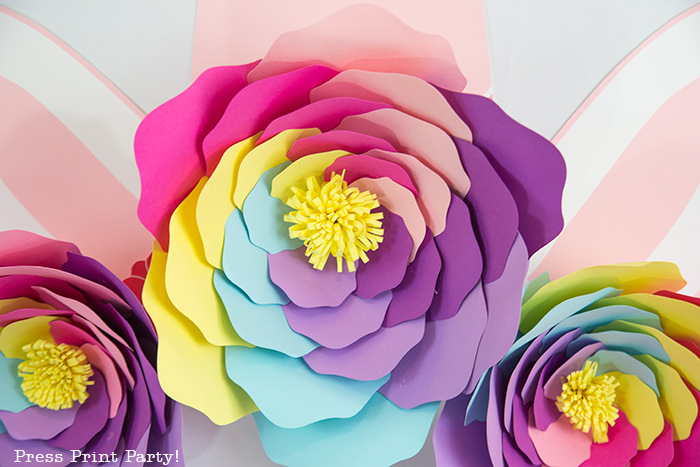 To make the center of the flower:
Cut a long strip of yellow card stock (3″ by 11″ for the bigger flower and 2″ by 11″ for the 2 smaller ones)
Fold it in half.
Cut little slits all long the length.
Roll it onto itself.
Glue it to the center of the flower.
Look at my video instructions for a better visual and don't forget to subscribe to my YouTube channel and get the all the latest DIY videos first.
Putting it all together
Use this U-glue adhesive tape to stick all the the elements to the wall. They will stay put until you take them down and they won't damage your walls when you do.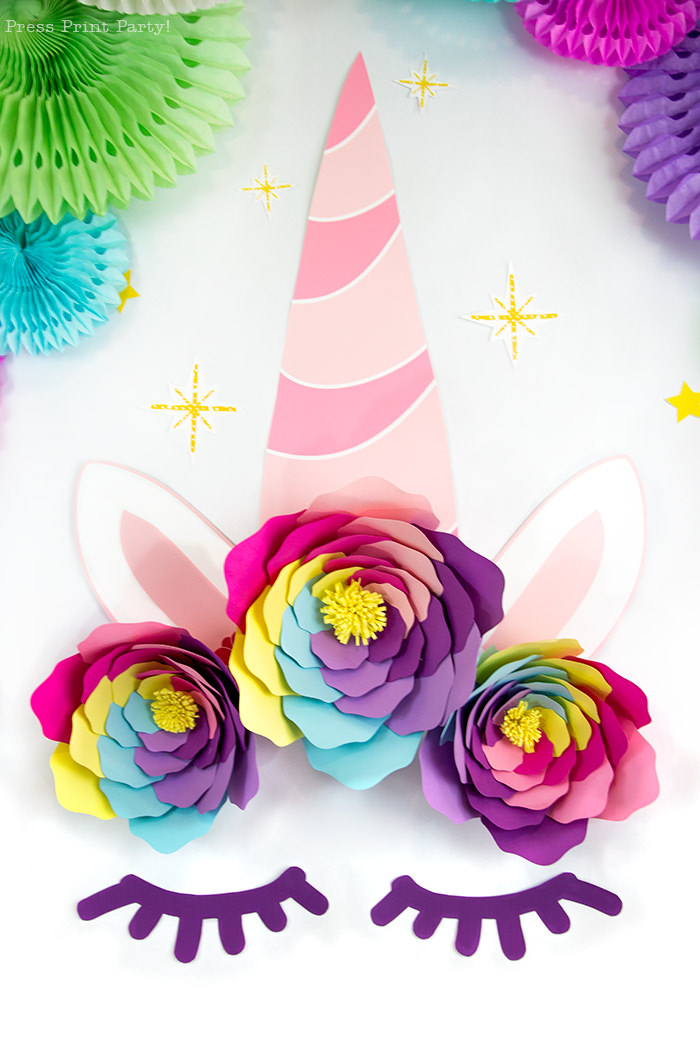 If you wish, place color coordinated multi-colored fans all around the unicorn for a bigger punch of color! And don't forget, for her flowers Abbi used more colors and larger petals so if these flowers aren't big enough you can super size your unicorn decorations.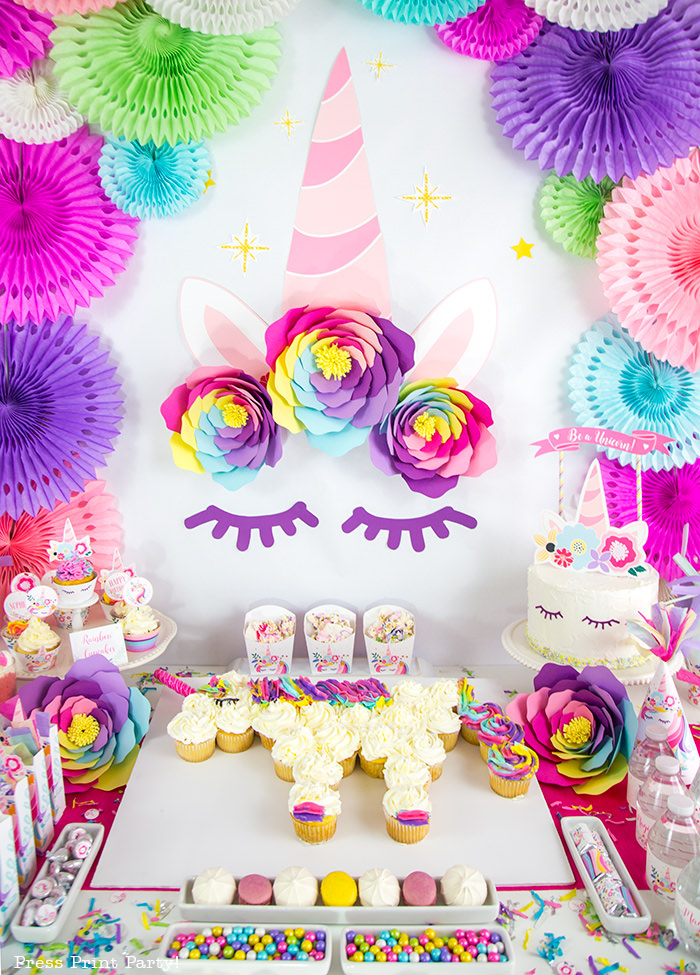 Go check out all the Unicorn Party DIY posts:
Don't loose it, pin it!