There are many occasions for which we should send Sunshine in a box. They're little boxes of happiness. And with some fun box of sunshine printables, they're a breeze to make.
A box of sunshine is the perfect gift for someone having a hard time.
Sometimes we want to show our love and sympathy to someone who's hurting but we just don't have the words. Or maybe you just have a friend who lives in a part of the country where it rains a lot and you want to ship sunshine from your state. Or you want to give a box of sunshine as a get-well gift to a sick family member or maybe you just miss them.
Even if you don't know what to say, you can put together a cheer-up care package that will bring someone out of a bad day and show you care.
Give them sunshine in a box to brighten their day!
You'll find lots of fun box of sunshine gift ideas and sunshine box printables below to get you started.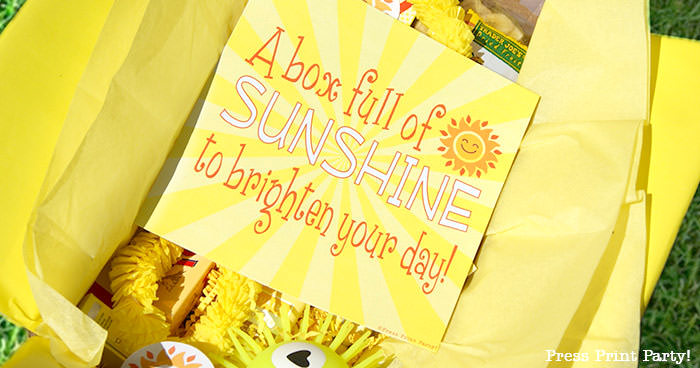 This post may contain affiliate links.
How to make a sunshine box
I made my first sunshine box when one of the ladies in my bible study group got the devastating news that she had breast cancer, we all banded together and set a meal schedule for her and her family. I didn't know her well but as I thought about what I was going to cook, I figured it would be kind to bring some light into such a dark time in her life with a little box full of sunshine.
But a DIY sunshine box can also be used for happy occasions, such as a fun happy birthday gift box, or just a "thinking of you" care package.
Making a thoughtful and homemade box full of sunshine is easy. All you need are:
A container (either yellow or wrapped in yellow)
Yellow gift items (see below for ideas)
Yellow gift packaging (wrapping paper, tissue paper, confetti, etc)
Gifts Ideas to put in your sunshine box
I chose to use a regular shipping box and wrap it in yellow wrapping paper. But I'd encourage you to think outside the box. Any yellow container will do. You could choose a yellow gift bag, a gift basket with yellow filler or a yellow ribbon to make a pretty basket of sunshine, or even a yellow sand pail to create a bucket of sunshine.
I even made a tag that says "A bag full of sunshine to brighten your day", perfect for those little yellow favor bags.
To fill the box, I bought every yellow item I found. From a silly emoji toy, hand cream, Carmex and a plastic lei to delicious Toblerone chocolates, banana chips, lemonade, yellow m&ms, and even yellow nail polish.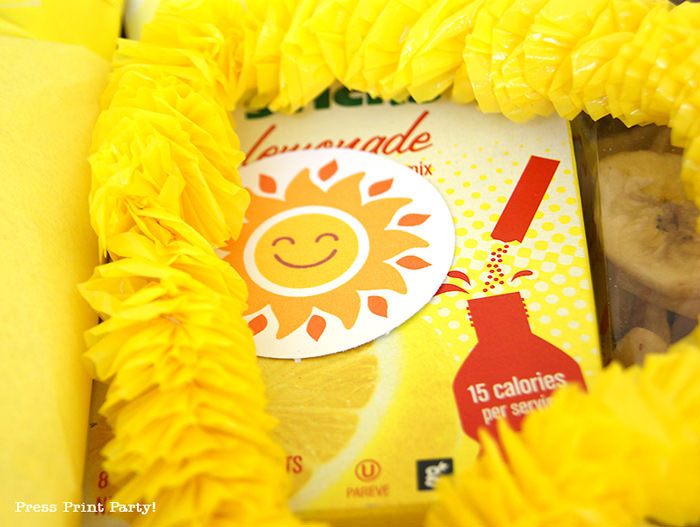 Here's a nice long list of fun gift ideas you can include in your homemade Sunshine Box. Many are inexpensive. A box of sunshine gifts doesn't have to cost much. Here it's the thought that counts. A little sunshine box will cheer up your friends and family as much as a big one will.
It's actually fun to walk along the aisles of a store and shop visually by color and find all the yellow things. You'll feel like you're playing a game of I Spy and get lots of fun ideas.
These items below are all yellow or you can find them with yellow packaging at your local big box store, grocery store, or dollar store.
A bag of chips (Lay's)
A little pack of Tissues
Lemons
Honey
Chamomile Tea
Juicy Fruit Gum
Gum
Wheat Thins Crackers
Crayons
Orange Juice
Yellow Playdoh
Flowers (real or plastic)
Popcorn
A can of Fanta
Lotions or hand creams
Pencils
Anything Emoji (Keychains, eraser, plushie, stickers, etc…)
Butterfingers
GoldFish crackers
A yellow plastic lei
Banana chips
Lemonade mix
Yellow m&ms
Any yellow candy
Ricola (if they're sick)
Yellow Nail polish
Burt's Bees lip balm
Carmex lip balm
Yellow Highlighters
Yellow sports water bottle
A rubber ducky
Yellow slime (great for kids)
Any yellow plushie or toy
Yellow glitter (for the crafty people)
Yellow paper or notepad
scrunchie (I love those AND the shaft is yellow)
Goldilicious book (for little girls)
A fun yellow hair bow, scrunchies, or headband
Gold fairy lights with a copper wire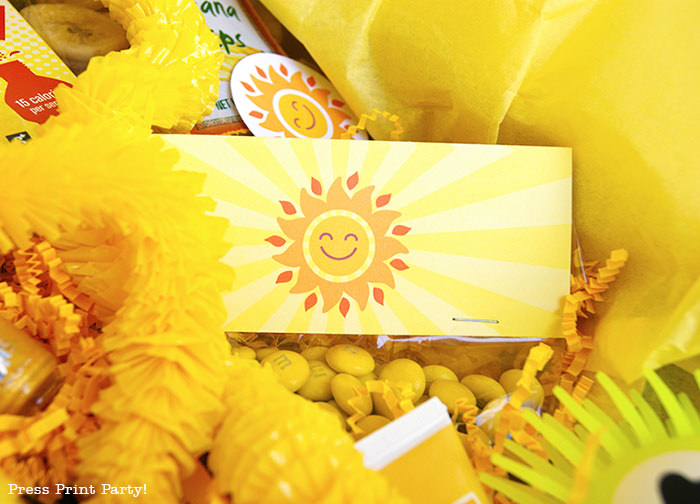 When making my get-well box, I wrapped the lot in yellow tissue paper and placed it in my yellow wrapped sunshine box.

Sunshine box printable cards to DIY your box of cheer
Now that you've chosen your items and your container, your box of sunshine needs a little more. So when I made my box of sunshine I designed the cheeriest sun I could muster and used it to create these box of sunshine printables to bring a smile to my friend's face.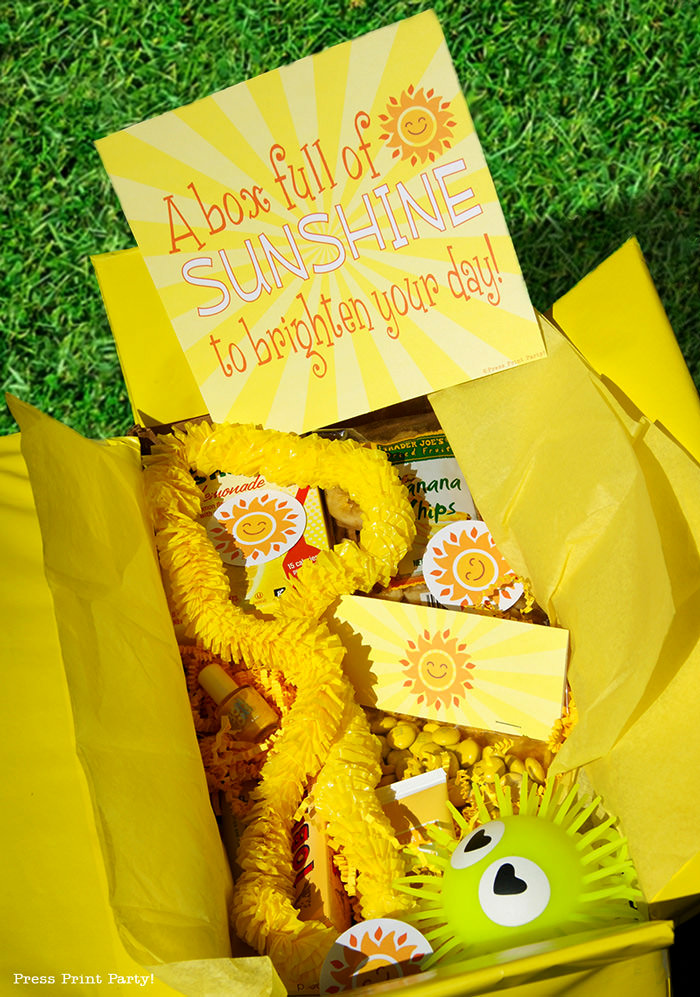 I love these fun printables – and the whole idea of sending sunshine!!
Now in remission, she has thanked me repetitively over several months. I had no idea the impact that simple gesture would have on her.
If you know someone who's hurting, a sunshine box is a very easy, inexpensive, and thoughtful way to brighten their day!
It's a great gift to convey sympathy for a friend who's feeling blue, hurting, has cancer, or grieving a loss.
All the sunshine printables are available in my shop for the simple price of a gift card. The sunshine box printable package now contains an editable card, a "sunshine bag" card, and gift tags.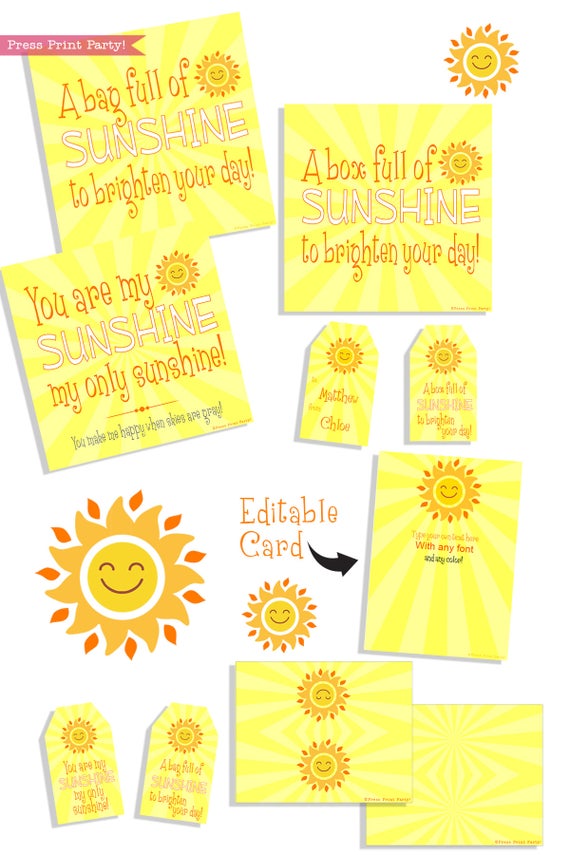 In the printable pack you'll get:
► 7×7 card: "A box full of sunshine to brighten your day!"
► 7×7 card: "A bag full of sunshine to brighten your day!"
► 7×7 card: "You are my sunshine, my only sunshine! You make me happy when skies are grey!"
► 5×7 editable card
► Gift bags handles (1 w. editable text)
► 4 Gift Tags designs – One editable to and from names
► Suns in 3 sizes
The box of sunshine printable pdf file is available as an instant digital download and will open best in the latest Adobe Reader DC app (Available for free on the Adobe Website).
Print them at home with a color inkjet printer or send them to your local office store to print.
Have reused this MANY times…always a big hit. I usually attach this printable to a skewer and stick it in a basket of goodies.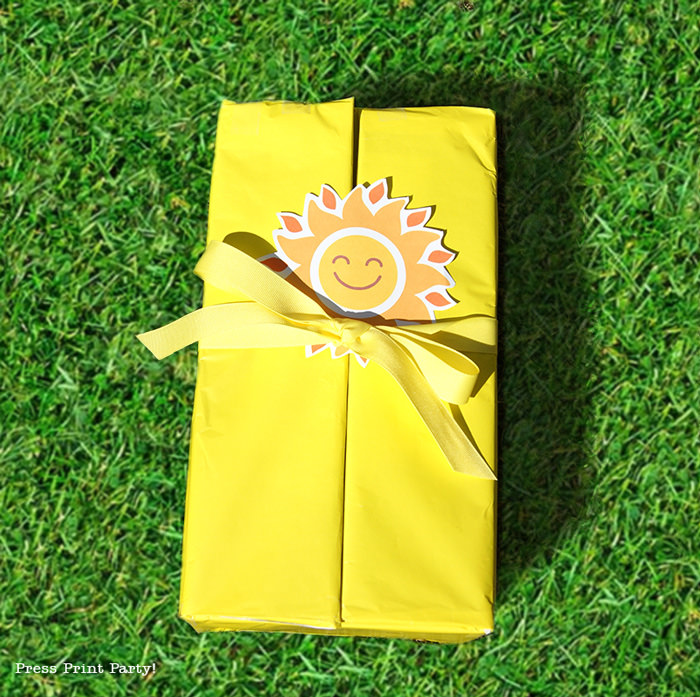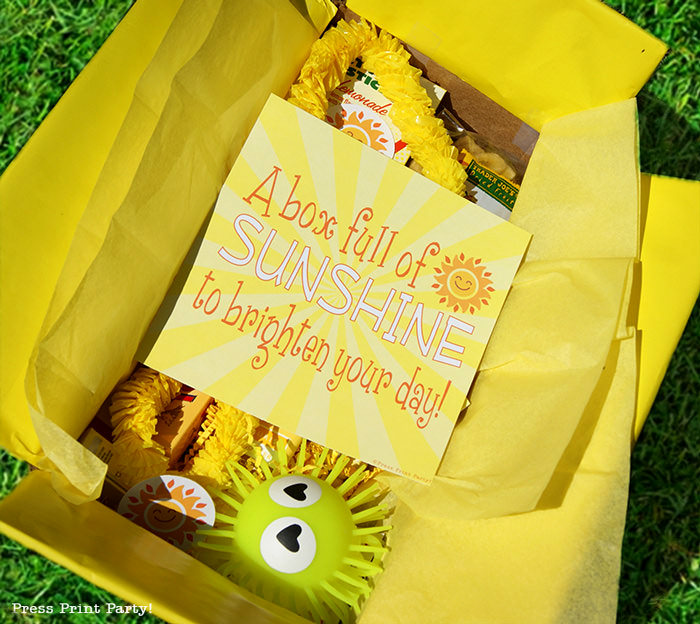 This was perfect for a gift I was putting together. Images are very bright and clear when printing from home.
A little box of sunshine is really a simple idea and the perfect way to send a care package to anyone having a rough time.
Pin it and brighten someone's day today with a DIY box full of sunshine!