Also known as unicorn frosting, a well-executed rainbow frosting swirl sure has the WOW factor.
And no one has to know how truly easy it is!
This post may contain affiliate links.
I used this multicolored rainbow frosting on my super adorable unicorn cupcake cake for my magical unicorn party.
---
Rainbow Buttercream Ingredients
---
How to Prepare Your Rainbow Frosting
Divide some of the white frosting into 4 separate bowls and color them with the food coloring. I chose pink, purple, yellow, and blue to match my party printables theme.
Stir each buttercream, adding food coloring until the desired shade is achieved. You'll want a vibrant color for rainbow cupcakes.
Prepare a piping bag for each of the colors.
Lay a piece of plastic wrap on a board.
Pipe about 4-5 inches of each color next to each other (lay the pink and purple next to each other).
Roll the saran wrap around all 4 colors (make sure not to put the saran wrap in between the colors).
Twist both sides like a candy wrap.
Prepare a whole bunch of these little bundles at once so you don't have to stop in the middle of pipping to make more.
Snip one of the ends and insert the cut end into another large piping bag ready with a piping tip.
Now swirl the frosting top of the cupcake!!
Voila! Perfect unicorn frosting!
Here's a quick video in case the description isn't entirely clear. Don't forget to sign up for my YouTube channel!
---
Put Together Your Unicorn Cupcakes
Use this rainbow swirl design on unicorn cupcakes with printable wrapper and toppers or make the unicorn cupcake cake: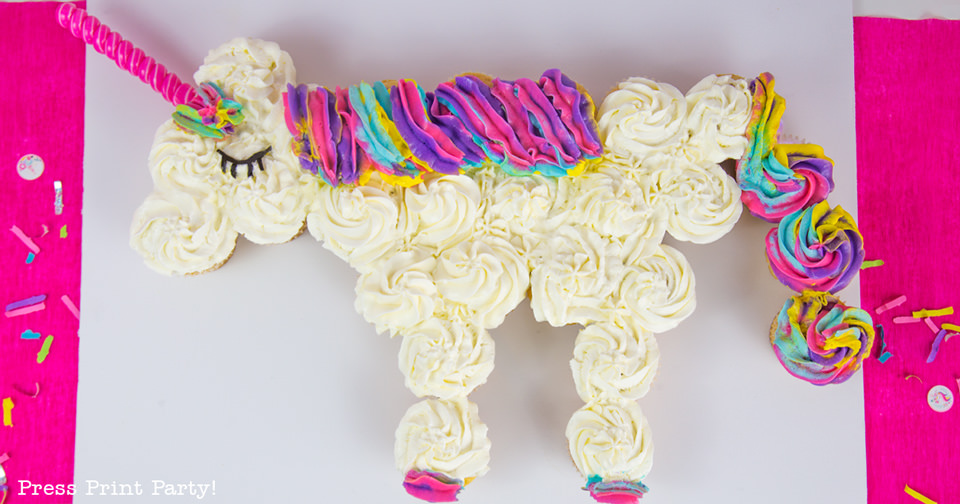 I used a white cake mix for these easy vanilla cupcakes.
Although a box mix will do, you may want to try this quick and easy vanilla birthday cake recipe or my moist chocolate cake recipe to make your unicorn cupcakes.
The unicorn horn with unicorn ears and flowers, and the wrapper with the eyes are printables available in my shop.
---
How to Store Your Unicorn Frosting
If you want to plan ahead, you can either:
Method 1 – Store frosting separately
Make all 4 frosting colors and store them in their separate bags in the fridge or a cool place. (I like to stand them up in a glass).
The day of the party (next day or up to a month later), warm them up to room temperature on the counter.
Make the rainbow frosting as instructed.
Pipe rainbow swirls on your unicorn cupcakes.
Or,
Method 2 – Store already made
Prepare the rainbow frosting bag with all 4 colors and store it in the fridge right away before it gets too warm (Standing up in a glass)
The day of the party, warm it up on the counter to room temperature.
Use your unicorn frosting to pipe swirls on your cupcakes.
Either way will work. I like the first method best because I think you get sharper colored lines that way. The different frosting colors don't have the opportunity to melt together.
But if you need speed on the day of the party, method 2 is for you.
The leftover frosting should be stored in the fridge for no more than a month. But you can freeze your buttercream frosting for up to 3 months in an airtight container.
---
Rainbow cake frosting is really a simple technique once you're shown how to do it.
It's also fun to change up the combination of colors for any event like soft pinks and blues different colors of icing for baby showers and gender reveal parties. Or more colors of the rainbow for St. Patrick's day. You can also choose matching bright colors for birthday parties.
Let your imagination think up all kinds of rainbow desserts in all kinds of various colors.
Don't forget to check out the recipe card for my foolproof Swiss meringue buttercream frosting. I promised you it tastes better than the typical American buttercream icing.
---