I've heard some people say that the only reason for cake is to hold up the frosting. But the typical American buttercream frosting is horrible! They're often striking colors made with a metric ton of nearly inedible food coloring or if not they're just a massive, cloying, clumsy glob of diabetes.
They may look great but they're not worth eating.
If instead, you're looking for a delicious, silky smooth frosting to top that cake or cupcake, that will work beautifully with your piping bag to make pretty, elegant designs, look no further.
The Swiss meringue buttercream is a classic frosting that, unlike the American buttercream, actually tastes good. It is of course, mostly due to the incredible amounts of butter, but it can also be easily modified with different flavors.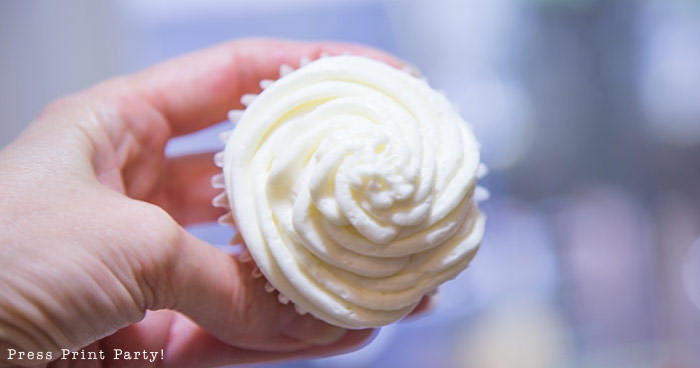 Because of its meringue beginning (whipped egg whites and sugar), the Swiss meringue buttercream has a beautiful silky feel and a shiny exterior. It holds up very well and pipes like a dream. If you see a cupcake on my site, it has this frosting on it.
The caveat is that you'll never truly get a really bright white color. Butter is yellow and even if it lightens up during the beating, it still retains a very slight yellow tint. To the naked eye, it looks white unless you have store-bought bright white frosting to compare it to. But try a scoop of that so-close-to-white buttercream and a scoop of that store-bought brilliant white frosting and you'll discover that you're perfectly happy with so-close-to-white.
I think people are afraid of this method because it's just a little more involved and uses a process that some people may not be familiar with. It requires heating up the sugar and egg whites in a "bain-marie" but that's really nothing more than setting a pan of simmering water on the stove and placing your mixing bowl into it.
Give it a whirl. Try it once and it will become your favorite in no time. And then you can throw around phrases like "bain-marie" and impress your guests with both your French and your mad baking skills.
Scroll down to find the recipe and a free downloadable 4×6 recipe card to add to your collection.
This is what it looks like before adding the butter: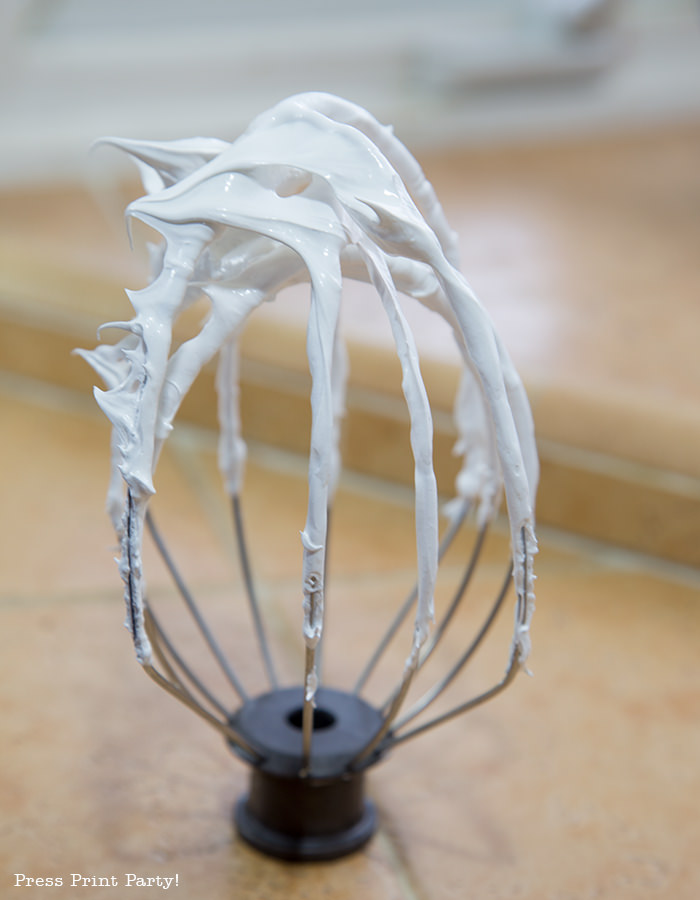 Then this is what it looks like after the butter: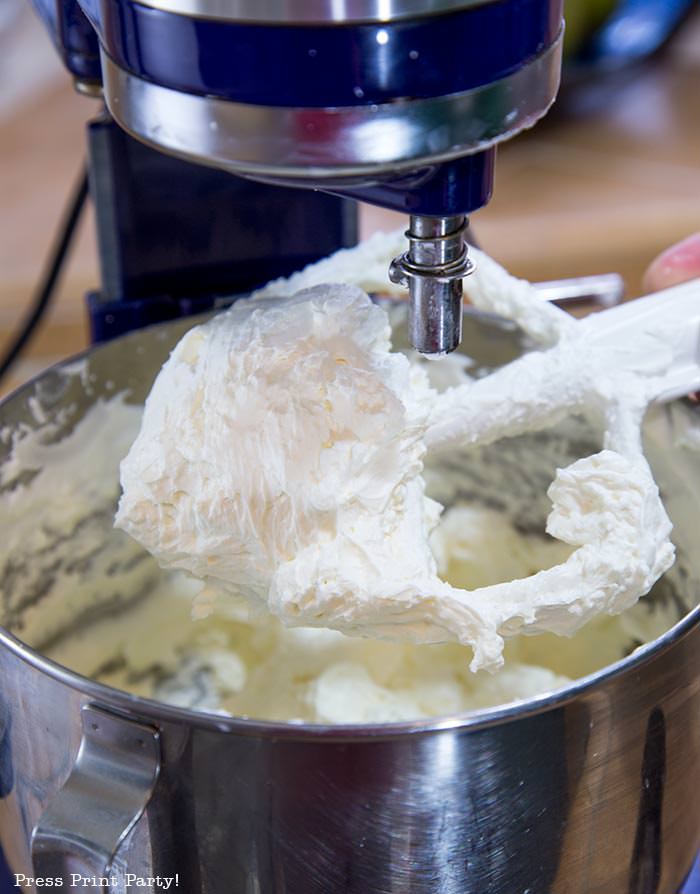 And this is what it looks like pipped. I used this Swiss meringue buttercream recipe for my DIY rainbow swirl frosting.
And on my Super Moist Chocolate Cake.
You can use the recipe below or print a FREE visual 4×6 recipe card to keep in your recipe box at the bottom of this post.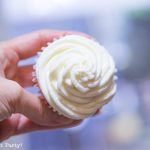 Foolproof Swiss Meringue Buttercream Frosting
Ingredients
1 1/4

cups

sugar

4

large egg whites

1 1/2

cups

unsalted butter at room temperature

- Cut in cubes

1

tsp

vanilla extract
Instructions
Mix the egg whites and sugar in a mixing bowl. Set the bowl over a pan of simmering water and stir constantly until the sugar is dissolved.


Whisk the warm mixture until stiff - Then 6 more minutes on high.

Switch to the paddle attachment. Add the butter in batches while beating on medium-low making sure each batch is well blended.


Add the vanilla extract and beat on medium-high for 3-5 minutes until smooth. Beat on low for another 2 minutes to remove any air bubbles

Recipe Notes
To use as a filling you can stir in flavorings at the end with a rubber spatula. Some options are:
Lemon: add 3/4 cup of lemon curd
Strawberry or other red berries: add 1 1/4 cup of pureed jam
Don't forget to pin it!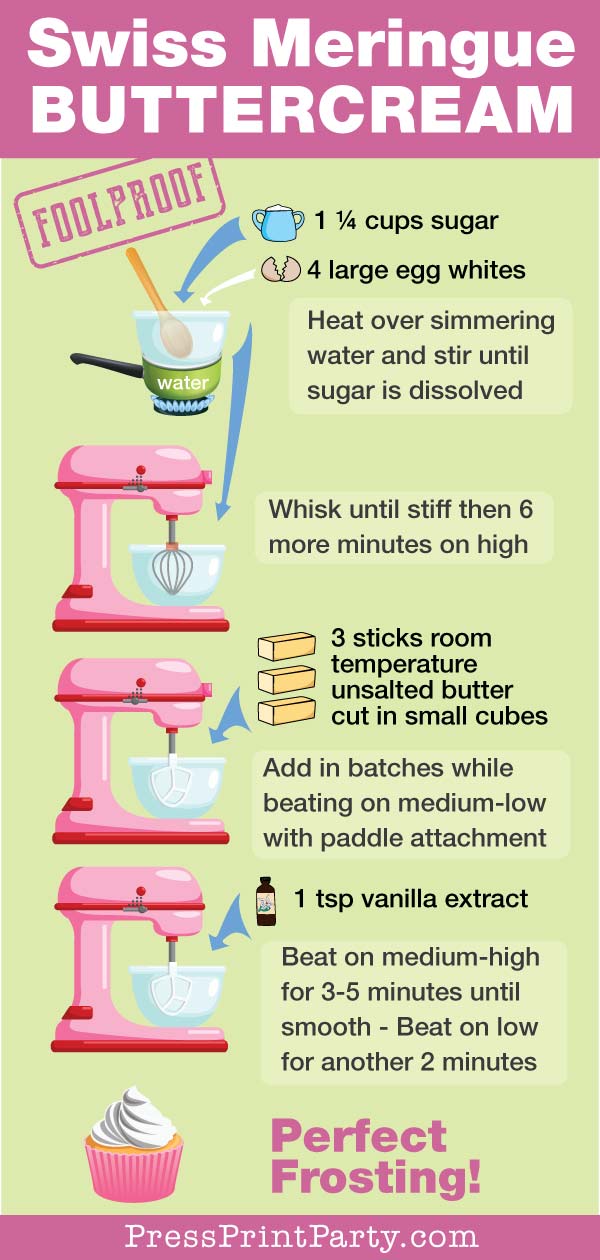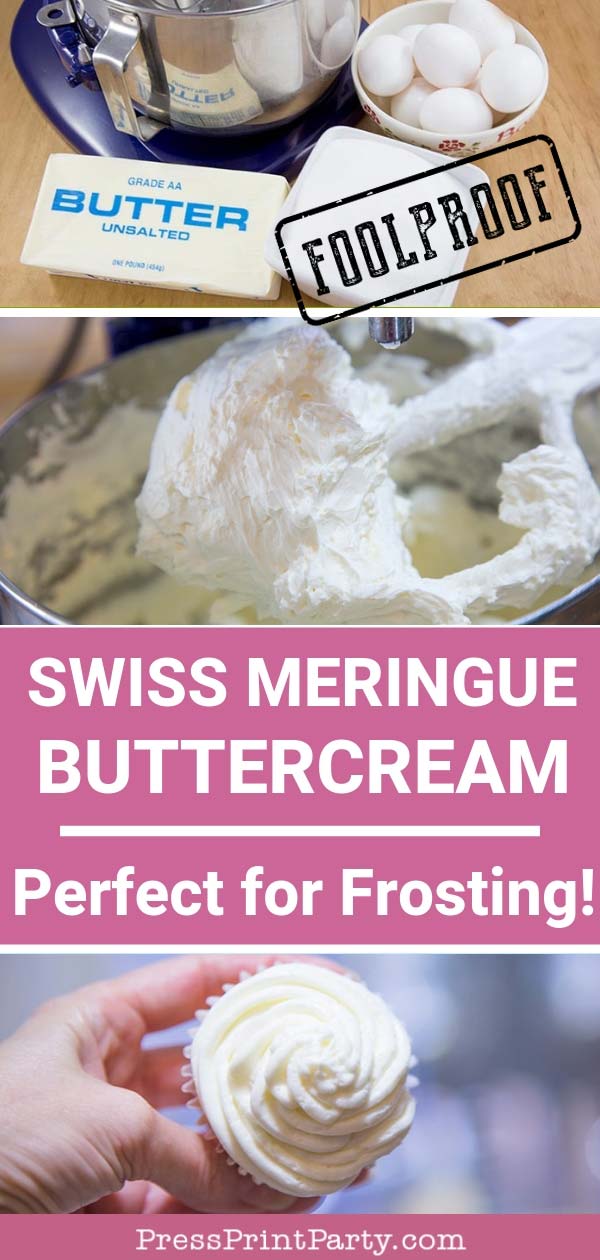 Get Your Freebie:
If you've already subscribed, you can get the password from the bottom of any email I send and go directly to the Free Downloads Library.
Check out our birthday printables