"You've Been Elfed" is the Christmas version of the "You've Been BOOed" tradition at Halloween time.
In the movie "The Christmas project"  they practice a version of this that they call "Elving" where they give several gifts anonymously to one deserving family during the Christmas season. 
If you've never seen this movie it's a hidden Christmas movie gem that's high up on my list of the best family Christmas movies to watch.
So, let's get ready to bless someone.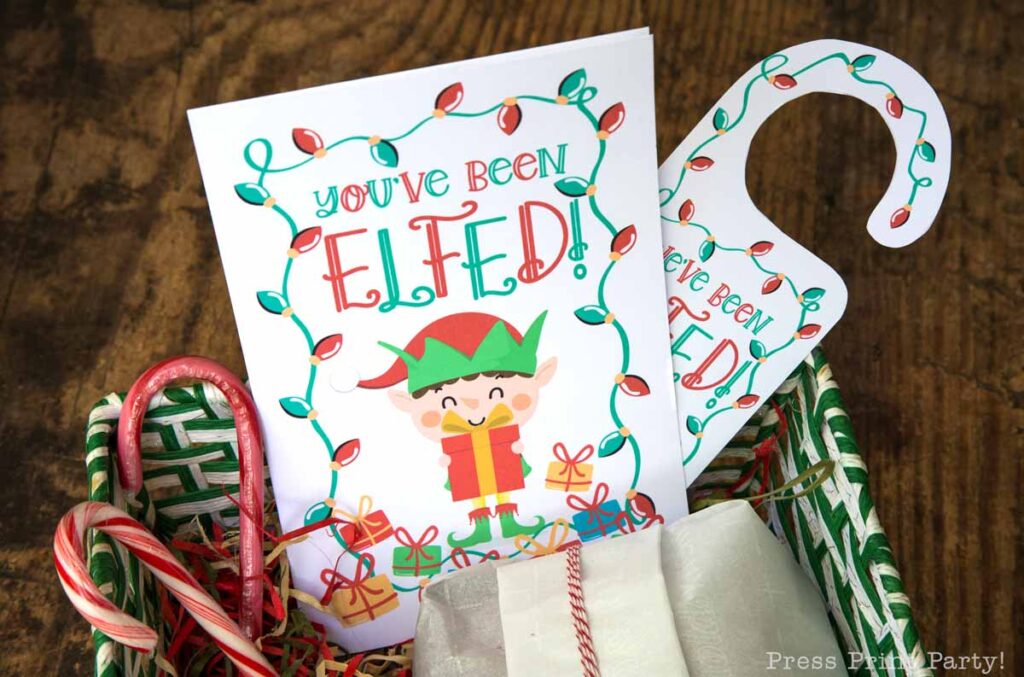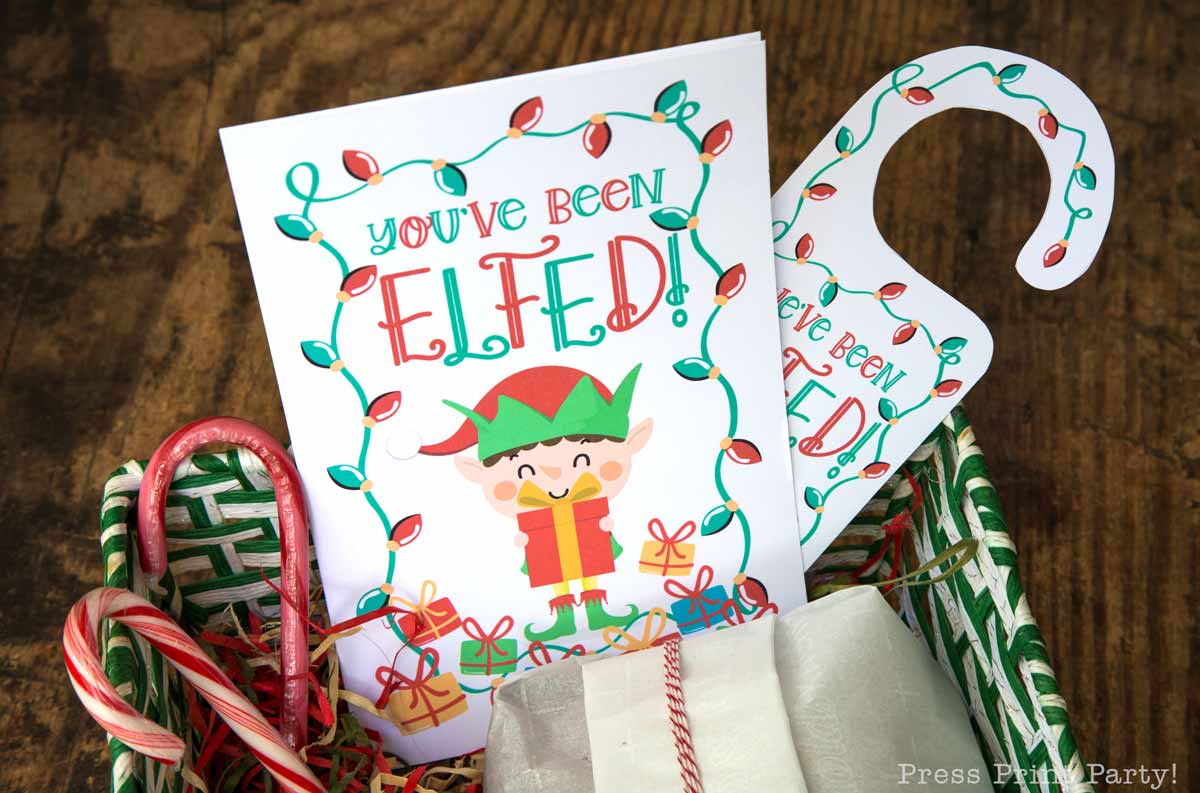 ---
How to play you've been elfed
Using the free printables in the downloads Library you can play the game a couple of different ways. (Scroll down to sign up for the fun weekly newsletter and get your password to the Free Downloads Library.)
Just follow these 3 steps:
1. Choose a gift
The first step is to decide what your surprise gift will be. Gift ideas can be anything from traditional Christmas treats like cookies and baked goods, to wine, popcorn, toys, Chex mix, etc.
You can make it yourself or buy it at the Dollar Store. Little gifts are great, all kinds of gifts work.
Here I chose a couple of jars filled with cocoa and marshmallows as well as a loaf of fresh-baked banana bread. (see my recipe here).
I used a basket but you could just as easily use a gift bag or just a plate.
2. Choose your option

If you just want to give a gift or two anonymously and leave it at that, just print the "You've been Elfed" printable signs and place them in the basket. Or attach the gift tag to your surprise gift.

Your neighbors will be happy and will scratch their heads wondering who to thank.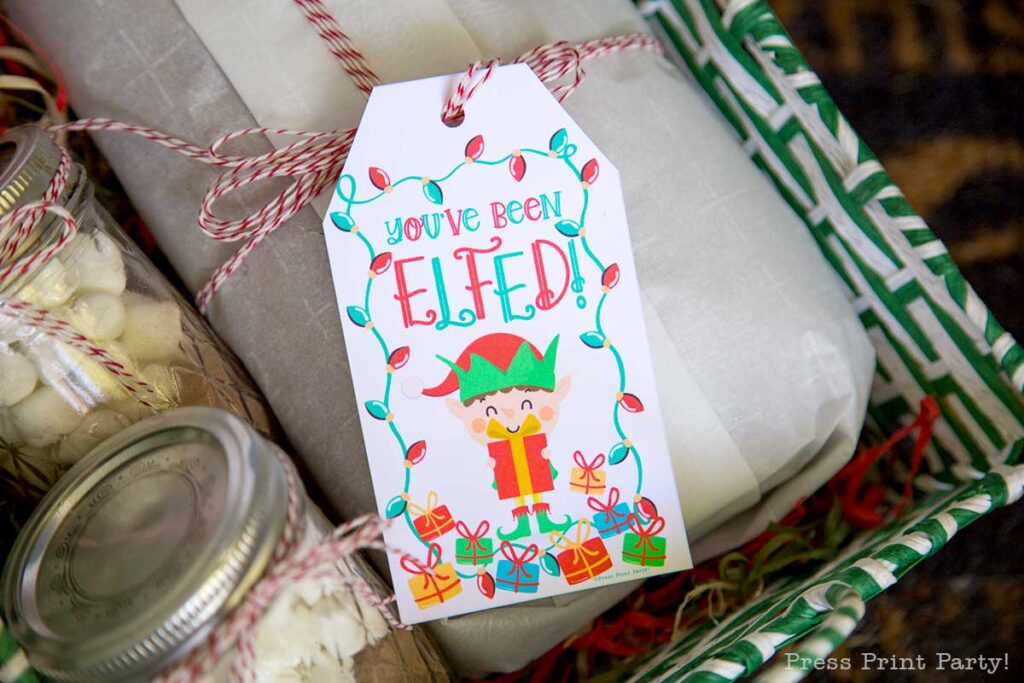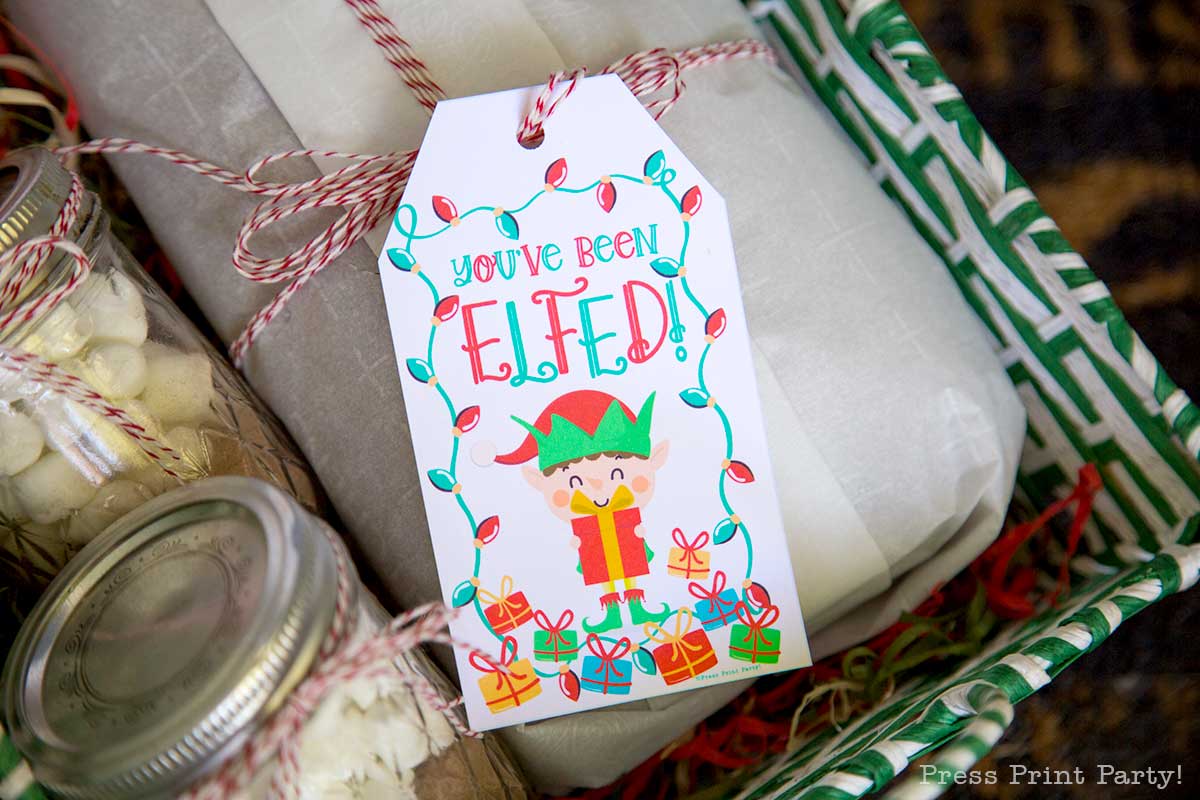 But if you'd like to see the Christmas spirit spread throughout the entire neighborhood, prepare 2 baskets of treats and in each basket include:
1 "You've Been Elfed" sign of your choice.
1 " We've Been Elfed" door sign of your choice.
1 instruction sheet.
Your neighbors will be encouraged to leave the "We've Been Elfed" sign at their front door (so they don't get Elfed twice) and asked to continue the fun game and bless 2 more neighbors.
It's a great way to pay it forward.
If you want a bunch of treats, my hubby insists that you don't REALLY have to put the "We've Been Elfed" sign at the door. I'll leave that up to your conscience. 😂
This holiday game is all in good fun and the best part is to see the whole neighborhood embrace this happy Christmas tradition as elf signs pop up on every door.
3. Place the gift on your neighbor's porch.
It could be hard these days to play an effective game of ding dong ditch with all the Ring doorbells on everybody's front porch.
So it may be time to get inventive and disguise yourself as you drop off your Christmas goodies.
We recently bought a Santa costume for my husband to wear so we can take our yearly photo of the girls with Santa without having to pay mall prices.
Wouldn't it be fun to see a video of Jolly Old Santa Claus dropping off a basket of goodies at your porch?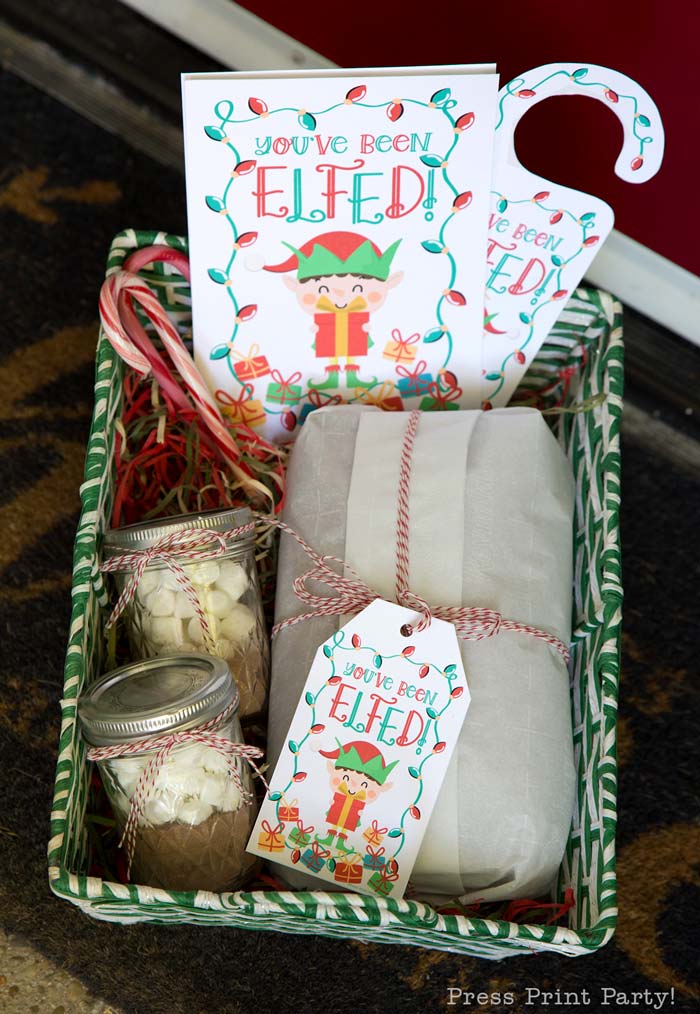 ---
You've Been Elfed Free Printables
The free printable pack comes as a downloadable PDF file and includes:
"You've Been Elfed" signs. You'll be able to choose from:
a page with 2 half sheet signs (print and cut in half),
a page with 2 big tags (print on cardstock and trim),
or a page with 2 door hangers (print on cardstock and trim).
"We've Been Elfed" Signs You can either print:
a page with the half sheet signs (print and cut in half),
or the page with 2 door hangers (print on cardstock and trim).
Instruction sheets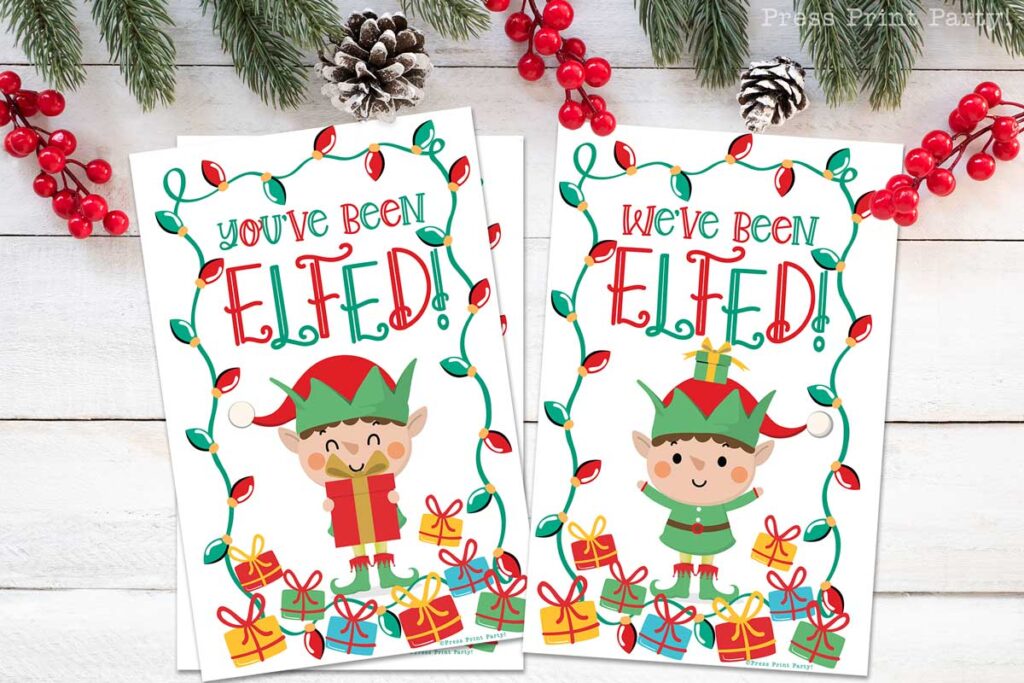 ---
You now have become a true Christmas elf.
Bringing joy to the whole neighborhood.
The entire family can participate and have fun coming up with ways to ring the doorbells of the homes with cameras.
For more Christmas games to play go check out the free printable Left Right game to play around the table, or plan your Elf on the shelf journey this year with these 25 hilarious ideas and this free printable planner.
There also are plenty of Christmas printables in the shop like stocking stuffer coupons, Santa letters, Gift tags, and more.