Ghost lollipops are an oldie but goodie; they make great Halloween giveaway treats to classmates and friends or Halloween party favors.
These DIY lollipop ghosts also make an easy Halloween craft to do with the kids.
Adding the free printable tags also makes them a perfect treat for a classroom Halloween party or a giveaway for business clients. I'm sure realtors' clients would love receiving ghost lollipops as Halloween candy.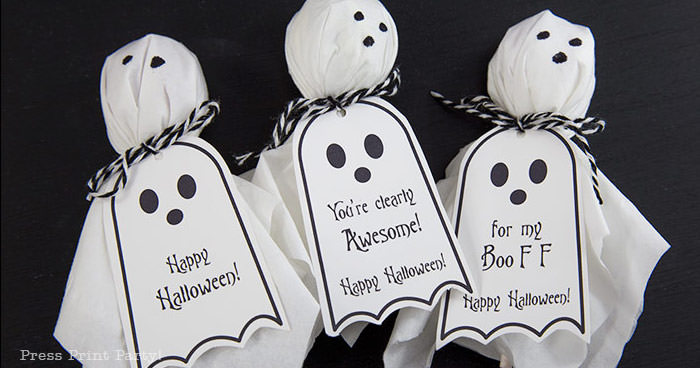 This post may contain affiliate links.
Ghost Lollipop supplies
You only need a few simple supplies to make these lolly pop ghosts and it's such an easy craft, it can be made by kids of all ages.
Just get lollipops, a box of tissues, some pretty baker's twine, black ribbon, orange ribbon, or string, a permanent marker, and FREE printable Halloween tags. You'll find the link for the tags at the bottom of this post.
By adding these super cute and clever tags, you are taking these ghost suckers to the next level (or the next dimension…oooohhh…spooky!).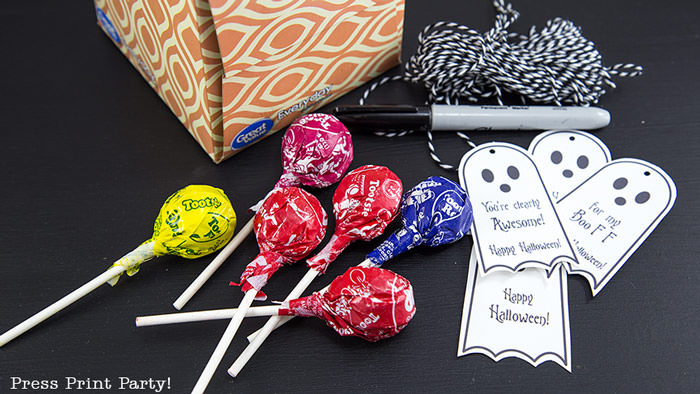 How to make a ghost lollipop?
First, download and print the ghost lollipops' free printable Halloween tags. (Link at the bottom of post)
Then, take a tissue and cut it in 4. You'll want to use one full tissue and one 1/4 tissue in the middle to hide the color of the lollipop. You could use 2 tissues but I found it too bulky.
The 2 layers of tissue in the middle will create an opaque covering for the lollipop. If you use only one layer of tissue, the lollipop's color will show through.
This is where some ghost lollipop tutorials go wrong. You need that extra layer on top.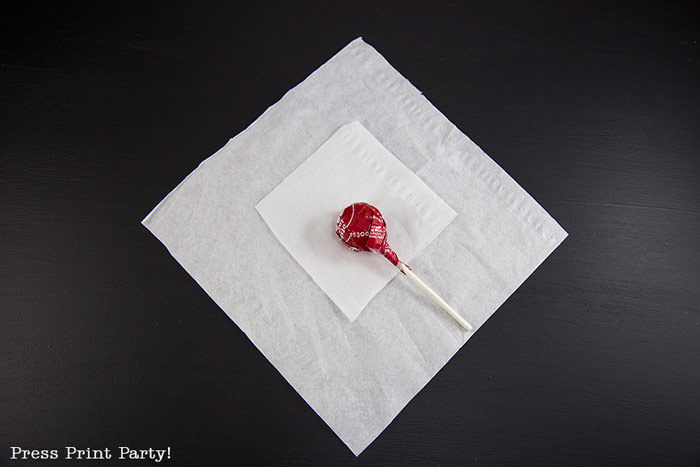 Wrap your lollipop and tie a string (or a piece of ribbon). If you are having trouble getting the tissue to lay the way you want it, use a small rubber band before tying the string.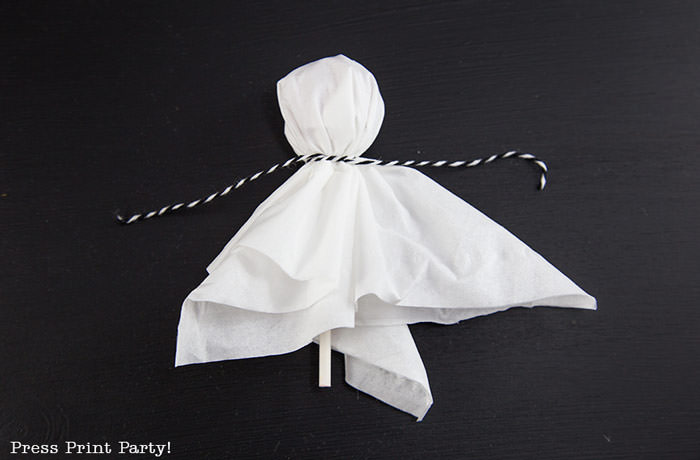 This is when I like to string my tag so it stays on. Cut out the tags and punch a hole at the top. String the tag and finish the bow.
Time to draw on the ghost's face. Add the ghost's eyes and mouth with a Sharpie marker. Of course, if you're an artist feel free to add more facial features! Be sure not to touch the tip of the marker to the tissue for too long. Otherwise, the tissue will absorb too much ink and tear.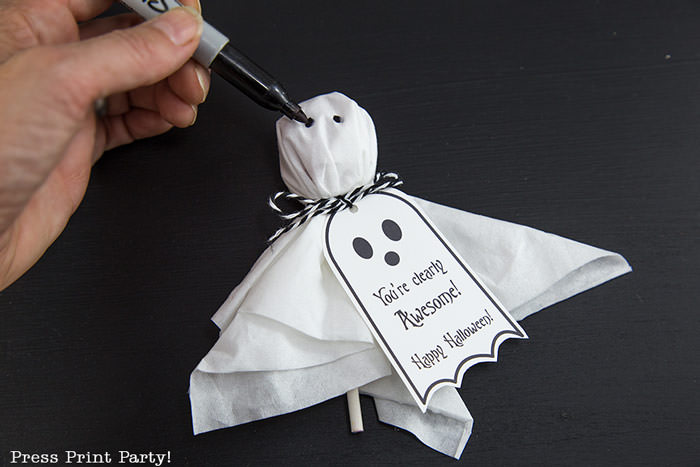 Customizing your ghost lollipops
There are a few ways you could customize these spooky ghost lollipops. The first customization option is the lollipop itself.
Will you use blow pops, caramel apple pops, dum dum pops, or tootsie pops? I went with the tootsie pop ghost option.
Another customization option is to make a ghost face with googly eyes. I used a black marker for convenience.
If I had used googly eyes, I probably would have wanted to store them upright to ensure the eyes did not get caught on anything.
In addition to googly eyes, you could use pipe cleaners to make little funny arms. You could also replace tissues with a white sheet of tissue paper, coffee filters, or white napkins to achieve a different shape in the body of the ghost.
But I like them just the way they are…

How do you display ghost lollipops?
There are several options for displaying your ghosts upright.
Find a rectangle of packaging styrofoam (I may or may not have dumpster dived behind an electronic store to find the perfect shape) and just stick the lollipops into it.
Display them upright in bunches in several short cups or glasses.
Turn a paper or foam cup over and poke a hole for the lollipop to go in.
These little ghosts make a fun and silly bunch! If you've read some of my other Halloween posts, you've probably seen that I like to keep Halloween decorations more on the fun and playful side.
I love seeing these cute ghosts around the house alongside our annual collection of adorable, printable bats.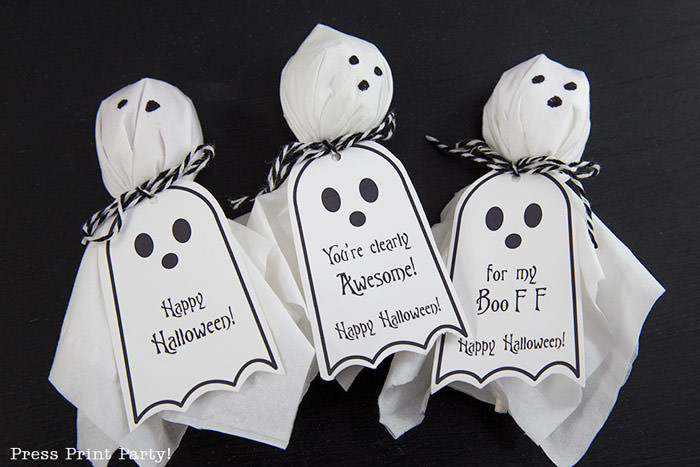 This craft puts a spooky spin on the age-old question, "How many licks does it take to get to the center of a tootsie pop?" Maybe the reason we keep having to ask is that people die trying.
Ooooohhhhh! Spooky!
I hope this post has inspired you to never give out boring Halloween lollipops again! Don't forget to share this post with your friends!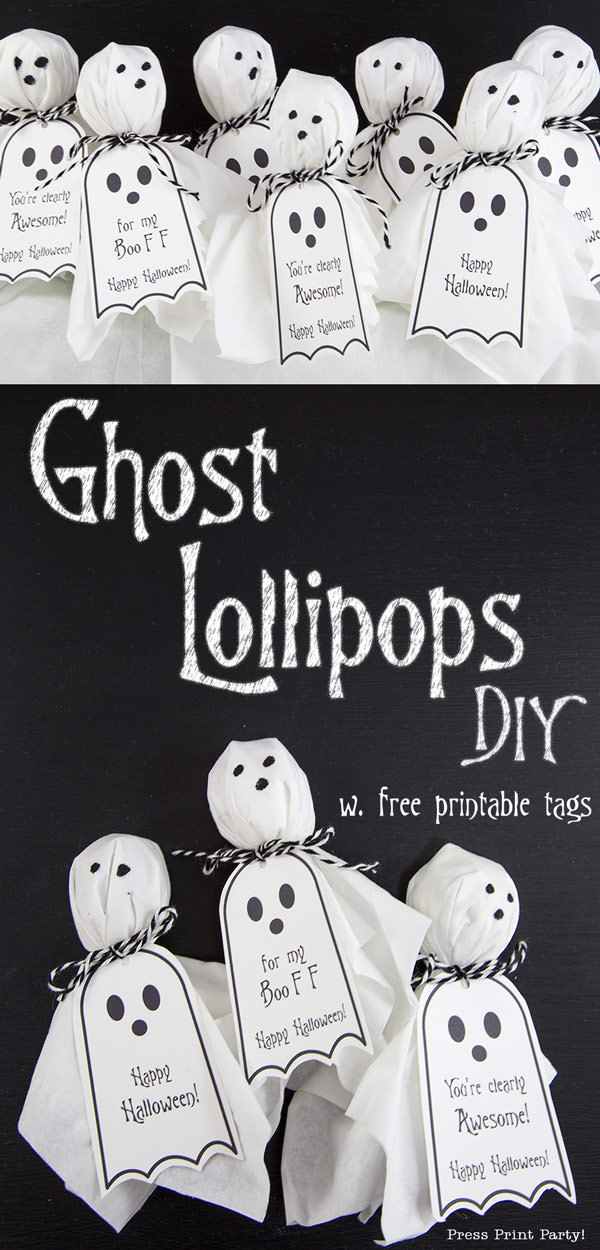 Get Your Freebie:
If you've already subscribed, you can get the password from the bottom of any email I send and go directly to the Free Downloads Library.
Check out our Holiday Printables
Linked up to Home Matters Linky Party #157