Bring the true meaning of Easter to light by gifting this fun Easter story snack mix as a fun little snack.
Make this simple treat and use the free printable bag topper to make gift bags for everyone.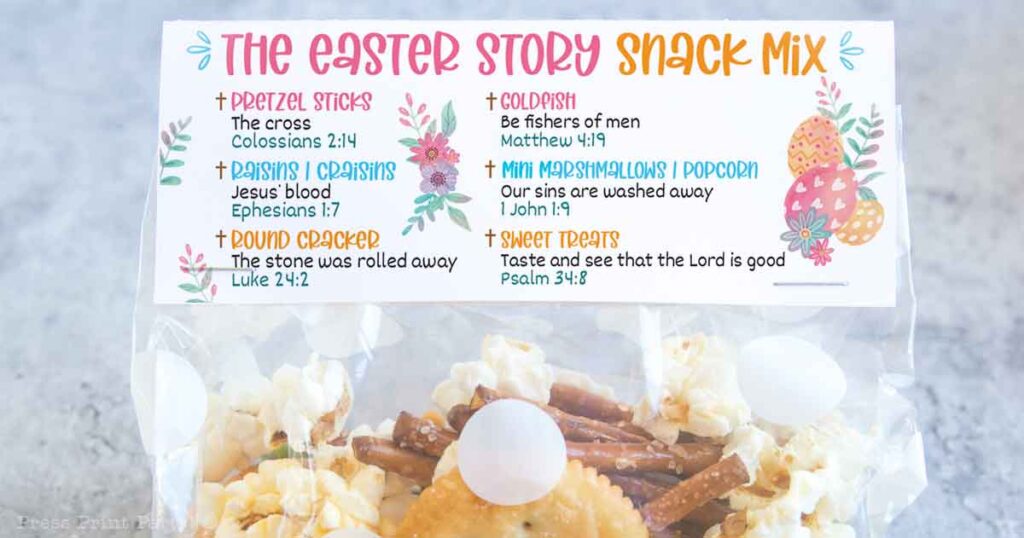 This post may contain affiliate links.
Easter is more than about bunnies and chicks, it's about the lamb. And teaching kids the true meaning of the story of Easter is important.
What is Easter about?
The cornerstone of the Christian faith is Jesus' resurrection.
We believe that Jesus died on the cross and Easter celebrates the resurrection of Jesus Christ on the third day after His crucifixion.
When we celebrate Easter, we rejoice that Jesus has risen from the dead. "He is risen" is a phrase often heard on Easter Sunday. The response is, "He is risen indeed".
On the third day after Jesus's death, the women went to the tomb but found it empty with the stone rolled away. Can you imagine? A massive stone closure and guards posted day and night and suddenly He's gone.
Jesus was then seen by Mary Magdalene, his disciples, and 500 others.
You can read the resurrection story in John 20. 
The shedding of His blood is the ultimate sacrifice for our sins and all who believe in Him have eternal life. We are white as snow in the eyes of God, He sees our sin no more. We have been forgiven. John 3:16.
The Easter Story Snack Mix Recipe
Each item in this Easter snack mix is relevant to the story of Easter. Each treat is linked to a verse explaining more of the story.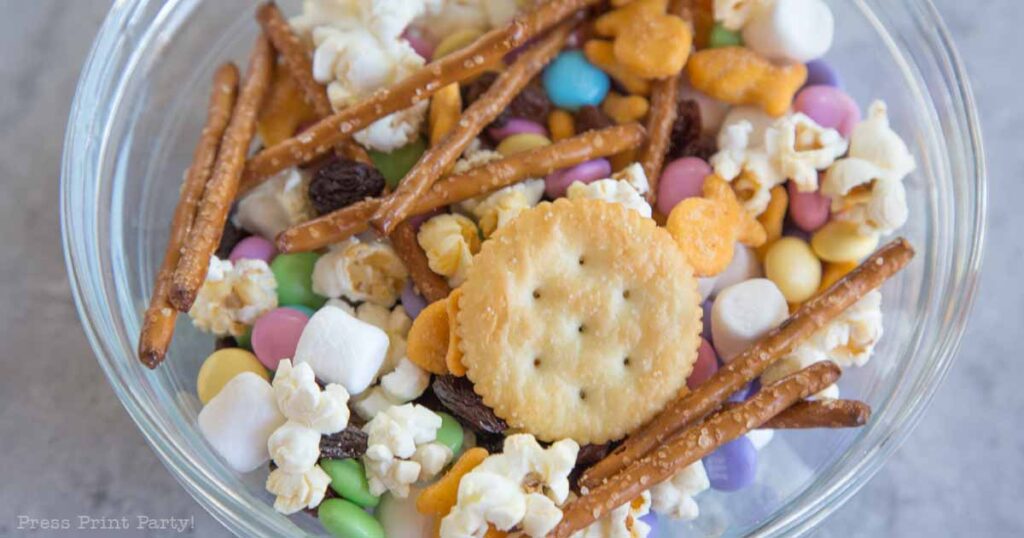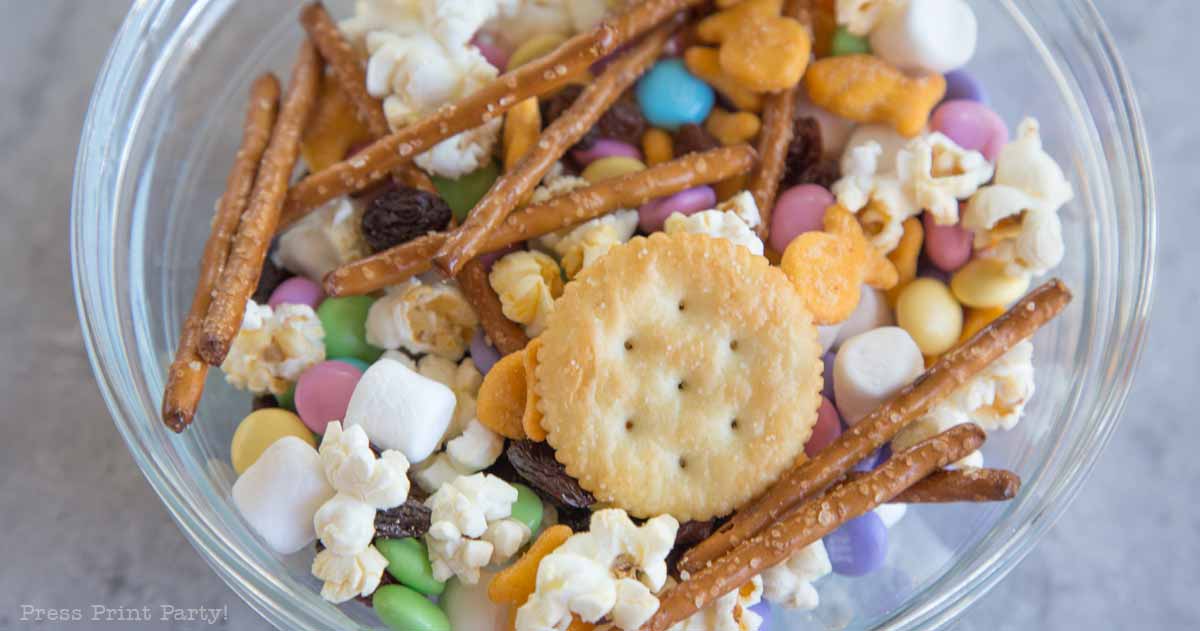 I've looked at several ways to make this mix. I wanted it true to the story, but also a potential winner trail mix at any Easter gathering.
So, you'll see that I decided to add popcorn as an element to my Easter snack mix. 
Popcorn is white and fits well with the mini marshmallows and it adds another filler element in the snack mix recipe that isn't pure sugar.
Here are the elements, what they represent, and the Bible reference.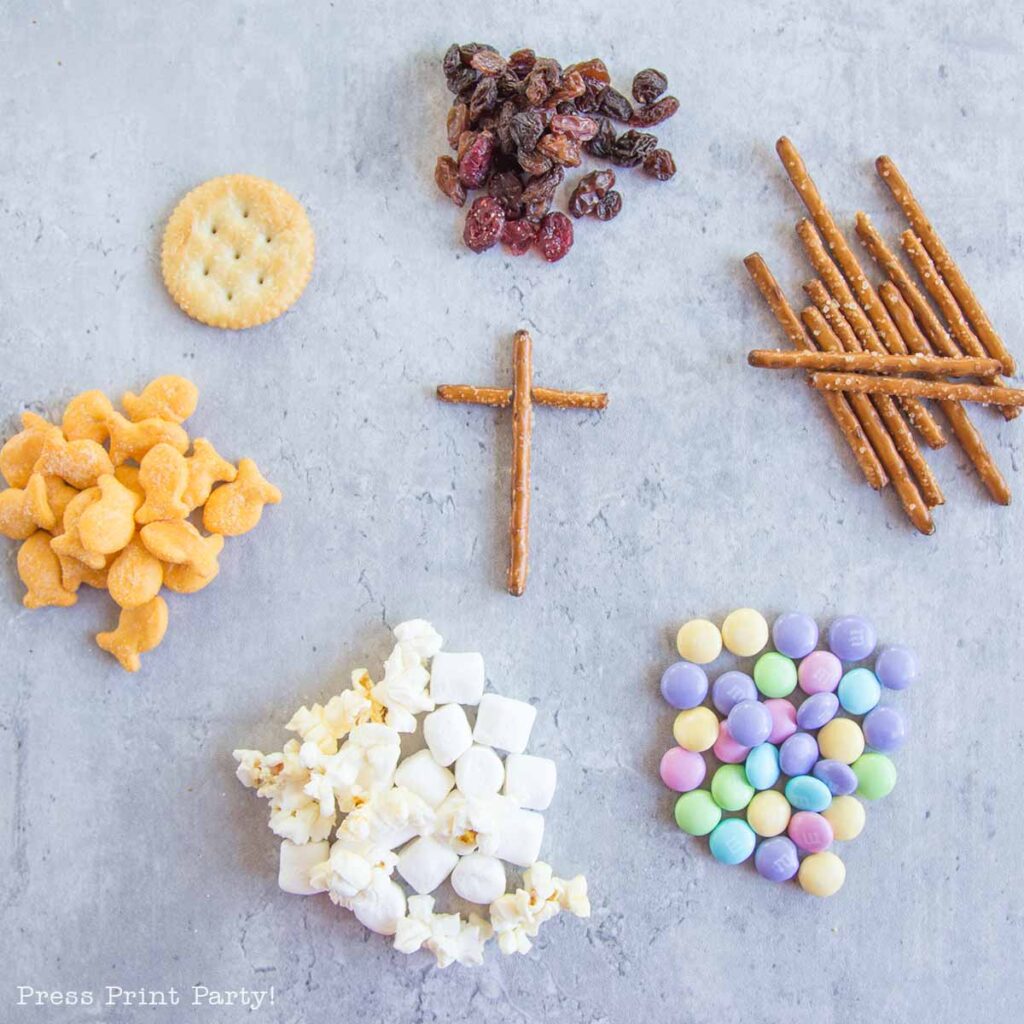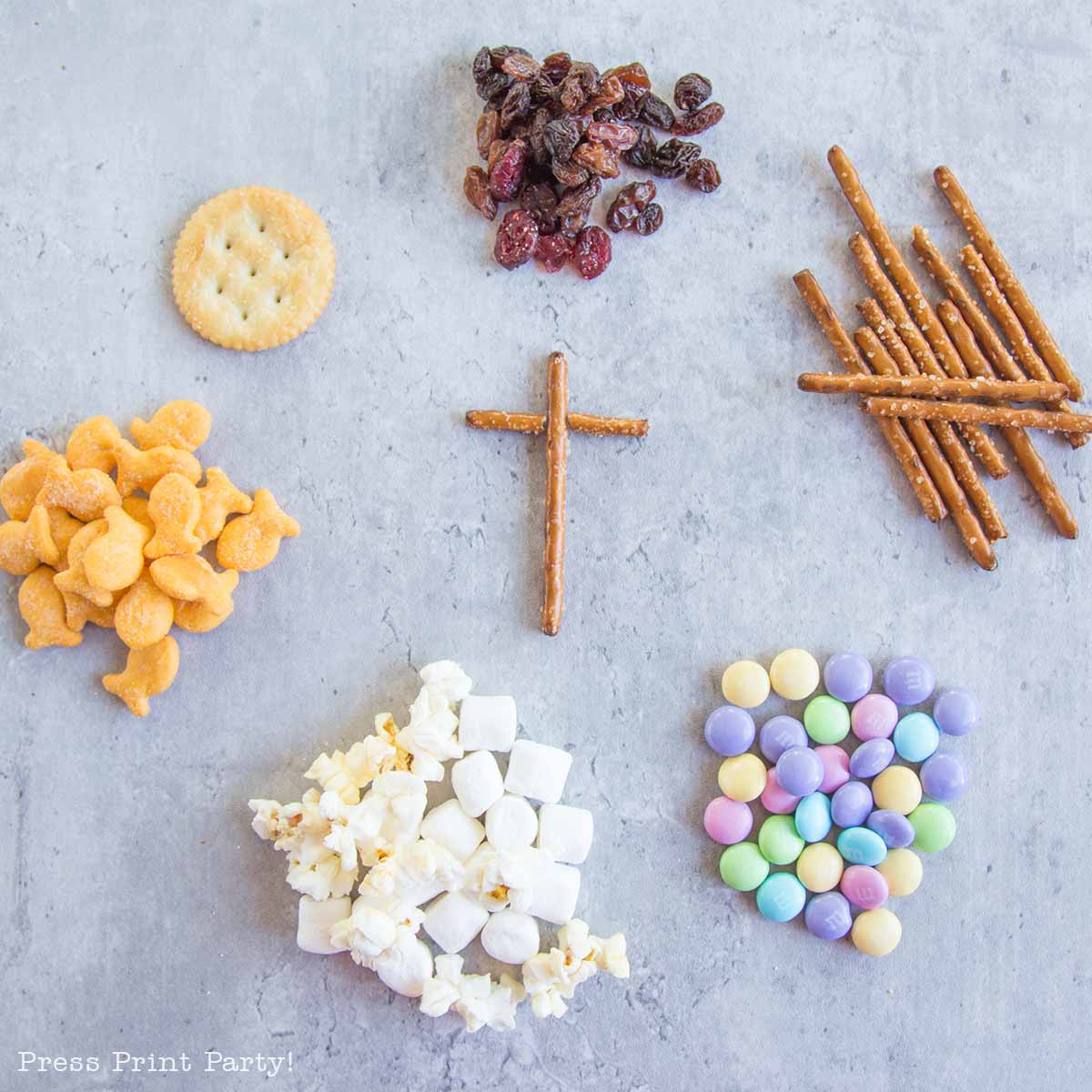 Pretzels Sticks
Represent the cross on which Christ was crucified.
by canceling the record of debt that stood against us with its legal demands. This he set aside, nailing it to the cross. – Colossians 2:14
Raisins/ Craisins
Represents Jesus' blood shed for us.
In Him we have redemption through his blood, the forgiveness of our trespasses, according to the riches of his grace, – Ephesians 1:7
Round Cracker
Represents the stone that was rolled away from the tomb.
And they found the stone rolled away from the tomb, – Luke 24:2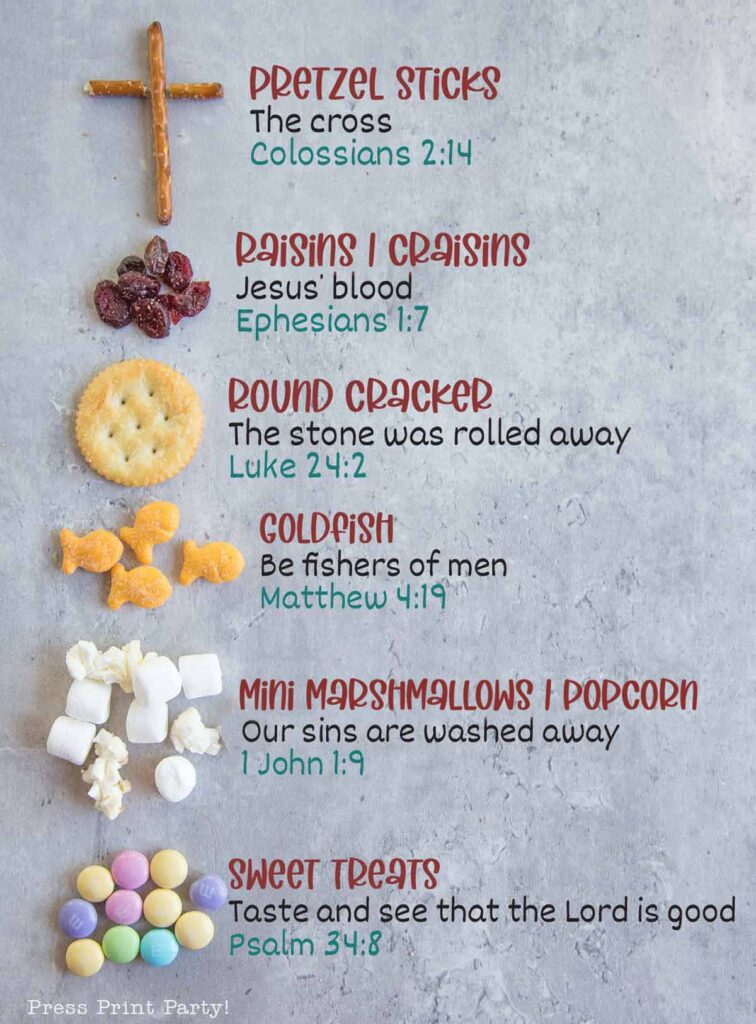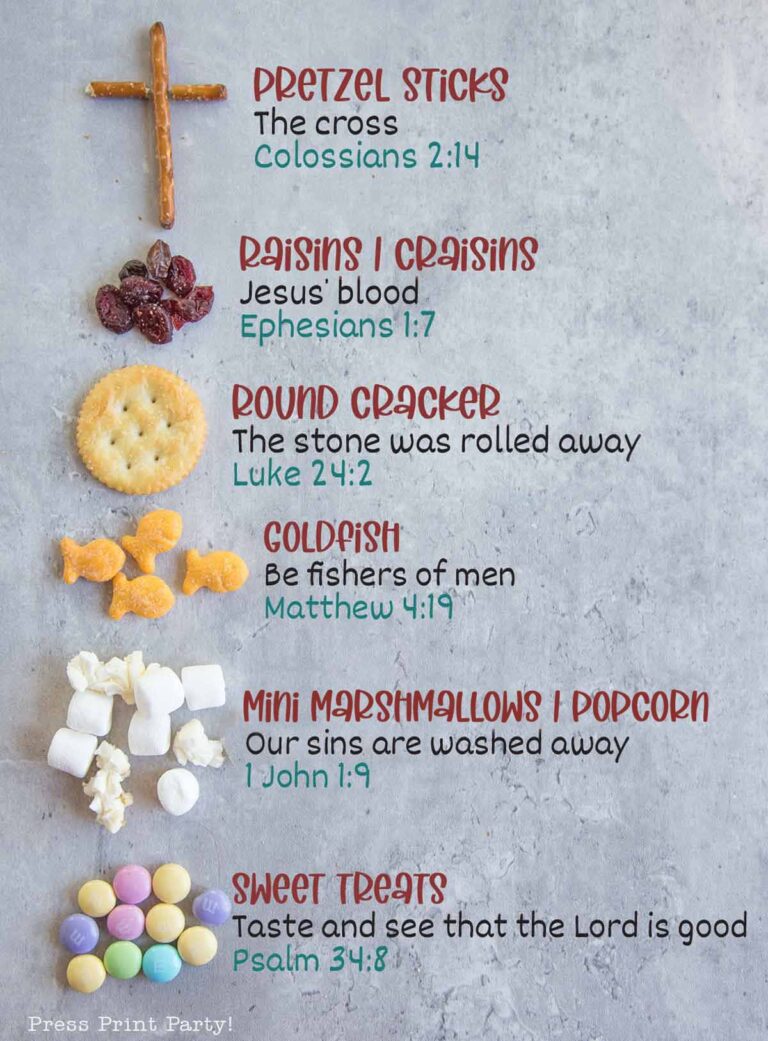 Goldfish Crackers
Jesus told his disciples to be fishers of men
And he said to them, "Follow me, and I will make you fishers of men." – Matthew 4:19
Mini Marshmallows/ Popcorn
Our sins are washed away
If we confess our sins, he is faithful and just to forgive us our sins and to cleanse us from all unrighteousness. – 1 John 1:9
Sweet Treats
Taste and see that the Lord is good
Oh, taste and see that the Lord is good! Blessed is the man who takes refuge in him! – Psalm 34:8
I think adding just one round cracker to each package to signify the tombstone gives it more significance.
I used a Ritz Cracker for mine, mostly because I love them, but any round cracker work. I saw some bigger more fancy ones at the store and those would work great too.
Except for the round cracker, the quantities of each of the elements don't matter a whole lot.
The addition of popcorn adds a nice filler and you'll be able to make plenty of little bags for people. The paid version of this bag topper and tag comes with a version without "popcorn".
I also used m&ms for the sweet treat.
Around the Easter season, they sell the regular as well as the peanut m&ms in adorable pastel colors. But you could use chocolate Easter eggs or whatever else you'd like.
I'd recommend making the snack mix recipe in a big bowl, then filling each cellophane bag, and adding a round cracker to each.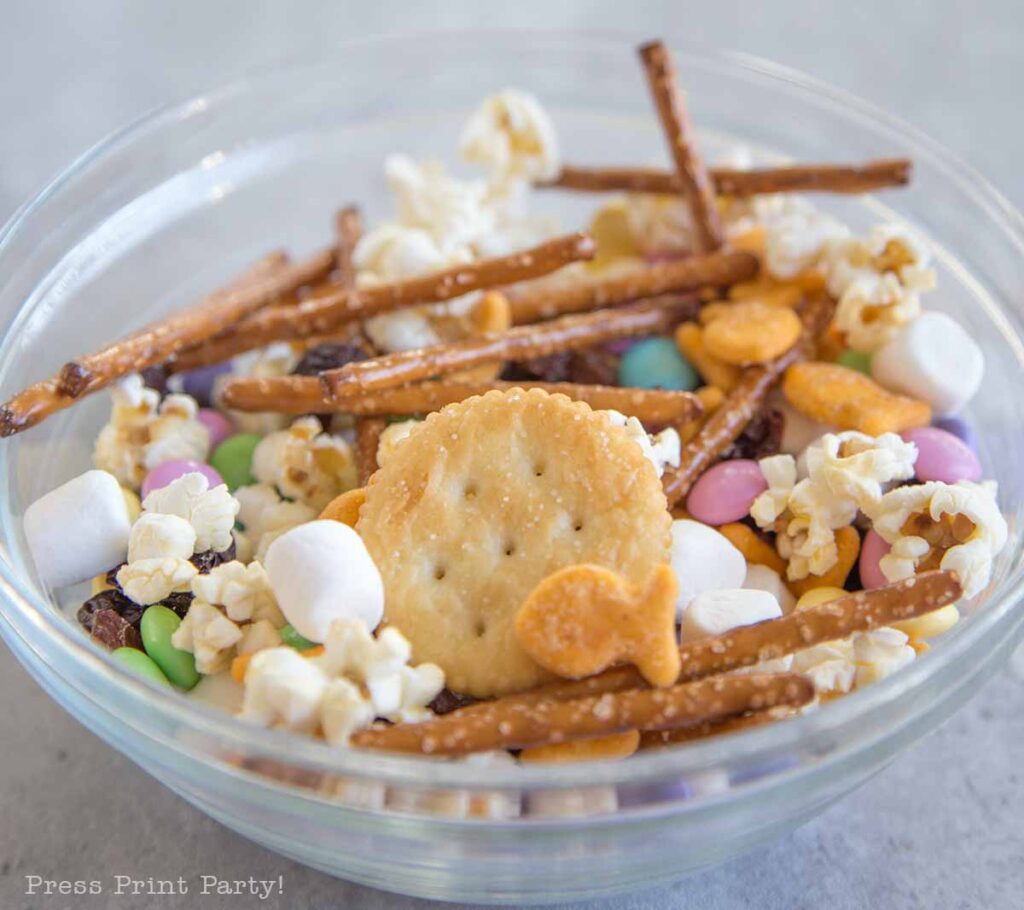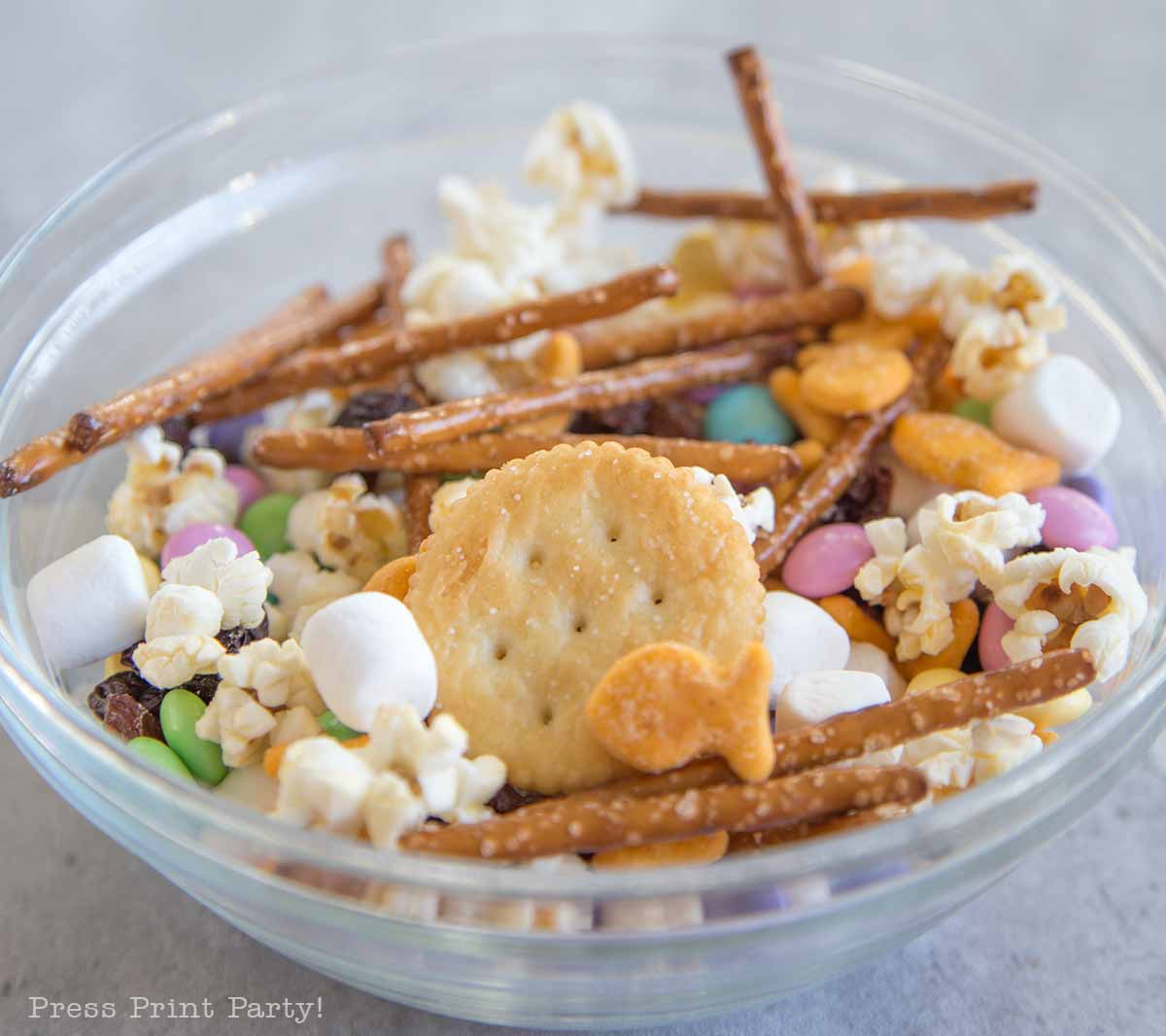 Free Printable Easter Story Snack Mix Bag Topper
Use the free printable bag topper to staple at the top of a clear bag and you'll have an easy Easter story snack mix to give out as a special treat.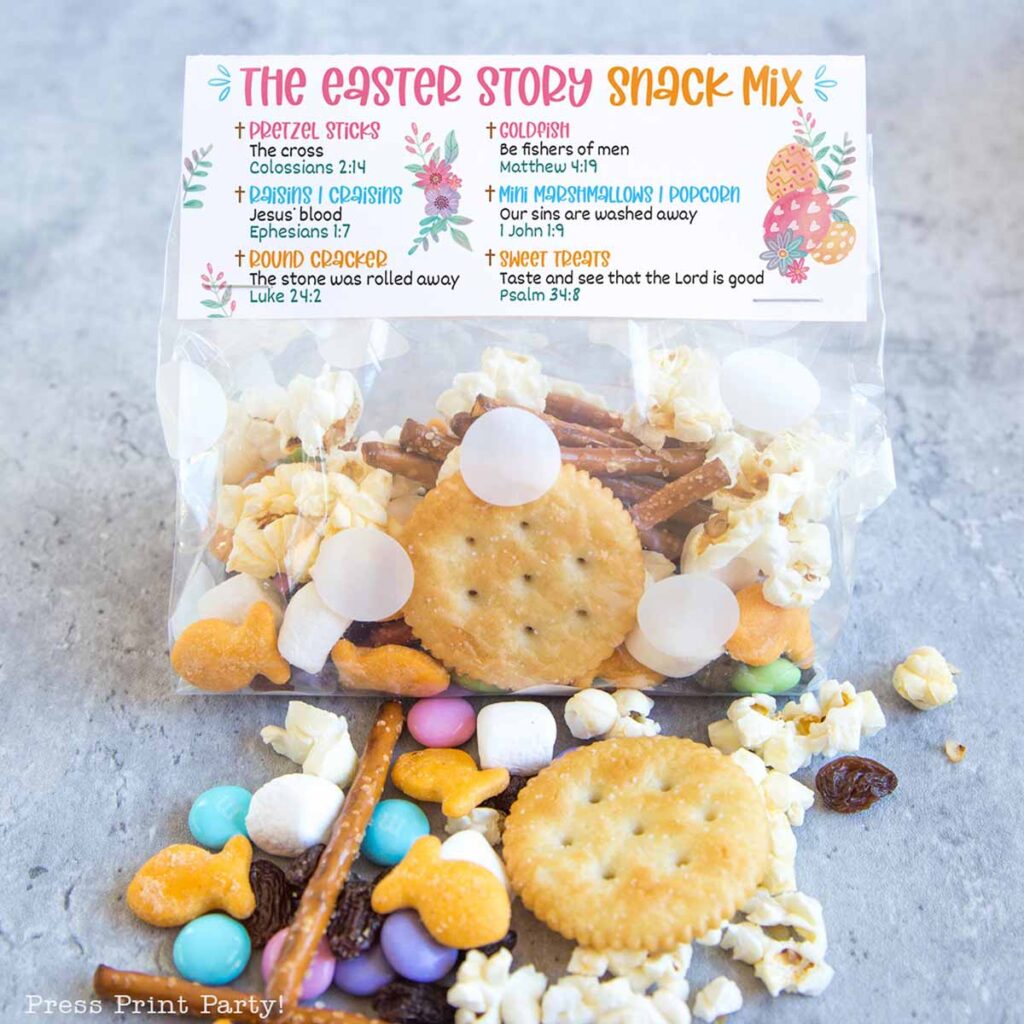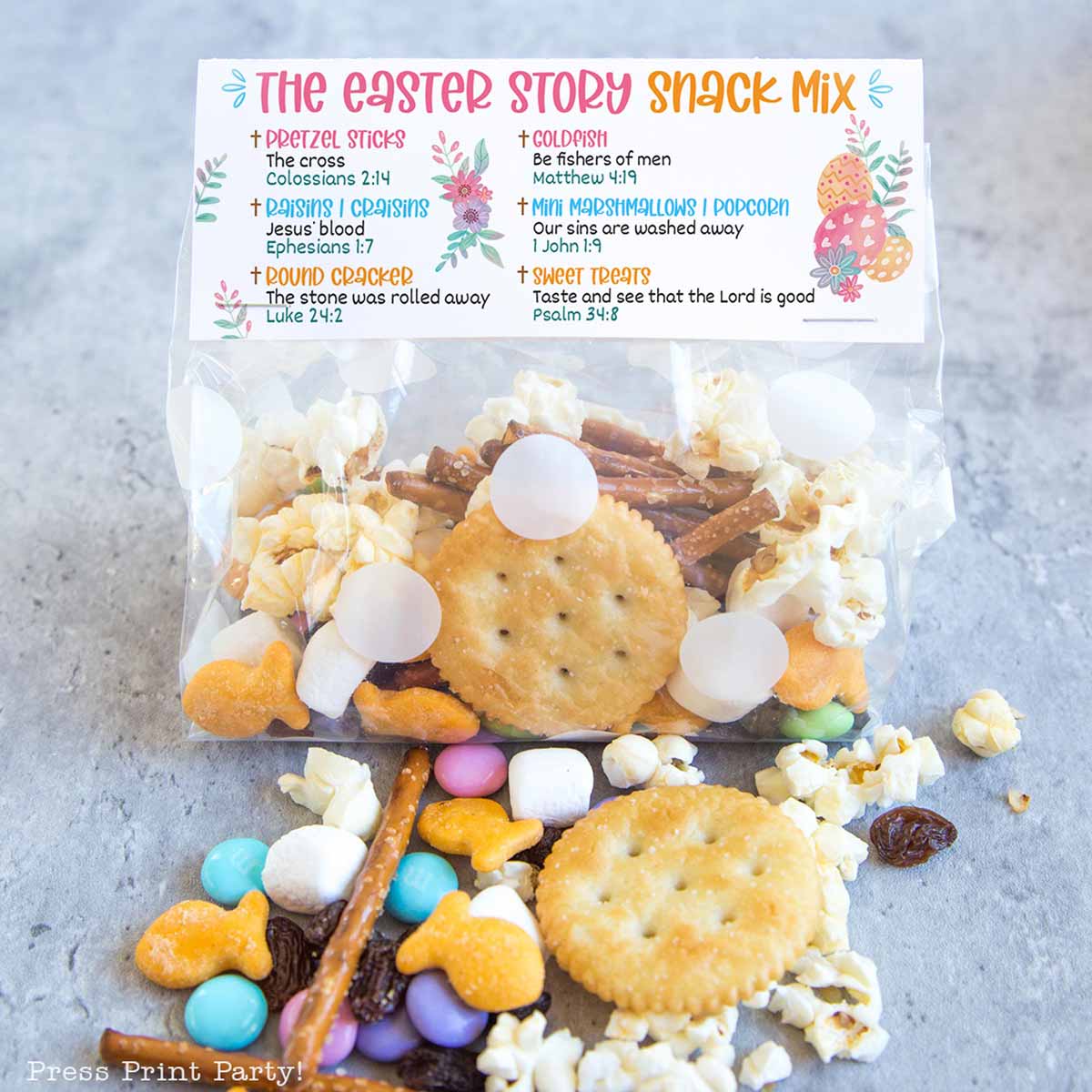 They make easy treats for church groups or Sunday schools as part of a fun Easter story lesson.
I've seen the Easter story snack mix served in plastic eggs too. So, why not use some of those filled eggs as part of your Easter egg hunt?
You can also fill your plastic eggs with my free printable Easter egg coupons. If you're trying to reduce the sugar load check out my list of 5 candy-free plastic egg fillers too.
This Easter trail mix could also be given as a mason jar gift with a tag in the same design.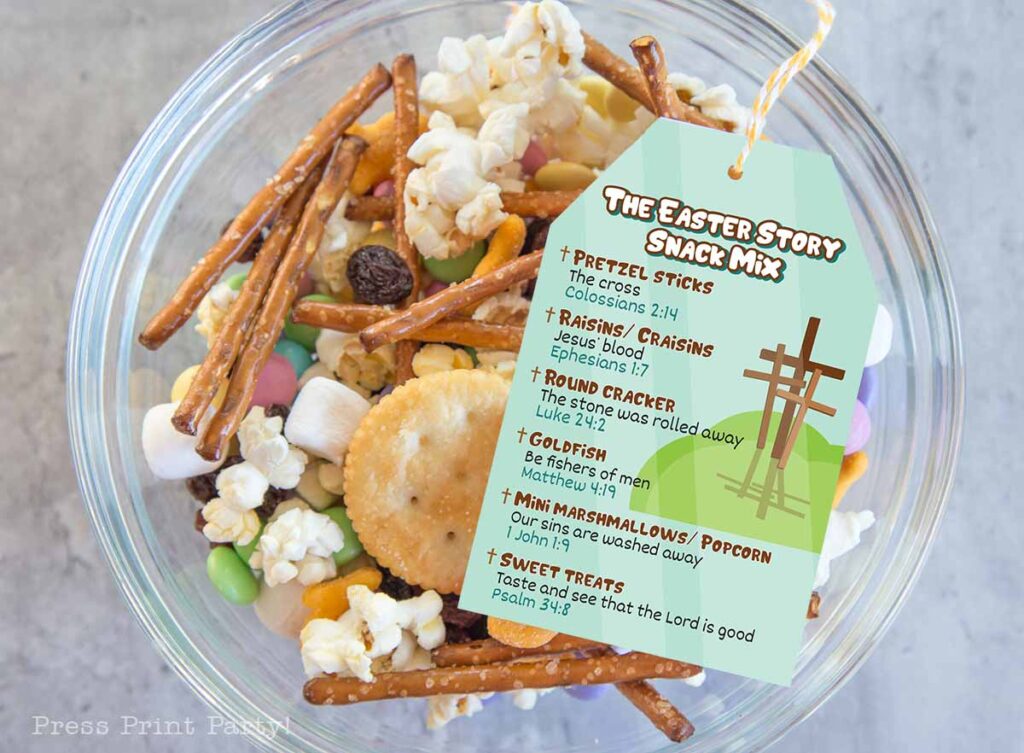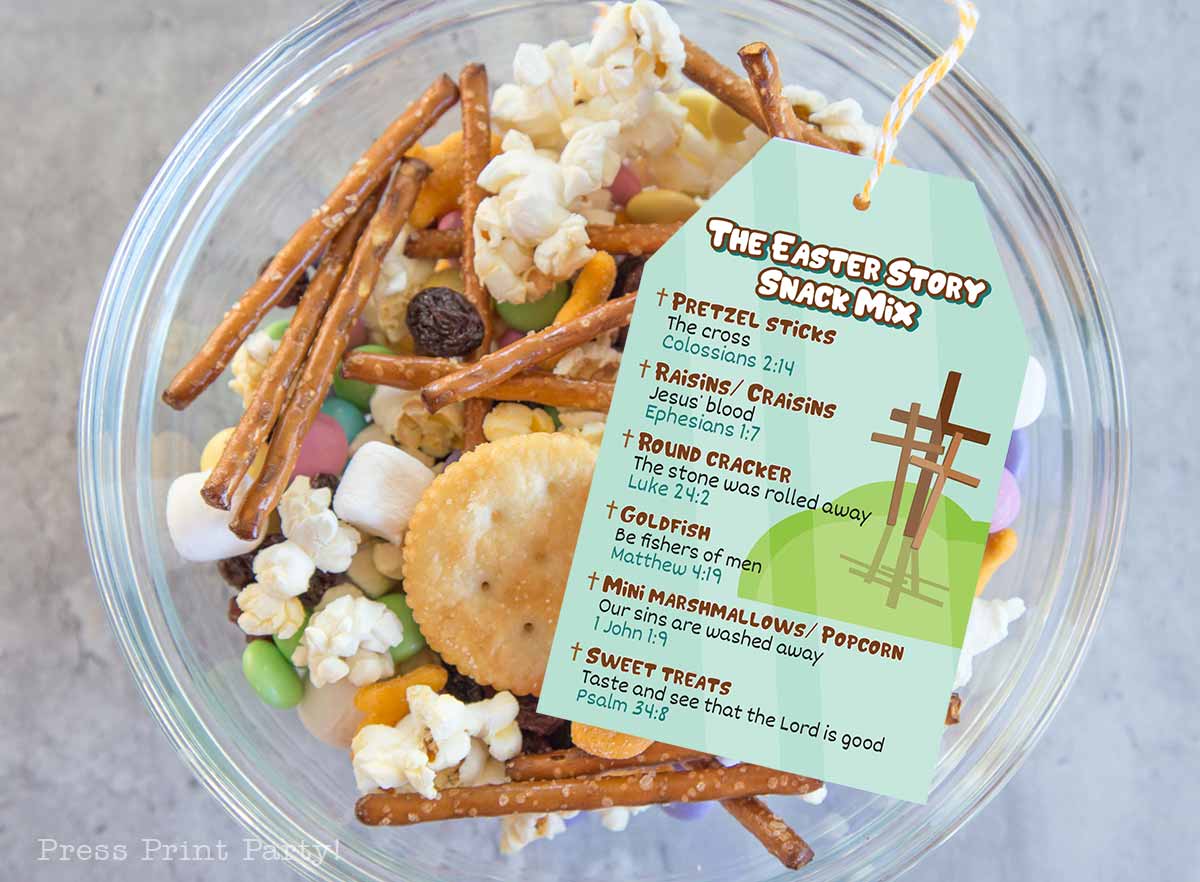 So, if you're looking for an Easter story tag and not a bag topper, or would like another design,  just mosey on over to the shop, where I have more Easter bag toppers and gift tags.
I wish you a truly wonderful Easter celebration!
He is risen indeed.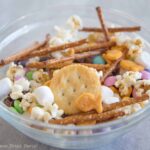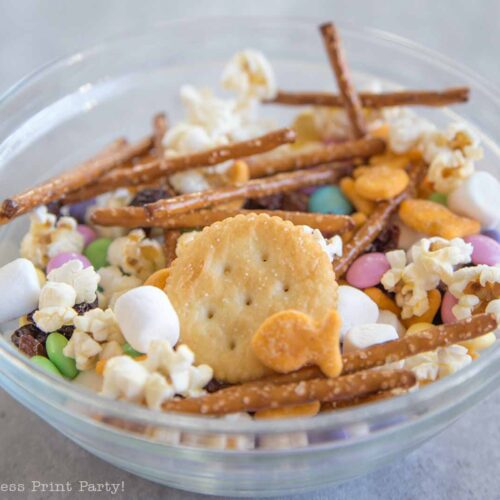 The Easter Story Snack Mix
Ingredients
Pretzel Sticks

Raisins and/or Craisins

Round Crackers

Goldfish Crackers

Mini Marshmallows

Popcorn

Easter m&ms or other sweet treat
Instructions
For individual bags
Mix all the ingredients in desired proportions except the round crackers.

Fill each bag with the mix.

Add a round cracker to each bag.
For serving in a bowl
Mix all the ingredients in desired proportions in the bowl and serve.
Don't forget to pin the Easter story snack mix: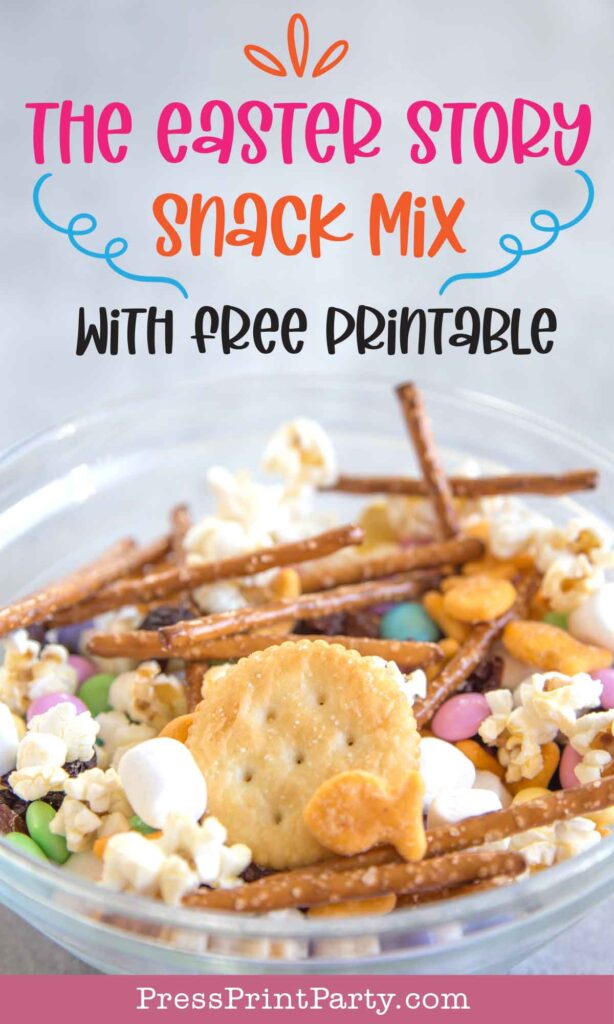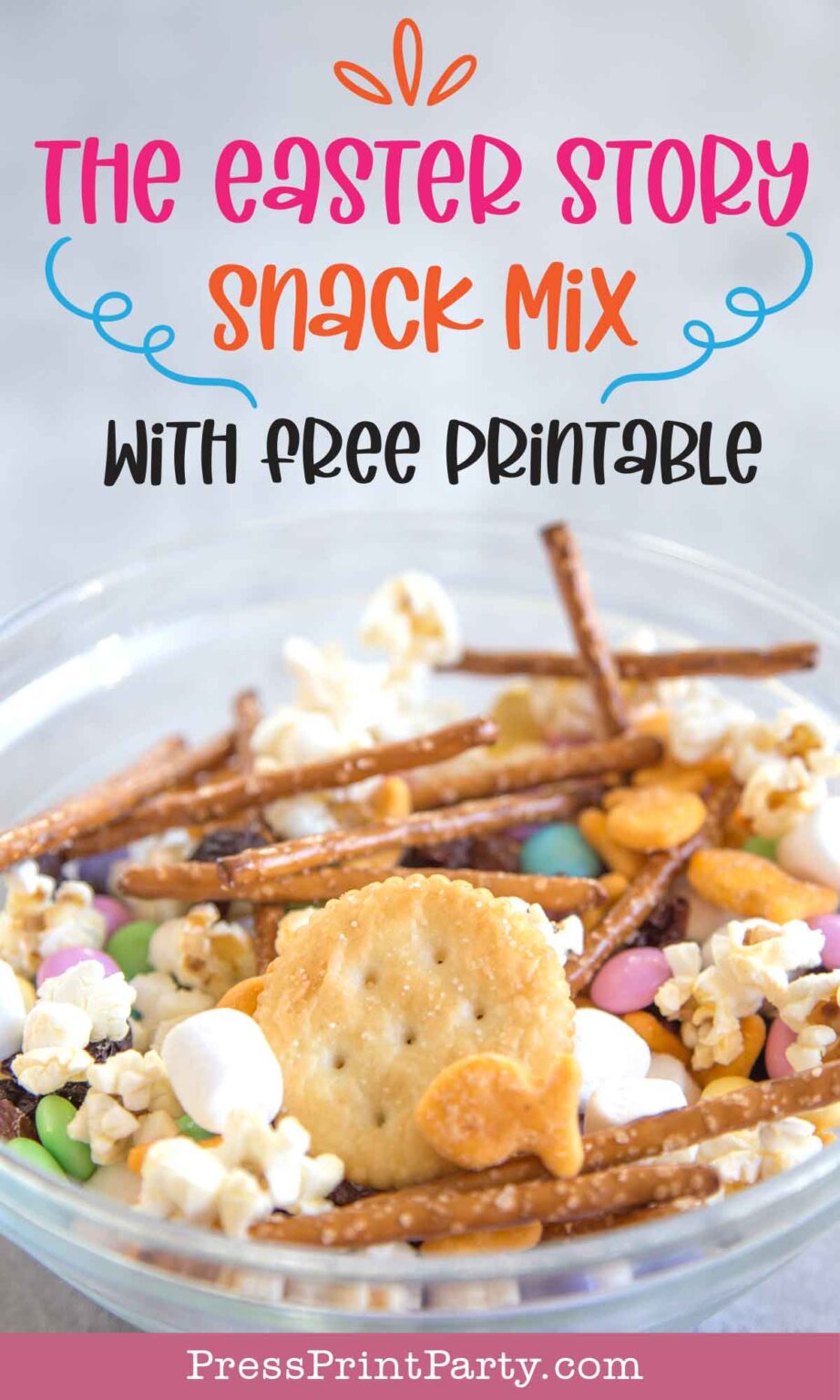 ---
Get Your Freebie:
If you've already subscribed, you can get the password from the bottom of any email I send and go directly to the Free Downloads Library.
Check out our easter printables