We're all social distancing right now because of the Corona Virus, and some of us are in even more restricted quarantine.
But if your kid has a birthday and can only celebrate at home with family there are some great ways to make them feel super special without leaving the house and without the big party.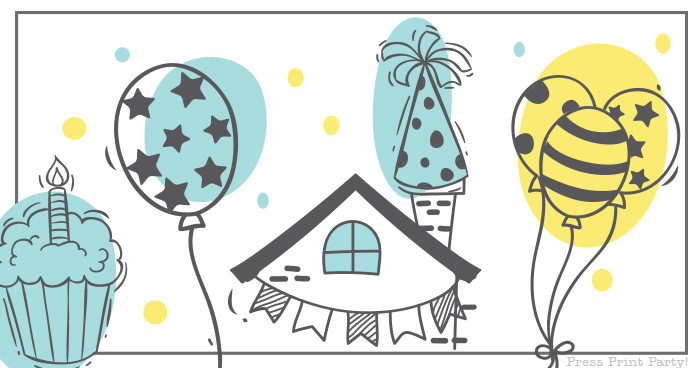 1. Decorate Like It's a Party!
It's just you and the family, so why go through the trouble? It matters to kids, it just does. Waking up to balloons, streamers, and banners will bring a smile to anyone's face!
So go ahead and pull out all the leftover balloons and streamers you can find. No need for helium, make a balloon garland, throw them on the ground, attach them to chairs.
You probably have some tissue paper around. Make some festive tissue paper tassels and string them to a Happy Birthday Banner. Give them a birthday hat to wear all day!
Go with a theme if you'd like to make it a little more special, (even a fun quarantine theme) but here it's the thought that counts.
To get you started I wanted to give you this exclusive FREE colorful birthday mini set with the basics you need for a fun party at home!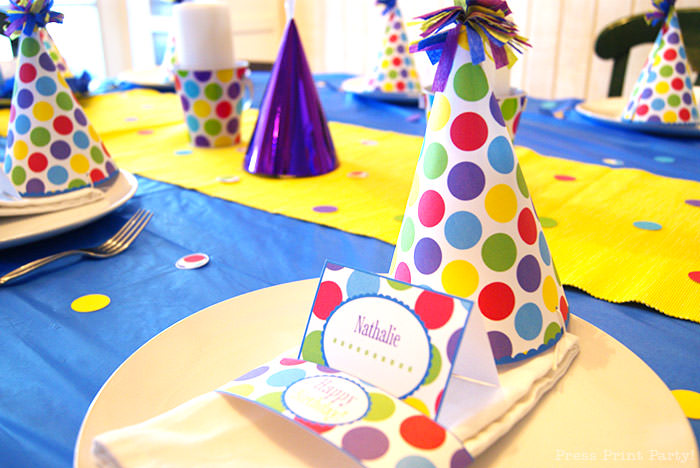 This set comes with:
Editable banners (make any banner you want)
Editable place cards
Editable favor bag toppers
An editable sign
Cupcake wrappers
"Happy Birthday" cupcake toppers
A birthday hat
If you've already subscribed, you can get the password from the bottom of any email I send and go directly to the Free Downloads Library
2. Sing, Honk, Take Silly Pics!
Yes, singing Happy Birthday with the family at home is great, but go the extra step of asking your kids friends and relatives to send a quick video of them singing too. Since my family is in France we have a tradition of doing just that. On my kid's birthday, they'll receive 3-4 videos of people singing to them and they really look forward to it!
Or arrange to Facetime or Zoom friends or family during the day, or even drive by and honk and wave! Your child will love it!
Another great way to have fun with social media is to take silly Quarantine birthday pictures and my editable quarantine photo booth sets are perfect for that.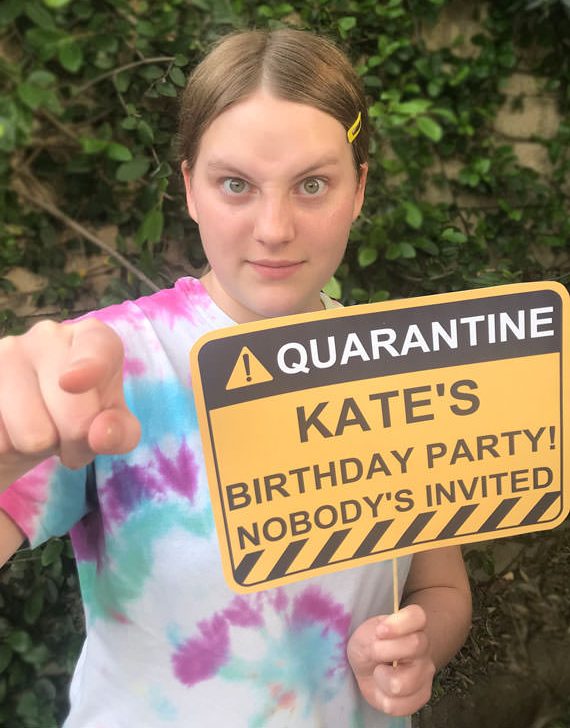 3. Bake a cake or cupcakes!
Julia Childs said, "A party without a cake is just a meeting."
It's a birthday, you need a cake or cupcakes. And you're in luck because my FREE mini-birthday printable set also comes with cupcake wrappers and topper to decorate them and make them even more special. And if you're read my 11 birthday party hacks for busy parents, you probably have some old candles because you kept them to use again.
If you have a boxed cake mix, go ahead and use that, but it may be nice to go the extra mile and take some time and bake the cake with your child from scratch. You can use my super moist chocolate cake and buttercream frosting recipes for a delicious and easy cake with ingredients you most likely have at home already.
4. Play with them!
So, you can't have 10 friends over to play musical chairs or other party games… But a birthday with just the family can be loads of fun when you pull out the board games. Kids love playing board games with their parents and siblings.
And I just happen to have a list you can check out of board games the whole family will love (yes even the parents).
Other options would be to do a spa day and paint nails if you have girls. Or if you have boys you could play video games together. Making slime (with my foolfproof recipe) can also be fun. Offer suggestions but let them choose the activity they'd like to do with you.
5. Popcorn and a Movie!
Make some microwave popcorn and end your celebration with a movie of your child's choosing and sit and watch it with them… Yes, I will repeat, sit and watch it with them, even if you're bored to death and you've seen the movie 1,000 times. Just think back to your own childhood and how important it was to you that your parents enjoyed the things you enjoyed.
You can also check my list of binge-worthy clean family TV shows the whole family will enjoy.
A birthday at home with just the family can be the perfect time to strengthen family bonds. To focus on one child and make them the center of attention for one day. Put in a little work into it and not only will you be creating great memories, but they might just ask for the same next year, quarantined, or not.
Don't forget to pin it: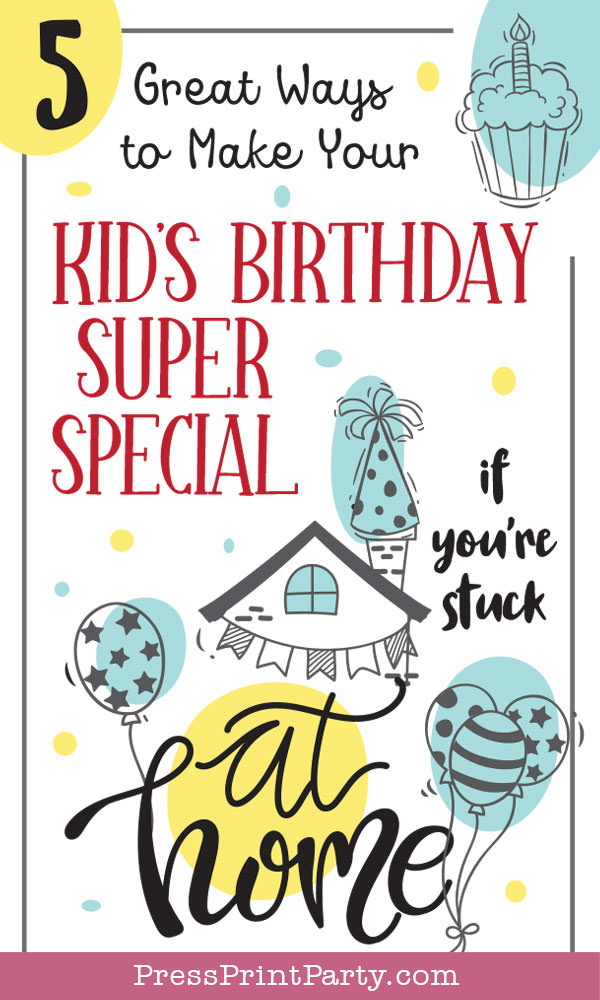 Get Your Freebie:
If you've already subscribed, you can get the password from the bottom of any email I send and go directly to the Free Downloads Library.
Check out our birthday printables