Teacher appreciation week is a great time to give an end of the school year gift to a special teacher.
Great teacher appreciation gift ideas can be hard to find, but we've got you covered with a ton of clever and cute thank you printable gift tags and cards.
And most of them are even editable with the teacher's name to make them more special.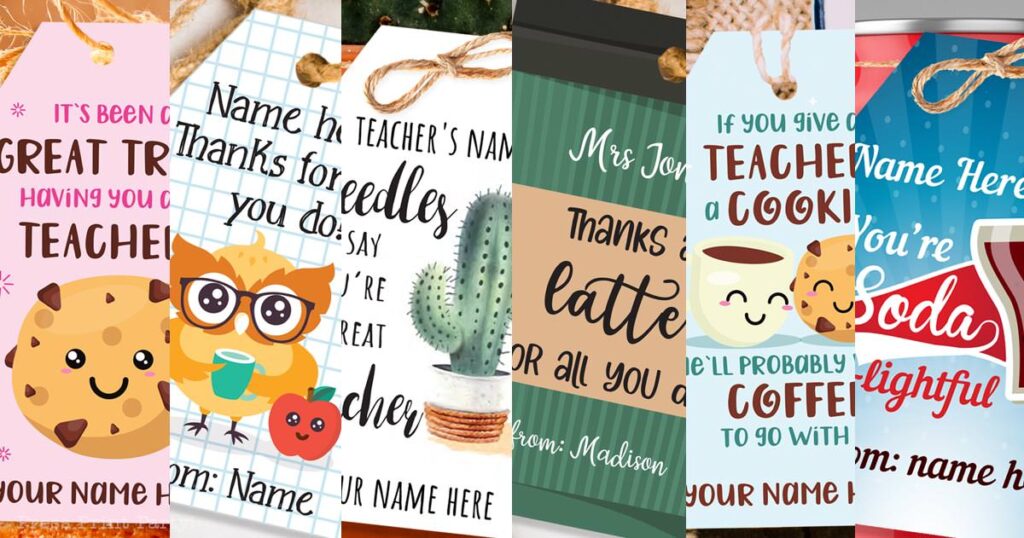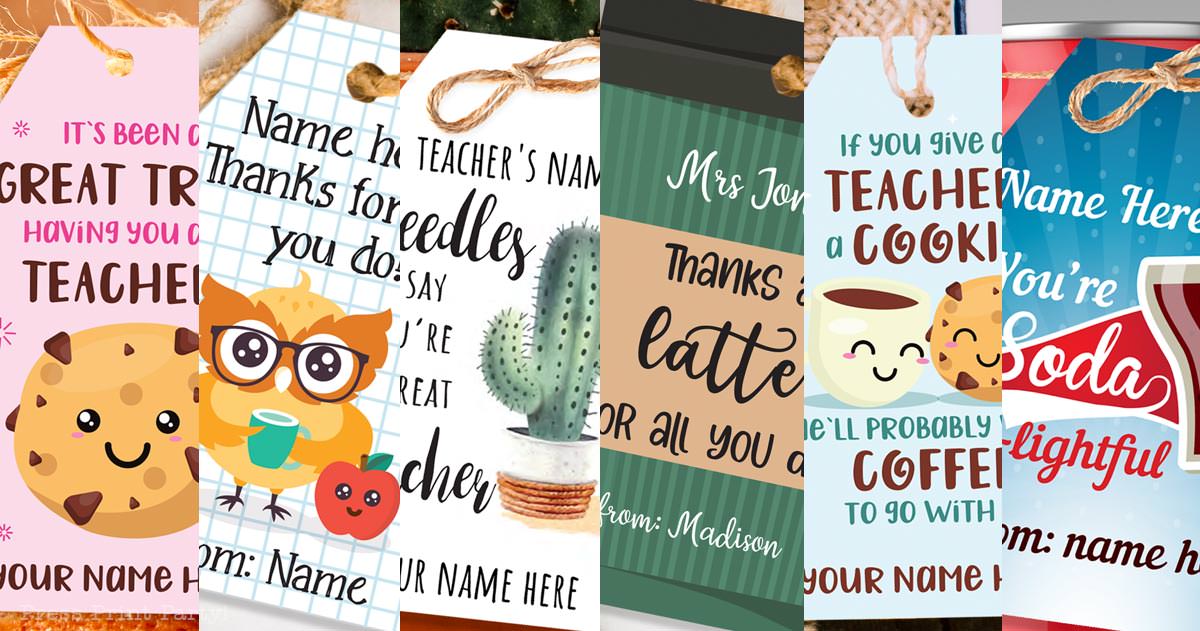 This post may contain affiliate links.
When is teacher appreciation week?
National teacher appreciation week is typically the first full week of May.
In 2023 that's May 7-14 with May 5th being teacher appreciation day. Most schools will participate in the whole week and the kids are encouraged to bring little gifts as tokens of appreciation.
Our teachers work hard but teacher appreciation gifts don't have to be big. A handmade card from your child with a sweet note is always a fantastic gift for teacher appreciation. It's a personal item that's sure to make a teacher smile.
But sometimes parents like to also give a little more, both on this special week and at Christmas or Valentine's day, just to show their sincere appreciation.
Fortunately, I have several printable teacher appreciation cards and tags in the shop! It's packed with all kinds of fun gift ideas for that special teacher.
I know, they're not totally free printables, but my cute thank you tags and cards are editable and ready to be personalized with both the teacher's name and your kid's name.
All the printables come in an instant download PDF file and are perfect to print on a home printer with regular white cardstock.
---
---
The best teachers gift: Coffee Gift Cards
I know plenty of teachers who tell me that coffee cards, although mundane, are what they really want to get for teacher appreciation day.
I guess great teachers really need some good caffeine! They've got to match our kids' energy levels so I guess that makes sense.
A Starbucks gift card is a good standby, but consider what smaller local coffee shops may be in the vicinity of the school too. It's great to be able to support small, local shops (and the coffee there is sometimes much better).
But a routine gift doesn't have to be boring. There are some fun and clever ways to give a coffee card as an awesome teacher gift. All you need is a fun pun on a pretty card or gift tag. Here are the different versions of my coffee thank you gift tags and gift card holders.
Thanks a Latte for all you do!
Thanks a latte for all you do is a simple and fun pun that can be attached to an empty cup with a coffee gift card inside, or stuck on a cute card and put in an envelope.
They can be used for about anyone you need to thank who likes coffee. Great for school staff, employees, or even a helpful friend.
Here are Thanks a Latte teacher appreciation cards available in the shop:
And here are the tags:
I can't espresso how much I loved having a teacher like you!
Here's a little different twist on the coffee puns.
---
Cookies or Donuts, a great stand by!
If your kids like to bake, this one's a slam dunk. Homemade cookies always make sweet gifts. Have them make several batches of cookies and attach a fun note to all their favorite teachers.
It makes an easy DIY gift.
Of course, there are always some great store bought cookies you can give (Speculoos being my ultimate favorites) or a box of your teacher's favorite donuts will be appreciated too.
That's when it pays to have teachers as friends. Because that evening they may bring the gifted donut boxes to Bible study.😁
Whether to choose cookies or donuts, these cute printable gift tags are a perfect way to add a personal touch.
It's been a great treat having you as a teacher!
How sweet it is to be taught by you!
I/we Donut know what I'd/we'd do without you!
Thanks for making me one smart cookie
---
Cookies AND coffee! The best of both worlds!
I'm sure you've read the book "If you give a mouse a cookie". If you haven't, you need to. It's such a fun and silly little book with a great life lesson.
Well, if you give a teacher a cookie, I bet she or he will also want coffee to go with it. So go ahead, shower your favorite teacher and give the cookies AND the coffee card for all their hard work.
Now you'll truly have the best teacher gifts they actually want.
When you give a teacher a cookie, she'll (he'll) probably want coffee to go with it.
---
Candies or Chocolates, Always appreciated!
You can create so many puns with candy names! Some are super clever and make this modest gift more special.
Kit Kat
Buy a giant kit kat bar for that teacher who needs a break!
100 Grand Bar
I just had to make this one because it's my favorite candy bar of all time. Oh so yummy!
Extra Gum
Tell your teacher they're extra appreciated with a large pack of gum to last them the whole year!
Lifesavers
Teachers are one of the biggest lifesavers of all.
Starbusts
Say thank you with a bag of these sweet candies.
m&ms
Give many many thanks for all they do with a big bag of m&ms.
---
A plant is a gift for teacher appreciation that will last
Not of fan of giving yet another coffee gift card or sweet treat? No problem.
A plant is a great gift too, especially cactus and succulents because they're almost impossible to kill and will look great in the classroom.
Needles to say you're a great teacher!
This is the ultimate tag when giving a cactus as a gift.
Thanks for helping me grow
For succulents or cactus, these "Thanks for helping me grow" tags will melt your teacher's heart.
Flowers are always a great stand-by
Thank your teacher for helping you bloom!
A bouquet of flowers always makes a thoughtful gift for your child's teacher. Put them in a cute mason jar for a rustic look.
If you'd like you could gift a pack of flower seeds instead with a cute tag like these.
---
Teacher Appreciation Gift for the Soda Lover
If you know your kids' teacher is a soda fiend, a simple can of soda with this fun little tag may be the perfect inexpensive gift for teacher appreciation week.
You could also get very creative with this idea. A store like Bev-Mo has hundreds of unique, regional, specialty sodas and a unique drink paired with a clever card makes for an uncommonly good gift. My favorite is Green River Soda, if you're wondering what to get me. 😉
You're soda-lightful
---
Books and supplies make great teacher's gifts too
Most teachers love to read and write.
You could choose a favorite novel for them to read over the summer or a blank journal for them to write in. Or replenish their office supplies with pens, pencils, erasers, and highlighters.
Thanks for helping me write a chapter in my story
A blank journal or a novel will work great with this sweet tag. Maybe your kids' teachers are working on a short story idea or are bullet journal fanatics.
You're the write teacher for me
If you know your teacher loves a special type of pen or pencils, attach this clever tag and make their day with a special end of year gift.
My favorites are the Stabilo pens, they come in lots of colors, write super smooth, and won't roll on the desk.
The influence of a great teacher can never be erased
A box of some fun erasers would also be a great idea. Teachers are always spending their own money on school supplies and fun class gifts. They will appreciate getting a full bag of erasers to hand out.
You've been the highlight of my year
It's aggravating to pick up highlighter after highlighter and discover that all of them are dry. Save your kid's teacher some pain and get them a new pack of highlighters with this fun tag.
---
Show your teachers how Amazing they are
A gift card to Amazon is a coveted gift all teachers will love. And it's a great way to make your teacher's day and tell them how amazing they are!
Just use a glue dot to place an Amazon gift card in the middle. The card is 5″x7″ and will fit in an A7 size envelope.
Target gift cards with a pun
Thank your kid's teachers with a target gift card holder with a cute pun. Thanks for keeping me on target this year. All the text is editable. Just stick a gift card in the middle with a couple of glue dots. It's a fun way to give what could be a boring gift.
---
Bring Luck with a Lottery Ticket gift
You may not be able to afford much, but who knows, a $1 lottery ticket can go a long way. If anything, it's always fun to play!
Use a card or a tag to show how lucky you are to have them as a teacher!
---
More Teacher appreciation printable cards
Sometimes you can't figure out any clever wordplay for your gift card. You can always lean on the wise old owl and attach this cute printable tag to any end of the year gift:
Thanks for owl you do
Or any of these more general thank you tags which can be attached to any gift like a gift basket of their favorite things, a tote bag with classroom supplies, a coffee mug, or any gift box of sweet treats.
Or these generic but super colorful tags and cards.
Employee/Staff Appreciation
---
I hope you enjoyed my list of teacher appreciation week gift ideas.
What meaningful gift are you giving your kids' teachers this year? Please leave me a comment with your cute way to say thank you. I want to know! And maybe I'll come up with more tags for next year!
And since the end of school is around the corner, it's a great time to take an end of year picture of the kids. I have several editable first day and last day of school signs in the shop in all the grades.
Don't forget to pin these teacher gift ideas for appreciation week: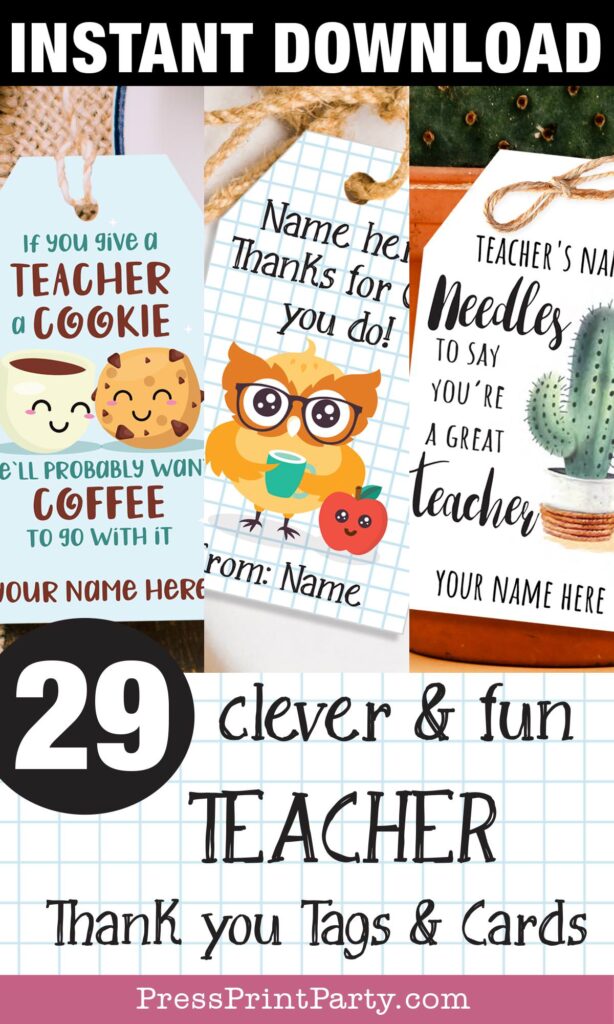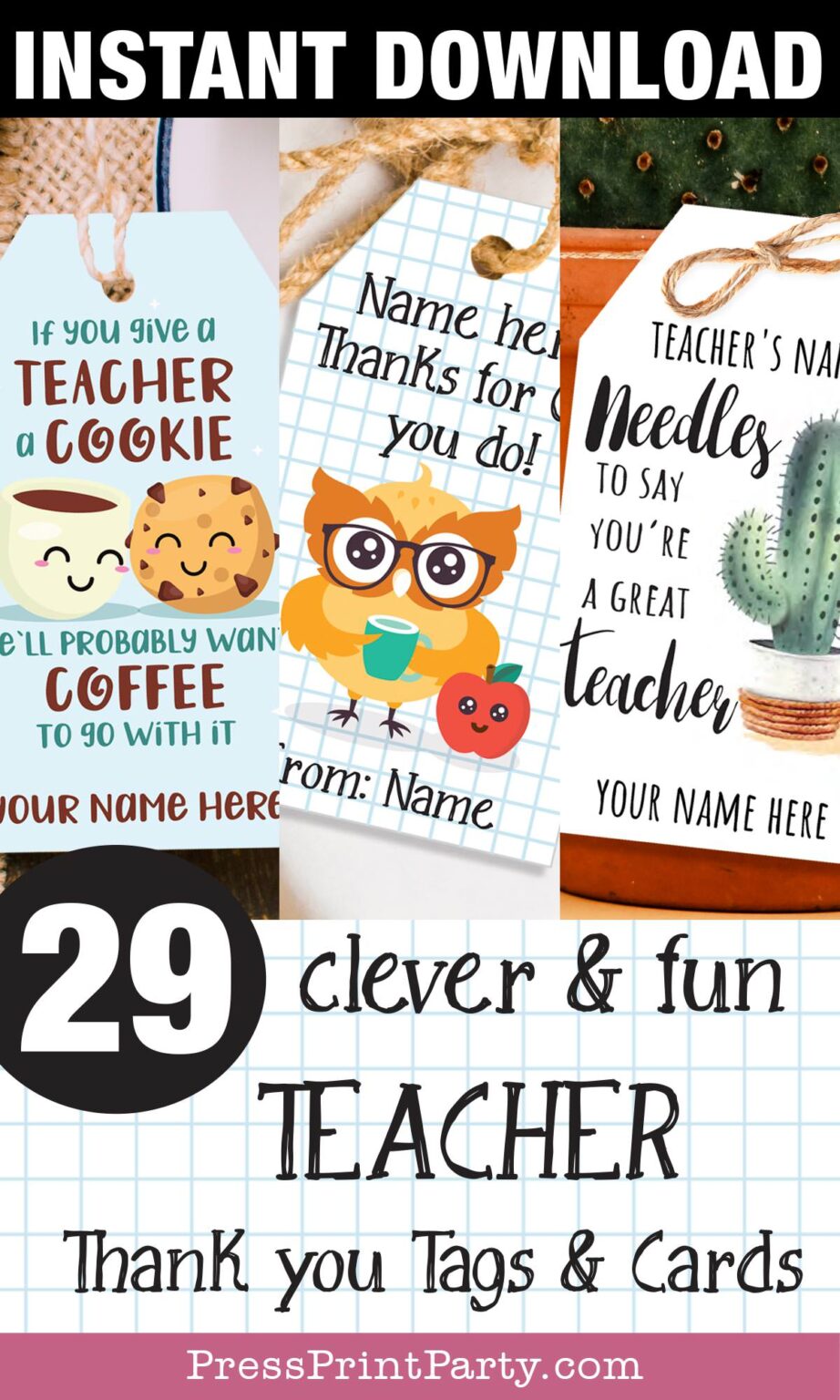 Check out our teacher appreciation printables