When faced with the task of making a unicorn cake for my unicorn party I was a bit intimidated. I'm sure you've seen the array of sophisticated unicorn cakes out there with their perfect fondant horns and frosting! I just don't have the baking skills to get that done and I don't want to spend the money to get it done professionally.
So what to do? I needed an idea fast!
Well, I thought, I've already made a free horse cupcake cake! Just add a horn and some wildly colored hair and you have a unicorn cupcake cake!
It's so easy to make! Let me show you how with this easy tutorial!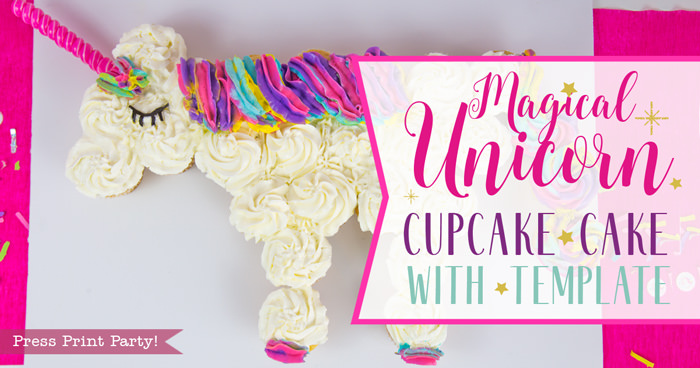 This post may contain affiliate links.
This unicorn cupcake cake (also known as a pull-apart cupcake cake) is made with regular-sized cupcakes. You could use the same process and mini cupcakes to make a mini unicorn also.
What You'll Need for your Unicorn Cupcake Cake:
Foam board cut to about 18″ x 24″
The horse cupcake cake template. This will show you the layout for your cupcakes.
26 cupcakes of choice from a cake mix or from scratch and with a white cupcake liner. (I know it's not a perfect 2 dozen). Hmm, I wonder what you could do with 10 extra cupcakes?
White Vanilla Buttercream frosting --> My favorite recipe
Black licorice or black icing for the eye.
Pink twisted lollipop for the horn.
Prepare the Rainbow Swirl Frosting
Any unicorn lover will tell you that if you have a unicorn, you need to have some rainbow element. Here I used yellow, blue, pink, and purple frosting for the rainbow effect.
To show you how to pipe swirls, I decided to make this step its own blog post. So click here to learn how to easily make your rainbow swirl frosting!
This step is a little time-consuming but really not all that complicated. The thing is you'll be using lots of separate bowls and a piping bag for each color.
If you're short on time or just want to make things simpler, you could choose to go with one color. Or you could pipe each color individually rather than combining all the colors into one bag. I'll show you the way I did it and you can simplify it if you'd like.
Set the Cupcakes with the Template and Pipe!
Here's a quick video of the process. Be sure to subscribe to my YouTube channel for more!
Use the free horse cupcake cake template as a guide to place your cupcakes on the foam board. You'll want to add a little bit of frosting to the bottom of your cupcakes so they don't slide off the board. (Of course, I forgot to do that on the video).
Pipe most of the cupcakes white, leaving the tail and 2-3 cupcakes on the top unfrosted to pipe the mane. I just used a swirl pattern with my Wilton 1M tip. (Which is the extent of my piping skills).
Make sure to fill in ALL the big gaps in between. In this pic, I had only made one very quick and messy pass but you get the idea.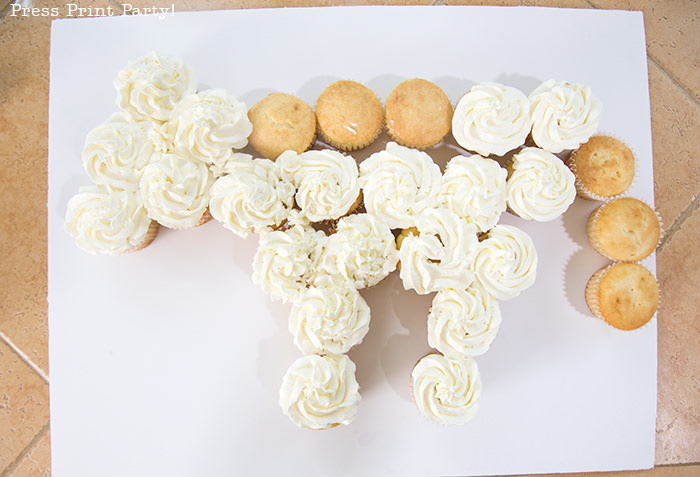 Now pipe the mane and the tail with your multicolored frosting. I made sure the pink/purple frosting was mostly on top of the cupcakes. I piped little hooves also.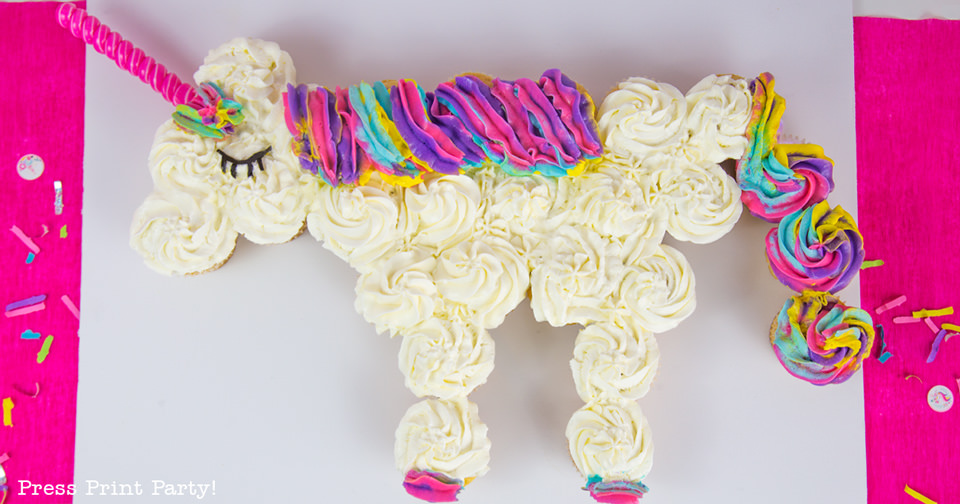 Now just insert the lollipop in the icing in between the cupcakes for a fun way to make the unicorn horn. It stayed in position perfectly.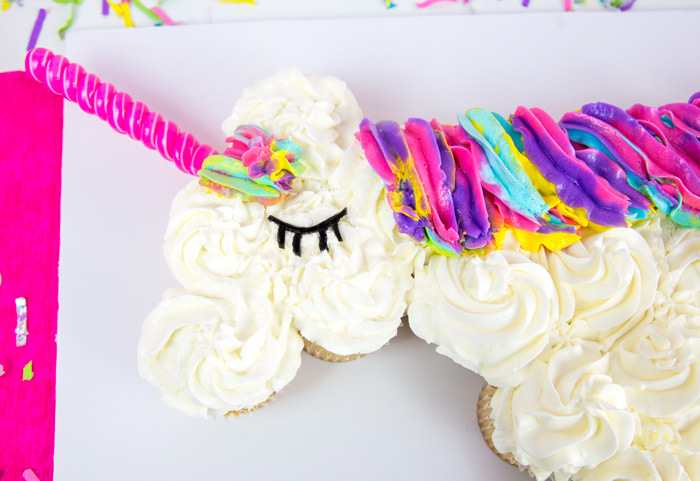 I cut up a licorice rope to make the sleepy eye and laid it carefully on the frosting. You could also use black icing.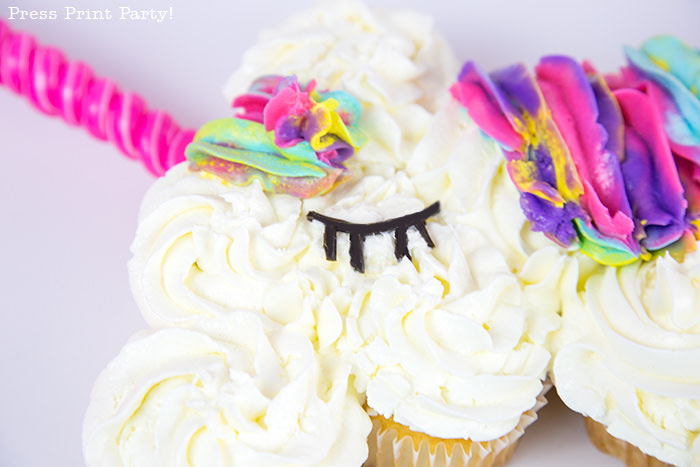 That's it! Your amazing unicorn cake is done! Now just sit back and wait for gobs of little girls squeal in delight!!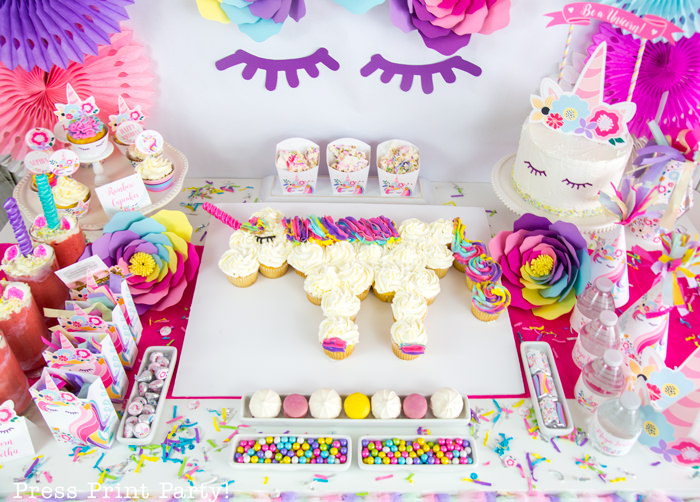 And with the leftover 10 cupcakes, well you could wrap them in my printable unicorn cupcake wrappers and frost them with the rainbow frosting also. I've seen those called unicorn poop cupcakes as a joke.
Now go check out my full post on this magical unicorn party to completely DIY your unicorn party!
Go check out all the unicorn party DIY posts:
You can't keep all this cuteness to yourself. Don't even try, pin it!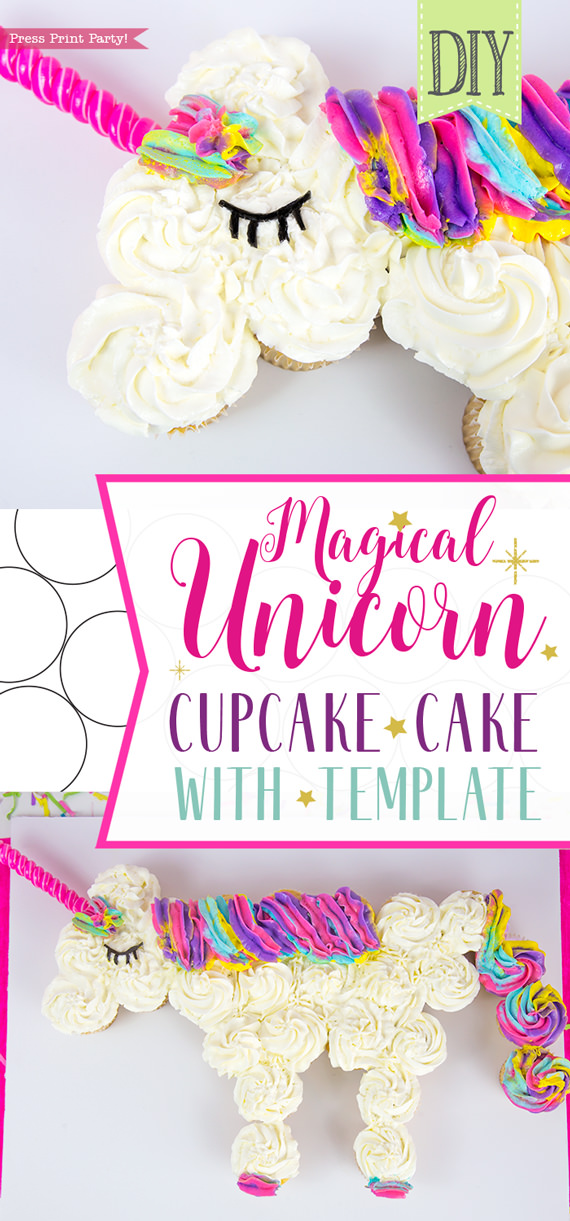 Check out our Unicorn printables