Piñatas are fun. They're a little wild and colorful and messy, both during their creation and their destruction. So we've included one at just about every one of my girls' birthday parties. And this year's pineapple party was going to be no exception.
But pineapple piñatas are hard to find. And when, the day before the party, my husband went to pick up the one that we'd ordered from our regular piñatero (yep, that's what they're really called) it had a face on it. A very well glued, dopey looking face.
A dopey faced pineapple piñata just would not do, so we decided to make one. We'd made piñatas in the past including an Eiffel tower piñata that was an engineering marvel of rugged, architectural accuracy. It was the "piece de resistance" of our Paris themed party and we figured, if we can build a replica of one of the most iconic buildings in the world….. we can certainly build a fruit.
Right?
Well maybe.
It didn't work out quite like we'd hoped. So here I'll share the good, the bad, and the funny of our little homemade pineapple piñata (almost) disaster.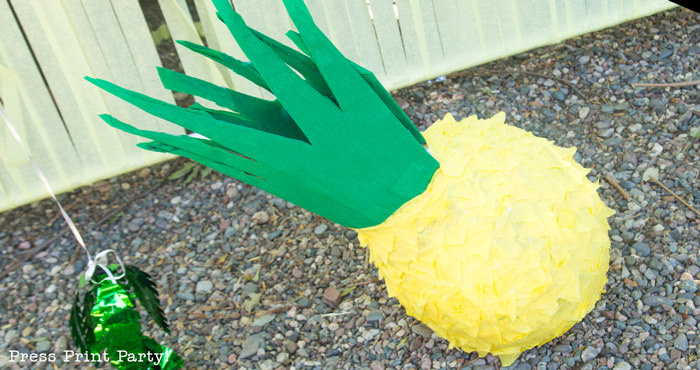 It started innocently enough with a big blown up balloon, a simple paste of flour and water, and strips of newspaper.
The kiddos added 2-3 layers of newspaper strips and we let the whole thing dry overnight. They had fun making a mess. We had goopy leftovers on the outside table. So far so good.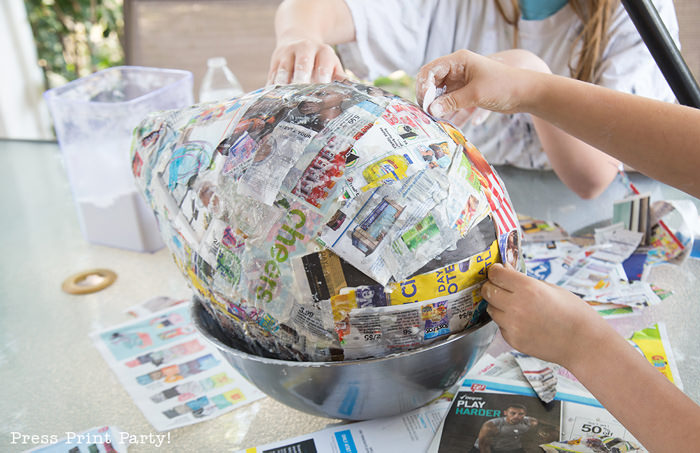 The next morning, disaster!
We woke up early to a deflated balloon and a half dry, deformed, only remotely pineapple-y shaped shell. A bit of panic set in.
I may or may not have freaked out a bit when I inflated another balloon inside the original shell and the not yet dry paper split open. We quickly made more paste, and the kids and I did our best to reinforce the shell. Now what! I don't have another night to let it dry! I have 5 hours before the party!
My hubby got 3 fans blowing in our hot garage and we hoped for the best.
A couple hours later, it looked dry. Phew!
Now, my loving husband wanted to reinforce the top of the piñata. He was concerned about the cracks and the repairs, and still hadn't attached the coat hanger we were going to use to hang this thing. So he used packaging tape on the top 5-6″. He then discovered that the tape didn't adhere well to the paste, so he figured he'd get the top few inches of tape to stick to the shell by running a loop or two of tape under the bottom and back to the top on the other side.
And then after a loop or two he lost his senses entirely, went into full Tim Allen monkey hooting mode, and covered the ENTIRE piñata in packaging tape! (Hint, don't do that!)
To be fair there was a little bit of back story. The kids and I had gone to a party just a week before where the piñata broke within the first couple of swings. Most of the kids never got a whack at it, it was a bit of a let down. And my girls had encouraged Dad that they definitely wanted a tougher piñata than that.
We now have a piñata shell. It's time to make this blob look like a pineapple. I cut triangle notches from a yellow streamer and the kids glued it on.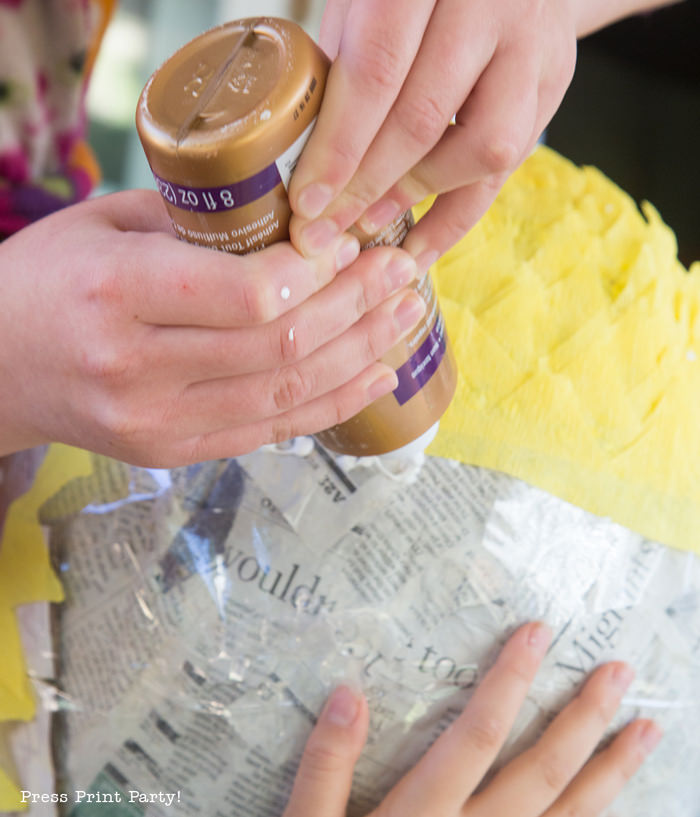 They started at the bottom and made their way up.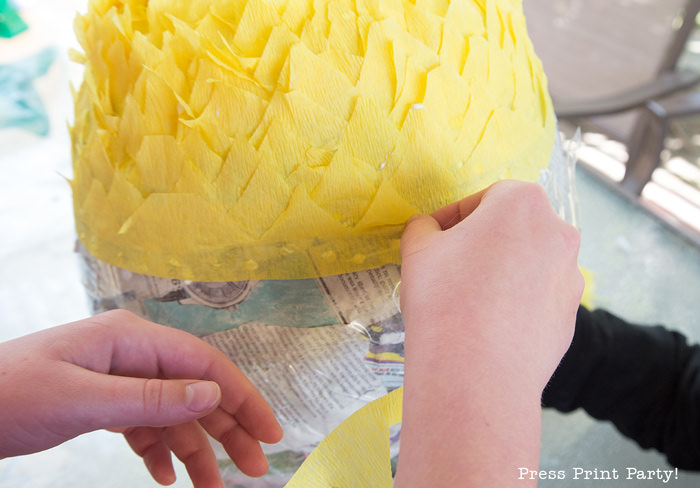 My hubby then got started on the leaves. He drew leaf shapes on the top of a piece of cardboard. He put a crease at about 2″ from the bottom and cut tabs below that. The top parts he covered with green sheets of crepe paper, the tabs he folded and taped to the top of the not-yet-decorated top of the piñata. Sure, we've used most of a roll of packaging tape on the thing, let's just finish up the roll!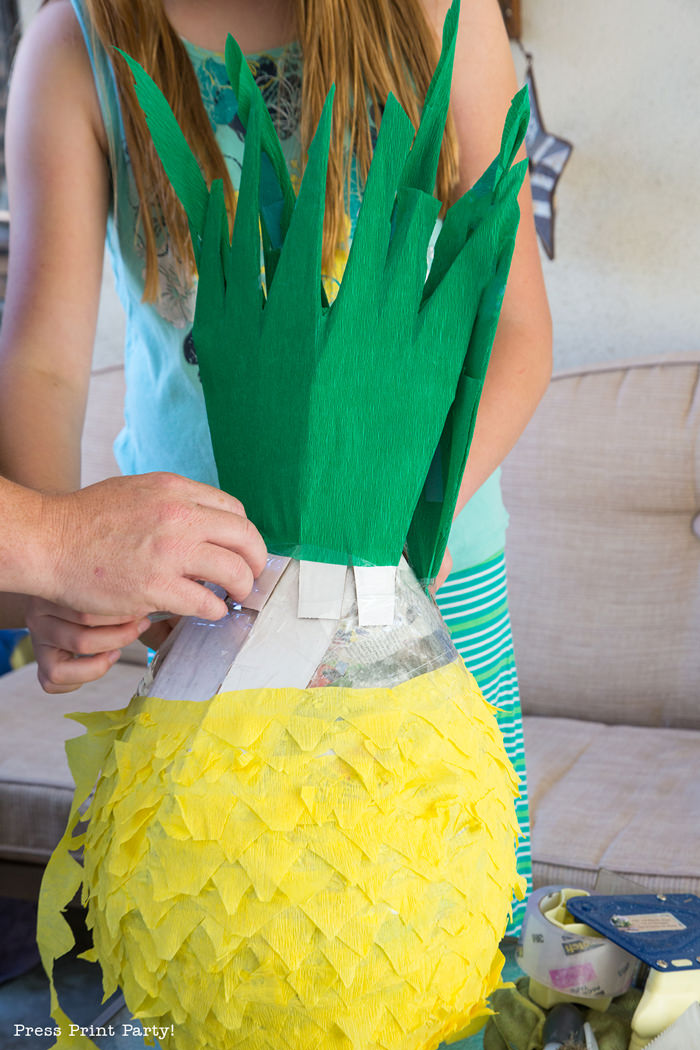 We covered the taped area with more yellow crepe paper and voila, mission accomplished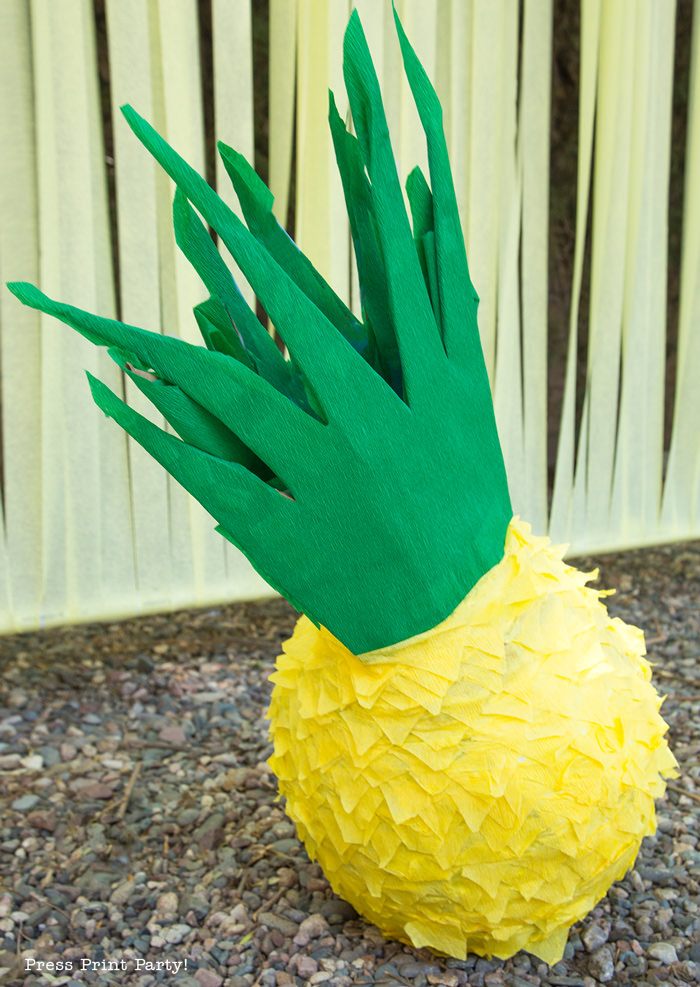 We're now an hour before the party and I'm just happy to have a pineapple piñata, and not a bad looking one either.
But after a few kids have taken a swing, we don't even have a dent in this thing! The kids bash, and knock, and bang on it, nothing! 15 kids later and we've torn it from it's hanger but still have not opened up this apparently indestructible creation.
My husband eventually had to admit defeat and tore it with his bare hands out of frustration!
After all the anticipation there was a wild scrum for the candy, but most of the kids didn't care much and found it amusing… they all got to swing really hard at it… and got their candy in the end.
It was only later that my hubby confessed that he'd read the part on the Piñata Boy website where Brian specifically discourages people from using packaging tape, or suggests that if they do, they cut slices into it, so they don't end up with some bulletproof piece of piñata shaped equipment that requires a machete to open up.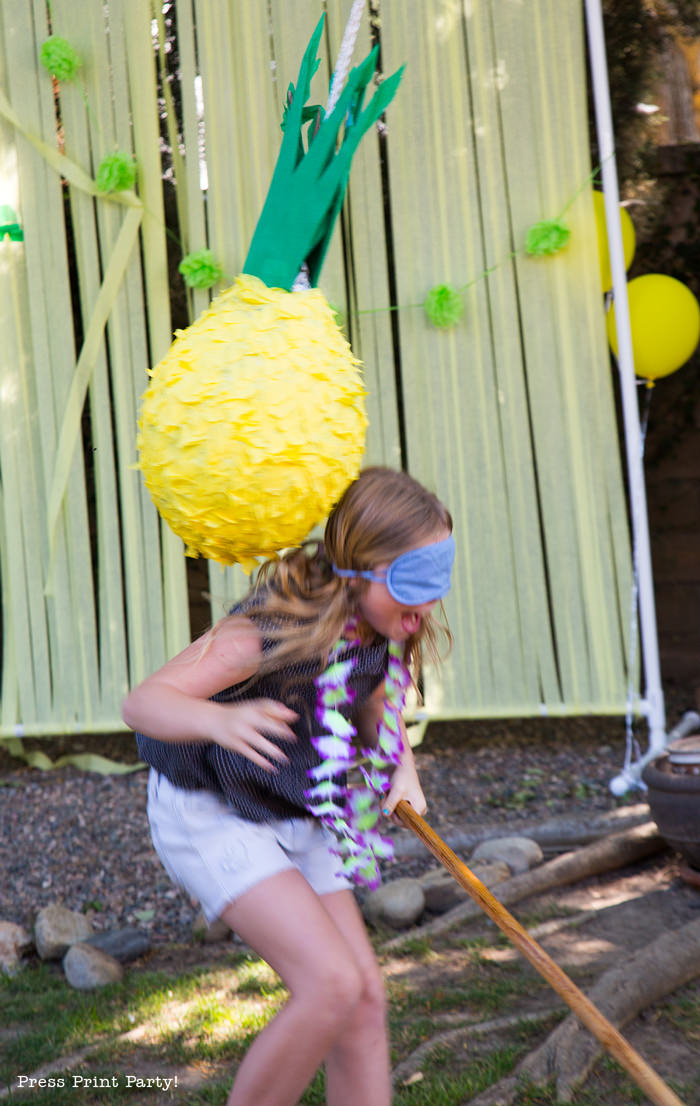 The moral of the story is don't layer your piñata with packaging tape. Or if you do, take lots of video.
Maybe my husband can start his own business bulletproofing cars for presidents or dignitaries using packaging tape. I think I see an opportunity here. Hmmmm.
What is your preferred method of making a piñata? Have you had a piñata disaster? Let me know in the comments.
Pin it for later: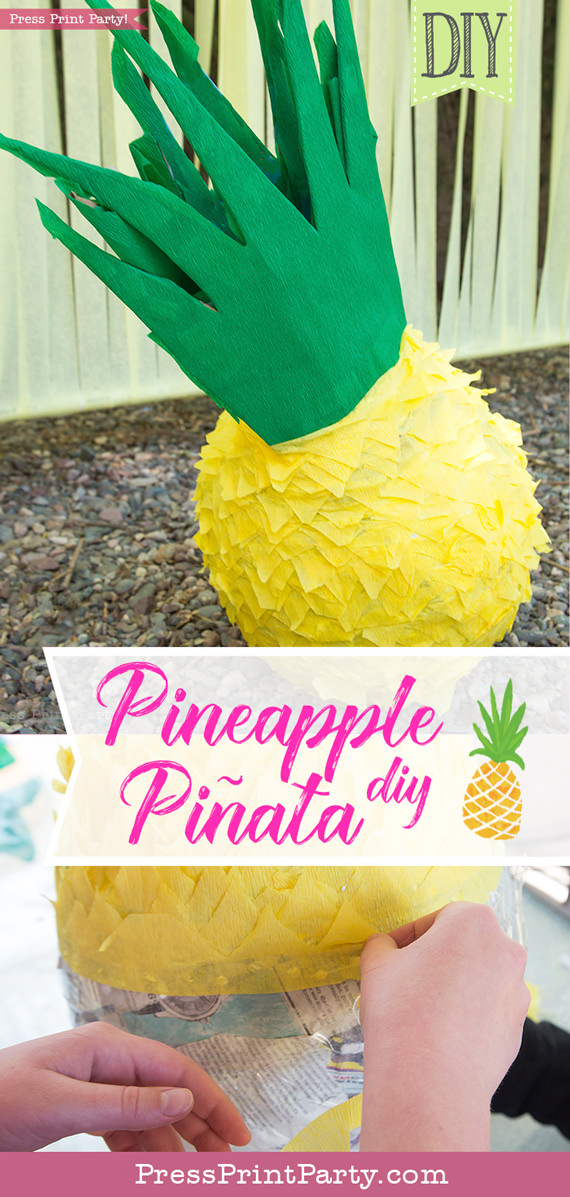 Check out the Pineapple Printables in the Shop
More Pineapple and Pinata Fun
Linked up to:
Bird's Party Linky Party #11