Since we get no snow in SoCal, for our church Christmas party, we wanted to create an ambiance reminiscent of a white Christmas for once.
So, we opted for a chilly white, blue, and silver theme to transform our sanctuary into a Christmas winter wonderland.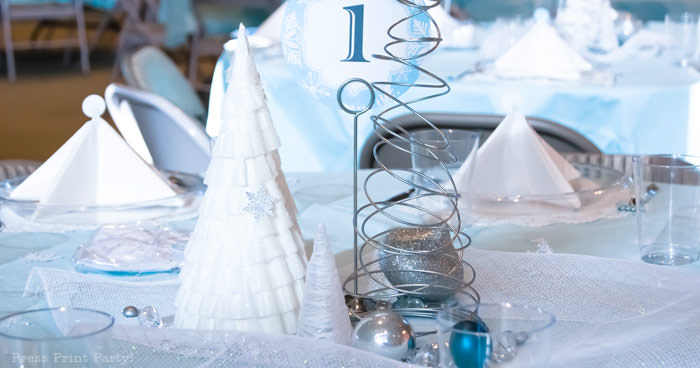 This post may contain affiliate links.
A lot of thought went into the design of these Christmas Winter Wonderland centerpieces.
Stunning but inexpensive, you can create a magical ambiance for next to nothing.
From the wire trees to the string trees, the whole centerpiece costs very little and is especially great for large gatherings where the budget is tight.
This table was also the delight of dozens of little girls as it reminded them of the movie "Frozen".
I even heard a few of them belting out the "Let it go" chorus.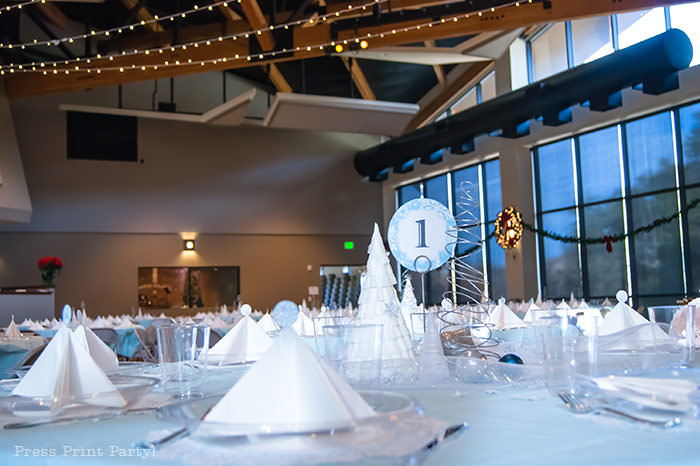 This post will take you through all the items and tutorials required how to make each item.
Winter wonderland Christmas tablescape items
The centerpiece is all DIY and consists of :
The table settings were also part of the overall theme and consisted of:
Napkins folded like Christmas trees
How to make the wire Christmas tree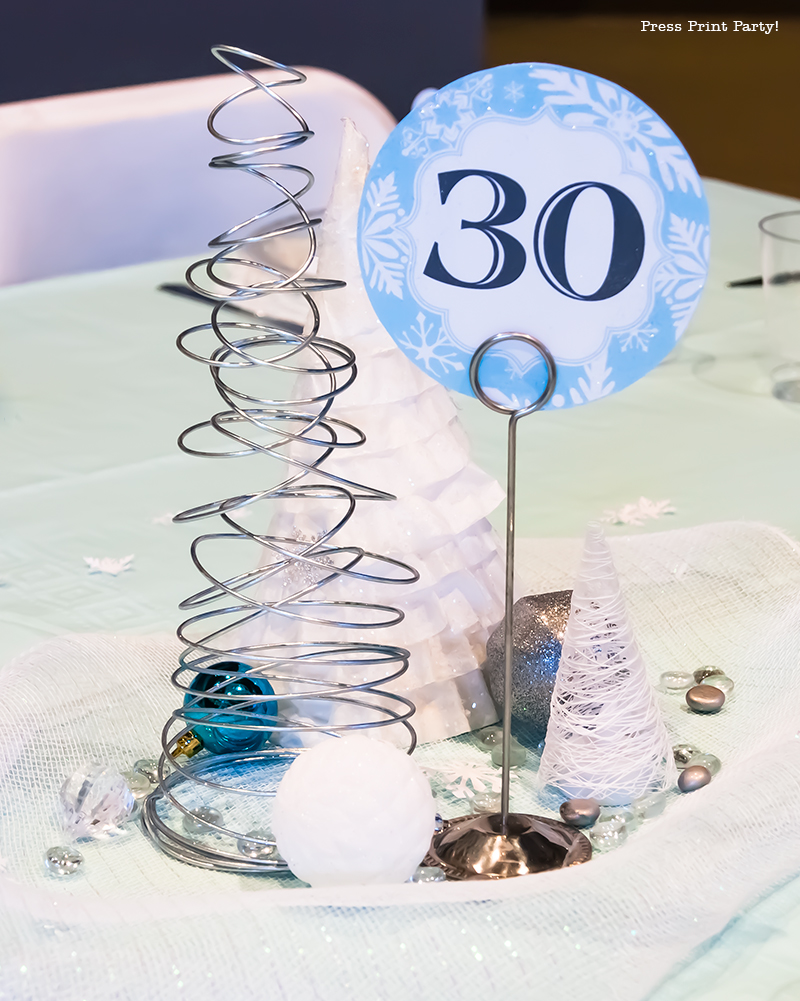 Buy 14 gauge wire and a foam cone the size you'd like your tree to be and just wrap the wire around the cone.
Start at the bottom and go around all the way up and back down once making it as tight or airy as you'd like.
Once back at the bottom, wrap the wire 3-4 times around and secure the end by bending and hooking it on the wire.
Each tree will be a bit different and I think that difference adds to the charm of the centerpiece.

How to make the coffee filter Christmas trees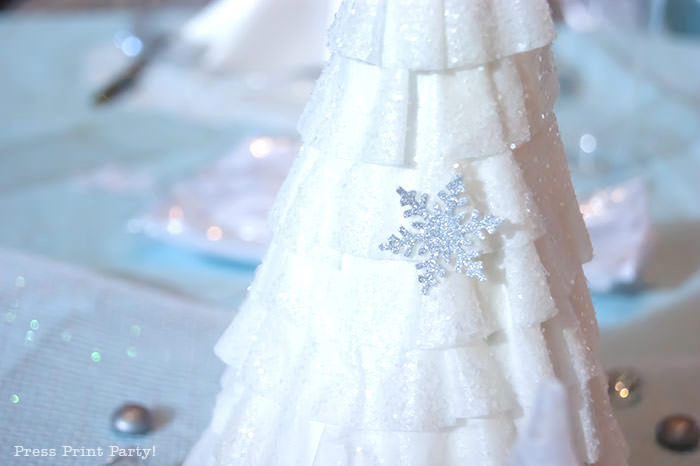 First, make cones out of cereal boxes in any size.
Get white coffee filters, the big ones with ruffles and cut the ruffles off so you're left with strips of ruffles.
Start at the bottom of your cone and glue the filter ruffles in rounds until you get to the top. White craft glue worked best.
I then sprayed the cones with spray glue and sprinkled them with glitter to make them shine. The snowflake is a simple punch
out of glitter paper.
Here's a really good coffee filter trees instruction post from iheartnaptime.
How to make the string Christmas trees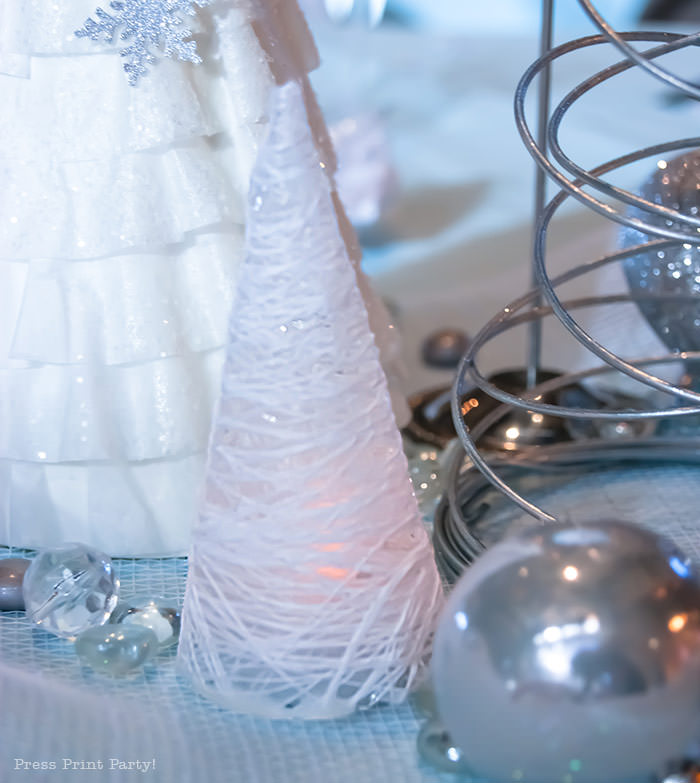 My husband loves these trees. He couldn't believe how simple they were to make and how elegantly they turned out.
Make a cone out of cereal box cardboard wide enough to fit an electric tea light in.
Wrap it securely in plastic wrap.
Brush white glue on to the plastic wrap and wrap the white thread around and around until you have the desired effect.
You get to choose, thick or thin coverage. Once done, brush more white glue on top.
Let dry then pop the cardboard out and genlty pull the plastic wrap away and voila.
This tutorial from homemade gifts made easy is a bit different but you'll get a good idea of how the process works.
How to fold Christmas tree napkins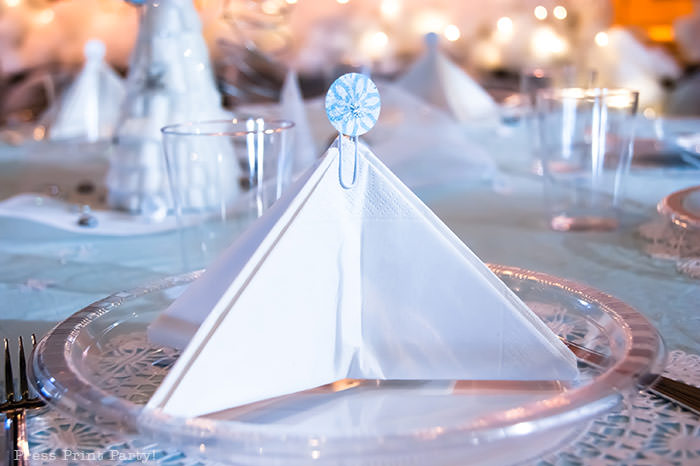 I used this tutorial video for a little napkin folding inspiration.
Don't get hung up on the fact that the napkin on the video is cloth. The fold works great with a paper napkin too.
However, instead of pins, which seemed like a bad idea in a group with a couple dozen toddlers, I decided to use white paper clips on which I hot glued a little snowflake confetti from my Frozen Christmas Party printable set.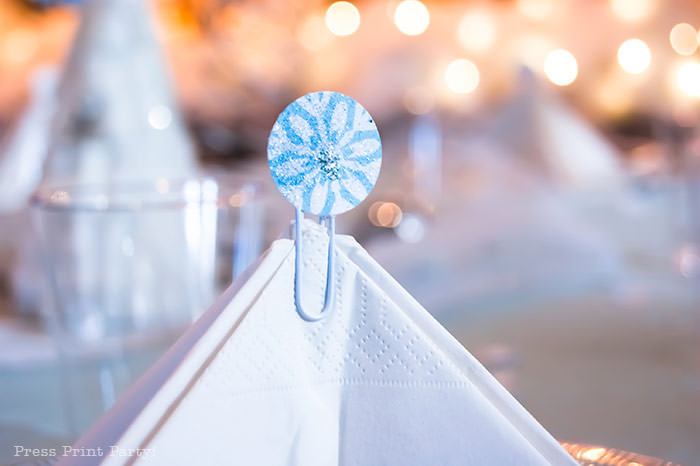 Put the Christmas winter wonderland theme all together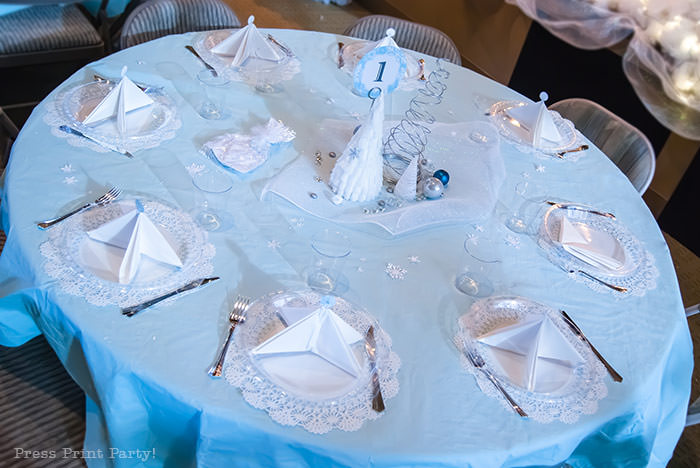 Drape your table with a baby blue tablecloth, lay a square of glittery white floral mesh
in the middle of the table then arrange your 3 homemade Christmas trees on top.
Add sparkle with 3 or 4 ornaments and some glass marbles
and jewels.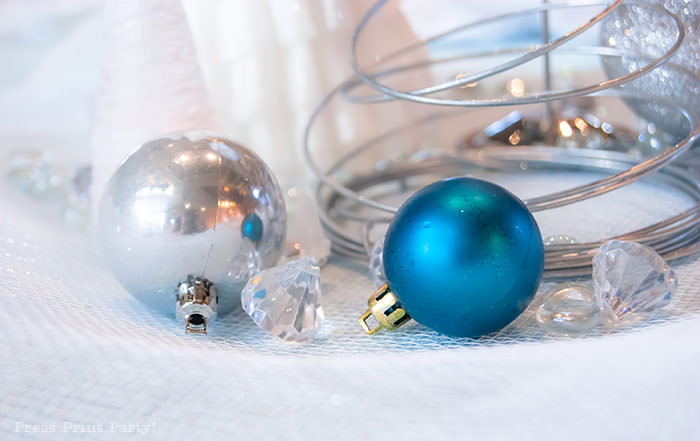 Sprinkle the table with white snowflakes punched out of paper. I really love my extra-large, Martha Stewart snowflake punch.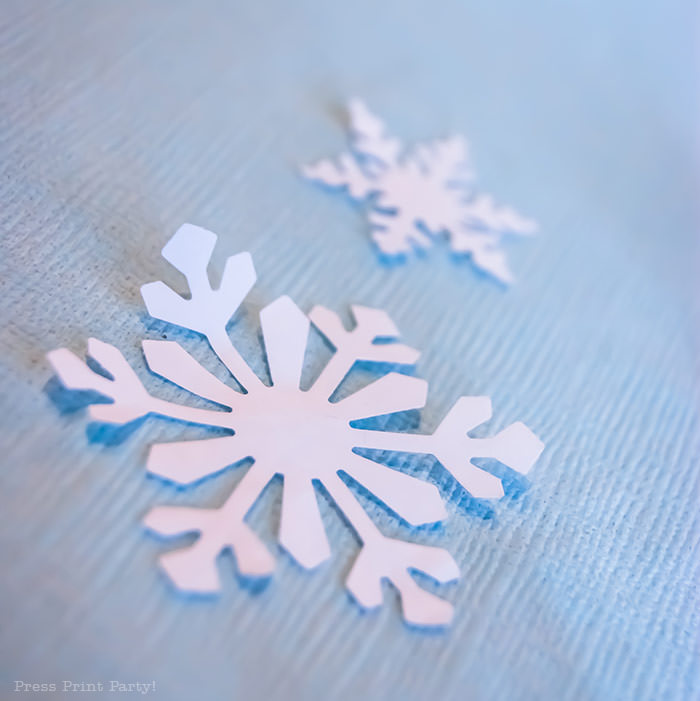 Place a transparent plastic plate on top of a white doily and top it with the folded napkin to complete the look.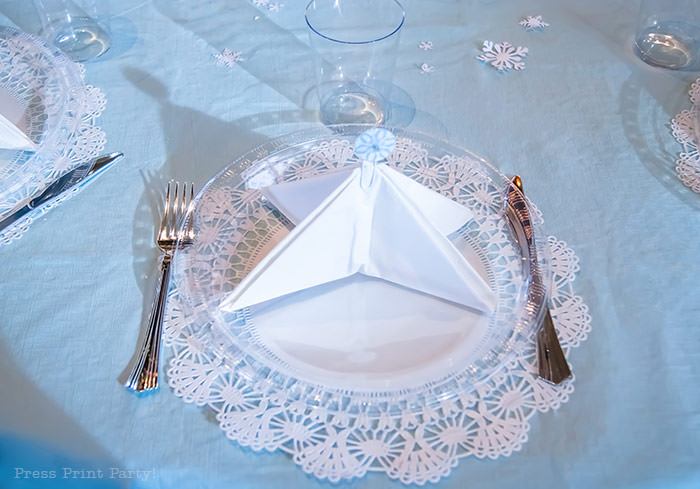 The table numbers are available as part of my Frozen Christmas Party printable set
This centerpiece was so stunning and yet so easy and inexpensive to complete. It will make any party sparkle. Elsa and Anna guarantee it!


Don't forget to pin it: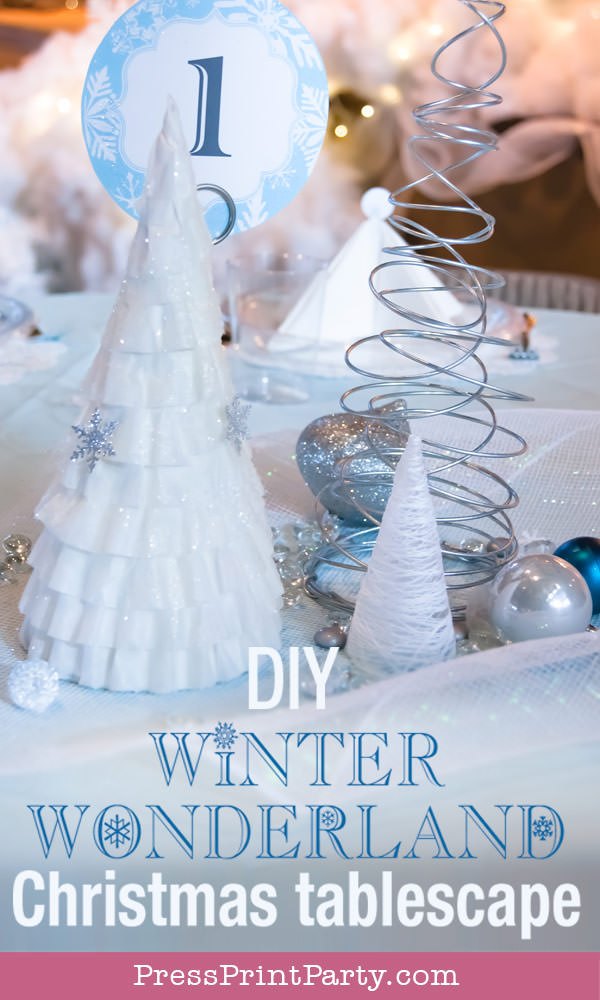 Check out our christmas printables