Hosting a New Year's Eve party can be so much fun. But preparing for an awesome party means you'll need to find items that will not only make your party look amazing but also ensure your guests will have a blast.
I'll show you some fun entertaining essentials that will guarantee you have the best New Year's Eve party around. From balloons and photo booth props to dinnerware and champagne flutes, I've outlined everything you need to host an amazing New Year's Eve party and ring in the new year right.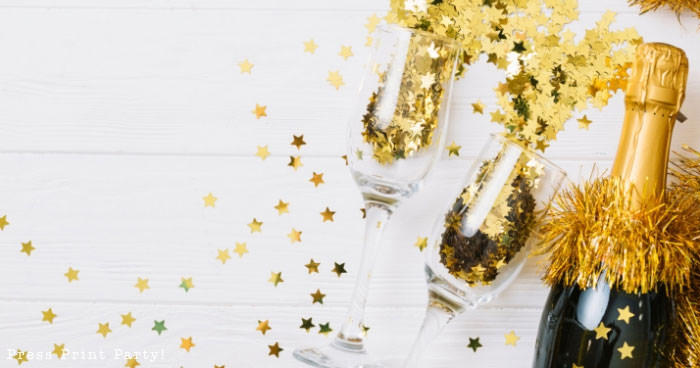 This post may contain affiliate links.
1. New Year's Invitations
I'm pro paper invitation! It's so much more personal than an email! I haven't designed one yet but I loved this one. Your friends and family will be so excited to attend your party after receiving a beautiful invitation from you.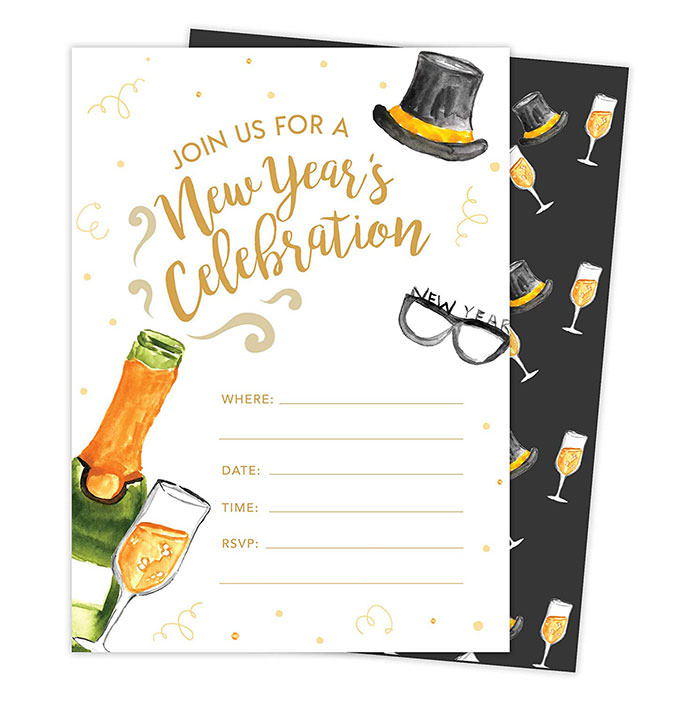 2. Silver Tiaras
Your guests will have a blast dressing up in these fun silver tiaras. Imagine a whole room of your friends in these! Oh yay! They'll all be so excited about their New Year's headpiece that they'll all take them home. And the one-size-fits-all headband ensures these party hats will fit guests of any age.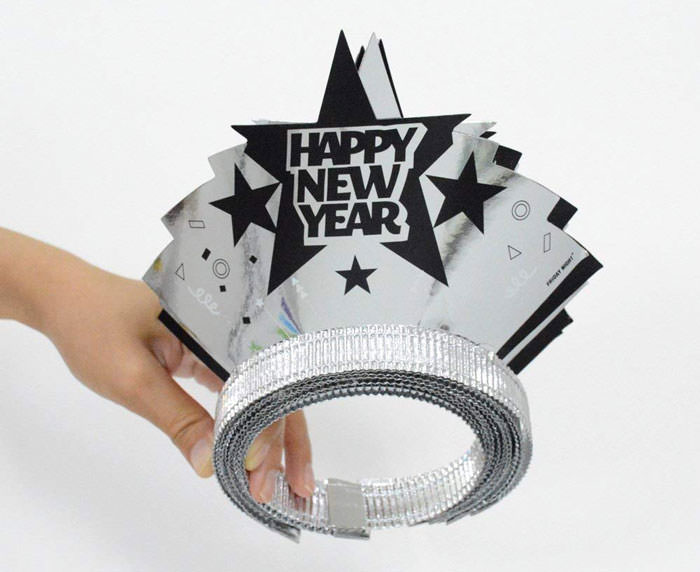 3. 2019 Balloons
No New Year's Eve party would be complete without a set of 2019 balloons. Ring in the new year with these large mylar balloons in a variety of colors. They'll make a wonderful backdrop for all your guests' New Year's Eve photos. Don't forget to tape back all the little tabs, they're so unsightly.
But beware. If your guests change the order of the numbers you've now got a time travel themed party.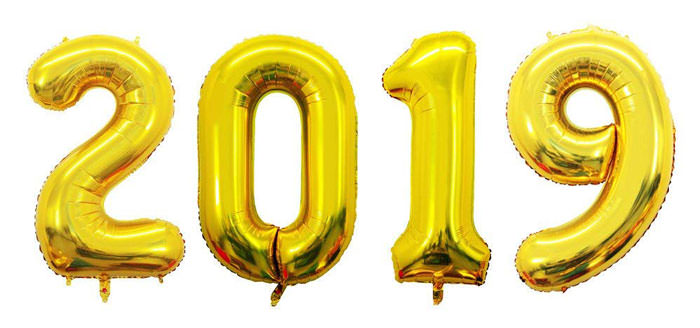 4. Happy New Year Balloons
More balloons = more fun! Add to your New Year's Eve party with a set of metallic Happy New Year balloons. These festive balloons come in classic New Year's colors – black, silver, and gold – and feature a classy design with starbursts and dots.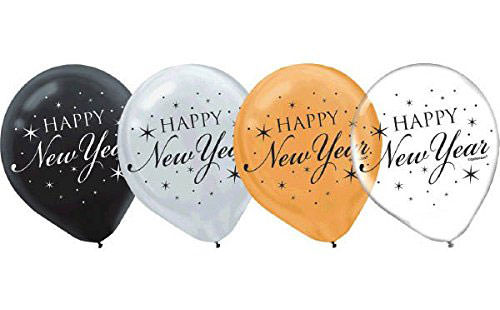 5. Disposable Dinnerware
No one wants to clean up after a late night party! Make cleanup a breeze by purchasing a set of disposable dinnerware for your New Year's Eve party. This stylish set includes everything you'll need for a great party – matching cups, plates, napkins, and utensils. And you'll love the classy design on each piece, which features gold script lettering and fizzy champagne glasses.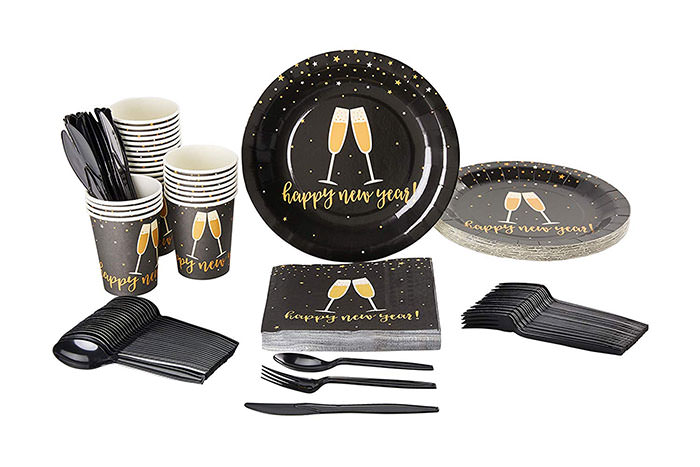 6. Decorative Straws
Add to your dinnerware spread with a set of decorative New Year's straws. This beautiful set includes a set of black and white chevron straws with pretty gold and black paper cutouts to add to each straw. Your guests' drinks will look amazing with one of these pretty straws tucked inside their cups!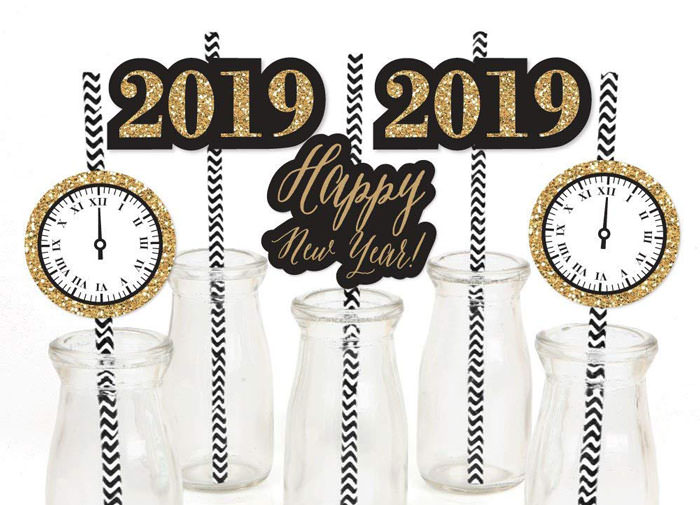 7. Gold Cupcake Wrappers
Say hello to 2019 in style by dressing your New Year's Eve cupcakes with a fun set of sparkly cupcake wrappers. Featuring a gold glitter design and black polka dots, these paper wrappers are the perfect option for your end-of-the-year party. They'll dress up your food table by adding some dazzling style to your cupcake display.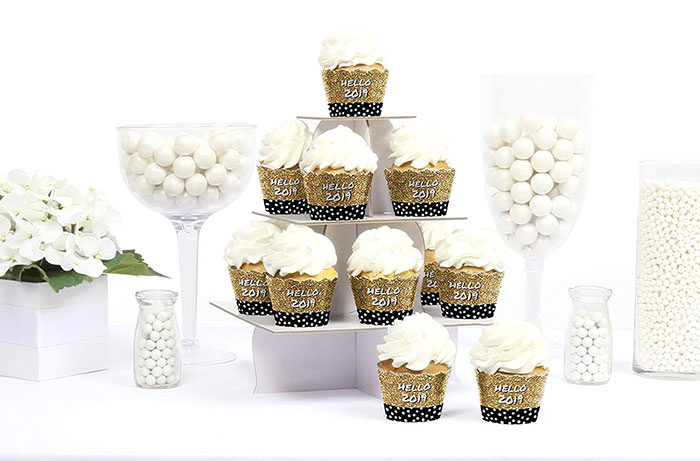 8. Photo Booth Props
Adding a photo booth to your New Year's Eve party is a great way to get your guests interacting and having fun. Make your party amazing this year by having a set of photo booth props ready for your guests. They'll have so much fun creating silly photos at your party throughout the night. And you can edit the year in this set, so you'll be able to use them for all the years to come!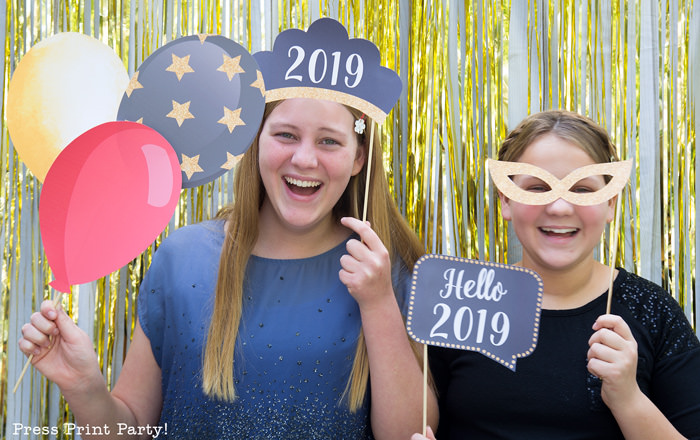 9. Noisemakers
There's no better way to ring in the new year and to make sure that neighbors are awake than by making some noise in celebration. As the clock ticks down to midnight, make sure you have a set of festive noisemakers ready for your guests.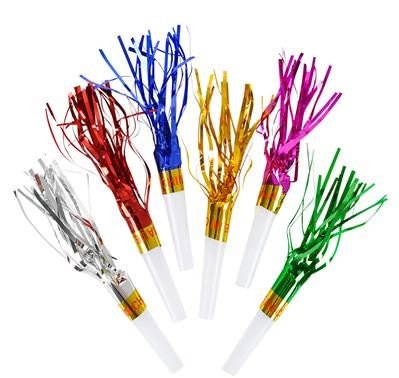 10. Paper Lanterns
Decorative paper lanterns and tissue paper pom poms are a great way to add some dimension to your New Year's Eve party's decorations. This pretty set of black, white, and gold decorations will look amazing hanging from your ceiling at your party this year. And, you'll be able to use them again and again.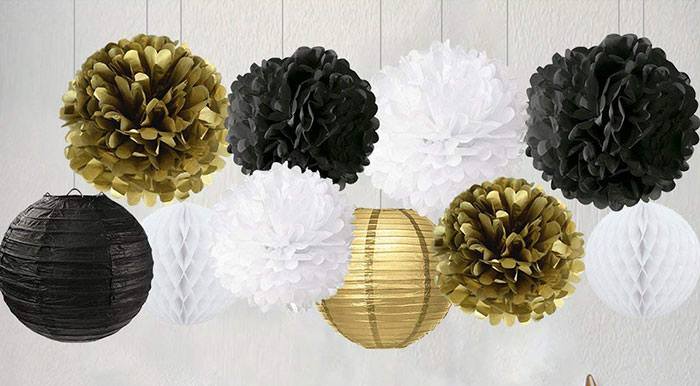 11. Gold Foil Curtain
Deck out your walls in a foil curtain to instantly add a little glamour to your party. These foil curtains come in a variety of colors – including gold, silver, and black – so you're sure to find a style that fits your party's theme. Each curtain is designed to cover a door, so you'll probably need to purchase a few to ensure your whole wall is covered. Or just use them as a glittery background for that awesome photo booth.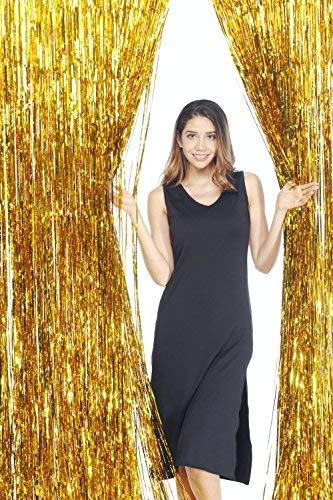 12. 2019 Banner
This sparkling 2019 banner will pop on your wall. This gorgeous gold set includes a text banner that reads "Cheers to 2019" along with a cute polka dot accent banner. Whether you hang it on your wall, door, or use it to decorate your food table, this pretty banner is sure to make you party look beautiful.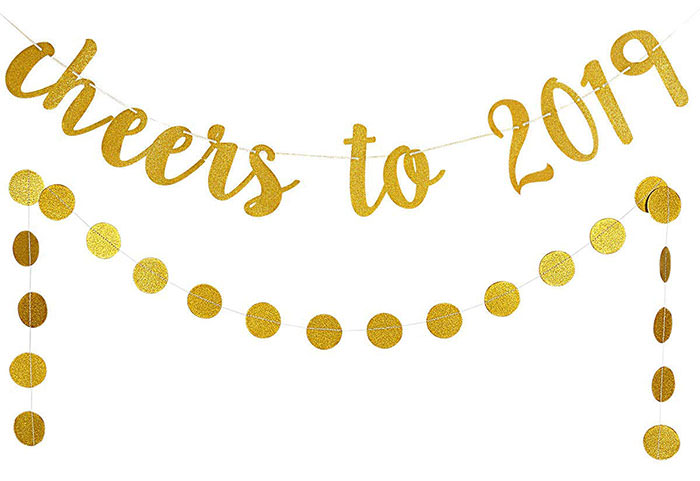 13. Sequin Tablecloth
More glitter? Yes ma'am! Add to the glamour of your New Year's Eve party decorations with a gorgeous gold sequin tablecloth. Your food and desserts will look amazing sitting on top of this dramatic tablecloth, which comes in a variety of colors for any party theme.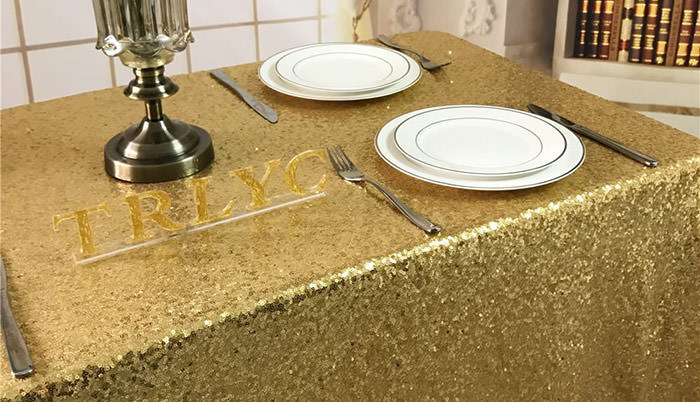 14. Champagne Flutes
Make sure your guests are ready to toast to the new year at the stroke of midnight with a set of champagne flutes. These disposable glasses are the perfect choice. They're beautifully decorated with gold detailing along the top, but they're made of plastic. That makes for easy clean-up after the party is over and ensures nobody will break a glass throughout the night.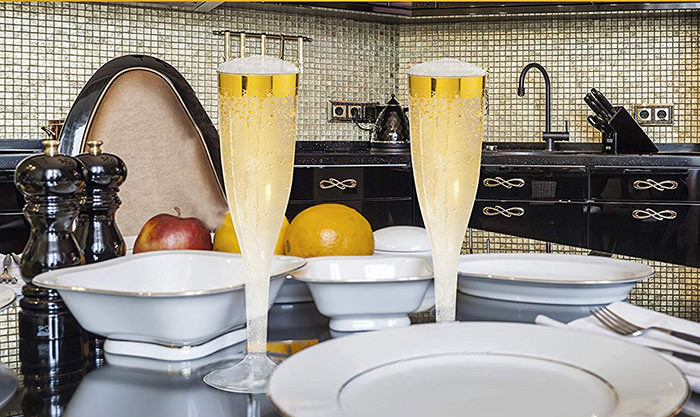 Have a fantastic New Year's party. And don't forget to pin the post for and easy reminder next year!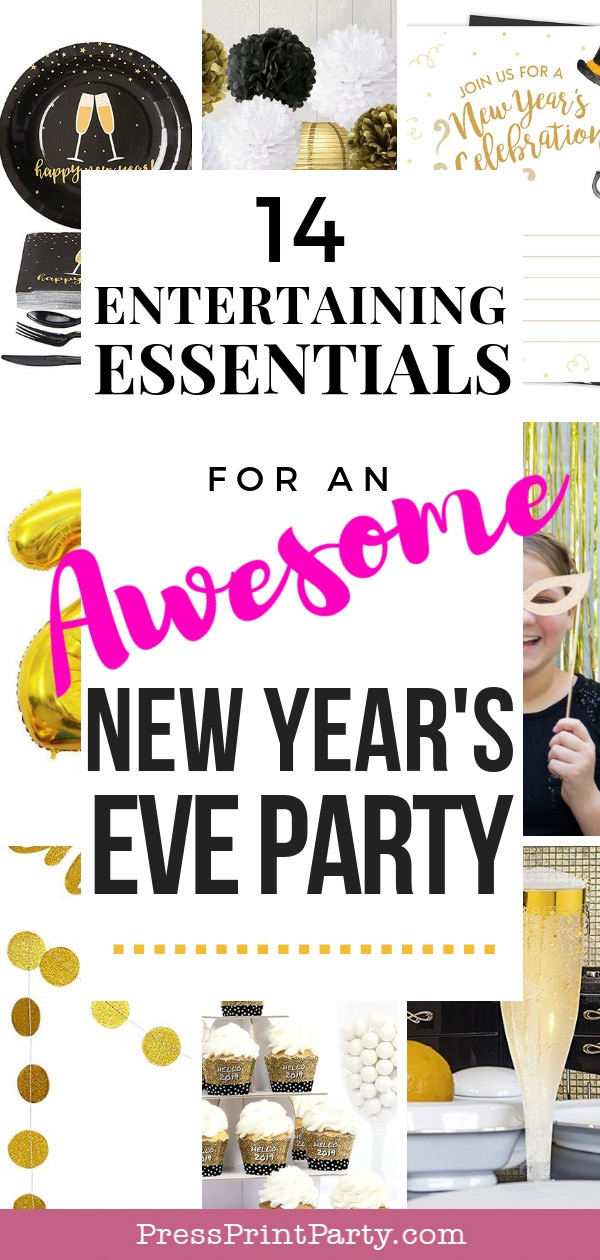 Check out our holiday printables