Ayy, you dirty scalawags. Yer ghostly pirate ship has nearly run aground!
As soon as I learned that I was selected to be part of Oriental Trading Company's Skeleton squad, I started thinking about Halloween decorating ideas for my front porch.
A DIY haunted pirate ship seemed perfect and sounded like so much fun to put together!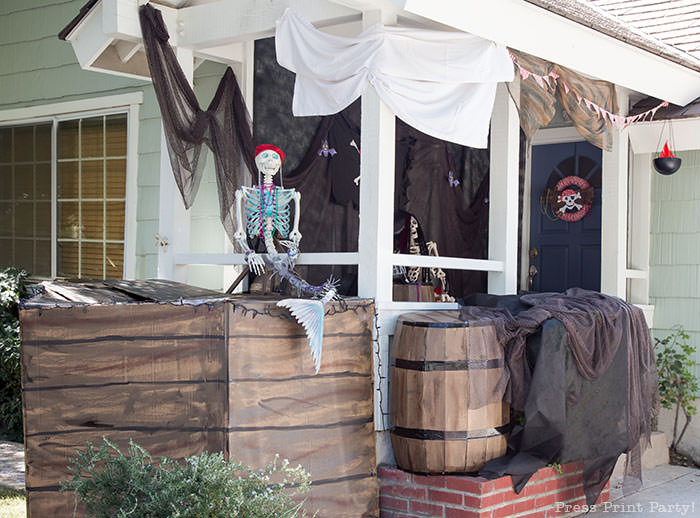 This post may contain affiliate links
How to Make a DIY Pirate ship for Halloween
My porch is a little weird. Instead of running along the face of our house it juts straight out from the front door. It's an odd arrangement for a porch but was perfect for transformation into a haunted Halloween pirate ship. All I had to do is finish the look with a ship's bow made out of cardboard.
My hubby got me a refrigerator box from the local appliance store dumpster and I cut it to fit the height of the porch.
I used wood stain and black paint to get the look of the wood. No need to be precise there, it's a haunted derelict pirate ship after all.
I used a whole bunch of black gossamer fabric to darken the porch and hide the bush in the front before I added fishnets to round-out the look
The huge net I used is actually our old trampoline net. It had developed a couple holes and was making us a little nervous. When we got a new one, we cut the old one off of the padded frame, ran it through the washing machine and kept it for Halloween decorations. It worked perfectly!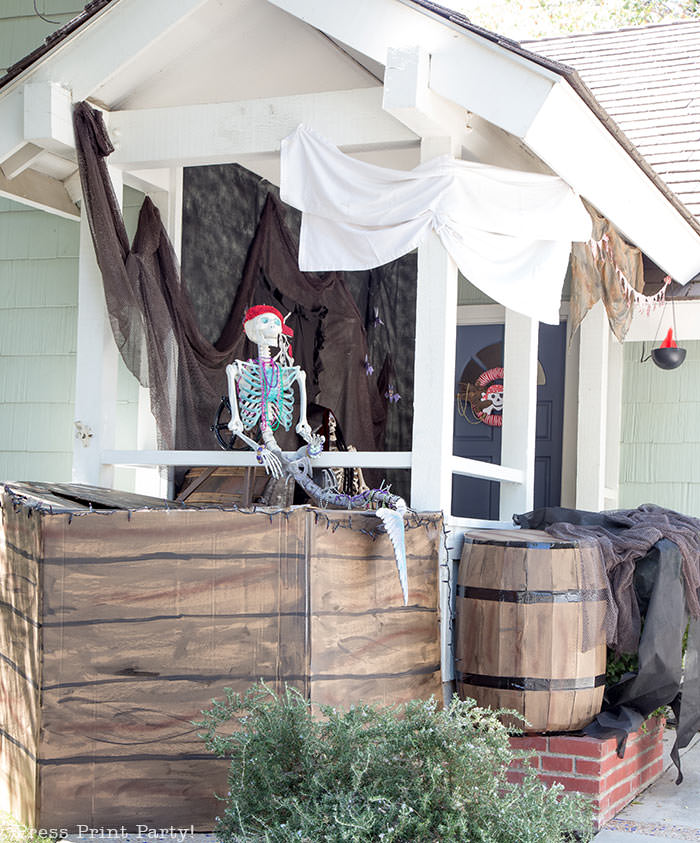 The barrels are also made from cardboard boxes and painted with wood stain to look like old wood. A friend of mine made them for our Vacation Bible School this summer and let me have them afterwards.
The sail is an old tablecloth and I made some cute pirate flags out of a red and white striped fabric.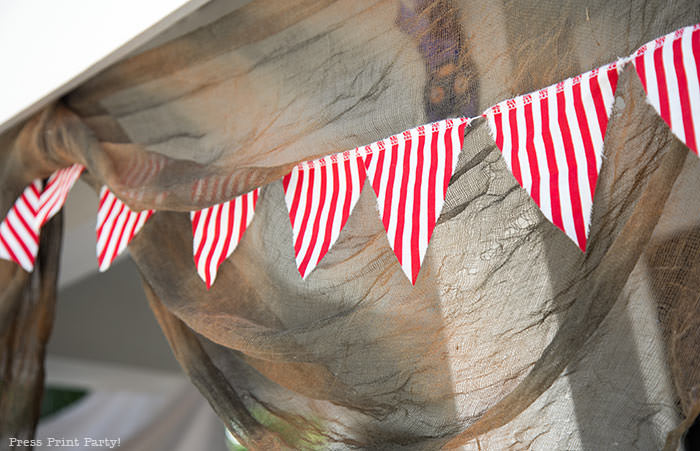 I used the skeleton mermaid and the pirate mermaid from Oriental Trading as my centerpieces.
The mermaid skeleton got a beauty treatment with some paint and the prime spot on the bow. A little fishing line helped her to sit up straight.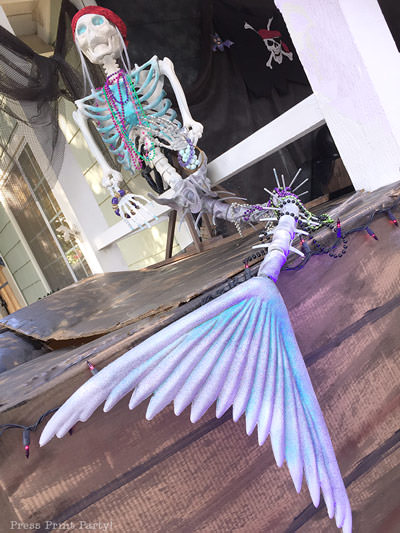 And the pirate was the greeter on the porch itself. He was very easy to seat on the barrel and he looks majestic under his pirate flag.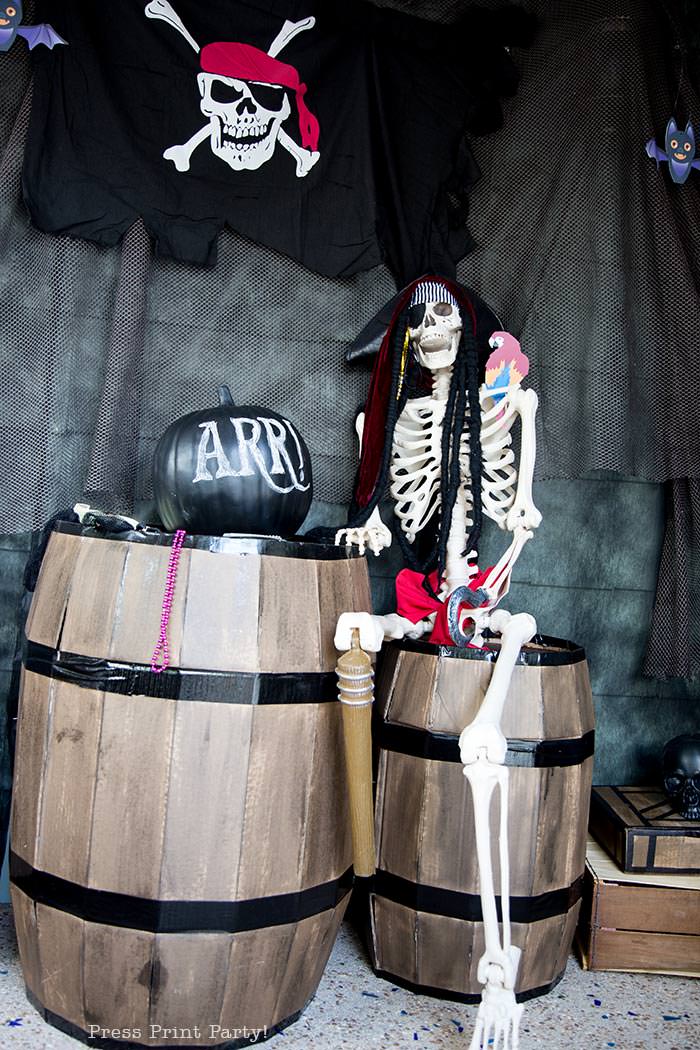 Do you see the little bats hanging all around? They're available as a free bat Halloween printable craft for kids here.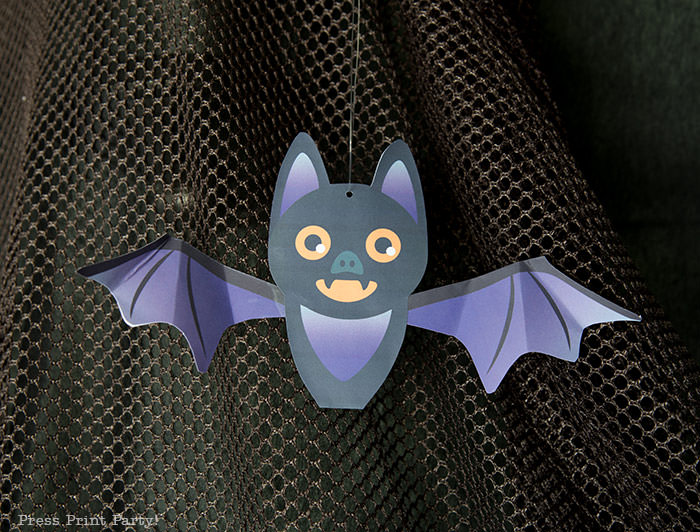 You can even find them upside down.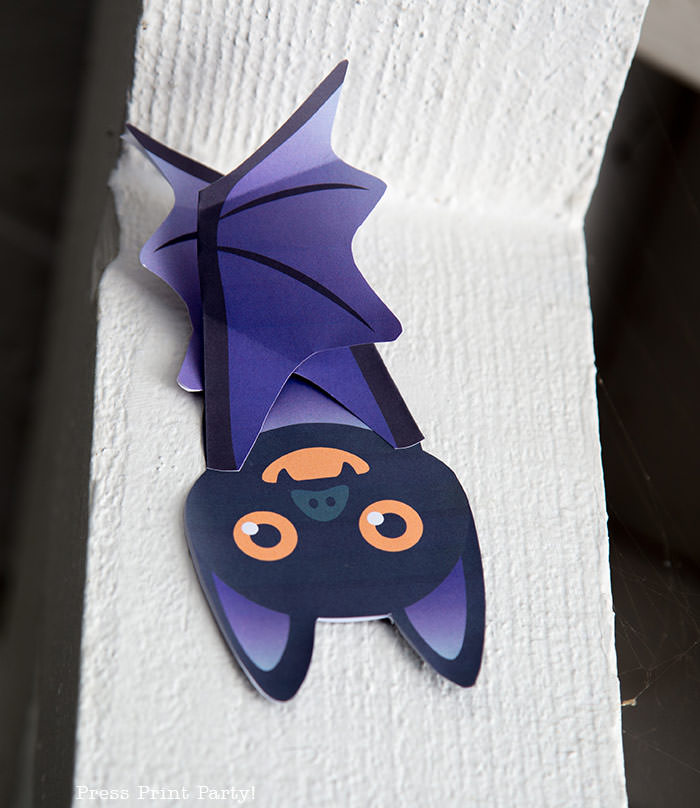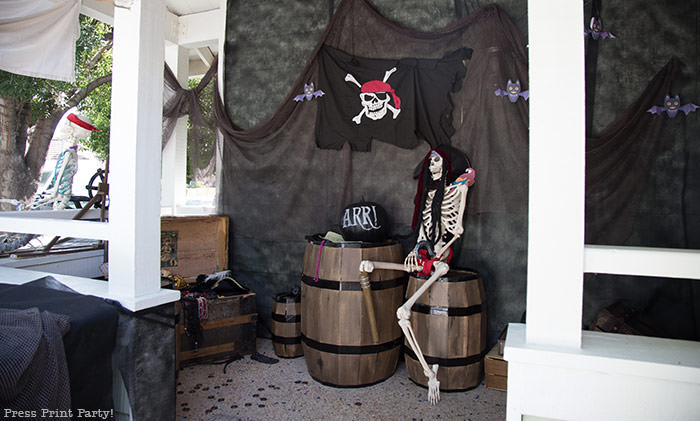 The pirate skeleton guards his hidden treasure.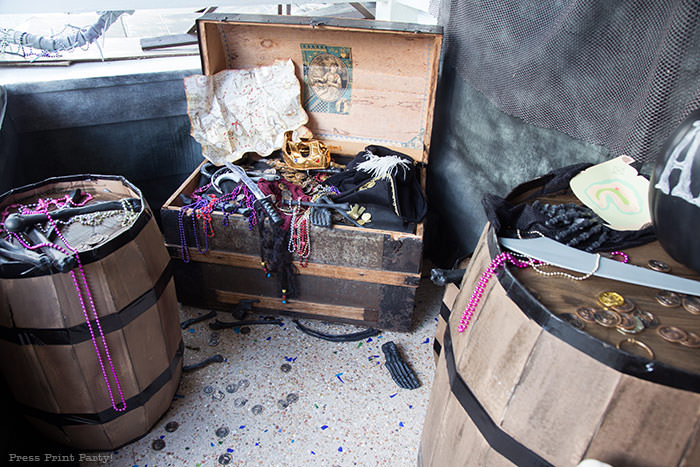 The treasure chest is usually in my living room and is actually full of blankets. I added the black gossamer fabric to hide the blankets and threw in pirate coins and tons of necklaces to make it look like a treasure.
A pirate hat, treasure map, jewels, a crown, swords, hooks, and random bones add to the crazy pile of pirate booty.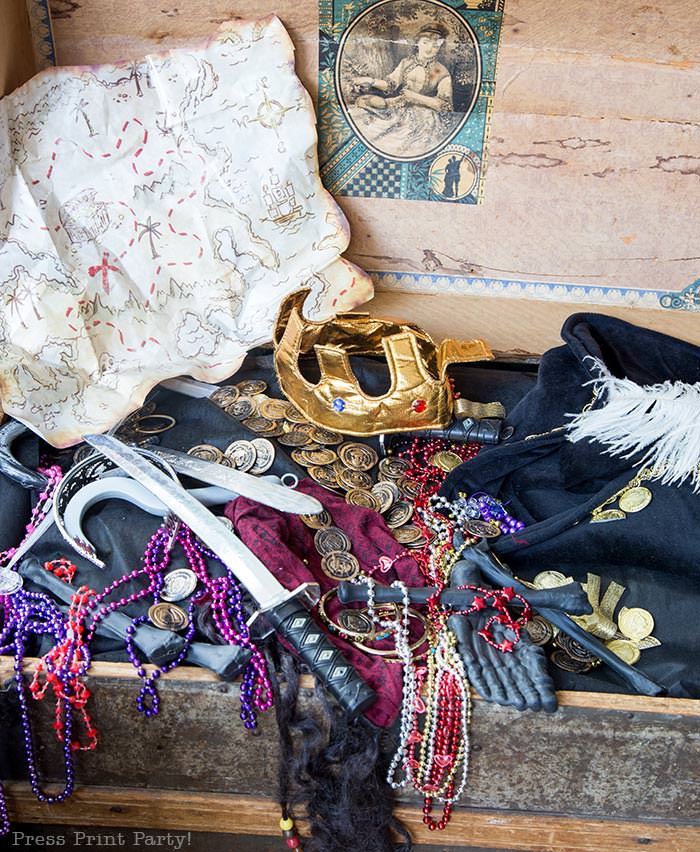 The path to the front door is full of old boxes and a little surprise.
This old pirate treasure box from Oriental Trading turns on and off and a scary cat is trying to claw his way out! It's motion activated and loud and the paw moves faster than you'd expect. Definitely not for the faint of heart.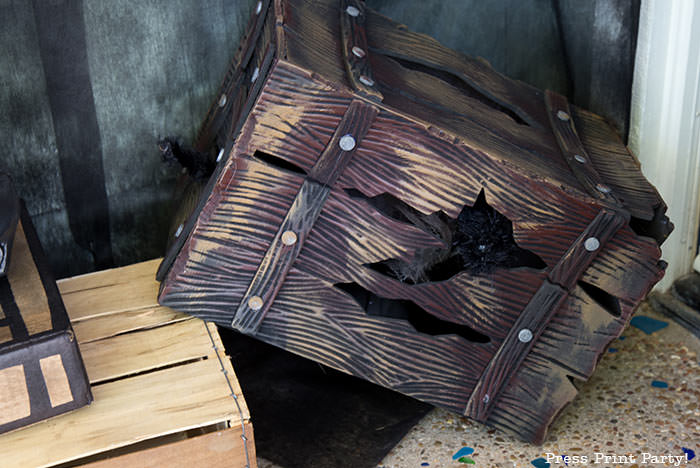 The wreath on the porch is much more friendly and very easy to make with some old wood and some pirate coins. It would work great for a pirate party also. You can check out how I made the pirate wreath decoration, complete with video.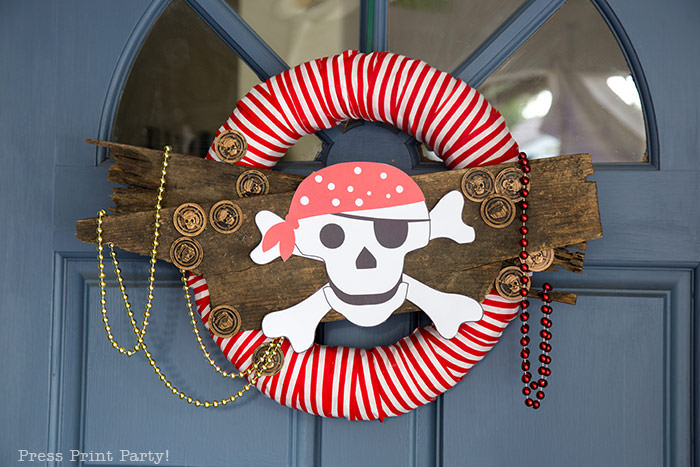 At night the pirate ship came alive with a purple LED light aimed at the skeleton mermaid and little purple lights on the bow.
The porch light was on but dimmed by the gossamer fabric.
My kids loved the fake burning flame of the mini cauldron near the door. It's an awesome, colorful, little prop.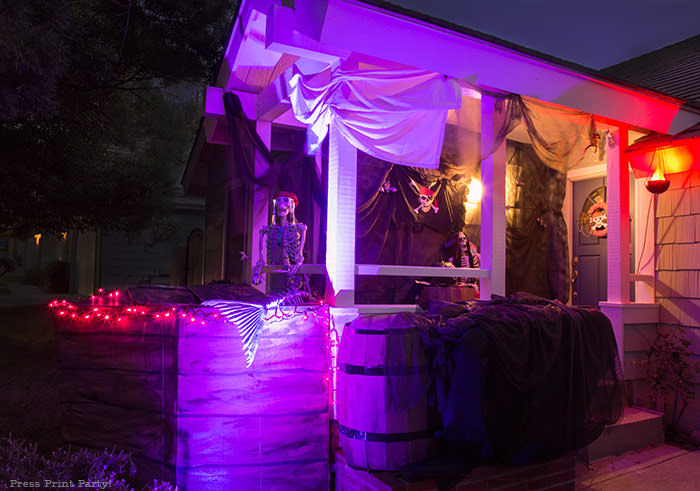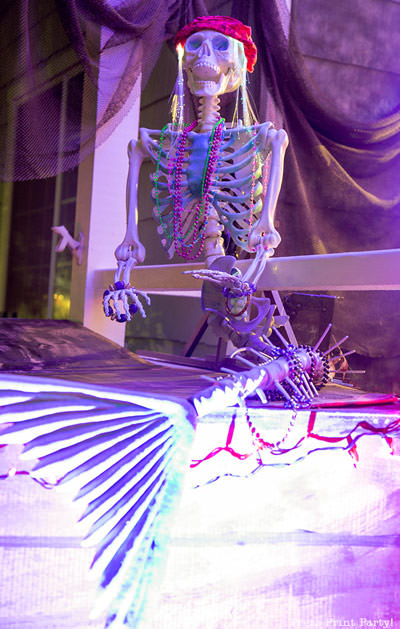 Add some smoke and you're in business for the best haunted pirate ship Halloween front porch decor in the neighborhood.
You can find my haunted pirate ship (I'm #75) and lots more skeleton ideas on the Oriental Trading's 365 site.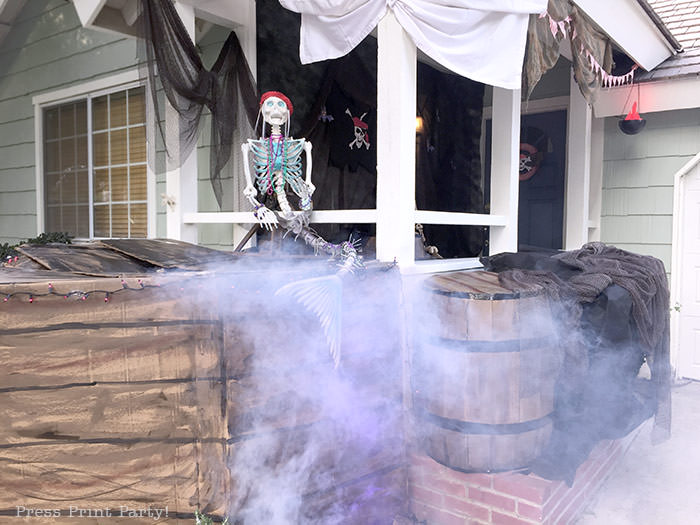 Don't forget to pin it: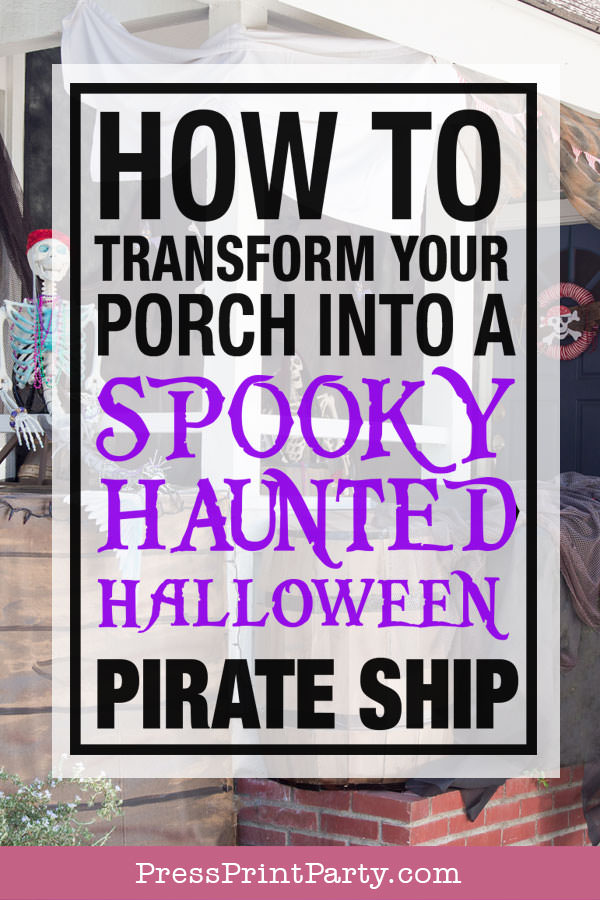 Check out our birthday printables