Getting together with family on Thanksgiving day has always been a wonderful time for me. I look forward to spending quality time with extended family and the chance to taste yummy dishes usually made only once a year.
But even with the best of families, it can be hard to break the ice and get to meaningful discussion. Also, we can easily forget how truly blessed we really are. We could all use Thanksgiving dinner table activity ideas to embrace the full spirit of Thanksgiving.
So this year, enjoy the meal and spark great conversation with these free Thanksgiving printable conversation cards.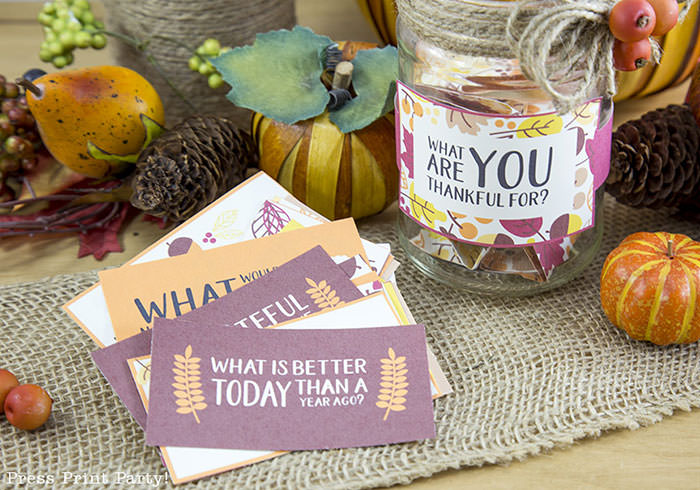 If you're here from the 10 FREE THANKSGIVING PRINTABLES blog hop, Welcome! If not, start here with my free Thanksgiving conversation starters, and then check out all the amazing free printables for your home! All the blog hop links are at the bottom of this post!
Except for a couple of these printable cards, each one has a different question aimed to remind us of all the things we should be grateful for and to inspire meaningful conversation. Like "What is better today than a year ago?" or "Who made a positive difference in your life recently?"
It's a fun game to play around the Thanksgiving table.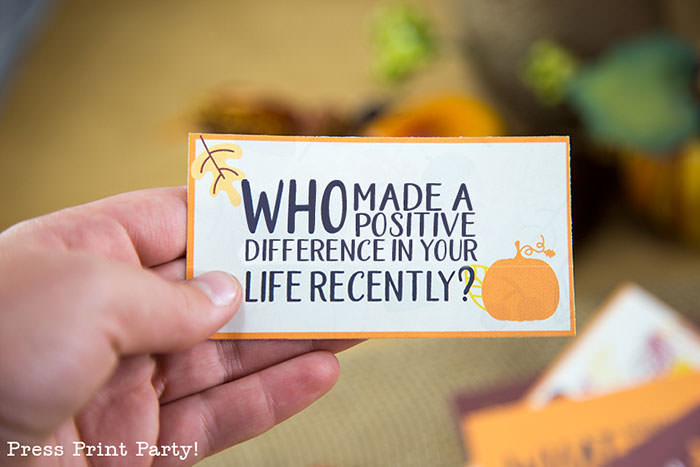 This is a great way to learn stories you've never heard and grow closer to the people around the table. Prepare to revel in a favorite Thanksgiving memory from your great aunt and get the latest updates on the whole family from your cousin. You may develop a deeper affection and understanding for some family members. And who knows, you may even share a tear or two.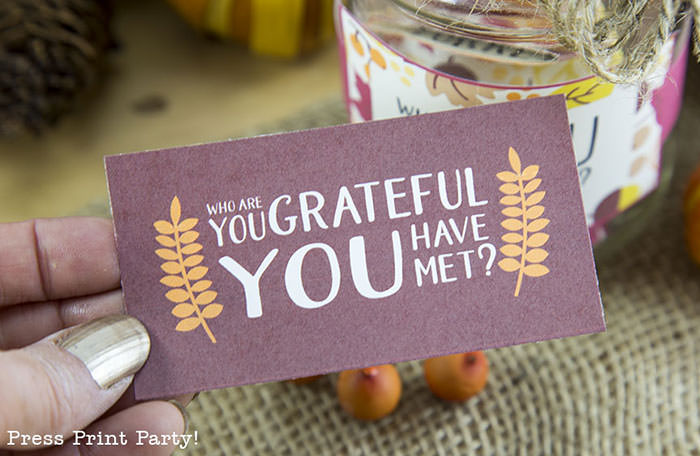 So try something different this year and encourage a little more thoughtful and honest discussion. Just have each person draw a card and read their question. You'll foster genuine interaction on the one day of the year when the theme of thankfulness should run more deeply. Maybe this will be added to the list of annual Thanksgiving traditions.

You get 20 question cards that are designed to be easy conversation starters and a printable label to wrap around a container of your choice.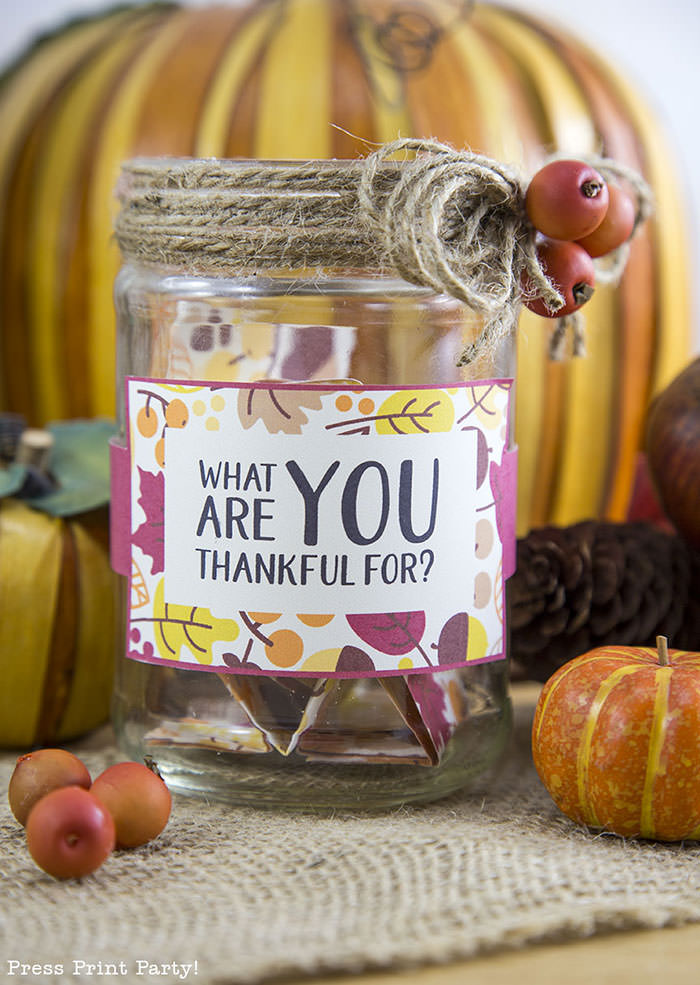 Once the cards are printed and cut, fold them to hide the question, and add them to your container.
Here I used a clear peanut butter jar adorned with a little twine.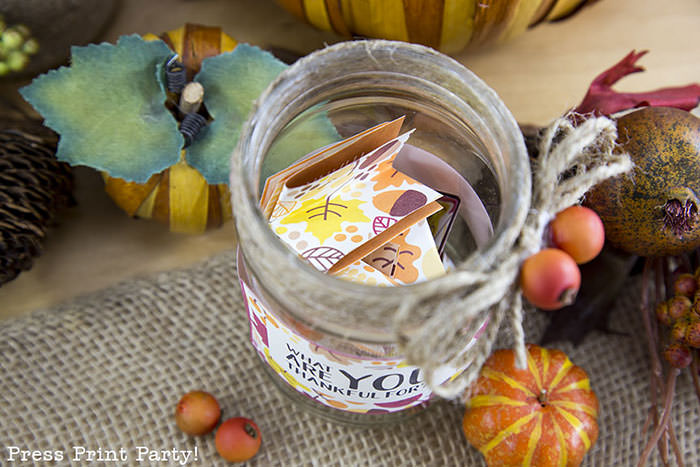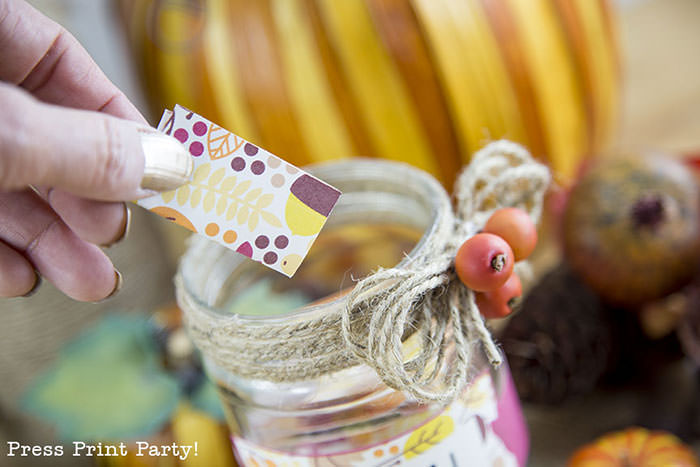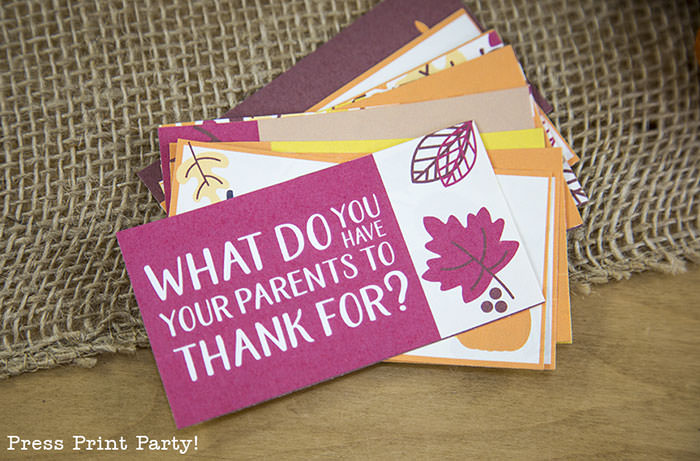 I was challenged by these questions in my own life when I was designing the conversation topics. I hope they'll challenge you, help you push past small talk and create deeper conversations. Or at the very least help avoid awkward silence.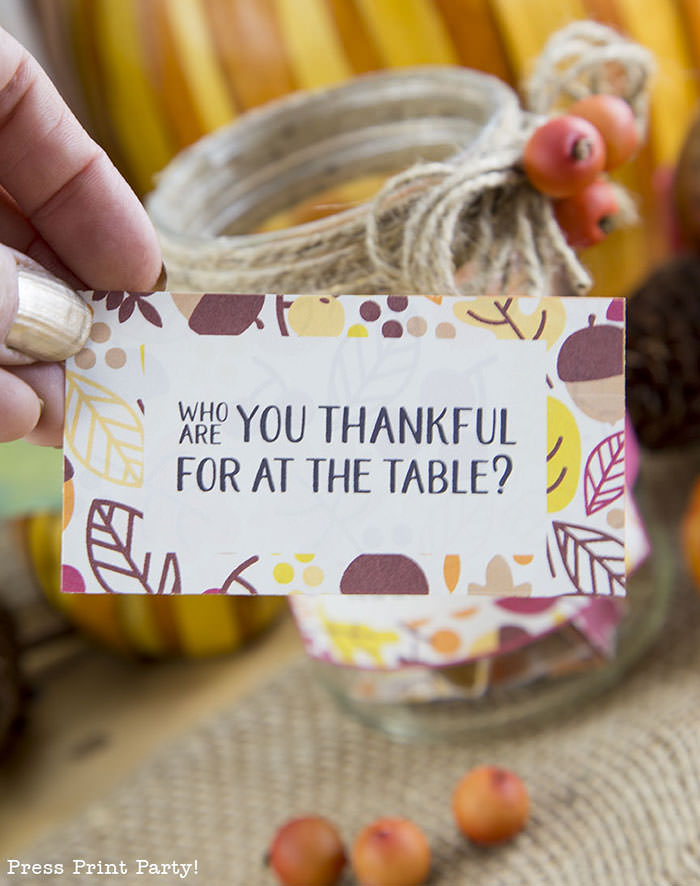 This interactive card game doesn't have to be limited to holiday dinners with relatives. This is also a fun way to take discussions to a deeper level with good friends at your Friendsgiving!
And don't forget the younger guests. Help them embrace family time and the holiday season. You can even encourage them to write their own questions to make the cards even more interactive. You might be surprised what creative ideas they come up with.
Don't forget to pin for later and share: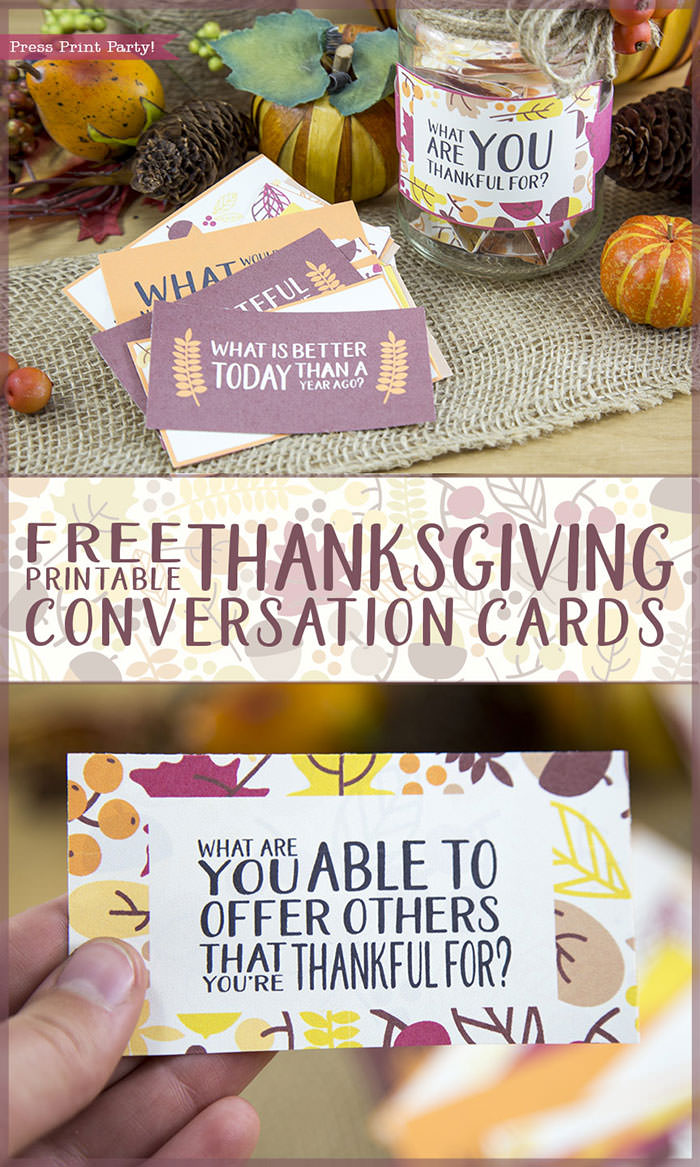 Get Your Freebie:
If you've already subscribed, you can get the password from the bottom of any email I send and go directly to the Free Downloads Library.
Check out our fall printables