What could be sweeter than a donut party? Nothing!
A donut birthday party makes a great birthday party theme because you can do it for any age, from a first birthday to a Sweet 16.
It also makes for some cute and fun donut decorations and plenty of fun colors to work with.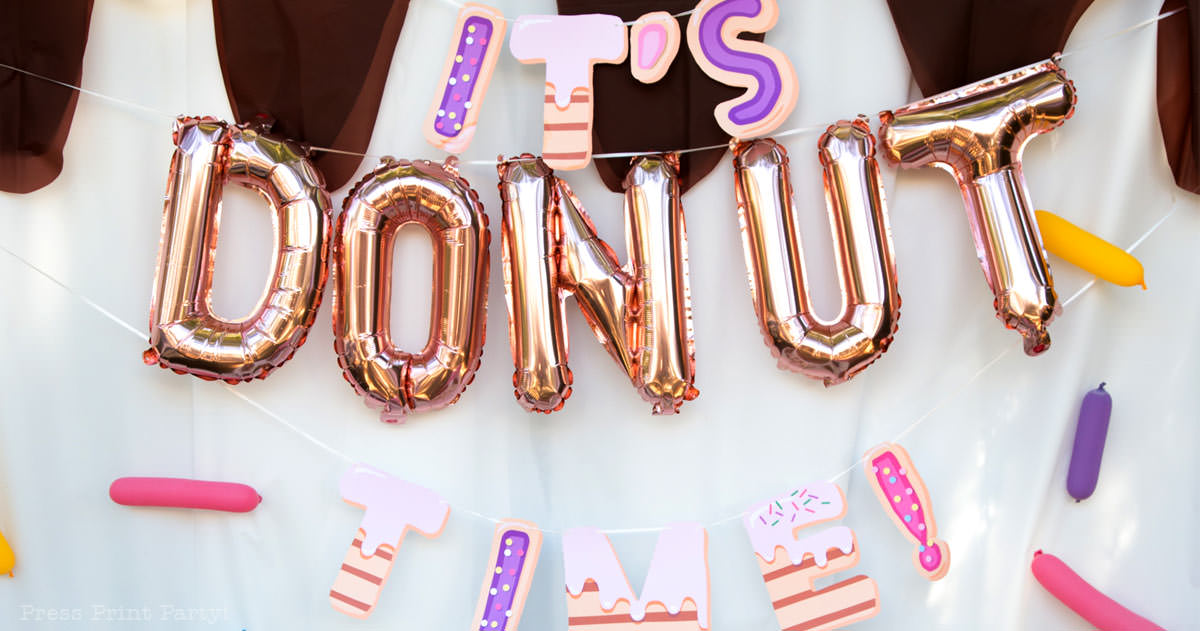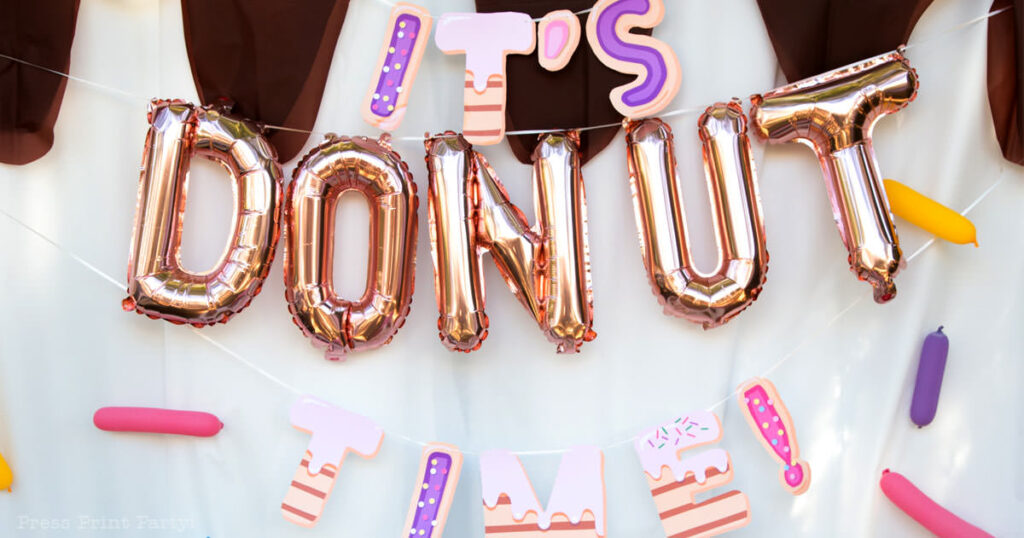 This post may contain affiliate links.
You could choose to throw a donut baby shower or even a donut bridal shower as well. There are no fast rules here.
We chose a donut birthday party theme for my oldest's sweet 16. I thought it was a super easy theme to work with especially because the party food was a breeze. Who doesn't like donuts?
So read on to see all of our donut party ideas and to learn to throw a donut party that's so much fun that your guests will leave smiling from ear to ear.
If you're planning your own party, you've come to the right place. I'd encourage you to also read my post "How to throw an unforgettable party – 3 secrets everyone should know" and to grab my Ultimate Party Planner to keep you focused and stress-free.
---
---
Donut Party Invitations
The great thing about a donut party theme is that you have your choice of dozens of "donut" puns to include in your invitation. We ended up using the pun "You DONUT want to miss this party".
But my donut party invitation templates are easy to change to "DONUT miss this sweet party" or "DONUT Grow Up So Fast" for a younger child.
Although, really, I don't want my sixteen-year-old to grow up either. I'm just not ready for either of my "little" girls to be out of the house yet.
I designed the invitation featuring four different colored frostings so your child can choose their favorite color.
If you like, you can get the invitation separately in the color of your choice. Or you can buy the complete donut party decoration bundle and get all four, as well as a bonus Donut Alphabet Banner.
---
Donut Party Supplies
There are a ton of donut party supplies you can buy out there but this is what I used:
Printables from my printable donut party complete set
Small skinny balloons to mimic sprinkles (I found those at the Dollar Store)
Multicolored balloons to make a garland (If I'm going to make a garland I like to buy better quality balloons than the ones at the Dollar Store. The ones at Party City are good quality. See my balloon garland post for more info.)
Inflatable donut pool floats for decorations and games
DIY multicolored tissue paper tassels
Because I use a lot of printables for DIY decorations, I don't rely on expensive themed paper products like donut plates and napkins to carry the party theme and mostly use cheap plain white plates. But you absolutely could buy some really cute donut paper plates, napkins, and cups to round out the theme.
---
Donut Bar & Decorations
Every donut party needs a donut bar with lots of yummy and colorful donuts. So I focused the bulk of my donut birthday party decorations on the dessert table.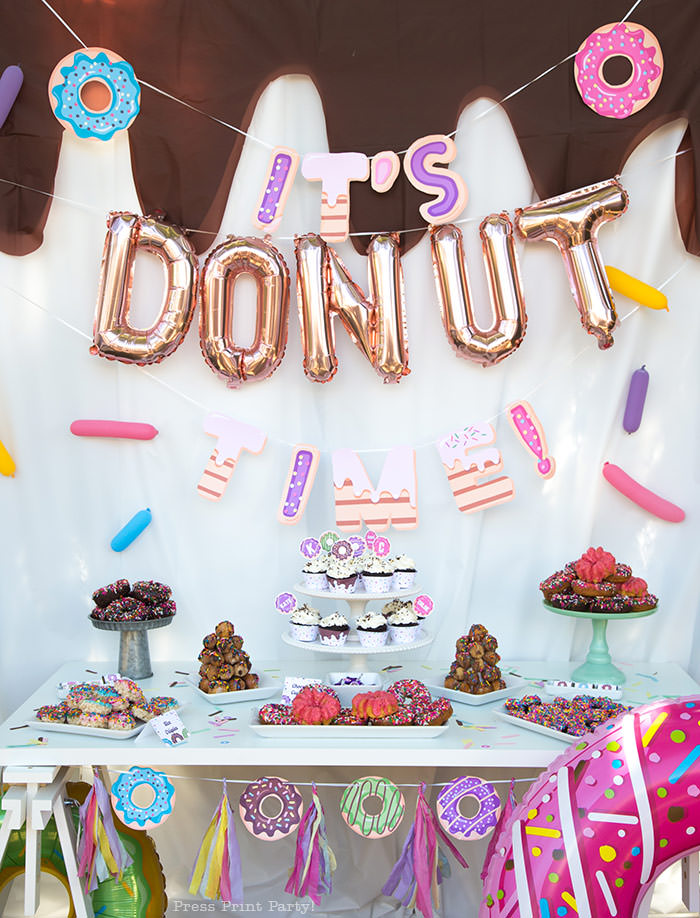 Since my party table was not next to a wall, I made a frame out of PVC to stand behind my table so I could hang a backdrop. I have a great post on how to make a PVC frame for your parties.
I used white plastic tablecloths for the backdrop and cut a brown plastic tablecloth to look like gooey frosting and hung it at the top of my PVC frame.
The small, skinny balloons were scattered on the front to mimic sprinkles. I used glue dots (or balloon dots) to attach them to the backdrop.
The "It's Donut Time" banner was created by stringing donut alphabet letters from my printable set and small Mylar balloon letters.
I also made a donut garland for the front of the table with printable donut banner decorations and multi colored tassels. You may recognize those tassels from our unicorn party. It sometimes saves time to be a party decoration hoarder!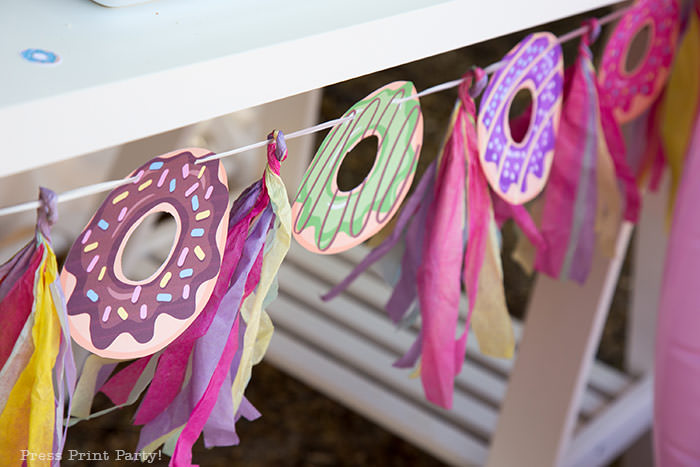 Next, I placed some Mylar donut balloons as well as an inflatable donut pool float in front of and under the table as a perfect opportunity to add more fun decorations.
The photobooth backdrop also served as a great decoration focal point. A white sheet was hung on the PVC frame and a multicolored balloon garland draped over it. Balloon garlands in bright colors are a great way to dress up any party and make a great first impression as guests arrive.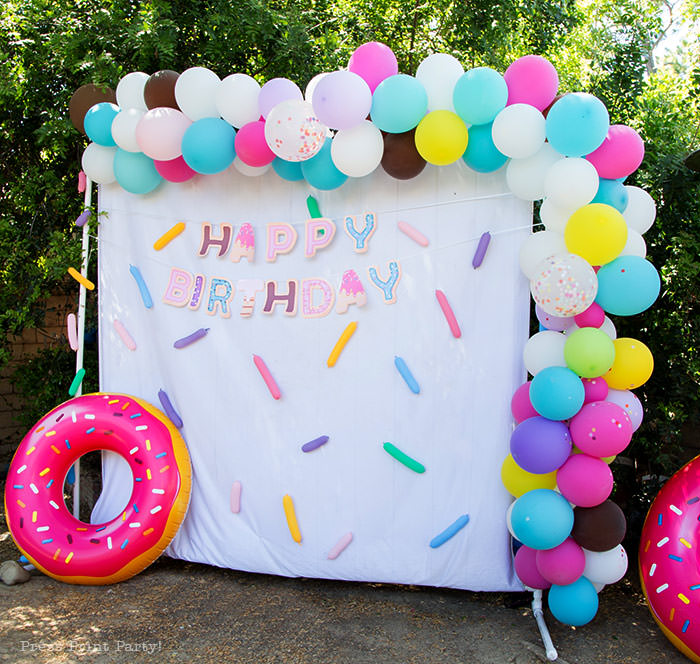 I also wanted to add a cut up brown tablecloth at the top to make the same chocolate gooey effect as the dessert table backdrop but I totally forgot!
I have both a post on how to make the PVC frame and how to make the organic balloon garland.
We took some fun confetti balloons I found and mixed them with the colored balloon on the garland for a fun effect.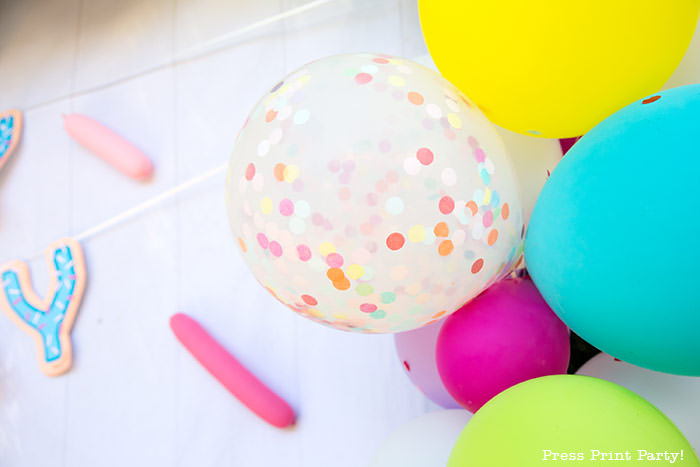 You'll see in the picture that I also used the small skinny balloons for sprinkles as well as a happy birthday banner made with the letters from my printable donut alphabet available in the shop. In the front of the photobooth I placed two more inflatable donuts.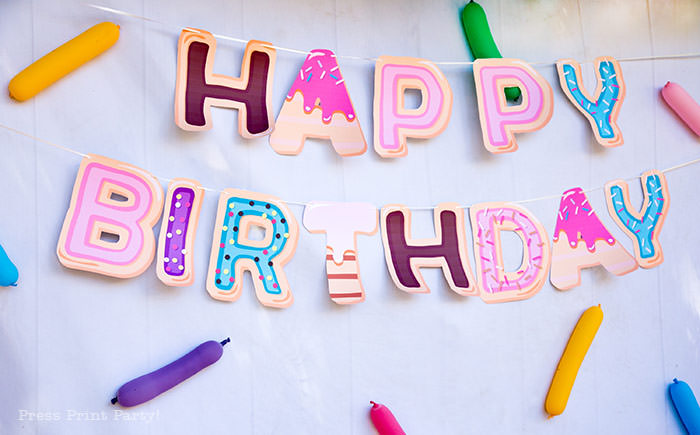 Our homemade donut piñata also served as decorations on a separate snack table.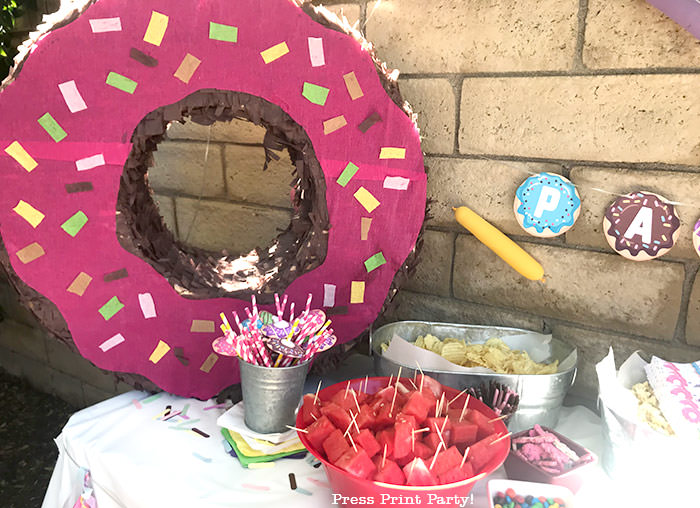 ---
Donut Cake and Themed Party Foods
I considered making or ordering a birthday cake shaped like a donut, but in the end decided against it and made cupcakes topped with fun sprinkles and decorated with printable donut party cupcake wrappers and toppers and set on a cake stand.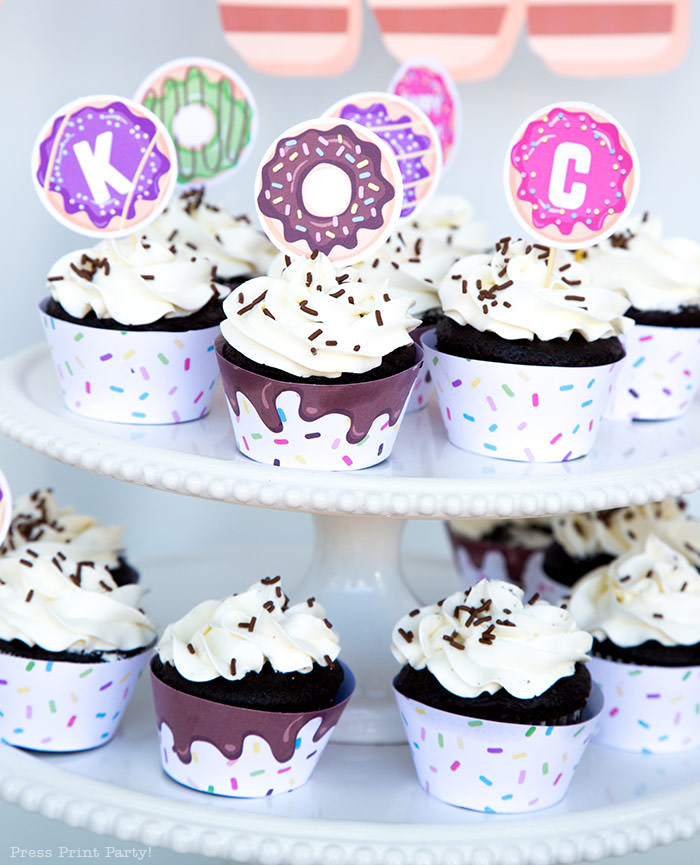 If you wanted to make a donut shaped cake you can buy these fun silicone donut shaped pans from Amazon that have tons of great reviews.
As a side note, I only use silicone pans to bake cakes anymore. They make un-molding the cake a no-brainer.
For more sweet treats, we of course had a ton of different kinds of our favorite donuts which were displayed on a bunch of cake stands.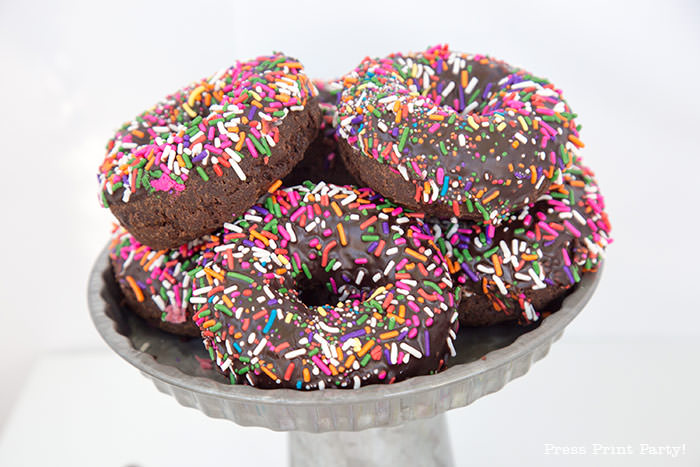 I opted against building a donut wall since I already had a cool looking backdrop but I did make 2 donut holes towers.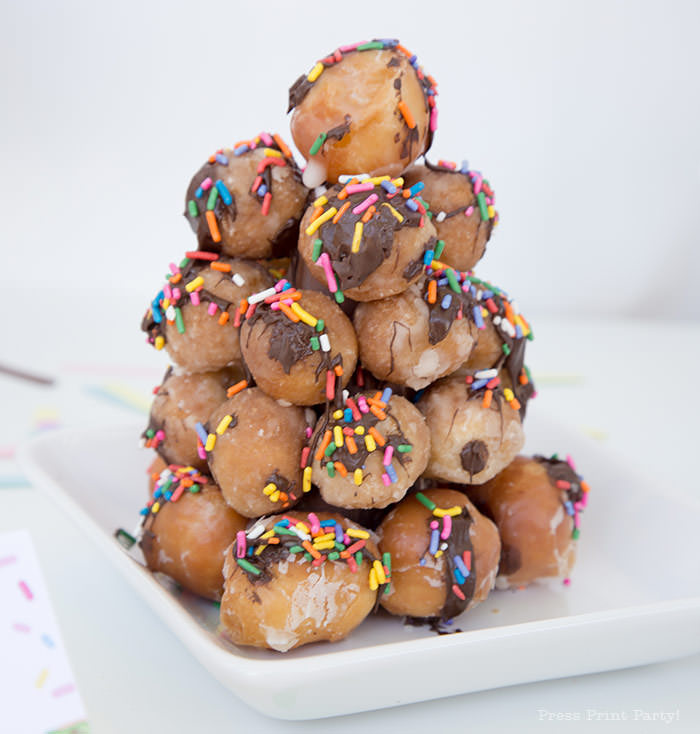 To make those, I simply bought 2 Styrofoam cones which I coated with brown candy melts and then used toothpicks to insert donut holes up to the top.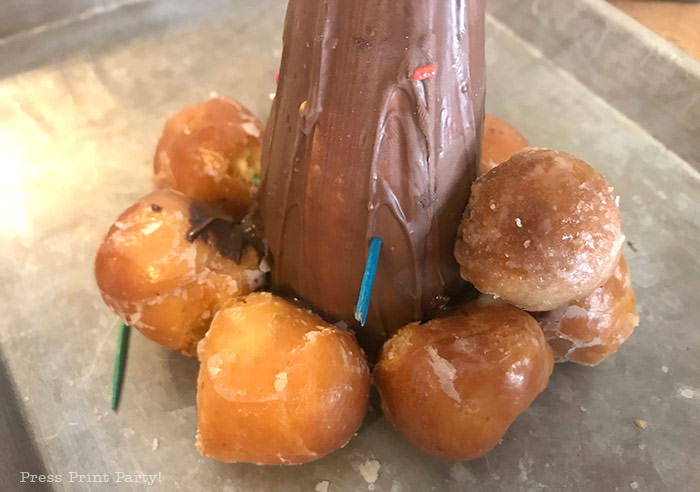 My youngest daughter made rice crispies treats and molded them in the shape of donuts.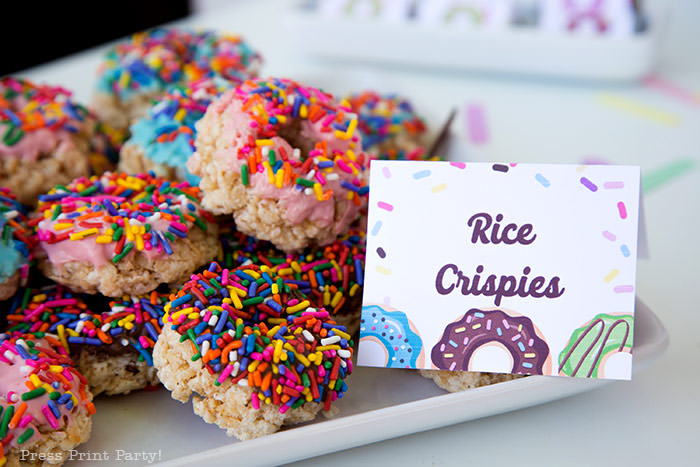 She dipped the top in chocolate candy melts and sprinkles to give them that donut look.
We used the same dipping method for Oreo cookies so they wouldn't look so plain on the table.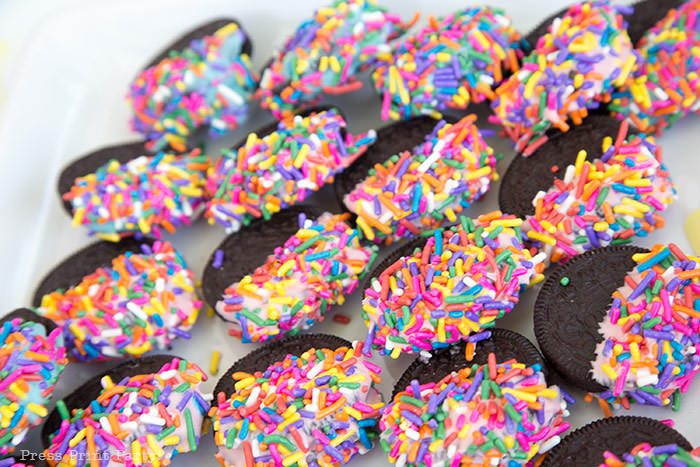 I also always like to serve some chocolate kisses and mini Hershey bars with themed wrappers because you can never have too much chocolate at a party with a bunch of teenage girls.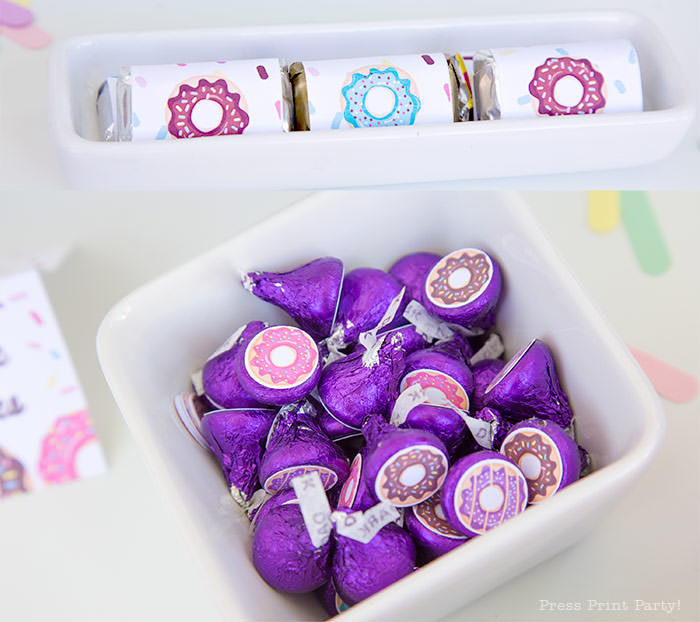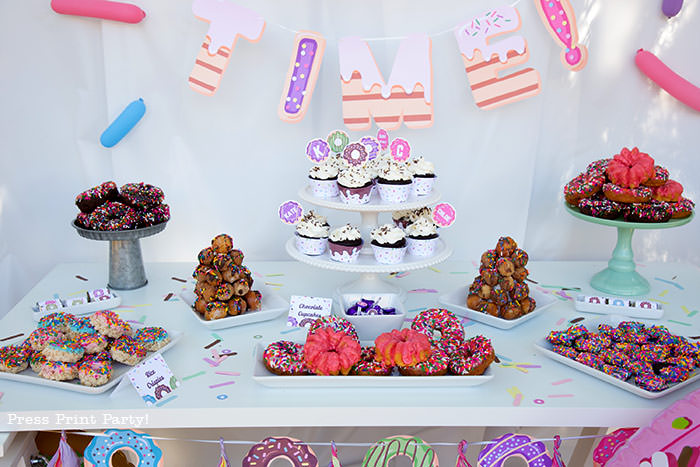 So much sugar you say? Well there's no need to worry because we also had a separate table with much healthier foods like watermelon and popcorn, my famous party punch, and plenty of water to quench the donut sugar fest.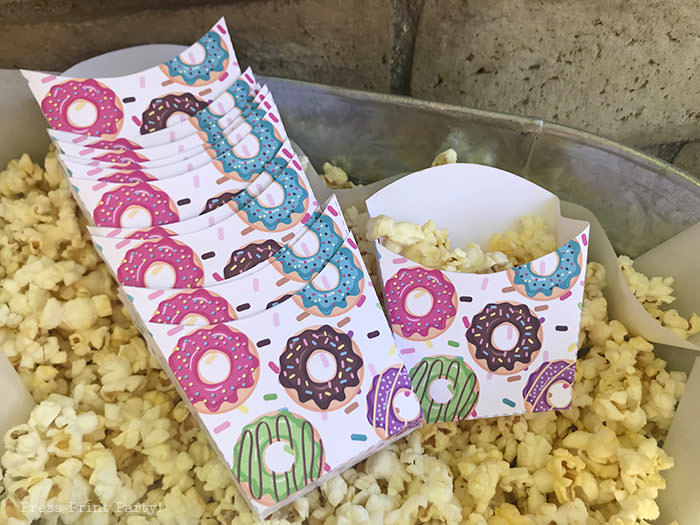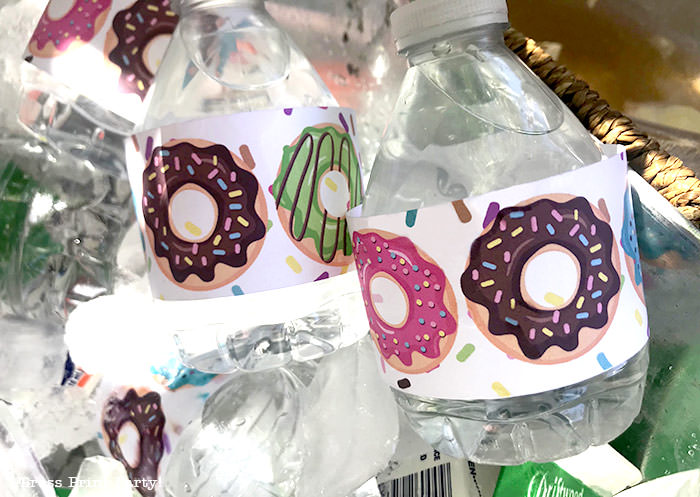 ---
Donut Party Games
Party games are the heartbeat of a birthday party. And it's also fun to come up with games that match the theme of your party.
For this donut party we played 2 specific donut themed games, an ice cream Sunday relay game, and a water balloon relay game that wasn't specifically donut or sweets related.
Donuts on a String
This simple classic party game has been played by many generations before us but it's still loads of fun.
We strung one donut per person on a long section of fishing line and asked every participant to keep their hands behind their backs. The first person to eat their donut off the string wins!
It's fun to see the donuts bopping around and to see the kids struggling to get their teeth into them.
We used mini donuts for our game, but you could use full-size donuts which would keep the game going a little longer. One of our most competitive girls gobbled up her mini donut in two big bites.
The Pool Float Ring Toss Game
For this game we used 2 inflatable donut pool toys. We separated the girls into two teams and lined them up with one of their teammates facing them about 10 feet away with their arms up.
The object of the game was for each team to take turns throwing the pool toy over their teammate's body, ring toss style. After each turn, the tosser becomes the receiver and the receiver goes to the back of the line.
A pool toy is an awkward thing to throw and achieving any accurate distance is tough. It was hilarious to see the girls leaning in crazy directions to try to get the toy to land around them. The first team to throw the pool toy around their teammates 10 times was the winner.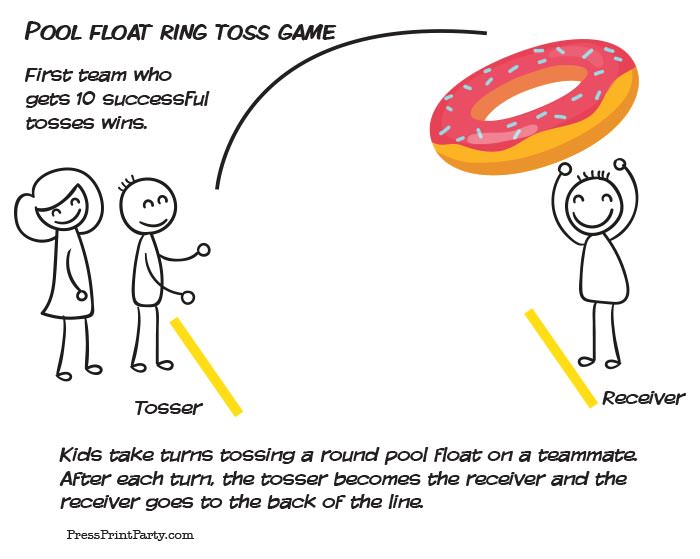 The Ice Cream Sunday Relay Game
The game is just want it sounds like and the object of the game is to be the first team with all its teammates enjoying a complete ice cream Sunday with the cherry on top.
We split the kids in 2 teams with one person in charge of scooping and adding the ingredients on the sundays standing behind a table on one side of the yard.
On the other side of the yard we lined up the rest of the girls. They each had to run in turn to the ingredient table once for every ingredient.
Then they ran back and stood at the end of the line and waited for their next turn.
This makes them really work out for their ice cream as they had to run to the table and back 5 times for:
Vanilla Ice cream (I looked but didn't find donut flavor ice cream)
Chocolate fudge
Crushed peanuts
Whipped cream
And a Marciano cherry for the top.
The Water Balloon Towel Relay Game.
For this game you'll need plenty of water balloons, as many buckets as teams and a few beach towels. You could try to find some donut themed beach towels to tie into the theme but we used the towels we had.
Separate the party guests into teams. For each team, you'll need one water balloon thrower at one end of the game area and a bucket at the other end. In the middle, place 1 to 3 groups of two guests holding a towel from each end. Each group holding a towel will be restricted to a small area that they can't leave.
The object of the game is to throw a water balloon into the first towel, then have the two people that are holding that towel by the edges to toss their balloon into the towel next to them. That process continues, with the members not allowed to move their feet until the final pair can toss their balloon into the bucket. The further each pair of towel holders are from one another the greater the chance for wild, balloon popping chaos so adjust accordingly.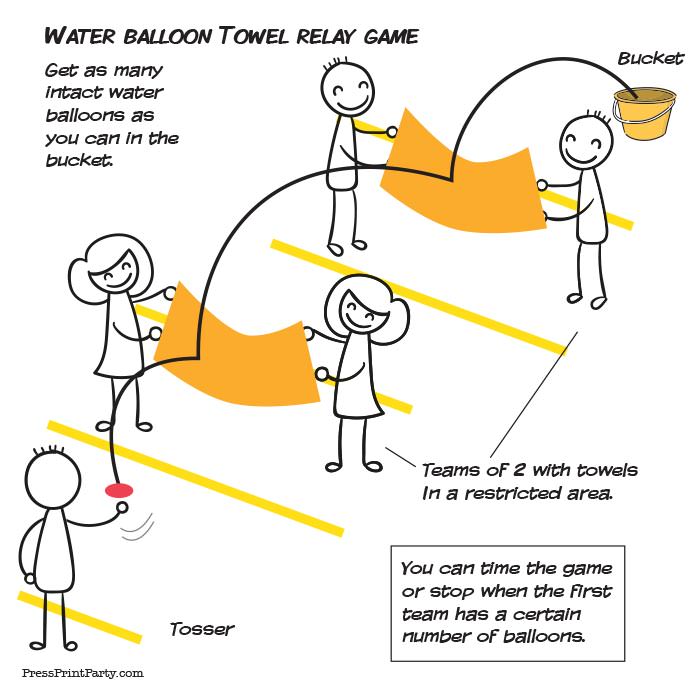 ---
Donut Piñata
We always have a piñata for our birthday parties. We used to buy them but in the last few years we've made them ourselves because the ones you buy at the store are pretty weak and our girls are getting bigger and stronger, and thus we need stronger piñatas.
My husband made this donut piñata out of cardboard that he scrounged out of the dumpster of our local appliance store, but he over-engineered it so much that the girls had a hard time breaking it.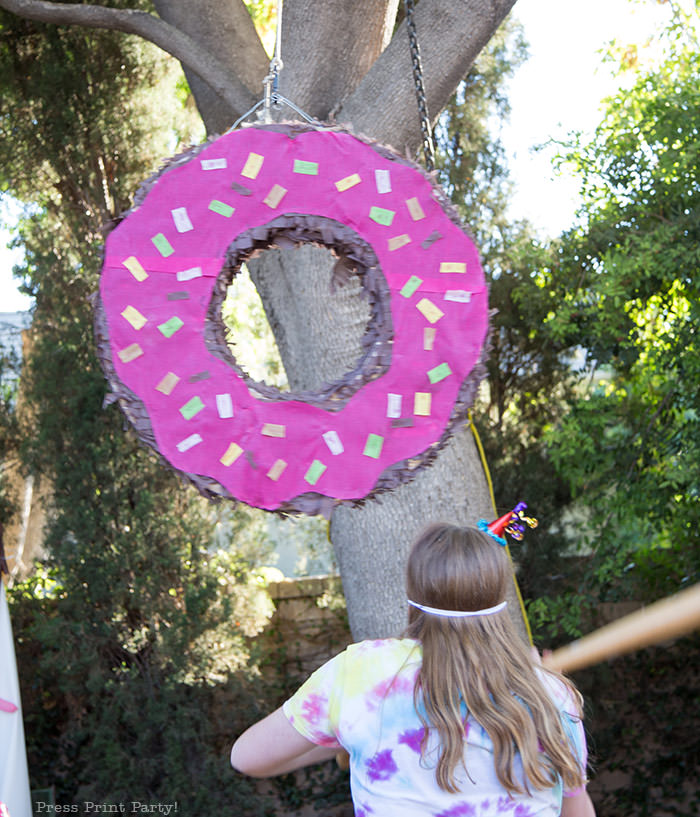 It did make for a beautiful decoration for the rest of the time though.
We've made many piñata tutorials in the past like the popcorn box piñata for our movie party, the Eiffel Tower piñata for our Paris party, the pineapple piñata for pineapple party, a teapot piñata for our tea party, and even a gnome piñata for our Amazing Race party.
---
Donut Party Favors
The donut themed popcorn box …(Was that confusing? My husband claims it is but he's just not up on the names for all these cute favor boxes like many of us moms are. That's OK. We'll be patient, he'll catch on.) Anyhow, it was the perfect favor box to act as goodie bags to hold some fun donut themed favors.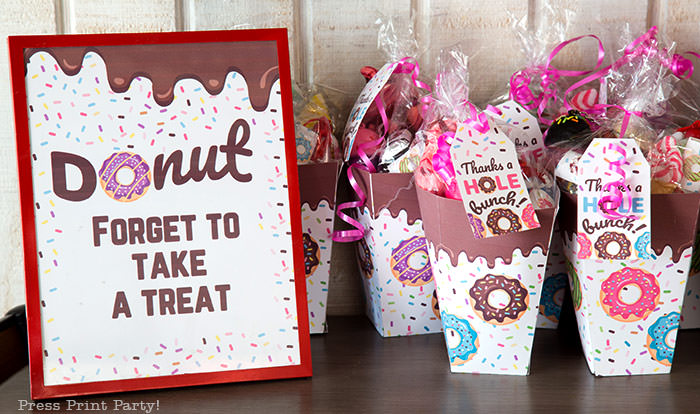 And we added some random donut-shaped items and some chocolate. Some donut favors I found at the Dollar Tree and some I ordered from Oriental Trading. You can find some fun donut plushy favors, pencils with donut-shaped erasers, donut yo-yos, and donut playing cards.
I wrapped the treats in clear packaging and tied it all up with a "Thanks a HOLE Bunch" thank you tag. I also framed and placed a sign so our guests would not forget to leave with a favor box even though I might forget to hand one to them.
---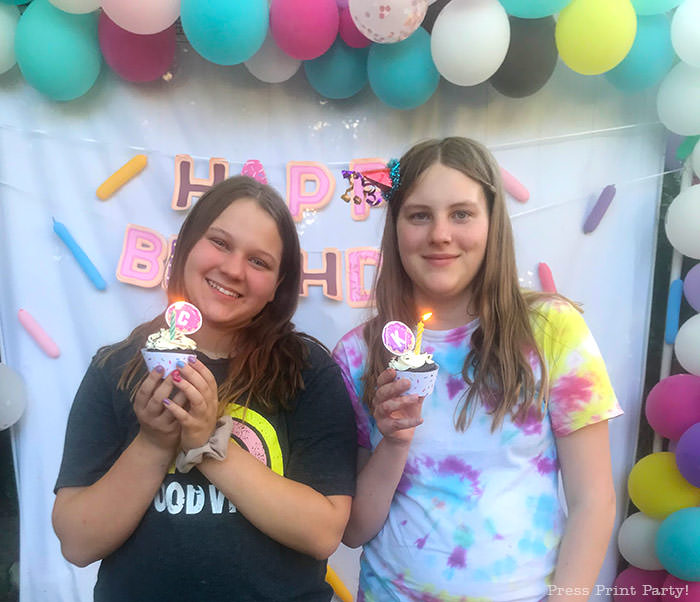 And so we wrapped up another amazing birthday party!
I sure hope you enjoyed all of our donut party ideas. It's a great kid's birthday party theme to do anytime from a sweet 1st birthday to a sweet 16.
Don't forget to pin it and scroll down for more party tips: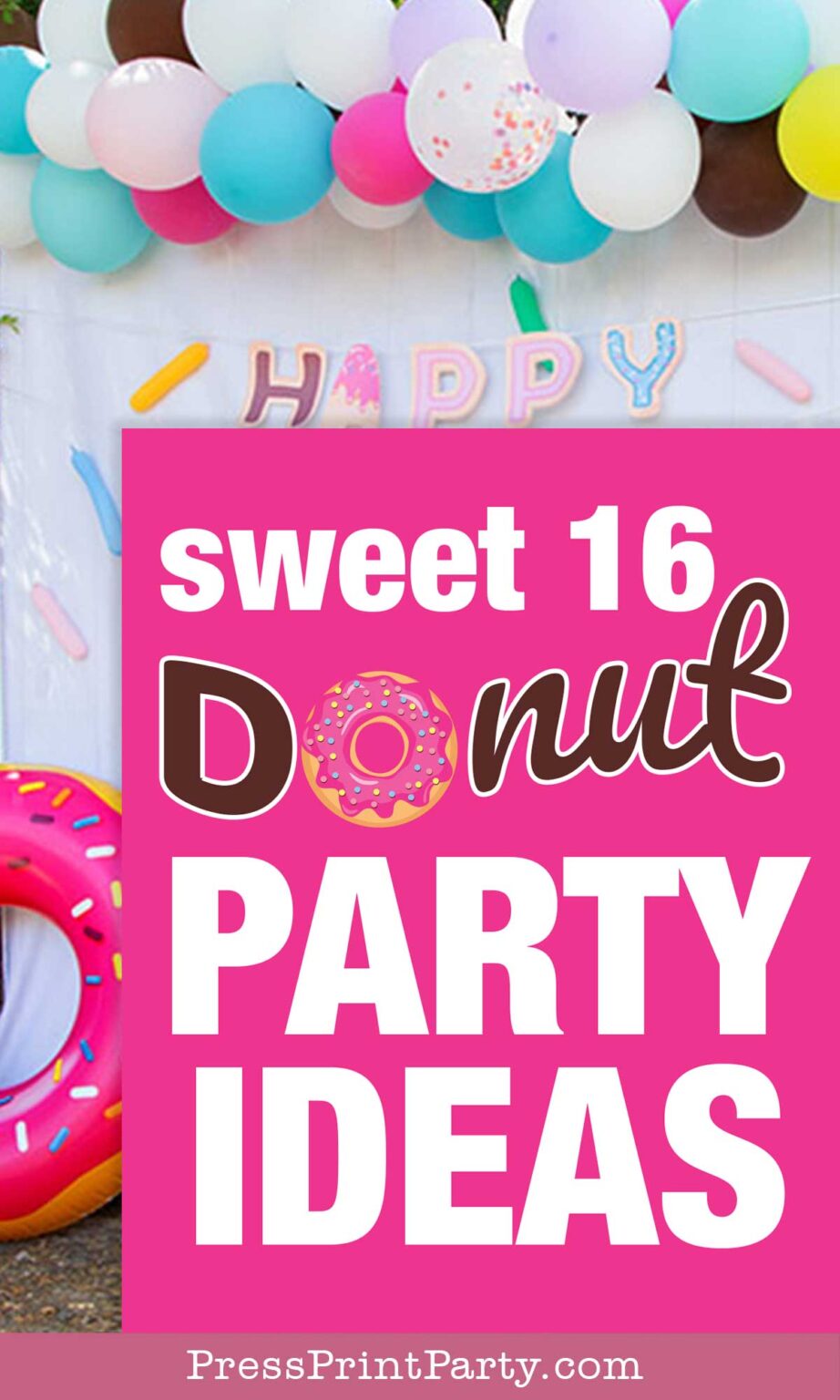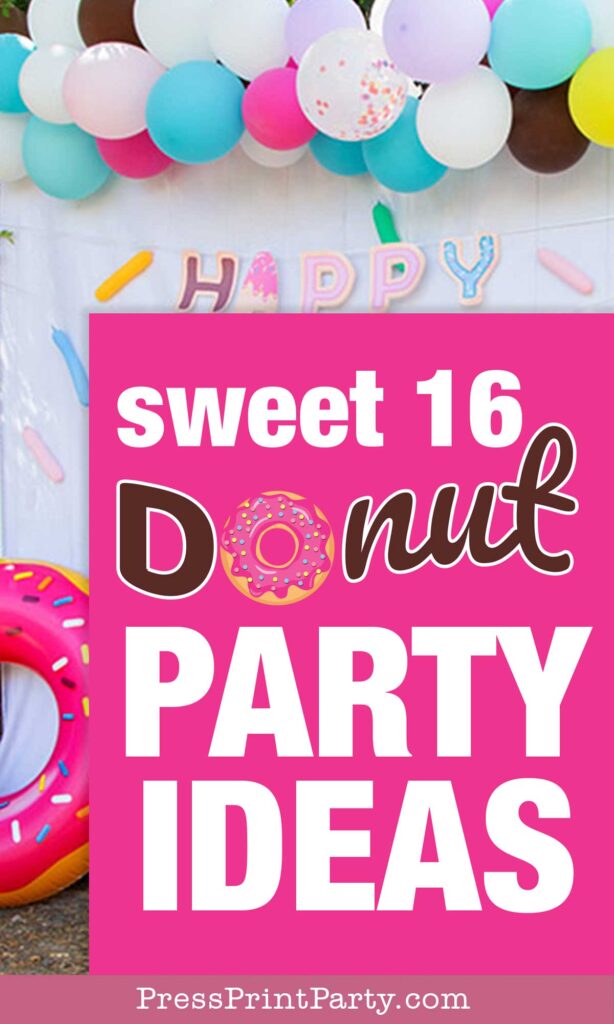 Check out our donut birthday printables