This list of cute Thanksgiving desserts runs the gamut, from easy-to-make to kid-friendly to unique. These fun mini Thanksgiving desserts make great alternatives to that ubiquitous pumpkin or apple pie.
So if you want to bring something a little different for a Thanksgiving dessert, you're in the right place.
---
---
Turkey Inspired Cute Thanksgiving Desserts
When you think Thanksgiving, you think turkey. But do you think cute turkeys? These turkey-inspired Thanksgiving desserts are sure to turn heads and bring a smile to your guests' faces.
Each recipe offers a fun twist with familiar ingredients like Reese's pieces, candy corn, flaky pie crust, and more.
Do you want cute turkeys? Say no more. This wide-eyed turkey cupcake from Bitz n Giggles is almost too cute to eat. Yes, the eyes are Oreos!
---
Kids will be delighted when they see these cookie and candy no-bake turkey treats from Our Best Bites. Each guest guests their own Thanksgiving turkey with this delicious treat. What a creative use for peanut butter cups.
---
All you need is a round tray, a pear, some fun fall candies (don't forget the candy corn), and a bunch of mini cookies to make this quick but impressive Thanksgiving dessert platter.
Even with the time it takes to assemble this tray, this recipe wins first prize for easy Thanksgiving desserts.
Home Is Where the Boat Is also made the same platter as a charcuterie board that you need to check out. These gorgeous boards add something special to any fall table.
---
Learn how to make this adorable turkey pie crust at Kudos Kitchen by Renee. This homemade pumpkin pie design is pro-level. They say you shouldn't judge a book by its cover, but can you judge the best Thanksgiving pies by their cute and flaky crust?
---
Kids will find these Rice Krispie turkey legs from the Suburban Soapbox just hilarious to eat. My girls both say that they'd like to have this kind of turkey each Thanksgiving from now until they move out. The whole family, from the little kids to the grandparents, will find these turkey legs humorous on Turkey Day.
---
Creative Pumpkin Shaped Treats
My kids say it's not Thanksgiving unless you have pumpkin pie, and the people of Colchester, Connecticut of 1705 agreed with them. They postponed their Thanksgiving due to a molasses shortage–molasses was a key ingredient for the pumpkin pies. They decided it couldn't be Thanksgiving without it.
Whether or not you feel so strongly about pumpkin pie being included in your Thanksgiving celebration, there is still a lot to appreciate when it comes to this list of pumpkin-shaped desserts.
Don't worry, you'll still get your pumpkin pie spice fix, but it'll come in some original shapes and recipes.
These pumpkin spice meringue pumpkins are definitely cute and unique. 365 Days of Baking and More shows you exactly how to get the right shape to ensure you achieve the cutest Thanksgiving dessert. Hint: this recipe uses Parchment paper, not wax paper.
---
If you belong to a family of foodies, surprise them and add international flair to the Thanksgiving menu with these delicious Brazilian Brigadeiro pumpkin truffles to your Thanksgiving table. Makes you want to celebrate Thanksgiving in Rio, doesn't it?
---
These pumpkin-shaped Rice Krispies from Cincy Shopper are easy to make and fun to eat. The tootsie roll stems could also be substituted for Hershey's kisses.
---
If you want a no-bake cute Thanksgiving dessert you may want to try these peanut butter pumpkin bites from Not Quite Susie Homemaker. These bite-size treats are a pretty easy dessert to make and they disappear fast.
---
Adorable Acorn Treat Ideas
These acorn-shaped treats make super fun Thanksgiving desserts. Most of them are easy, which is especially great if you are responsible for multiple components of Thanksgiving dinner.
The acorn is just an underutilized symbol of the holiday season. While each of these recipes puts their own fun twist on fall flavors, they all have one thing in common: they will satisfy your sweet tooth.
Here's a fun twist on Oreo cookie balls! You'll love the tasty result of these Oreo acorn balls from Homemade Interest.
---
Acorn donut holes are another super easy no-bake treat from Mom Spark. Those pretzel rods are perfect for adorable stems.
---
Here's a fun way to use Nutter Butters. You'll have plenty of cute acorn treats in no time with She Saved.
---
These salted caramel marshmallow acorns from Dancing Through the Rain make a quick and easy bite-size treat. Check out my caramel sauce recipe for homemade perfection!
---
What a Girl Eats shaped and baked brown sugar walnut shortbread to form these adorably delicious Thanksgiving cookies. These acorn cookie balls will be everyone's personal favorite.
---
Cute Thanksgiving Mini Desserts and Pies
If you don't want to make full-size pies but still want a more traditional Thanksgiving dessert for more adult palettes, these mini desserts and pies are the creative desserts you're looking for.
For our first mini cheesecake-inspired dessert, we know you'll love this mini pumpkin cheesecake spiked with bourbon and smothered with buttery pecan praline from the Suburban Soapbox.
---
If you have a little more time and want to make a dessert that is guaranteed to awe and impress your Thanksgiving guests, make this gorgeous rose apple pie from Tikkido.
---
Mini pumpkin pies, anyone? Carefree Mermaid offers all the instructions for the fabulous flavor and design of these mini treats.
---
These mini pumpkin pie pops From One Little Project will be a fun hand-held dessert for Thanksgiving. With recipes like this circulating, how could you not like the holiday season?
---
Just look at this masterpiece! Your guests will love these mini pumpkin mousse trifles from Vikalinka. The good news is, if everyone is too full after Thanksgiving dinner, these can be stored in the fridge for Black Friday snacking.
---
There's nothing cuter than a fun dessert in a mini mason jar. And who wouldn't want this pumpkin pie cheesecake from Boulder Locavore at Thanksgiving?
---
If you have mini cheesecake pans, you'll enjoy making these cranberry orange cheesecakes with a gingersnap crust from Flavor the Moments.
---
No mini tart pans? No problem! These adorable mini apple pies from Easy Budget Recipes are made in mason jar lids.
---
Bring out the Italian in you with these pumpkin cannoli cookie cups with a chewy gingersnap crust from Erica's Recipes.
---
More Cute Thanksgiving Dessert Ideas
Here are several desserts that just didn't fit into a category, but all are still super cute Thanksgiving treats and are guaranteed to please.
These chocolate peanut butter balls from Julie Blanner sure make some super cute hedgehogs don't you think? You could also add candy eyes for the extra adorable factor.
---
I find cake pops a little difficult to make, but the step-by-step instructions from Moms and Munchkins for these pumpkin spice latte cake pops make it seem easy.
---
Quickly turn plain cupcakes into cute cornucopia cupcakes with these instructions from Cutefetty. You could also use a fall-themed cupcake, like spiced cinnamon apple cakes, for the base.
---
BONUS: Make-From-Scratch Thanksgiving Dessert Recipes
While these next recipes are not necessarily adorable, they are a feast for the eyes. Some of them can be labeled as a "classic fall dessert," but when you make them from scratch, the flavors are like new.
These are some of the best Thanksgiving desserts, but they can be shared during the entire holiday season.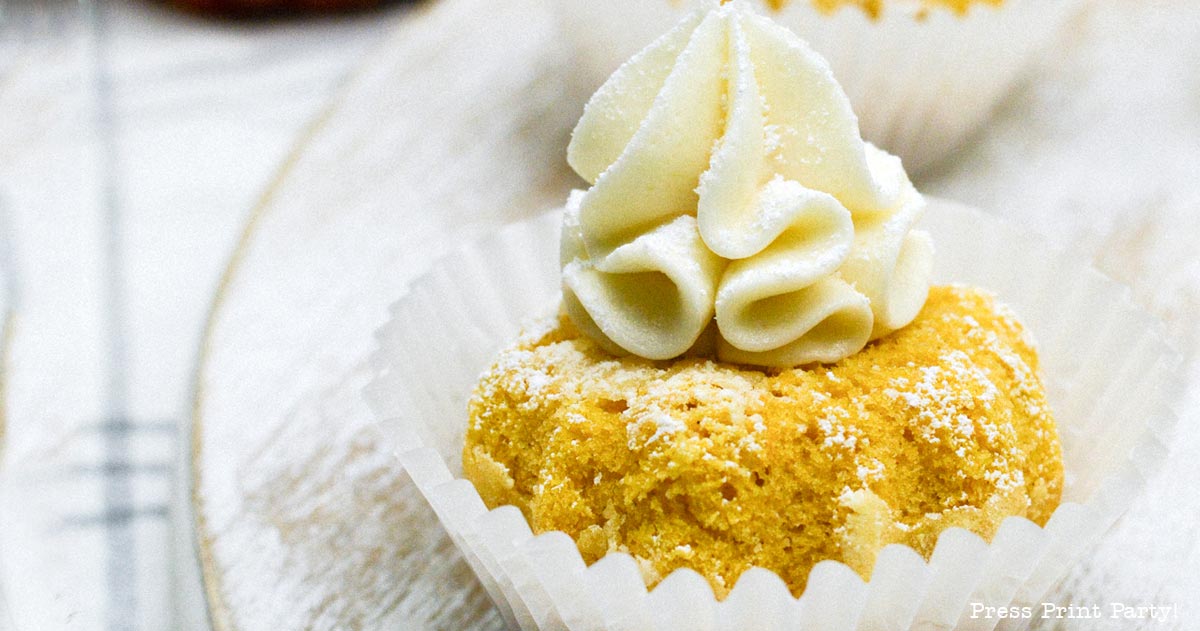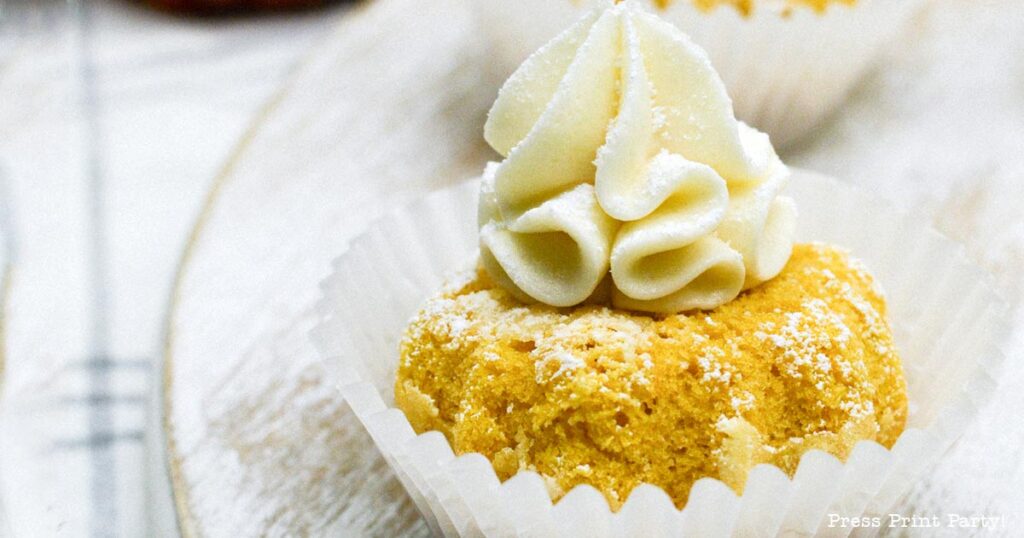 These mini pumpkin bundt cakes with cream cheese frosting are the perfect fall dessert in my opinion. Although I might be biased since this is my recipe. The pumpkin spice is reminiscent of pumpkin spice lattes; YUM!
---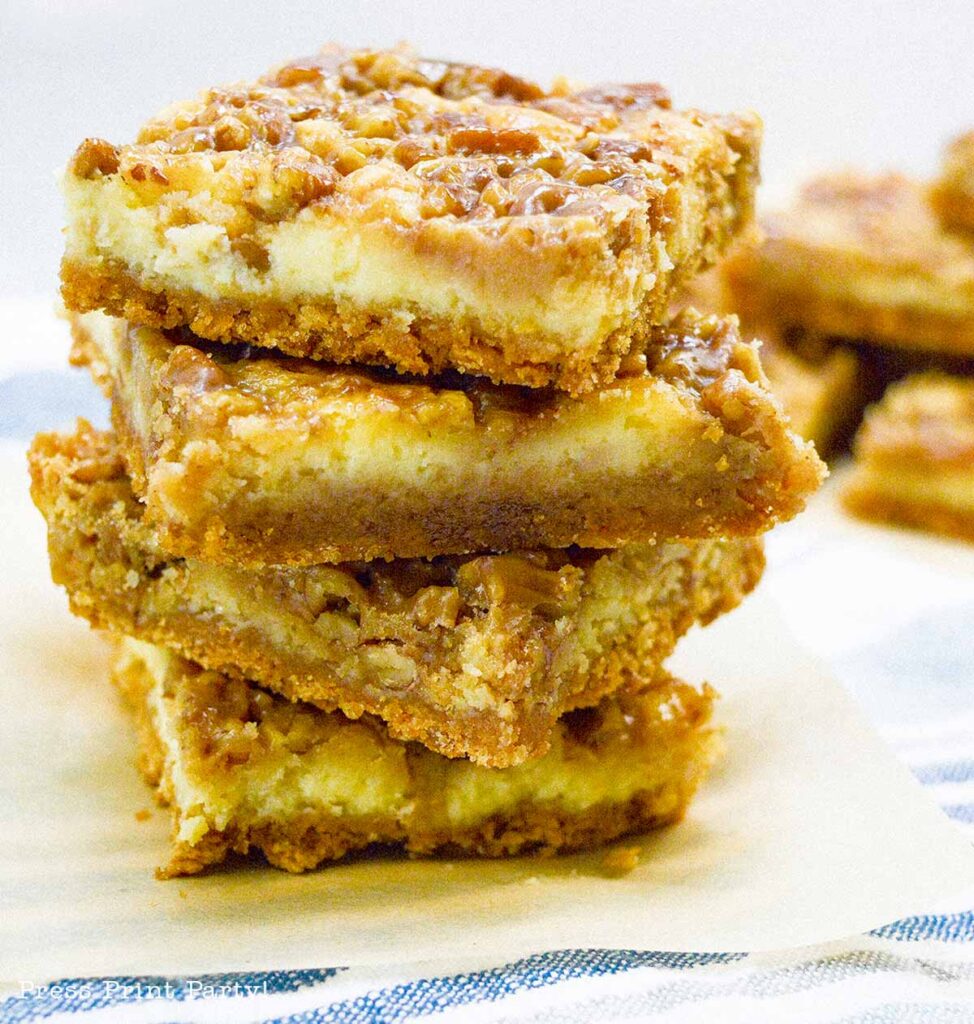 Your friends and family will thank you for adding these pecan pie bars to the Thanksgiving dessert table. Can't you just imagine the flavor and texture of these dessert bars from the pictures?
---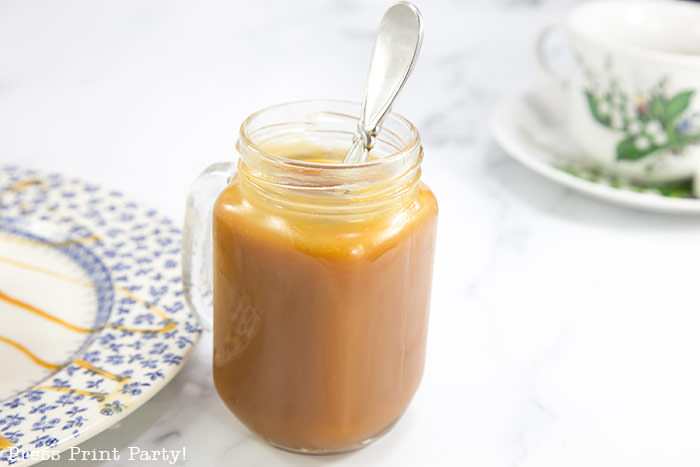 This homemade caramel sauce is the key to making so many delicious and easy Thanksgiving dessert recipes. You could make a simple yet beautiful plate with fruits for dipping in the sauce. Caramel apples anyone? You could drizzle a traditional pie or scoop of vanilla ice cream. Okay, now I'm just hungry.
---
I sure hope I've given you plenty of inspiration to make some cute Thanksgiving desserts this year.
Don't forget to check out all my Thanksgiving printable place cards and my free printable Thanksgiving conversation cards.