When planning a long car trip you're grateful for the electronic distractions but ultimately you'd love for the kids to not stare at their glowing boxes the whole time.
You need some ready-to-go road trip games to play in the car during those long, boring car rides. Having a printable license plate game map like this one can be a lifesaver. Portable scavenger hunts are a great way to pass the time.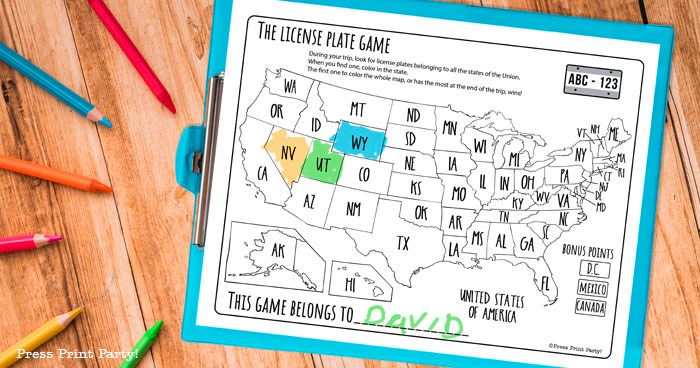 Our family rocks the license plate game. My husband and my kids love to play it all around town, in parking lots, on short trips as well as long trips. The goal of the game is to identify as many state license plates as possible.
My family usually just shouts out the out-of-state license plates they see anytime we're in the car. It's perfectly normal in our family for a regular conversation in the car to be interrupted by someone randomly shouting "North Carolina" or some other state name.
My kids even keep a running count in their heads of the number of Alaska, Hawaii, Canada, and Mexico plates they've found over the years. (crazy kids).
But if you're planning a long, multi-state trip, playing the license plate game with the goal of finding all 50 states can be loads of fun.
That's why I created this printable 50 states map for you to use as an electronics-free activity on your next long road trip. It's easier to tote than a wooden game board, doesn't require loose pieces, and comes in an easily editable pdf file.
How to Play the License Plate Game
Watch out for those out-of-state license plates during your next road trip. When you see one, call it and color the corresponding state. The first player to finish coloring the whole map, or the person who has the most colored states at the end of the trip, wins.
A great way to keep the state license plate game fresh is by creating your own rules along the way. Maybe there ought to be a prize for the first person to go from the Pacific to the Atlantic. Or another prize for the first person to make a connection from Mexico to Canada. Maybe keep a count of how many times each person finds each state and compare counts at the end of each day. Or offer a prize for finding all the states that start with an "N" (hint: there are 8). You could also include bonus points for naming the state capitals. There are so many options!
In our family, if one person calls out a state name, no one else can use it. So if I see a Hawaii plate and call out "Hawaii" it's mine, even though someone else may have just seen it. That baby belongs to me!!! (Insert evil laugh).
My family likes that rule because it keeps people on their toes. When one person starts calling out a bunch of states, the other players' competitiveness starts to bubble up and they look up from their screens in a panic, afraid that they might lose the game to their younger sibling!
I added bonus points for finding plates from D.C., Canada, or Mexico, places most other license plate game printables seem to ignore. But seeing an out-of-the-country plate is super exciting and MUST be documented. If you look close you'll sometimes see real European plates mounted underneath United States plates. There's no place on my printable for that but it clearly earns double-extra fantast-o-rific points. Might even be worthy of ice cream if Mom and Dad are looking for a break.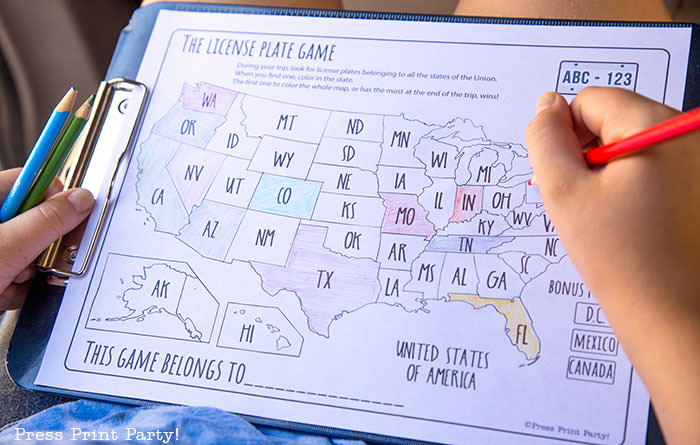 Trucks are by far the best source of different license plates. We can be in California and find trucks with Maine plates pretty regularly. That means you should be extra prepared when pausing at a rest stop. There are bound to be plenty of different states represented. Don't forget to take note of each unique license plate design!
Aside from inspiring a lot of fun for all participating family members, the road trip license plate game is educational. Kids will learn state abbreviations and the location of states on the map of the U.S. without even trying.
When putting together your packing list, don't forget this game among your printable road trip games. For more travel games to play in the car, go check out our list of 11 Fun Games to Play in the Car with Kids. I am willing to bet that you don't know what "Guess the Garbage" is… Check out the post and you can find out.
What games do you like to play in the car? Let me know in the comments.
Scroll down for the download link, but first, don't forget to pin it: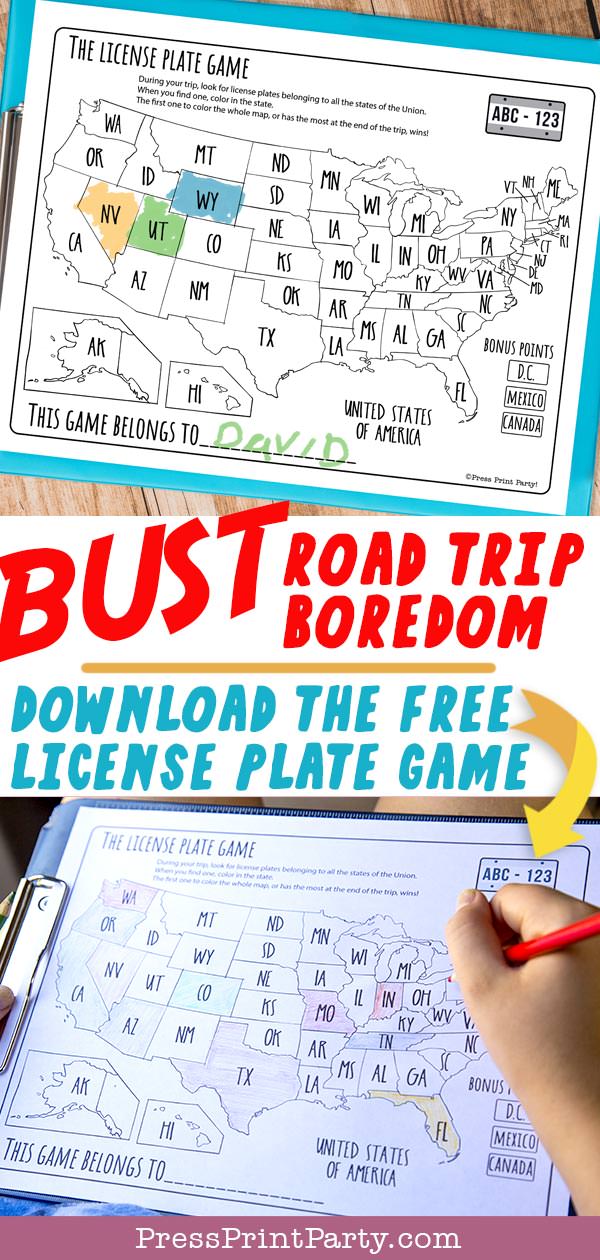 Get Your Freebie:
If you've already subscribed, you can get the password from the bottom of any email I send and go directly to the Free Downloads Library.