Psalm 100 is one of the most impassioned calls to praise and thanksgiving and one of my favorite passages in the Bible.
This easy free printable Thanksgiving decoration will add a grateful and rustic note to your decor. I truly enjoyed designing it and it helped me take this verse to memory.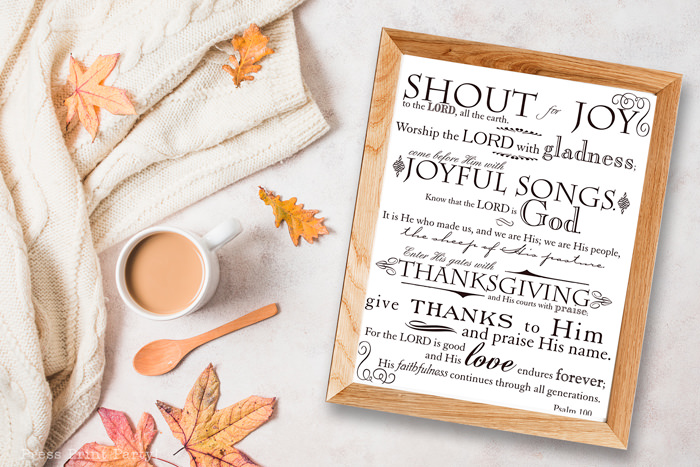 This post may contain affiliate links.
Passing by it on my dining room wall reminds me to keep a spirit of gratitude in my day, not only on Thanksgiving but every day. If we forget to thank God for the little things, we risk missing all the good things He does for us. I hope it becomes a source of inspiration to you too.
Reading this first just makes me want to sing. It's a good reminder that even in the hardest of times the Lord is good, He loves us and He takes care of us.
The prints come in an easy PDF template you can print on regular letter-sized paper or cardstock and frame it. It's also made that it will trim well for an 8 by 10 frame.
You get 2 free prints, a white one that you can easily print on any colored paper or cardstock, and a rustic chalk print on a blackboard background. They will give a little bit of Farmhouse charm to your house while keeping you on a budget.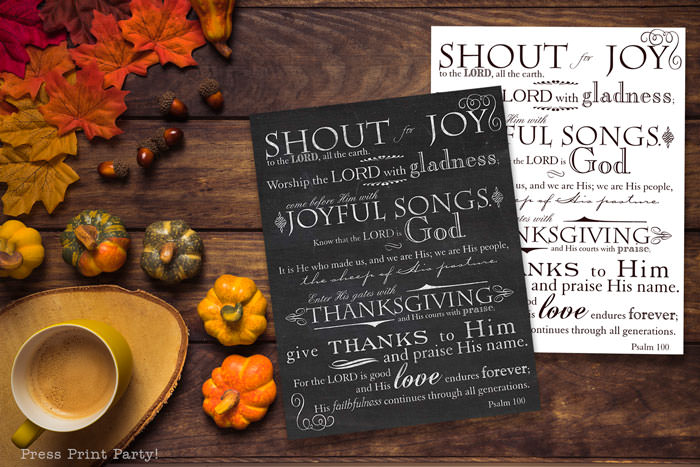 You can use it as a simple Thanksgiving decoration on the living room or dining room wall, or as an art print rested on the mantle as part of your homemade fall decorations.
It's of course perfectly alright to keep it all year-round as I do.
It also makes a wonderful DIY hostess gift idea.
The chalk art print looks beautiful in a rustic frame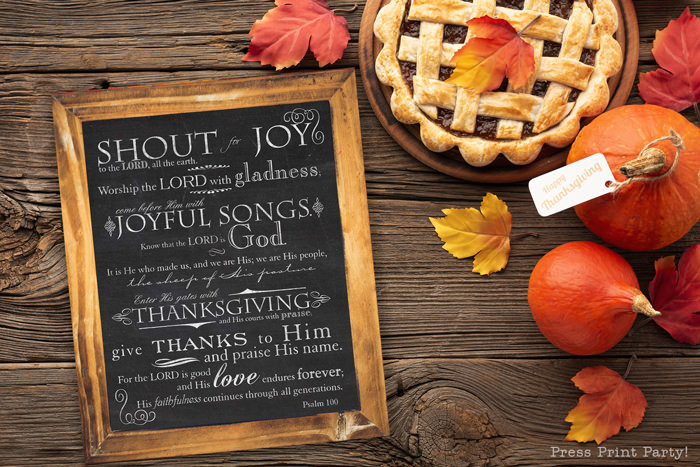 And so does the white print in a simple black frame.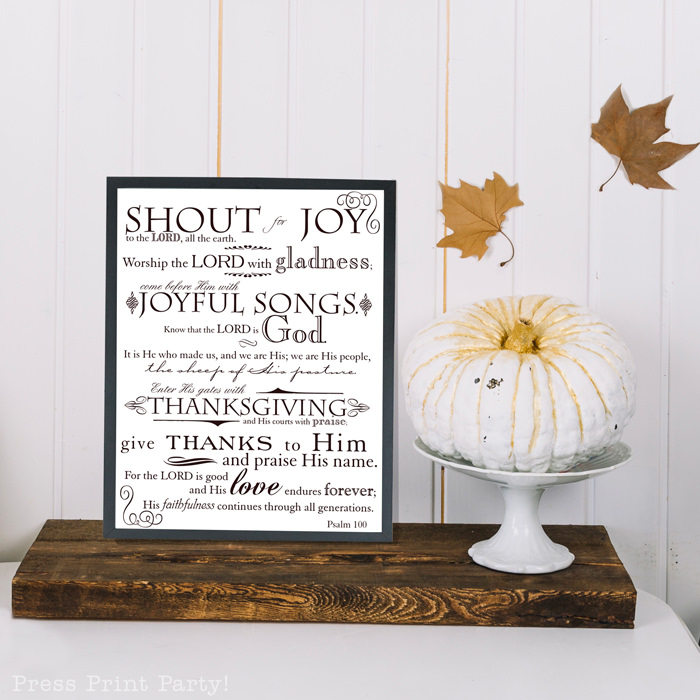 You don't even need a frame, be creative and print the white print on some fun paper like Kraft paper, glue it on construction paper and finish off with a fancy ribbon.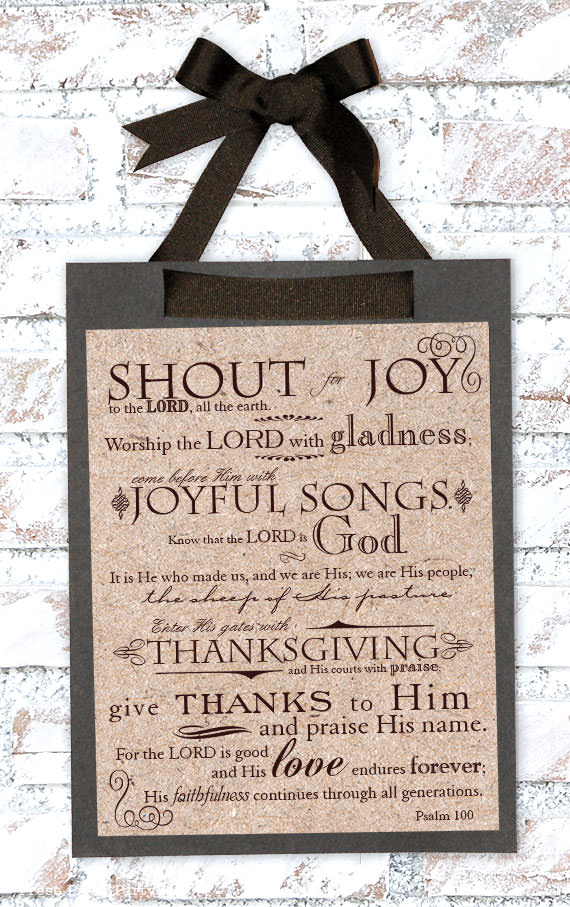 Also, don't miss out on my free dinner conversation cards for Thanksgiving dinner. They will keep your Thanksgiving dinner lively and interesting. I also have lots of DIY ideas for place cards as well as printables available in the shop.
Have a blessed Thanksgiving, "For the Lord is good and His love endures forever".
Don't forget to pin it: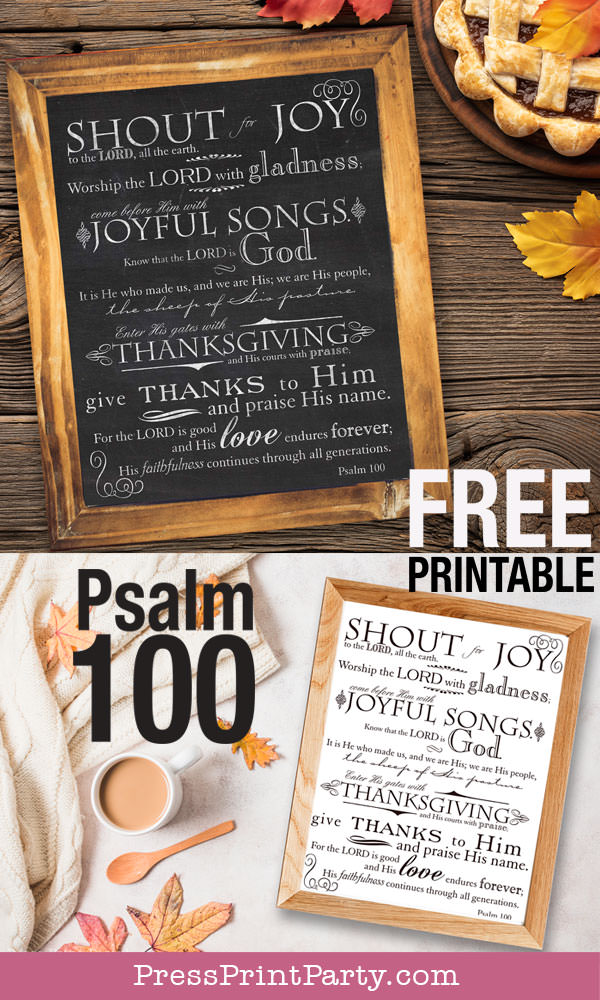 Get Your Freebie:
If you've already subscribed, you can get the password from the bottom of any email I send and go directly to the Free Downloads Library.
Check out our fall printables