Let's be honest, using the restroom in somebody else's home is not all that comfortable. If you're the host, those not-so-comfortable people are your guests! Look out for them. There are several things you can do to make your bathroom guest-ready and inviting.
I think the guest bathroom is the most important place you need to clean before a party. If your guests feel comfortable in your bathroom they will overlook many other things.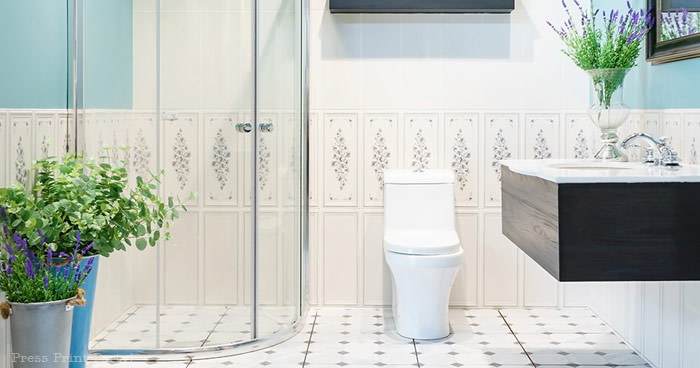 This post may contain affiliate links.
My bladder is the size of a pea so you can be sure if I come to your house I'll spend a little time in your bathroom.
Although I go through a small bathroom checklist in my "5 things you forgot to clean that might be grossing out to guests" post, I thought I'd go a bit further to emphasize not only how important it is that it be clean, but also how important it is that it be guest friendly.
I'd recommend that you don't put your kids in charge of this task unless you check up after them well before the party.
One time, one of my good friends asked her pre-teen son to clean up the bathroom before a get together with some friends. Of course, I was the first one to use the restroom and found out that his idea of clean was to hide his underwear behind the door. After all, when the door is open you can't see it! It was no big deal for me and I got a good laugh out of it. But it's not something you'd want to happen if the pastor is coming over.
There are, of course, different types of parties and your good friends and family may not care as much as strangers will.
But for this post, let's just pretend for a moment that you're having a bunch of important people you don't know very well over for a party and you want to make a good impression.
If you can make them comfortable, then everyone else who comes to your house will be comfortable.
This is not your typical guest bathroom cleaning tips that only brush the surface. Think of this list as the ultimate over-the-top list of everything you could ever think of to make your bathroom guest-ready before a party.
Ultimately, you'll need to make sure the bathroom is not only functional and clean but also accessorized for your party guests.
---
Make sure your guest bathroom is functional
Make sure your toilet flushes well, the water faucet is not splashing water everywhere and that the sink drains.
The last thing you want is a toilet back up with 50 people in the house on Christmas Eve.
Unless you're in the middle of remodeling your house, your guest bathroom shouldn't look like it's undergoing construction. Depending on who your guests will be, I'd really recommend fixing whatever eyesore needs to be fixed.
Even just repainting the old scratched baseboards will take 20 minutes and make the room look fresh. People tend to look down at baseboards when sitting on the toilet so…
---
How to deep clean your bathroom
If you're lucky enough to have a guest bathroom nobody really uses during the week, your job will be very fast. But if the guest bathroom is also used by some family members, the job will take longer.
Scrub the toilet
Did you know that scrubbing your toilet bowl with a pumice stone will get rid of those brown hard water deposits on the rim and the underside of the bowl? It also won't scratch the porcelain on your bowl.
When you clean the toilet you want to clean every inch of it on the inside and out, especially where the tank meets the bowl and all over the bottom and back of the bowl.
It may go without saying but make sure to lift the lid all the way and clean underneath it.
I usually take 2 microfiber cloths, one wet, one dry. I wash with the wet one and go over the clean areas immediately with the dry towel. It leaves the outside of my toilet sparkly clean in no time.
Treat the bathroom fixtures, such as the sink faucet with a hard water cleaner if needed. Make sure they sparkle. And yes, even the bathtub fixtures. Even if you close the bathtub curtain, people will peek. You can find some natural hard water cleaner recipes on the Tips Bulletin. https://www.tipsbulletin.com/how-to-remove-hard-water-stains/
So clean the bathtub too if it's in the same room. I like to use a powdered cleaner for the bathtubs and sinks. If you prefer cleaners without all the chemicals I like Mrs. Meyer's Surface Scrub or you can make your own cleaner with baking soda, vinegar, and water.
Clean your shower door tracks. They're narrow and get really wet and can get really gross. You don't want your guests looking at that. Soak a paper towel with white vinegar and let it sit on the tracks for half an hour. Then scrub with a small brush.
Change the shower curtain liner if it's stained.
Clear and wipe the counter
You need to clear the counter of all personal items like toothbrushes, makeup, or lotions that are not for the guests to use.
Remove or wash the bath mat or rug.
Unless it has just been through the wash, it's probably overdue for a cleaning and it would just get in the way. If you've got time run it through the wash, but if not, maybe it's best to just remove it for the duration of the party.
Look up! Get a duster on those cobwebs or a rag with bleach for the mildew stains on the walls.
Clean the air vent. You can vacuum the dust and wrap a microfiber cloth on the handle of a utensil to go in between the slats.
Look down! Wash the floor thoroughly and make sure there are no unsightly hairs on the floor.
Wipe the baseboards.
Dust and wipe down all the knickknacks and decorations.
Wipe down the light switch and the wall around it.
Wipe down the door and the doorknobs on both sides.
Clean the medicine cabinet of anything you wouldn't want people to see. They shouldn't look but they might.
Clean your mirrors thoroughly, especially scrub off those little white tooth brushing spots.
Empty the wastebasket and put in a new, clean liner.
Remove any used towels.
---
Accessorize your guest bathroom before the party
Now that things have been cleared out and everything is sparkling clean, it's time to accessorize your bathroom for your guests' comfort.
Place clean bath towels on the rods if needed.
Provide some clean hand towels on the counter. You can do this in several ways depending on the number of guests you're planning to have.

If your party is just a small get-together, 1 or 2 clean cloth hand towels folded on the counter or hanging on a towel rod will be sufficient.
If you're planning to have more than 10 people over, then it might make sense to offer single-use towels. Place either a bunch of small cloth towels or nice linen paper towels in a basket or a tray on the counter. Don't forget to have a clean wastebasket nearby.
A roll of kitchen paper towels in a nice dispenser will also do in a pinch and is better than just one hand towel for 40 people. That towel would get soggy and gross fast.


Display some special soaps and lotions you keep just for guests.
I always have some special good smelling hand soaps and lotions ready to pull out for guests. Get yourself some cute soap dispenser bottles if you like. Just keep them nice and clean.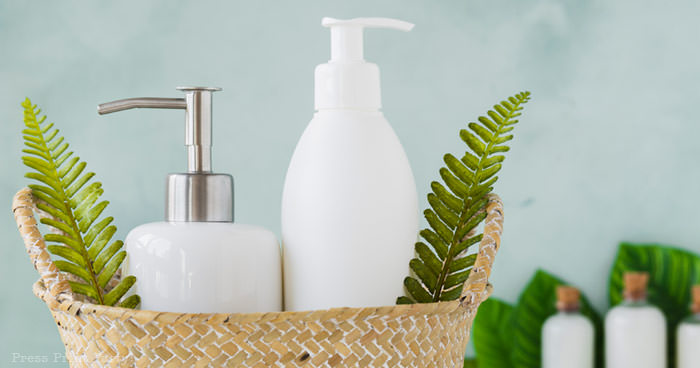 Make sure the toilet paper roll is full, and that more rolls are easily available. I keep a couple of extra rolls on the back of the toilet in a cute basket just in case.
Make it smell nice.

Light a candle and put it in a safe spot. The back of the toilet is not good for this, but a lit candle on the counter is great.
If you have an outlet in the bathroom, you can use a small plug-in air freshener.
Use an automatic toilet bowl cleaner like these gel tabs I really like. They make your toilet smell fresh.
Better yet, you can provide an all-natural bowl spray the guests can use themselves. If you've never heard of Poo-Pourri, it's a spray you use right in the bowl before going number 2 and it keeps all the offensive odors trapped.
I went to a house where they had it and made a little frame with instructions on how to use it. I thought that was super clever and I took a picture.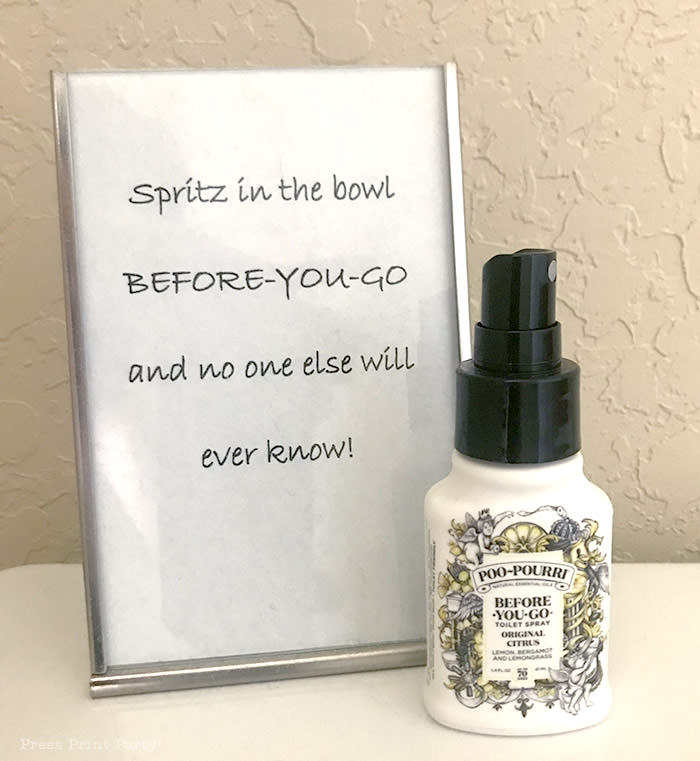 You can add some decorations on the counter if you'd like. Or place a small vase of fresh flowers to make it inviting. They make great decorations and smell nice too.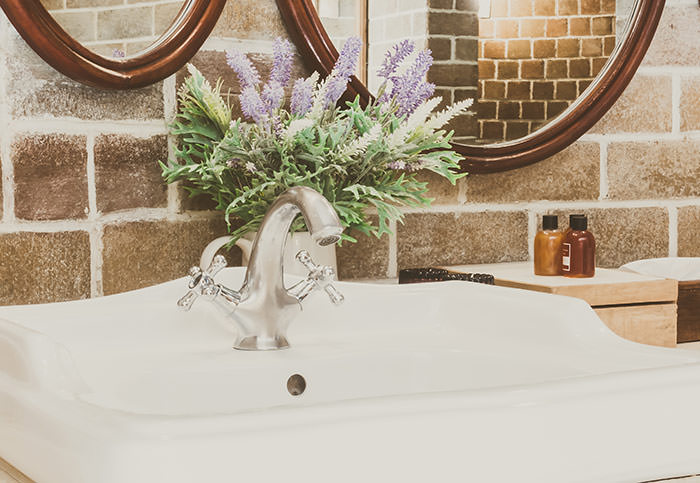 Leave the light on and the door slightly open so your guests can find the bathroom easily. Or at least have a night light available. Dark bathrooms can feel imposing. Replace your light bulbs if necessary or open up the blinds for some natural light if your bathroom has a window.
Stock a basket of essentials where guests can find it.
Have you ever needed something at someone else's house but were too embarrassed to ask for it? Maybe you took a quick look-see around the bathroom hoping you could find it? Opened a drawer, or a cabinet door?
If you have these items on hand in a place that's easy to find your guests will love you forever.
Things like:
Floss
Feminine Hygiene products
Pain relievers
Gas medicine
Spray air freshener (if you haven't used any of the above methods to make your bathroom smell nice)
Breath Mints
Mouthwash
Make-up wipes
Concealer stick
Band-aids
If your guests are overnight guests that list would also include toothbrushes, toothpaste, soap, Q-tips, shampoo, and conditioner.
---
One last thing to do before the party is to use the guest bathroom yourself pretending that you're a guest.
You'll be able to see any last-minute changes that may need to be made.
This list may seem to be a bit overwhelming at first but if you keep a clean house you'll be able to get through it in no time and make your party guests comfortable in your home.
And don't forget to check out my other party tips:
5 things you forgot to clean that might be grossing out your guests
5 Major Money-Saving Tips for Any Party on a Budget
11 Best Birthday Party Hacks for Busy Parents
Help others, pin it: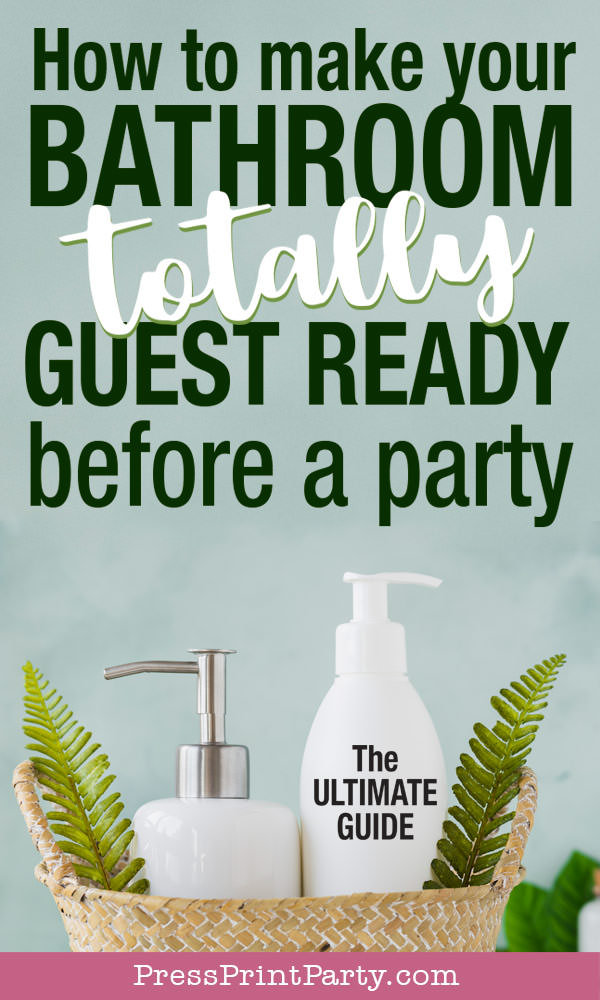 Check out our latest printables