There are many occasions when a thank you gift for the hostess is the generous, and really, the right thing to do.
Maybe you're invited to a fancy dinner party and don't want to arrive empty-handed. Or you'd like to thank the hostess of your baby shower or bridal shower.
Or maybe you're going to a friend's for Thanksgiving or Christmas. Whatever the occasion, you know how much work it is to put together a party and you want to offer a gesture of thanks.
This list of gift ideas for the hostess will start you on the right path.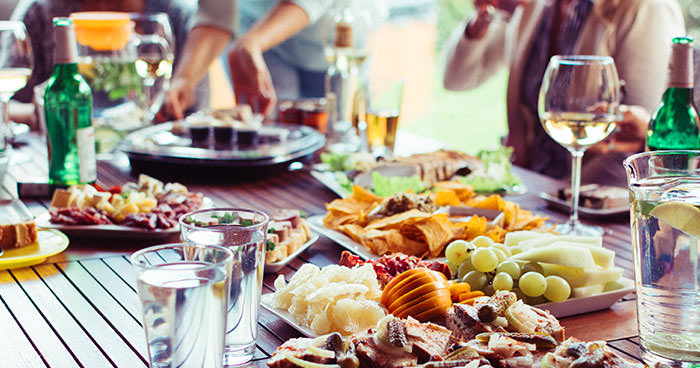 This post contains affiliate links.
There are many etiquette discussions about this subject but in truth, two of the most important considerations when choosing a present will be your budget and whether the event was specifically for you or whether you're a guest.
For most dinner parties a bottle of wine or a potted plant will do great.
I'd personally stay away from cut flowers though. The last thing I want to do when the party starts is to have to find, and then usually wash, a vase and arrange more flowers.
For a little more thoughtful gift here are some things to get you started.
Best of all, most of these gift ideas for the hostess are elegant but delightfully inexpensive:
By the way, this post will look better if you disable your ad blocker. You'll then be able to see my Amazon recommendations.
1. Specialty Teas for the Tea Lover
If you know your hostess likes teas it's a great little gift.
Coffee is great too but tea seems much more personal and sometimes a bit more elegant. I don't know, maybe it's the British influence and that awesome accent. I love teas and have tried many.
I know that when I serve the Rooibos Rock tea it gets everyone's attention. It's the also type of tea that's featured in the wonderful "The No 1 Ladie's Detective Agency" books so if your hostess is a bibliophile you've truly hit the jackpot.
---
2. Plants that will not die, Succulents
Real or fake succulents make a fantastic little gift. They're hardy and beautiful and not too expensive.
I do NOT have a green thumb so succulents are just about the only plant I can keep alive in the house.
A fake one is just as good though and is absolutely impossible to kill.
---
3. Provide her with a Set of Glass Markers
Glass markers are so fun and are a great hostess gift.
Definitely a must-have in the hostess's tool bag. I'd stay away from the ones with suction cups though. They tend to pop off too easily.
If you know your hostess's style you can find something for everyone.
---
4. Stir Sticks for Cocktails
Stir sticks are one of those fun things that not too many people buy for themselves. But they're so fun to have and use when serving cocktails.
If you're reading this post and are coming to my place in the next little bit and want to give me a gift, a set of those giraffe stir sticks would be just awesome.
They're so funny and cute. I love 'em!…
---
5. Dinner Games for her Next Get-together
If you know your hostess likes games these are some great options.
From conversation starter packs to strategy games to full-fledged murder mystery dinner games, your hostess will love the thought.
If you're coming over for Thanksgiving, you could print out my free Thanksgiving conversation cards and put them in a cute jar as a gift.
I also have more game lists if you think she'd like more fun games for large groups or family games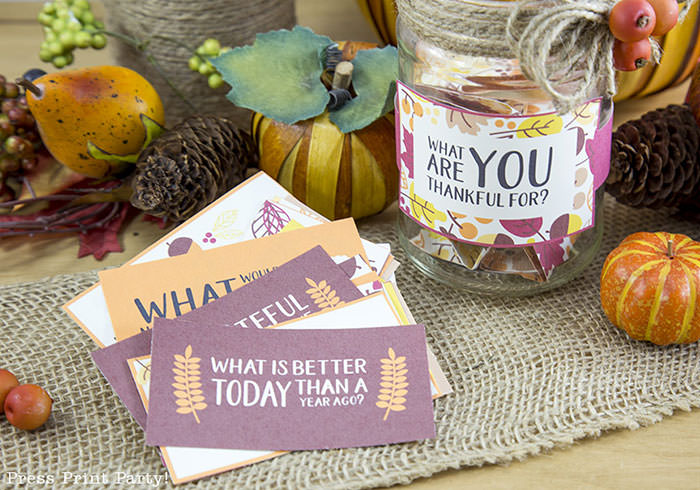 ---
6. Make her House Smell Amazing with Fancy Candles
Candles are an amazingly great standby.
A little overdone maybe but always appreciated especially if they have a lovely scent and come in a fancy container.
If you know your hostess doesn't own a wax warmer, or even better an essential oil diffuser, they also make a great gift.
---
7. Protect her Outfit with a New Apron
I don't know about you but I use aprons all the time. And if you're active in the kitchen they get tattered or burned or stained fairly easily.
A new apron is always a welcomed sight.
---
8. Fancy Snacks are the Way to a Food Lover's Heart
These can get a bit pricey but are always appreciated in my house.
Whether you choose a fancy nut and fruit tray, Belgian chocolates, or fancy macarons, you're sure to get smiles aplenty. The Leonidas Belgian chocolates are my absolute favorite.
If you have the means, bring these babies and you'll guarantee yourself another invitation.
---
9. Classic Serving Dishes
As someone who loves to throw parties and host dinners, I can NEVER have too many platters and serving dishes.
My husband may disagree and might roll his eyes a little if you bring me one but it's OK. We all know I did most of the cooking anyhow.
So go ahead and offer your hostess that beautiful platter and let your host practice being a good sport!
---
10. Upgrade her Cheese Board
There are a plethora of fancy cheese boards out there and a good hostess should definitely own one.
Like these gorgeous live edge Charcuterie Boards made from olive wood from Forest Decor. Go the extra mile and get it engraved for a special gift.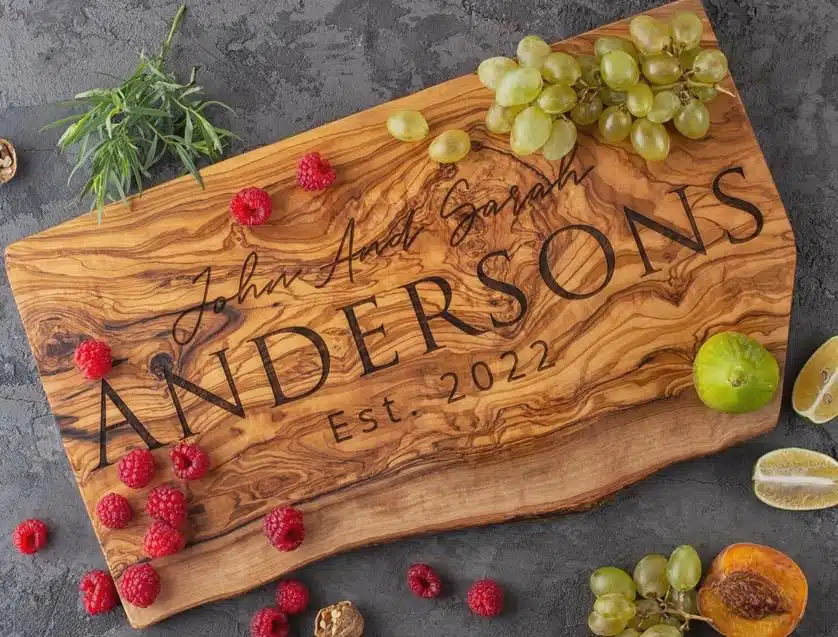 I have a black slate board and I love it because you can write on it with chalk. It's a clever way to identify various cheeses for your guests.
Gift it with a pack of chalk markers and you're all set.
---
I hope this list will help you find the best gift for your hostess. In any case, don't forget to thank her after the party with a thoughtful note.
I have several printable thank you note cards in the shop complete with envelopes too so you'll always be able to whip one up fast.
And if you find yourself being the hostess I recommend you read my 5 things you forgot to clean that may be grossing out your guests or how to make your bathroom totally guest-ready before a party.
Don't forget to pin these gift ideas for the hostess: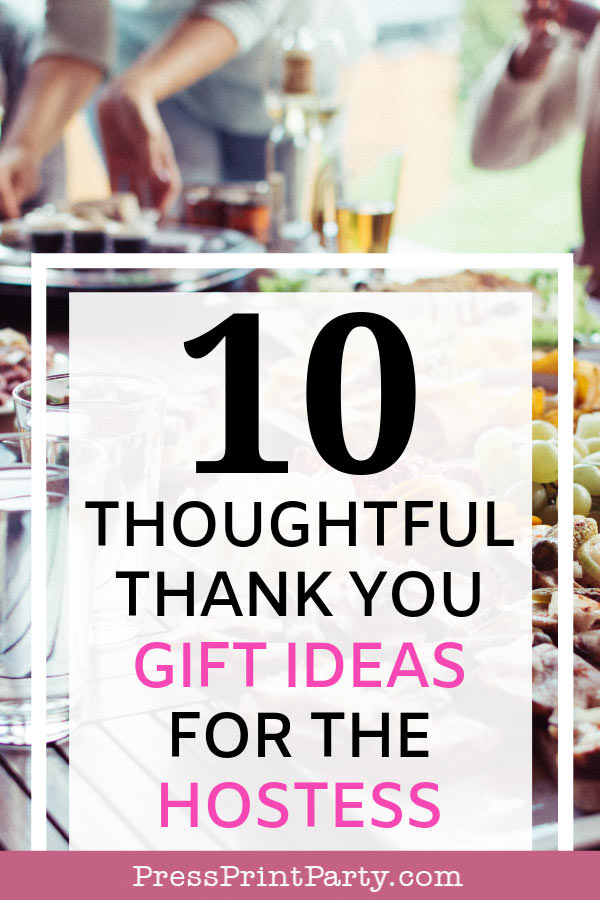 Check out our baby shower printables