I've decorated for our church's Christmas dinner for many years now and made bunches of Christmas table centerpiece designs.
Trying to come up with a unique Christmas tablescape each year is a bit of a challenge.
In addition to developing a cool idea, I need to find centerpiece decorations for 30-40 round tables for cheap!
So it has to be DIY, and it has to be simple.
But I'm eager for the challenge. And I have a few ideas that may be able to help you as you prepare for your banquet or large dinner. Here are a few things to consider.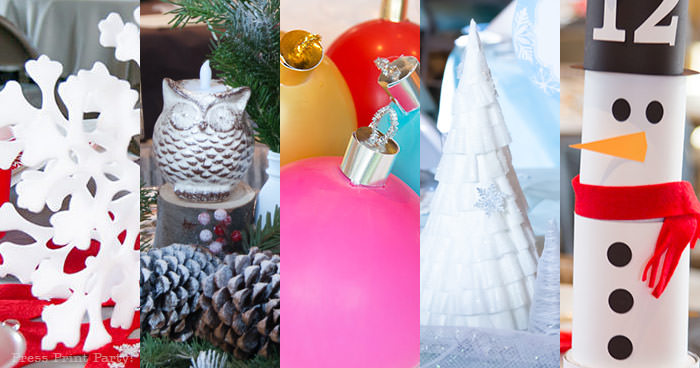 This post may contain affiliate links.
I save everything I can and try to re-use many of the same items year after year but in a different way.
I use the same type of tablecloths and plates but in different colors.
The tablecloths I've chosen are paper with a plastic backing. I like them because they're better quality than plastic tablecloths but still fairly cheap and disposable. I get them from an online restaurant supply company, but you can get them at Smart and Final or Amazon.
We used to have cloth tablecloths. They're more elegant and a lot better for the environment but… what a nightmare! We had to wash and press them every year. The stains were impossible to clean and I was stuck with only ONE color (Grey!)
So out they went, and in came the disposable paper kind available in all the colors of the rainbow.
The plates we use are thick plastic and feel sturdy. No cheap paper plates here! Maybe it's not so environmentally friendly but the plates are nice to eat on and they're not too expensive. They also come in a wide array of colors which is great for decorating.
So here's a list of my 5 favorite Christmas tablescape themes. I listed them by price from the least to the most expensive centerpiece to make.
Keep in mind, the cheaper it gets though, the more work it usually is.
1. Fun Snowman Theme Tablescape
I raided the church's food pantry for access to a ton of cans to make these fun snowmen. These cost me next to nothing. I already had the large red felt snowflakes from a previous year and I only had to buy some cardstock, candy canes, and some fake snow at the dollar store.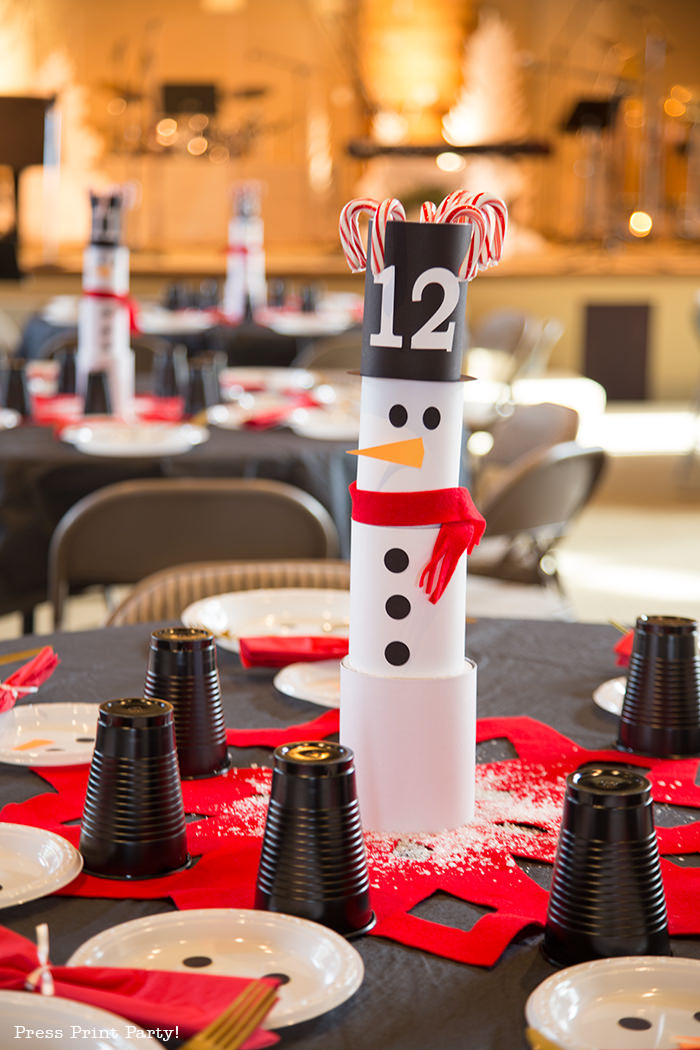 And I continued the snowman theme with the plates and silverware.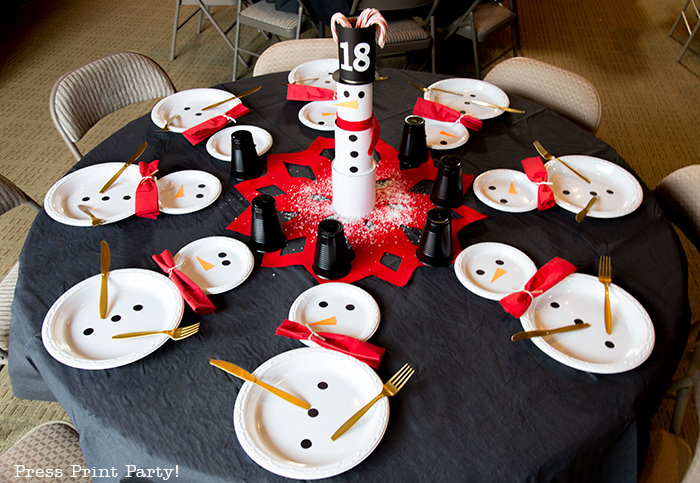 When the night was over we gently pulled all the cardstock off the the cans and they all went back to the food pantry as if nothing had happened. Magic!
Of course, I have a post with all the instructions on how to make this snowman tablescape.
2. Christmas Balloon Centerpiece and Tablescape
#2 in the ultra inexpensive Christmas centerpiece category is the Christmas balloon centerpiece.
With less than $70 worth of balloons, some shiny cardstock and some pipe cleaners I had decorations for 35 tables.
I matched the theme with the plates and napkins for a very fun and cheery Christmas table.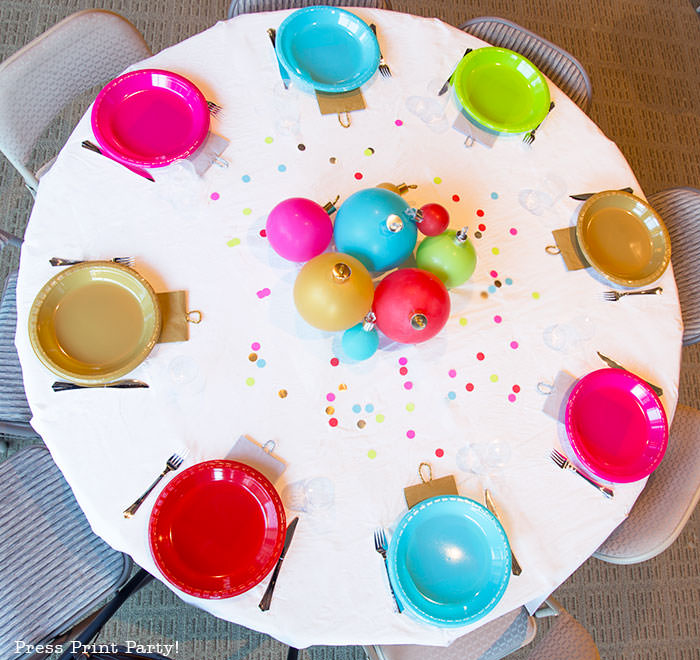 I even came up with my own topper template to make the balloons look like ornaments. Go check out how to make this balloon centerpiece and download the topper template for free.
3. Frozen Wonderland Christmas Table Centerpiece
Can you guess which movie came out the year we used this theme? This Christmas tablescape was the delight of every like girl and worked well to bring the idea of frost to our sunny California location.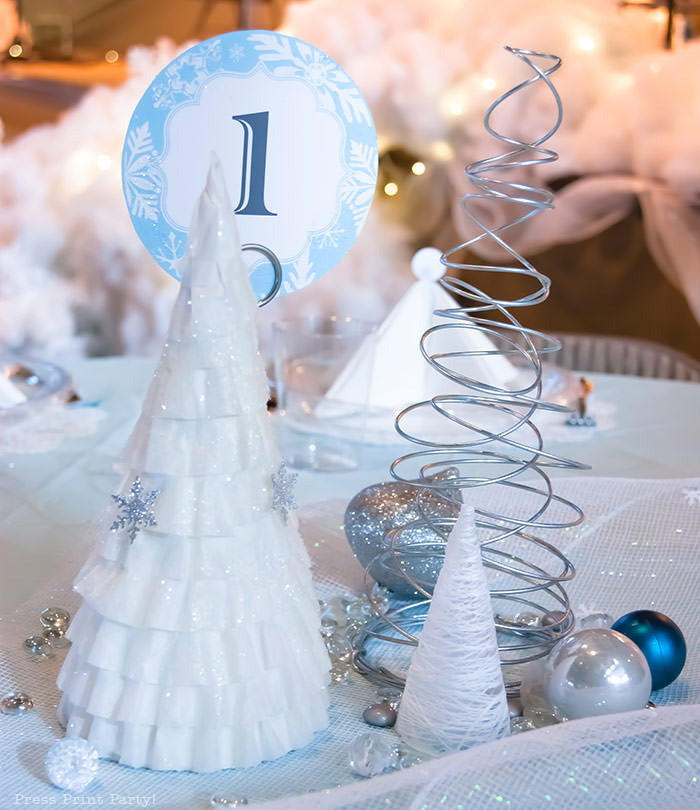 We DIY'ed all these trees. The little one is made out of string, the medium one out of coffee filters and the tall one out of thick wire.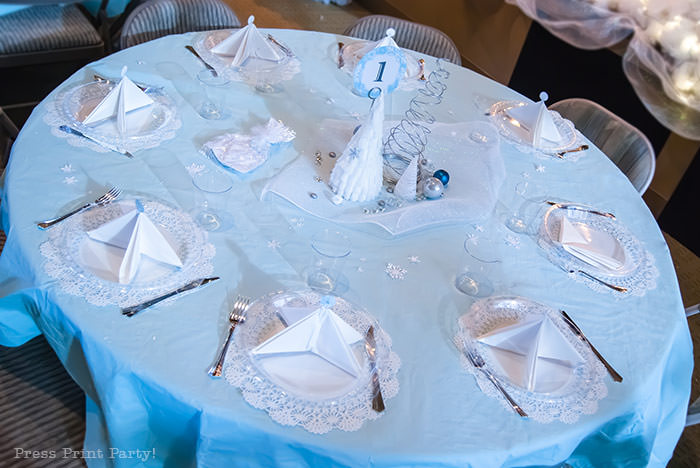 All the instructions to make the trees and fold the napkins are documented in the Christmas DIY winter wonderland theme post.
4. Red and White Snowflakes Tablescape
This was the year that started it all. The lady in charge of the Christmas banquet bought some red and white snowflake plates and I built a theme around them.
You'll notice the grey, fabric tablecloths. Not my favorite and that was the last year they were used.
That's also the year I made the large red felt snowflakes that I re-used for the snowman tablescape.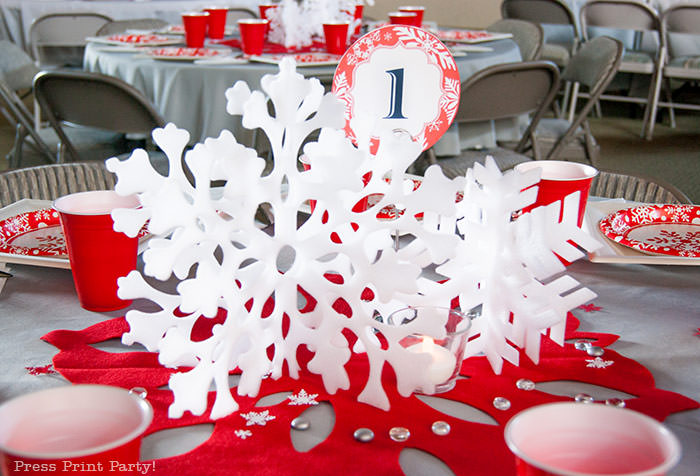 I found all the large foam snowflakes at the Dollar Store and bought a couple snowflake punches that I've re-used several times since.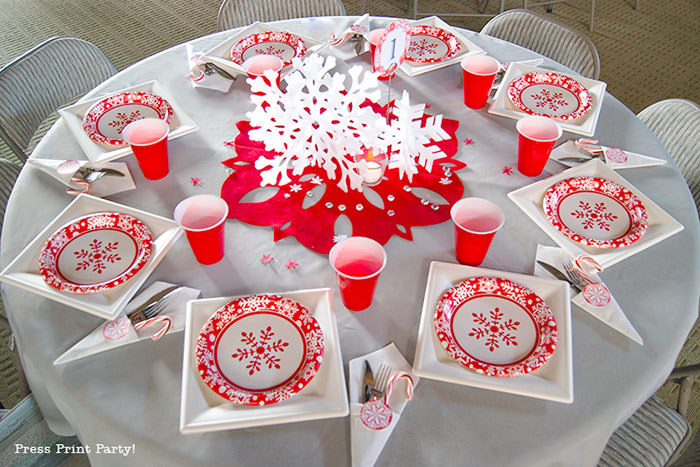 A little fake candle tucked in the snowflakes gave this Christmas centerpiece a nice homey feel and the holiday plates sure made it feel cheery.
You can read more about all the details for this red and white snowflake tablescape here.
5. Rustic Christmas Tablescape
In a bit more traditional and rustic style, we used lots of free greenery and pine cones to make this rustic Christmas table centerpiece come to life.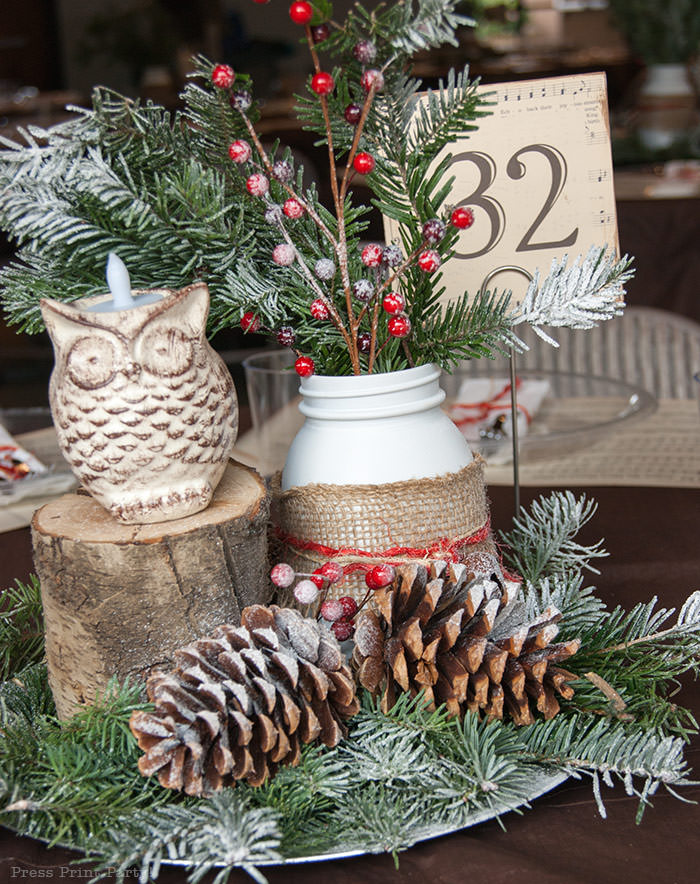 We did buy the jars, owls, red berries and chargers that year which made it a bit pricey even for Dollar Store finds. The placemats were a hymn photocopied on 11×17 cream paper and I designed the cute music sheet table numbers (available for free download).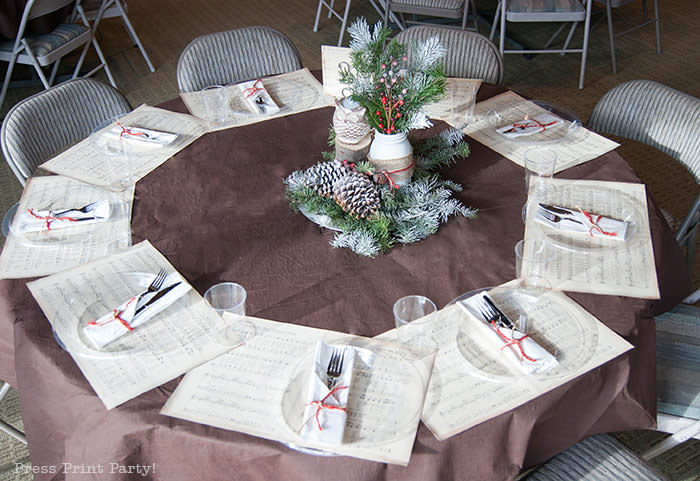 All these Christmas tablescapes are so festive and fun and inexpensive that they'll work perfectly for your large banquet. But they're so simple that they'd also work perfect for a little dinner at home or a get-together with a few friends.
But if you're here and you were pulling your hair out trying to figure out how to make a whole bunch of unique Christmas centerpieces on a budget for church or work, then I hope I've given you some great ideas.
I hope you have a wonderful, peaceful, blessed Christmas.
Help others, pin it: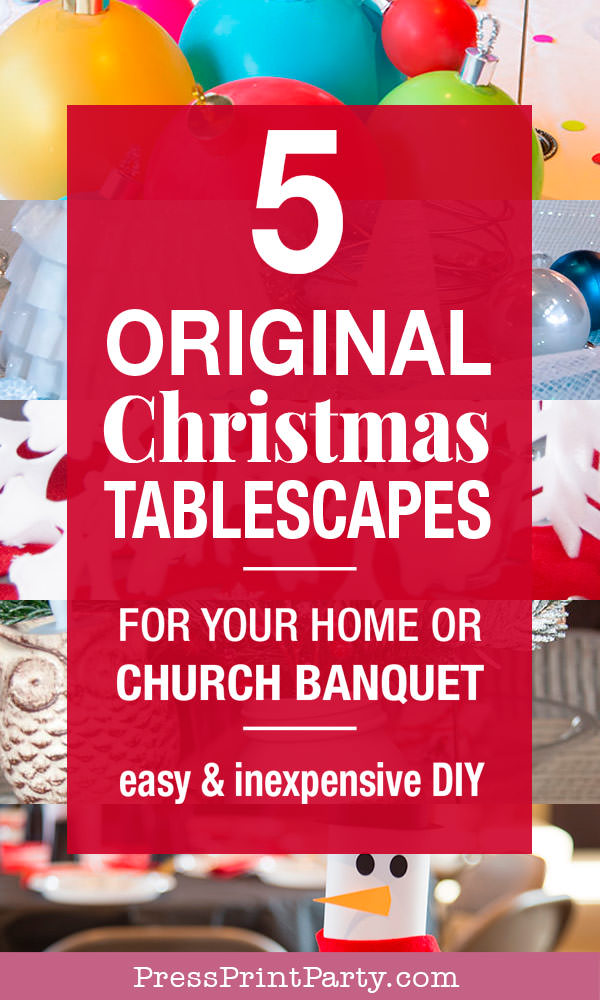 Check out our Christmas printables