I've decorated for our church's Christmas dinner for many years now and executed or made bunches of Christmas table centerpieces.
Trying to come up with a unique Christmas tablescape each year is a bit of a challenge.
In addition to developing a cool idea, I need to find Christmas table decorations for 30-40 round tables for cheap!
So it has to be DIY, and I have to use simple decorations.
This post may contain affiliate links.
You'll notice that none of my designs incorporate floral arrangements or a floral centerpiece. Once you start adding fresh flowers, the price jumps up. Even if you want to DIY the arrangement to include some seasonal flowers, you need extra items like floral foam.
In one of the designs I have included below, I opted for evergreen clippings which you can easily get for free if your neighbors have an evergreen tree or if you ask for some at a Christmas tree farm. I've found that even simple floral arrangements cost too much.
Creating a new festive table on a budget each year can be challenging, but I'm always eager to take it on.
I hope my Christmas decoration ideas and experiences may be able to help you as you prepare for your banquet or large dinner. If you are decorating for a small church, you may find a little more flexibility in the budget. It is having to buy "per table" that can be a burden on the bottom line.
If you are looking for a cute way to decorate your own dining table this holiday season, I'm sure you'll find some great ideas too! Here are six Christmas table decoration ideas.
---
My Favorite Materials for Christmas Church Banquet
I save everything I can and try to reuse many of the same items year after year but in a different way.
I use the same type of tablecloths and plates but in different colors.
The type of tablecloth I've chosen is paper with a plastic backing. I like them because they're better quality than plastic tablecloths but still fairly cheap and disposable. I get them from an online restaurant supply company, but you can get them at Smart and Final or Amazon. This is an easy way to be budget friendly.
We used to have cloth tablecloths. They're more elegant and a lot better for the environment but… what a nightmare! We had to wash and press them every year. The stains were impossible to clean and I was stuck with only ONE color (Grey!).
So out they went, and in came the disposable paper kind available in all the colors of the rainbow. This lets me be flexible if I want to pick a fresh color scheme from one year to the next.
The color really matters because it serves as the backdrop for a stunning table. It helps when you are building a focal point too.
The dinner plates we use are thick plastic and feel sturdy. No cheap paper plates here! The plates are nice to eat on and they're not too expensive. They also come in a wide array of colors which is great for decorating. Depending on the budget and table design I sometimes skip the salad plates.
So here's a list of my 6 favorite Christmas tablescape themes. I listed them by price from the least to the most expensive centerpiece to make.
Keep in mind, the cheaper it gets though, the more work it usually takes.
---
1. Fun Snowman Theme Tablescape
I raided the church's food pantry for access to a ton of cans to make these fun snowmen for the center of the table. These cost me next to nothing. I already had the large red felt snowflakes from a previous year and I only had to buy some cardstock, candy canes, and some fake snow at the dollar store.
And I continued the snowman theme with the plates, silverware, and overall place settings.
When the night was over we gently pulled all the cardstock off the cans and they all went back to the food pantry as if nothing had happened. Magic!
Of course, I have a post with all the instructions on how to make this snowman tablescape. I would say these made fairly easy Christmas table decorations and overall simple centerpieces.
---
2. Christmas Balloon Centerpiece and Tablescape
#2 in the ultra inexpensive Christmas centerpiece category is the Christmas balloon centerpiece.
With less than $70 worth of balloons, some shiny cardstock, and some pipe cleaners I had decorations for 35 tables, incorporating giant colorful ornaments. This was a fun departure from classic Christmas colors while still drawing from the holiday color palette.
I matched the theme with the plates and napkins for a very fun and cheery Christmas table. As far as holiday cheer goes, I think this design takes the cake. And kids will love the colors at family gatherings.
I even came up with my own topper template to make the balloons look like ornaments. Go check out how to make this balloon centerpiece and download the topper template for free. If you plan to recreate this Christmas dinner table, don't forget the confetti dots and ornament topper napkins!
---
3. A Sparkling Christmas Banquet
This design was stunning. Coming into the room with all those twinkly lights really felt magical. The pictures really don't do it justice.
If you order way in advance you can get these balloons and the lights very inexpensively.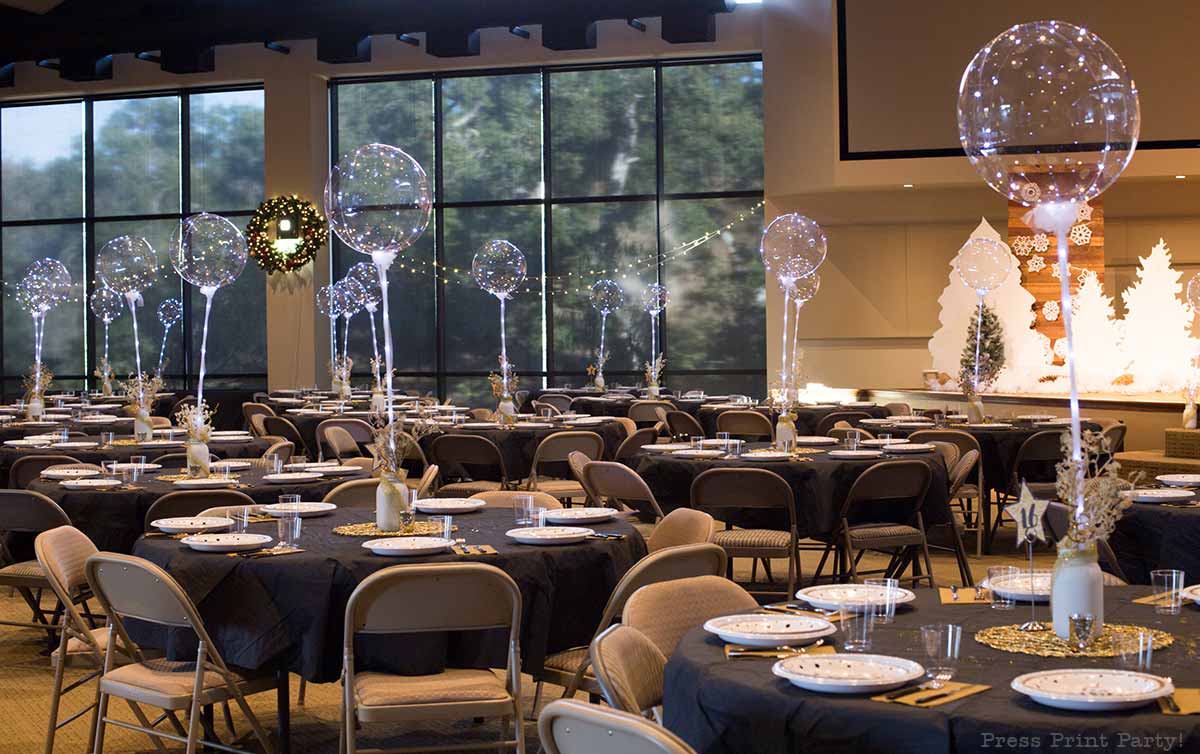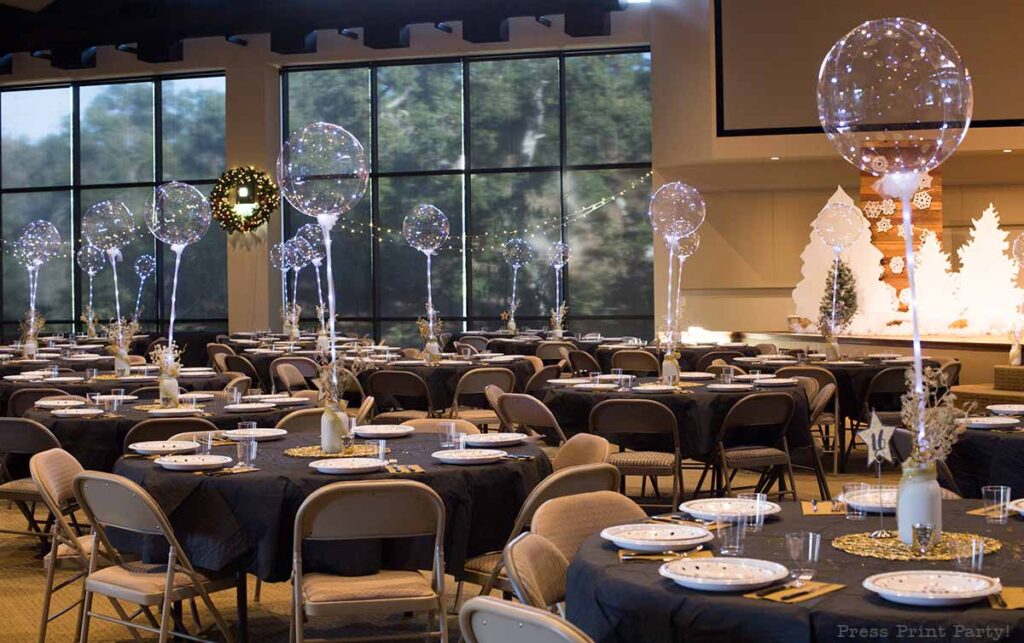 The combination of the black tablecloths, the golden accents, and the lights made it really sparkle. I have the best source for those Bobo balloons and much more in the full post.
---
4. Frozen Wonderland Christmas Table Centerpiece
Can you guess which movie came out the year we used this theme? This Christmas tablescape was the delight of every like girl and worked well to bring the idea of frost to our sunny California location. It made for a beautiful table and didn't clash with our everyday church decor.
We DIY'ed all these mini trees. The little one is made out of string, the medium one out of coffee filters, and the tall one out of thick wire.
These folded napkins are more fun than a festive napkin ring, but they might also require more time. All the instructions to make the trees and fold the napkins are documented in the Christmas DIY winter wonderland theme post.
---
5. Red and White Snowflakes Tablescape
This was the year that started it all. The lady in charge of the Christmas banquet bought some red and white snowflake plates and I built a theme around them.
You'll notice the grey, fabric tablecloths. Not my favorite and that was the last year they were used.
That's also the year I made the large red felt snowflakes that I reused for the snowman tablescape (#1).
I found all the large foam snowflakes at the Dollar Store and bought a couple of snowflake punches that I've reused several times since.
A little fake candle tucked in the snowflakes gave this Christmas centerpiece a nice homey feel and the red and white plates sure made it feel cheery.
You can read more about all the details for this red and white snowflake tablescape here.
---
6. Rustic Christmas Tablescape
In a bit more traditional and rustic style, we used lots of free fresh greenery, evergreen clippings, and pine cones to make this rustic Christmas table centerpiece come to life. The wood slices were also something I already had. I just loved this natural look.
We did buy the mason jars, owls, red berries, and chargers that year which made it a bit pricey even for Dollar Store finds. The placemats were a hymn photocopied on 11×17 cream paper and I designed the cute music sheet table numbers (available for free download).
This template could also be used for place cards. And if you are looking to add a little something extra, a strip of burlap would make a good Christmas table runner, especially with this design.
---
All these Christmas table centerpiece ideas are so festive, fun, and inexpensive that they'll work perfectly for your large banquet. But they're so simple that they'd also work perfectly for a little dinner at home or a get-together with a few friends.
If you're here and you were pulling your hair out trying to figure out how to make a whole bunch of unique Christmas centerpieces on a budget for church or work, then I hope I've given you some great ideas.
Some additional items to consider adding, if you have the budget for it, are votive candles, tall candle holders, pillar candles, and fairy lights. Mini wreaths and cinnamon sticks would also be fun natural elements to include as finishing touches.
A fun thing to do at a Christmas banquet is to play a game, and this left right Christmas game is perfect for a big crowd.
I hope you have a wonderful, peaceful, blessed Christmas. I would love to see what other ideas you come up with for Christmas table decoration ideas. Share a comment and photo of your holiday dinner in the comments below.