When I wrote my original article 5 Things You Forgot to Clean That May be Grossing Out Your Guests, I had no idea how popular it would become and how many comments I would get on it. It's all those comments that inspired me to write this follow-up article with five MORE things that your guests may find disgusting.
The first article dealt mostly with major areas. The 5 items on this list are a bit more specific but just as important.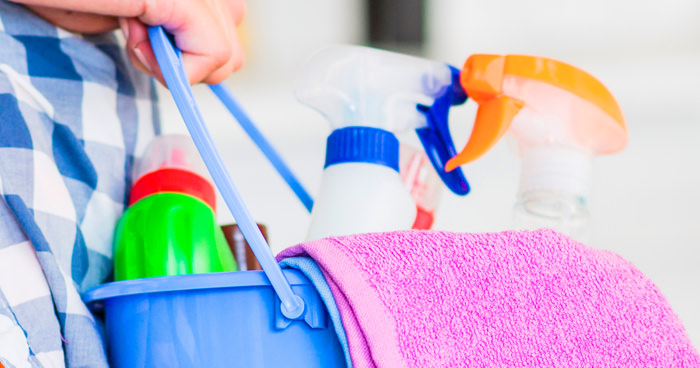 This post may contain affiliate links.
As always, I'm not putting this list together to brag or to claim to have superior cleaning skills (which would be a straight-up lie). Please take it as a gentle guide in the pursuit of being a better hostess.
1 – Clean Your Light Fixtures and Vents
There's a very strong consensus among my readers that light fixtures, especially the one above the dinner table must be free of dust. The next comment had me looking up at my own lights:
"I have a housekeeping business and the one thing I've noticed many people forget is ceiling fans. I've seen dust dangling like icicles on a Christmas tree!" – Bethany
But it's this comment from Kay that grossed me out the most!
"Cobwebs and dust on the crystal chandelier above the delicious meal you cooked for your guests…wipe down ceiling fan blades and cobwebby corners." – Kay
Air vents could be in a category of their own but I'll add them here because (at least at my house) they're up above eye level like my light fixtures.
My readers had this to say on the subject:
"A/C vents and ceiling lamps get greasy sometimes, you see light bugs in there…" – Silvia
"People forget vents on the wall and the bathroom fan vent." – Denise
So, I'd encourage everyone to LOOK UP at the ceiling and near the top of their walls. Who knows what's lurking there….
And if you're short like me, you may want to get yourself an extendable duster. I use mine all the time on my ceiling and light fixtures.
I should mention that cobwebs used to be a big problem in my house until I plugged in a pest repeller. I've had that thing plugged in for 20 years (not kidding) and I still have very few bugs in the house (and we don't get our yard sprayed). The one I own is no longer being sold but there are lots of others out there to choose from.
---
2 – Wipe Down Your Salt and Pepper Shakers
"May I also add salt and pepper shakers. Restaurants sometimes also have the ugliest, sticky shakers." – Trudy
I know I'm guilty of this. My salt and pepper shakers sit next to my stove because I use them all the time when I cook. So, of course, they get greasy and dirty faster.
But if you're going to put salt and pepper on the dinner table for your guests, make sure to wipe them down first. Better yet, keep a set of pretty salt and pepper shakers in the cupboard just for those times that you host guests.
---
3 – Clean your refrigerator
Yes, clean the INSIDE as well as the outside of your refrigerator, especially if you're having overnight guests and they may be opening the fridge to get a drink.
And don't forget the hinges and the sides of the door either. Those can get gross and rarely get wiped down.
Think of poor Hannah visiting her family:
"We stay at a relatives' home and their home is pretty dirty but it is their refrigerator that grosses me out the most. Makes me gag!" – Hannah
Now, open your fridge and ask yourself if you'd be OK eating out of a stranger's fridge looking like yours.
---
4 – Dust those blinds thoroughly
Knowing how dusty my blinds can get, I wasn't too surprised to see several comments about the need to clean the Venetian blinds more thoroughly before guests arrive.
Denise laments that
" Blinds are never clean!"
Beverly just grumbled
"Ugh! Venetian blinds."
Blinds kept coming back again and again on people's lists, so grab a duster and get 'em cleaned up. You could also get a special duster just for Venetian blinds that would make the process a little faster.
---
5 – Having only ONE hand towel in the bathroom is not enough
"I get grossed out by dirty hand towels in the bathroom. I remember being at a party of 30 to 50 guests – one hand towel in the bathroom. It was dirty and wet, and never got changed that night." – Deanna
Think about it, 20-50 people going in your bathroom and using the same hand towel. That towel is going to get pretty wet and soggy really quickly.
In my ultimate guide about How to Make Your Bathroom Guest Ready Before a Party, I show you how to accessorize your bathroom for guests with several different ideas about how to provide clean hand towels, as well as how to do a full scrub down of the bathroom so that nothing gets missed.
---
Other suggestions that I thought were great were the need to clean the teapot, hard water stains on the faucets, wipe down the kitchen sink, and make sure to wipe down the door and window frames.
But I'll also leave you to consider the words of LaJoyce Stewart who commented:
"My favorite is the very tall guest who can see on top of my fridge. Never forget that one – a must remember- …."
---
Don't miss the original post of 5 Things You Forgot to Clean That May be Grossing Out Your Guests, and check out all my party tips on the 3 secrets to a great party, how to style a dessert table, and how to make an organic balloon garland.
My Ultimate Party Planner will also make it easier to plan and remember all there is to do before and during your parties so go check it out (You'll get a better deal if you sign up to the fun weekly newsletter below).
You can also get all my recommendations for cleaning supplies on my Amazon list.
Don't forget to pin it: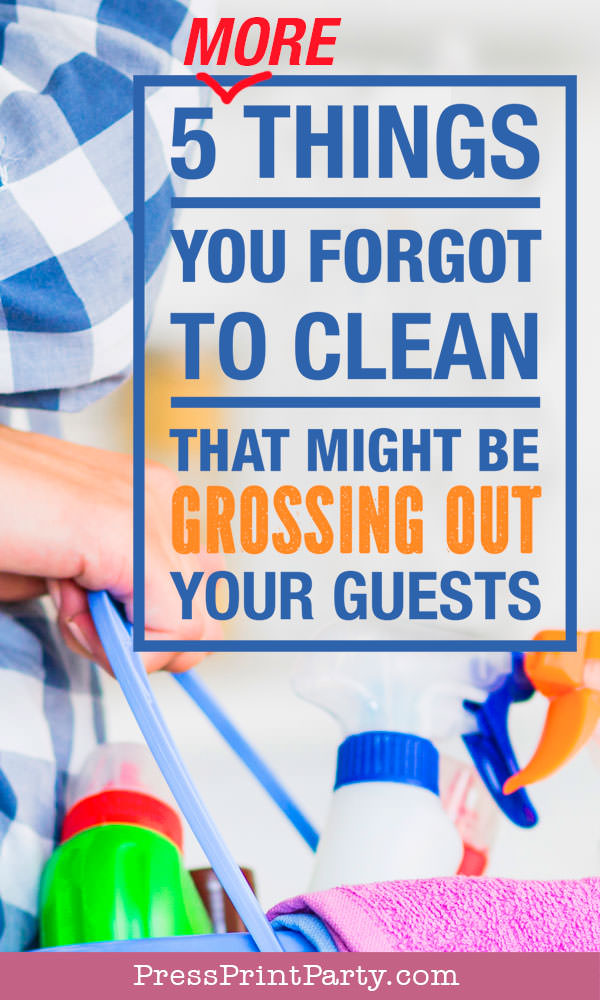 Check out our birthday printables