The fun elf ideas may seem endless now, but just wait until you're drifting off to sleep after a long day and you're suddenly jolted awake, realizing that you forgot to set up the Elf on the Shelf for the new day.
Even the seasoned veteran of the elf tradition can slip up and forget to pick a new spot.
Not to mention a new location each day is the minimum. There are so many ways to bring the elf season to life and it can be easy to be stressed by coming up with creative ways to give your elf character and your kids fun things to do.
Printable props are perhaps the easiest way to execute fun ideas in minutes! The only preparation needed ahead of time is to make sure you have enough paper and ink.
I also included in this list my own Elf on the Shelf printable planner to help you decide ahead of time what ideas you want to use. In this planner, you can easily organize ideas from your Elf on the Shelf ideas Pinterest board.
This can really help minimize overwhelm and make this a more enjoyable Christmas tradition for you as well as your kids.
---
1- Elf on the Shelf Printable Planner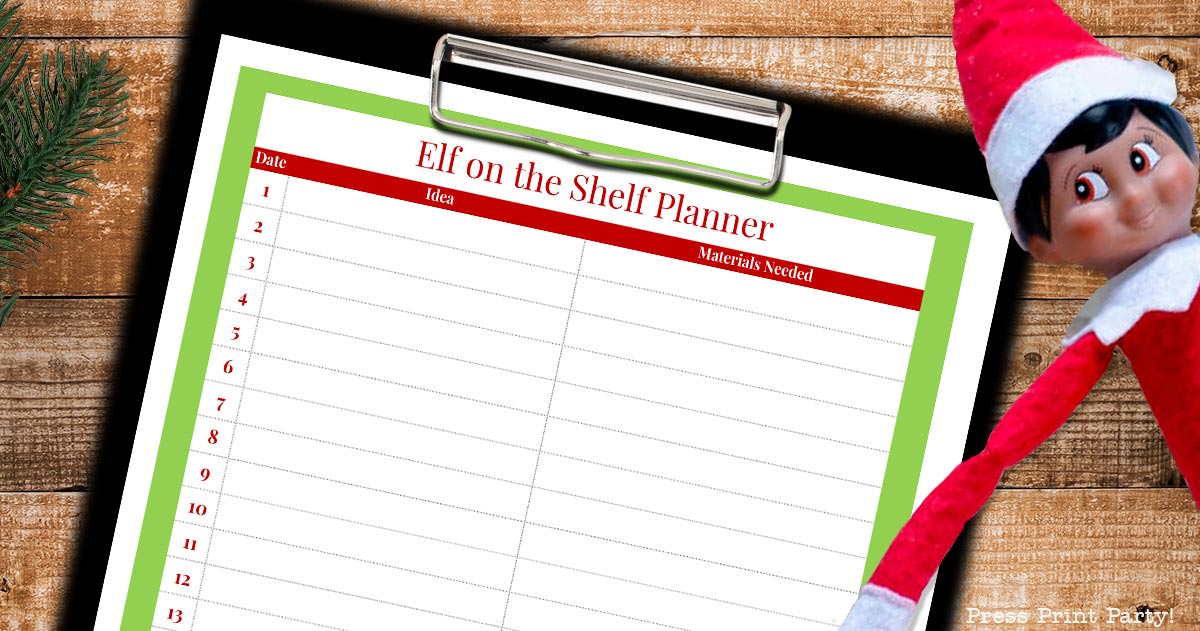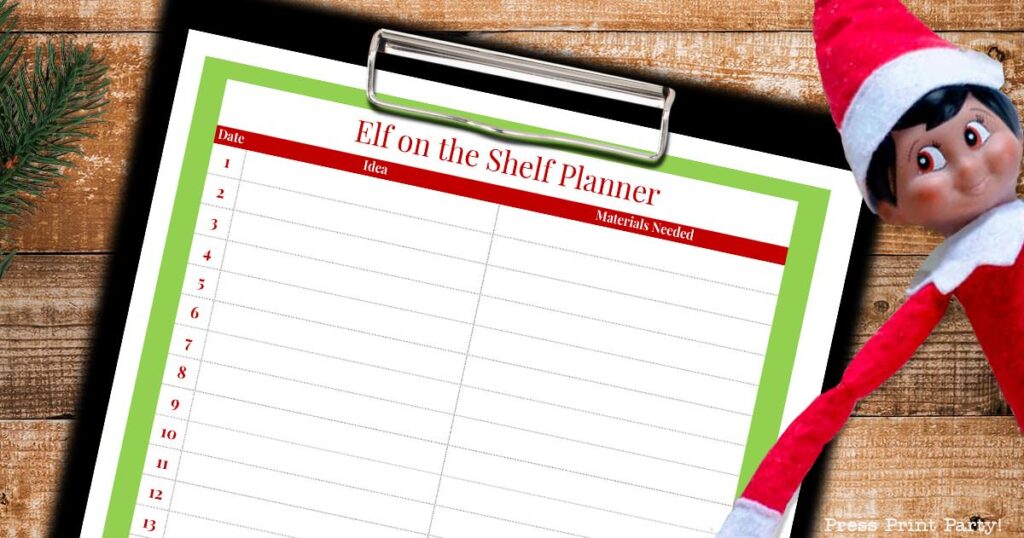 With the millions of moving parts that come with the Christmas holiday, organization is a precious resource. This planner can help you not be blindsided by your elfly duties!
Just fill out each column so that it's easy to see what ideas and materials you want to use for the upcoming days!
---
2- Elf on the Shelf Arrival Letters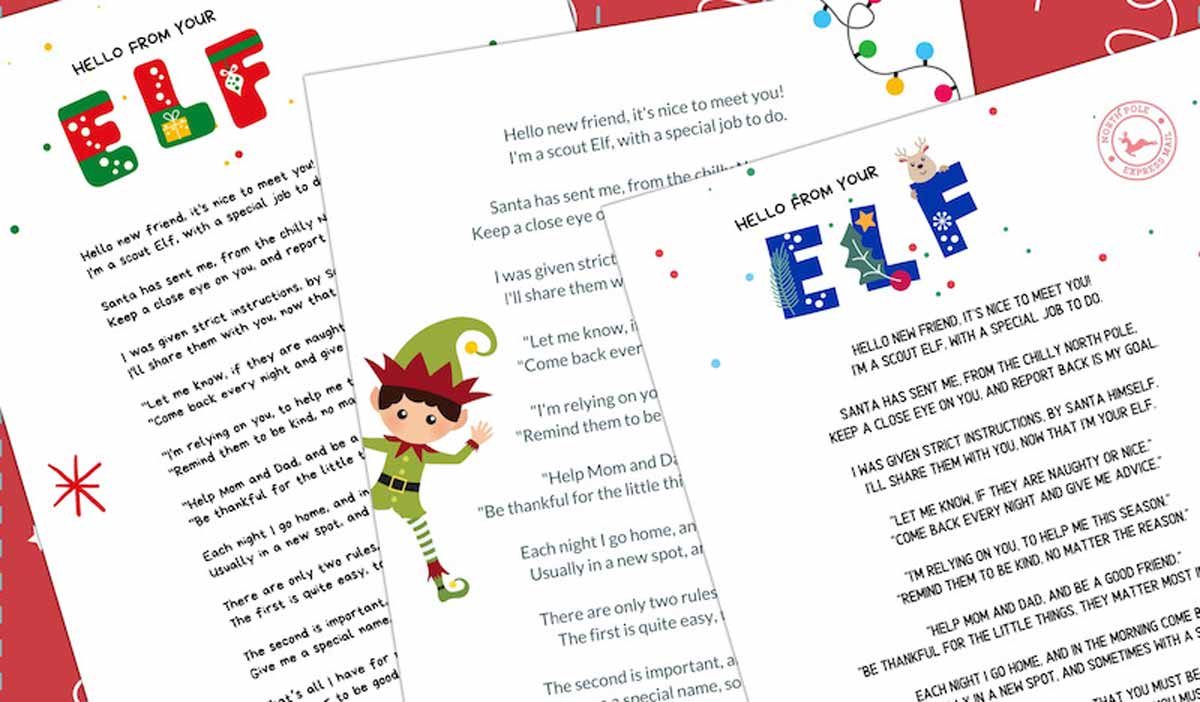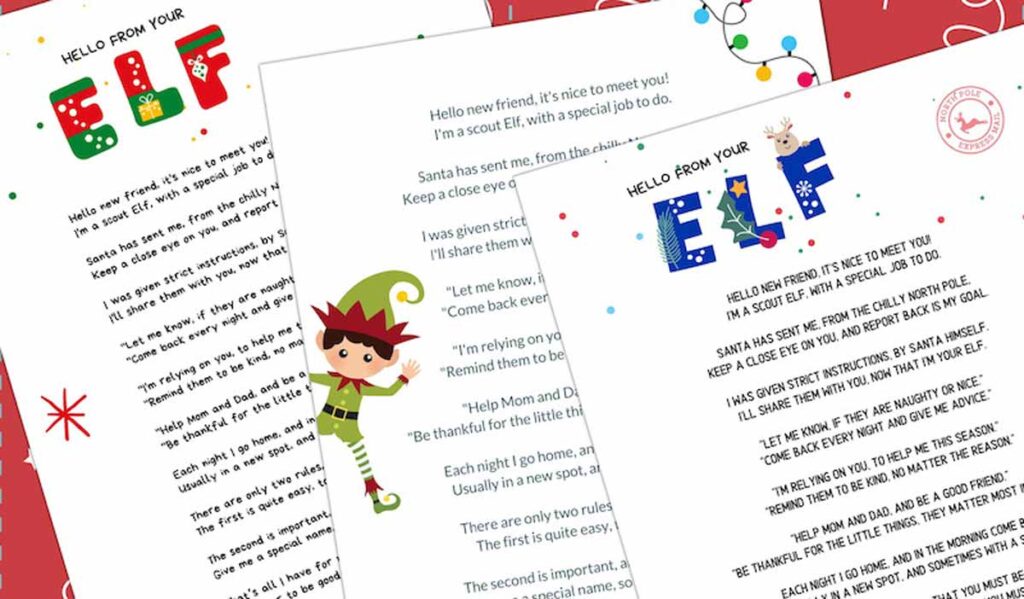 This arrival letter from Surf and Sunshine is a great way to introduce your elf to your children. If your kids just need a reminder on the rules and the purpose of the elf, this welcome-back letter is the perfect way to get them up to speed. Plus, what's not to like about a reminder for good behavior?
Looking to add an educational component? Why not have your kids write their elf a welcome letter?
---
3- Goodbye Poems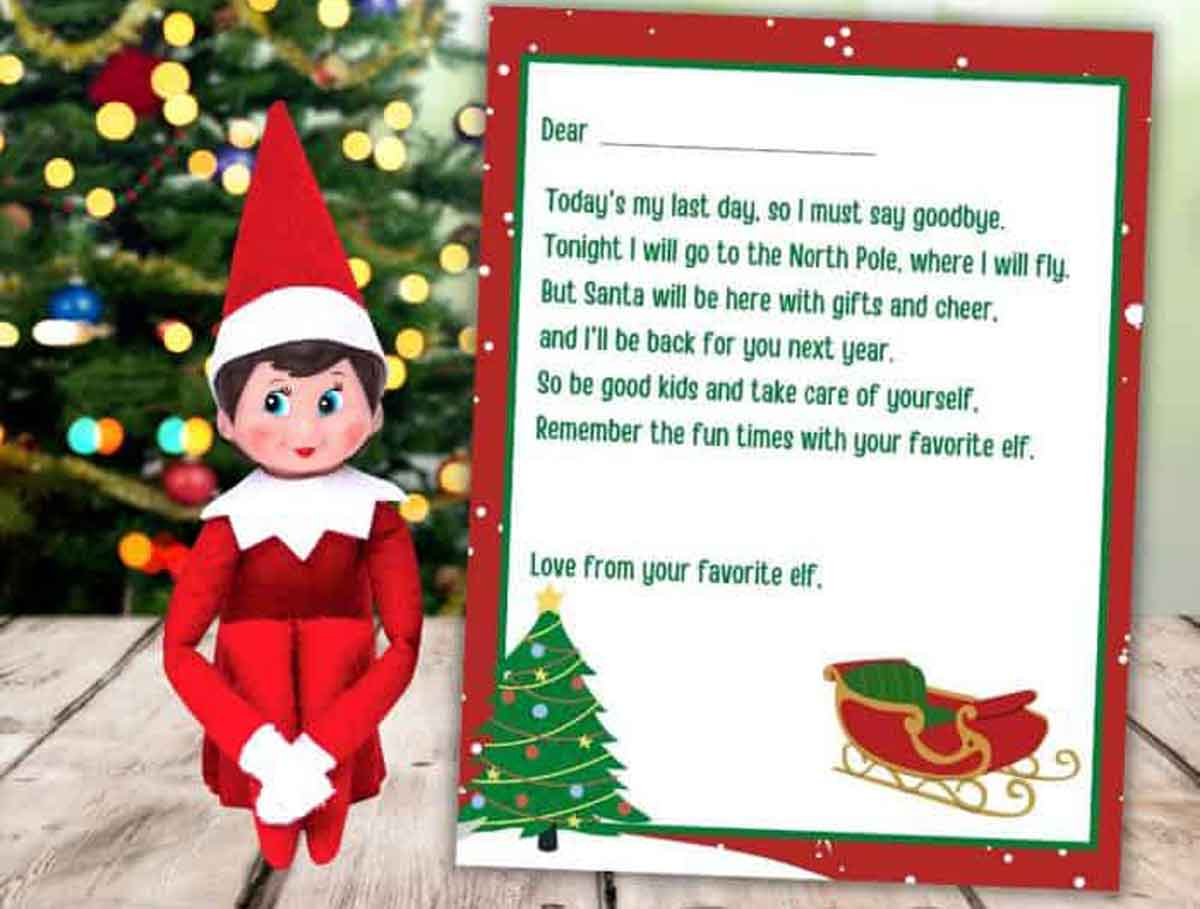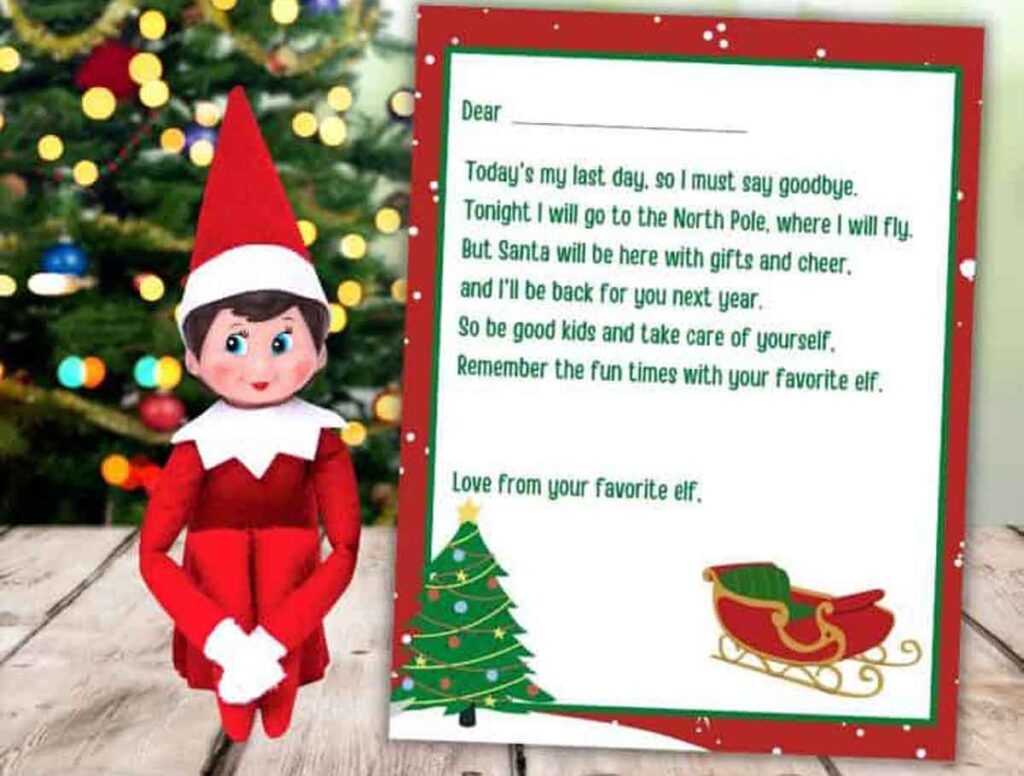 Saying goodbye to your elf friend can be a sad experience for your children. These poems from Home Faith Family can help ease the blow of their last day with their Christmas elf.
They will remind the children that the time with the elves is special and they can always look forward to it next year! To help make the send-off a happy one, you could have your kids write their own poem or goodbye letter.
---
4- Elf Adoption Certificate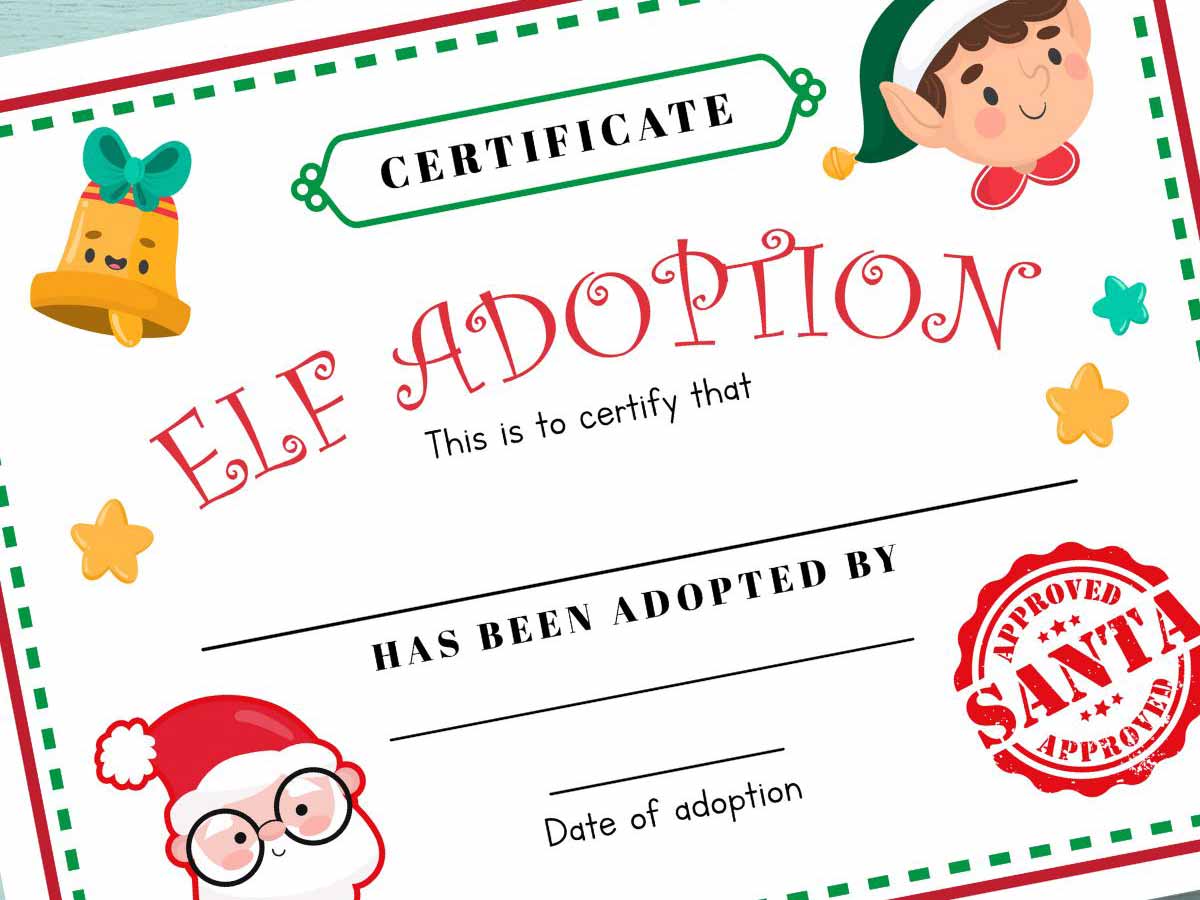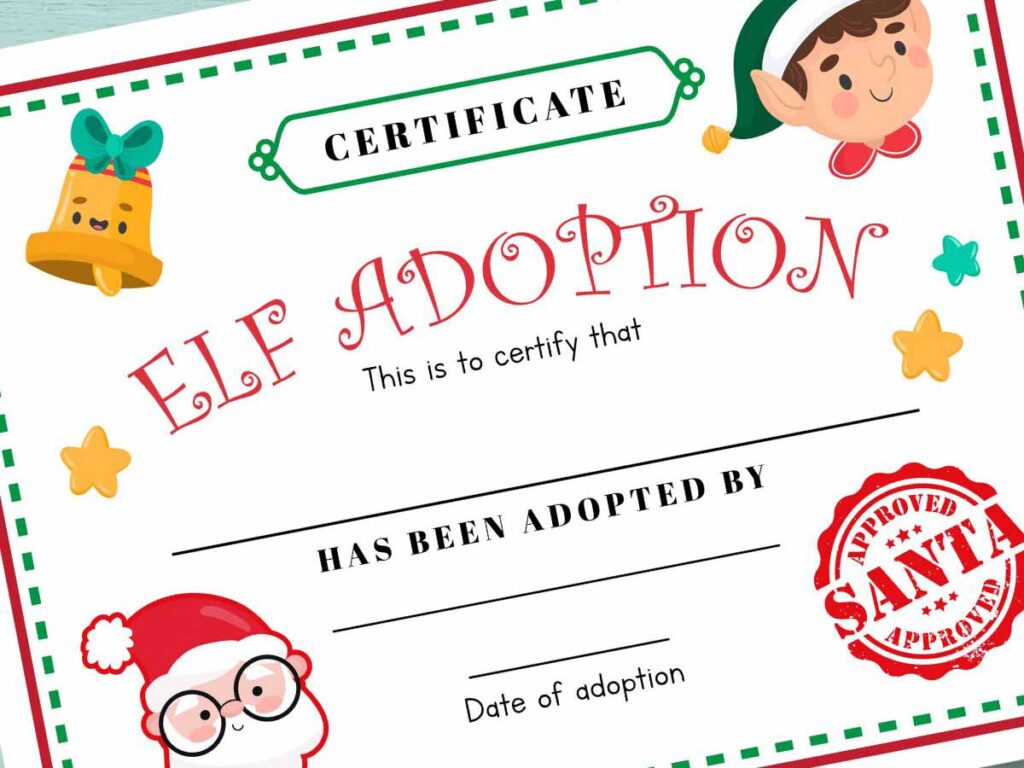 Another great way to welcome your elf into your home is to use an adoption certificate, like this one from Mommy Made That. Fill these out to make your elf's homecoming official.
---
5- Elf Balloon Arrival Idea & Banner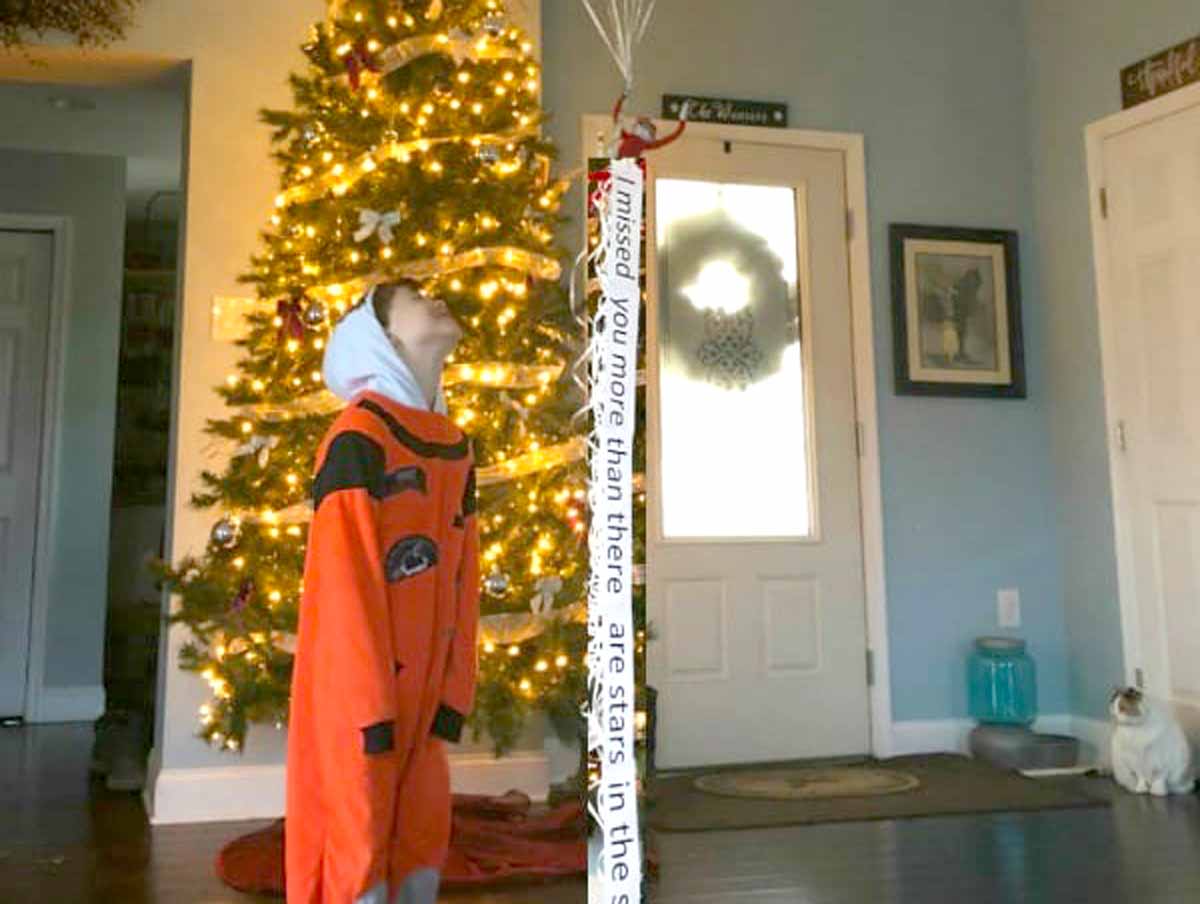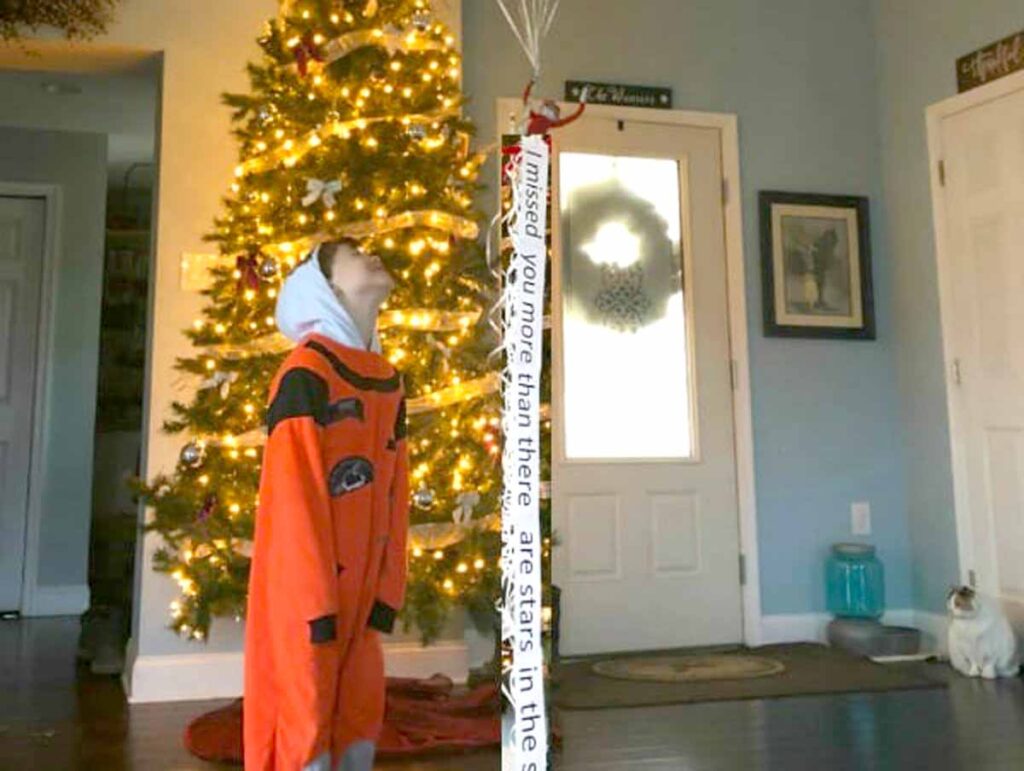 Want something more festive and dramatic for your elf's arrival? Use this banner from Mama Cheaps to announce that your elf is here! Pick up some balloons or have him rappelling from the Christmas tree to make the scene even more exciting. It's a cute idea to set up your kids' expectations for the rest of the Christmas season!
---
6- Elf on the Shelf Baymax Costume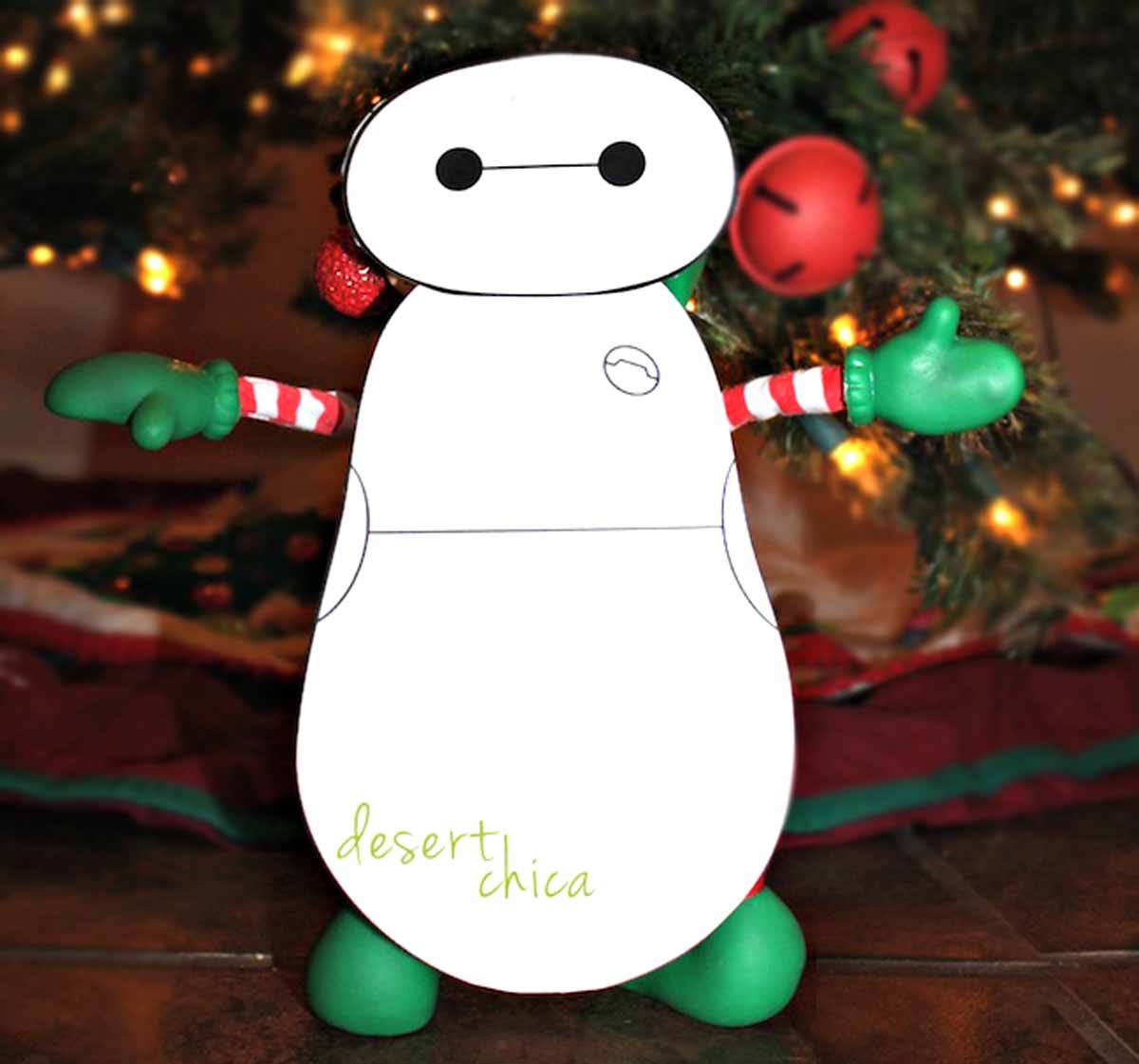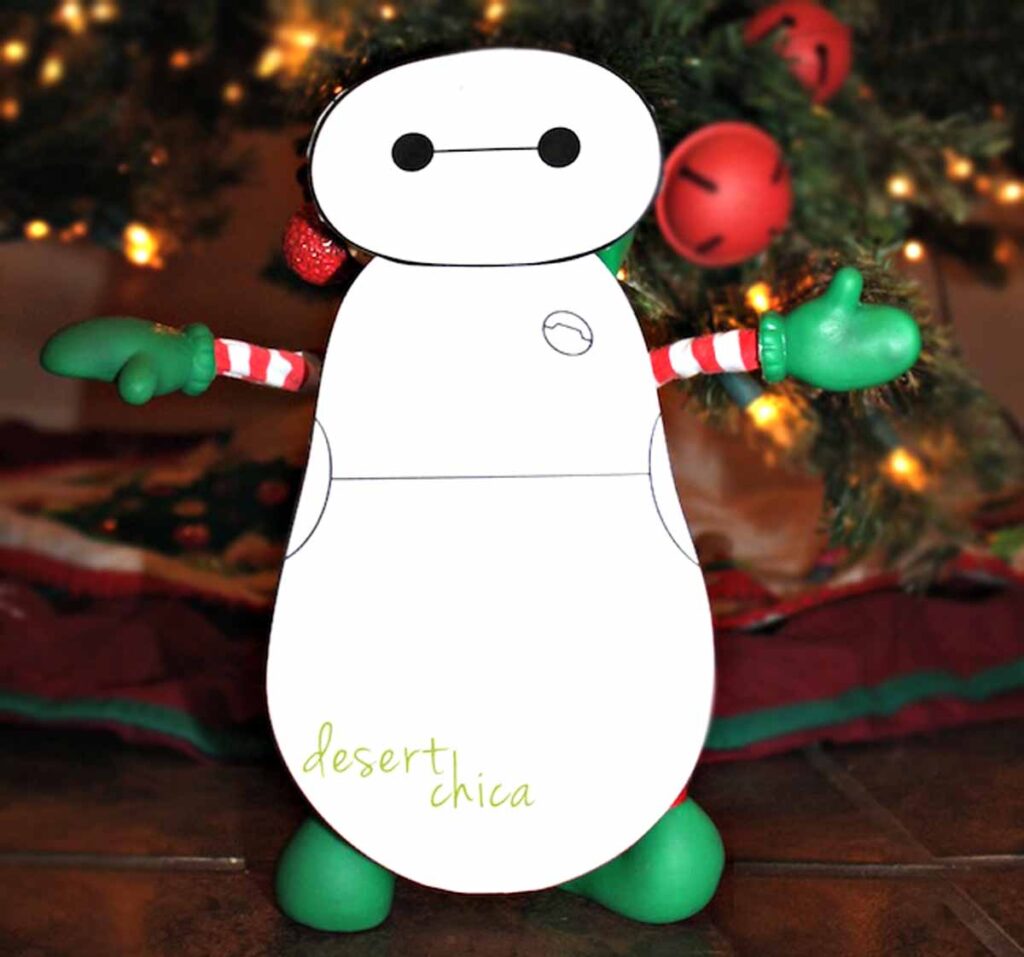 Are your kids big Disney fans? With barely any prep time, you can turn your elf into Baymax thanks to Elf on the Shelf costume printables from Desert Chica. Seeing your elf as the loveable big guy will surely bring a smile to your kids' faces. The thought of your elf as Baymax can't help but lift your kid's spirits.
---
7- Elf on the Shelf's Donation Letter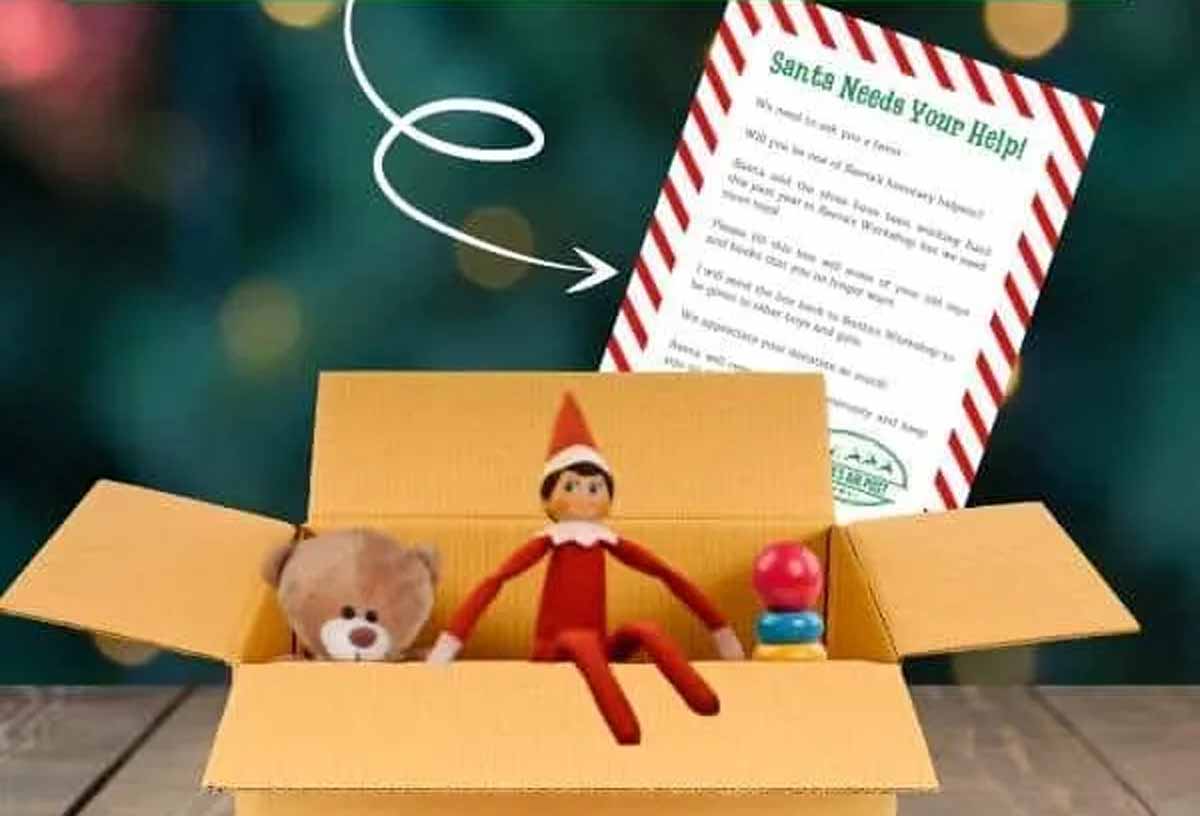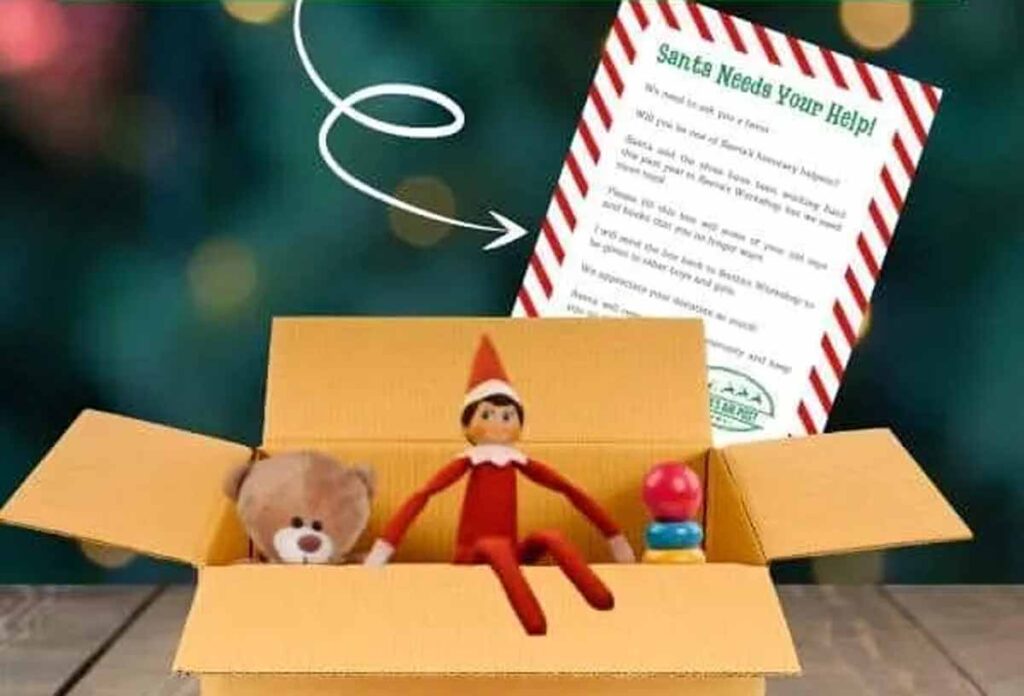 You can encourage your kids to be more generous with this donation letter from DIY with My Guy. It can help your kid get excited about performing good deeds and making it on the nice list! Not only helping you get rid of excess toys in your house but also blessing others with the donated toys.
---
8- Printable Elf Photo Booth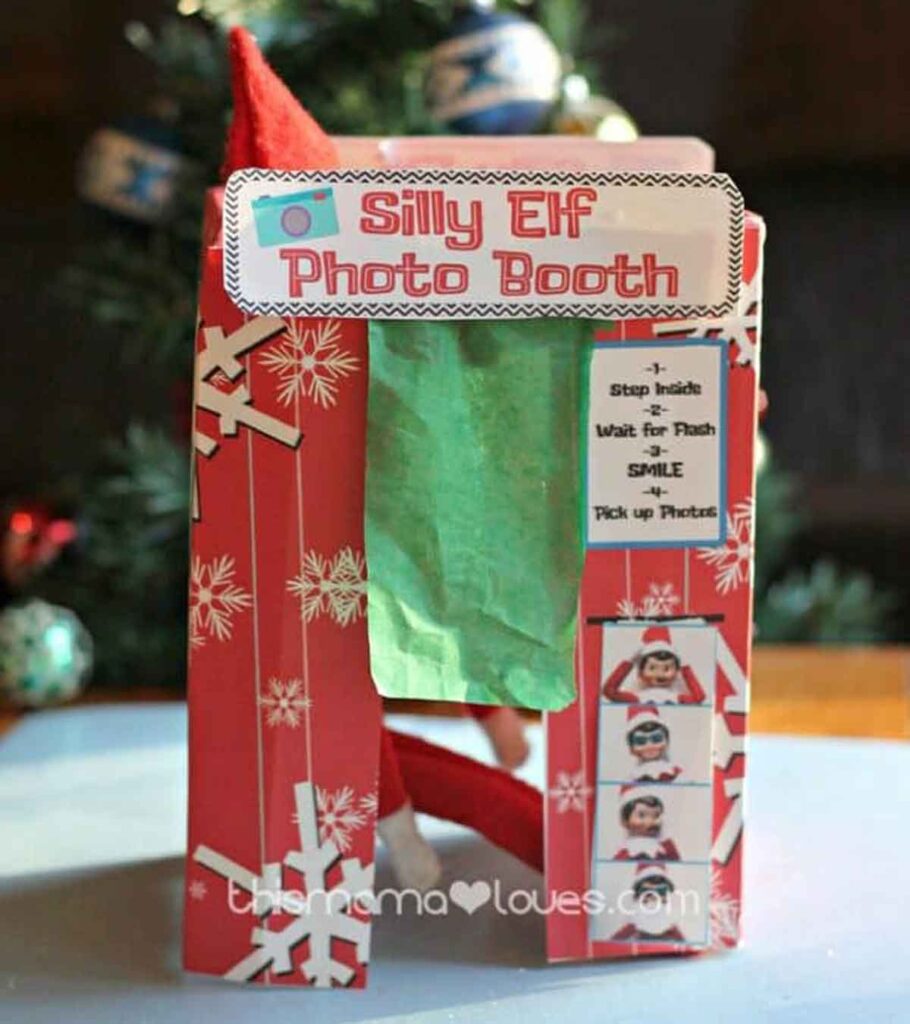 This idea may take a bit more time but it's well worth the effort! Assemble this photo booth from This Mama Loves to create a charming little scene of your elf capturing his best silly faces.
---
9- Movie Night with Elf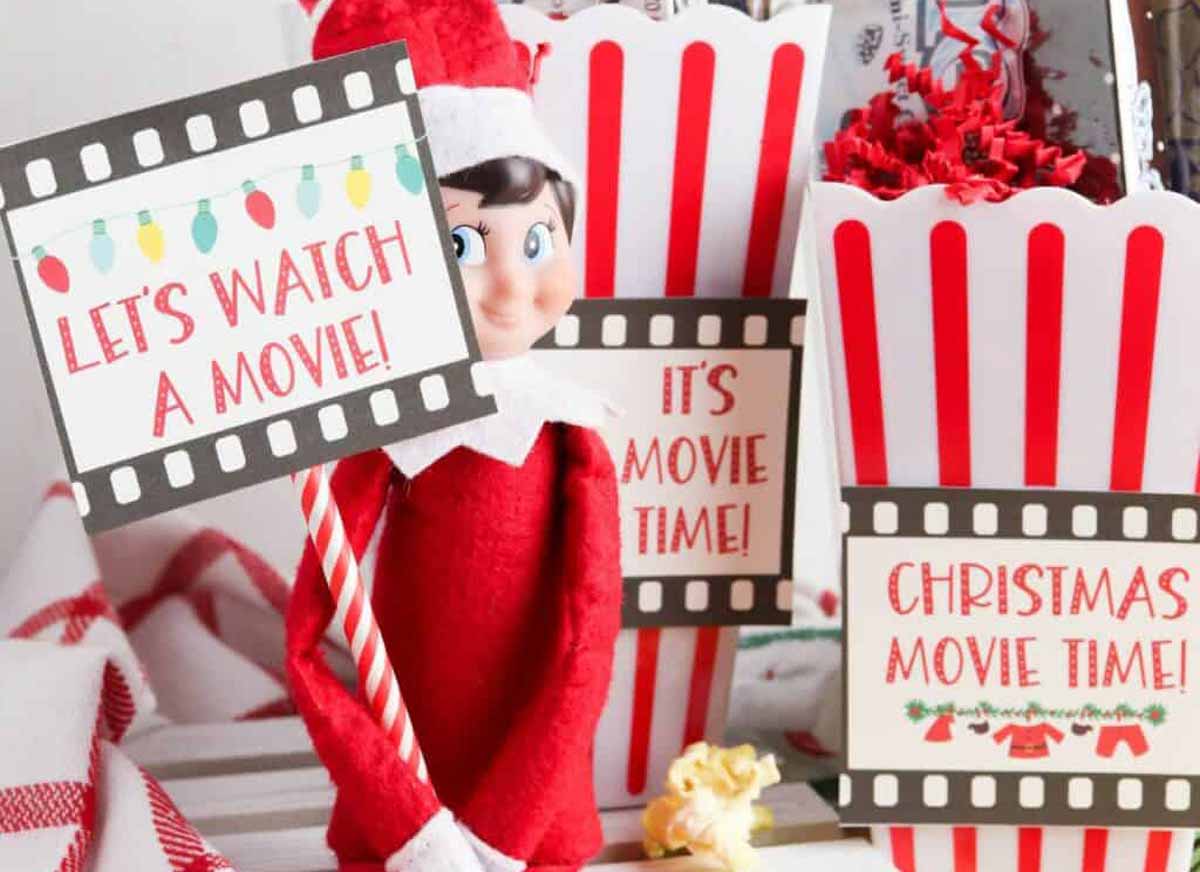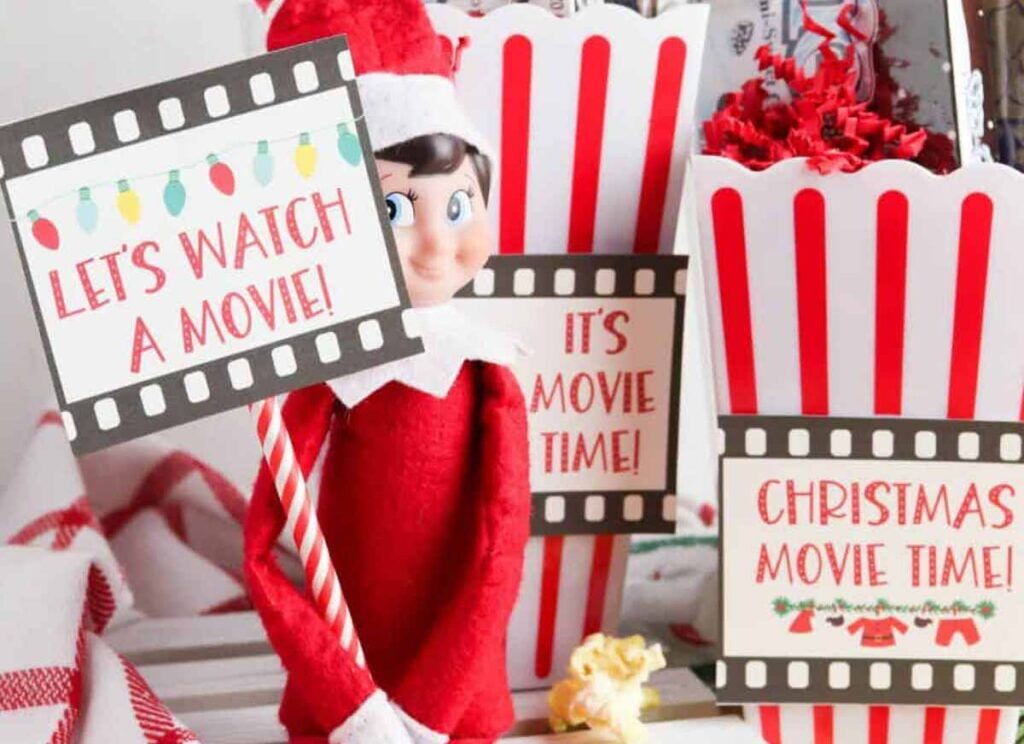 A movie night is a great way for your kids to interact with your elf. And these printable props from Movie Nights at Home are just adorable. Having the little guy invite the kids to sit down and enjoy a Christmas classic, paired with some snacks or even hot cocoa, can help bring your elf to life in your kids' minds. Plus you can enjoy a nice night, taking the time to relax and reconnect with your kids.
---
10- "Santa! I Know Him" Prop Printables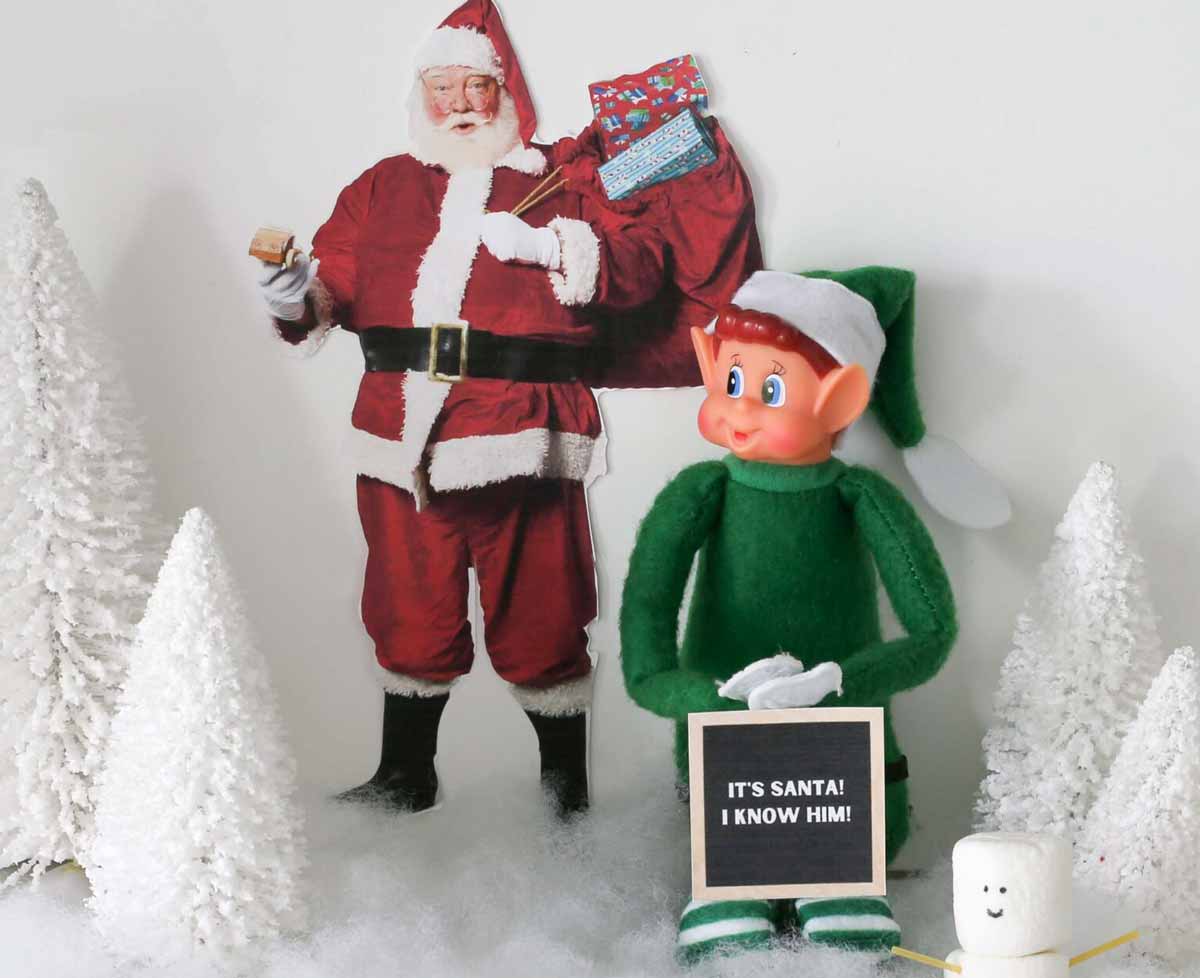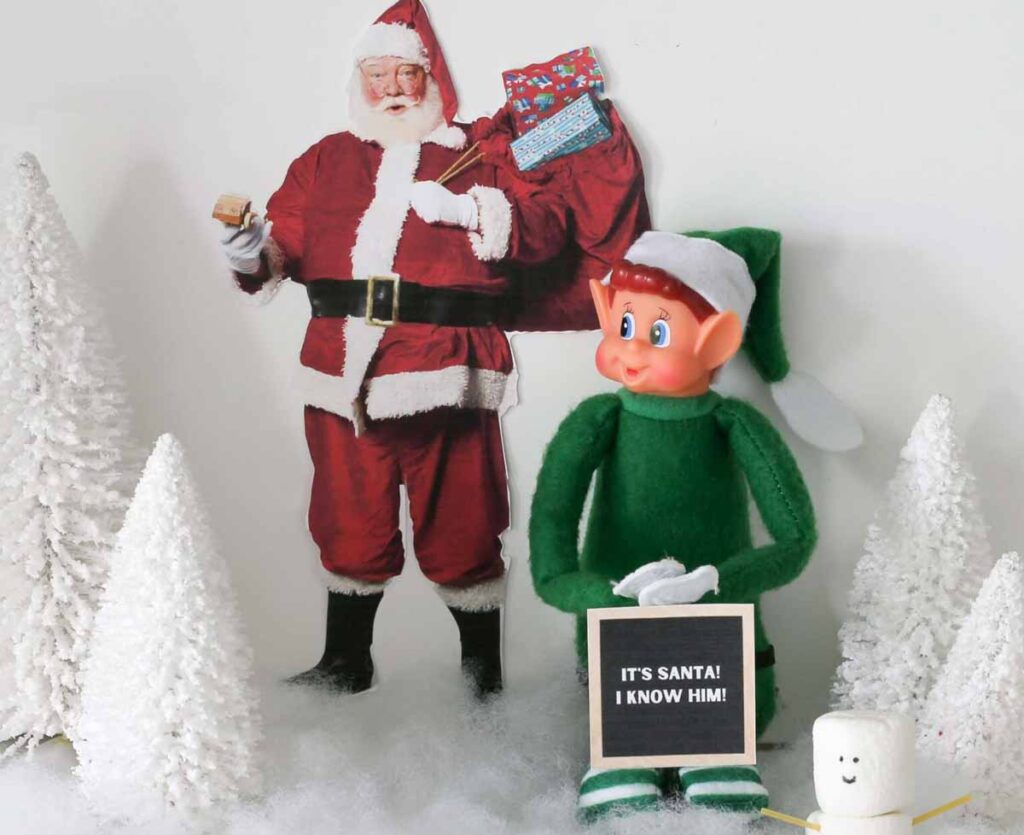 Remind your kids that their elf is in contact with the big jolly guy up in the North Pole with this simple little sign and cut out from Heathered Nest. Or, if you just watched Elf together (maybe during your movie night), they can relish the movie reference!
---
11- Secret Code Delivery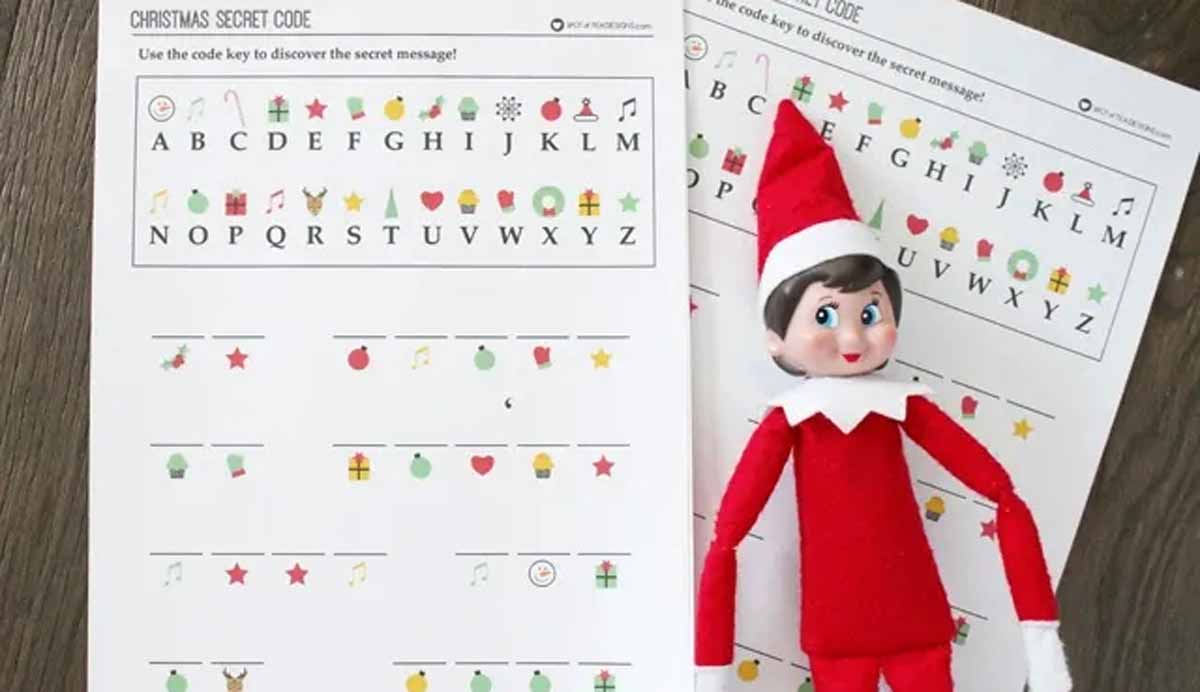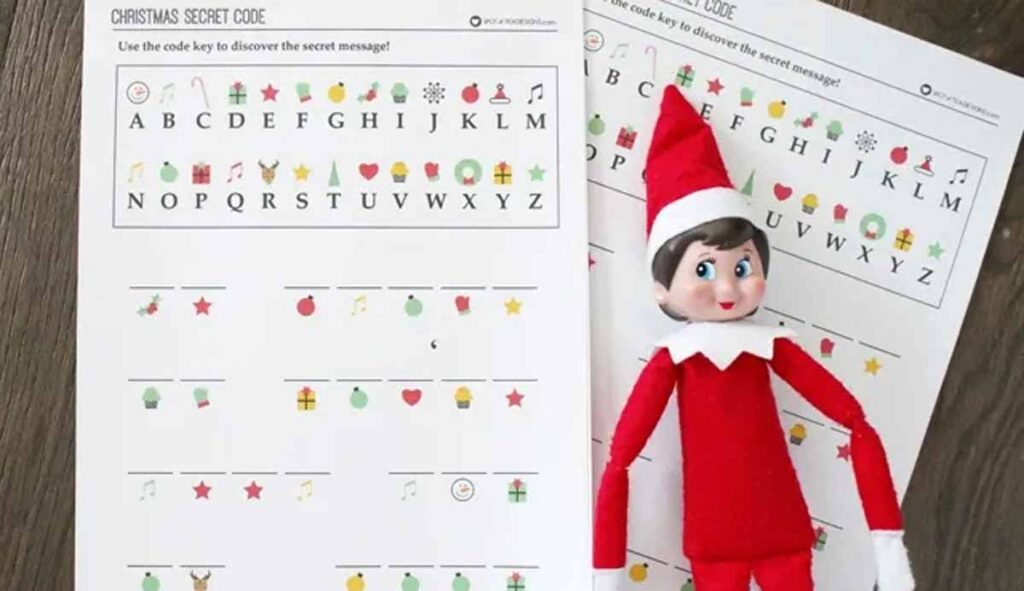 Have your elf delivery a coded message from Santa! These printables from Spot of Tea Designs can engage your kids' minds in a fun educational activity. Plus make them feel like extra special kiddos for getting a letter from Santa himself.
---
12- Elf Donut Delivery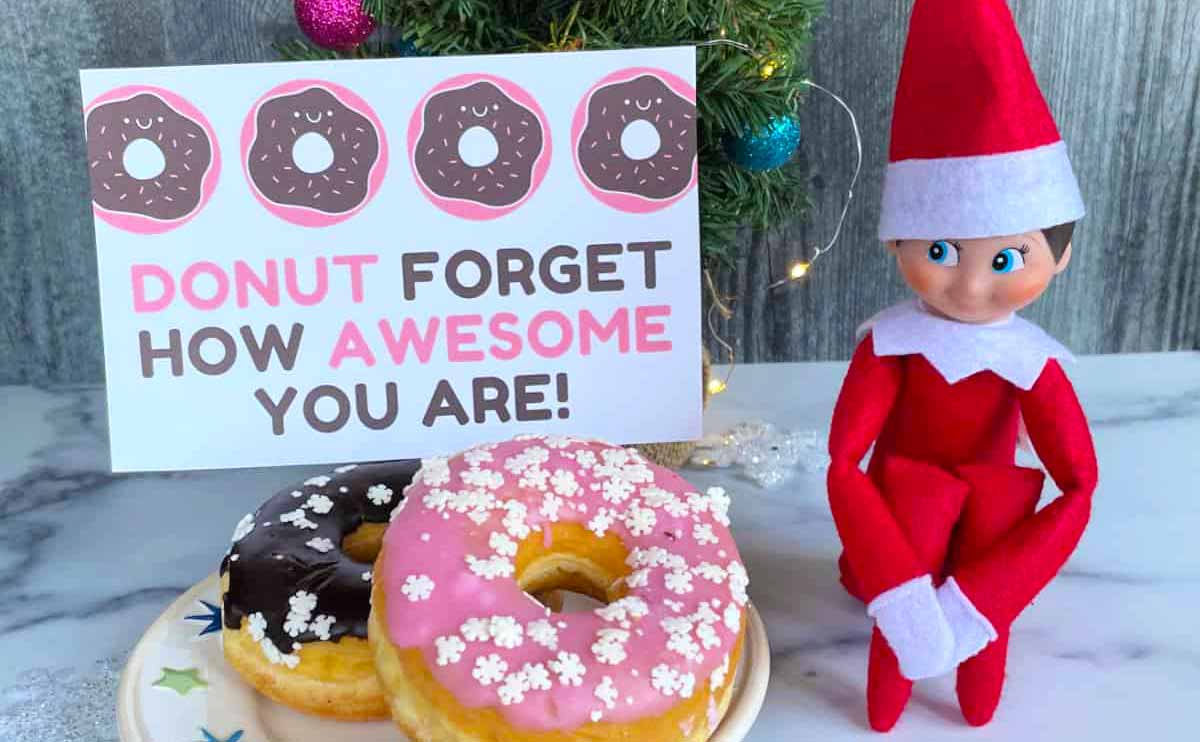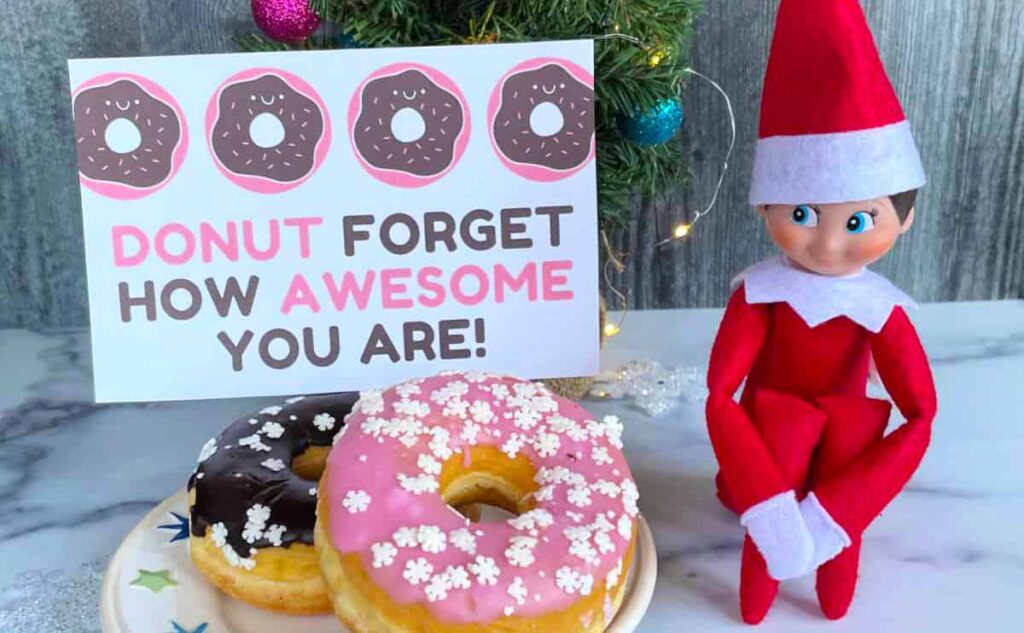 Want to reward your kids for being on the nice list lately? Have your elf bring them donuts for an extra sweet start to their day! This sign from Mama Cheaps is too cute to resist!
---
13- Activity Pages to do with Elf on the Shelf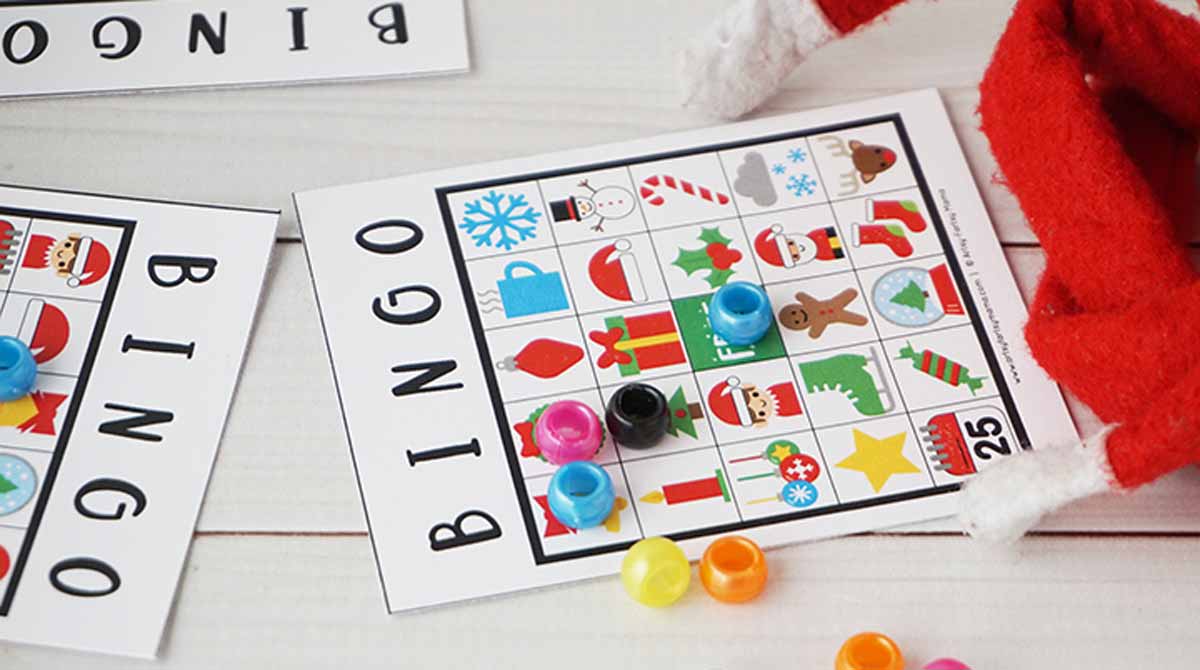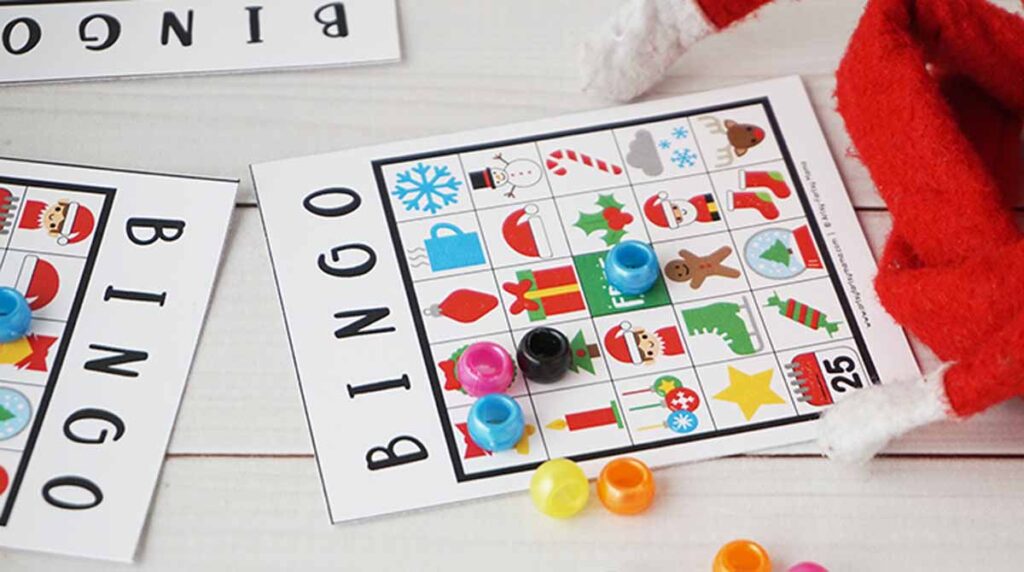 Need to keep your kids out from underfoot for a bit? Use these activity pages from Artsy Fartsy to keep them busy while you catch up on all your other tasks. Your kids will love the word scrambles, Elf on the Shelf coloring sheets, and more, all in elf size.
---
14- Free Printable Elf Activity Cards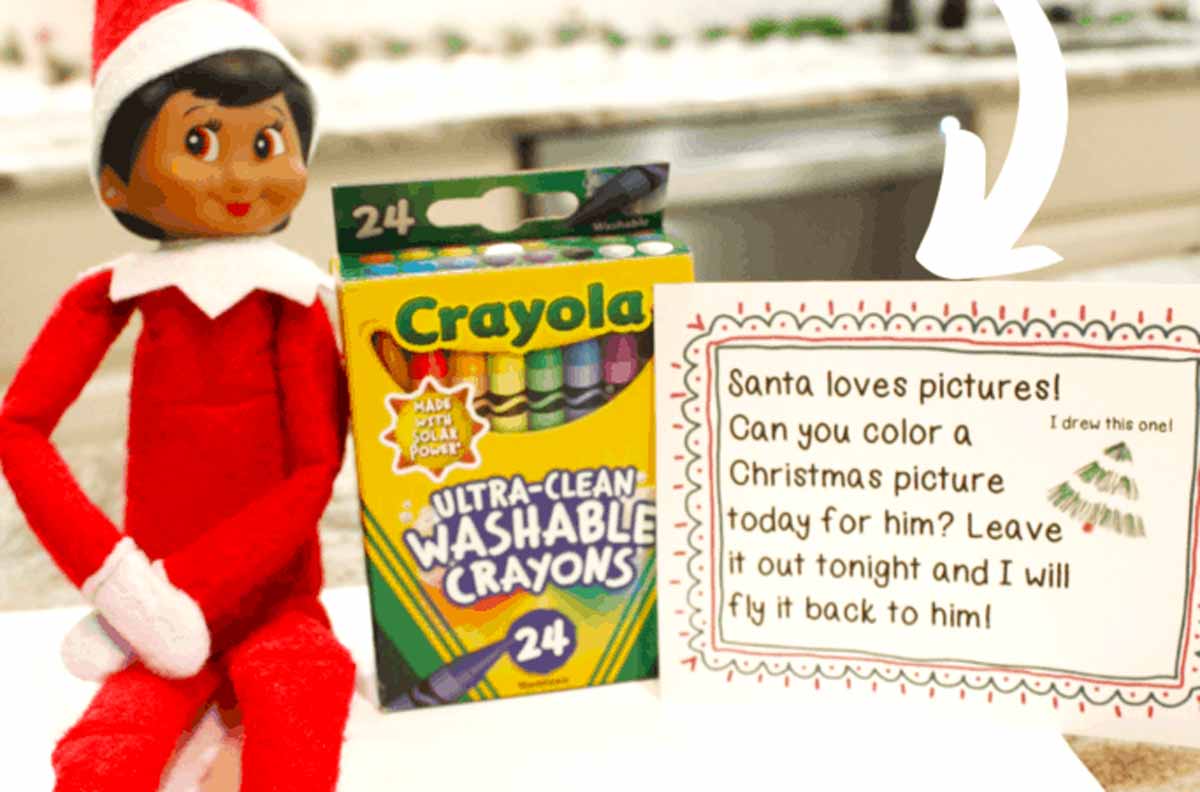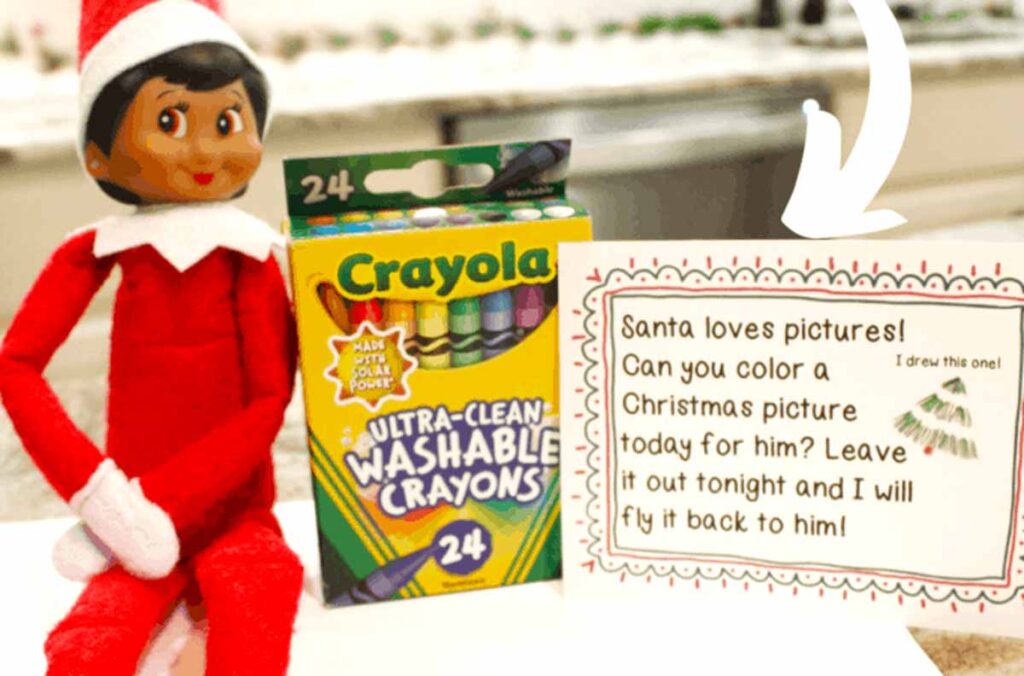 These activity cards from Little Learning Club will have your Elf on the Shelf taken care of throughout the whole month! They are all ideas for fun and good deeds to do with your Elf.
And you can use these free printable Christmas coloring sheets for the coloring activity.
You can either use each one, so you don't have to come up with any fresh ideas. Or just use one or two for days you are stumped with what to do.
---
15- Baking Elf on the Shelf Props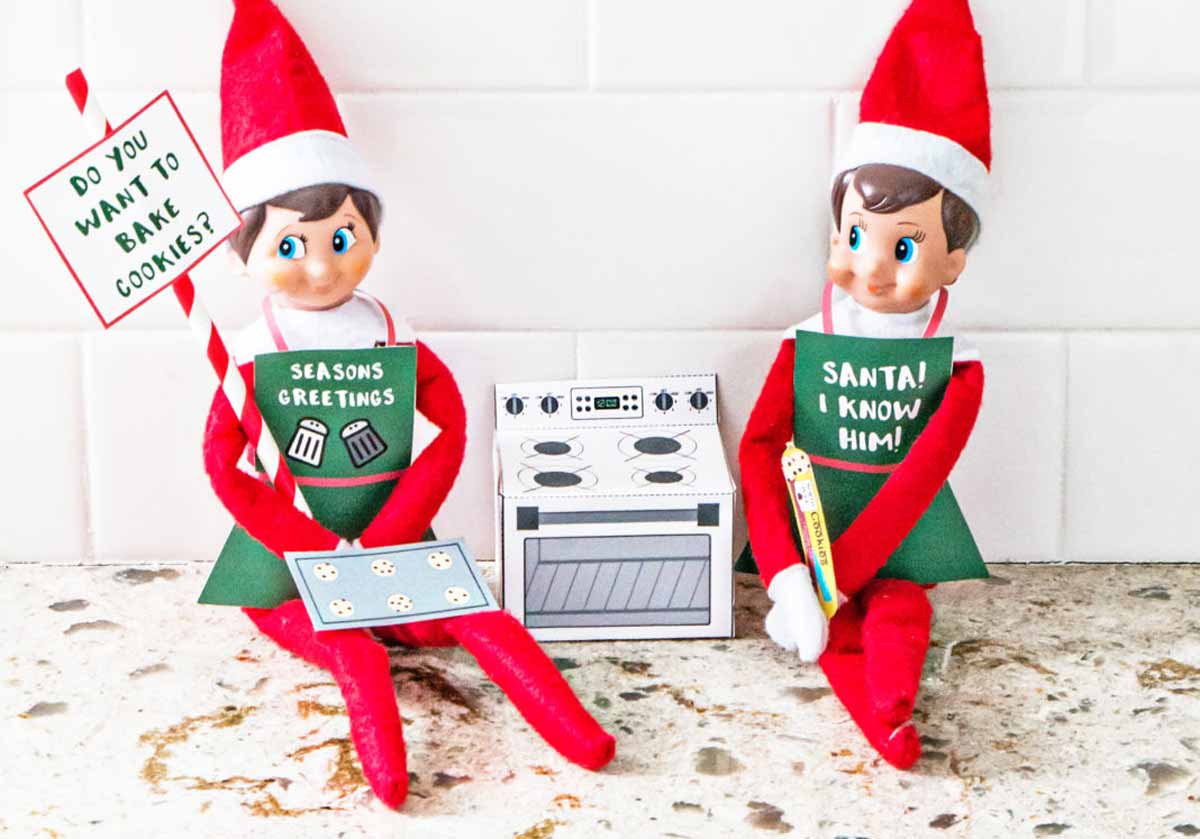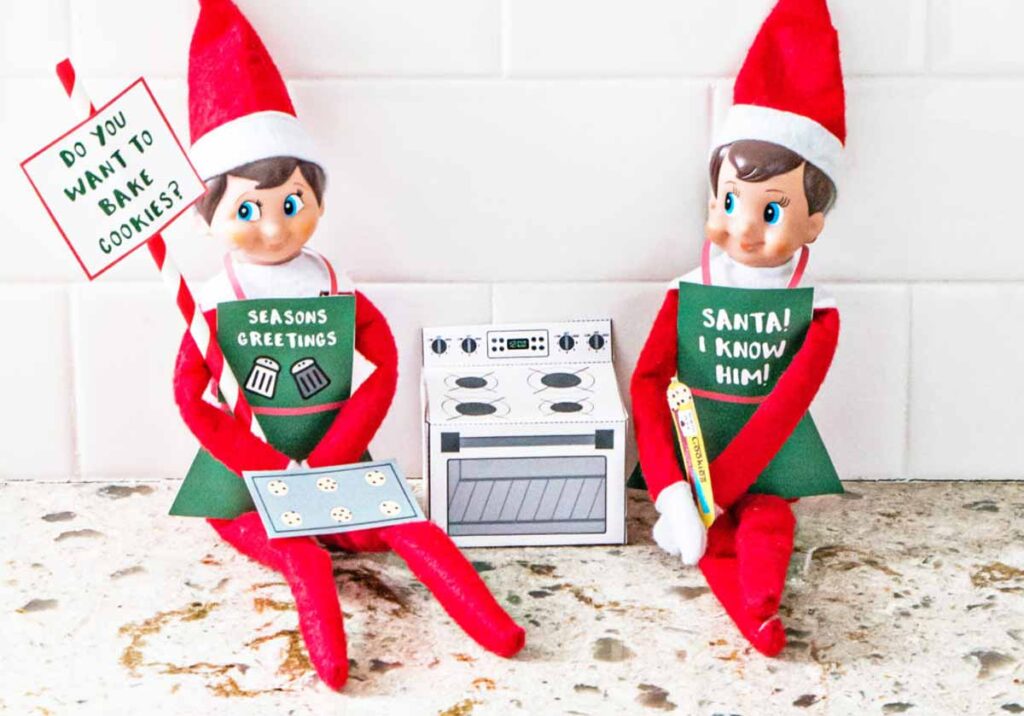 Here's a creative way to spend some quality time with your kids. Let your Elf on the Shelf announce a fun Christmas cookie-baking time! This great idea for both the kids and adults in your house is from Mom Envy!
---
Making your kids' holiday season special can be a challenge. But these free elf on the shelf printables will go a long way in enriching the Christmas magic.
Remember to download my planner for even more organization! Every little bit of organization helps during this hectic holiday season!
For more Elf on the Shelf ideas, be sure to check out my blog post 25 Funny and Easy Elf on the Shelf Ideas!
Looking for other creative ideas to engage your kids in the holiday spirit and loving the ease of printables? Try blessing your neighbors with an anonymous gift using these free "You've Been Elfed" printables.
Merry Christmas!