There are so many great reasons to have coloring pages for Christmas on hand.
Through the years, I have loved incorporating kids' special crafts or coloring pages for each holiday. And the Christmas season, with its sometimes long stretches of idle hours, is perfect for them. That's why I put together this book of free Christmas coloring pages, just for you.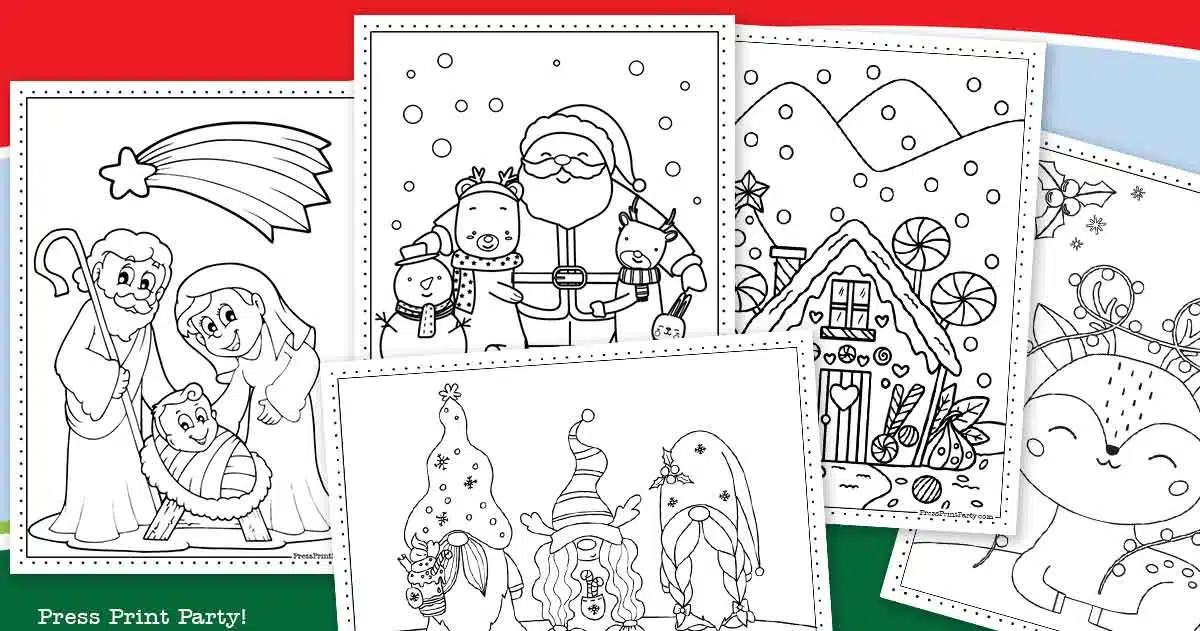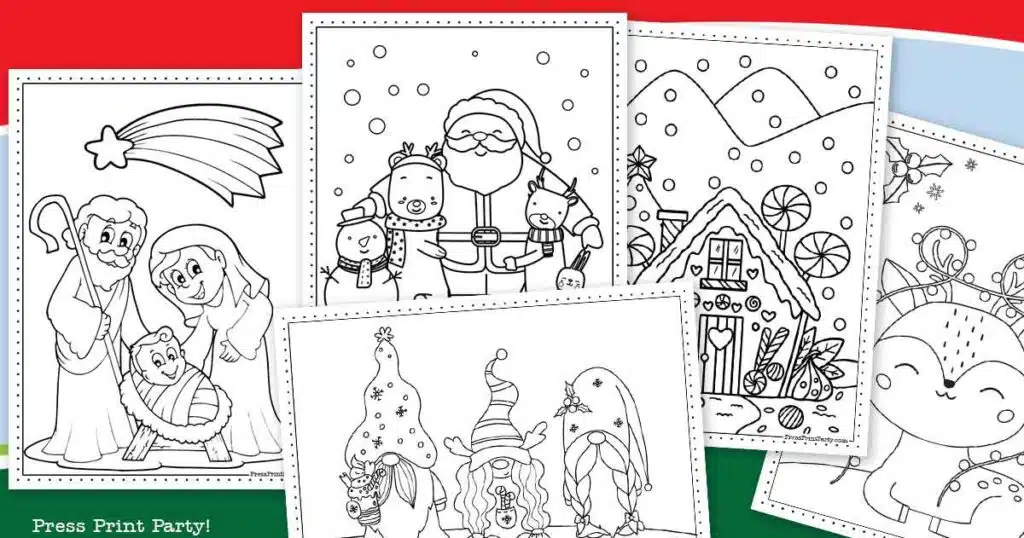 This post may contain affiliate links.
Of course, these free printables aren't only something to be used at home but can be a resource for a variety of parties and get-togethers during the holiday season. Any time you need an activity to occupy the little ones, coloring pages are great to have!
I hope kids of all ages will have a great time coloring up some holiday cheer with these free printable Christmas coloring pages.
---
The Benefits of Coloring Pages During the Holidays
Aside from the chance to see adorable designs, and the opportunity to see your kid's skill level, there are actually developmental and lesson-learning benefits that kids can glean from a simple coloring page.
Who knew?
First, coloring helps the development of fine motor skills which are necessary for activities like writing and tying shoes. The more practice the better!
Second, school-age kids are on winter break. We all love our kiddos and we love the additional time we get to spend with them while they're home. But sometimes you've got things you need to do! Laundry and dishes still need to be done in December and coloring pages can be a great way to get the kids away from screens and do something mentally stimulating while you're doing housework.
If we're being honest, sometimes the biggest barrier to minimizing our kid's screen time is that we have to come up with activities for them. Here's one you hardly have to think about.
A third benefit of these cute printable Christmas coloring pages is that it encourages some quiet, creative play. Puzzles are excellent and reading is wonderful but depending on their personalities, it can be challenging to get younger kids to practice playing, quietly on their own.
Whether you're prepping a holiday meal, wrapping presents, online shopping, or just taking a second for yourself, these coloring pages can help encourage independent play.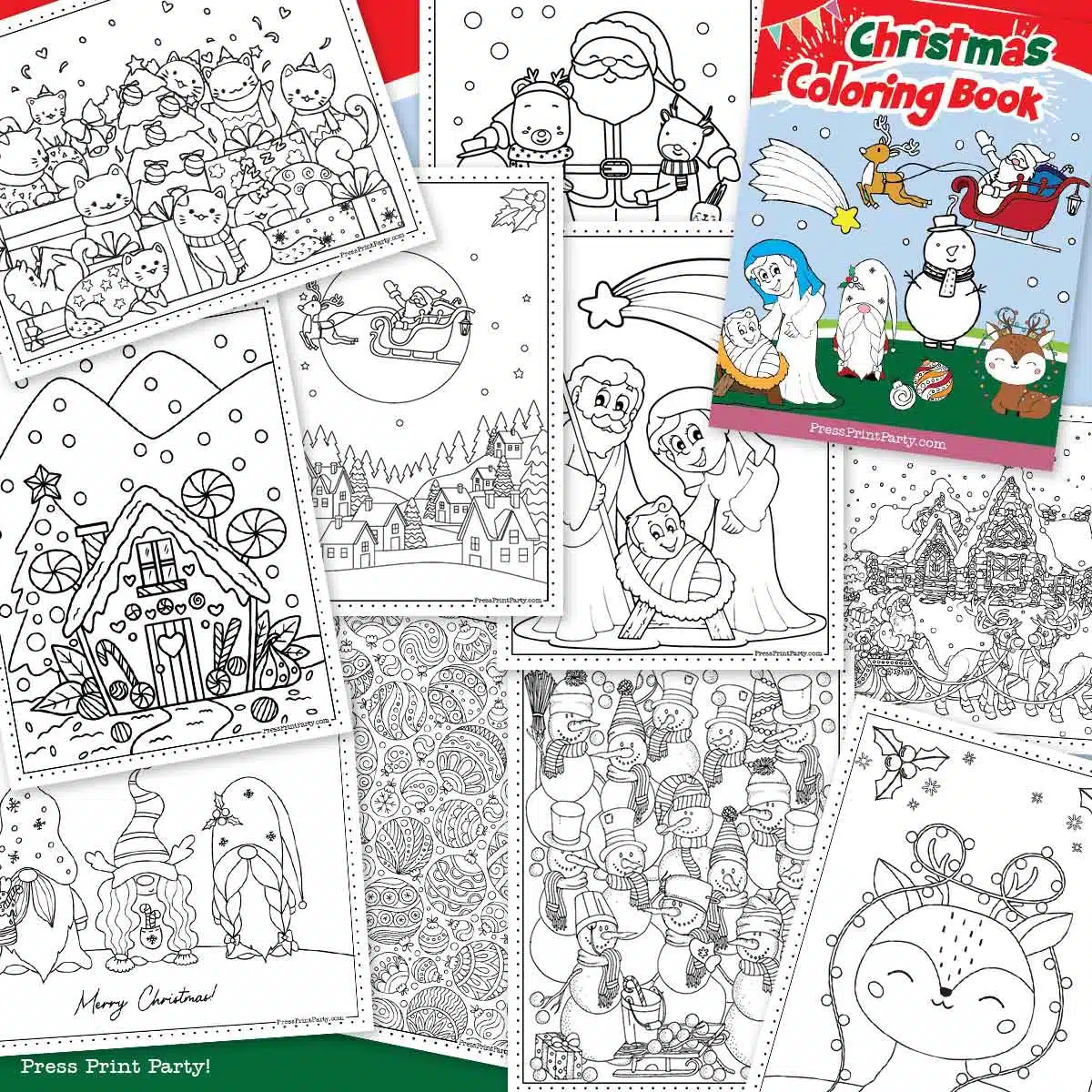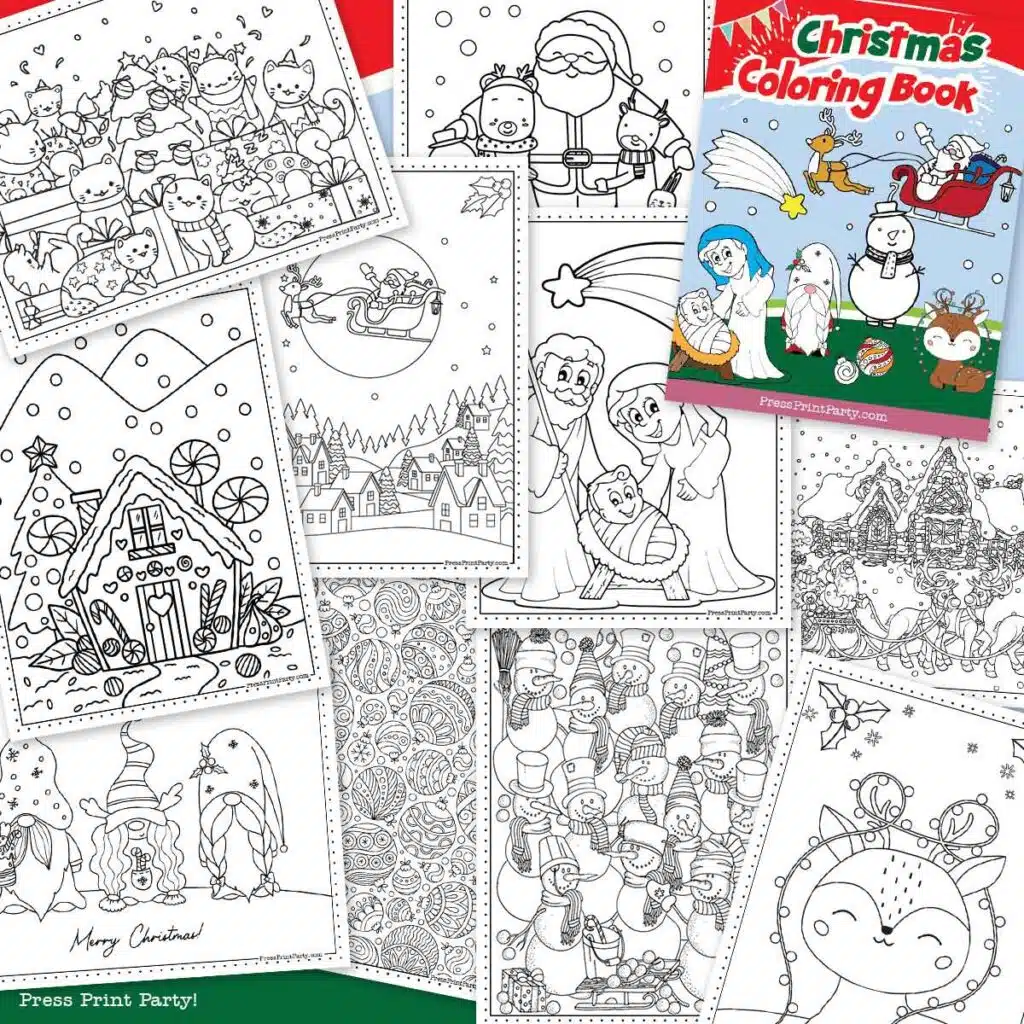 A fourth benefit is that kids can experiment with mediums like watercolor paints, coloring pencils, markers, and more. These experiences may help stoke a passion for art or just establish a creative outlet they can enjoy throughout their lives.
The fifth benefit is that you can teach your kids lessons or engage them in conversation through coloring. Pull up a seat and color alongside your kids for a special opportunity to talk to them.
You can use the coloring page themes to discuss the true meaning of Christmas or just to get a glimpse into their growing minds. The simple act of chatting with your kids helps them feel connected and cherished! It also helps remind busy Moms and Dads just how delightful the little people that live in their homes are!
I'm sure there are more benefits I could mention here, but I think you get the point. Free coloring pages are awesome. And Christmas pages are even more awesome!
---
FREE PRINTABLE COLORING PAGES FOR CHRISTMAS
Here are all the different coloring pages that you'll find in the Christmas coloring book pdf.
All are entirely FREE for all my newsletter subscribers!
I hope that you find these pages useful whether you are offering them as an activity at your holiday party, using them to occupy little kids, or coloring alongside your little ones.
Enjoy these great coloring pages for Christmas!
| | |
| --- | --- |
| | I'm such a sucker for zentangle Christmas mandalas. I just may have to print this coloring sheet of fun Christmas ornaments for myself. |
| | |
| --- | --- |
| | This classic gingerbread house is just waiting for someone to add their personal touch! |
This design with Santa Claus is just so cute and wholeso

me. Love the Christmas snuggles!
| | |
| --- | --- |
| | Some detailed designs might be better suited for older colorers. This image of Santa, his sleigh, and reindeer might fall into that category. |
| | |
| --- | --- |
| | Talk to your kids about the reason for the season with this cheery coloring sheet of Baby Jesus, Mary, and Joseph. What could fit the holiday spirit more than nativity scenes? |
| | |
| --- | --- |
| | If Waldo were a snowman, he'd be hiding in this coloring sheet for sure. |
| | |
| --- | --- |
| | Can this cutesie reindeer be my spirit animal? The Christmas lights really make the picture. |
Encourage the kids to color adorable Christmas cards
for distant relatives to remind them of their "gnome away from gnome."
| | |
| --- | --- |
| | I would love to see what color schemes kids go with for this! Don't forget the red-nosed reindeer! |
| | |
| --- | --- |
| | How about a bunch of Christmas kittens? Their little party hats and scarves are dying to be colored! |
---
If you enjoyed these cute pictures of Christmas scenes and designs and would like more free printable coloring pages, check out the list of posts below.
I've designed several coloring books inspired by different holidays and themes for you to download, print, and enjoy!
If you're looking to include these coloring pages at a Christmas party, be sure to check out my "Left Right Christmas Game." It's a great game to include for a party, and it's very easy to execute.
Don't forget to pin these fun coloring pages for Christmas: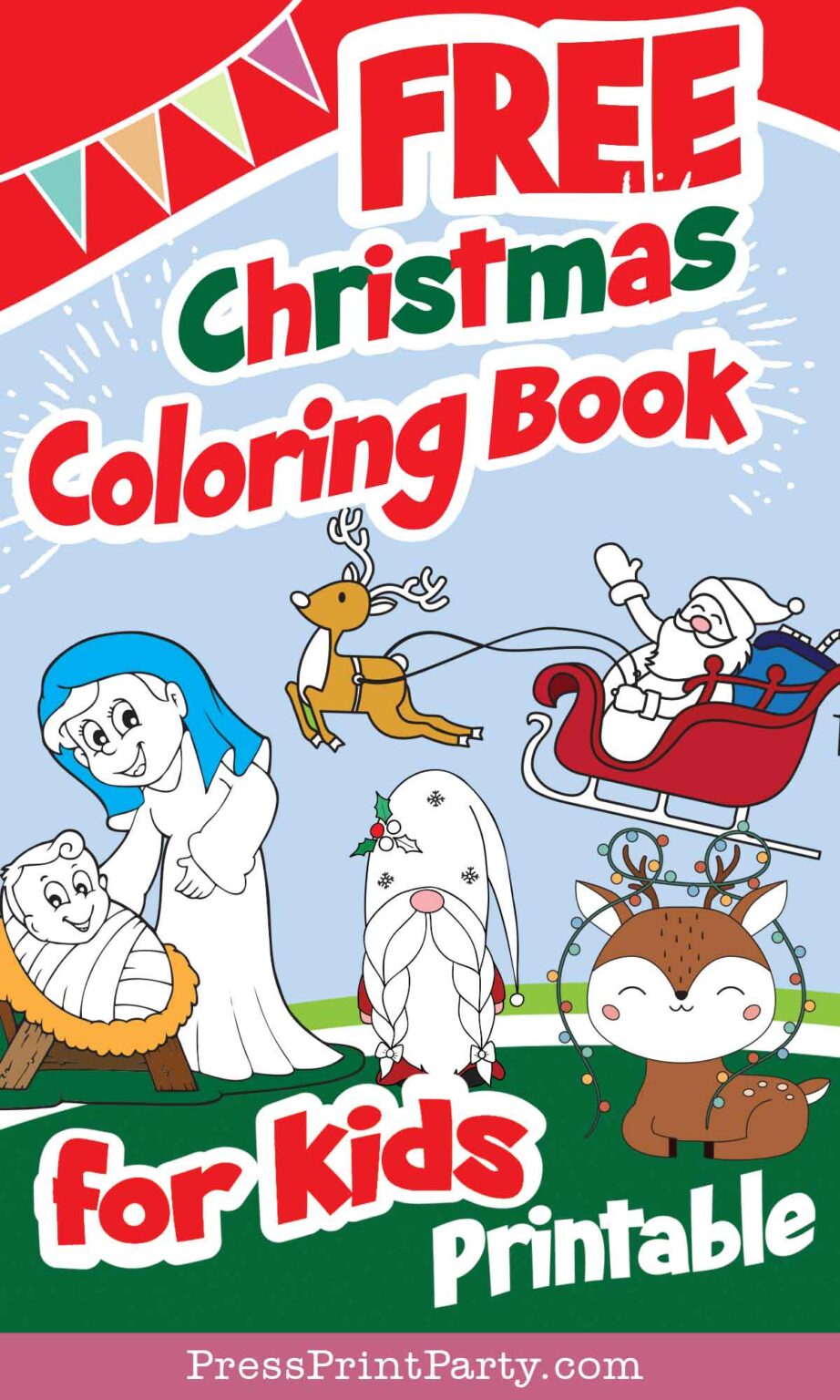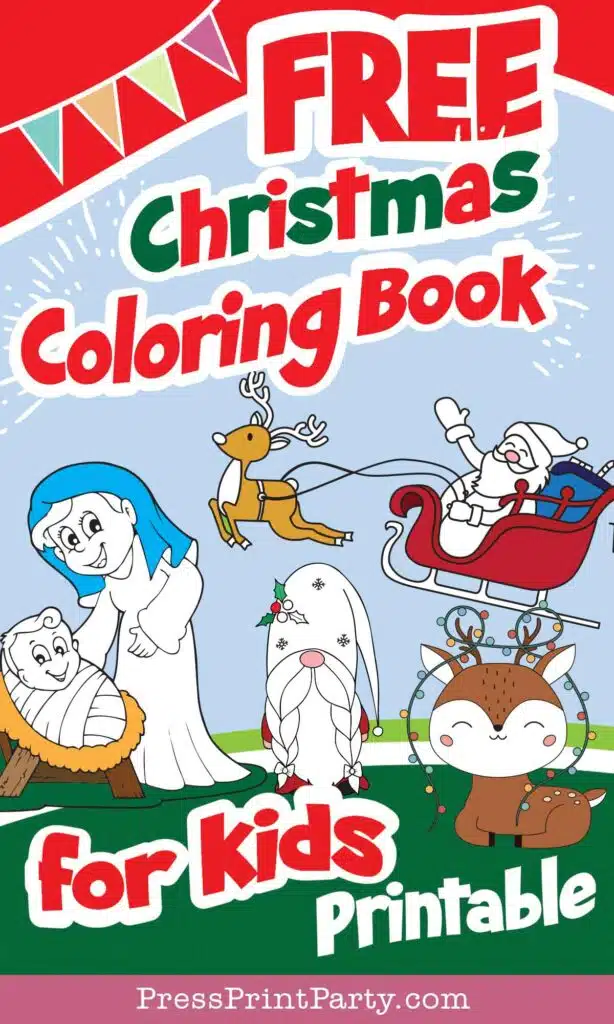 ---
Get Your Freebie Coloring Pages for Christmas:
If you've already subscribed, you can get the password from the bottom of any email I send and go directly to the Free Downloads Library.
Check out our Christmas printables