Before we dive deep into these recipes (and come out starving), let's talk about other Christmas party needs: a great party punch, classic Christmas movies playing in the background, and the Left Right Christmas Story game.
You might be thinking, "We've never included any of these in our Christmas parties before, and they've been great."
Here's the trick, once you start, you can't stop.
Your guests will arrive and say, "No Christmas punch this year?" or "When are we playing the Left Right game?"
So this is your chance. Decide now.
I'm warning you. Don't add one of these items unless you are willing to commit to it year after year or suffer the consequences of disappointed guests.

Either way, in order to fuel the merriment your party will need a variety of finger foods and the best appetizers you can make.
Even though this list does include 100 recipes, I recognize that when you are on the hunt for the perfect appetizer, you may need an absurd amount of options.
So, you can also visit my list of 15 Fancy & Easy Party Appetizer Ideas You Only Need 5 Mins to Make and my 19 Christmas Tree Appetizer Recipes post. There is some overlap between this post and those but there's also a bunch of original recipes.
Many of these festive starters could easily be the main meal at a holiday dinner.
---
Christmas Charcuterie Boards
Charcuterie boards are edible artwork. It's that simple.
With some planning and intentional arrangement of simple ingredients, pantry staples become masterpieces. Don't let trying to find the perfect combination of foods scare you away from including a charcuterie board in your holiday hors d'oeuvre line-up.
And to help you, I've created step-by-step instructions for creating a beautiful charcuterie board so that anyone can become a bona fide food artist.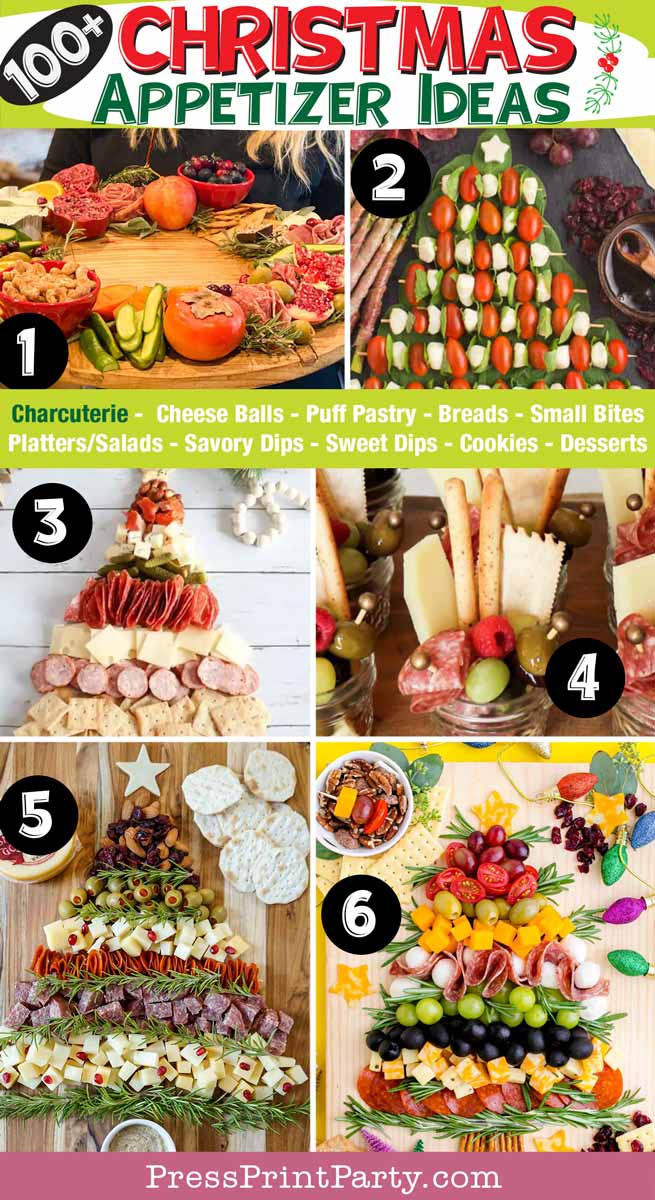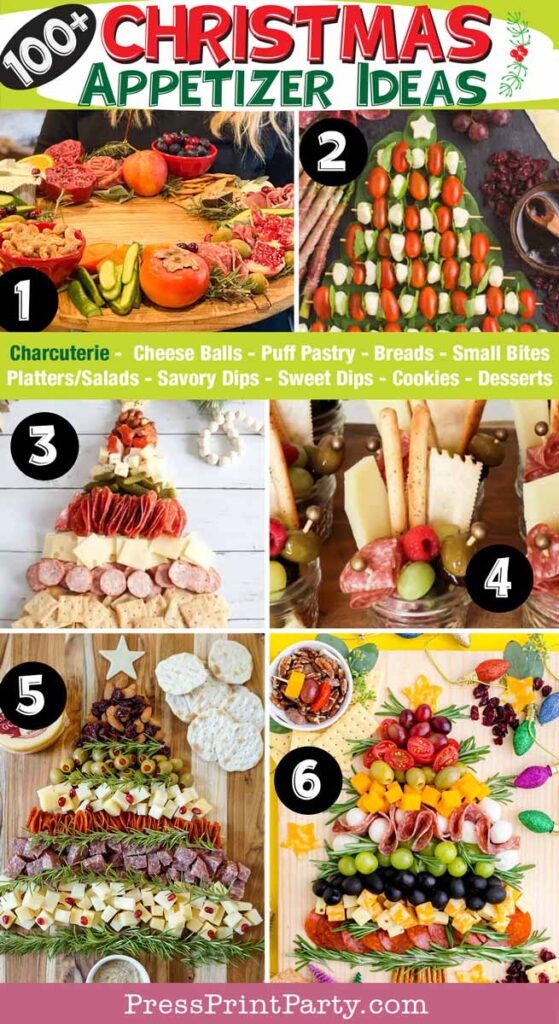 ---
Festive Cheese Balls appetizers for a Christmas party
Would it even be the Christmas season without this classic appetizer, the Cheese Ball?
There are so many different ways to combine cheeses and seasonings.
Top it off with some extra cheddar cheese or mozzarella and surround it with crackers, and you've got yourself the perfect finger food.
Your Christmas dinner guests will simply not be capable of turning down these cream cheese treats.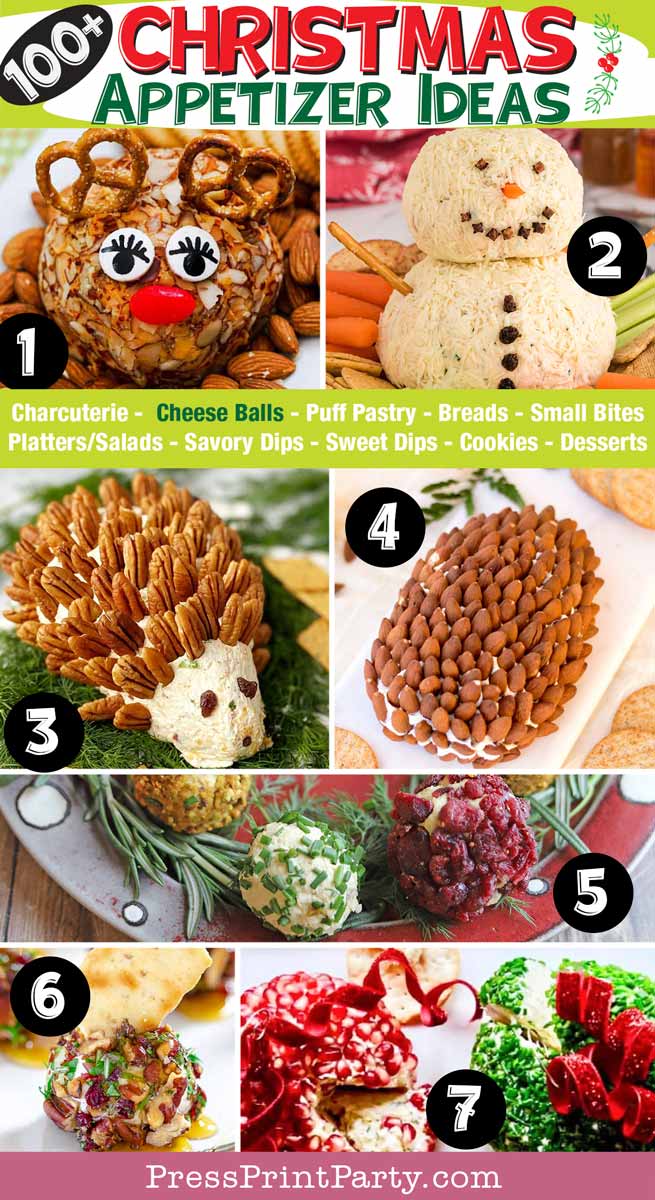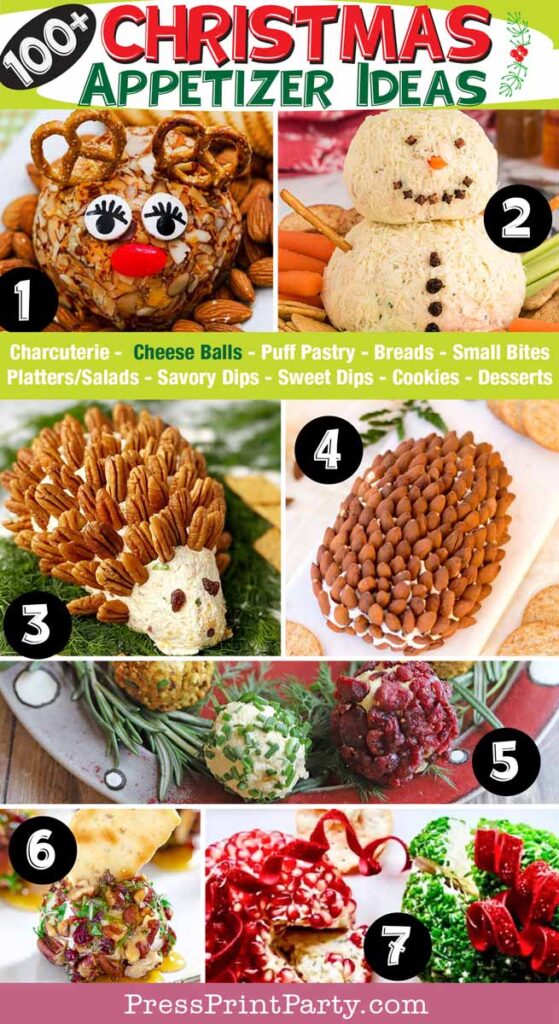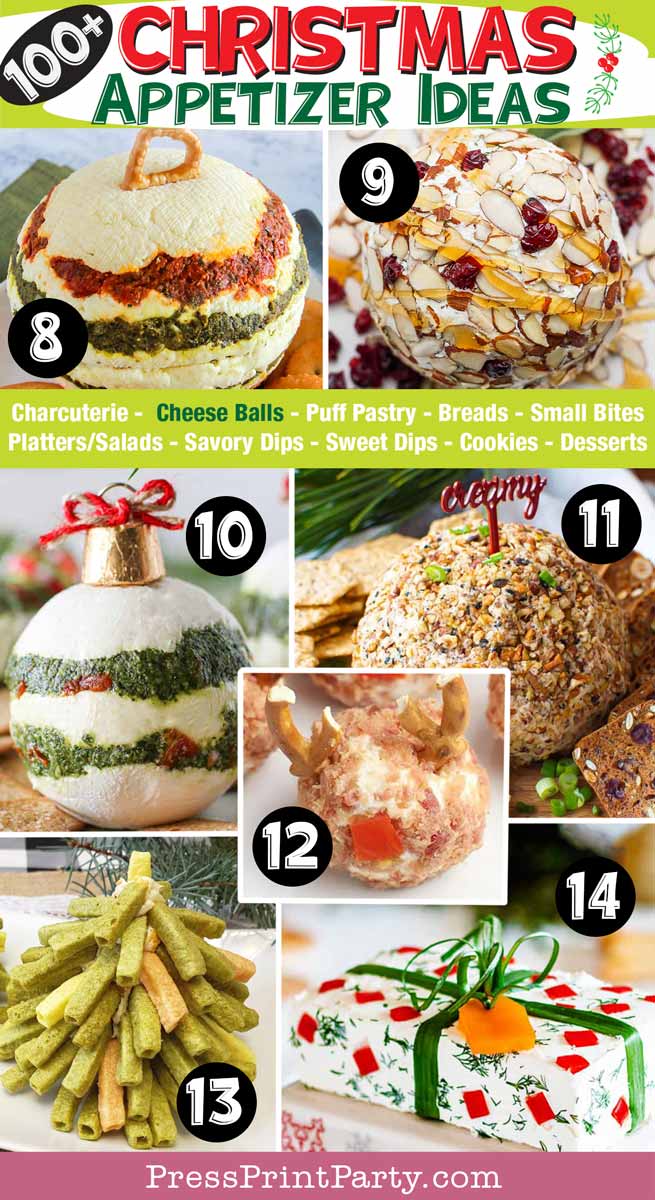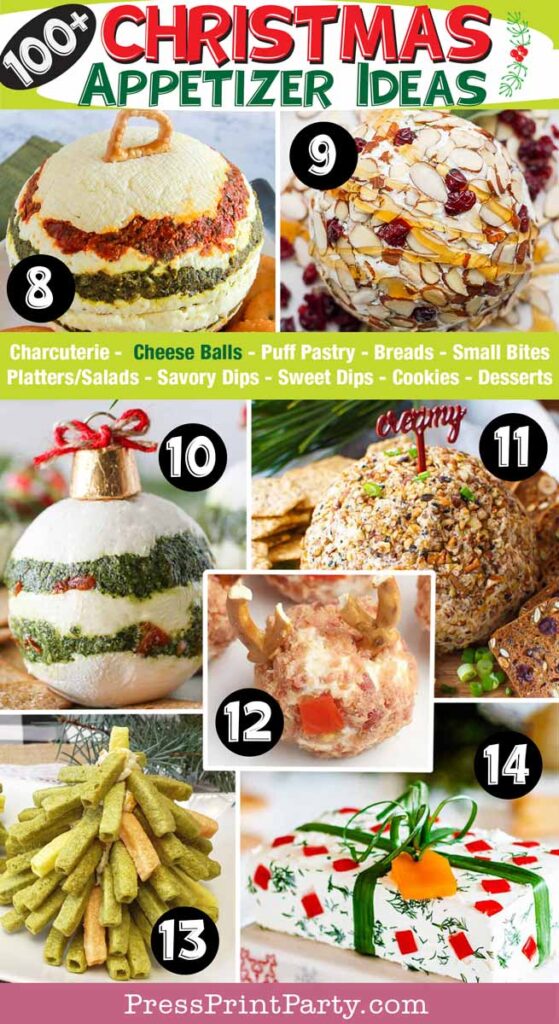 ---
Christmas Appetizers with Puff Pastry
Whether you're looking for savory recipes, a bite-sized snack, or easy Christmas appetizer ideas, you're likely to find something in the puff pastry section.
I personally believe some of the best appetizers start with puff pastry because you can fashion such cute Christmas appetizers out of it and store-bought puff pastry makes these kinds of appetizers so easy to make.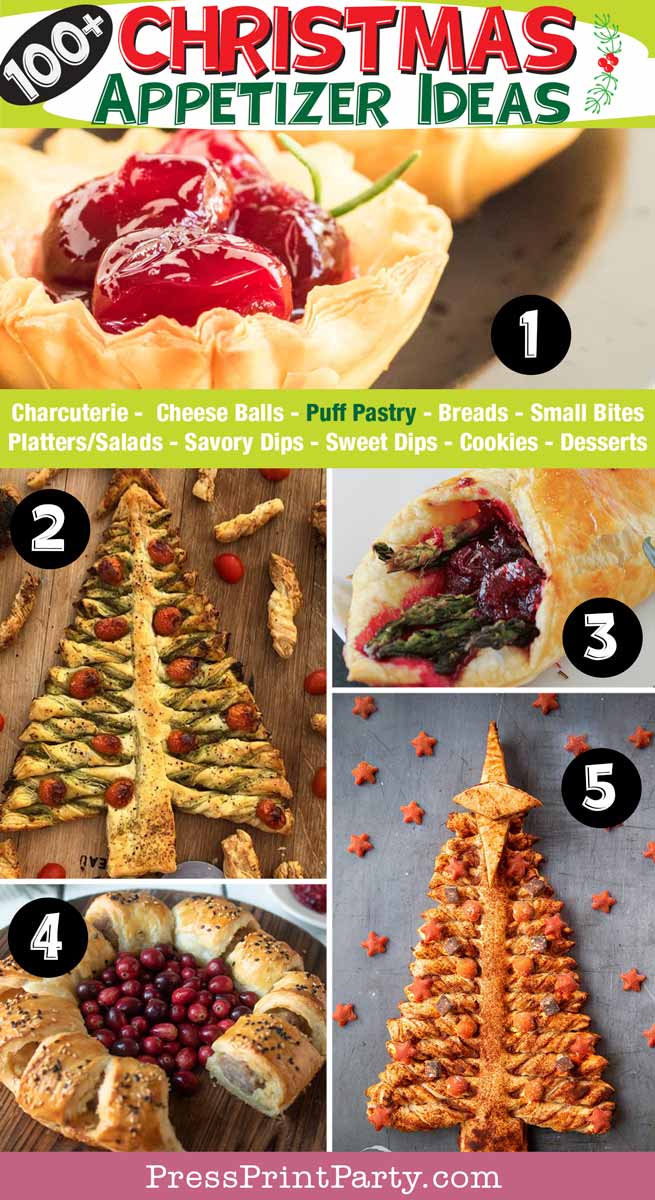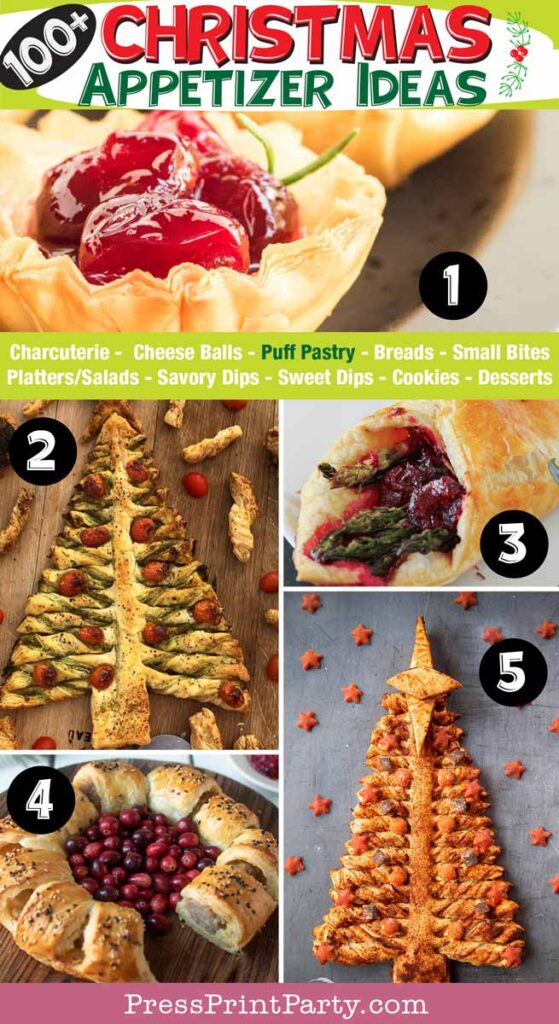 ---
Christmas Appetizer Ideas with Bread
Appetizers that include bread are great for holiday parties because they can counteract a Christmas cocktail or two, and they satiate without being overly filling.
I suggest not reading these delicious recipes on an empty stomach. It will be impossible to resist. You'll buy the ingredients for three. You'll make two and you'll eat all of one.
And then you'll feel sick……and ashamed.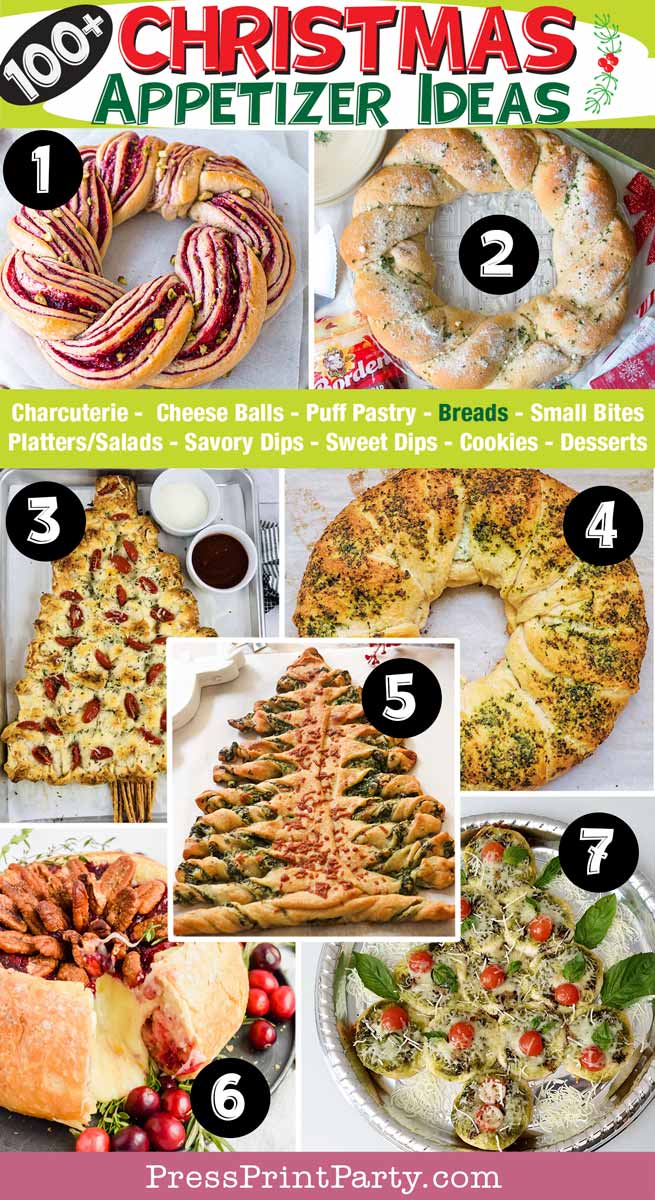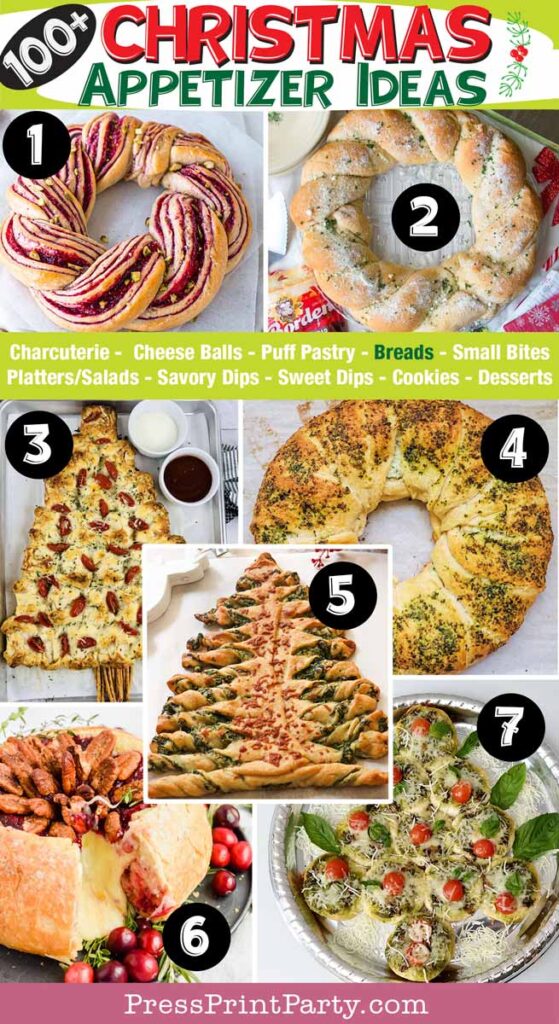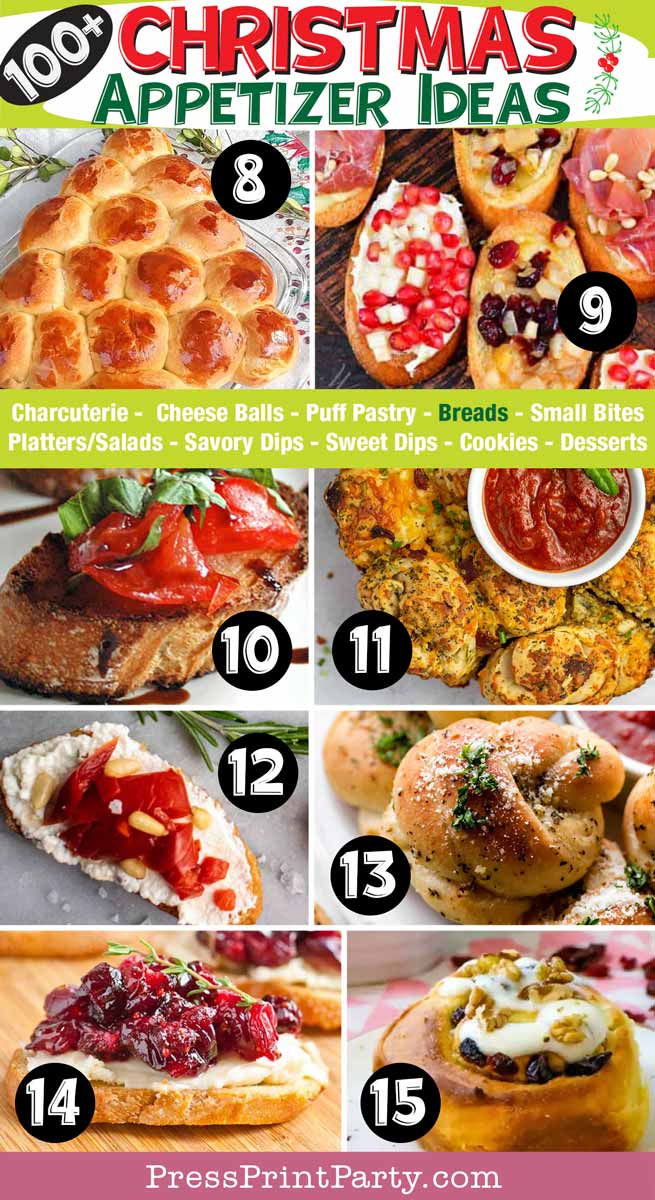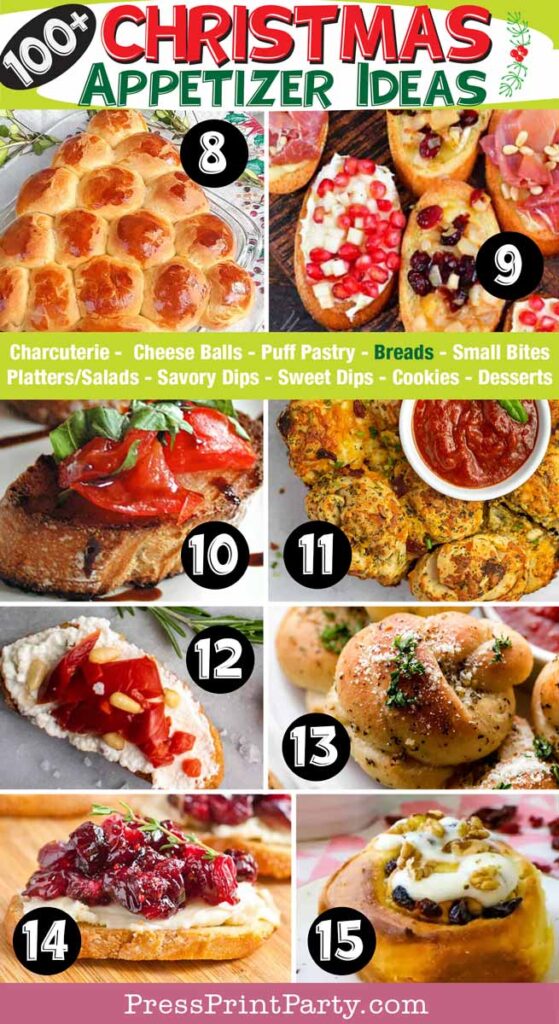 ---
Small Bites Appetizers for a Christmas Party
This category holds a special place in my heart because of my own bacon-wrapped dates recipe, which I've included.
The sweetness of the dates and the saltiness of the bacon is the perfect combination, but it also reminds me of the legend my mom used to tell me.
She said the indentations in the date pit were teeth marks from Baby Jesus. It's those kinds of stories that make Christmas appetizer recipes part of the family tradition.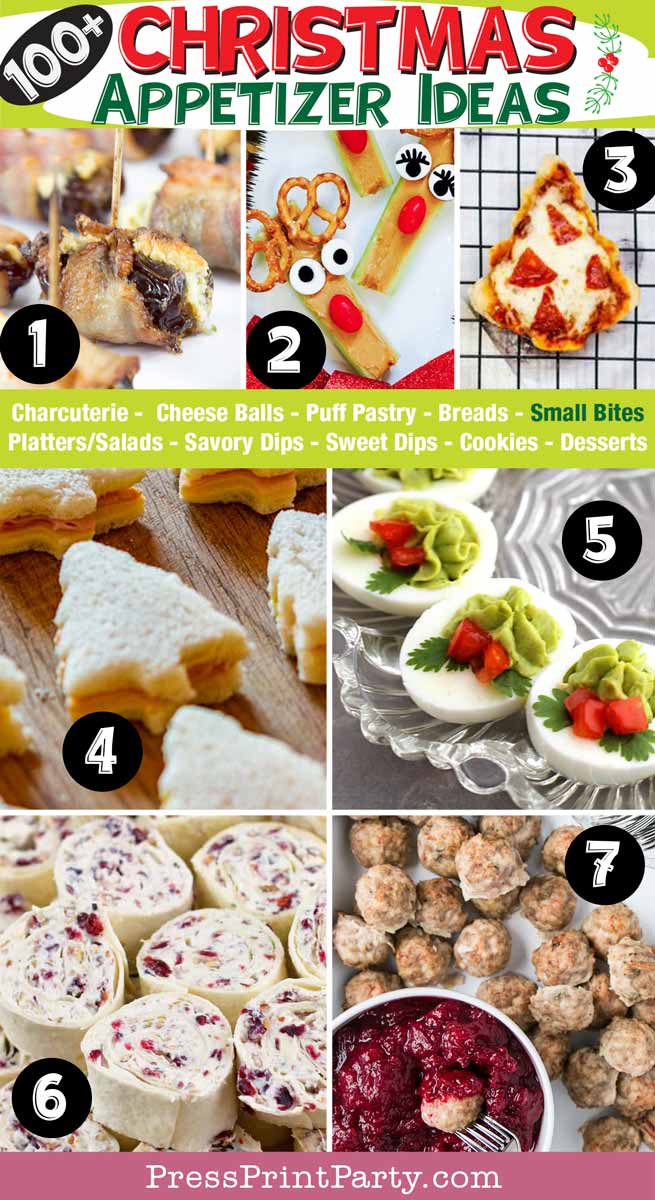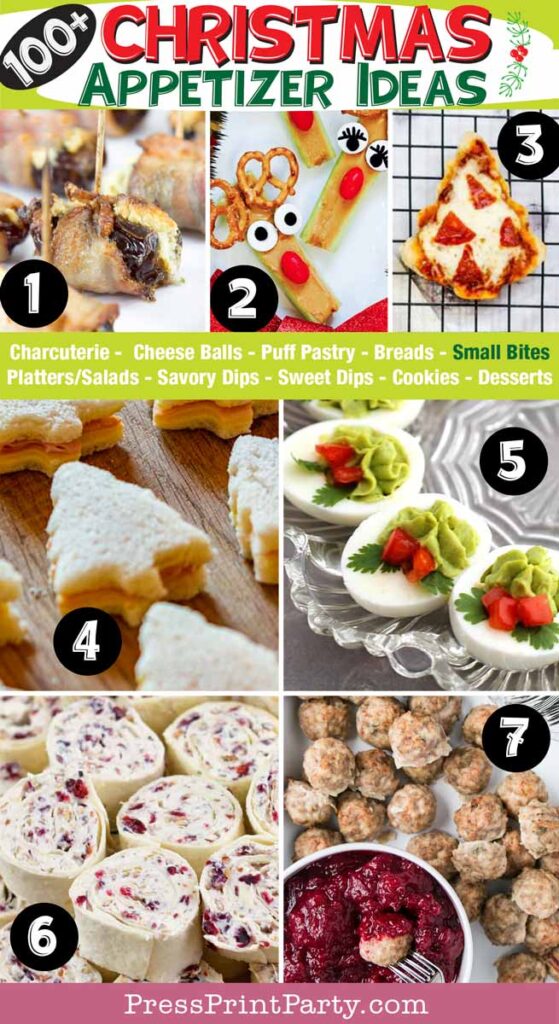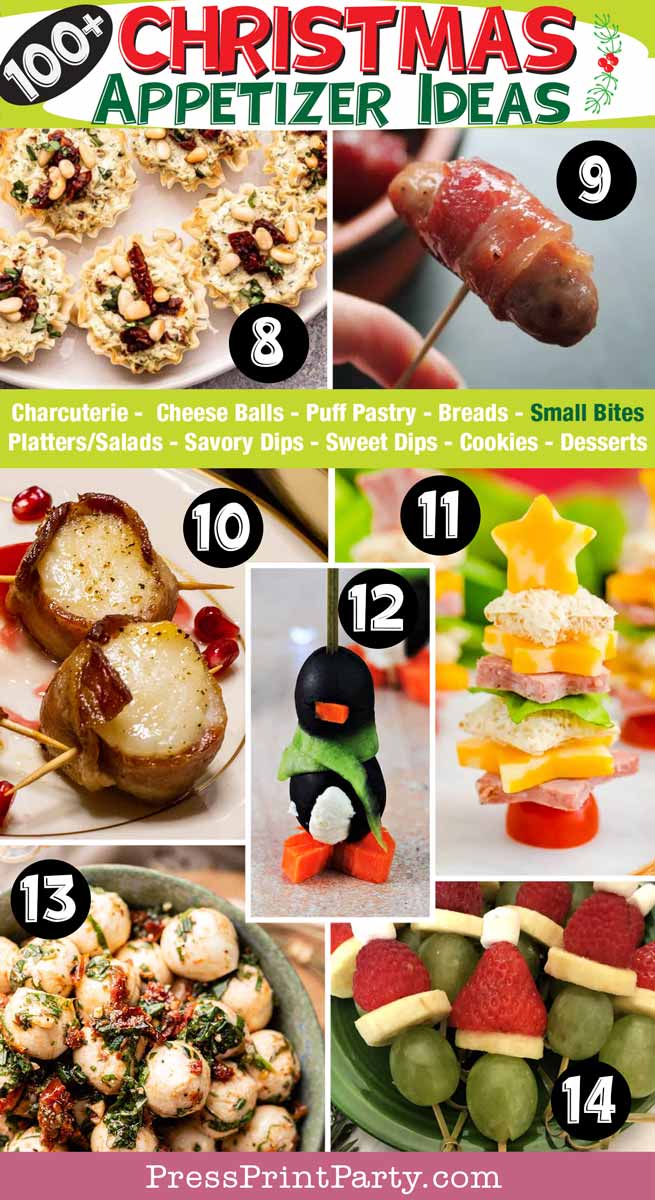 ---
Creative Christmas Veggie Platters and Salads
If you're looking for healthy Christmas appetizers that take on a cute holiday shape, just make a Christmas tree veggie tray. It requires a little effort, but it might tempt kids to eat more veggies.
It's also fun to present a salad in a fun way and they can help you feel less guilty about the six pounds of sugary treats you ate.
Second, salads have the ability to highlight seasonal produce which really gives the dish a festive touch.
Third, they are the queen of easy holiday appetizers. No baking or cooking necessary.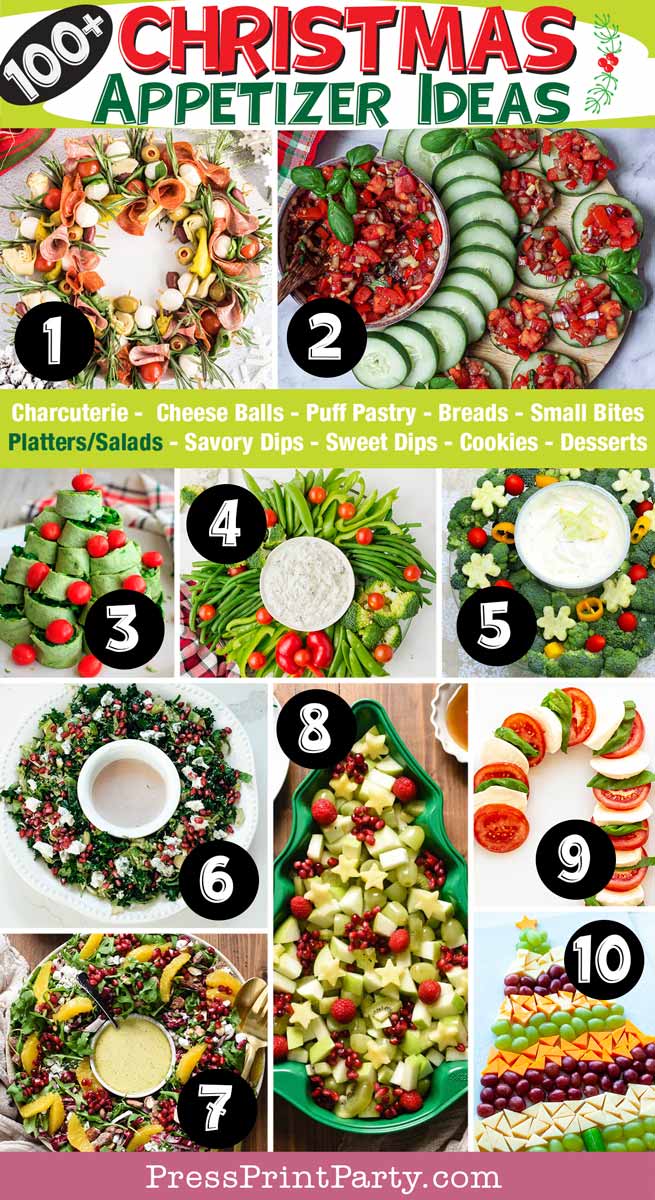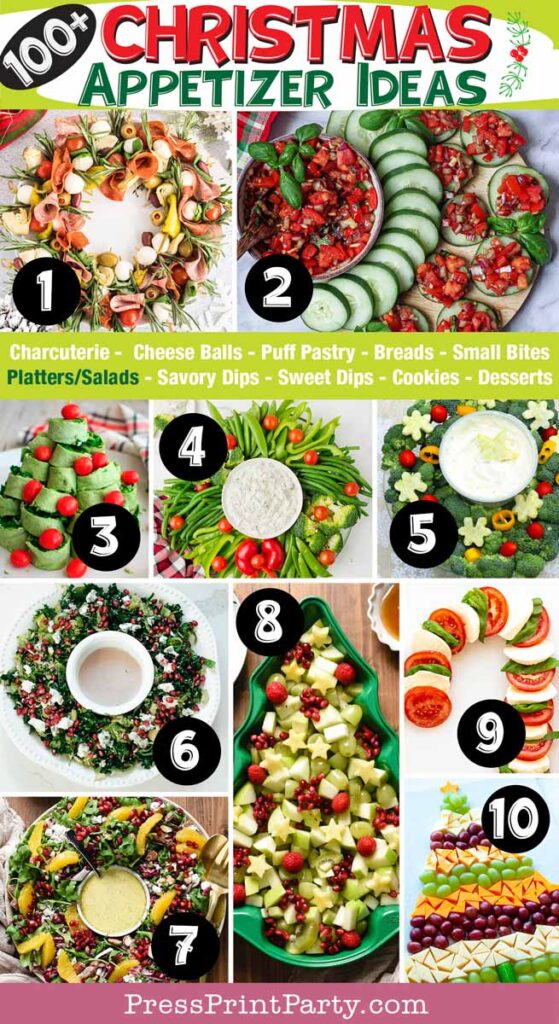 ---
Savory Dips for your Christmas Buffet
Savory recipes for dips and Christmas parties are good friends; they go way back.
In fact, didn't one of the wise men bring Baby Jesus and his parents dip when he was born? Or maybe I'm confusing spinach artichoke dip with frankincense and myrrh… 🤷‍♀️
As you'll see in the next category, there is also a plethora of sweet dip recipes to choose from.
However, I believe festive starters need to maintain a balance between sweet and savory recipes. You don't want too much of either one.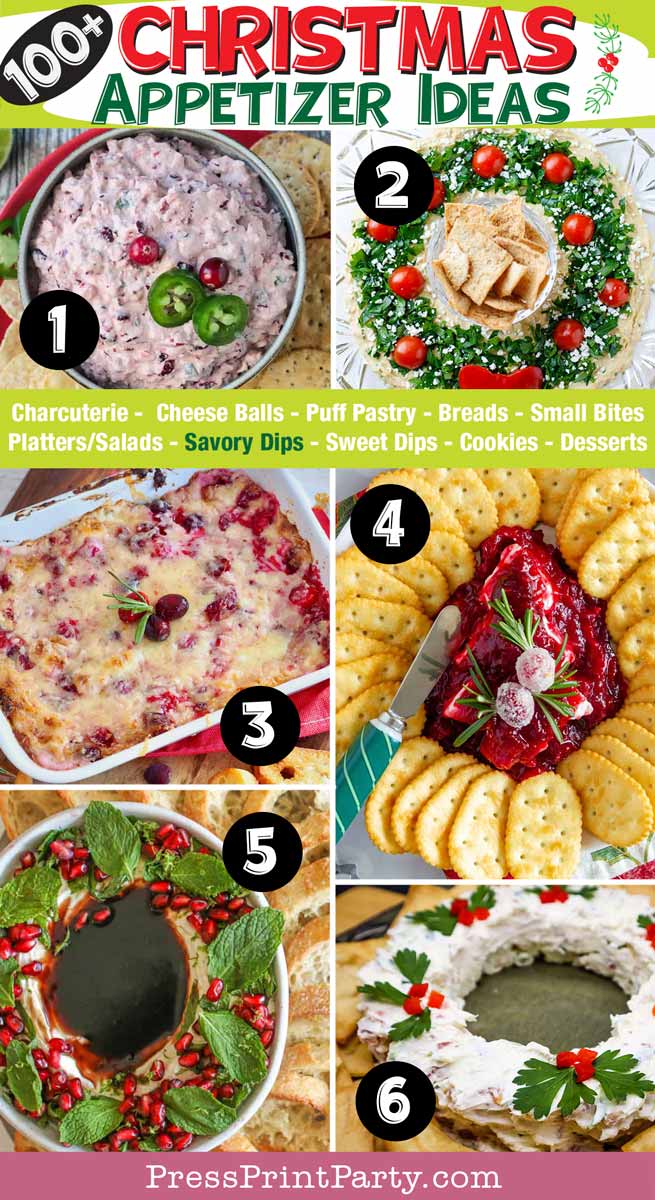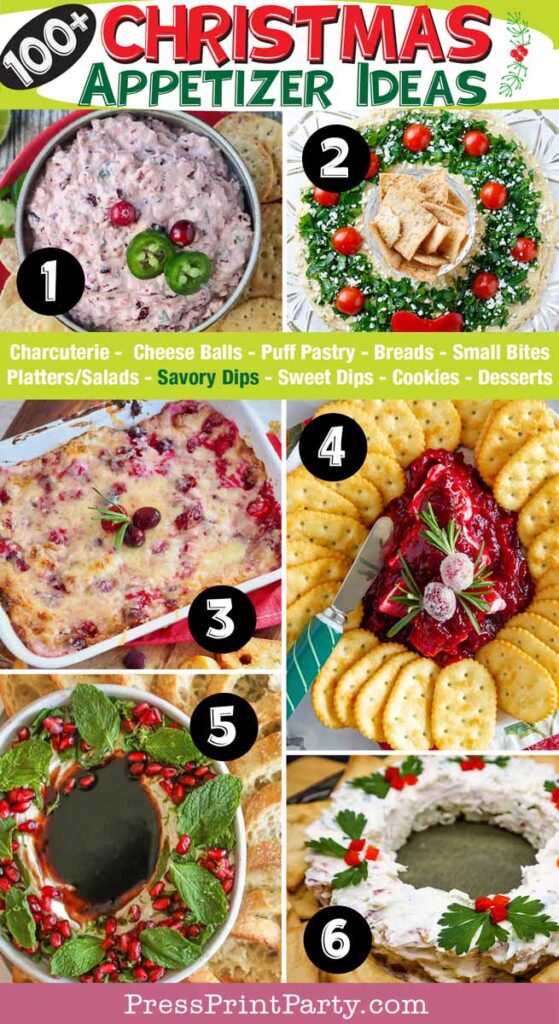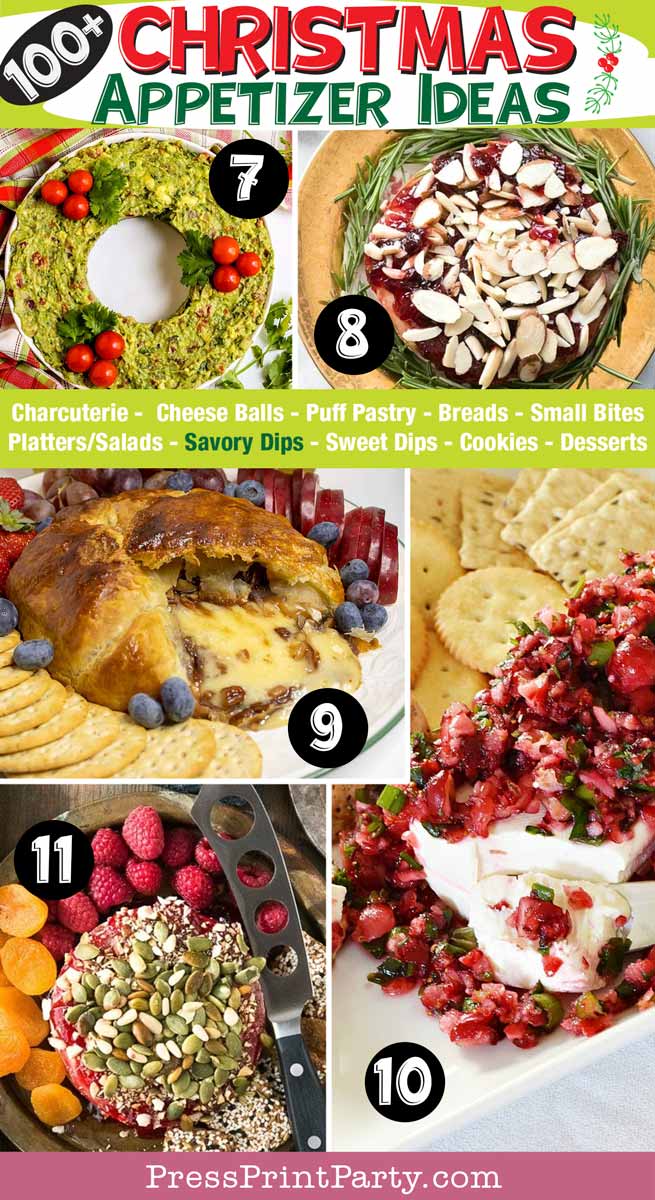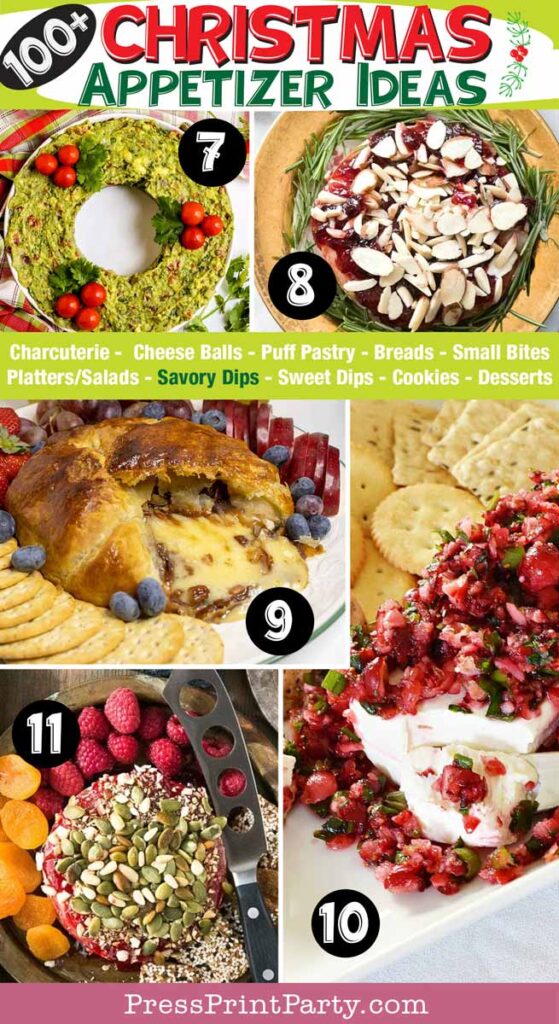 ---
Sweet Dips for the perfect Christmas Buffet
Every delicious appetizer in this category screams Christmas season. While I don't see sweet dips very often at the parties I've attended, after reading these easy recipes, any one of them would be a welcome addition to my table.
These recipes could easily join the easy holiday appetizers category with the help of a food processor.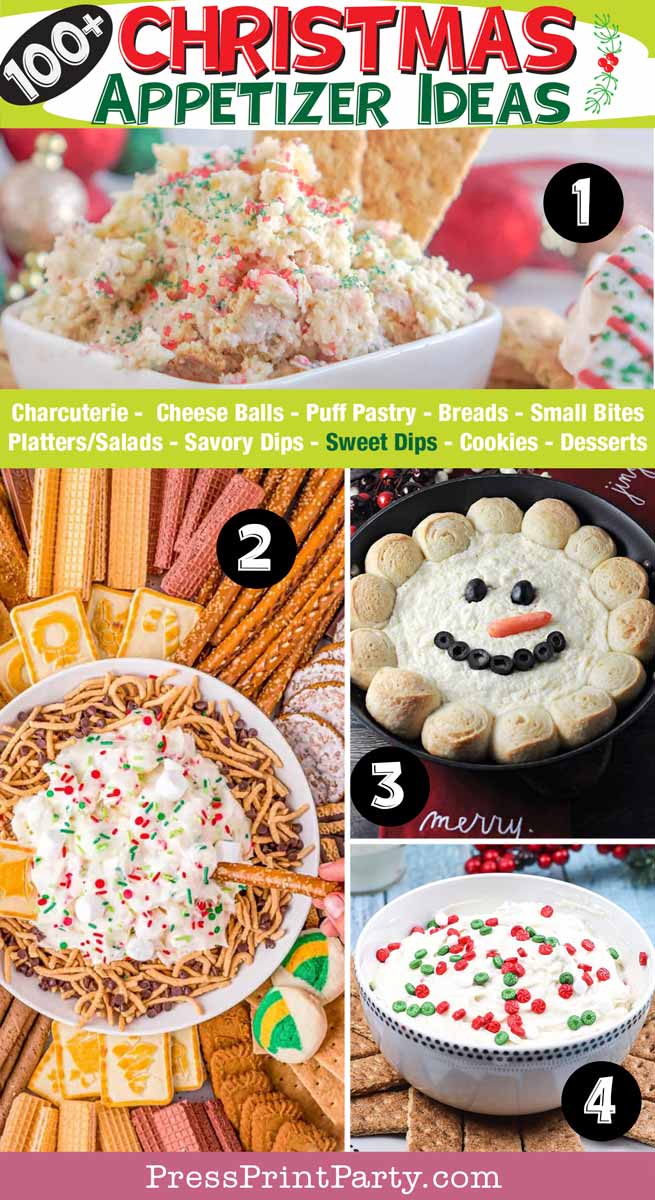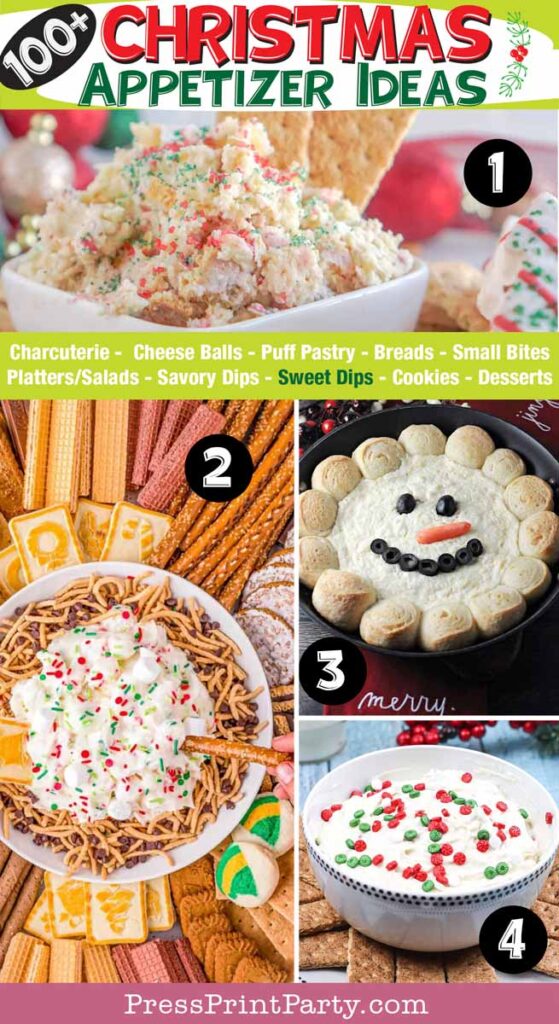 ---
Yummy Christmas Cookies
I know, now we've wandered into the sweet stuff that would not typically be called appetizers.
But you know and I know that cookies are a must-have item for a Christmas buffet.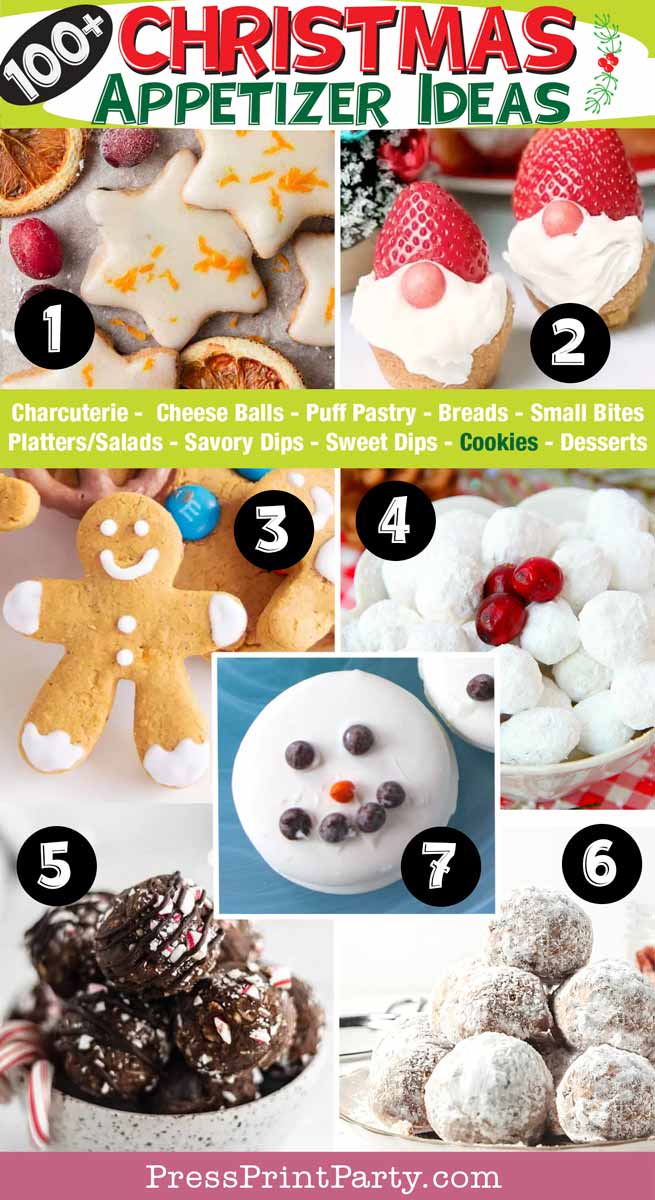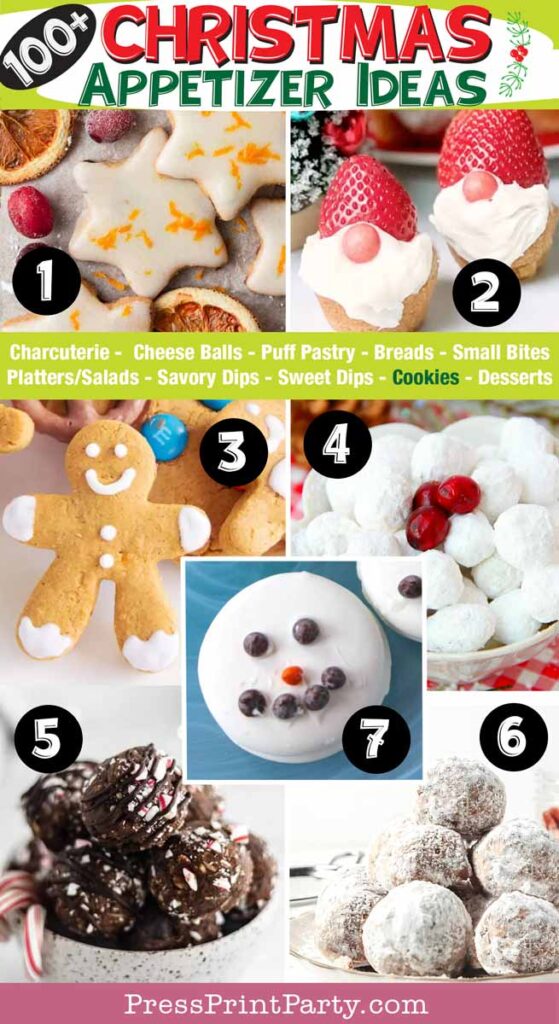 ---
Fun Christmas Desserts
Your guests are sure to have themselves a merry little Christmas with any one of these Christmas desserts.
There are so many great ideas for sweet Christmas appetizer recipes, you might need to pick a few to try this holiday season.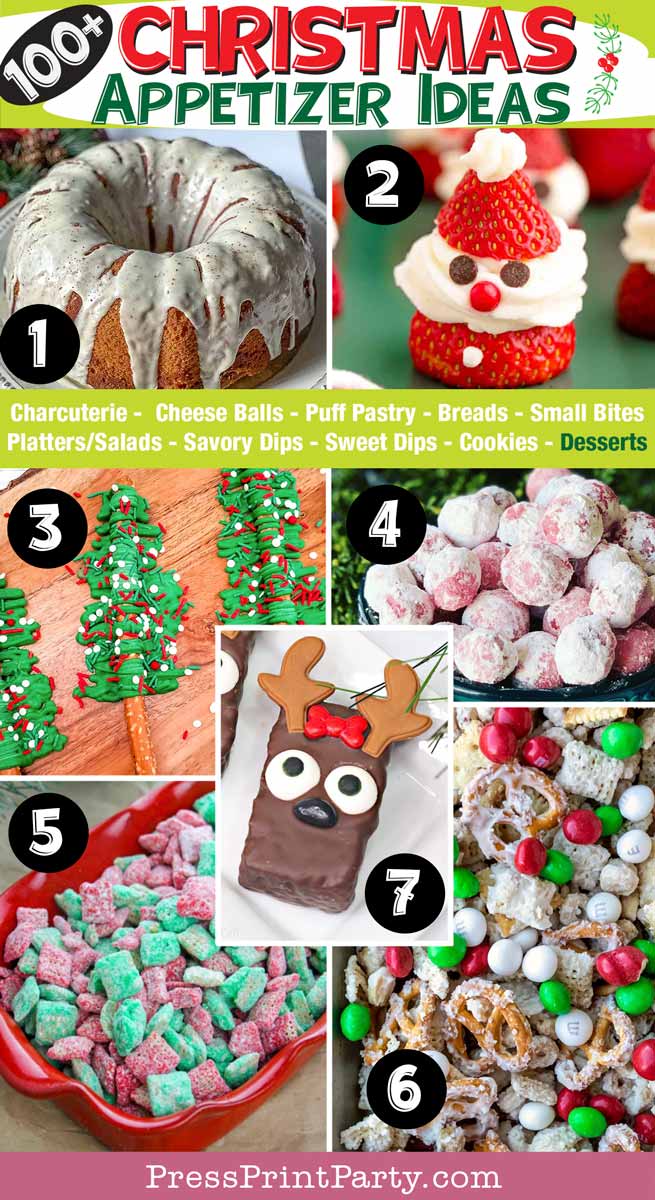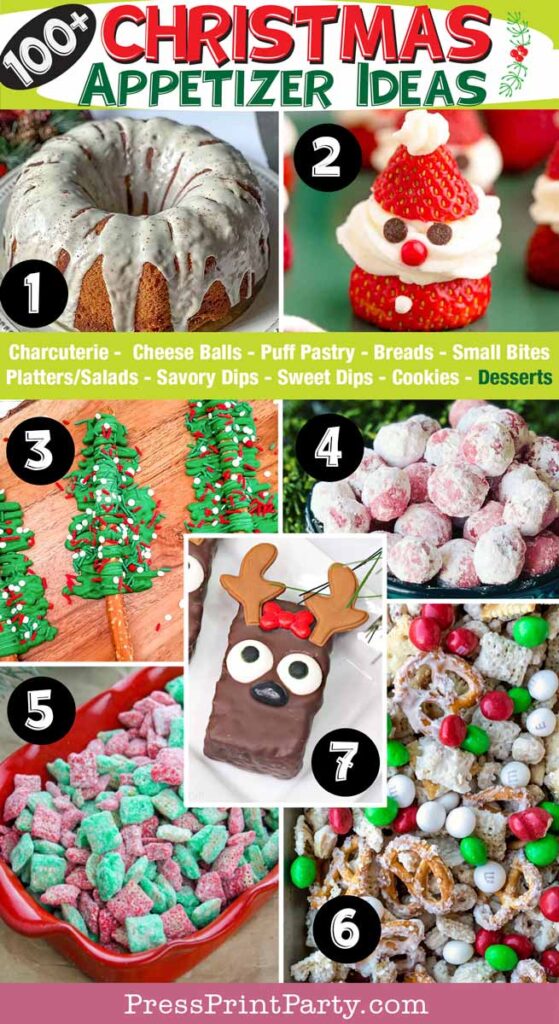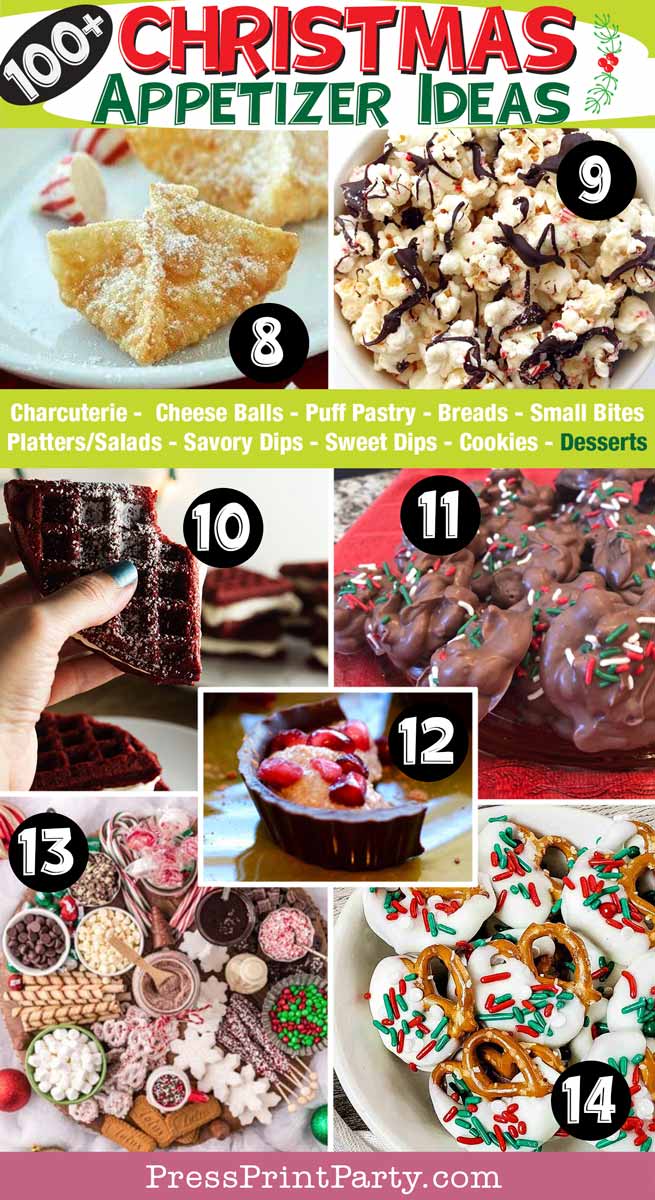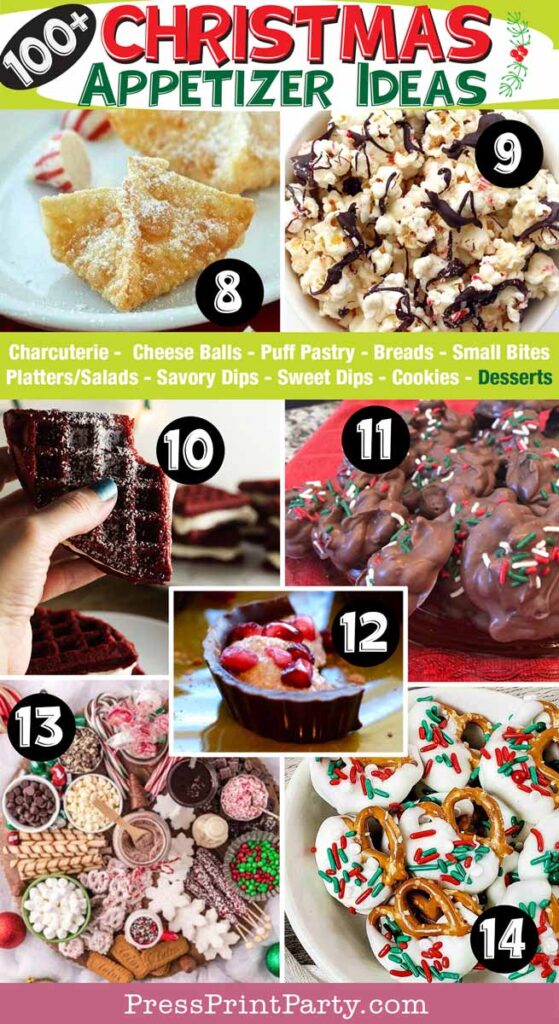 ---
Did you find what you were looking for? If you make one of these appetizers for a Christmas party, please tell us about it in the comment section! Or if you have a fabulous recipe you think should be added to the recipe, let me know!
Looking specifically for dessert options? Check out my 33 Easy Party Desserts – Finger Foods Ideas to Make for a Crowd.
Merry Christmas!