There are tons and tons of clever, fun themes for a baby's first birthday.
And if you're a sucker for a good pun like me, you're sure to find a great idea in this post for your little one's first birthday.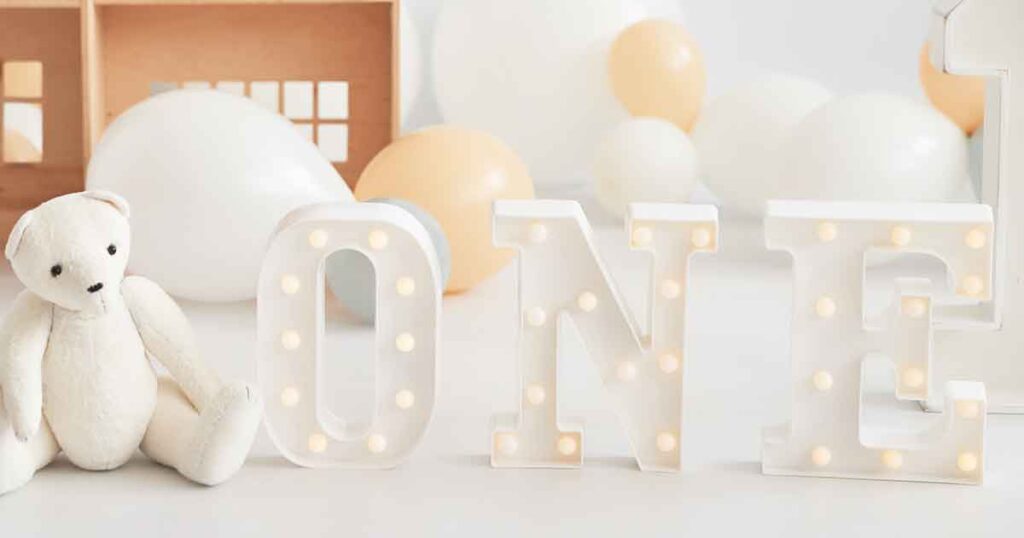 This post may contain affiliate links.
A baby's first birthday is an amazing milestone. They're so precious and adorable and they're truly starting to develop their own personality. There's a lot for you and Baby to celebrate. Plus, family members are celebrating the anniversary of their family gaining its most recent precious, beautiful, little member.
Keep in mind that you really only have a couple of years where you get to choose the theme of the party without your child chiming in with their favorite cartoon character.
Take advantage of it.
The first birthday party is primarily for adults as your kid won't remember any of it. So you can choose something stylish and clever that makes YOU smile.
So out with popular themes like Mickey Mouse, Sesame Street, or talking trains. There are some much more awesome ideas out there for unique first birthday party themes.
And fortunately, there are lots of adorable decorations to choose from when it comes to picking out Baby's first birthday party decor.
---
For Party Planning Newbies:
A quick note before we jump into these fun themes for first birthdays.
If you aren't a party planner by nature or occupation, please check out my party planning resources, like my printable party planner workbook.
I'm on a mission to help people throw amazing DIY parties and my party planner is my way to make your party awesome while still holding your hand through the process.
If you've not had a lot of experience throwing a party or implementing a theme, don't overthink it. Implement your unique theme where it makes sense.
I also have tutorials that show you how to decorate a themed birthday party.
You can check out how to set up an amazing dessert table, DIY an easy balloon garland, or make tissue paper tassels.
I've also included bunches of links to great party supplies throughout this blog.
Happy party planning!
---
1- ONEderland Party
Winter ONEderland
The Winter Onederland Theme is great for winter, but honestly, your imagination is the only limit with this one.
How fun would a winter ONEderland theme be in summer? Reminds me of the "S'Winter" episode from the kids' Disney Channel show Phineas and Ferb. I highly recommend the show, if you haven't seen it. The characters are pretty funny and it's a little smarter than some cartoon out there. it's one of the shows on my popular clean family TV shows list.
I'd love to see what creative ideas you come up with for this theme. And be sure to check out my Girl's Winter Onderland party printable. Save yourself time and money with printable invitations, banners, cupcake wrappers, and more, which are customizable for your one-year-old's special day.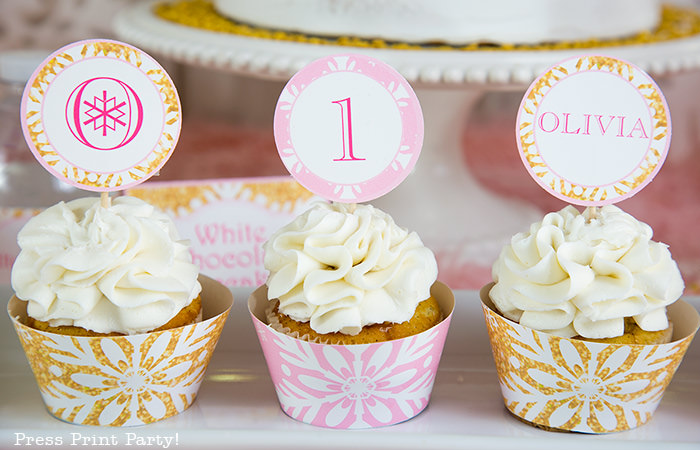 Alice in ONEderland
The famous book becomes a fun punny first birthday theme great for your little girl.
This classic theme comes with plenty of decoration options and is fun for young children and adults alike.
---
2- Wild ONE
Jungle Safari Theme
The Wild One theme is very accessible and lends itself to a variety of color schemes and party treats.
I have a Jungle Safari Theme party set that works really well with the Wild One concept.
Each banner, invitation, and party detail is covered in adorable animals, making it great for little ones' parties.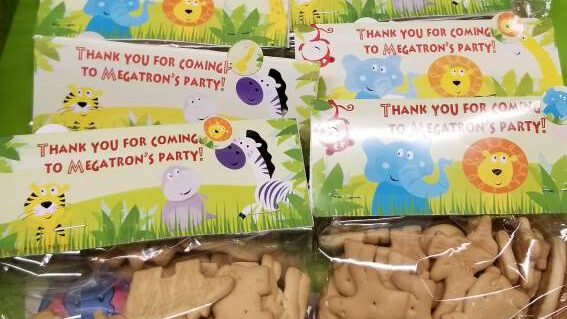 Another great way to incorporate the theme is to create a cute "safari" a stuffed animal (or a few) that your family has likely already collected.
Where the Wild Things Are
There is also the option of taking the Wild One theme in a different direction with the children's book "Where the Wild Things Are" as your guide.
This themed party may lend itself well to a baby boy's first birthday thanks to the earth tone color scheme. However, it would be fitting for a baby girl too!
Don't forget the green and gold balloons. You can find plenty of themed party supplies on Amazon based on the book.
If you want to see an example, Pretty My Party has a blog article featuring a Where the Wild Things Are Birthday which came out amazing.
---
3- It's fun to Bee One – Baby's 1st Bee-Day
If you didn't use the bee theme for a What Will It Bee? baby shower, then it may just be the perfect theme for that 1st birthday party.
I have seen this theme executed in several adorable ways and Amazon is brimming with bee party supplies. You'll have your pick of silverware, plates, balloons, and decorations.
And I love that bees are getting a little more recognition and appreciation these days.
Lauren Conrad also has a gorgeous example of the theme, complete with wildflowers bouquets, honeycomb-esque décor, and lots of sweet treats.
A bee party sure is such a cute way to celebrate your little one's first year of life.
---
4- How the West Was ONE – My First Rodeo
This is another good theme for either gender and it's so original and fun!
If you are having trouble choosing first birthday party theme ideas for your boy and girl twins, I highly recommend a western theme.
I love imagining all the party games and decorations that would work with a How the West Was ONE theme, especially if you have older kids coming. This could be so much fun.
I think a wanted poster including a photo of the birthday baby has to be included somewhere. And of course, what would a wild west party be without a few hay bales?
Be sure to check out my party set for a Cowgirl Party and a fun Western Party Photobooth set to help your family and friends document the occasion.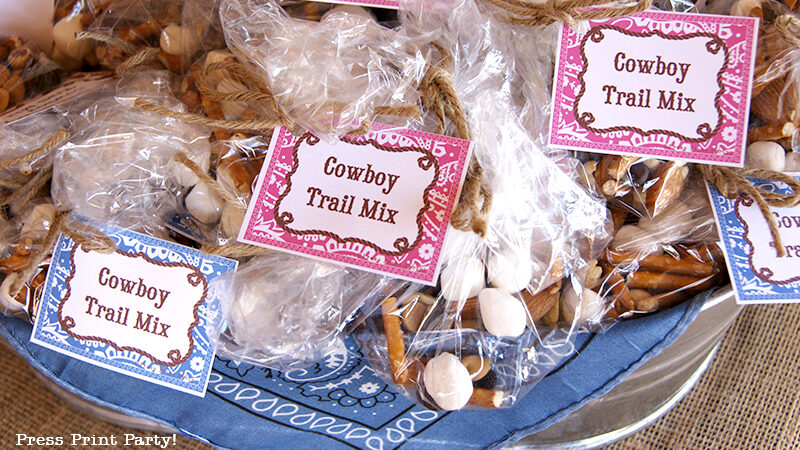 ---
5- What a ONEderful World
Little boys and little girls will love the bright colors and activities that can be included with this adorable theme, What a Onederful World.
You could transform it into a space theme, a travel theme, a garden party, or even a First Trip Around the Sun theme.
I also highly recommend you check out the beautifully illustrated children's book, What a Wonderful World, for inspiration.
And of course, don't forget to play the Luis Armstrong song at least once in the background.
Years down the road, you and your child will love looking at photos from this birthday celebration.
---
6- One Fish, Two Fish – Thing One, Thing Two – Dr. Seuss Party
What is childhood without a little tomfoolery from a Dr. Seuss's story?
I love this Dr. Seuss One Fish Two Fish banner that looks like it's made from pages straight from the book!
You can find more inspiration for a Dr. Seuss party on Kara's Party Ideas and you may also want to check out Big Family Blessings' tutorial for an easy-to-make birthday cake and cupcakes that match the theme.
---
7- ONE in a Melon
Is it just me or do the colors of watermelon really lend themselves to a party?
There are some great One in a Melon party supply sets on Amazon that are super affordable.
Couple those with some budget-friendly party foods and you've got a party you, your baby, and your wallet will love!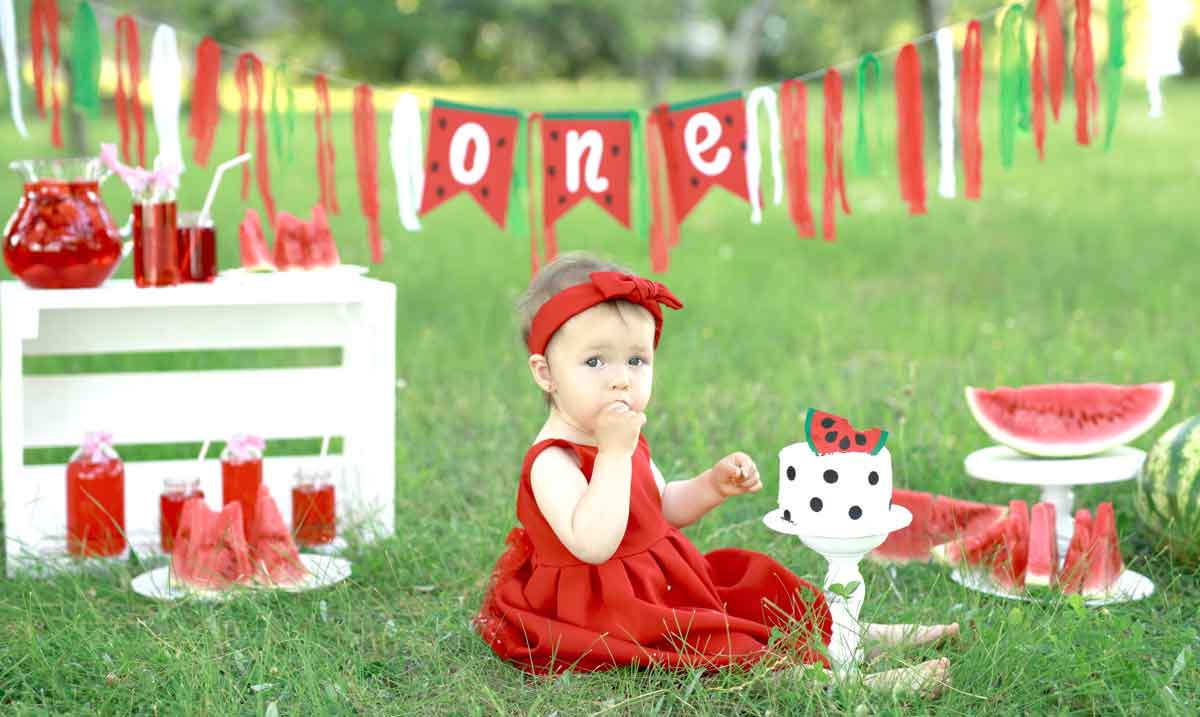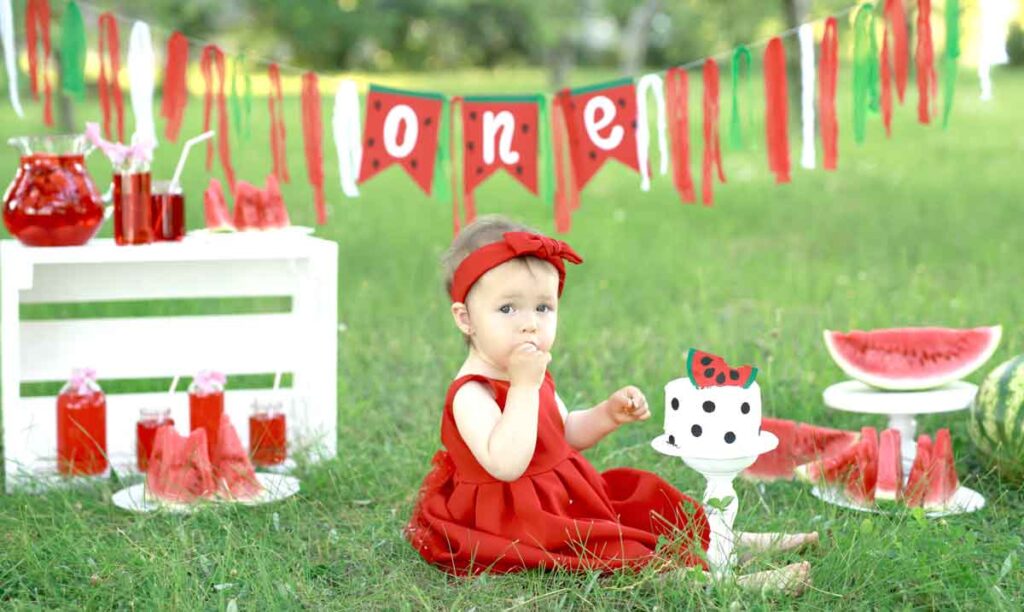 If you like fruit themes, you could also do a peach-themed ONE Sweet Peach party or a BERRY first birthday theme.
---
8- Donut Grow Up – Donut Party
Donuts are yummy, fun, and colorful and I had a ton of fun putting together my printable party supplies for a Donut Party theme.
Our donut party was for a sweet 16 birthday but the idea is the same. You just make your custom donut letter banner say "Donut Grow Up!" and voila, the donut theme is now perfect for your little one
In my shop, you'll find party tips and printables for invitations, supplies, donut bar decorations, themed party food, games, and even a piñata! You donut want to miss this party theme opportunity.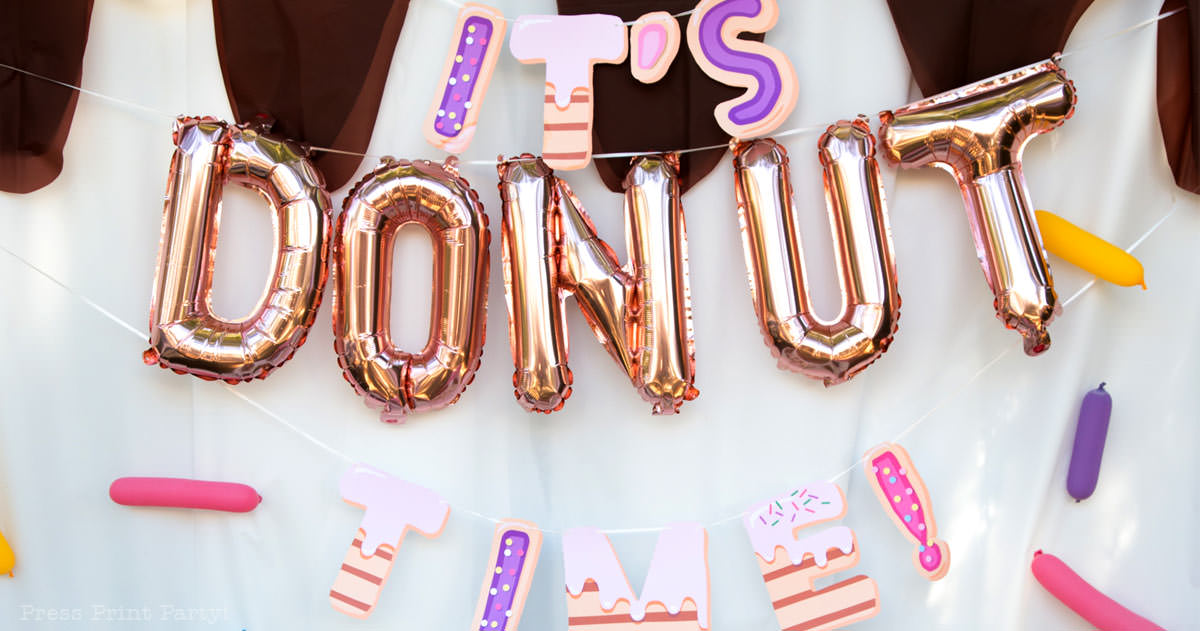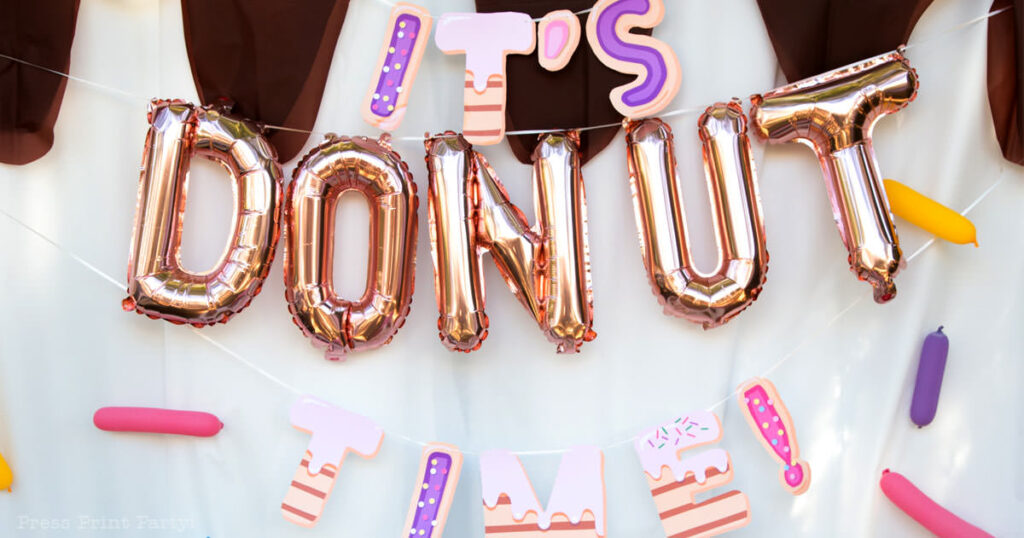 ---
9- Mr. ONEderful
Baby boy's first birthday themes can be hard to come by. That's why I love this Mr. ONEderful theme.
It can be anything, and it sounds so elegant. I see it as a Mustache Party theme but that's just me.
That and because you can give your guests super fun finger mustache tattoos as part of your child's first birthday party favors.
Your little guy is sure to have so much fun at his mustache-themed first birthday party. Think of all the funny picture opportunities.
---
10- Hole in ONE
For golf lovers, a Hole-in-ONE party is a perfect first birthday theme.
You can go all out and dress your little one in an adorable golf onesie. I think dads will love this one.
---
I hope you found my unique first birthday party ideas helpful and that you were able to identify a creative theme for your child's big day.
Interested in more party planning resources?
Check out The Perfect Birthday Party Schedule for a Stress-Free Kids' Party and How to Plan a Birthday Party without Losing Your Mind – Checklist. You can also scroll down for more party tips:
Don't forget to pin these clever themes for first birthdays: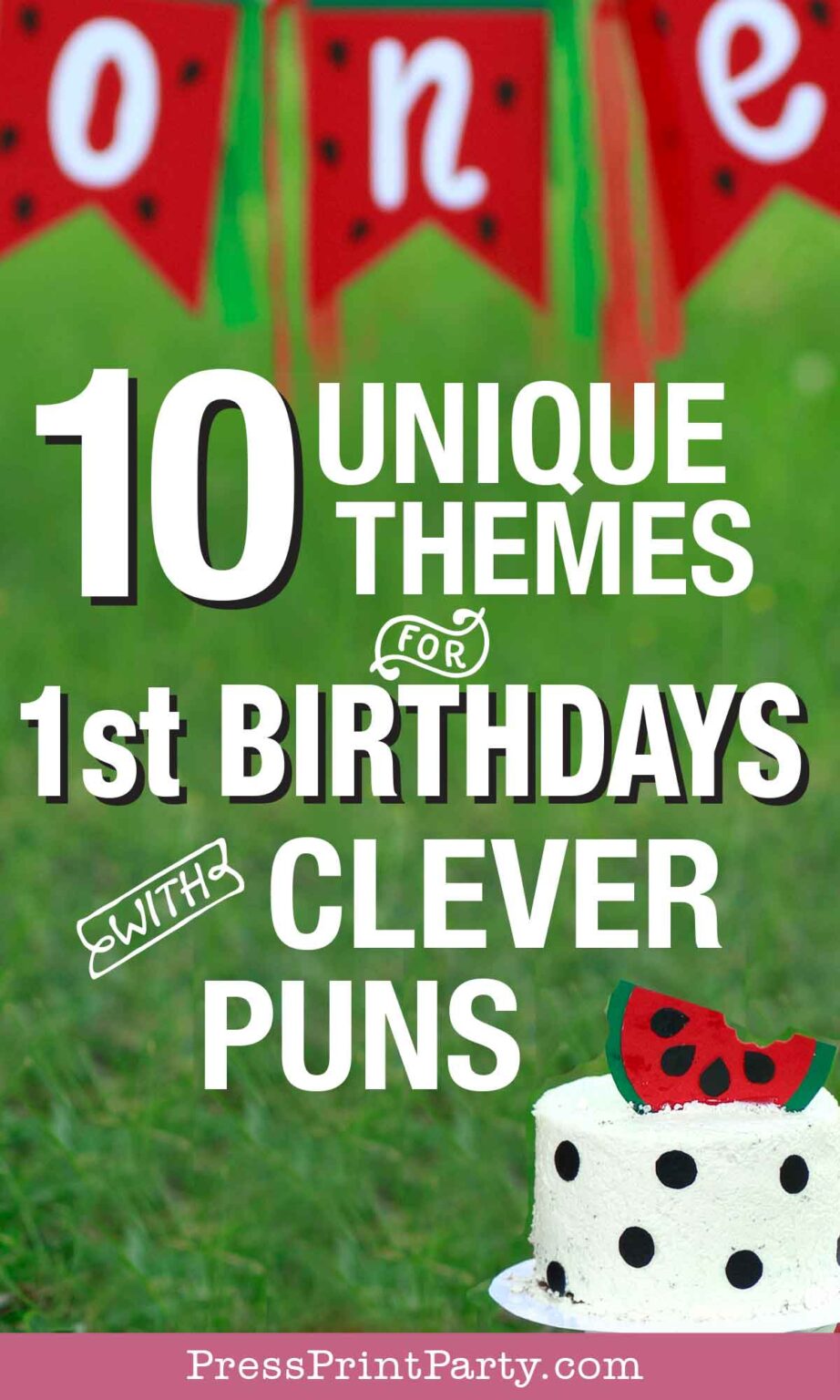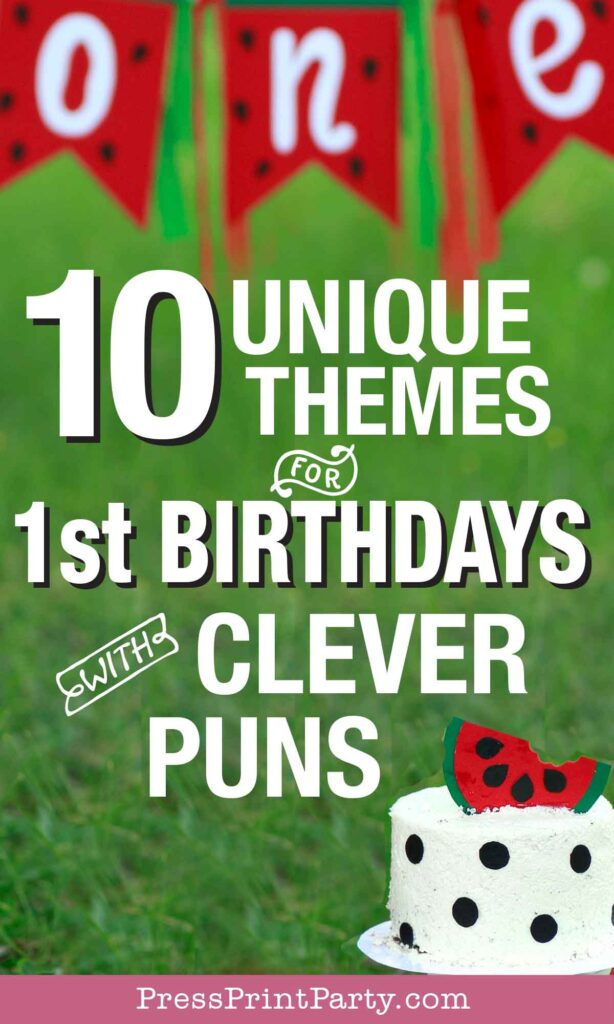 Check out our Christmas printables