These Hunger Games parachute favor boxes will drop one more element of unexpected awesomeness down into your Hunger Games party.
These easy-to-make parachute favor boxes are just fantastic. They're unique and they both double as decorations and introduce another authentic arena element into your Hunger Games party.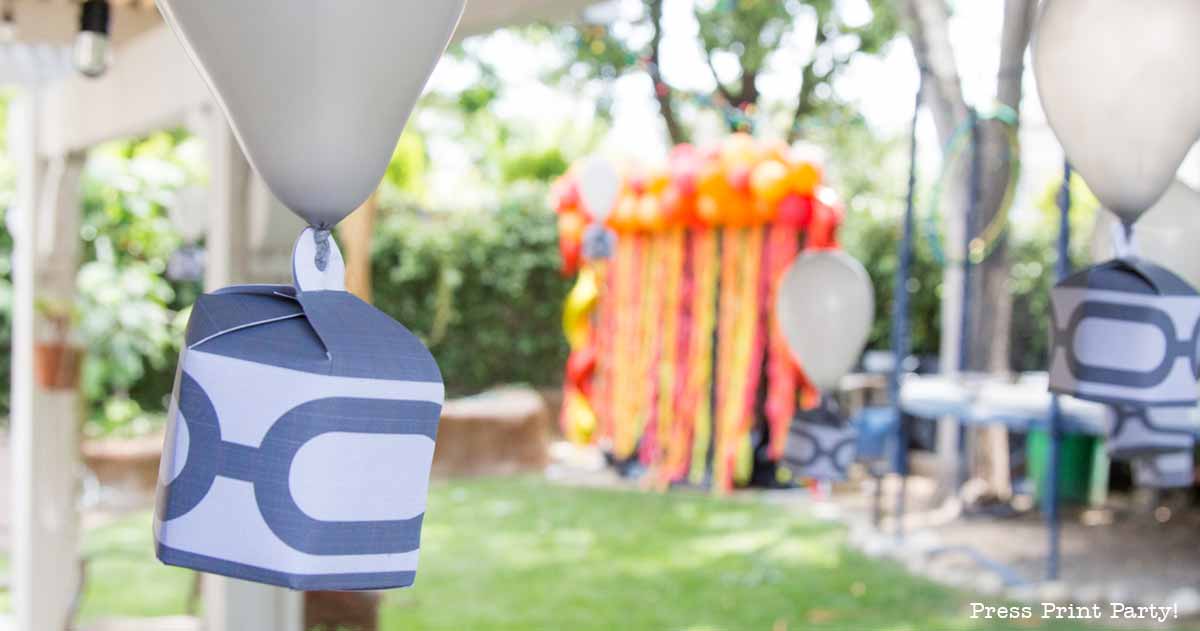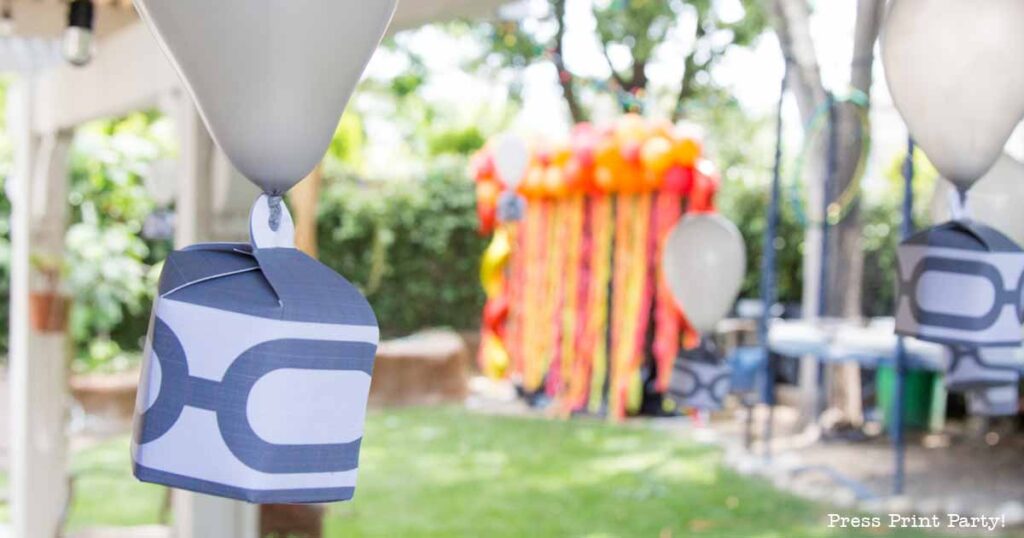 This post may contain affiliate links.
I really wanted the silver, sponsor-sent parachute box to serve as the favor boxes for our Hunger Games party. I looked all over the internet but nothing I found resembled the actual container.
So I designed one myself. And it's now available in my shop.
This is what the parachute container from the movies looks like.
And after many design changes and variations, this is what I ended up with.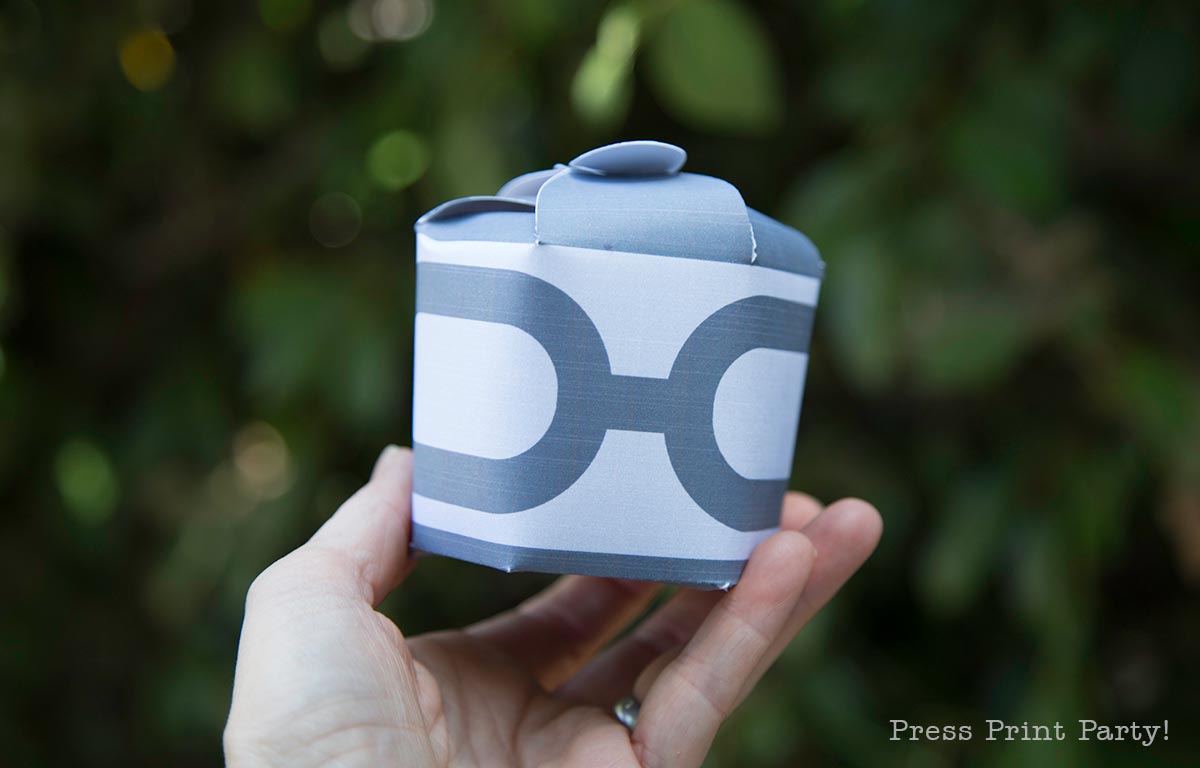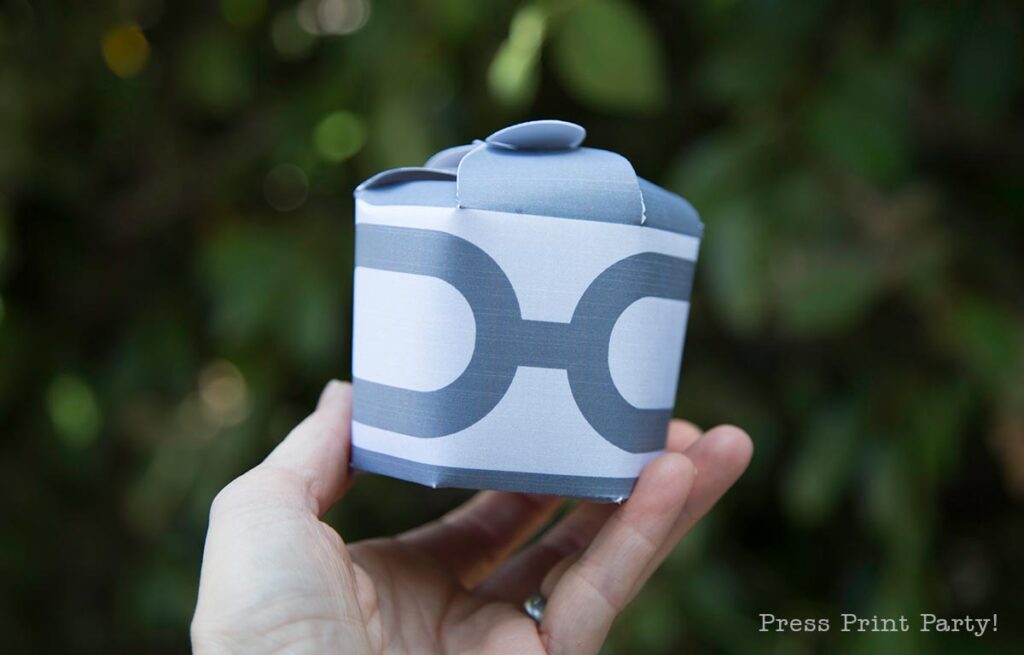 I think it's a pretty good interpretation of the real thing. And it can be made with a single page of cardstock.
Now all it needed was a parachute.
We first tried all kinds of things from foil, to cupcake wrappers to pipe cleaners. They just looked awful.
I finally decided on a silver balloon to mimic the parachute because the balloons kind of looked like parachutes, it's a party and balloons are festively party-rific.
I recommend the Qualatex metallic silver balloons that I used in the video. However, for our party, I was too late to order and I had to use whatever 5″ silver balloon my local party store had. It still worked well.
Since the balloons are only filled with air, you can inflate them and attach them to the boxes a day or two ahead of time with no problem.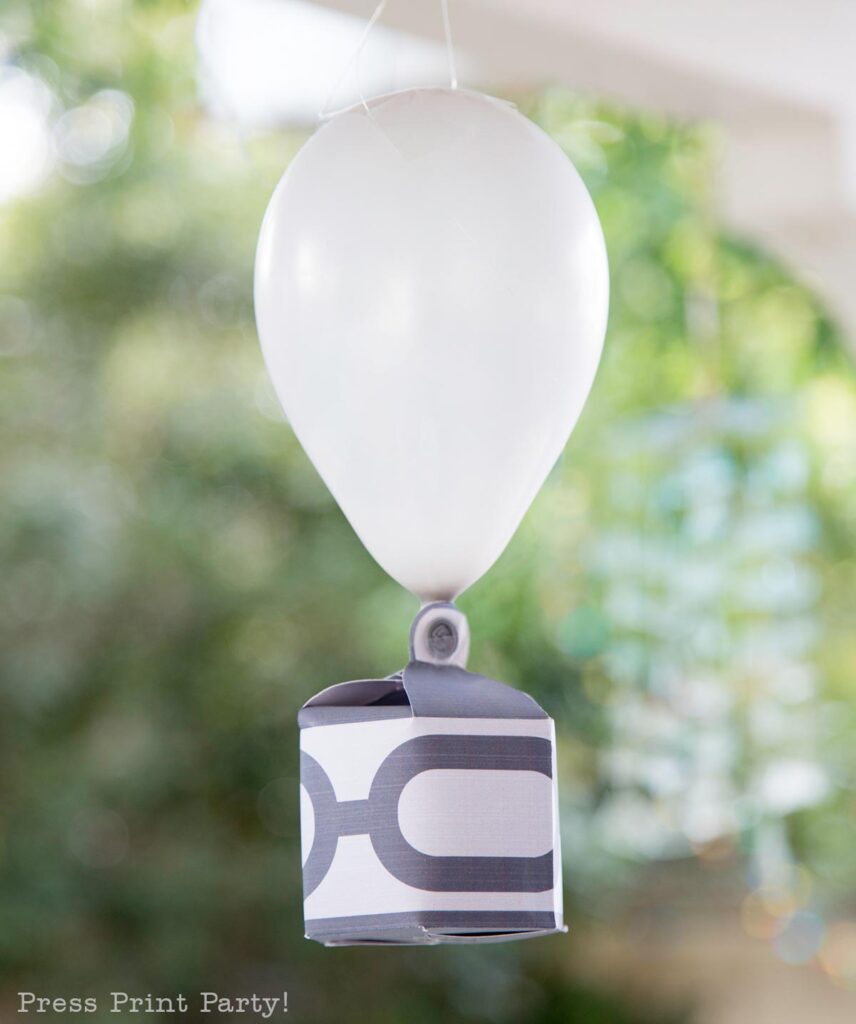 After filling the boxes, simply hang them from the ceiling using clear fishing line to create the illusion of parachutes floating in the air.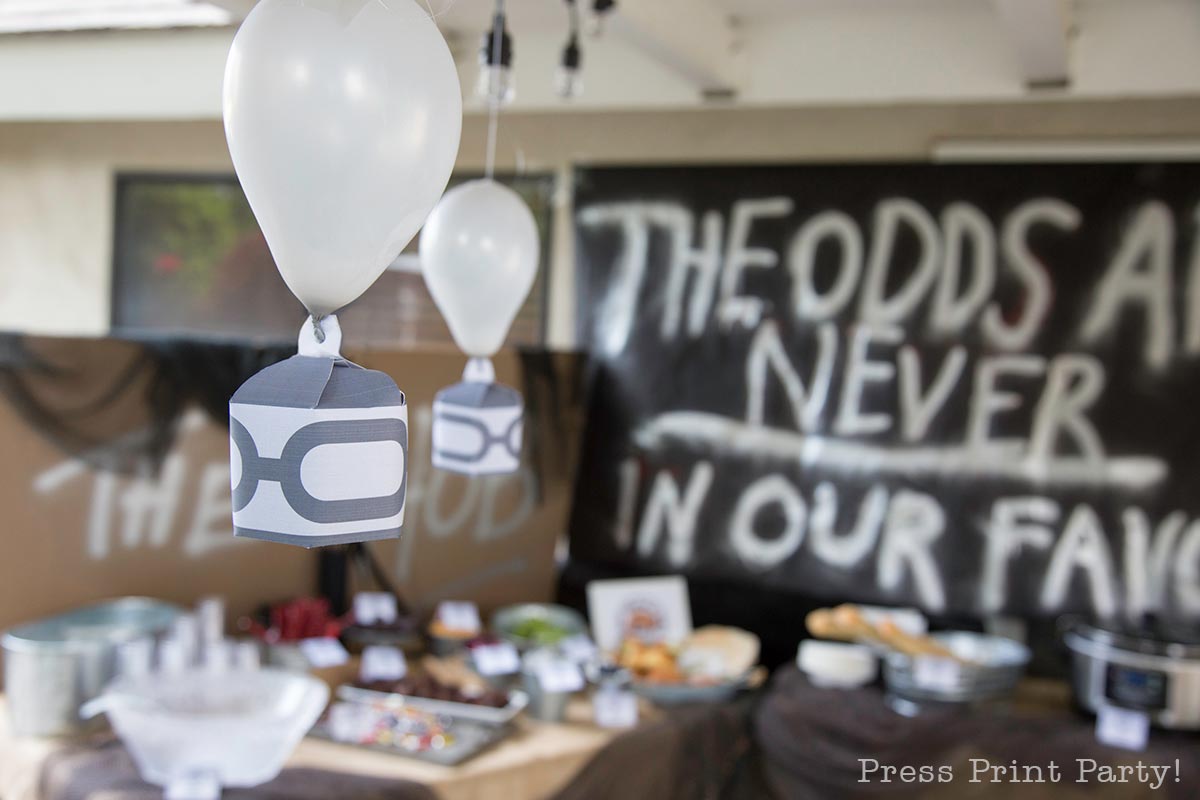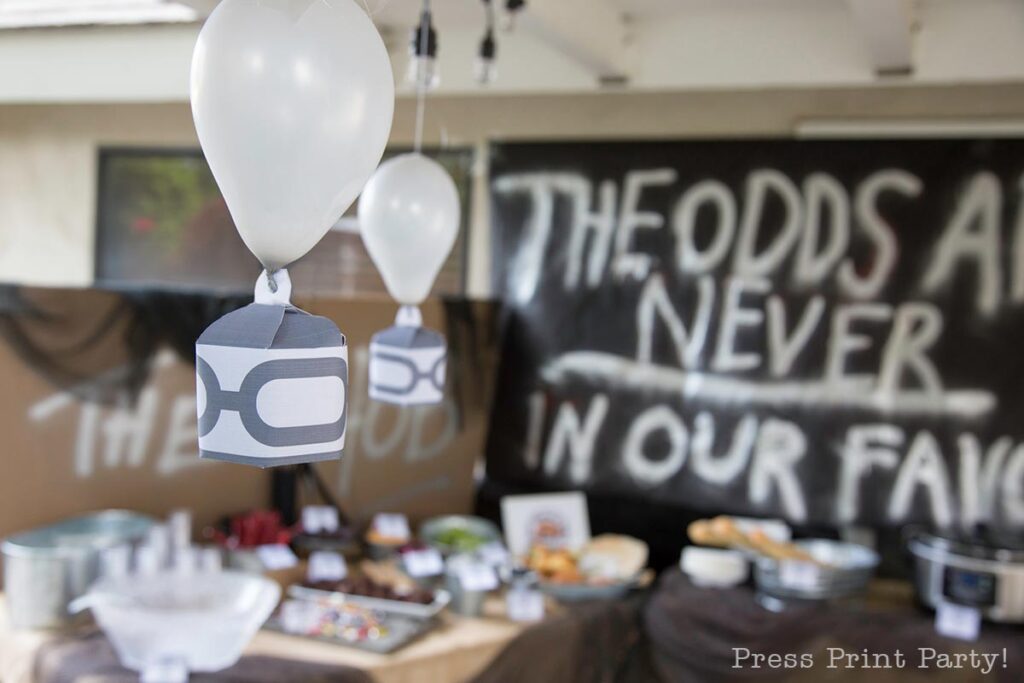 The Significance of Parachutes in The Hunger Games Trilogy
If you're here looking for a parachute favor box for your Hunger Games party, it's pretty safe to assume you've either read the books or seen the movies.
But in case somehow you didn't, I'll explain.
In the dystopian world of The Hunger Games, the sponsors' gifts are an essential part of the game's strategy and play a significant role in the survival of the tributes.
The silver parachutes are a means to deliver crucial supplies and sponsor gifts to the tributes during the games, offering them necessary food, weapons, medicine, or other useful items that can aid in their survival.
Basically, in the Hunger Games arena, these parachutes are supposed to bring good things from their sponsors.
But instead of a sponsor, the good things inside these boxes come from you.
---
How to put together the favor box
I should warn you that making these favor boxes is not something you can leave to the last minute. They do take time and care to make. Whether you'll be cutting them by hand or by machine.
But the results are really worth it.
Once you purchase the files, you'll need to print the design on cardstock. I always recommend this cardstock because it prints beautifully and it's not too thick, but any 80-110lb white cardstock will do.
If you're using a cutting machine, please follow your machine's instructions. I made a special file for Cricuts to be used with the print and cut function.
All the instructions are included in the file. You can also watch the video below for a full tutorial.
And please sign up to my
YouTube channel
by clicking here:
---
What Favors to Put in the Hunger Games Parachute Container?
So what kind of stuff can we put in these little Hunger Games parachute boxes?
In the story, it can be pretty much anything that might give the tributes an advantage in the games. It could be weapons, like knives or bows and arrows, or it could be something to help with survival, like water or food.
Full sized, parachute delivered weapons seemed a little much for a kid's birthday party, so we're going to fill our boxes with small trinkets and treats that are relevant to the Hunger Games theme.
Items can include mini toy bows and arrows, and small compasses. I started by adding some chocolates. You could use coal chocolates to represent District 12's specialty (like the ones available around Christmas), Rocher Chocolates, or any mini chocolates.
But the real hit was the Hunger Games inspired stickers that I designed with artistic representations of Katniss Everdeen and Peeta Mellark. They're easy to print on full sheet sticker paper. They can be cut by hand, but it's even easier if you have a cutting machine.
Sorry, but I don't sell the stickers already printed.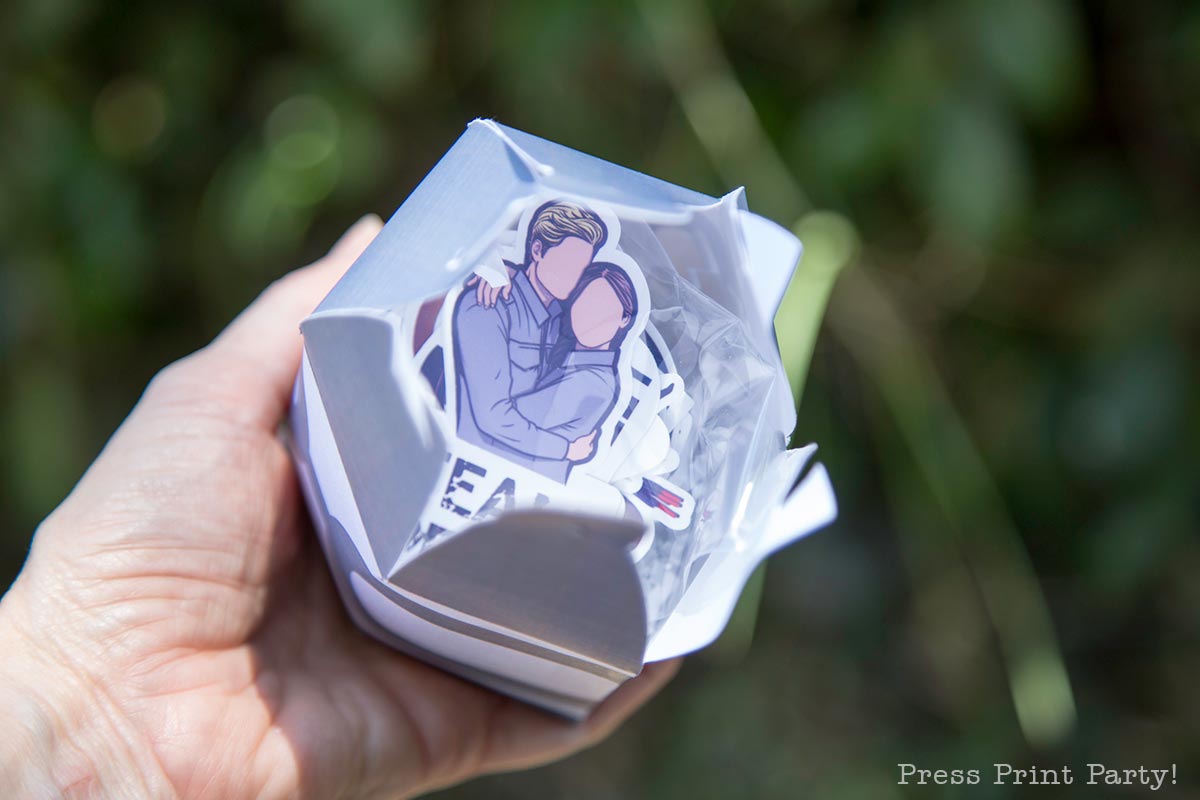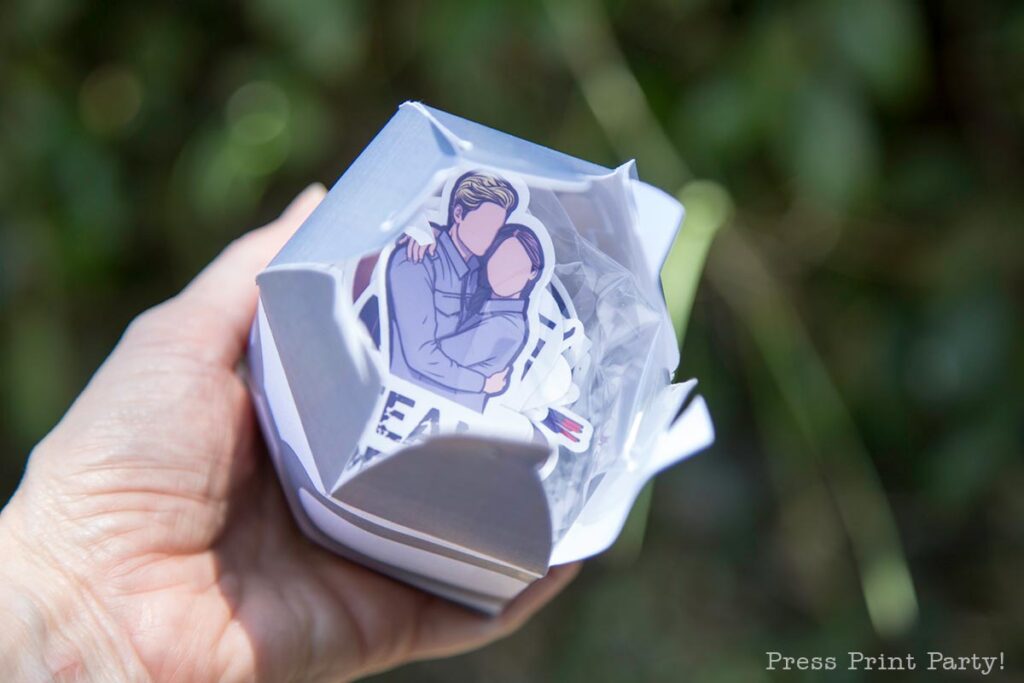 The girls loved them and they now adorn several water bottles.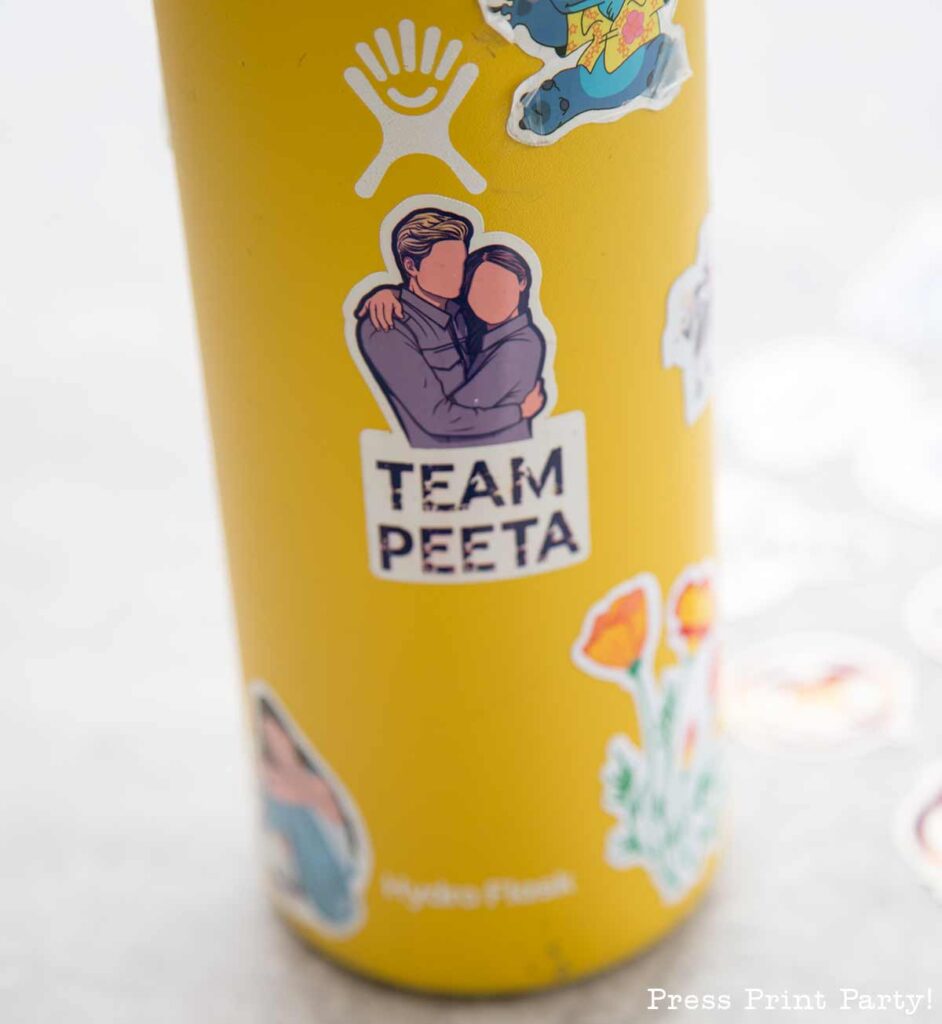 Our Hunger Games stickers were a bigger hit than we expected!
---
I'm amazed how many times my girls have come back from some activity and had another eager fan point out the sticker and say that they liked it. A party favor as a conversation starter, who would have guessed!
So, if you're planning a Hunger Games party and want to make it unforgettable, consider giving out favors in Hunger Games parachute boxes. It's a surefire way to create an unforgettable experience and make your guests feel like they're part of the action.
We really had an epic Hunger Games party. We took the roles of the game makers, we had a tribute parade and a scavager hunt. I even dressed up as Effie Trinket! And I can't wait to show it all to you. Next post.
May the odds be ever in your favor!
Go see the rest of the Hunger Games Birthday party posts for more:
Don't forget to pin the Hunger Games parachute container favor box: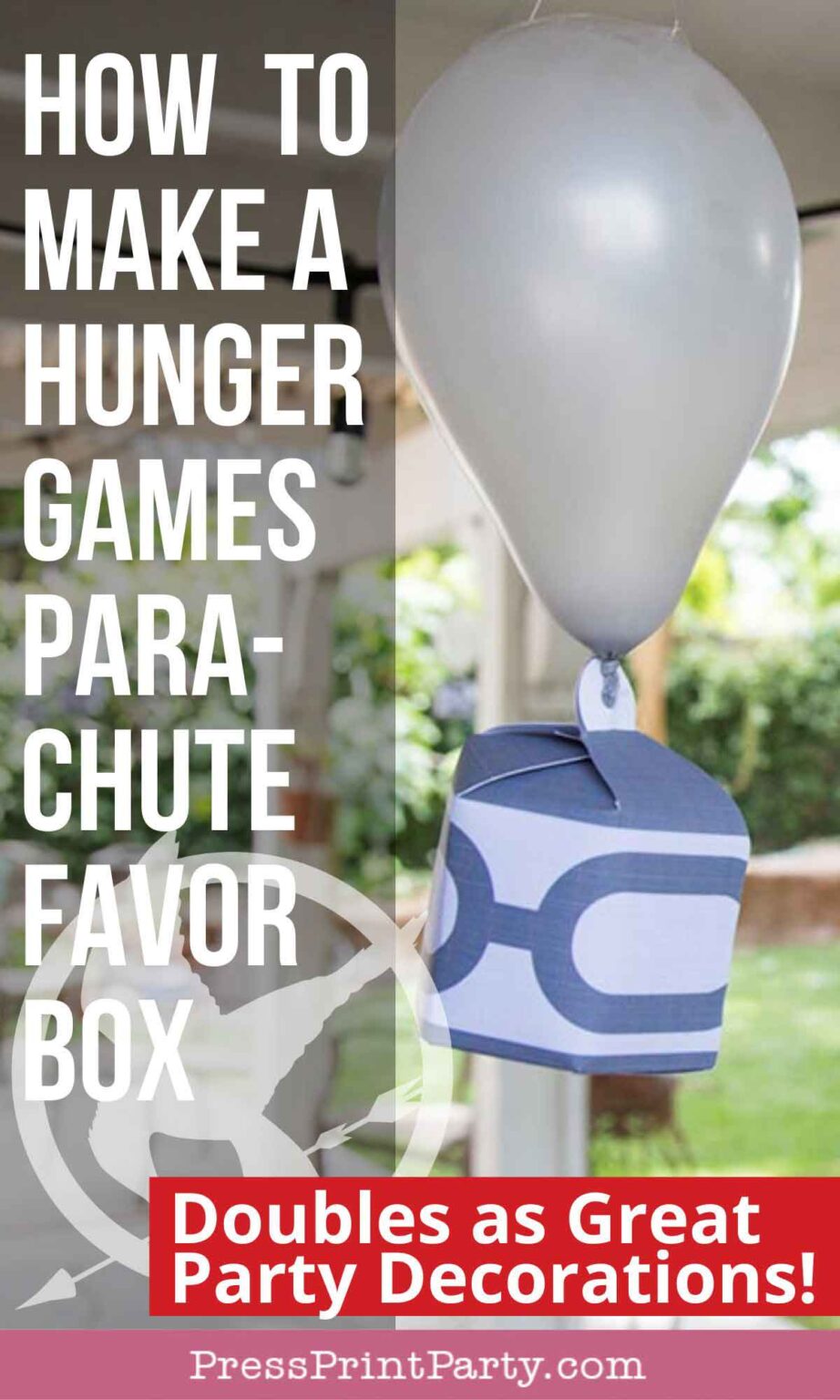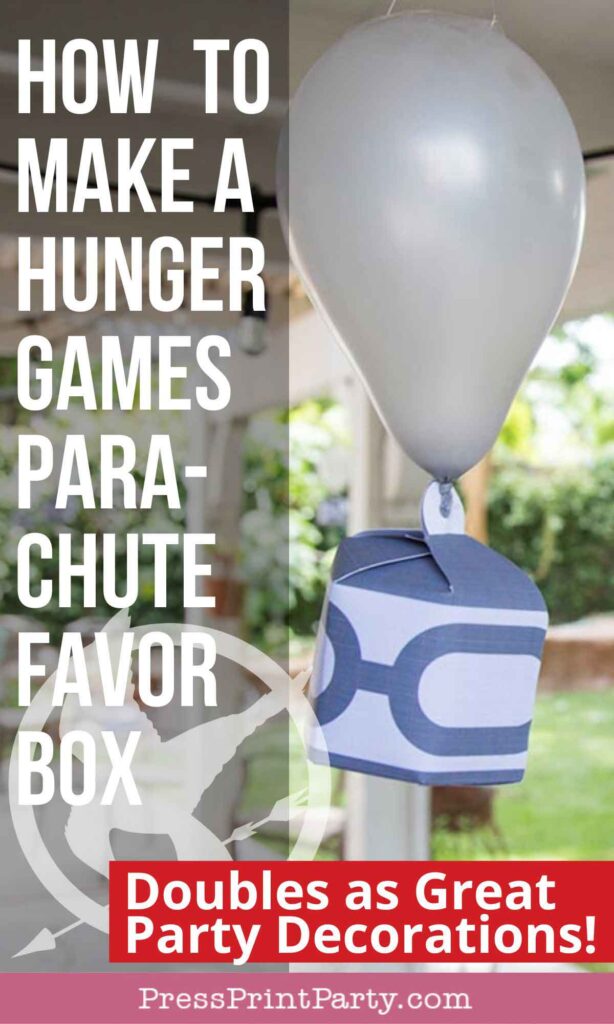 Check out our Birthday printables