Nothing says summer like a Hawaiian themed party full of luau party foods and fun.
So I've put together this excellent list of true Hawaiian party foods for you to choose from for your Hawaiian luau party.
A luau party theme is one of the easiest to pull off because it draws so much inspiration from the modern luau held on the Hawaiian Islands.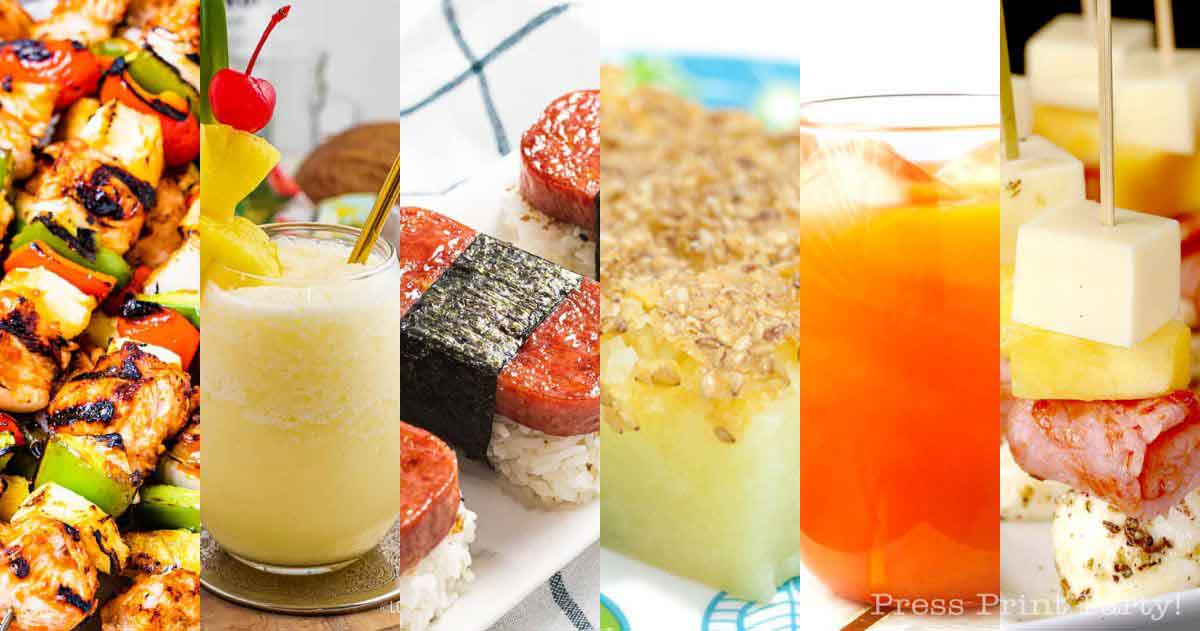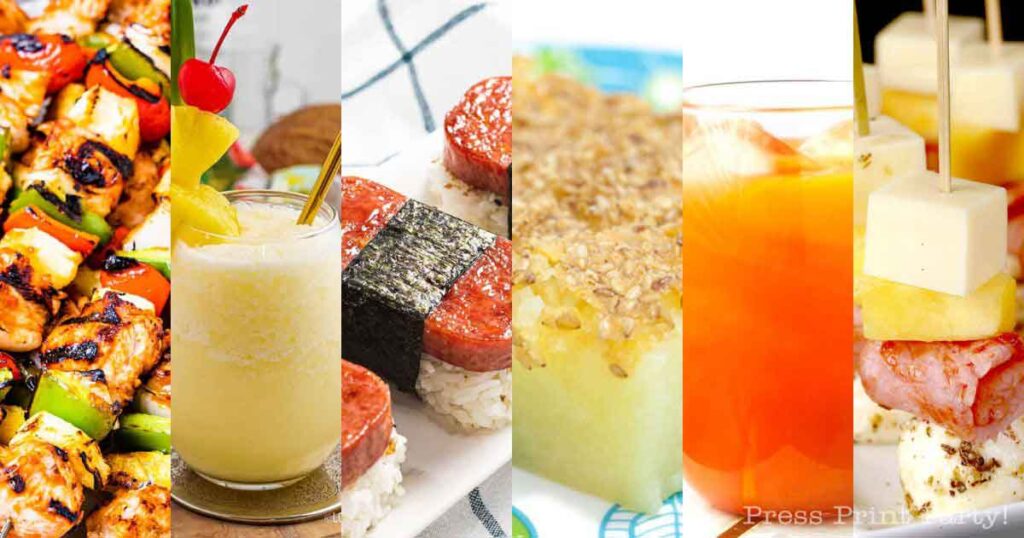 This post may contain affiliate links.
History of Luaus
Modern luaus have departed a bit from tradition to attract tourists and locals alike. I studied the history of Luaus to give you a little snippet.
Hundreds of years ago, a luau was called "ahaʻaina." "Aha" means "gathering" and "aina" means "meal." These events were more formal than today's gatherings and celebrated special occasions like a victory in battle. They were also an opportunity to worship Hawaiian gods.
In 1819, when King Kamehameha II invited women to eat with the group, the occasion became known as a "luau," which is also the name of a traditional local dish which is made of taro leaves and chicken baked in coconut milk.
Modern luaus are exciting celebrations that feature performances, Hawaiian music, snapshots of Hawaiian culture, and lots of food. You'll see a grass skirt or two, tiki torches, and other classic icons of Luaus.
Planning Your Hawaiian-Themed Party
There are so many great tropical flavors and luau motifs you can incorporate into your party. I utilized gem tones and hibiscus designs for my luau party printable set which comes with invitations, thank you cards, favor boxes, cupcake wrappers, and more!
I also have a watercolor pineapple printable set that is oh-so cute!
I could write an entire post on Hawaiian-themed party decorations but I'll try to stay focused here. Today, we are talking about Hawaiian recipes for finger foods, party appetizers, main courses, and more.
Use this list of luau party food ideas to plan your next Hawaii-inspired event.
What is the traditional Hawaiian food for a luau?
The Kalua pig is usually the star of the show. It's a whole pig cooked in an underground oven called an imu, resulting in tender and smoky flavored meat. Of course, you may not be up for digging up a pit in your backyard to roast a whole pig but I have a slow cooker alternative (see #19).
But you'll find many of the dishes below as part of the traditional Hawaiian luau fare, like the Lomi Lomi Salmon, Poke, and yes, macaroni salad.
You'll also be able to use many of these luau foods on your Pupu Platter which is a selection of small, savory appetizers like teriyaki chicken wings, fried spam musubi, coconut shrimp, or vegetable spring rolls.
The specific menu of a traditional luau may vary depending on the region and individual preferences.
25 Backyard Luau Party Foods Recipes
I wouldn't recommend reading this list of simple appetizer ideas, side dish recipes, main dish options, and general luau foods when you're hungry. However, there are a few recipes that would be great for a luau party OR your weekly dinner rotation. I'm sure you'll find some delicious food for any occasion.
1- POG Juice Recipe from Hawaii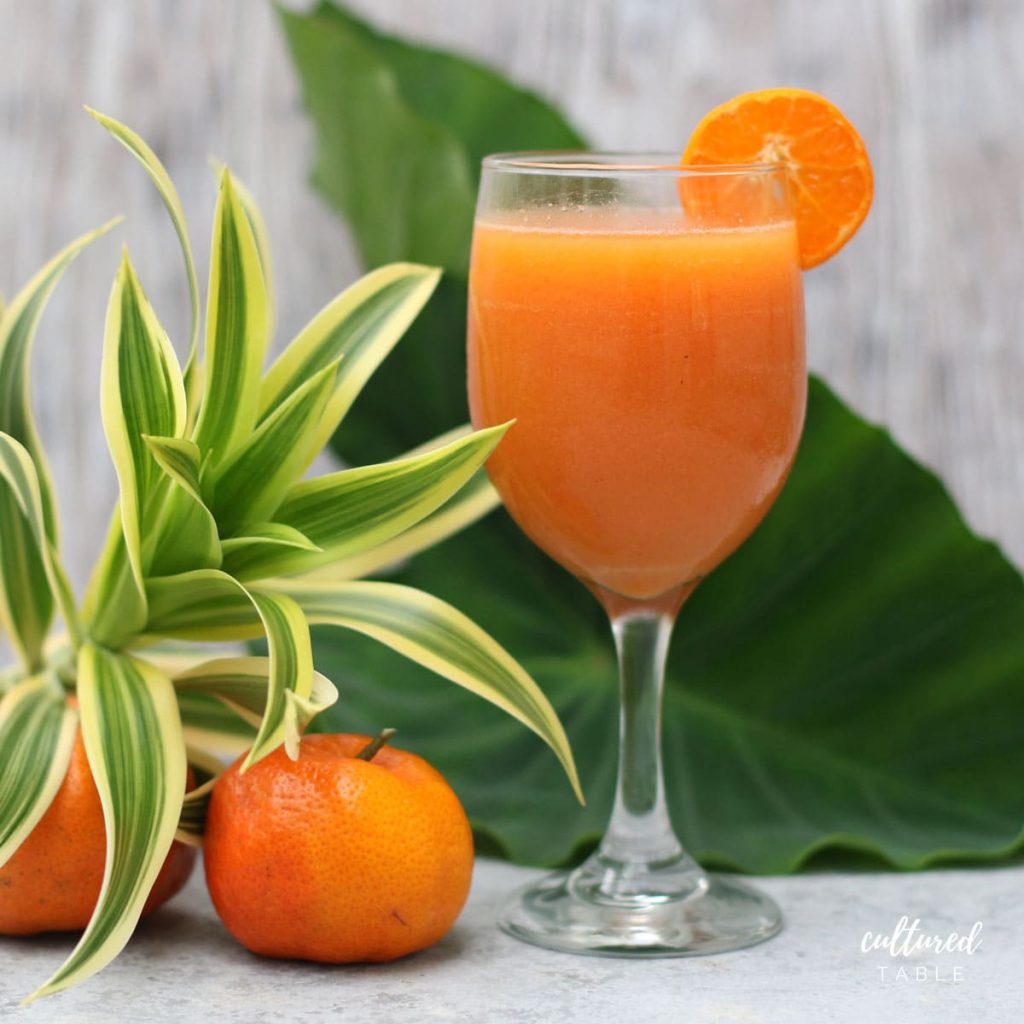 POG juice, (pineapple, orange and guava) is kind of a niche beverage until you get to Hawaii. Once there, it's everywhere, and this POG juice copycat recipe by Cultured Table will let you take it to your next backyard luau party.
---
2- Frozen Pina Colada Recipe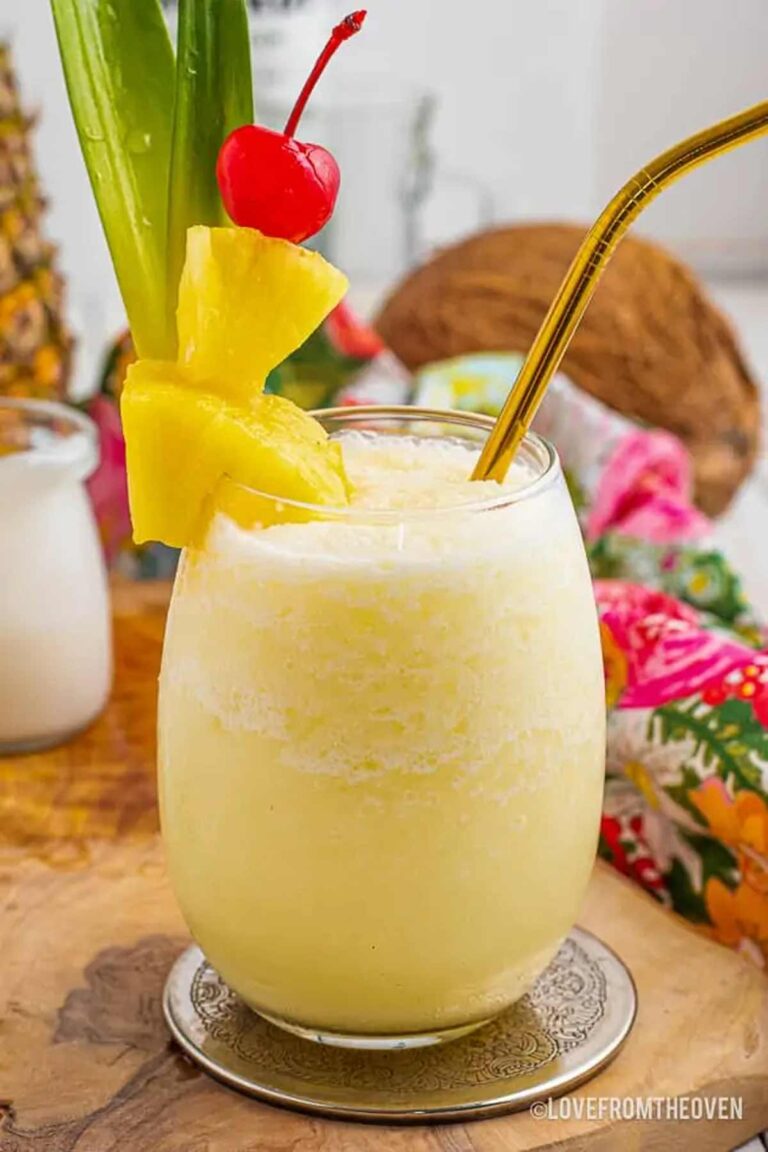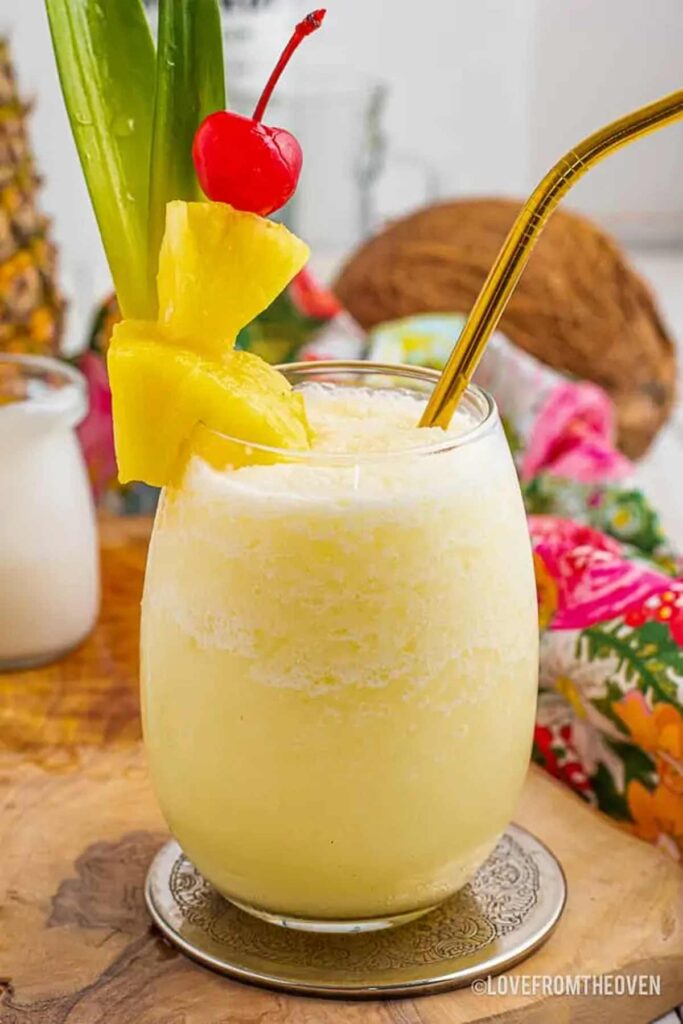 There is nothing like a nice, cold pina colada. And since this pina colada recipe by Love from the Oven integrates so many classic Hawaiian flavors, this drink is a perfect fit for a luau.
---
3- Tropical Fruit Punch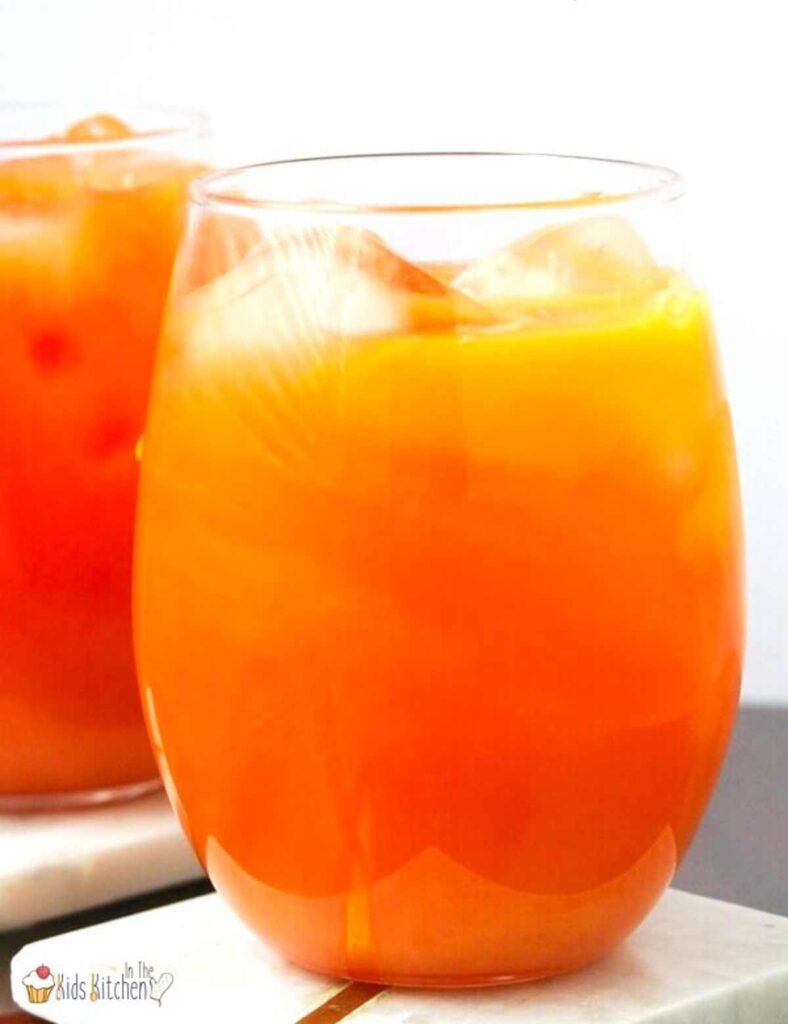 Of course, the kids need something to drink as well. This tropical fruit punch recipe from In the Kids Kitchen contains only real tropical fruit juices.
---
4- Hawaiian Pizza Skewers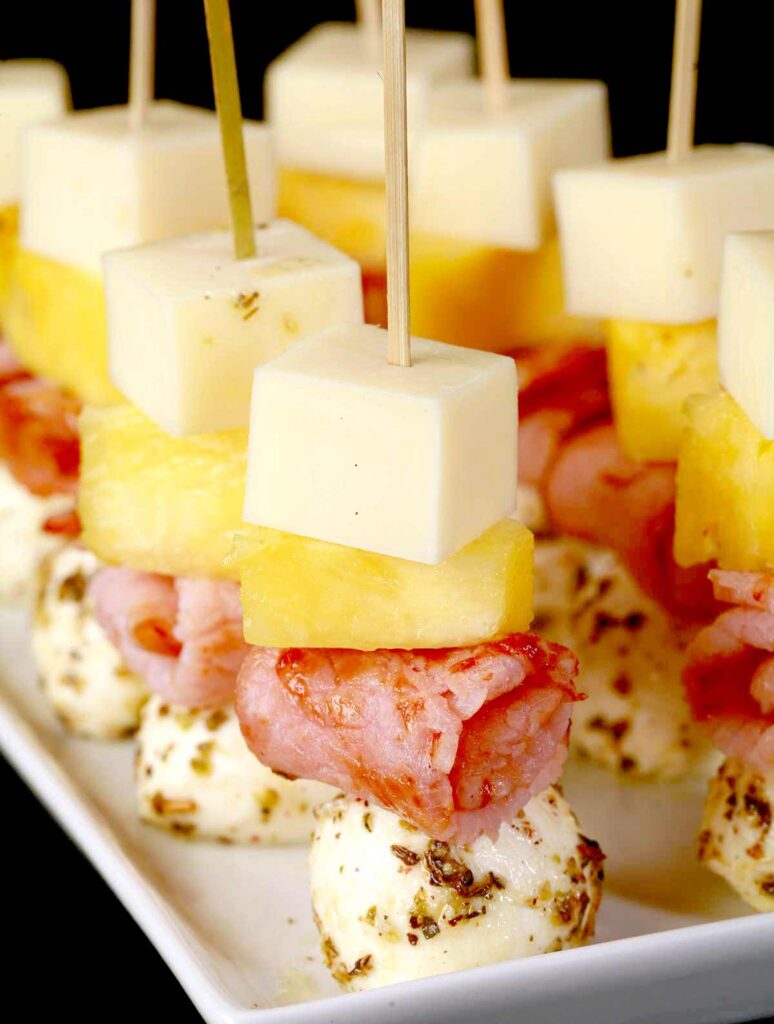 Luau appetizers can be tricky to come up with. Try these adorable stacked Hawaiian Pizza skewers from Beyond Flour.
---
5- Hawaiian Sliders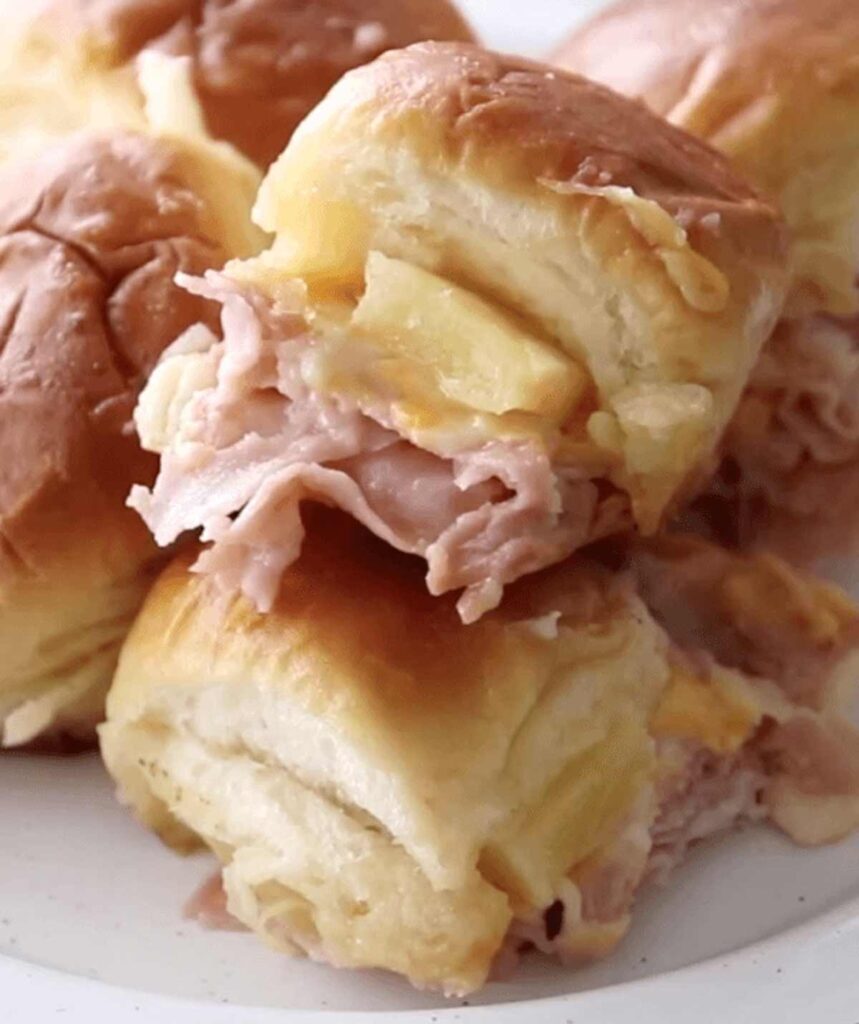 Hawaiian sliders make a tasty appetizer or a main course. The Soccer Mom Blog uses Hawaiian sweet rolls, pineapple rings, garlic, and Worcestershire sauce to make these sliders extra tasty.
---
6- Coconut Butter Mochi Cake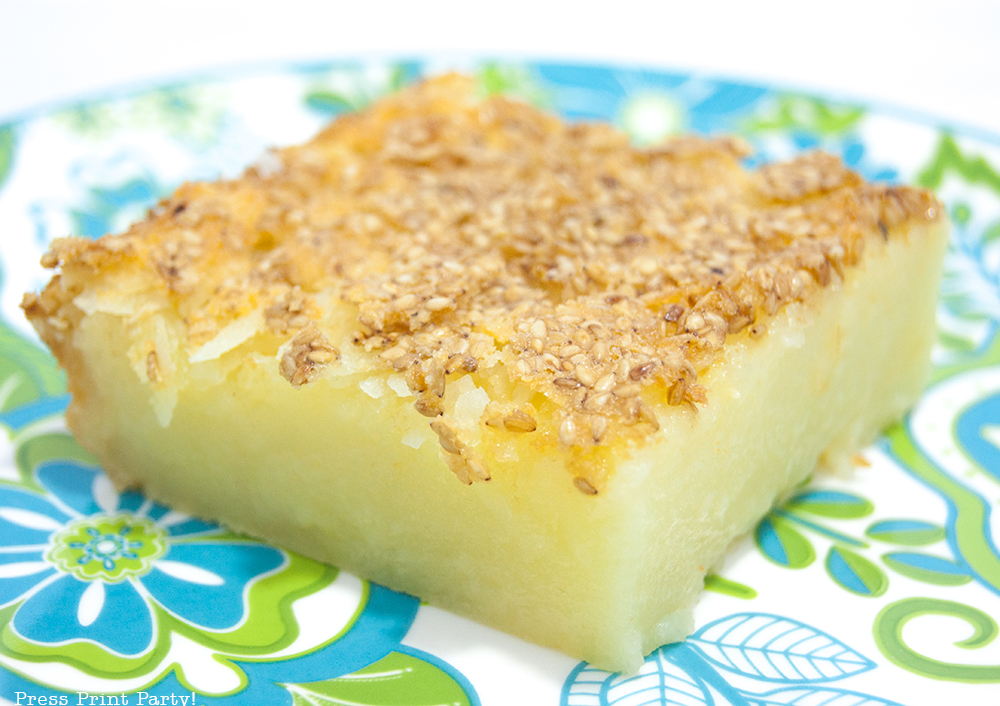 This is my coconut butter mochi cake recipe, and I'm telling you that you need to have this dessert at your luau-themed party. It is delicious. The crispy sesame seeds on top provide a perfect contrast to the mochi center.
And it happens to be gluten-free so your gluten-sensitive friends and family can enjoy it as well.
---
7- Mango Salsa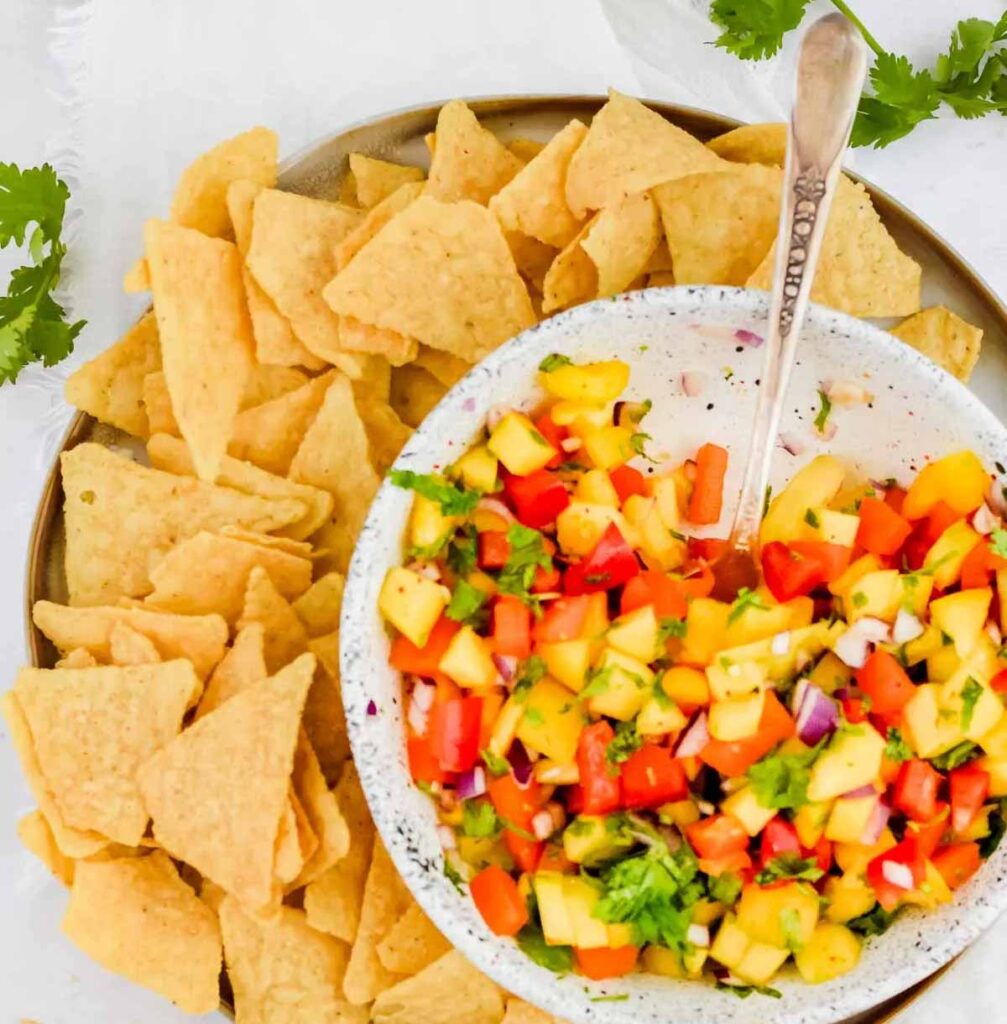 Mango salsa is a great fit for a luau party menu. A Paige of Positivity incorporates easily accessible ingredients for a flavor sensation that will guarantee that your guests will come back for seconds.
---
8- Fresh Pineapple Salsa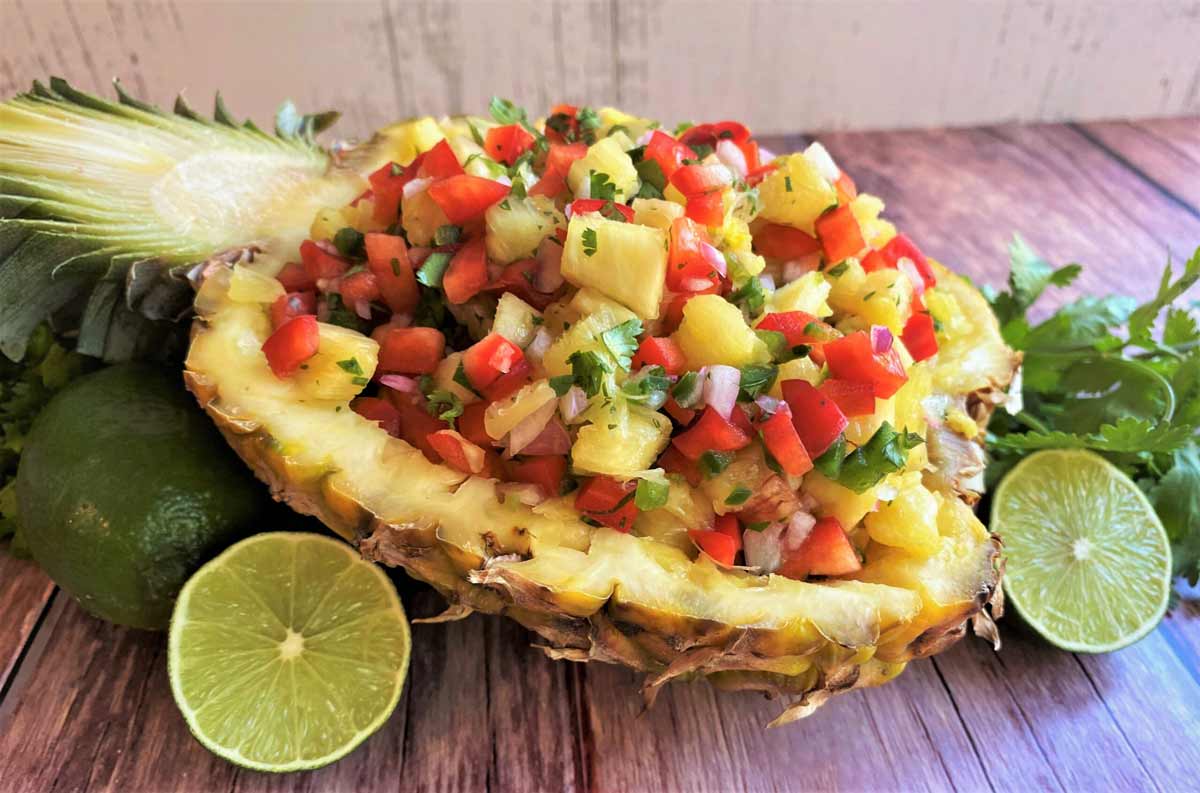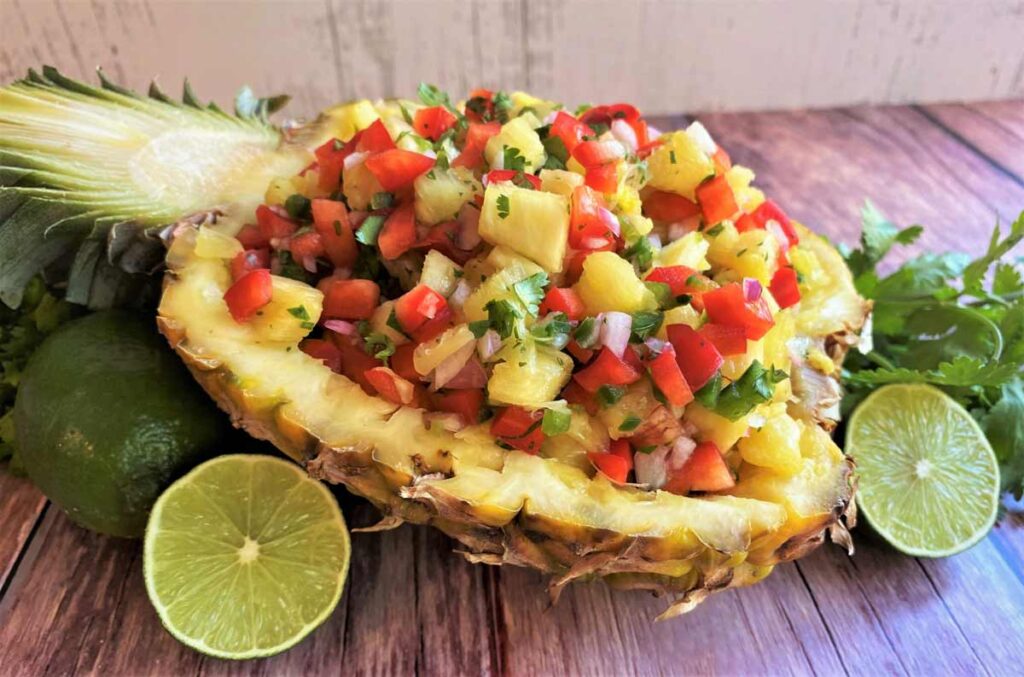 If you're not a mango fan, you might like this easy pineapple salsa from The Art of Food and Wine instead. Or just serve them both!
---
9- Authentic Hawaiian Macaroni Salad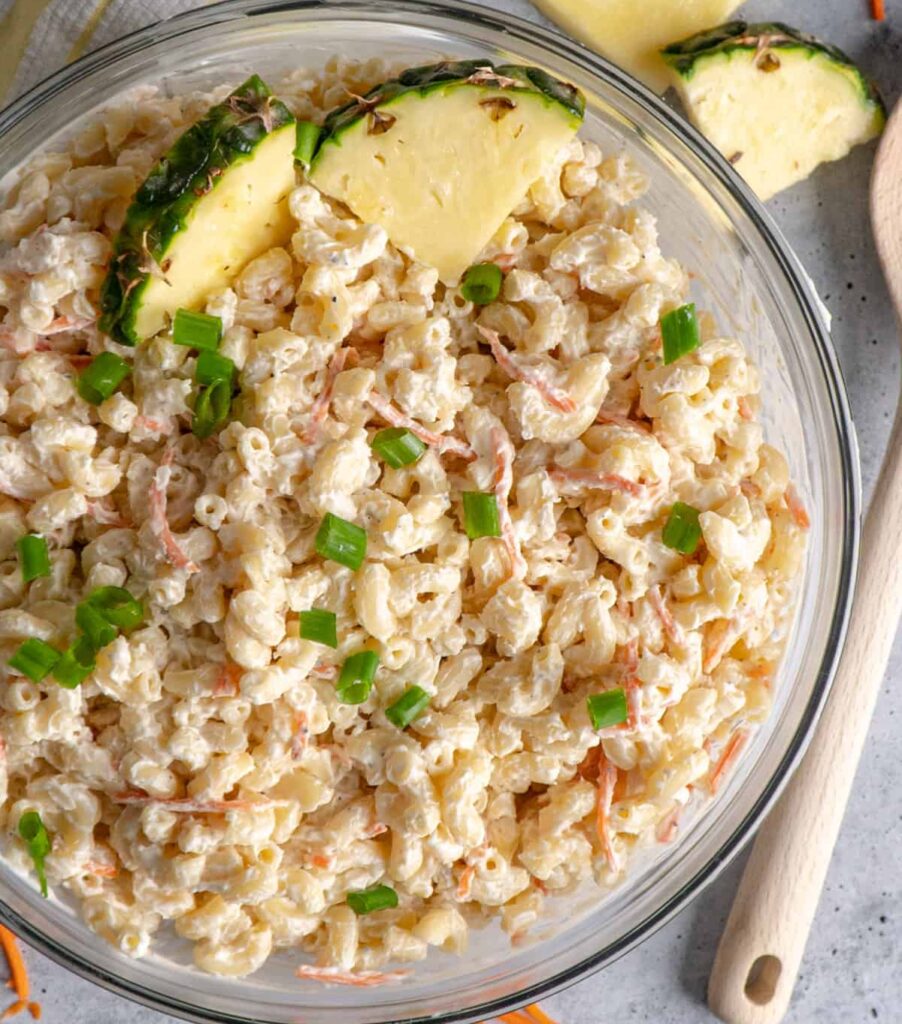 This macaroni salad from The Cooking Duo incorporates plenty of refreshing and tangy Hawaiian flavor. It would pair so well with some pork!
---
10- Mahi Mahi Tacos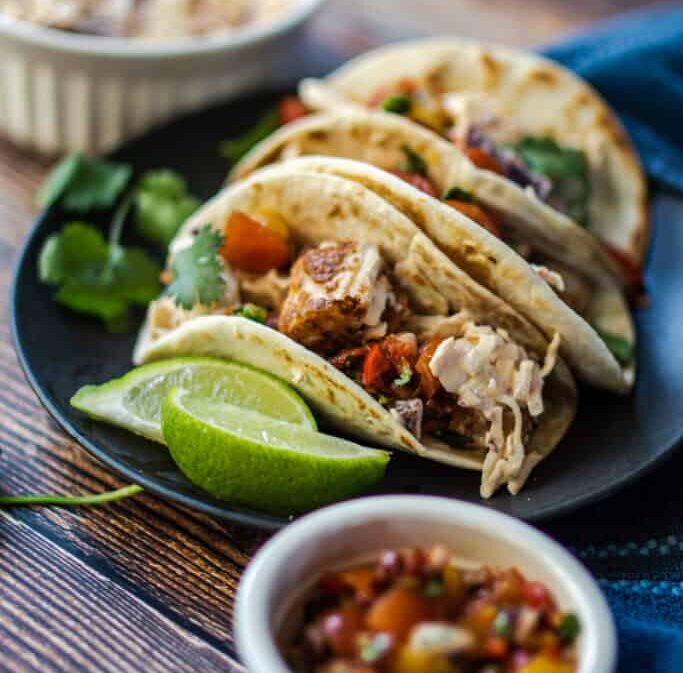 Mahi mahi tacos scream Hawaiian cuisine. Carne Diem takes it up a notch with chipotle crema and mango salsa.
---
11- Hawaiian Huli Huli Chicken Kebab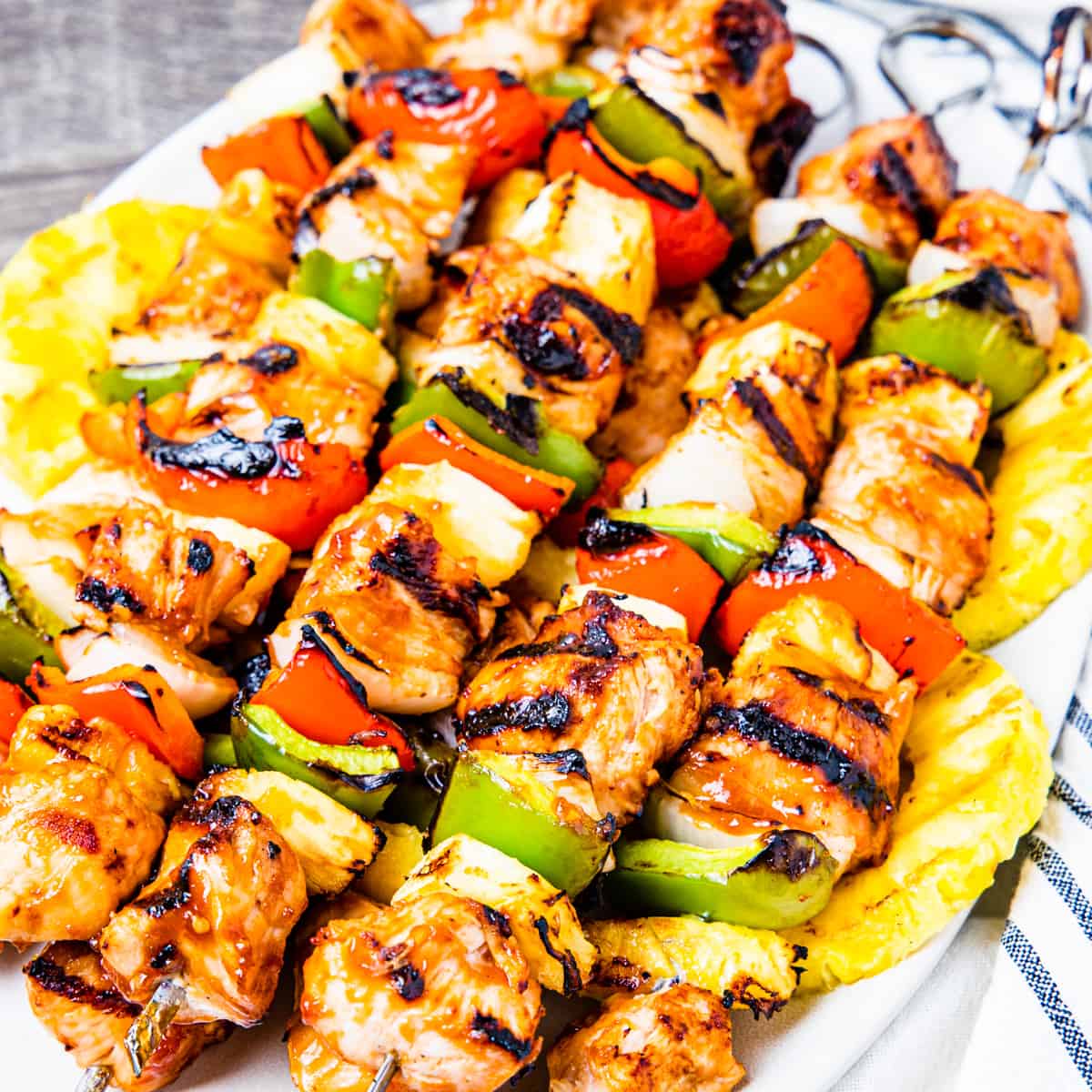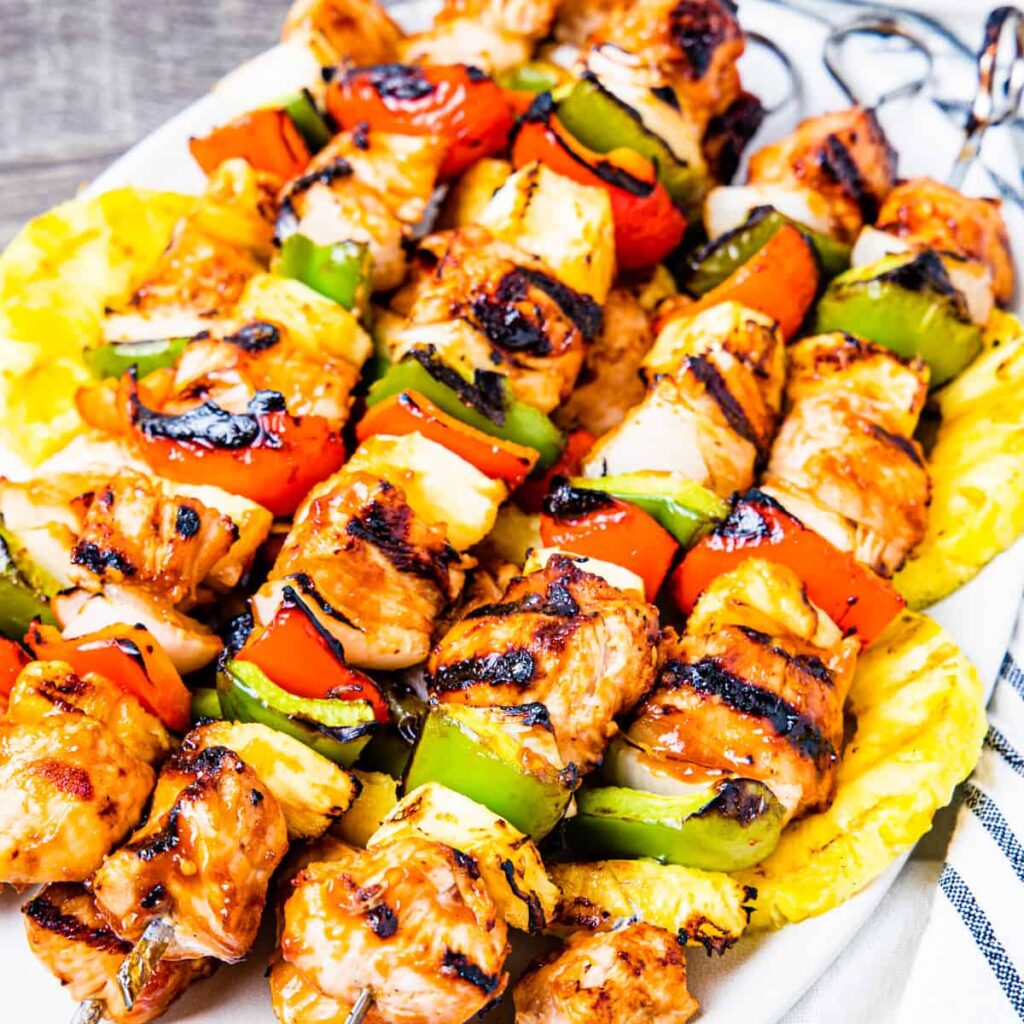 These Huli Huli chicken kebabs by Dishes with Dad bring lots of Hawaiian flavor. These are a guaranteed hit at a backyard luau party.
---
12- Ahi Tuna Poke Nachos with Wontons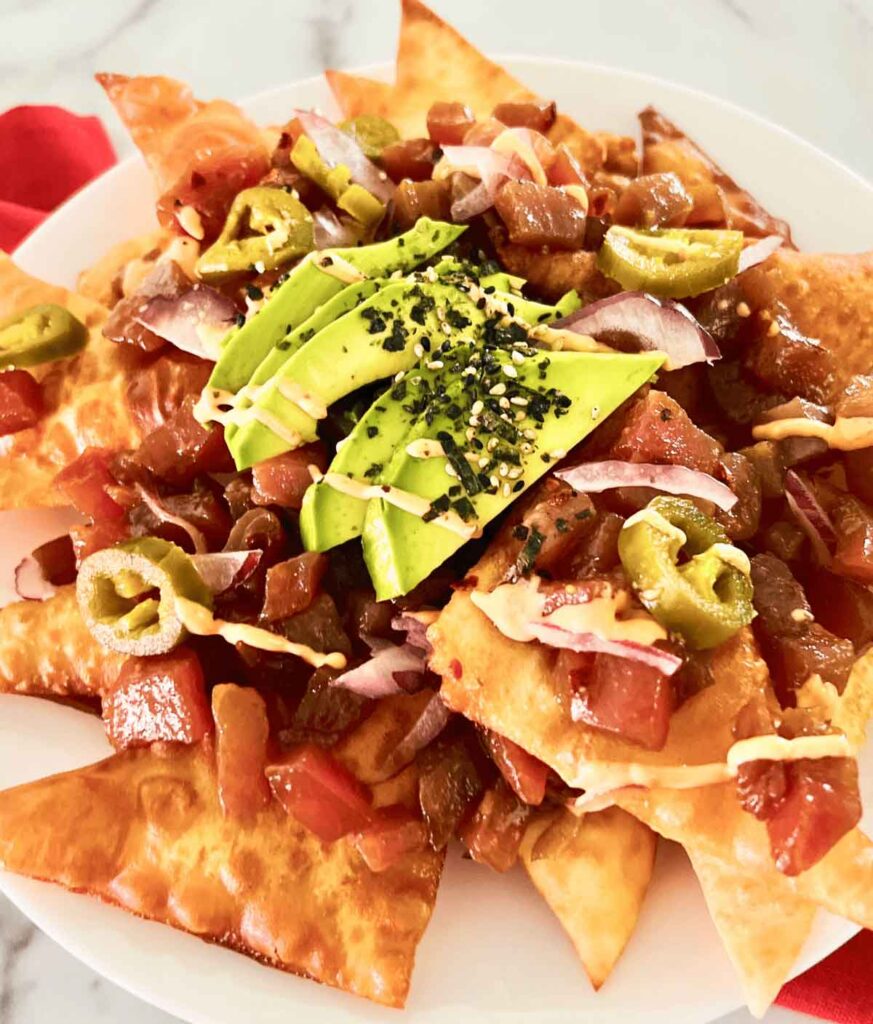 This dish uses wontons for ahi tuna poke nachos that poke-lovers will relish! The Short Order Cook uses sriracha and jalapenos to add a little kick.
---
13- Pineapple Macarons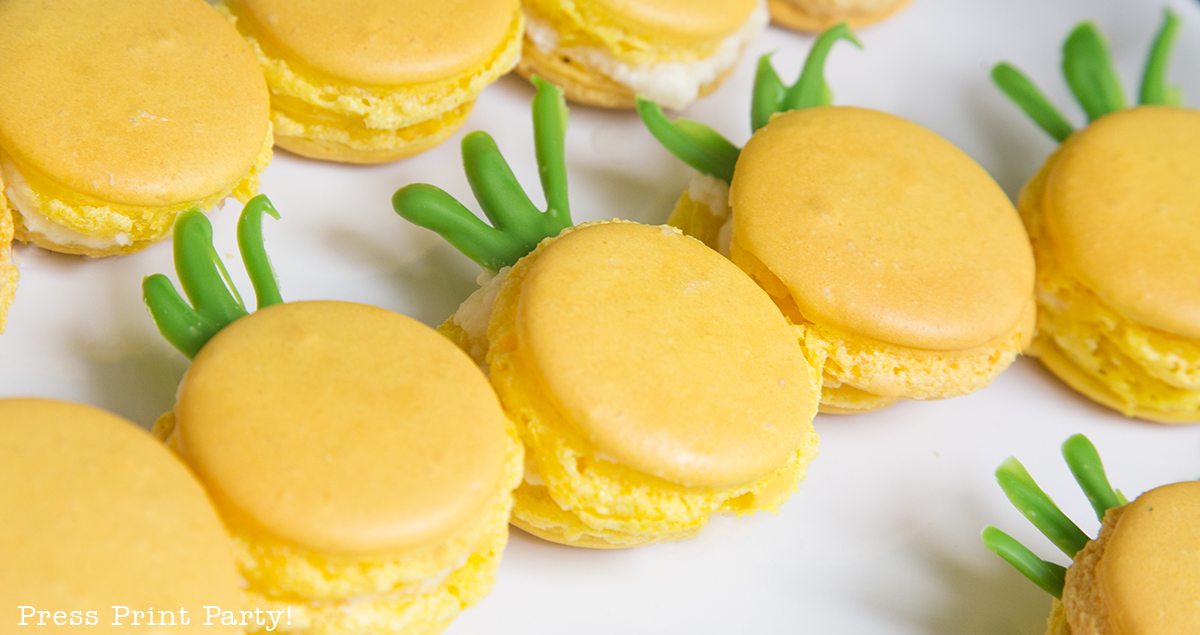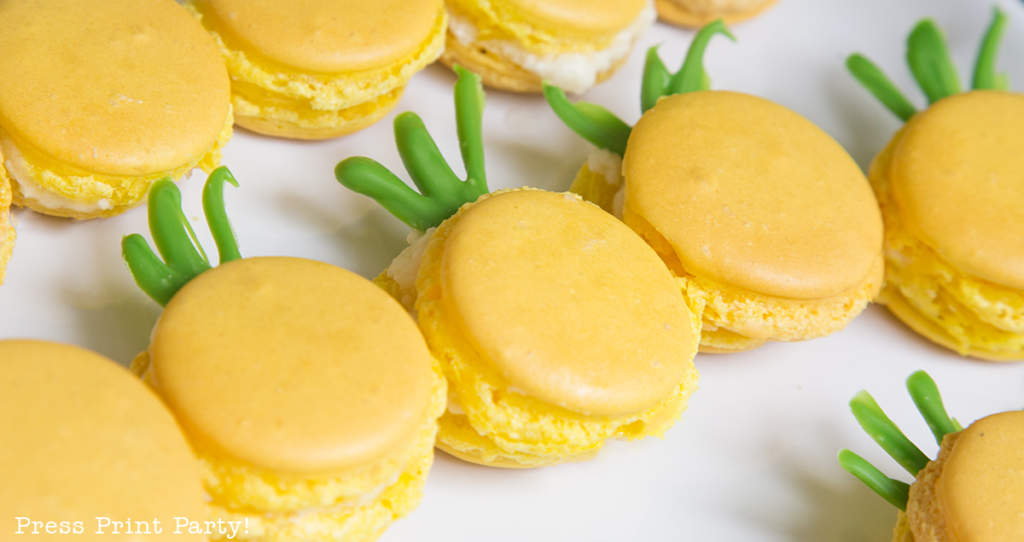 Macarons may be French but this pineapple macarons recipe will send your taste buds on a journey across the sea. This pineapple macarons recipe looks as good as it tastes.
---
14- Air Fryer Pineapple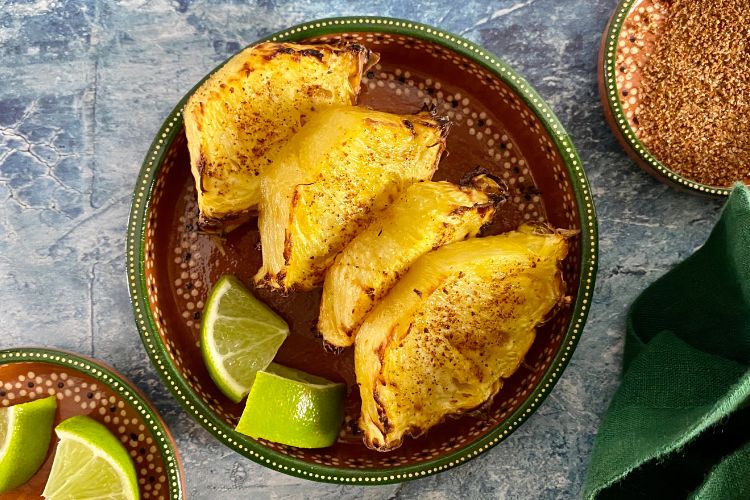 Air fried pineapple! Yes, it's a real thing, and so easy to make. Healthy Foodie Girl uses a few extra ingredients to spice it up and make the flavor more intense.
---
15- Pineapple Pretzel Salad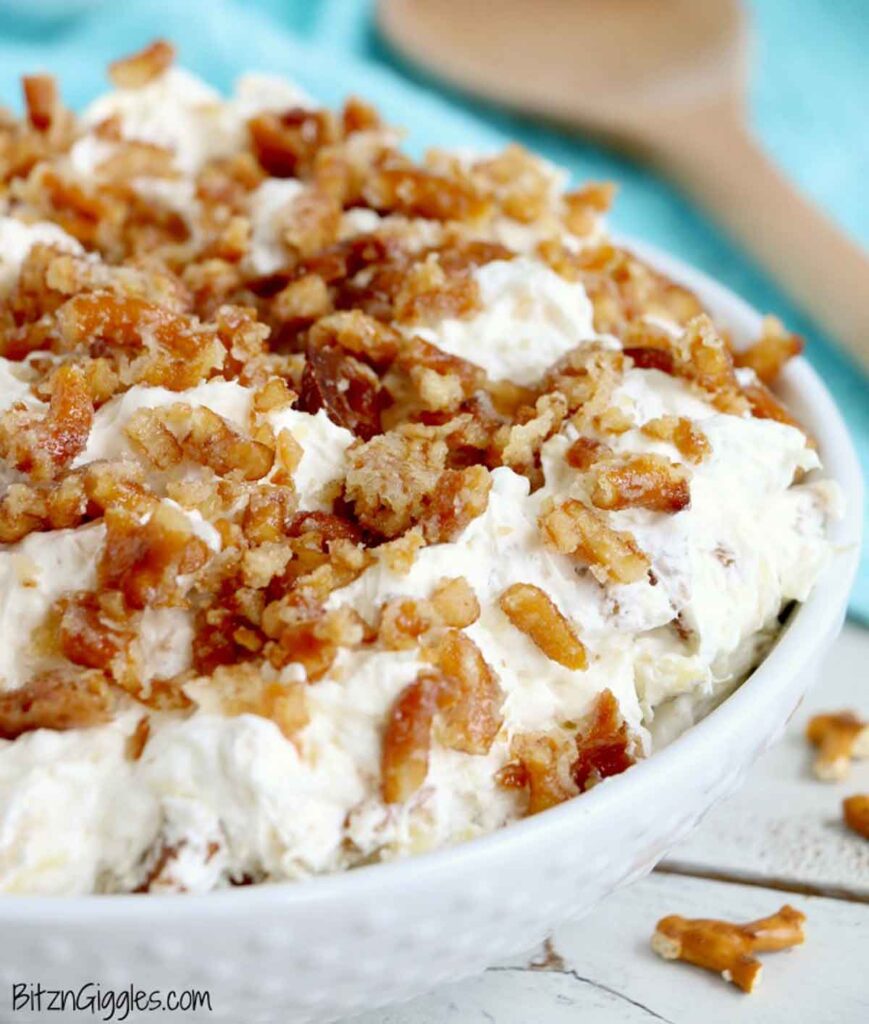 This sweet and salty masterpiece by Bitz & Giggles is a unique dish that your luau guests will love. Give pineapple pretzel salad a try. Hint: cream cheese is a key ingredient.
---
16- Spam Musubi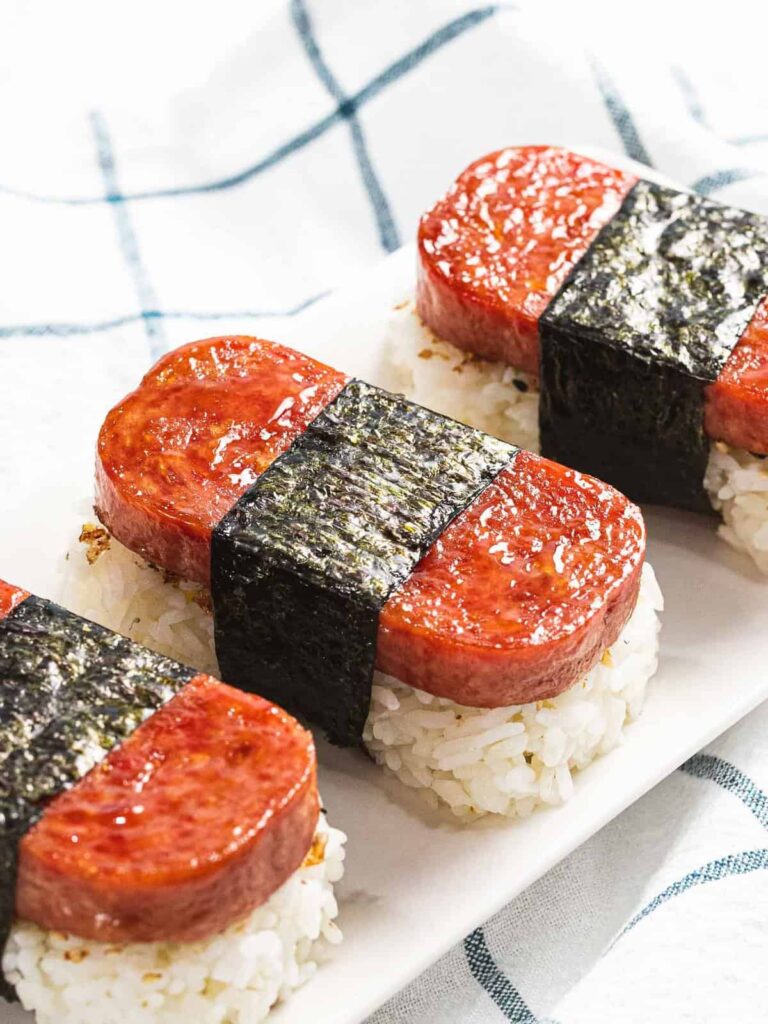 Spam is quite popular among native Hawaiians, and this is a staple dish for anyone who spends time there. Invite guests on a trip to Hawaii with Drive Me Hungry's recipe for spam musubi.
---
17- Tropical Summer Punch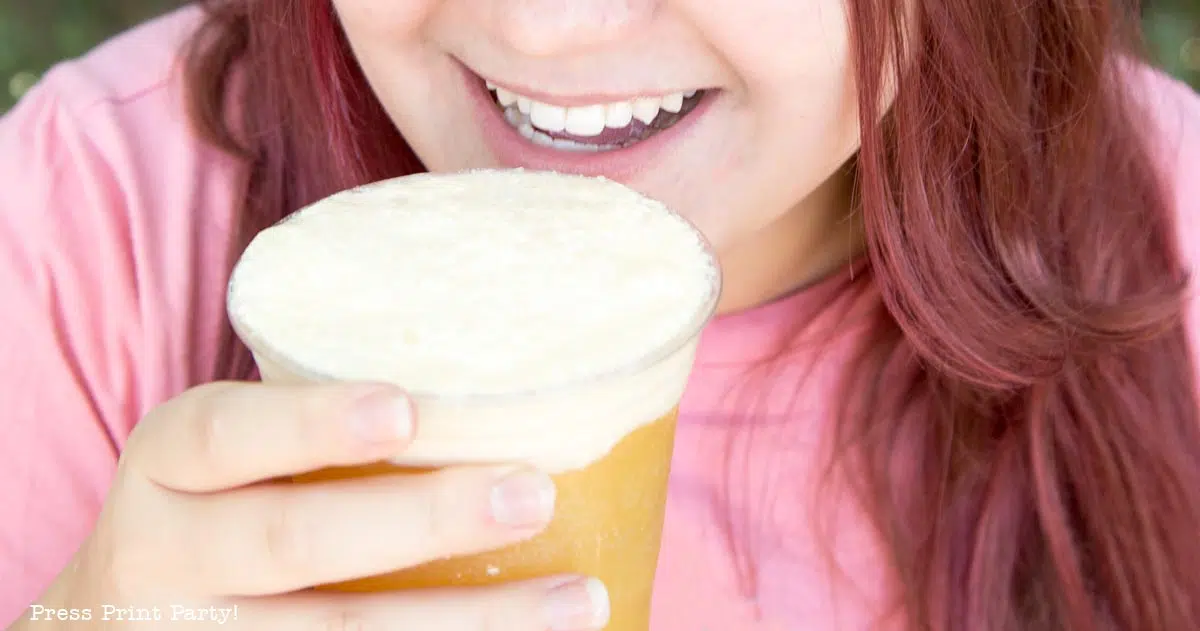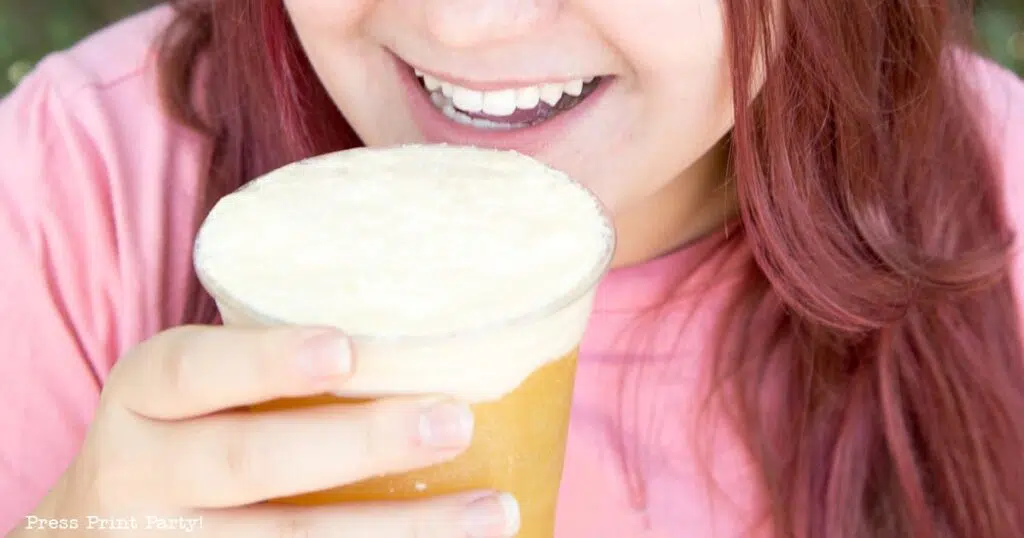 This tropical punch recipe is another one of my own. It's sweet, fruity, and perfect for a luau.
---
18- Sweet and Sour Pork Kabobs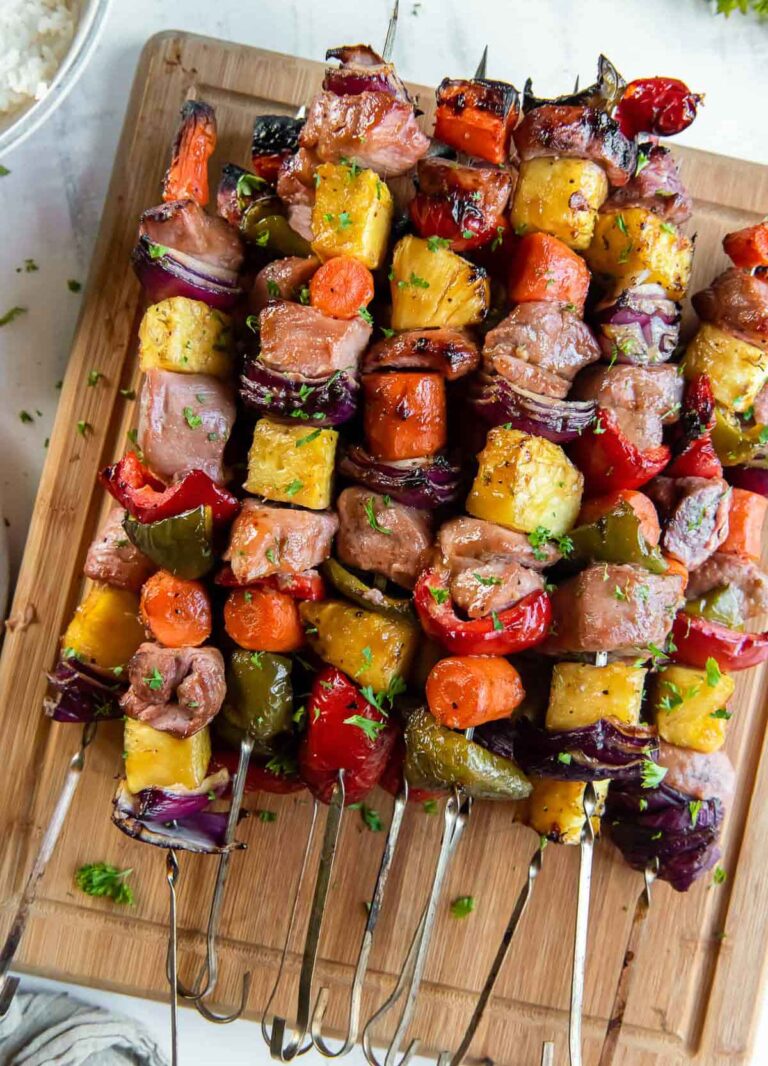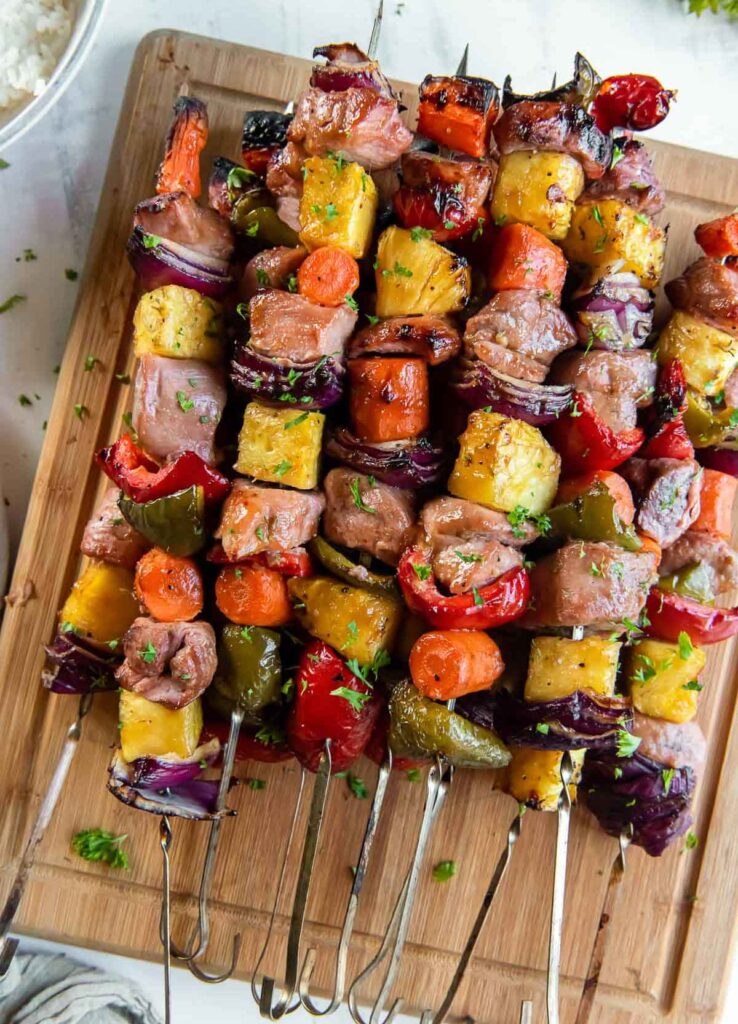 These deliciously sweet and sour pork kebabs let that smoky pork flavor make an appearance even when you haven't had a pig cooking in an underground oven for days. Thanks, Wholesome Made Easy!
---
19- Slow Cooker Kalua Pork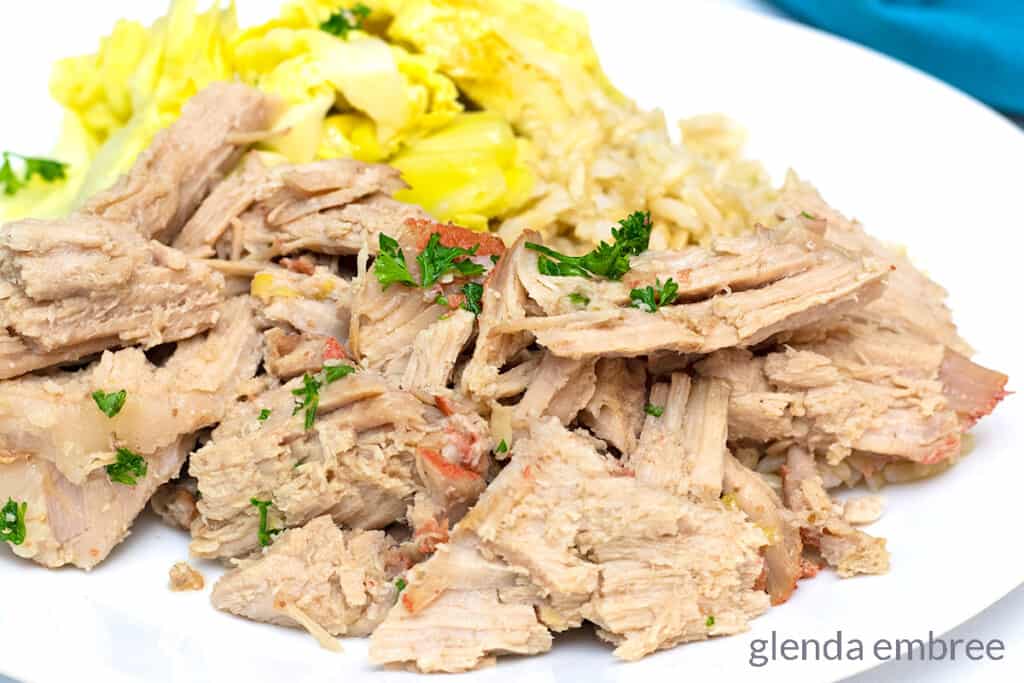 Make pork the star of the show with a slow cooker kalua pork recipe. Slow-cooked, this kalua pig recipe from Glenda Embree is so easy to make.
---
20- Hawaiian Meatballs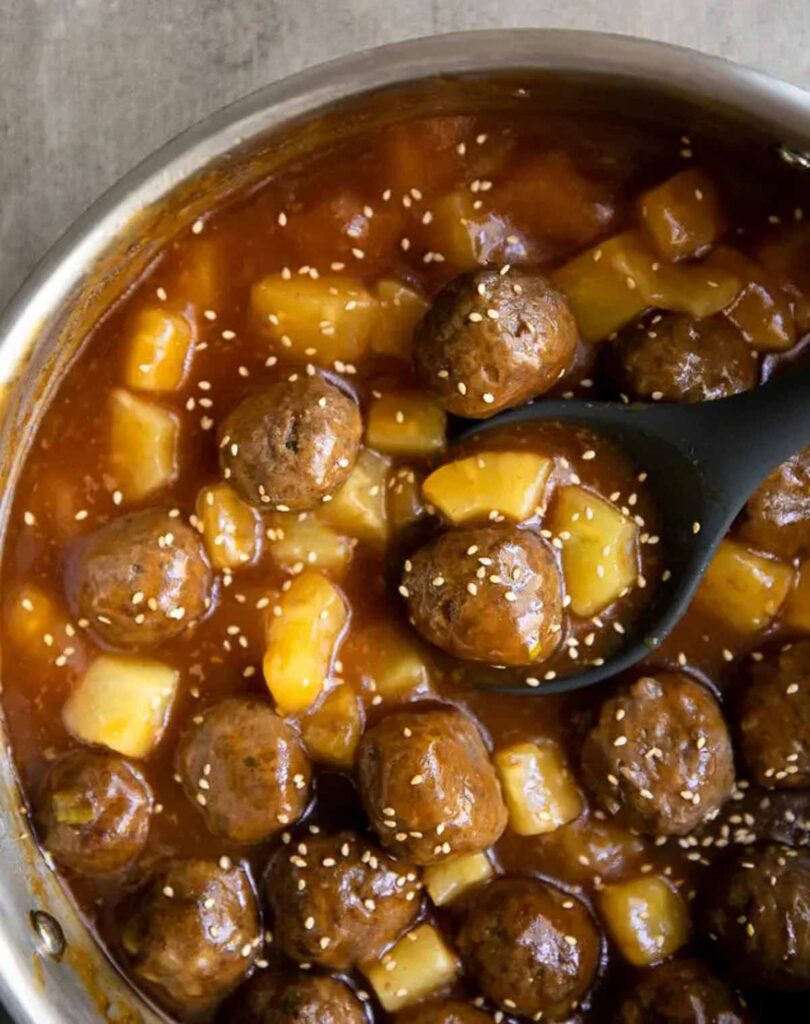 Here's another good appetizer option. These Hawaiian meatballs by The Forked Spoon are made with ground turkey which adds a slightly healthier option to the feast.
---
21- Grilled Hawaiian BBQ Chicken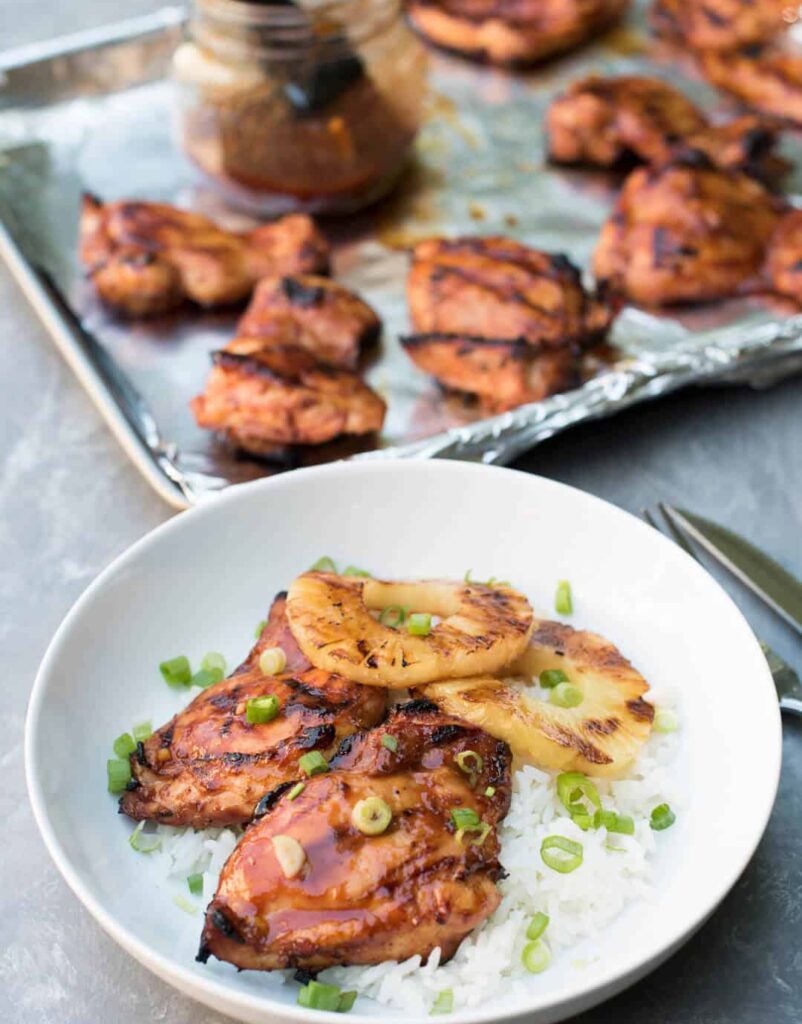 This grilled Hawaiian BBQ chicken is an easy crowd-pleaser. Valerie's Kitchen suggests serving it with rice and pineapple.
---
22- Pineapple Ice Cream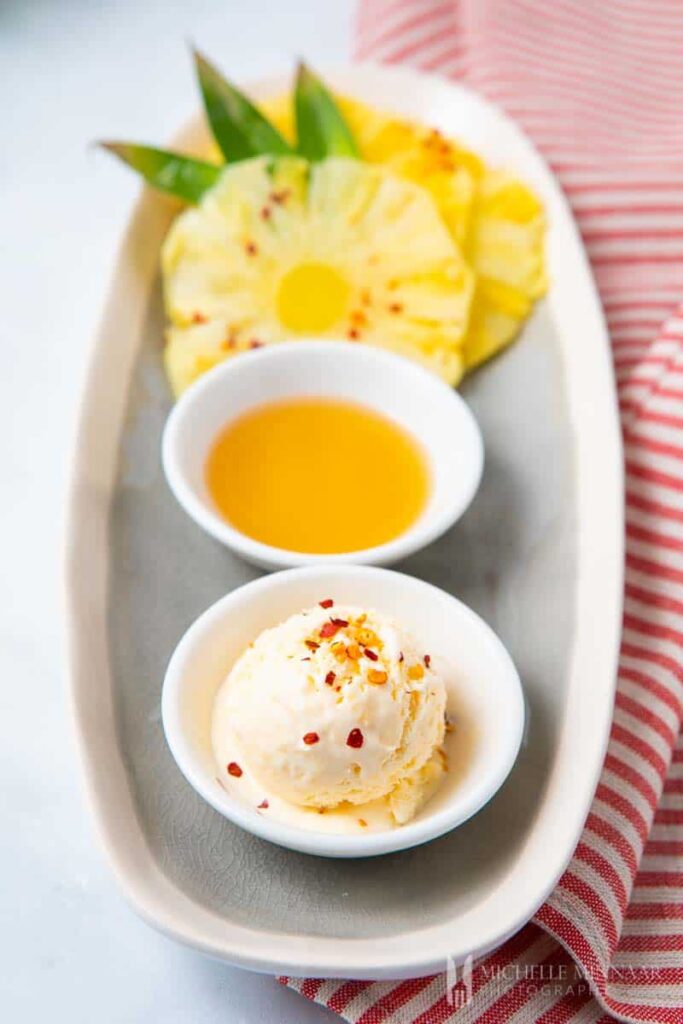 When dessert time comes along, this one is guaranteed to wow the crowd. This homemade pineapple ice cream from Greedy Gourmet is tasty, light, and refreshing. Just like Dole Whip!
---
23- Passionfruit (Lilikoi) Cheesecake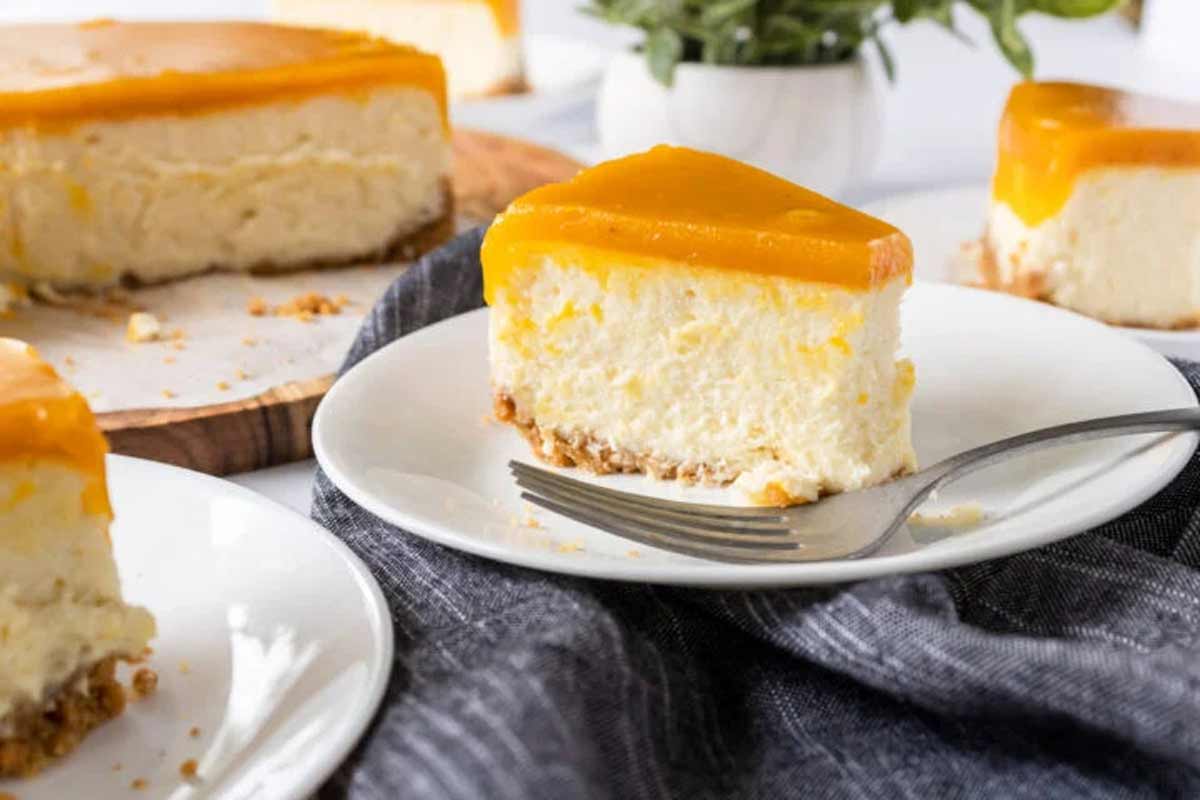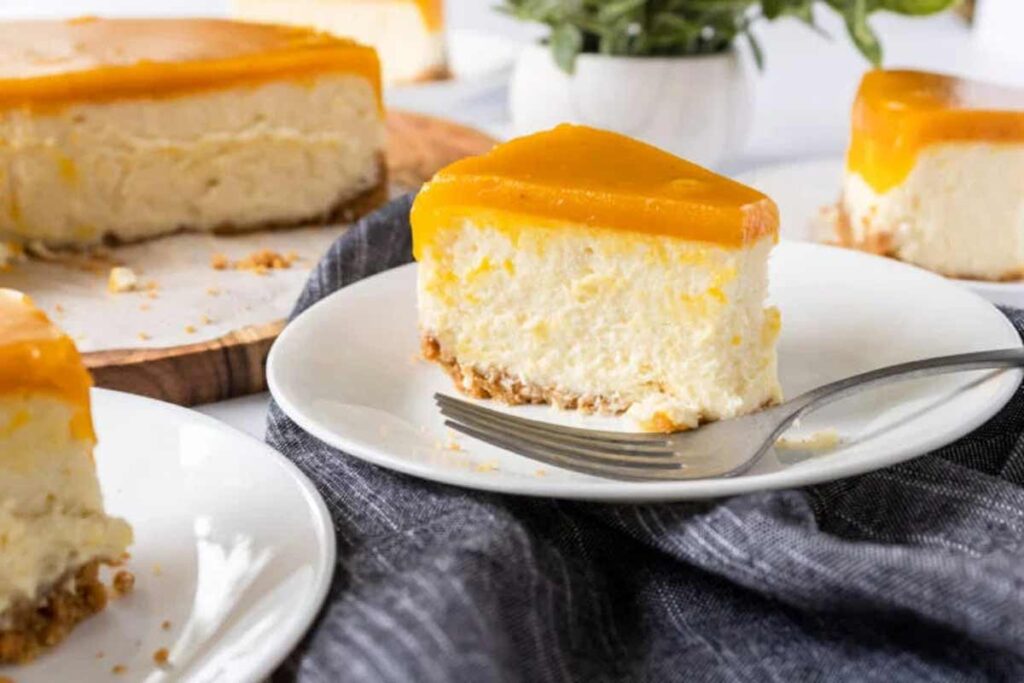 A great thing to serve with a scoop of that homemade pineapple ice cream is this passion fruit cheesecake from Simply Scrumptious. With a New York-style base and a layer of pure passion fruit on top, your taste buds will sing.
---
24- Hawaiian Shaved Ice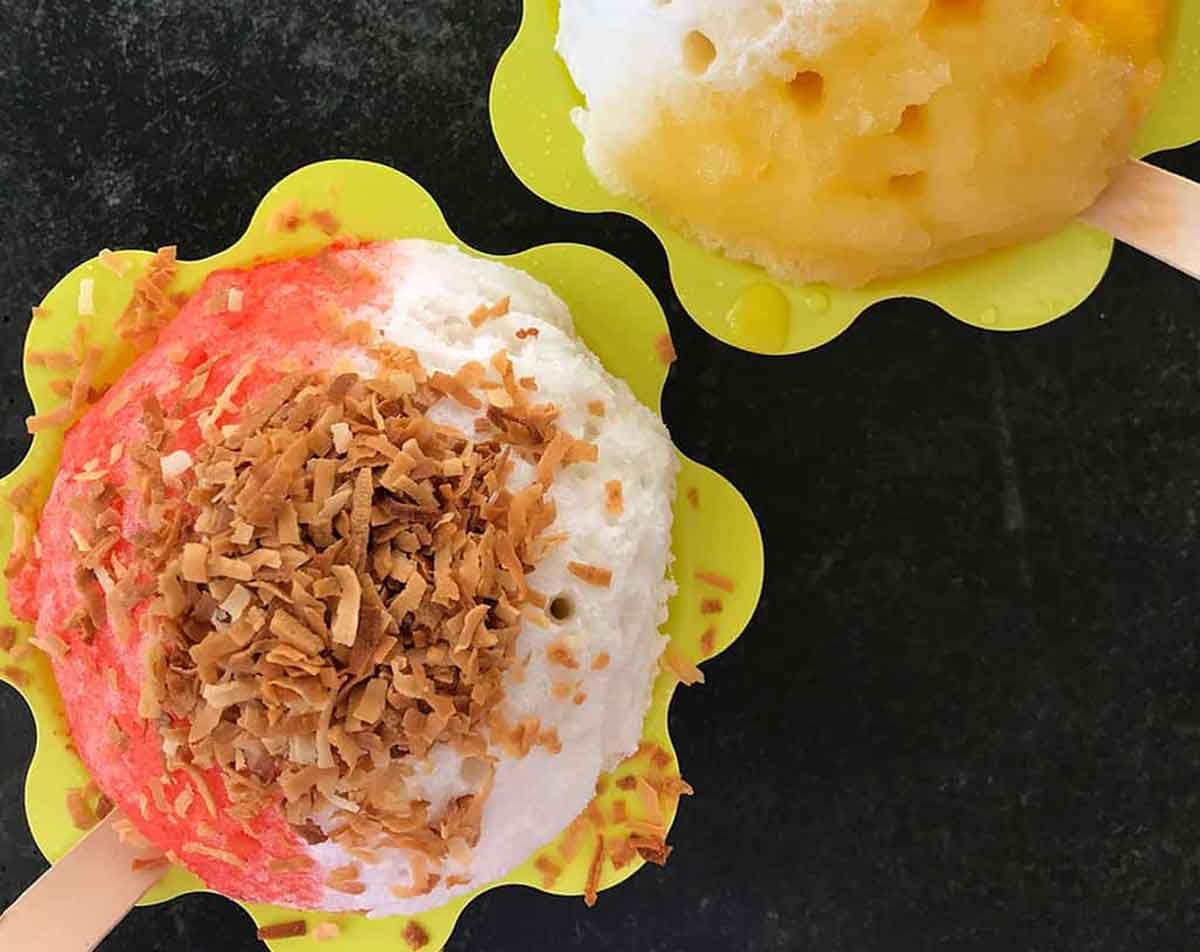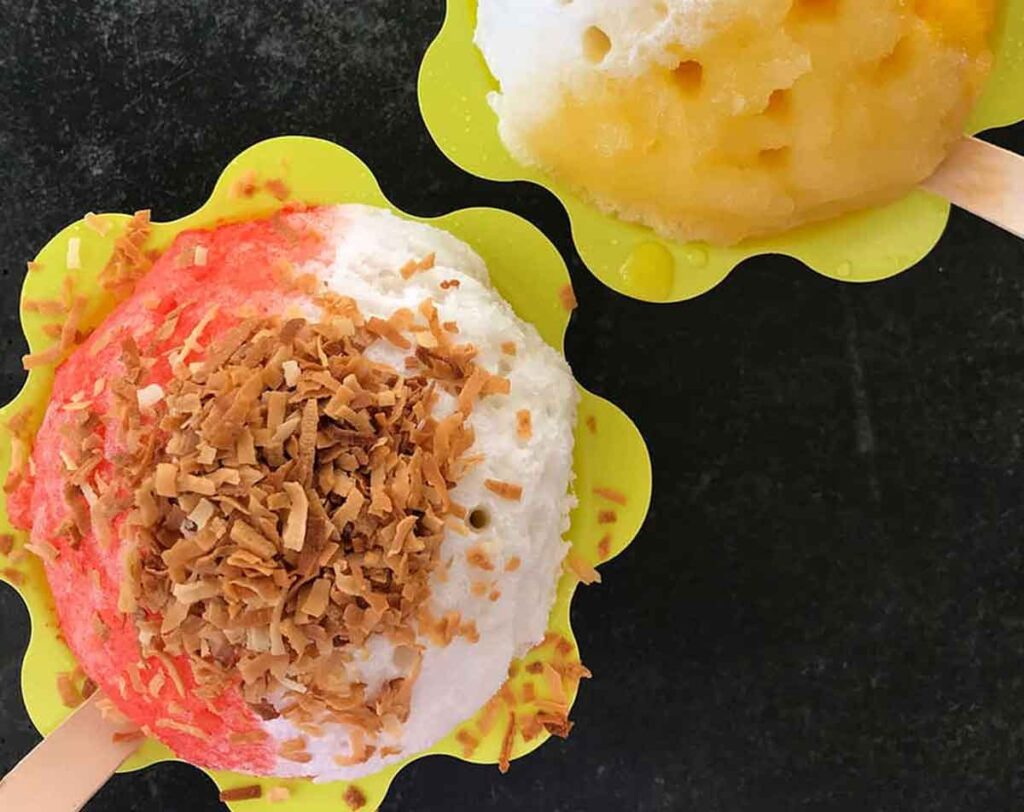 While a high-end snow cone maker is not required to make one of Hawaii's favorite treats, a shaved ice machine of some sort is needed. Happy Shave Ice provides a recipe for tasty shaved ice.
---
25- Lomi Lomi Salmon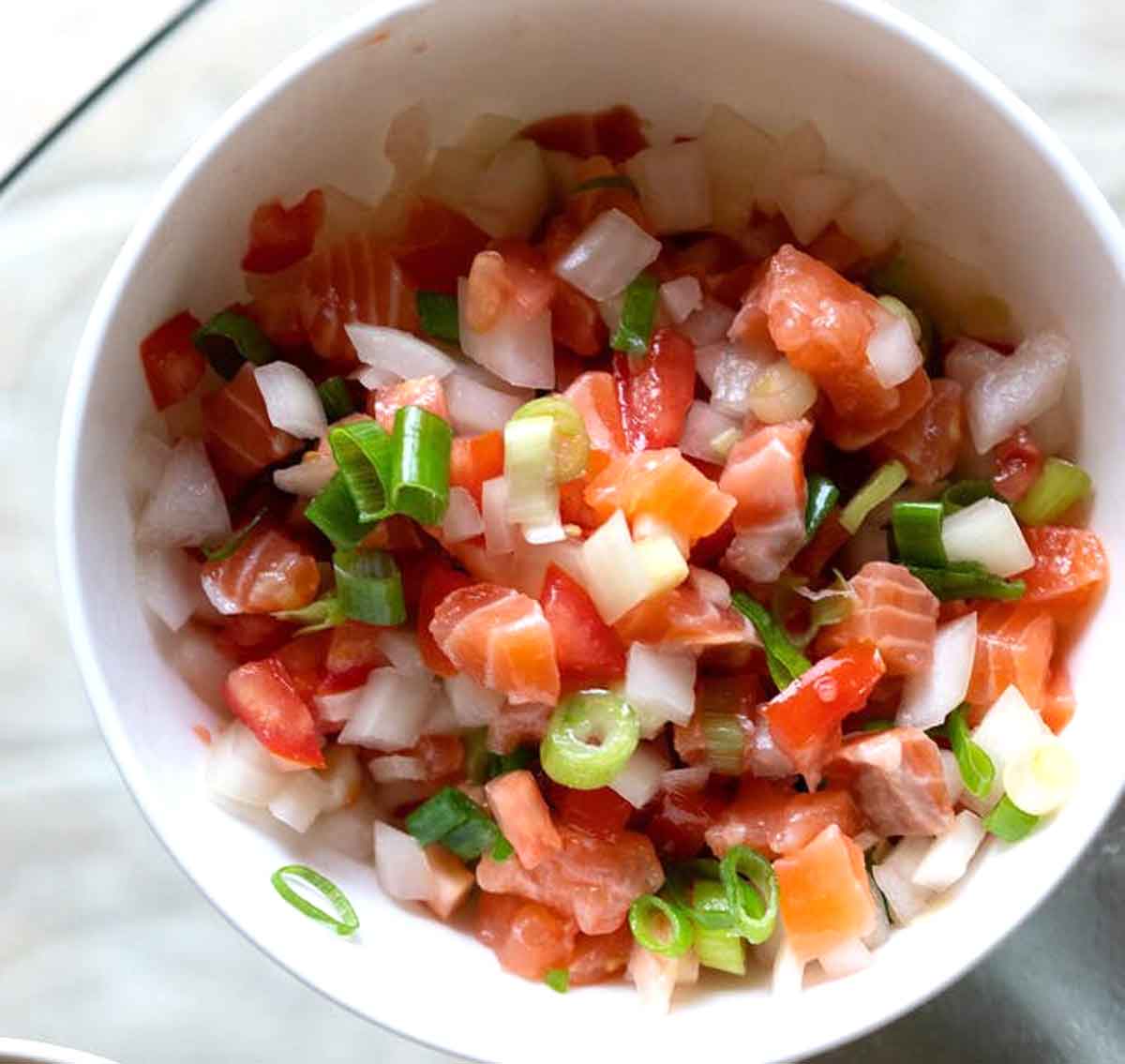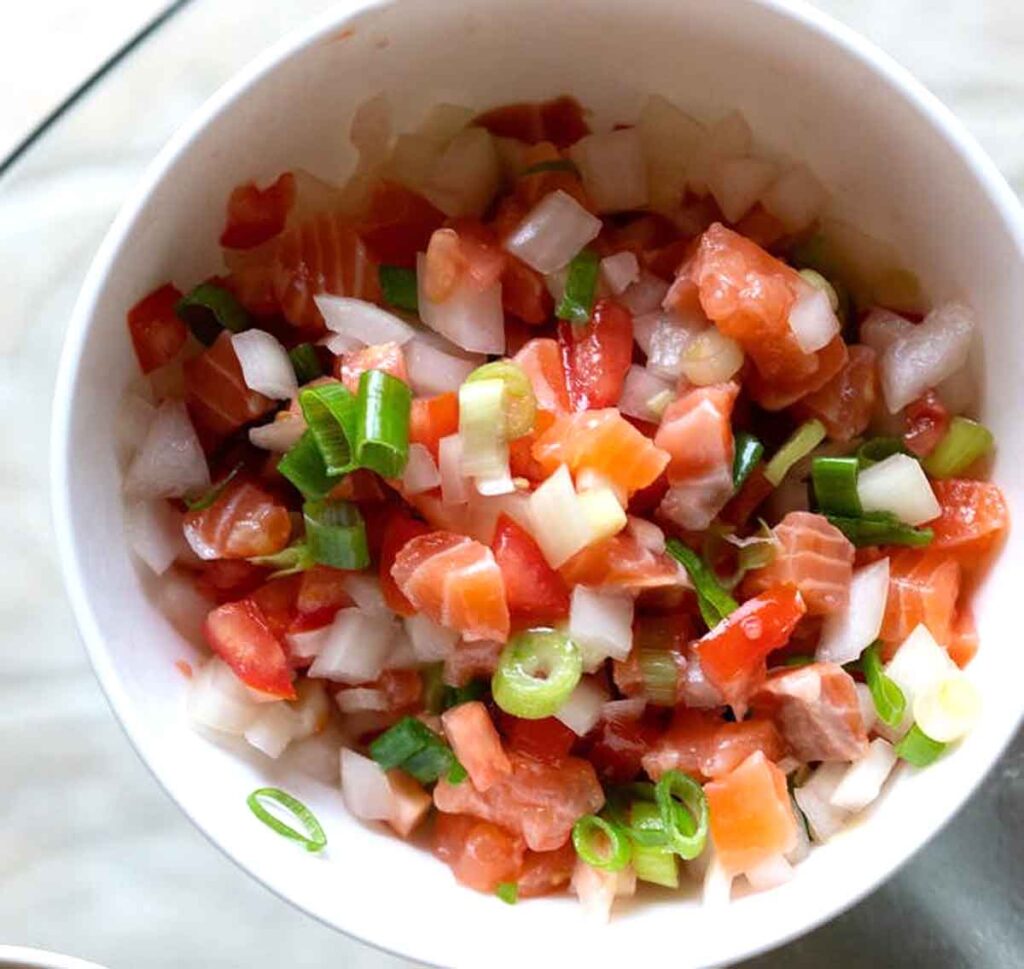 Lomi lomi salmon is not a stand-alone dish, but rather something you add to other foods. Onolicious Hawai'i shares the breakdown for making this local favorite recipe. Just think of it as Hawaiian salsa with poke.
---
I'm certain your luau party will be a hit and your food table will be amazing. It can be hard coming up with birthday party ideas!
If you need any help coming up with ideas for entertainment, check out my Hawaiian photo booth props. And for more drink ideas, stop by my list of 10 easy punch recipes.
Don't forget to pin these yummy luau party food ideas: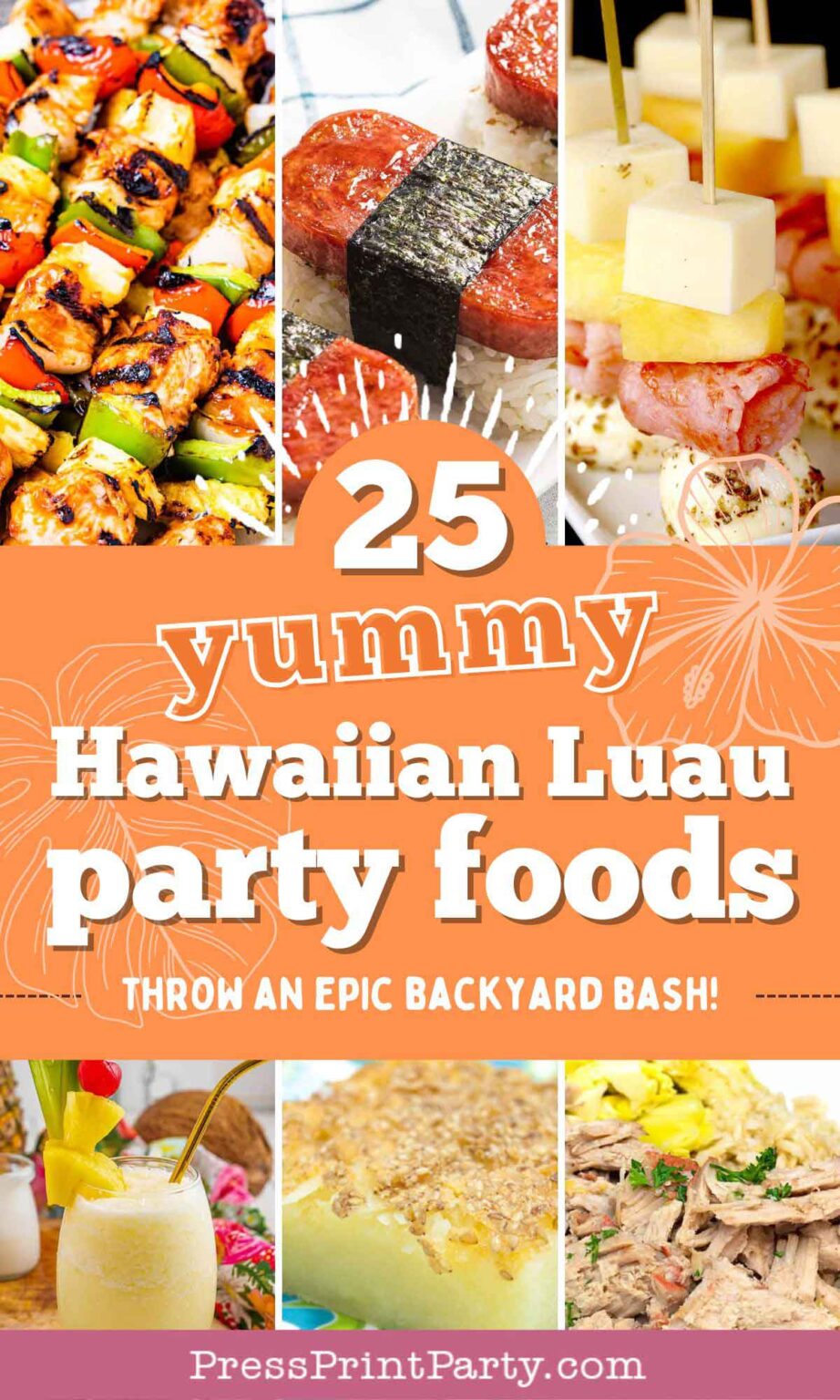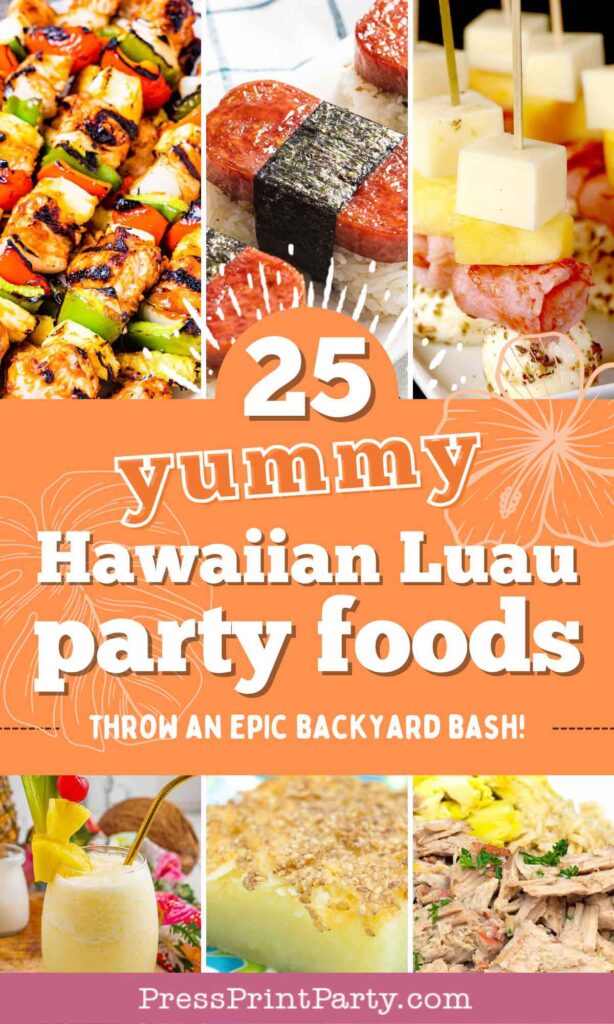 Check out our Summer printables