If you're wondering how to plan the perfect order of events for a kids' birthday party while still keeping your sanity, you're in the right place.
There's even a freebie at the end.
I've put a lot of thought, probably way too much thought, into this very question and have made several mistakes along the way.
But I now have what I call the perfect birthday party schedule. And I've proven to myself over and over again that it works.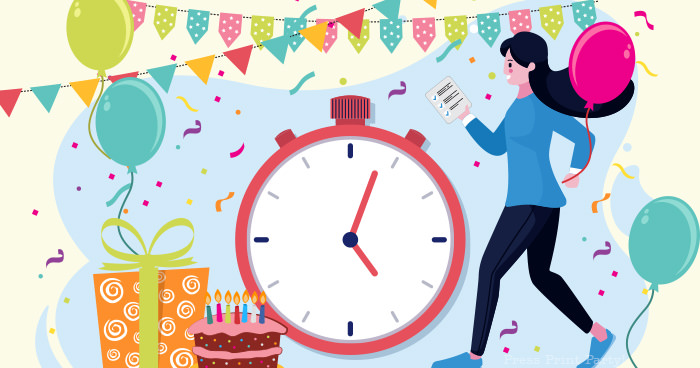 The unpleasant reality is that the inspiration for my perfect party schedule and timeline came from several party fails:
---
Party Fail #1:
I remember it like it was yesterday. We'd had a fun tea party with the kids and the parents started showing up for pick up. As soon as I saw them I started to panic!
The cake!
Time had gotten away from me and we hadn't sung Happy Birthday or eaten the cake! I apologized to the parents, furiously got the cake, we sang, I cut it as fast as I could and offered it to the kids and parents as they were going out the door. We had a lot of leftover cake that year!
---
Party Fail #2:
The kids are opening presents. My 7-year-old daughter gets a popcorn maker and says "I don't like popcorn."
Ooops.
---
I learned 2 things.
I need an order of events party schedule so I can keep things moving and on track, AND I need to train my kids better.
So I came up with a party schedule, one for a 2-hour party for when the kids were young, and as the kids became tweens and teens we expanded to a 3-hour party schedule.
This schedule really works. Look at this email I got:
I used your AMAZING party schedule for my 5 year old daughters birthday in December and it was a huge success! I had little girls telling me it was the best party they had ever been to and it was just at our house. Thank you! Thank you! I have three daughters, 8, 5 and 2 and I will not have another party without using your schedule and timer.

The schedule is part of my party philosophy that kids need structure and that scheduled activities matter and are a big part of my secret formula for a successful birthday.
Well, it's not so secret anymore since I've written a full blog post outlining my 3-part secret party formula and a birthday party planner and checklist based on it. At the end of this post, you'll be able to scoop up the Kids' Party Schedule page from my Birthday Party Planner for free and create your own perfect order of events.
So here it is:
The Perfect Birthday Party Schedule for a 2-hour Party
10-15 mins kids arrive

15-20 mins crafts

30 mins games

(2 or more depending on the number of kids and the game)

5 mins group photo

20 – 30 mins piñata (or more games)

15 – 20 mins cake/ice cream

10-15 mins "Free play" or short game – kids leave
There is no gift opening time in this schedule and that's on purpose.
Kids, when they're this young don't care about their friends opening their gifts and it's hard for the guests to stay still that long.
They get bored. I understood early on that my kids wanted to play at their birthday parties, not sit and open gifts. I've seen young kids open present after present, throwing them over their shoulders without a second look and never thanking anyone.
Don't let that be your kid!!
I'd suggest you do one of two things. Either sit down before the party and teach your children how to graciously open a gift that they don't want or skip opening gifts during the party and do the training a day or two later.
What I did when mine were young was to pour a cup of my favorite tea, gather the kids and sit down after the party was over for a little record keeping.
They opened all their gifts after everyone was gone and I used the handy dandy guest list in my Ultimate Birthday Party Planner to jot down everything they'd gotten and who they'd gotten it from.
Mine is the only guest list I've ever seen that has a space for "Gift given" and a checkbox to record whether or not you've sent the thank you note.
Birthday Party Timeline for a 2 ½ – 3-hour Party
10-15 mins kids arrive
30 mins crafts (something more involved for older kids)
40 mins games (2 or more depending on the number of kids and the games)
15 mins group photo + take individual shots
30 mins piñata
15 – 20 mins cake/ice cream
20 mins open presents
10-15 mins "Free play" or short game – kids leave
Older kids, like teens, may want to open the gifts with their friends. Just ask. If they don't, just plan for more activities.
Ultimately this is only a guideline but just writing down your plan for the 2 to 3 hours will ease your mind.
Think of yourself as the Master of Ceremonies. Keep your list available and an eye on your watch.
I actually set alarms!
Now it doesn't mean that I stop a great game to take a group picture, but it gives me a sense of where I am and how to adjust as the party goes on.
Let's take the birthday party timeline one section at a time:
While all the kids arrive, you should give each of them, and/or their parents, some direction.  Like, "You must stay outside", "Upstairs is off-limits", "You can eat or drink anything you want on the table except the cake",  "We will be starting a craft soon", "Only 4 people at a time on the trampoline" etc… 
If the parents are staying you can direct them to the treats that you have prepared for them and encourage them that you have it all under control and that they should have a good time.
It's also good to have a game ready for the kids to play. You can do Duck Duck Goose or coloring when they are young, or a "Guess the name of the movie on your back" game with older kids.
Find an age-appropriate craft in the theme of the party.
Set up a table with everything they need. It's best to have one of everything for each child. If you have help (even your hubby or an older child) have them be the craft table monitor.
A craft can be as easy as coloring sheets for the younger ones or something much more involved for the teenagers.
Why First? The great thing about starting with the craft is that if kids are late, it's easy for them to just sit down and start on the craft with the others while it may be harder to join in a game that has already started.
Kids will love making something to take home. If the kids are really little, the parents may help with this step. We've made everything from monkey masks to pineapple pen holders to paintings of the Eiffel tower and festive hair ties. 
Make sure you have an extra game on hand if the kids go through the craft too fast.
You need to plan on 2 or more games appropriate to the kids' ages.
And no, renting a bouncy house or having a pool party and just letting them go wild is not a game. If you have a pool party or a bouncy, plan actual games to play, like an obstacle course or a race.
You want structure, not chaos.
You also need to take into consideration the number of kids and the type of game. Keep in mind, a game of pin the tail on the donkey with 20 kids will take a long time (maybe too long even) so a game where all can play at once (like a scavenger hunt) may be better suited for larger groups.
Kids need structure and the birthday boy or girl will have a lot more fun with their friends with structured games. It also ensures that everyone has a good time.
If you invite kids that don't know each other it can be awkward for them to just be left to play alone. A game forces the introductions and interaction and then no one's a stranger.
We've always had a mix of friends at the kid's parties. Some are neighbors some are kids from school and others coming from church but we've never had loners because they all participate in the fun.
The games you play don't have to be revolutionary.  Kids will have fun with an egg in spoon race, musical chairs, a potato sack race or pin the tail on the donkey. 
I have a great post with fun twists on 7 classic party games that may give you some good ideas. Some of my kids' favorite games we've played so far were at the pineapple party.
If you're doing something like a spa party, game time would be the time when the girls will get pampered up.
This is also the perfect time for paid entertainment. We had a company come with a bunch of exotic animals for our safari party and we took some amazing pictures. The kids had a blast learning about and touching all of the animals and found the whole process just fascinating.
Be warned, the kids will be having lots of fun so this section may go long.
But the show must go on to:
Gather all the kids for a quick group photo.
Why now? Don't wait until the end of the party, do it now. Even the tardies have arrived by now, and everyone has just had loads of fun with the games. It's the perfect time for a break and a picture. (And it gives your helper the time to hang the piñata.)You don't need to, but I love to have a pre-determined backdrop for this.
I've made myself a PVC frame big enough to hold a backdrop for 2 dozen kids. That's also where having some photo booth props can be loads of fun. Take a couple of good smiley pictures but don't forget to take a silly one at the end! The kids LOVE that!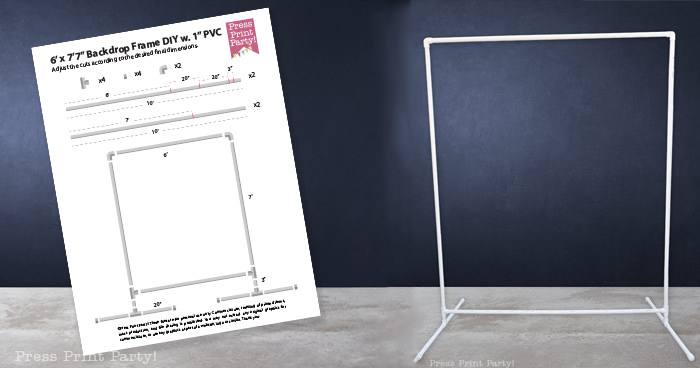 Don't miss the group picture. You'll want it as a great memory of the event AND it's a great addition to your thank you notes. I've regretted not taking group pictures of the first 2 parties we did. But I've created thank you notes out of the group picture for all the others. They're so precious to me and my kids.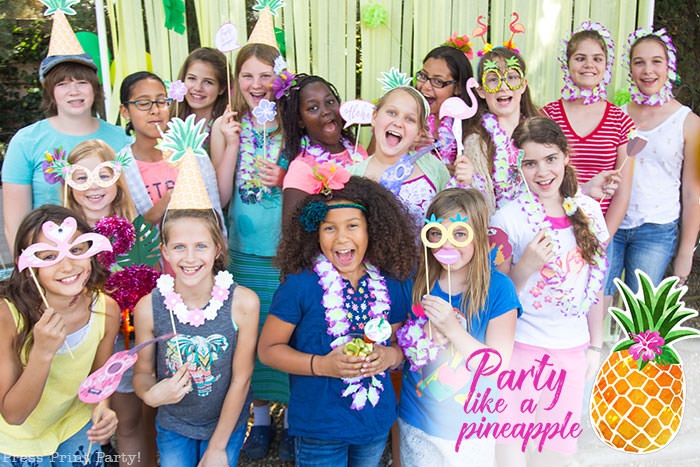 You can choose not to have a piñata and just have more games or "free time" (Again, I wouldn't recommend lots of free time, too much opportunity for things to go wrong). But a piñata is a genius use of the time.
Let me tell you why.
First, after 30-40 minutes of running around with games, the kids are ready to be lined up and stay still.
Second, they'll be so afraid of missing out on the exploding piñata and all that flying candy, that they'll stay put and concentrate. We've made loads of pinatas as a family throughout the years. Breaking them is always one of the highlights of the party.
Of course, do keep in mind that giving kids a long stick and blindfolding them is an accident waiting to happen. Be smart. You don't want to be one of those families on America's Funniest Home Videos.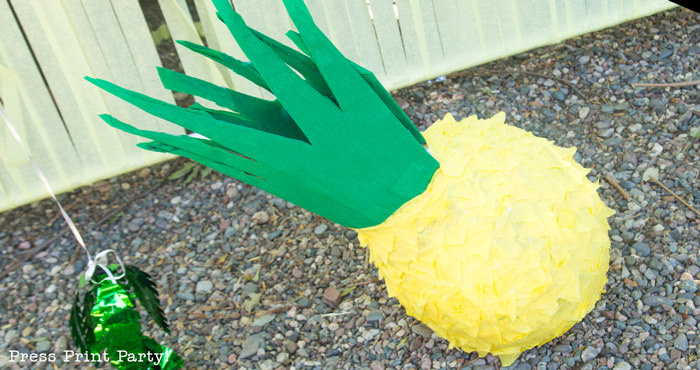 Finally!
While the kids examine their piñata loot (and they all will), go put the candles on the cake and light those babies up. Gather everyone and sing! Take some pics and serve the cake. Ice cream is also always welcomed at this stage. I mention a couple of ice cream and cake serving tricks in my 11 party hacks post that you may want to check out.
Why now? The cake should be the pinnacle of the party. You don't want kids full of cake and ice cream running around playing games… they could get sick… you get my drift.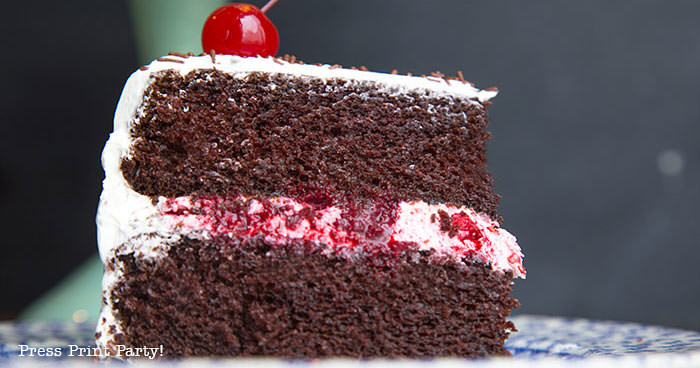 You don't want to miss this recipe:
As the party is winding down, you'll love finally sitting down. I would recommend doing this only if you know your kids care and they will behave gratefully. After my daughter's embarrassing comments, I actually trained my kids to be grateful when opening gifts even if it's something they already have or don't care for.
We sat down and role-played with fake gifts. But young kids may get overwhelmed. If so, just leave the gift opening until after the guests have gone and use my easy guest list in the Ultimate Birthday Party Planner to make sure you send thank-you notes.
If you think you need to, you can have a predetermined plan for this time also. You can put cartoons on and sit them in front of the TV or have them just play in the backyard. Teens will just want to sit and chat a little. In any case, they need to know to stay in a certain area for their parents to pick them up.
---
Planning your kids' birthday party is one of the most rewarding yet exhausting things you're ever going to do. So pat yourself on the back for a job well done!
If you're planning your kid's party, don't do it in the dark, use The Ultimate Birthday Party Planner to help you! It's way more than a workbook, it's a system + a checklist + a workbook!
Click to learn more! And grab the free printable birthday party schedule page below:
Don't forget to pin it and help other moms: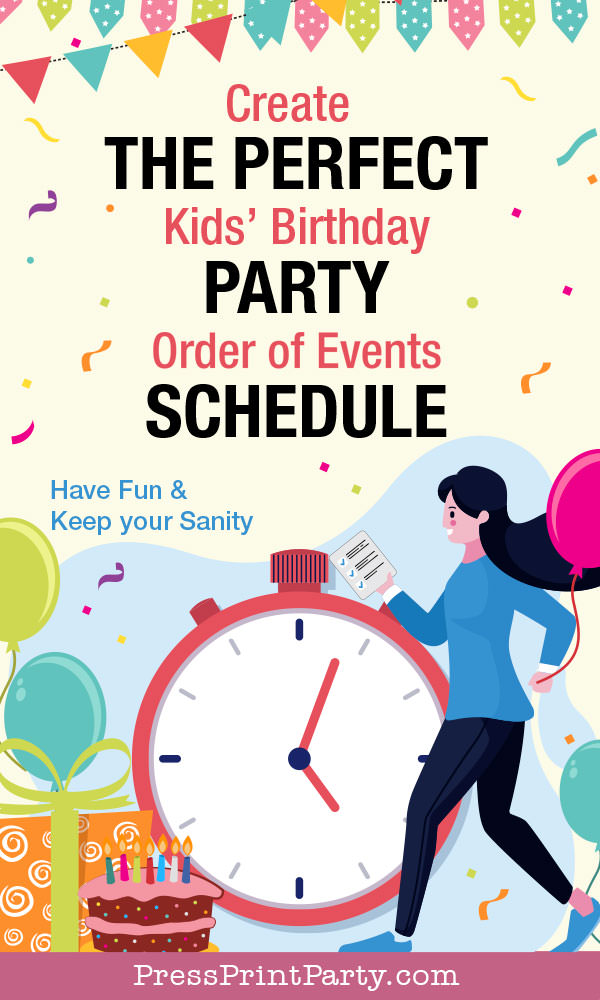 Get your Freebie:
If you've already subscribed, you can get the password from the bottom of any email I send and go directly to the Free Downloads Library.
Check out our birthday printables