It was that time of year again! Birthday time! We had just made a trip to Paris in the fall where my girls decided that their next birthday theme was going to be Paris! Honestly, what do you do with that? It's not all package-ready like a good ol' pirate party. But my girls are growing up and the themes they choose reflect that; and with a French mom it was bound to happen.
So I came up with a Paris party with a French vintage flair (with the Paris party printables available in my Etsy shop). One that reflects travels and refined Parisian tastes.
Come and explore the food, decorations and activities that made this party such a success.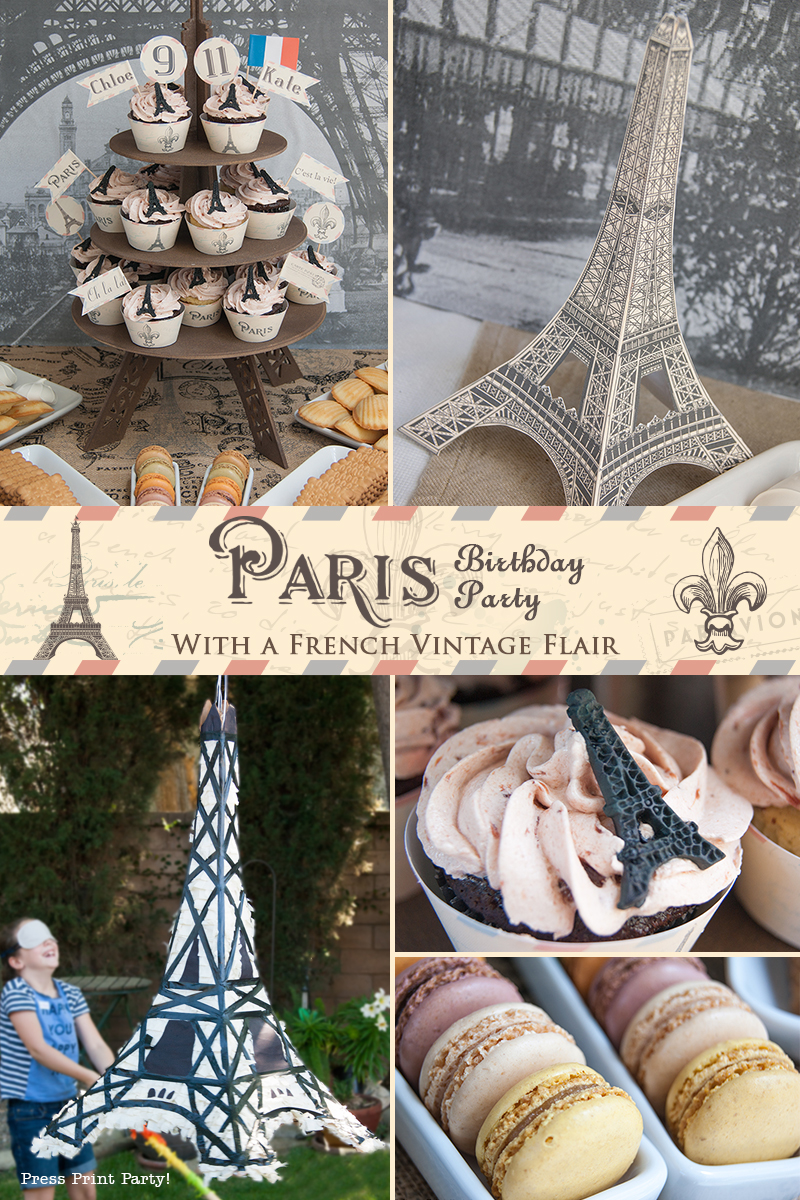 Full of French treats, my main table was set in front of an elegant old photograph of the Eiffel tower (available in the set and individually) and framed by blue, white, and red balloons.
Although there are plenty of Eiffel tower sheet cakes to choose from on Pinterest, I can't say l liked any of them. Then I saw this amazing Eiffel tower cupcake holder on Etsy and I was in love! I got the unfinished one and spray painted it with a metallic brown. It looks stunning with all those adorable cupcakes.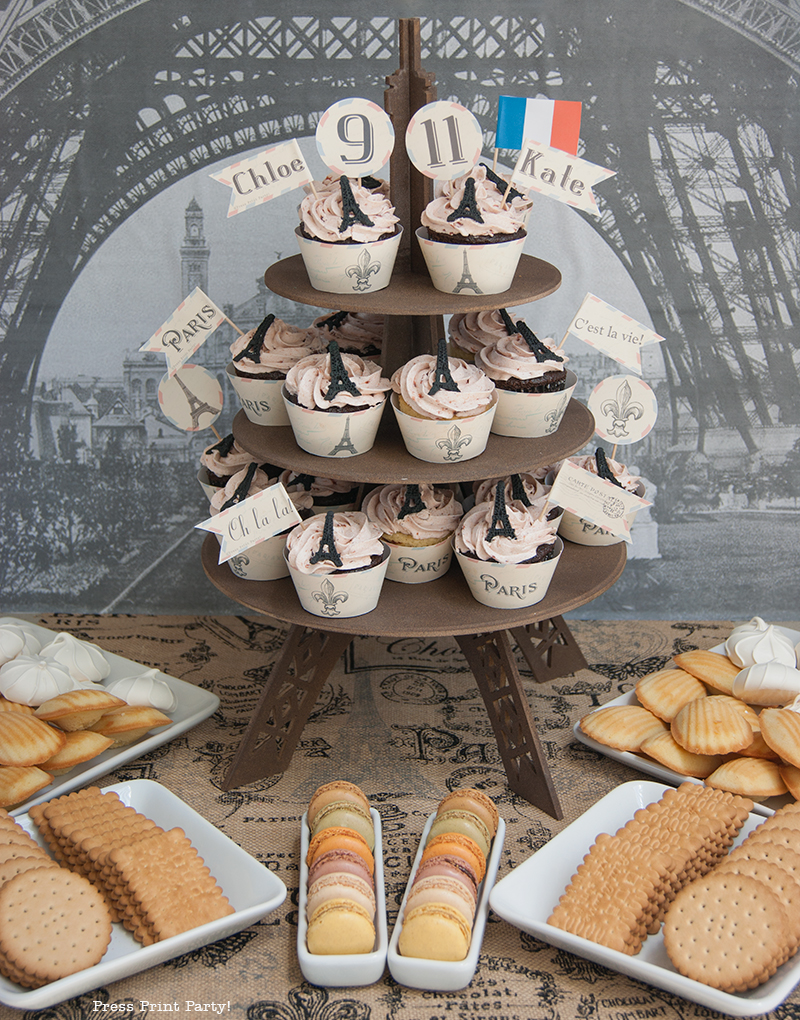 The cupcakes were spruced up with the cupcake wrappers now available in my set, topped with a generous dollop of strawberry buttercream and decorated with a fondant Eiffel tower. I found " target="_blank" rel="noopener">the fondant mold on Amazon and it worked perfectly. I just bought a small package of black fondant at Michael's.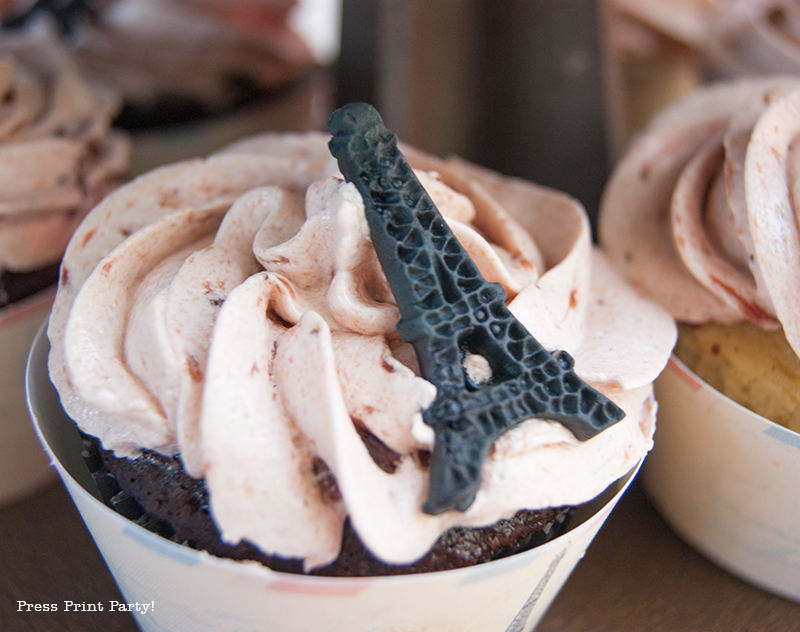 The treats included meringues (Trader Joe's), madeleines (Costco), macaroons (Trader Joe's), Tea cookies and round chocolate filled cookies reminiscent of my childhood in France. (I found an off brand at a Middle Eastern store that was just as good).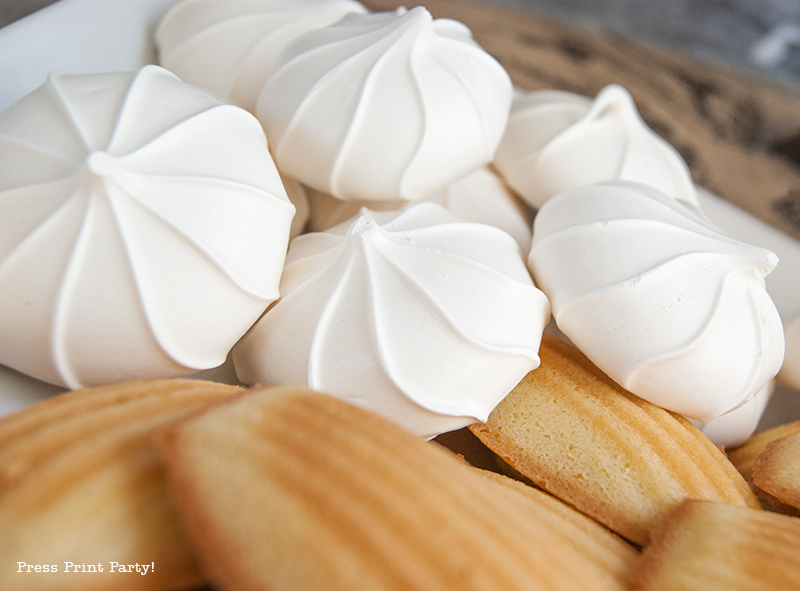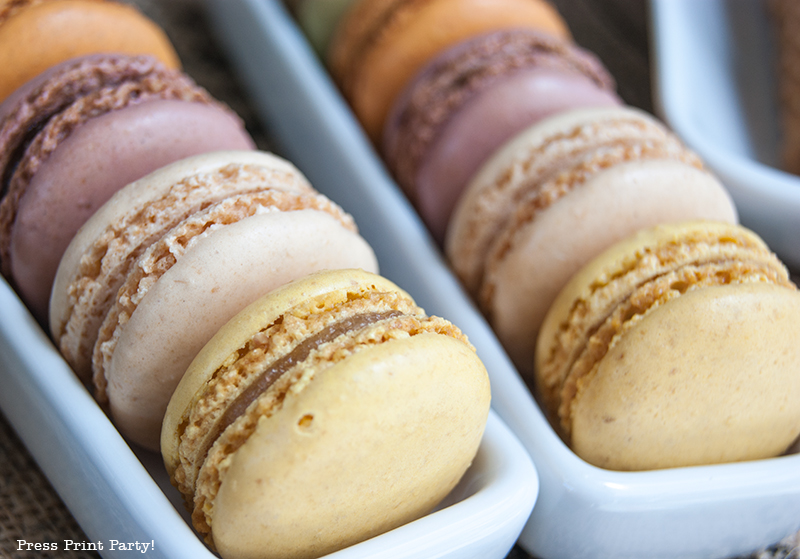 Another table displayed more goodies as well as drinks!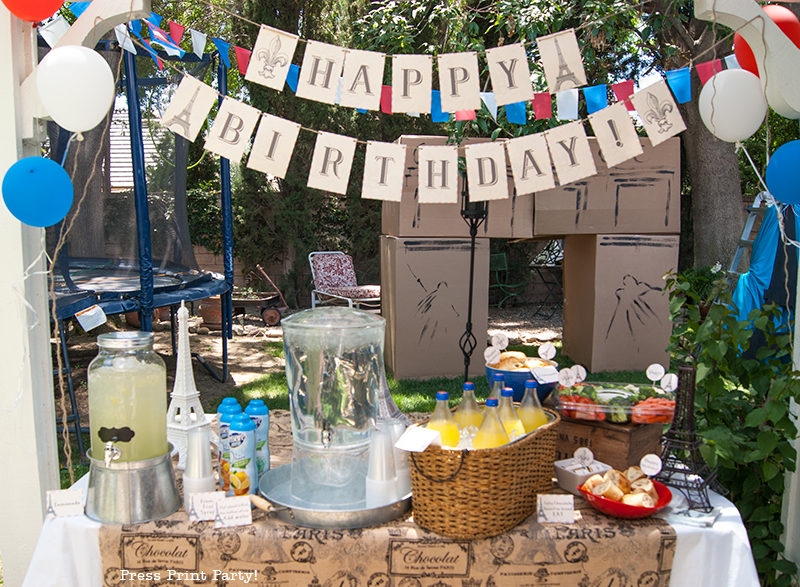 Naturally, we offered chocolate croissants (Trader Joe's) but I was amazed to discover that the French bread and chocolate sandwich, a snack that was my favorite as a child but is essentially unknown to American kids, was loved by all and disappeared the fastest. I sliced some baguette (Costco), wrapped Hersey's miniatures with a themed mini chocolate wrapper, and printed some instructions on a place card.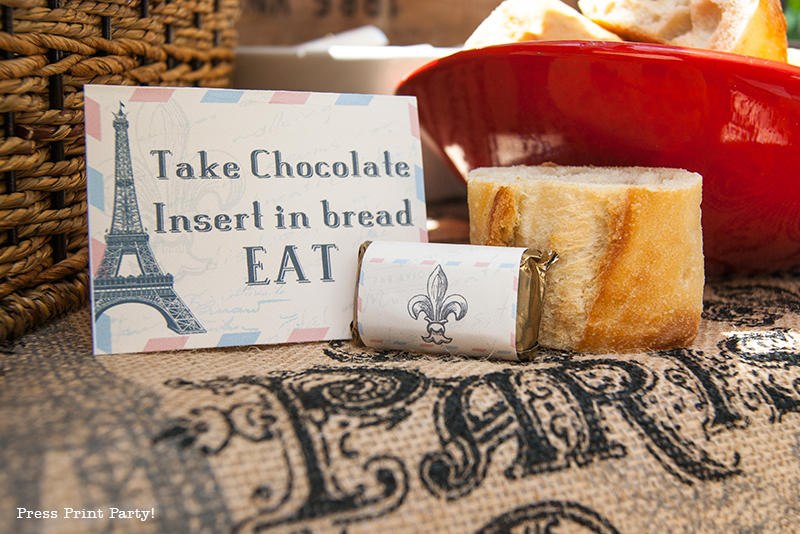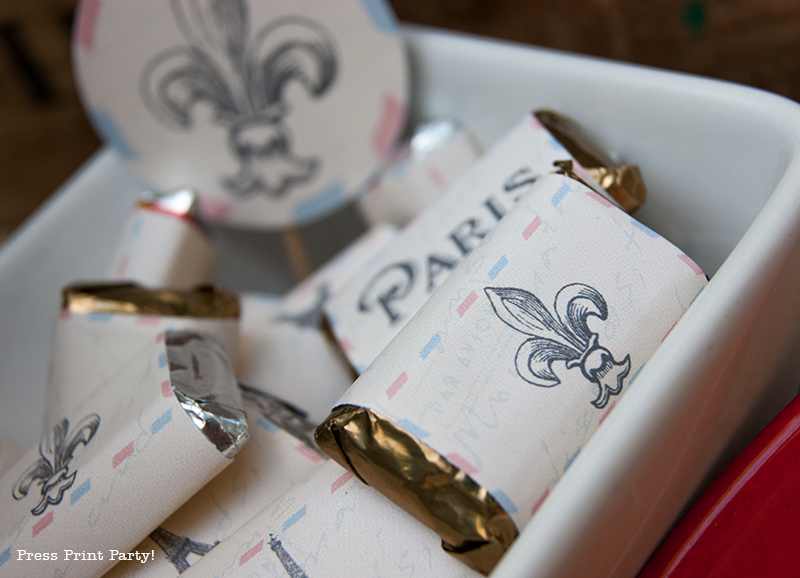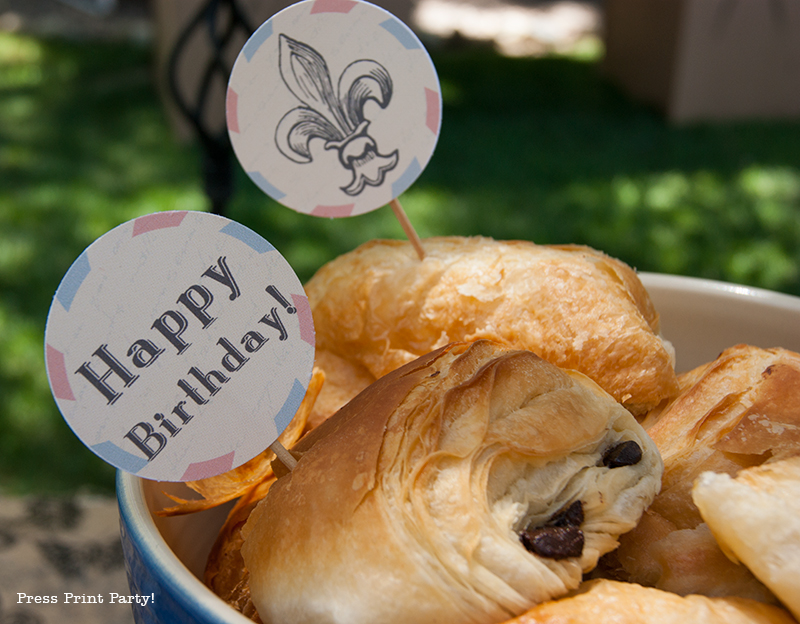 For drinks, we had regular lemonade (for the "boring" people), Orangina, and a selection of French syrups. It's like a Sodastream concentrated drink mix so a little goes a looong way. I had to get everyone's attention and explain how to use the syrups as some kids were trying to drink it straight!!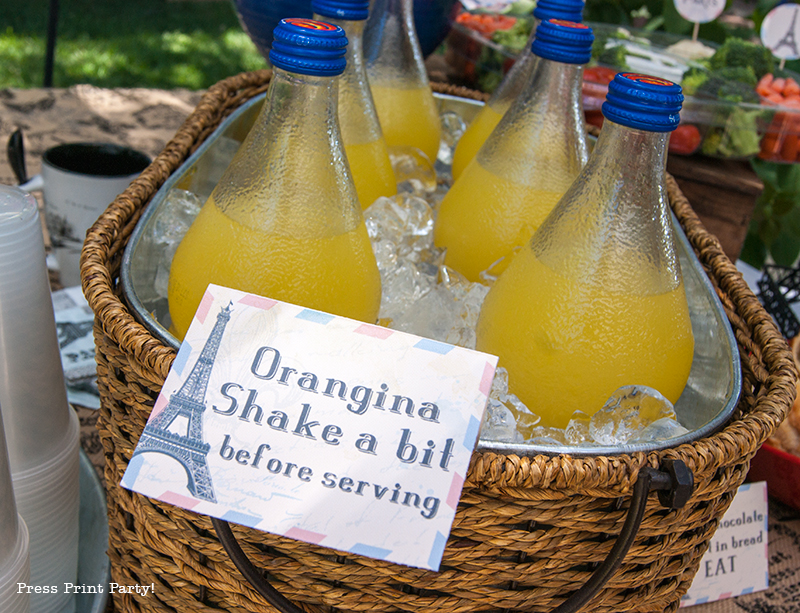 You can buy the " target="_blank" rel="noopener">French syrups from Amazon. They're pretty tasty and common all over France.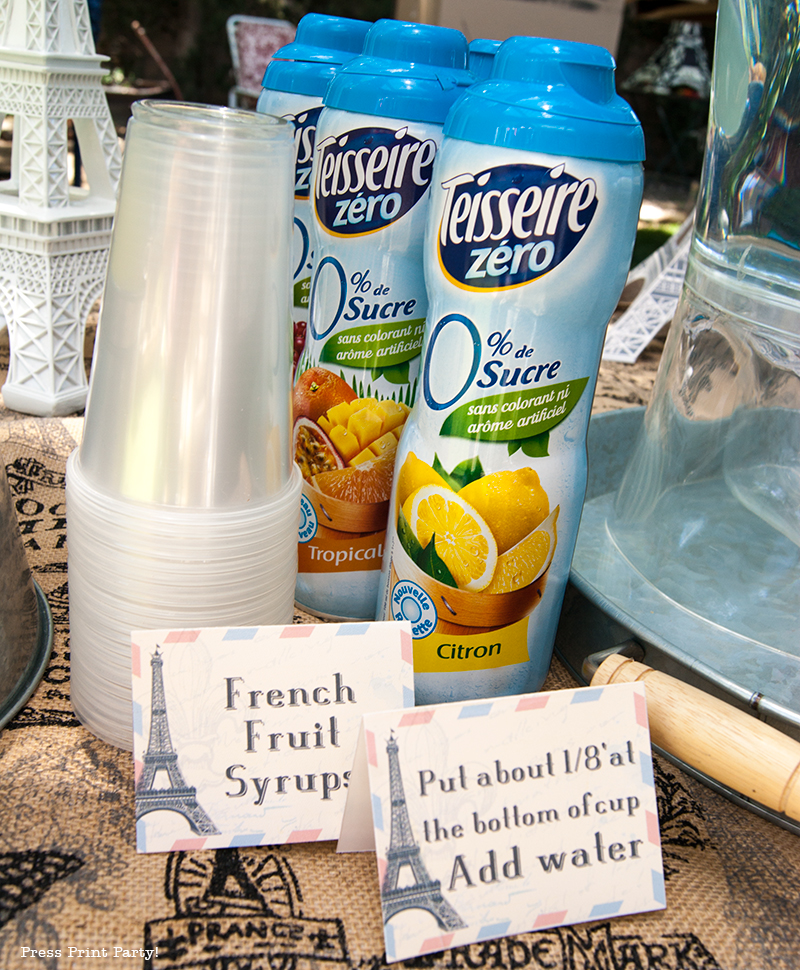 For decorations, I chose to use a bunch of printable banners from my set and strung blue, white, and red balloons around the yard. I also made a long blue, white and red streamer by cutting some cheap vinyl tablecloths and sewing them together.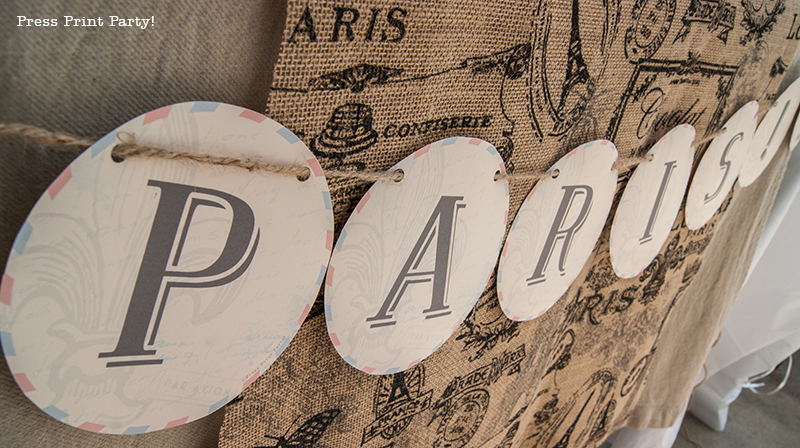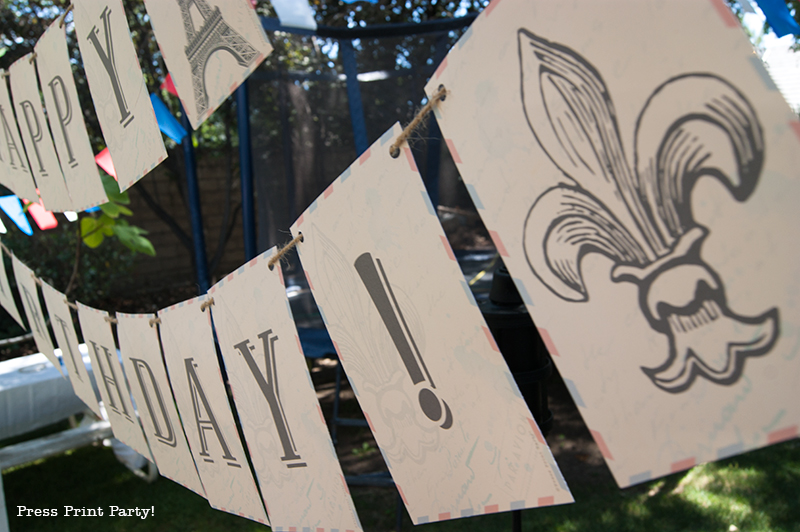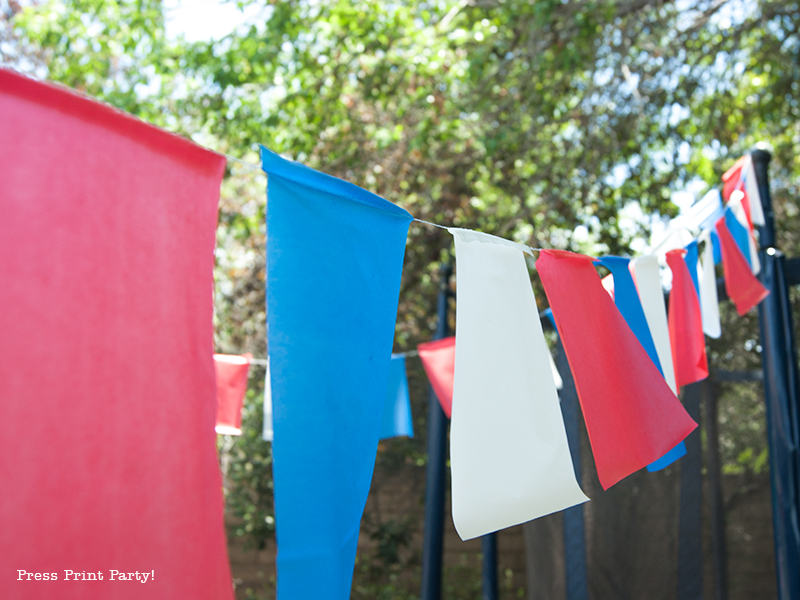 My husband made a quick Arc de Triumph out of appliance boxes and I cut up a cardboard Eiffel tower which I painted black and attached in front of a ladder.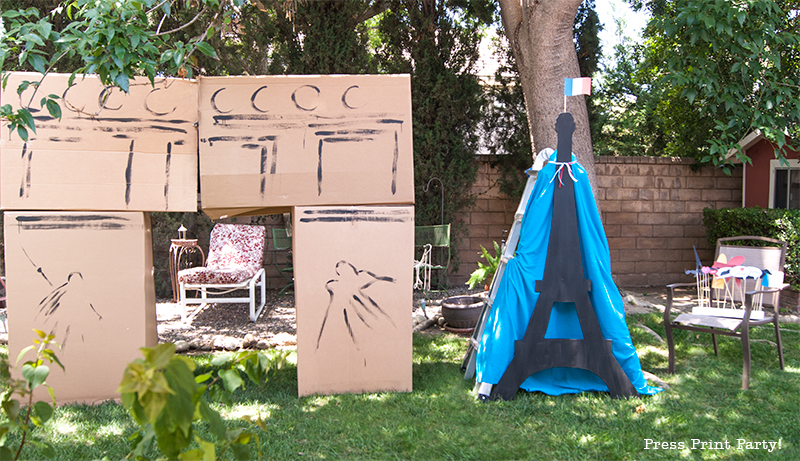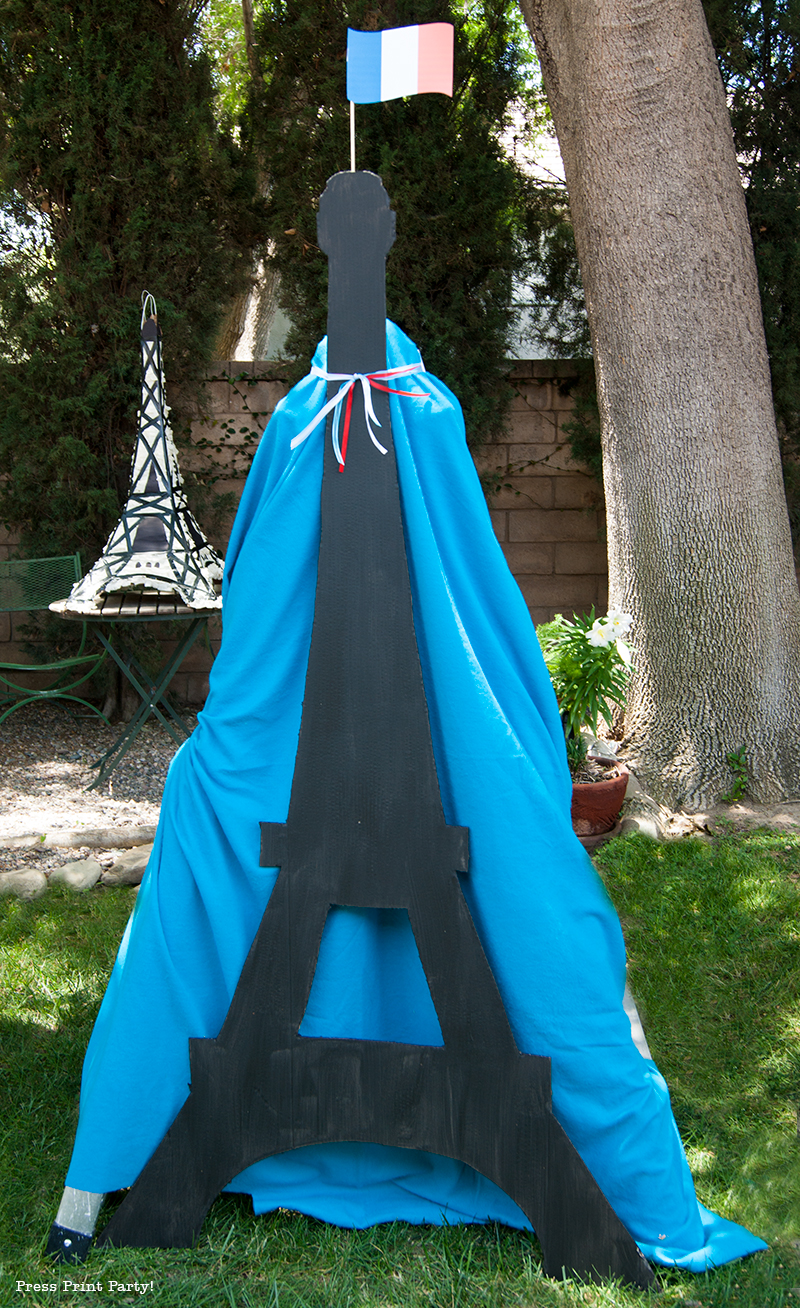 We used the ladder Eiffel tower as part of our photo booth too. The kids really hammed it up with all the props (available in my Etsy shop).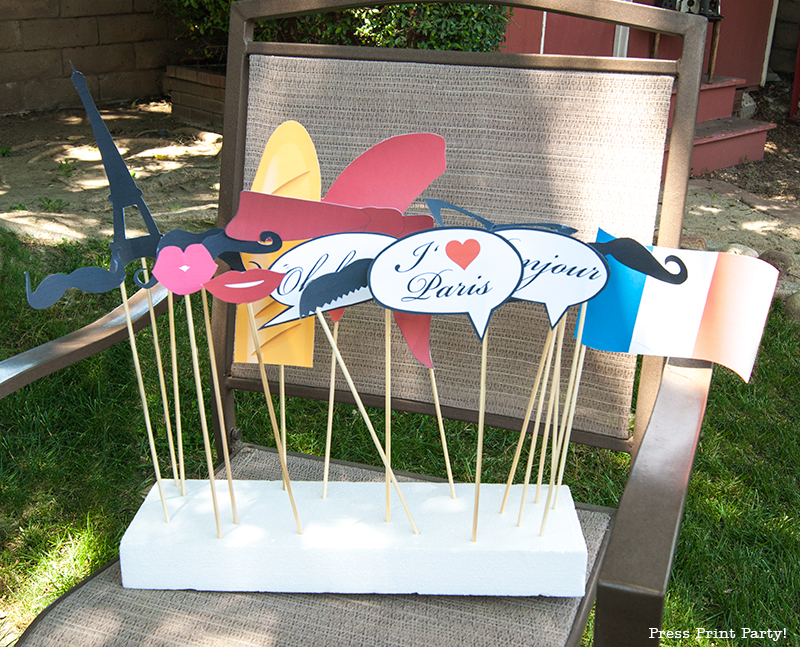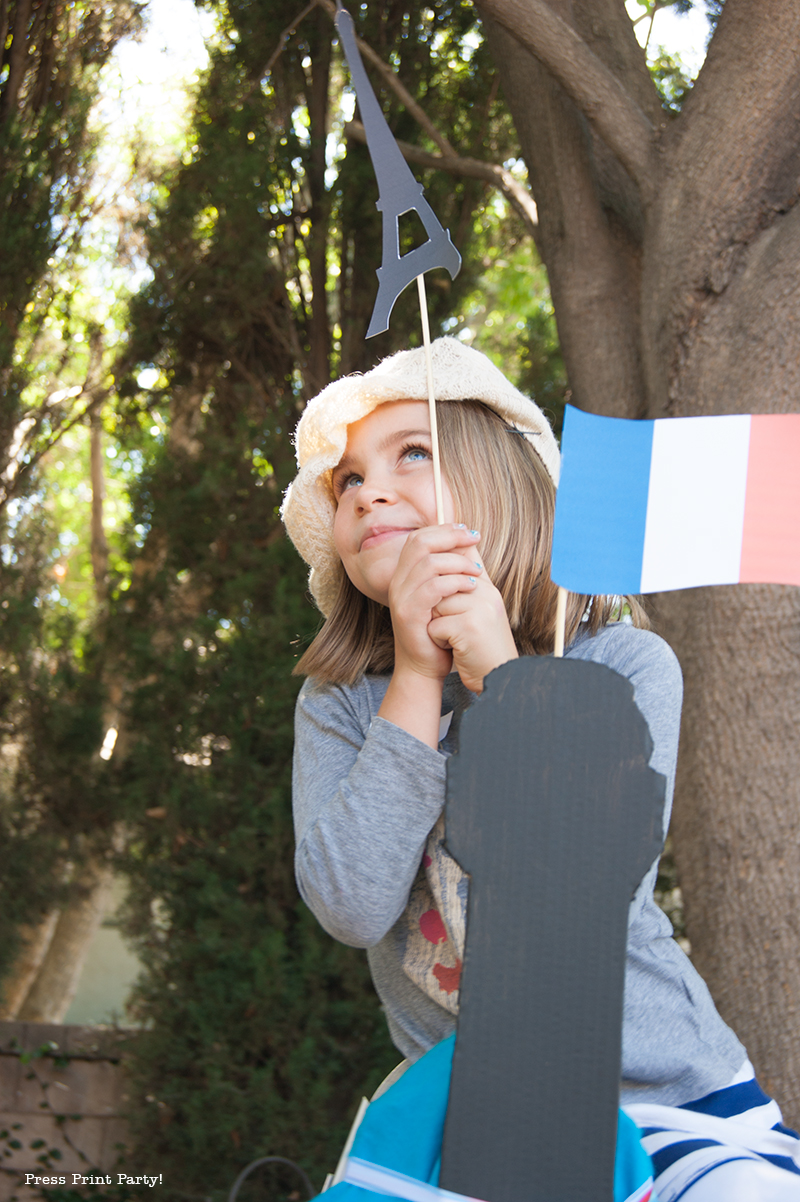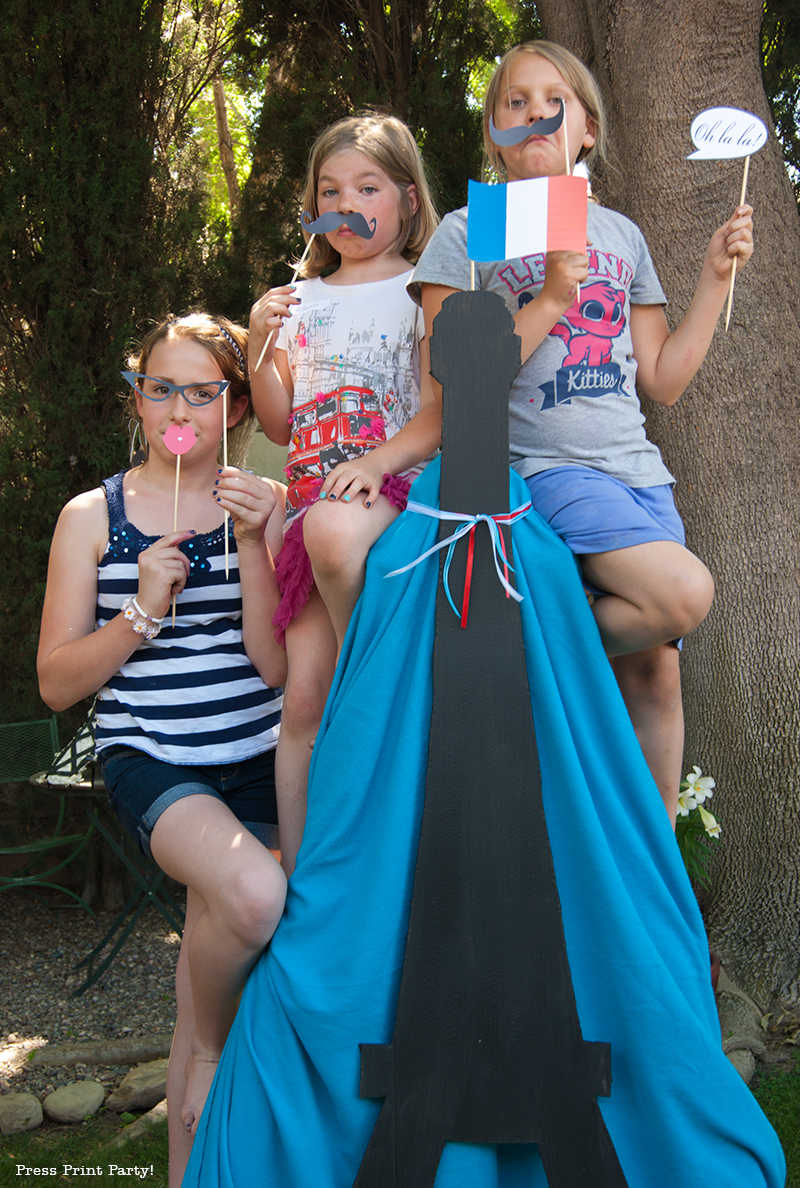 For a craft, I had the kids create their own easy Eiffel Tower painting.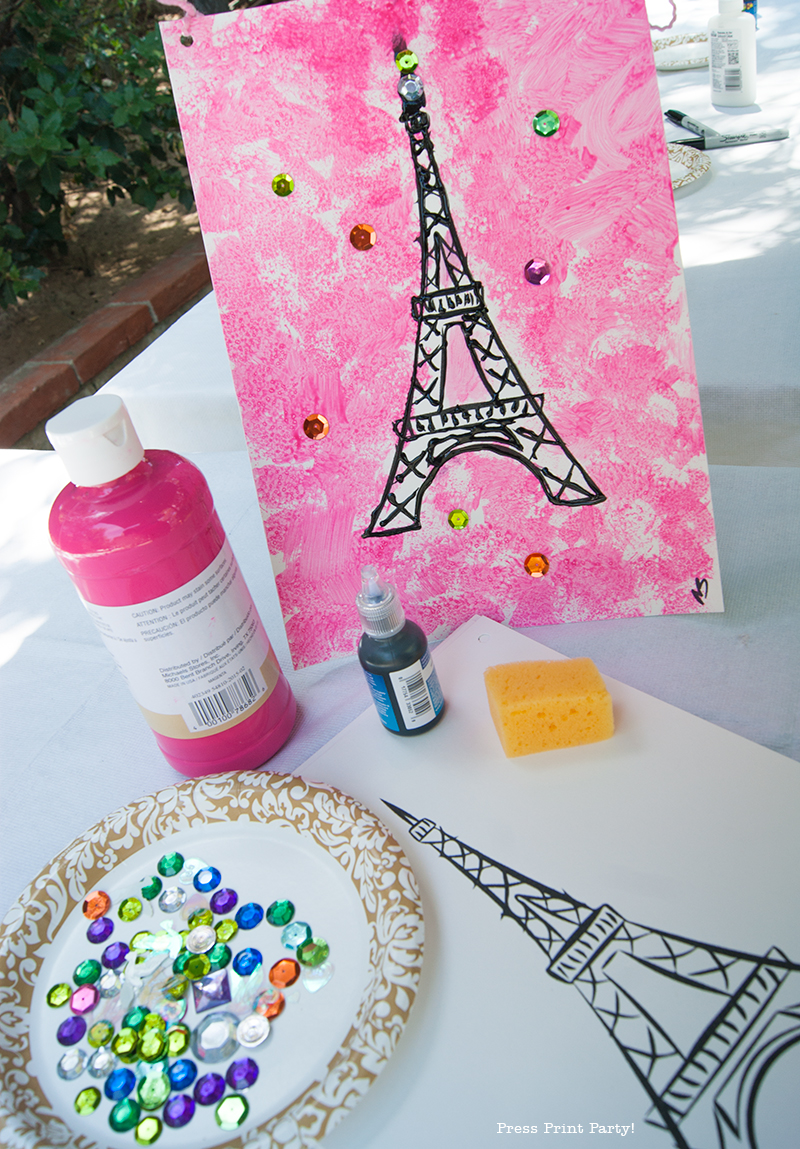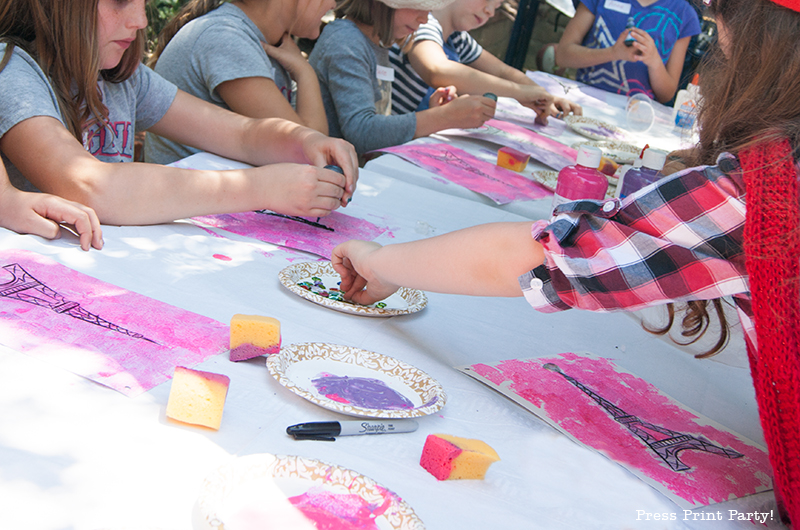 For games, I made a "Pin the mustache on the French guy" game with a free printable that the girls were delighted with.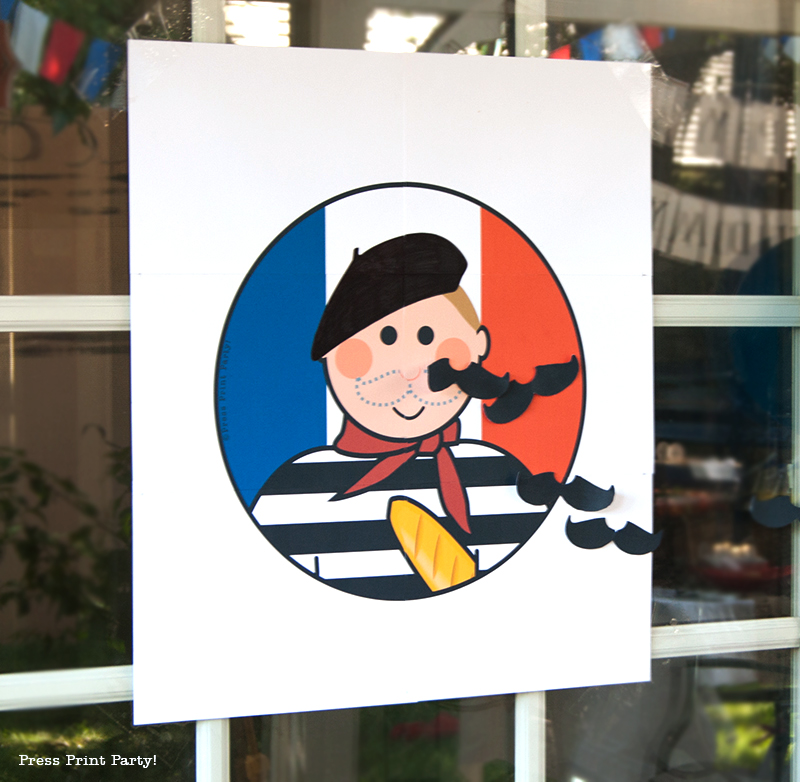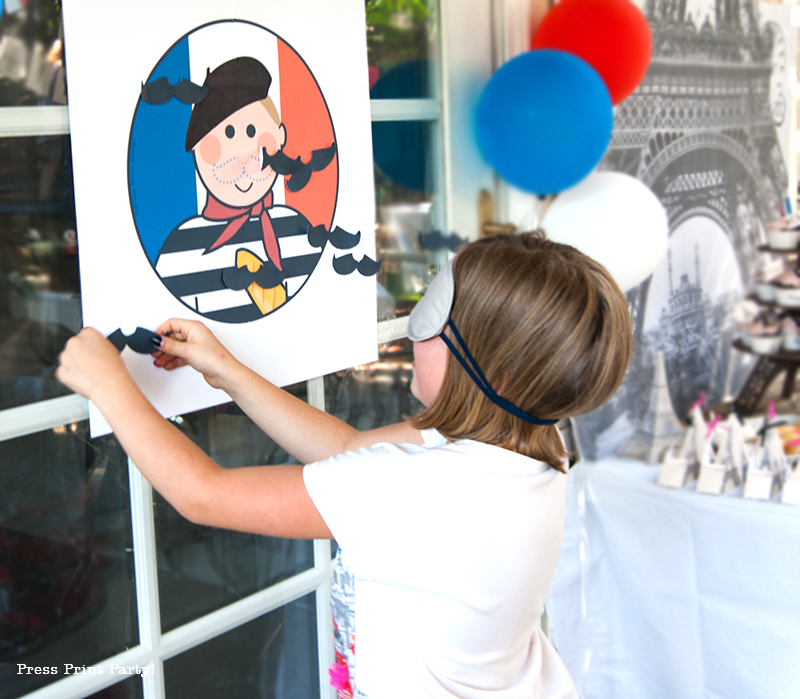 And of course, no Paris party is complete without a piñata! But where, oh where to find an Eiffel tower piñata? My regular piñata guy tried but totally failed me with a piñata that looked more like an Aztec pyramid than an Eiffel tower. But my hubby came to the rescue and together we fashioned this amazing Eiffel Tower piñata for the girls (The link has the instructions). My husband is now considering a career in the lucrative and very prestigious custom piñata market.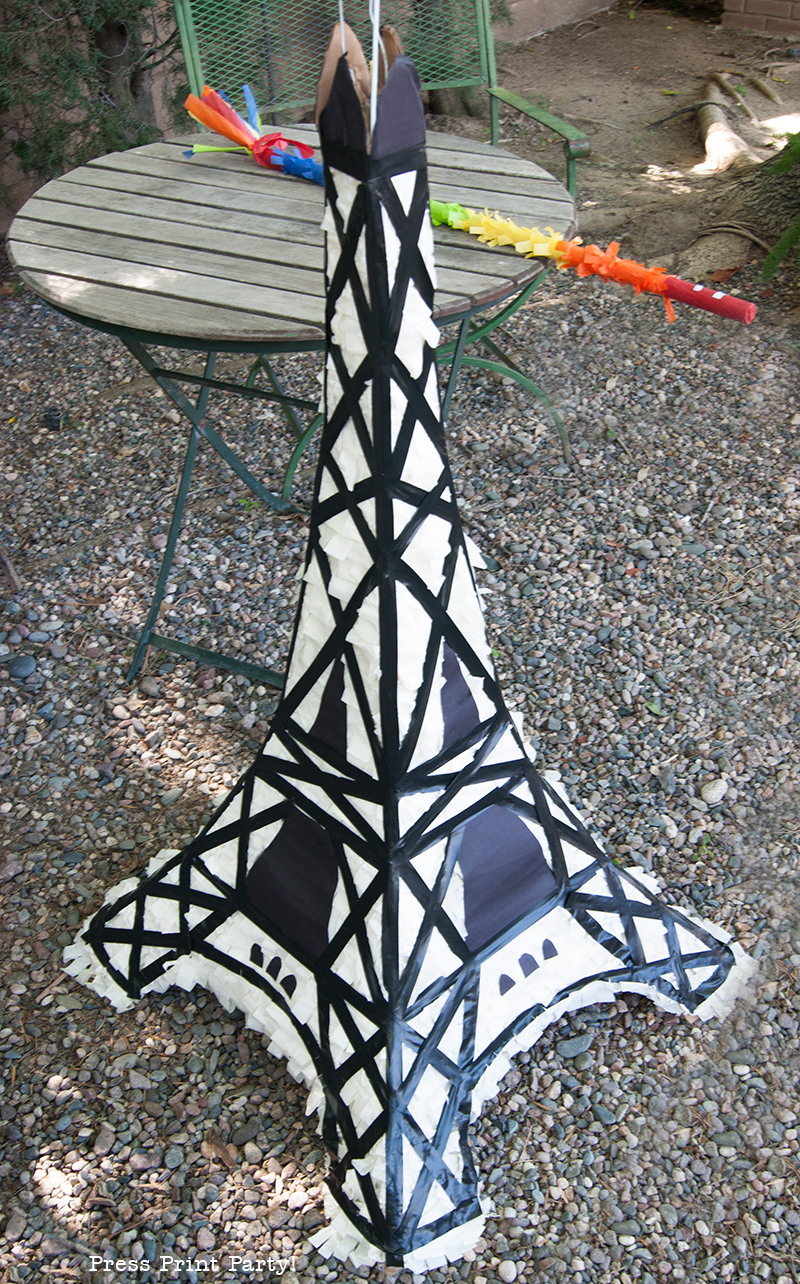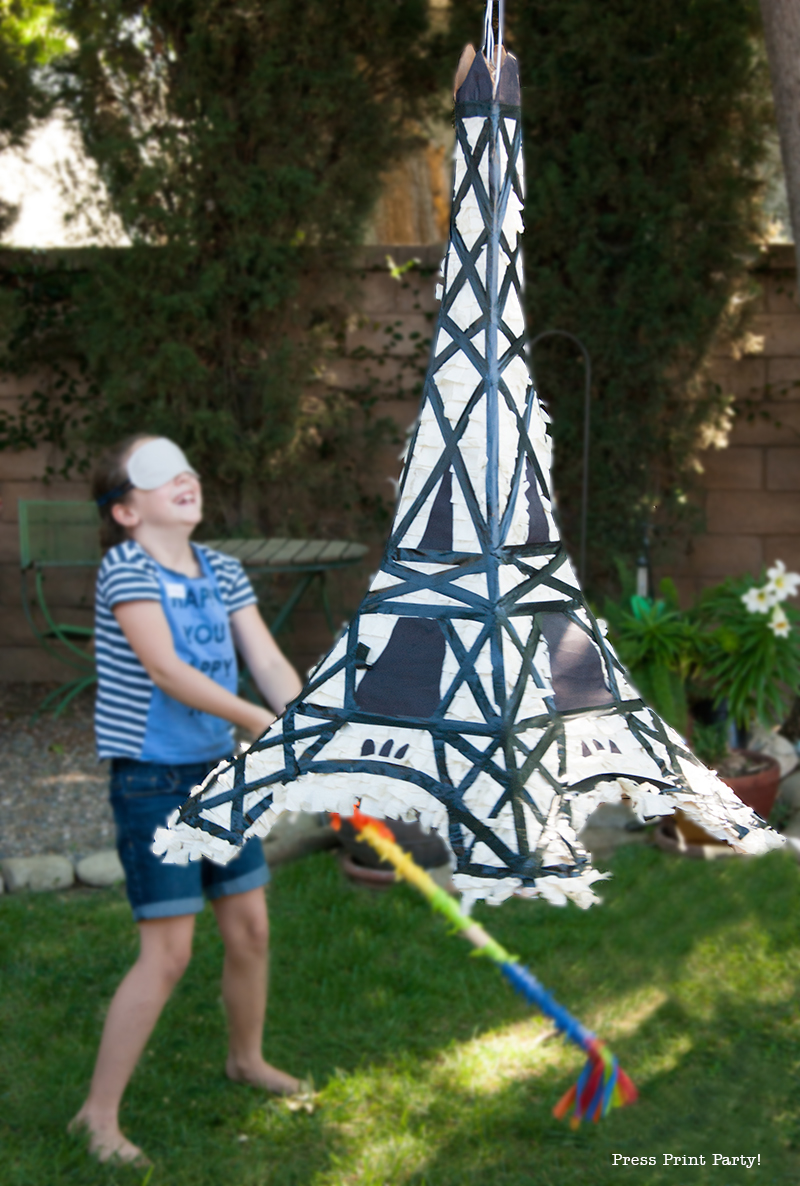 The girls left home exhausted and with their painting, candies from the piñata, and an Eiffel tower favor box with a little " target="_blank" rel="noopener">Eiffel tower Keychain inside.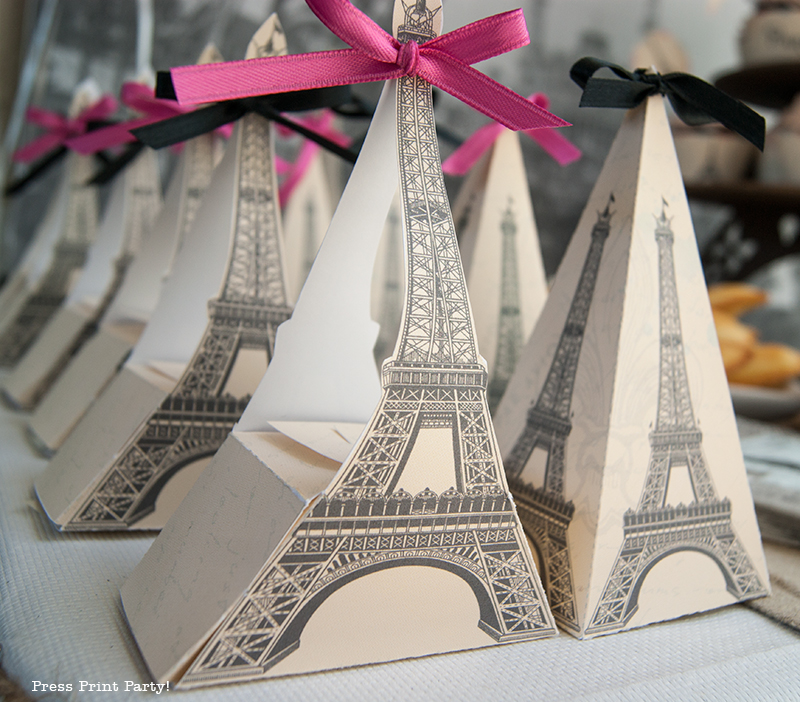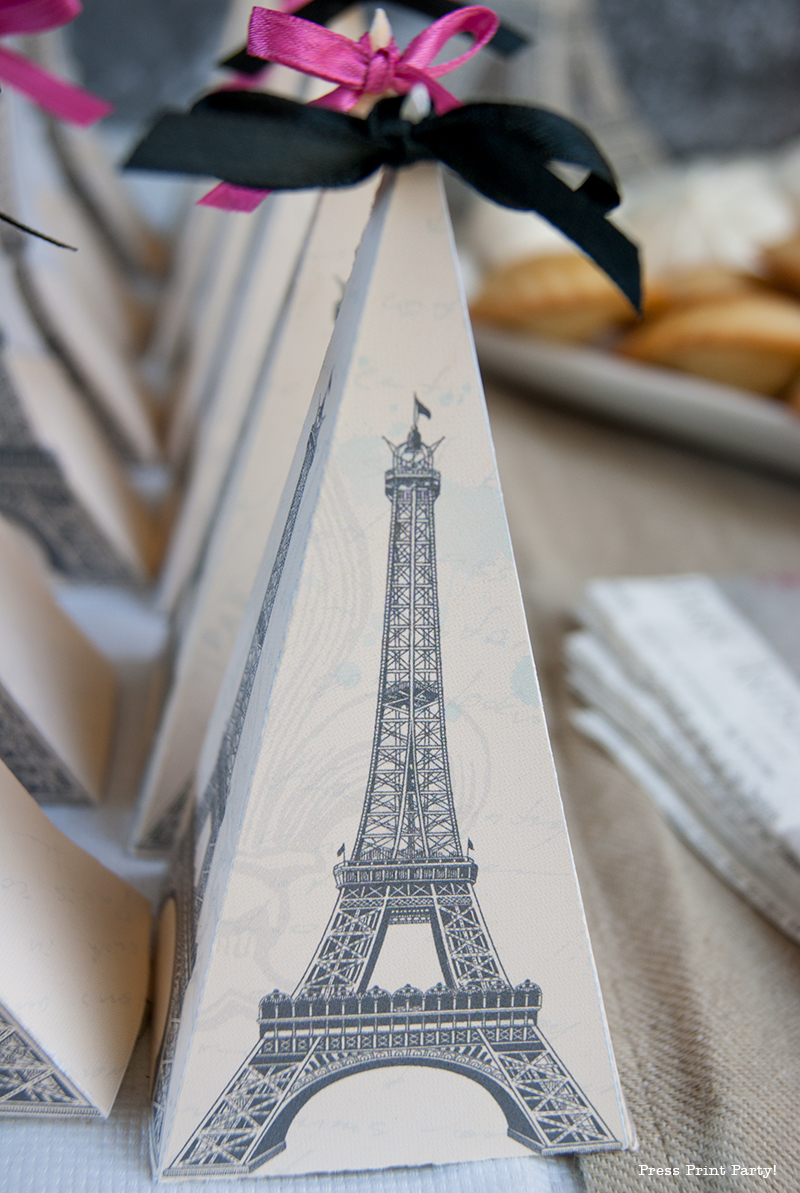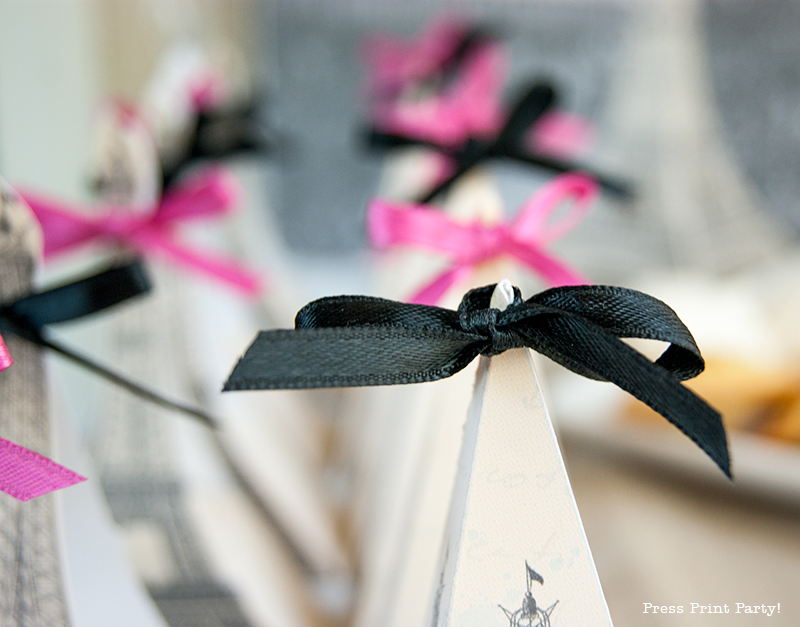 How to re-create this party:
French food (Trader Joe's is great)