I really like my monthly calendars and they're one of my most downloaded resources each year. I originally made them because I just couldn't find a printable monthly calendar the correct size for my Bullet Journal. This free printable 2018 calendar is a perfect fit.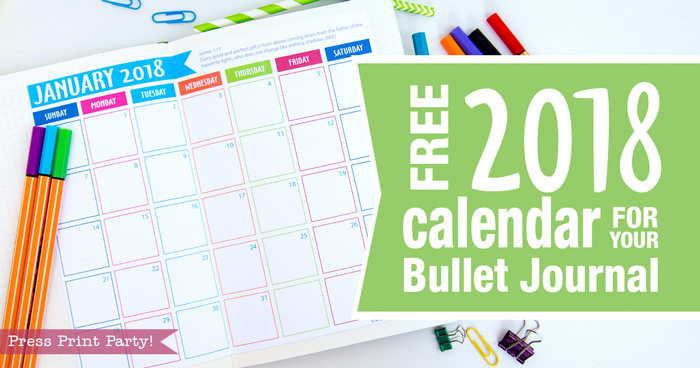 If you don't know what a Bullet Journal is, you're missing out! It's a simple journal and planner system that helps you get organized and has the old fashioned feel of pen and paper. They're endlessly flexible, they're entirely personalized and they're honestly pretty simple. The in-crowd calls it a BUJO.
When I went all digital a few years back I got nothing done. All my tasks would be hidden from sight unless I fetched them (which I never would). As soon as I learned about Bullet Journals I chucked the digital plan and went with good ol' pen and paper. Having a physical list to look at has greatly improved my productivity. If you're a pen and paper person like me, you're in the right place. If you're curious you can check out the system at the original Bullet Journal site.
For a book I use a Leuchtturm1917. They're well make and I just love the quality.


Most people's journals are about the same size so this 2018 monthly calendar fits well for most. Each page was created to fold either before or after the Wednesday column, assuring that no square falls in the fold. The total trimmed dimensions are 8.75″ x 7.5″.
You can print the calendar bigger to fit your paper if you wish. I've had some people people print them, not trim the edges and use them in a binder.
The free calendar features a Bible verse at the top of each page. I genuinely enjoy looking through my Bible to find the right encouraging verse. This year I especially liked Proverbs 15:31 "If you listen to constructive criticism, you will be at home among the wise." (NLT). Isn't it true? But sometimes so hard to do!
You can see all the months designs by scrolling down to the bottom of this post.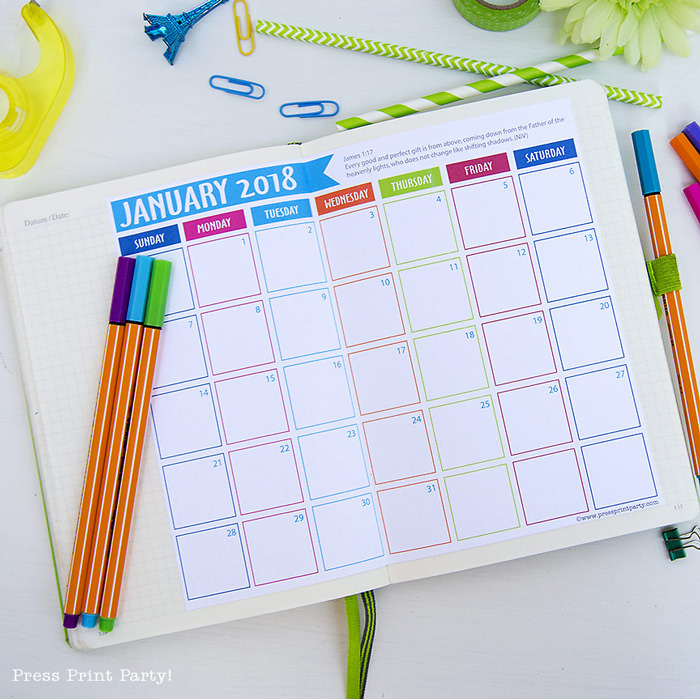 The fancy pens in the pictures are my new absolute favorite Stabilo pens. They're such a pleasure to write and color with. Check out the Amazon reviews for them. If they don't convince you to give them a try I don't know what will!


I also created a more fancy watercolor version of this calendar, as well as a daily tracker, and a mini 2018 at-a-glance calendar available individually or as a set in my Etsy store. They're very affordable and I think they're quite beautiful.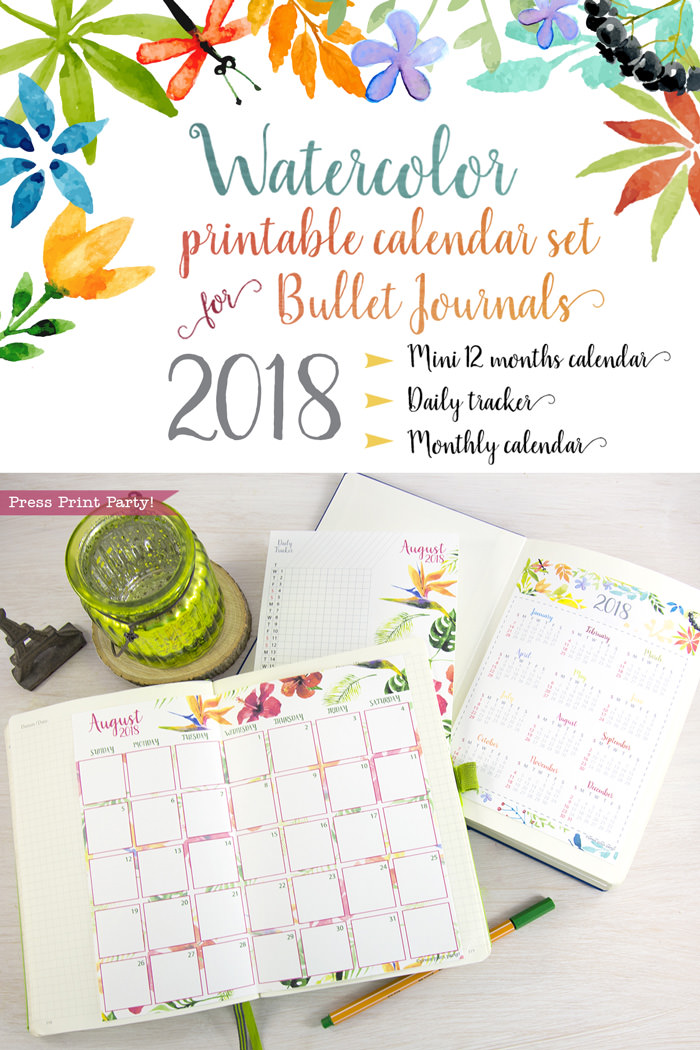 You may download your FREE 2018 calendar from the link below:
Pin it to share the wealth!