Have you ever been booed? Wouldn't you like a fun package of goodies left anonymously at your front steps around Halloween?
Getting booed is a wonderful way to foster a little unity and kindness in your neighborhood.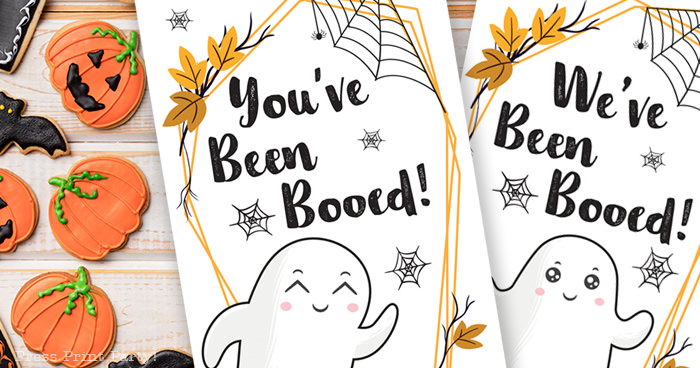 This post may contain affiliate links.
The concept is simple, you surprise 2 neighbors with a bunch of goodies and they in turn are encouraged to surprise 2 more neighbors.
It's also a nice gesture for those families who choose not to trick or treat on Halloween or those friends and neighbors who no longer have kids living with them.
So how do you start?
Prepare a basket of treats for 2 of your neighbors
It can be anything they might like. Think beyond kids. Elderly neighbors or friends without kids need some cheer too.
The package should be simple and fairly inexpensive. Here are some ideas of what to put in your basket:
Candy (It's Halloween after all)
Gum
Chocolate
Baked goods (You can come by my place and leave fresh baked cookies anytime! Lemon poppyseed are the best!)
A favorite book
Wine (For the adults obviously!)
Popcorn and a movie
Veggies or fruit from the garden (What a great way to share a bumper crop).
Favorite recipe with ingredients
Flowers (Always welcomed)
Succulents (Dig a couple up from your garden if you have them and put them in a little pot)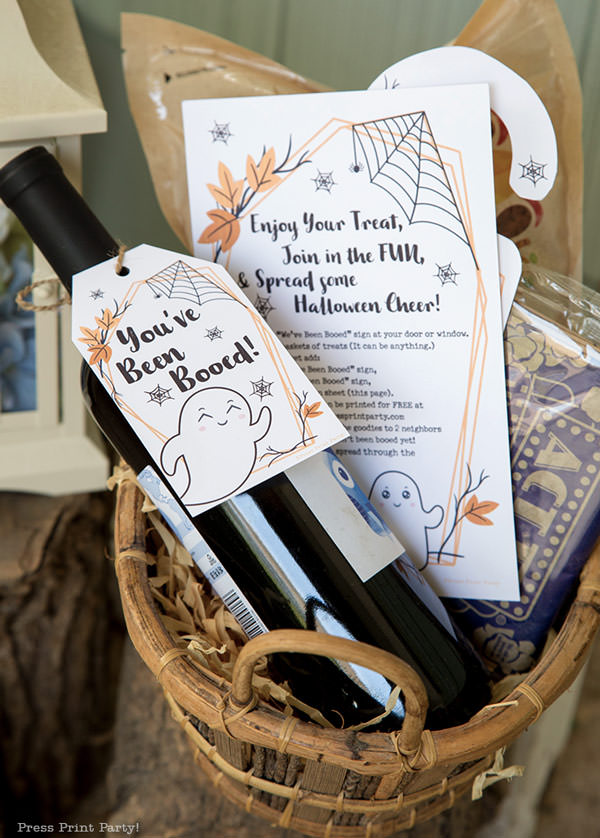 Print the "You've Been Booed!" signs and instructions
Scroll down to get the free pdf download and in each basket include:
1 "You've Been Booed" sign, tag, or door hanger
1 " We've Been Booed" sign or door hanger
1 Instruction sheet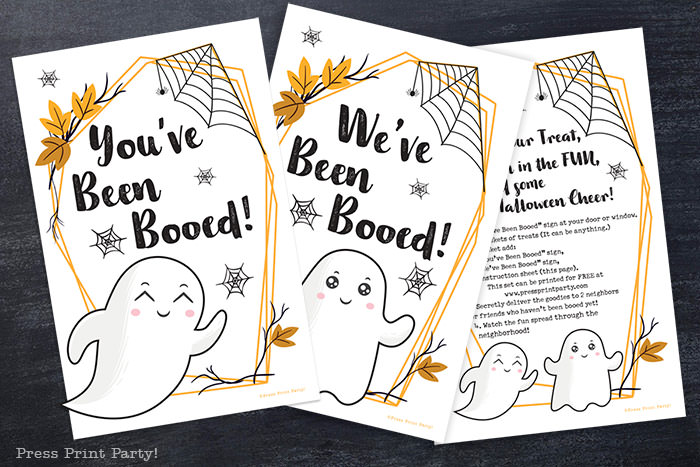 If you want to make it easy for your neighbors, you could place an envelope with a couple of printed signs and instructions for them to use and give away.
Or if you don't want the neighbors to feel obliged to reciprocate, just omit the instruction sheet from their package.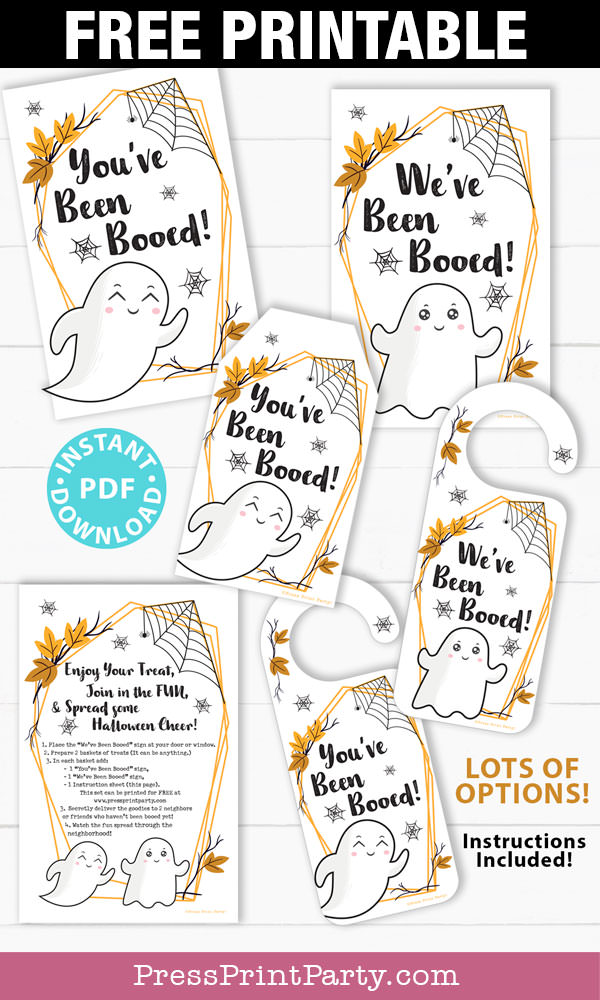 Now the fun part
Leave the baskets anonymously at the front door of 2 of your neighbors (although staying anonymous with Ring doorbells might test your ninja qualifications).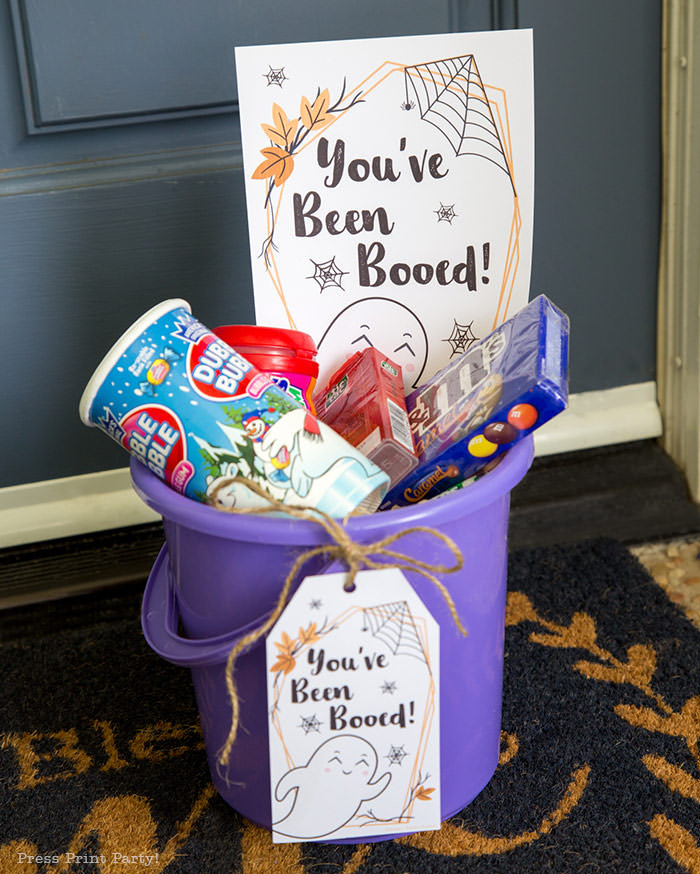 Once a neighbor has been booed, they can then prepare to "Boo" 2 more neighbors if they wish. They can also put a "We've Been Booed" sign at their door or window so the next neighbors know to skip the house.
You'll love watching the "We've Been Booed!" signs spring up throughout the neighborhood.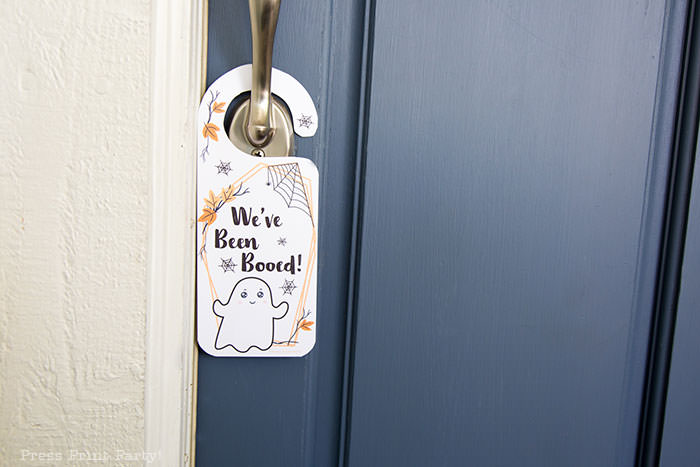 Of course, my greedy, little hubby wants to emphasize that putting up the "We've Been Booed" sign is optional. He's happy to receive as many bottles of free wine and baskets of homemade goodies as you're willing to give.
I've got lots more Halloween fun in the shop with a bunch of brand new Halloween labels editable with your kid's name, and on the blog with more free printables and DIY costume fun like this easy to make ghost.
Don't forget to pin it: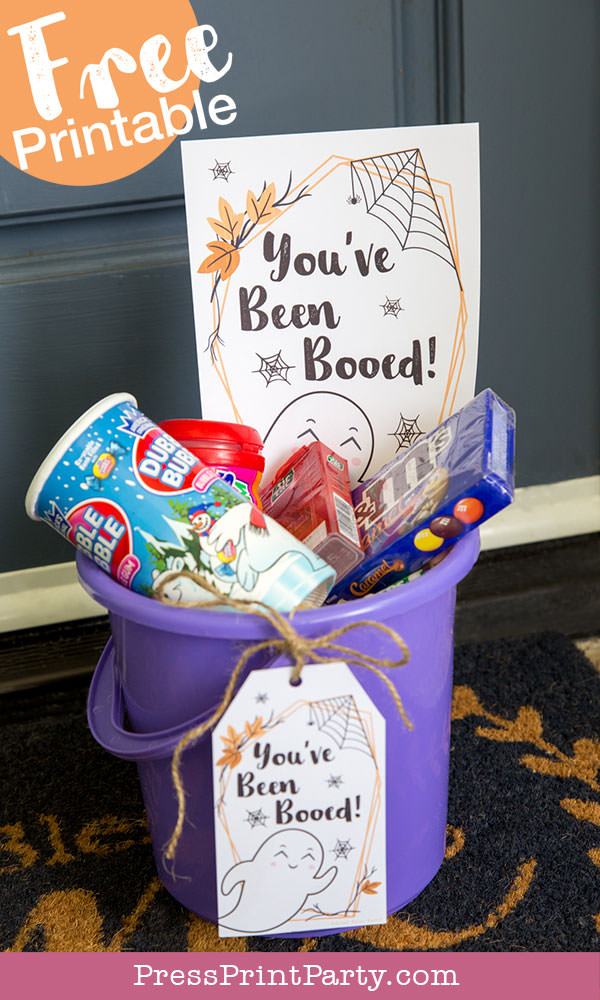 Get Your Freebie:
If you've already subscribed, you can get the password from the bottom of any email I send and go directly to the Free Downloads Library.
Check out our holiday printables