My friend is a Rae Dunn coffee mug fanatic. She has an awesome rustic coffee bar set up in her kitchen on top of a lovely blue dresser and shelves filled with matching mugs and bowls.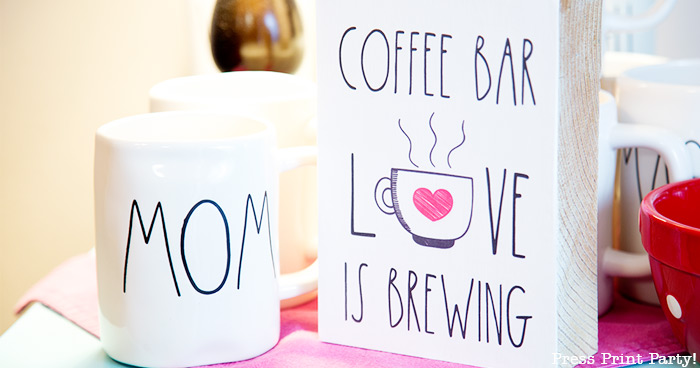 This post may contain affiliate links
She scours the stores for the ones she has yet to collect. She even has a friend from out of state who will send her all the Rae Dunn dishes she finds in her area. If you're not familiar with them, it's those white dishes with the telltale long skinny font.
She's looking to have the full collection in all the colors so she can swap the colors and her decor according to the seasons.
So when I wanted to give her a birthday gift I knew just what to do.
I created several farmhouse style, Rae Dunn inspired, coffee bar printable signs and transformed one of them into a small rustic wooden sign for her coffee station.
The signs are all available in my shop as instant downloads:
How to Make a Wooden Coffee Bar Sign
There are several modern methods that I could've used to DIY this little wooden sign.
I could've used the SVG file, and cutout a stencil out of vinyl for me to paint the lettering.
Or I also could have cut out the lettering on black vinyl, and stuck it to the wood directly.
Although I do own a cutting machine, I didn't have any vinyl on hand.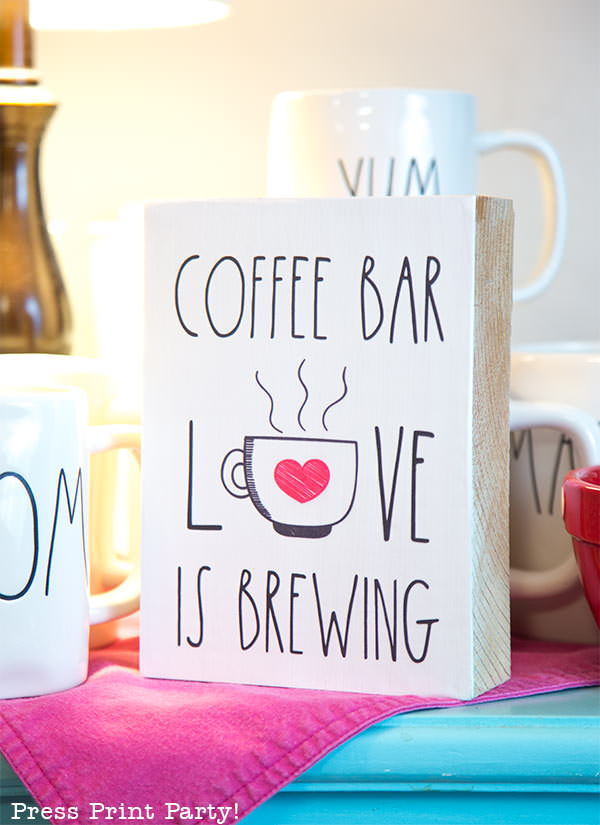 So what did I do?
I went with the easy, traditional Mod Podge technique.
Oh yeah, the good old technique used before cutting machines and vinyl transfers took over the world.


I had a 5 x 7 block of wood, so I printed out the 5 x 7 coffee bar sign on white paper and trimmed it to size.
I painted one side of my block of wood with white craft paint I had laying around.
Although I tried to Mod Podge the paper directly onto the wood I was getting smears from the ink. It wasn't too bad but I wanted a cleaner look.
So I sprayed my print out with a light coat of Fixatif.
Fixatif is used a lot by artists to prevent smudging of all kinds of mediums like pencil, chalk, pastels, watercolors, crayons, and yes even printer ink.
It also helps the paper to not wrinkle when applying it to the Mod Podge.
I still have a can of Fixatif from my college days and it still works great. And no, I won't tell you how long ago that was! (Think decades, NOT centuries.)


I also used the Matte Mod Podge to keep the rustic look.
My DIY wood sign process went like this:
Cut the wood to the desired dimensions

Paint one side of the wood with white craft paint

Print the coffee bar sign on white paper

Trim the coffee bar sign to size

Spray the paper with a light coat of Fixatif

Apply a thin layer of Mod Podge to the painted wood

Lay the paper on top of the Mod Podge making sure to line up the edges

Make sure the paper lays smooth with no wrinkles

Apply Mod Podge to the top of the paper to seal it in
And voila, you have a beautiful new sign for your coffee bar and you didn't have to touch a cutting machine.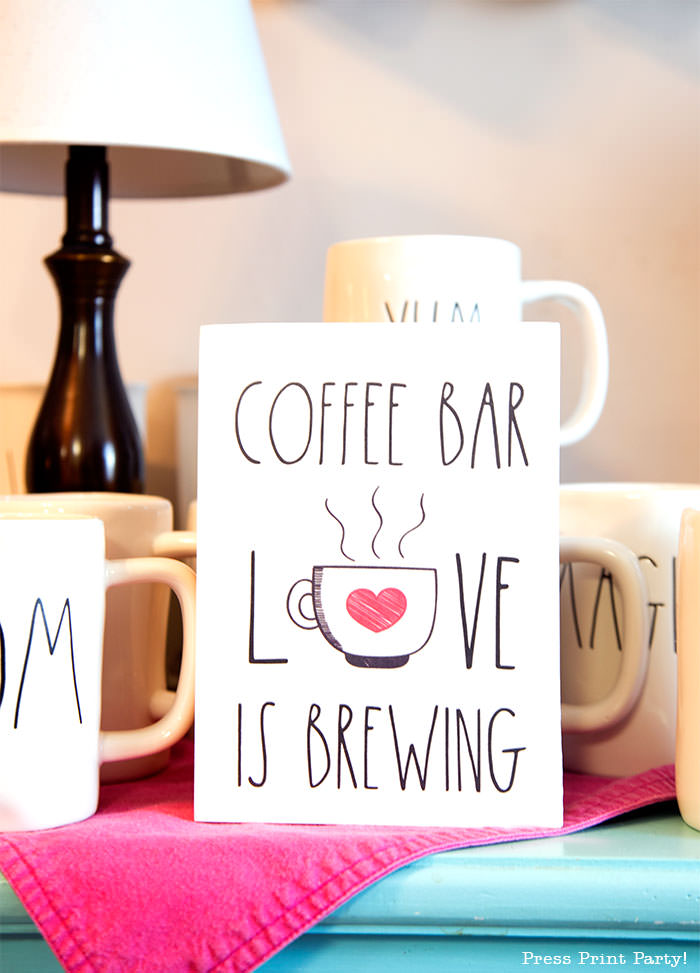 My friend was thrilled with her gift and let me take pictures of her prized coffee station.
She still had some of her Valentine's Day decor up so it worked great with the sign I chose for her.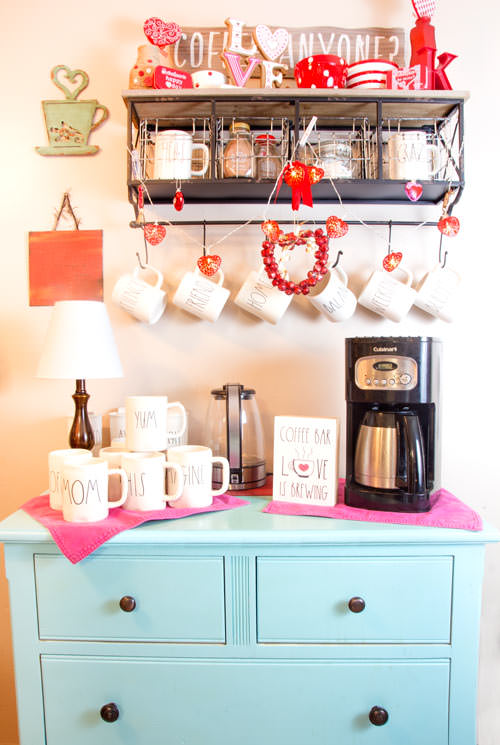 These are great for a party and make great birthday, Mother's Day, or Christmas gifts. No one has to know how easy it is to make.
But if you have a Cricut and vinyl available just go to town. And send me a picture; I'd love to see how it turns out.
Don't forget to pin it.
Check out our printables signs