Thanksgiving! All the leftovers are put away and now the whole world is telling you it's time to shop!
Don't waste a day or an hour! You must buy now. Now. NOW.
Or not.
I still sometimes get pulled in the craziness of it all but for several years now I've put a plan in action to reduce all that Christmas stress and chaos.
I hope you'll find a tip of two that will resonate with you and provide much needed rest in this enchanting but busy season.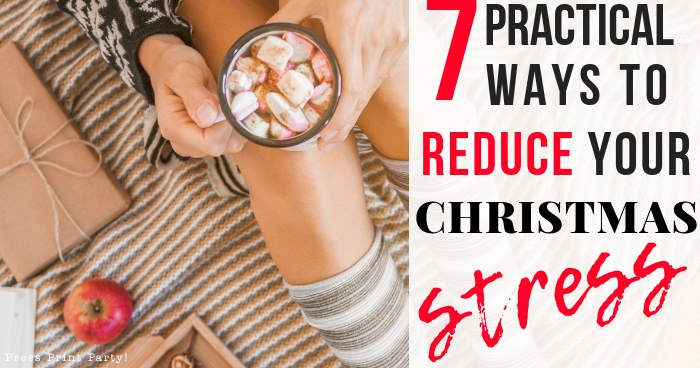 This post may contain affiliate links.
1 – Stop buying gifts for Adults!
OK, that can be a bit radical, but think about it. After the kids are out and they have kids of their own do they really need gifts? I would prefer that someone give a better gift to my kids than to spend their money on me buying another scarf I don't really need. I'd recommend that you talk to your family about it some time way ahead of time, away from the frenzy of the season. I think it's much more enjoyable to buy a special gift for someone's birthday away from the craziness of the season. Make birthdays super special and forget adult gifts at Christmas.
If that's just not an option, pick a name. At the beginning of December (Thanksgiving is perfect) put all the names of the adults in a hat and each adult picks one name. That way you only have 1 (or 2 if you're a couple) people to buy for. You can buy them a more expensive gift then if you had to stretch your money over a dozen people. That's what my husband's family does and I love it.
I always go to their Amazon wish list and pick from there. I'm done in 10 minutes and can move on to the next task. The speed of the purchase can feel a little less than thoughtful but I know that the recipient is getting an item that they genuinely want because they're the one that put it on the list.
2 – Give everyone the same gift
I love, love, love this tip. I don't do it every year, but the years I do, I wonder why I don't do it all the time!
If you're crafty you can make a gift that everyone will enjoy. Last year I made casserole holders for all the women in my family and they loved them! I've also made them big flower brooches a couple years before.
You can buy everyone a great experience gift, like the same restaurant voucher they all can go together if they want to. Or tickets to a play, amusement park or concert. I particularly love receiving movie tickets since we never go because of the expense.
Bake and give everyone a basket full of goodies or don't bake and fill it with their favorite market items. I always look forward to my sister in law's homemade cookie basket each year. She's even made some homemade spiked eggnog. My nephew brewed his own strawberry wine one year and everyone received a bottle (except me, sadly. I got gypped because I live overseas… not fair).
I've also bought all my Christmas presents during summer vacation. Especially if you're going to an exotic place or even just out of state, buy some local delicacy or item. One year I bought all my gifts in August while traveling in Bolivia. Everyone loved their traditional Bolivian hats and warm alpaca socks and gloves. That December I only had to buy presents for my kids and husband. I felt as if I was cheating somehow.
Instead of getting everybody the same thing, buy everyone's gifts from the same website. Of course Amazon stocks almost everything for sale in the known universe but sites like Thoughtfully that focuses on themed gift boxes, or Lilian Vernon that focuses on personalized items, have a gifts for the people on your list too. If you really want to reduce stress and stop impulse buys, don't set foot inside a store. And don't even think, not for one second, about the mall!!
3 – Make a list
It works for Santa it will work for you. Not just a gift list and budget, but also a list of events and dates.
For many years I found myself buying way too much for one person and not enough for another. We'd also double book ourselves many nights by not maintaining a calendar. I now keep a bullet journal with a calendar inside and I organize the entire month of December in it. We also have a main house calendar in the kitchen and we are rigorous about it. If the event is not on the kitchen calendar, it doesn't exist….
Now that you've made your list, look at it and remove anything that you don't NEED to do, and anything that you don't LOVE to do. Take a lesson from Marie Kondo in the Life Changing Magic of Tidying Up where she advocates getting rid of anything you don't need or love. A lesson in organizing can be a lesson in scheduling too.
If you're having people over you may want to check out the 5 things that may gross out your guests and add those items to your cleaning list.
But do you really have to do all the cooking for the party? Do you really have to send cards this year? Would you be happier not going to Disney on Ice this year?
What causes you stress just looking at it? What would really happen if you eliminated it?
4 – Set a budget
And stick to it. There's nothing more stressful than to come out of the holidays broke and with a huge credit card bill. Remember: You can't buy happiness. And worse, you can spend yourself into misery. Gifts don't need to be expensive to be effective. Tip #1, 2 and 3 will help you stay on budget.
5 – Set up an Advent Calendar
This was a revelation to me. About 4 years ago I made an advent calendar with pockets. I added a card in each pocket with a small activity to be done each day until Christmas Eve. All of a sudden all the badgering from the kids stopped. The "When are we making Christmas cookies?" and "When are we going to see Santa?" questions disappeared overnight and eager kids woke up every day excited to discover the activity of the day!
The best feature is that you have control of the activities and control of the schedule… You need to switch a couple cards around the night before? No problem! You never actually promised the kids you'd go see the neighborhood lights tomorrow. They can't be disappointed if the schedule is always a surprise. They have peace of mind and so do you.
Here's a sample list of the activities we do.
Go for ice cream.
Go see Christmas lights.
Go get pictures with Santa.
Make cookies.
Make a gingerbread house.
Make an ornament.
Make a Christmas craft.
Movie night!! (This can be used several times)
Make paper snowflakes.
Read a new Christmas book.
Make popcorn and string on the tree.
Read the Christmas Story from the Bible (Luke 2).
Make hot cocoa with marshmallows.
Make cards for teachers.
Go gift shopping for cousins.
Write Santa a letter.
Dollar store surprise! (My kids favorite)
Bring a meal to a needy family.
Decorate the Christmas tree.
Go skating.
Draw a Christmas picture.
Set up nativity scene.
Roast marshmallows in the fire pit in the middle of the carpet. Whoops. That was wrong. We do it in the fireplace.
Have a special breakfast.
6 – Reduce the amount of Decorations
Unless it's a great source of happiness for you, you can easily reduce the amount of decorations and still maintain the feel of the season.
Personally, if I can't do it with the kids in a couple hours, it doesn't get done. I've put less and less decorations up every year and not regretted it one bit. It's also not such a chore to put them all away in January. I find that if I have a pine scented candle or electric warmer going in the evening, it really brings the feel of the holidays home.Maybe even more than some of those decorations.
There are also some time saving tricks you can employ like adding permanent hooks behind the eaves of your house to hook up the lights. Or using temporary Command hooks for all the extra wreaths and signs.
The tree is often the main attraction in our house and we wait to buy ours until a couple weeks before Christmas. I don't get people who buy a real tree the Saturday after Thanksgiving only to have it all dry and sorry looking by Christmas. Even if you have a fake tree, there's no law that says that all the decorations must be put up on the same day. Make the tree a special event on the advent calendar with a little music and some mulled wine while the kids hang all the ornaments. Then giggle at the not-exactly-perfect placement and gently rearrange the ornaments that just won't do.
7 – Forget perfection
You don't need to perfectly wrap every gift, bag them all instead in a fraction of the time.
You don't need to buy the perfect gift for each individual, buy them all the same thing instead.
You don't need to have the most decorated house on the street, it's an expensive competition without a prize.
You don't need to cook everything, ask people to bring a dish or drinks.
You don't need to have a tree worthy of Better Home and Gardens (let the kids do it and enjoy a glass of spiked eggnog)
You don't need to take that perfect family picture.
Only do what really brings you joy, forget the rest.
And remember, for Christians Christmas is not about stress or gifts, it's about the coming of the savior to the world. Rejoice in that!
And there were shepherds living out in the fields nearby, keeping watch over their flocks at night. An angel of the Lord appeared to them, and the glory of the Lord shone around them, and they were terrified. But the angel said to them, "Do not be afraid. I bring you good news that will cause great joy for all the people. Today in the town of David a Savior has been born to you; he is the Messiah, the Lord. This will be a sign to you: You will find a baby wrapped in cloths and lying in a manger." Luke 2:8-9 (NIV)

What's your best tip to reduce the stress around Christmas? Leave me a comment and let me know.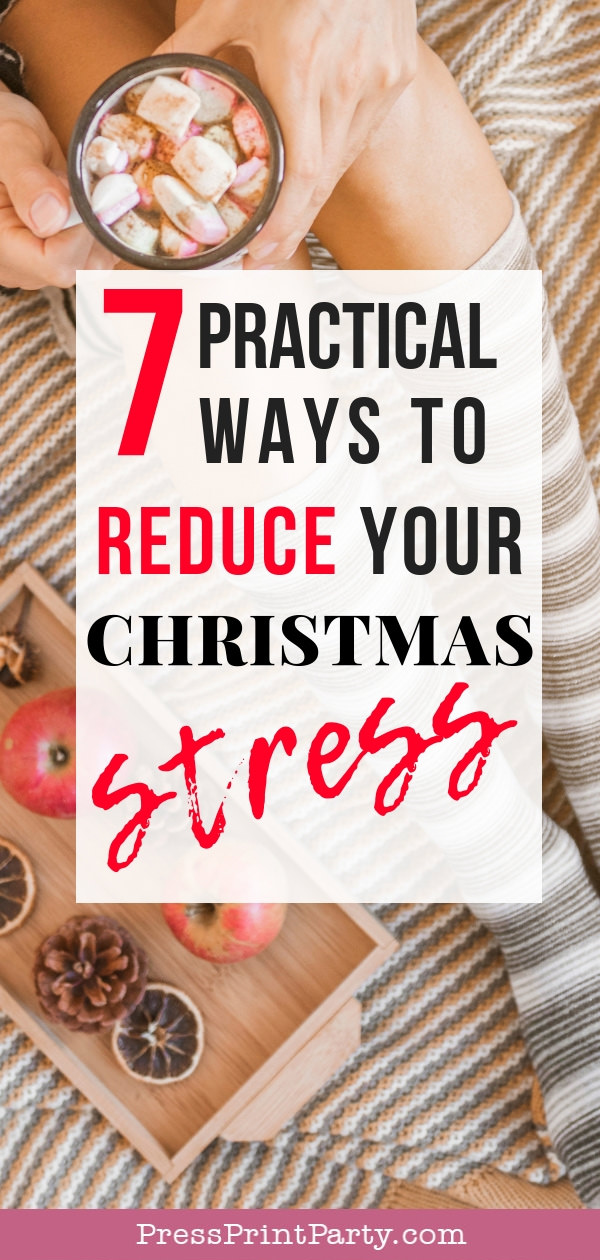 Start the next year organized, check out all my planner printables and my post on how to start a Bullet Journal the right way.

Check out our Christmas printables