It's ugly Christmas sweater party time for my girls and their youth group. So it got me asking : "Where can I buy an ugly Christmas sweater?"
I may be dating myself but I remember the 80s and the 90s holiday sweater trends. Some of those were doozies! Unfortunately, I never owned one myself so there's no hope of digging through an old box for a prop for my girls. Maybe I did have some fashion sense back then, but I didn't have the foresight to see that it would become a huge trend 30 years later.
So what was a perfectly acceptable Christmas sweater back then, is now the object of an ugly sweater party and so popular that we can all feel free to wear them again.
Honestly, my local department and big box stores disappointed me with their selection. The best ones had decorations on them that I knew would get ruined the first time we washed them.
So we went looking online for that over the top Christmas cheer and here's what we found!
This post contains affiliate links.
1- Ugly Christmas Sweaters.com
Who knew I would find a store actually called Ugly Christmas Sweater, but sure enough, I did. They have an amazing selection of all kinds of different totally crazy and light up Christmas sweaters.
They're well known for their popular 3D sweaters. You really can't get any more over-the-top than that. I believe their 3D moose sweater is one of their best sellers and I bet they're pretty fun to wear. They also have 3D unicorn and dinosaur sweaters both in women's and men's sizes.
The plush animal attaches with Velcro so you can easily wash the sweater afterwards. A must for any sweater you may want to wear again next year.
They also have an amazing array of cool Star Wars Christmas sweaters. I personally love the AT-AT reindeer sweater because it makes you do a double-take. Am I really seeing what I think I'm seeing?
They pride themselves in their speedy shipping and their great quality and their reviews show it.
Orders over $50 get free shipping and you can also get 10% off any order of $75 or more with a coupon code UGLY10

2- Halloween Costumes.com
Halloween costumes.com has a lot more than Halloween costumes. You can not only find a Santa suit but many bunches of Christmas sweaters as well.
They have loads of exclusive designs not found anywhere else, including many good looking superhero Christmas sweaters, like Wonder Woman, Batman, Superman, the Flash and lots of Star Wars Christmas designs.
This is where you'll find the bacon lover sweater, attached couple sweaters, huge bow sweaters, and full men's ugly Christmas costume suits. The sports fanatics will also be happy to find cool looking sweaters with the name of their favorite team.
halloweencostumes.com is a solid option to find a fun ugly Christmas sweater. And if you join their email list you get 20% off your first order.
3- Amazon
Amazon has also lots of options for Christmas sweaters, although maybe not as creative as the first two stores.
You'll find lots more traditional sweaters there. I particularly like the oversized reindeer cardigan, and the sweater dresses. I actually wouldn't mind wearing those on a regular basis.
You also find some truly ugly sweaters in the mix. I love cats and I own two, but I'd never be caught dead in that fantastically ugly cat sweater. Even to win some ugly Christmas sweater contest.
eBay
This is the place for cheap funny Christmas sweaters. Shipping is usually a bit slower but the prices on eBay can't be beat. The quality can also sometimes be junky, so read all the reviews carefully.
Don't be fooled with the super low under $3 prices. Once you put in your size the price jumps up. But you'll find some great deals for less than $15 in adult sizes. After all, you may only be wearing this once or twice.
My daughter has been asking for an elf ugly sweater, and really likes that elf sweater dress.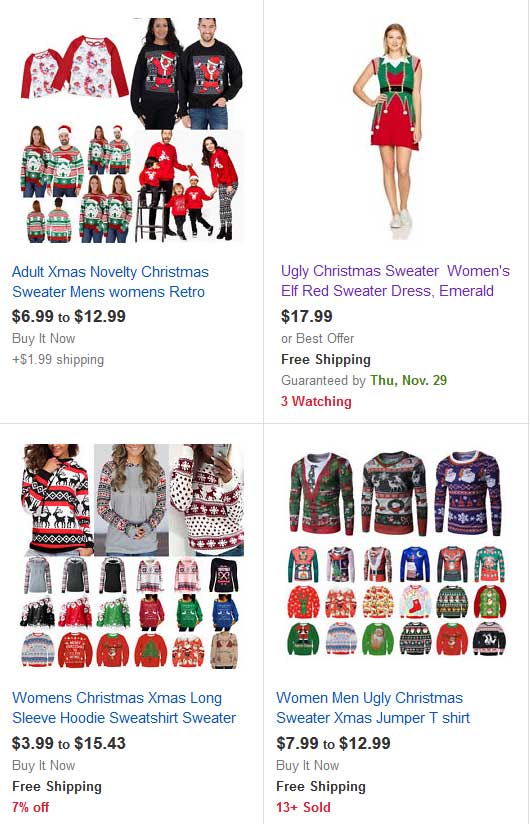 eBay is also a great place for that authentic 80's ugly Christmas sweater. Plenty of people are selling them around the holiday season to make an extra couple of bucks.
5- Your Grandma's Closet
I may not own an 80's Christmas sweater, but I know plenty of people who have them in the back of their closet. So don't be afraid to ask your Grandma and go treasure hunting in her closet or attic.
A small, local thrift store is also a great place to find some ugly sweater gold. We had no luck at our Goodwill stores, (probably all picked cleaned to be resold on eBay) but the little thrift store tucked away on our Main Street had a whole rack of them. Don't you just love that feeling when you find the perfect item in your size for just five bucks? Oh yeah!
I hope you found this list helpful and I wish you happy hunting for your perfect ugly Christmas sweater this year.
Are there other places where you've dug up some great finds? Let me know in the comments.
In the Holiday mood? Check out more Christmas posts: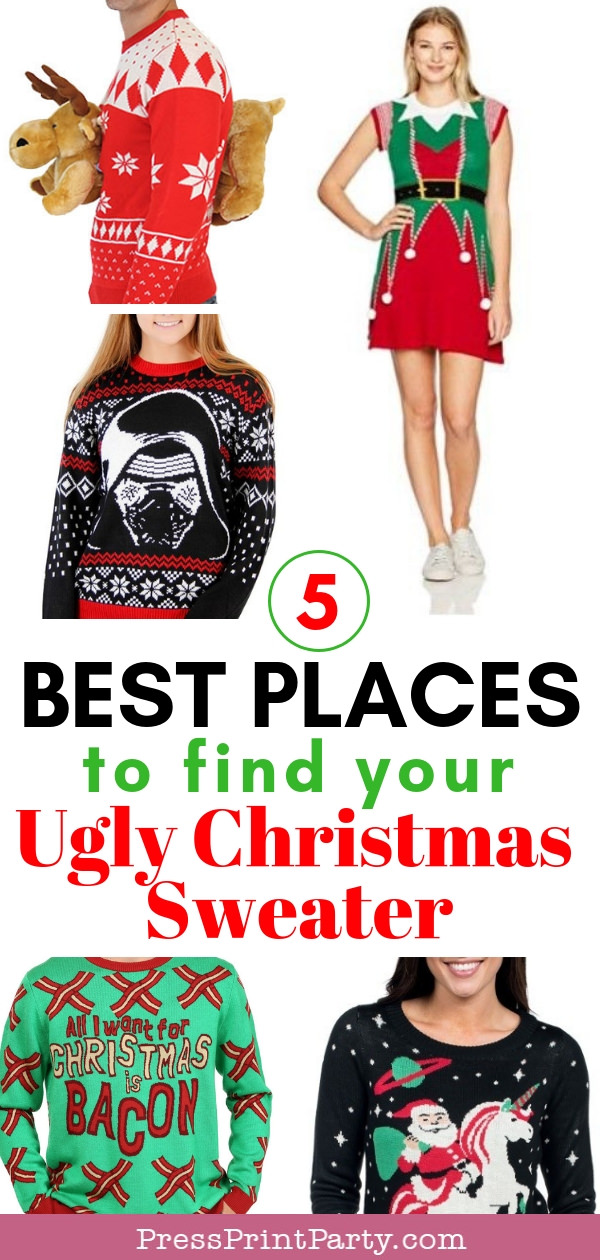 Check out our Christmas printables