The "You've been BOOzed" Halloween game is the older more mature cousin of the more traditional Halloween "You've been BOOed" game.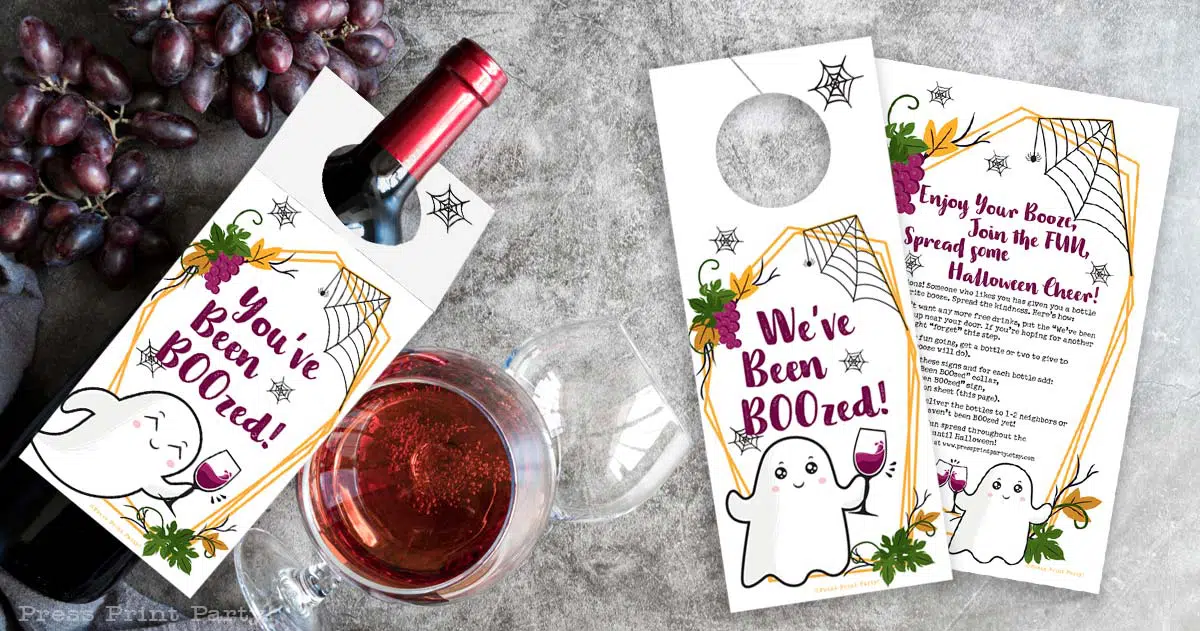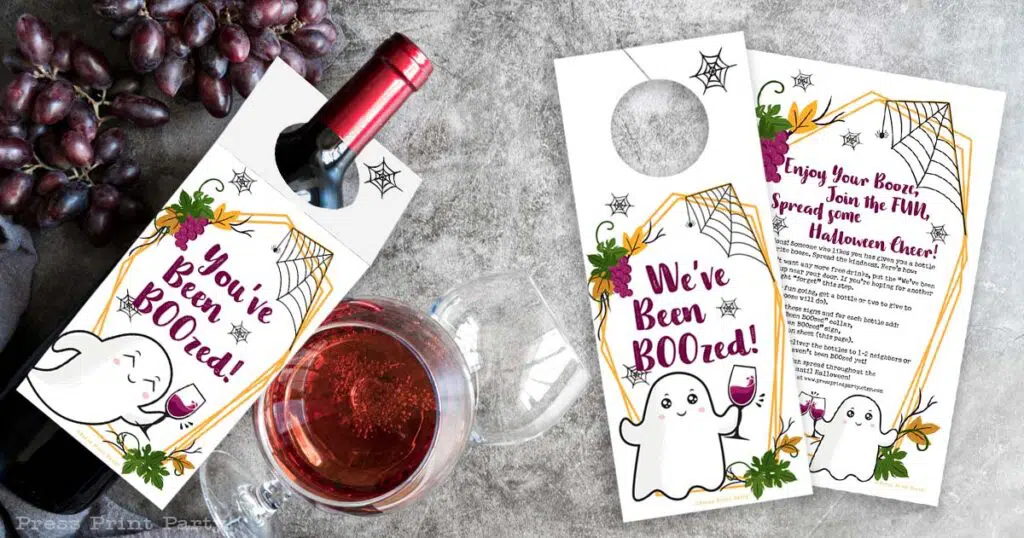 Giving "You've been BOOed" baskets is one of our favorite Halloween traditions. It's a great way to bless your neighbors and get in the Halloween spirit.
If you've ever made boo baskets for your neighbors or friends, you may have used a bottle of wine as one of the items.
Well, these "You've been BOOzed" printables are a fun way for you to give a bottle of wine or a bottle of something just a little bit stronger. It sure makes for a clever pun.
This fun gift tradition is probably best for your adult friends who have no kids. For families with kids you probably also ought to include a basket of Halloween treats for the kids (You can use the free "You've been BOOed" printables for that).
And, just so you know, you don't have to wait until the Halloween season, you can drop off a bottle of wine at my front door anytime!
---
"You've been boozed" printables
The "You've been BOOzed" printables come with a "You've been BOOzed" wine bottle tag collar, a "We've been BOOzed" door hanger and card, and an instruction card.
They're available in the shop as an instant download printable PDF. 
---
How to Play "You've been boozed"
The instructions to play this fun Halloween game are pretty simple:
Get 2 bottles for 2 of your neighbors. It can be anything they might like.
Print 2 "You've Been BOOzed" bottle collars from the printable set (one for each bottle)
Print 2 "We've Been BOOzed" Signs (one for each bottle)
You can choose between:
a page with the half sheet signs (print and cut in half),
or/and the page with 2 door hangers (print on cardstock and trim).
Print 2 Instruction sheets (one for each basket of treats) which can be printed on the back of the "We've been BOOzed" half-page sign.
For each bottle include:
1 "You've Been BOOzed" collar on the bottle.
1 "We've Been BOOzed" sign of your choice.
1 half page instruction sheet.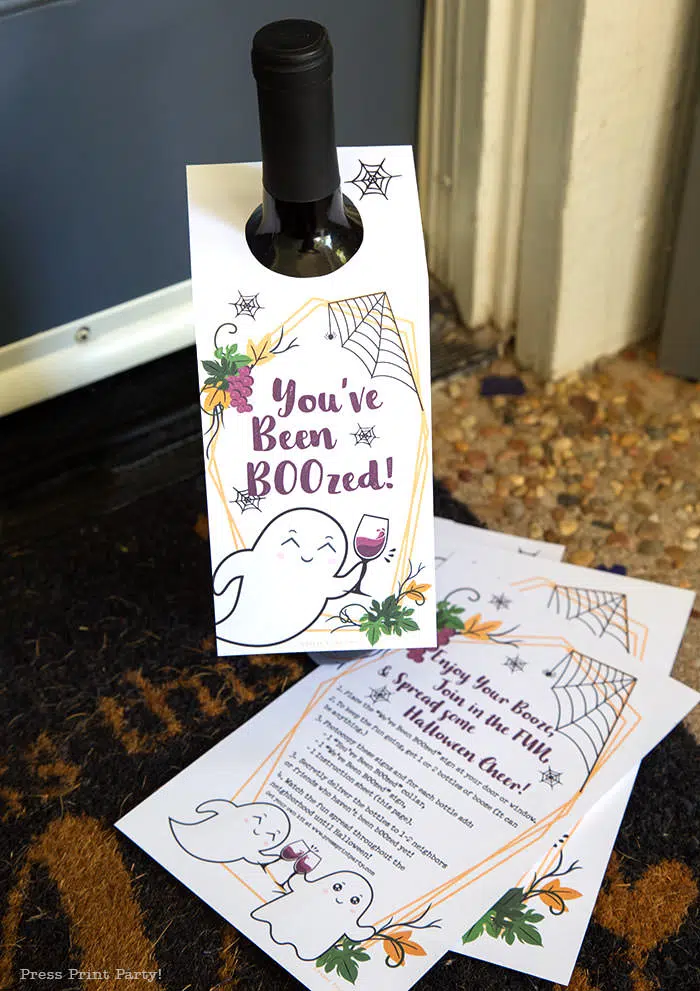 Leave the bottles and signs anonymously at the doorsteps of 2 of your neighbors or friends and watch the Halloween spirit spread throughout the neighborhood.
You could play ding dong ditch or just leave it as a surprise on the neighbor's porch for the next time they open the door.
If you want to make it easy for your neighbors, place an envelope with a bunch of printed signs and instructions for them to use and give away. The Halloween fun should have a ripple effect in the neighborhood.
---
I have lots more Halloween ideas and goodies on the blog including a whole list of Halloween decorations and party ideas with free printables. and some fantastic last-minute easy costumes for kids. Happy Halloween!
Don't forget to pin it: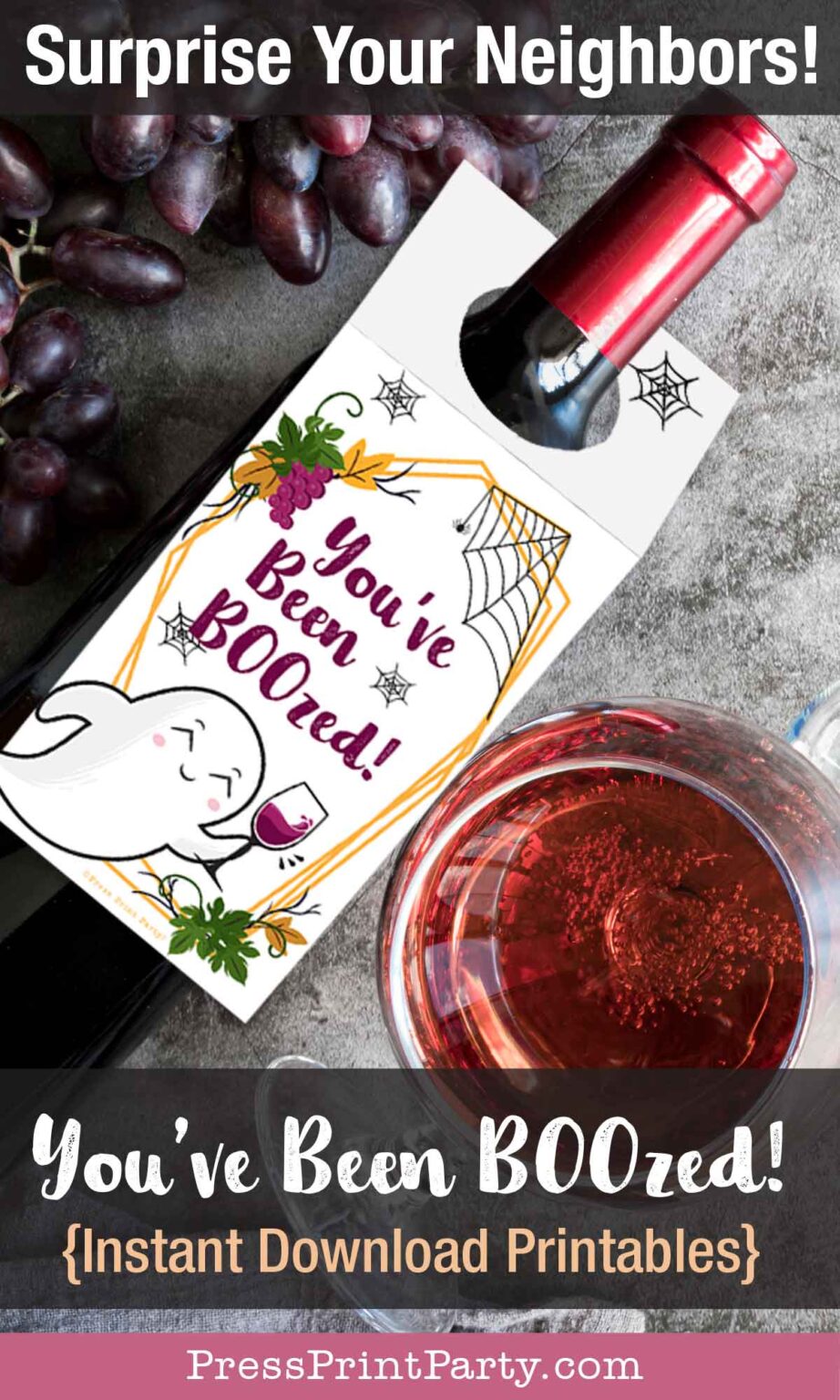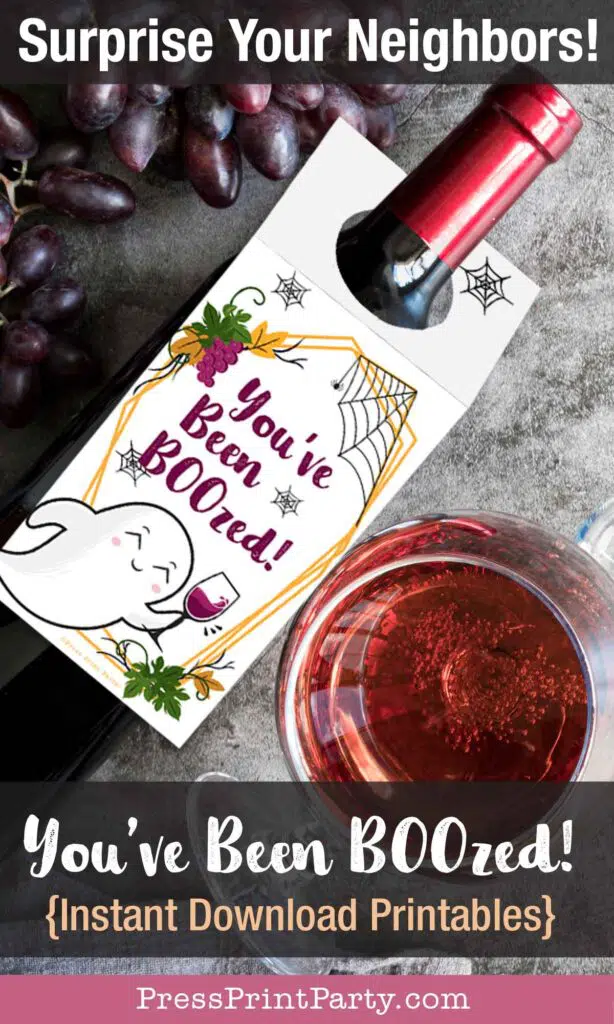 Check out our Halloween printables