Caramel sauce is one of those things that should be easy to make. It's so simple… right? It's got to be easy. But it there is a little technique to it. Fortunately, I've added several hints and tips to help you get spectacular results the first time.
With a little practice, making a homemade caramel sauce will become second nature and you'll wonder why you ever bothered with the store-bought stuff.
Jump to Recipe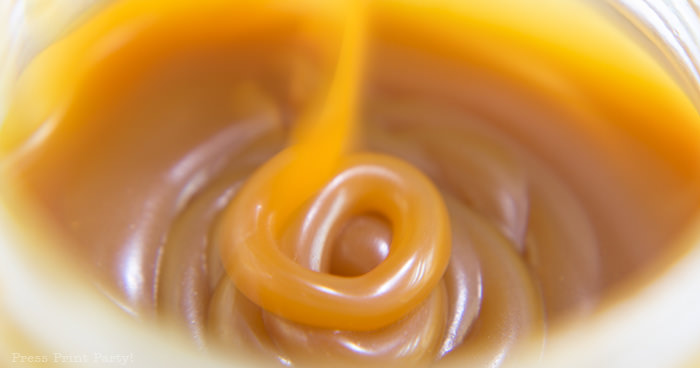 This post may contain affiliate links.
This caramel sauce recipe only has 3 ingredients and that's really all you need. Use this sauce as a dip for apples, for ice cream, in your coffee, or on top of sticky puddings like my old fashioned date cake recipe.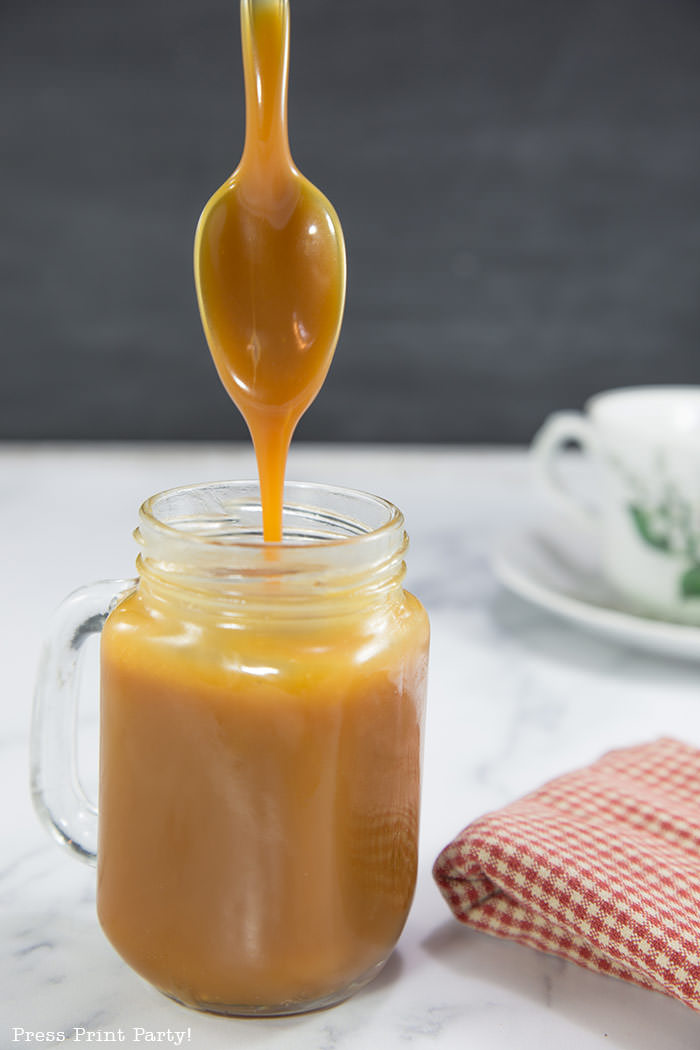 Tricks for making a great caramel sauce
Safety first. Make sure the pets and the kids are not underfoot! Caramelized sugar is much hotter than boiling water and will stick to your skin. We don't want your attempt at a delicious dessert to turn into a trip to the ER. And consider protecting yourself too. You may want to wear oven mitts or gloves in case things get a little splattery.
Use a heavy saucepan, at least 2 to 3 quarts. The caramel sauce will foam up as soon as you add the cream and you need the space for it to expand. Make sure you use a tall sided saucepan. I used a good quality stainless steel saucepan.
Get all the ingredients ready to go in the correct measurements beforehand. This sauce goes fast and taking the time to hunt for ingredients or measure things while making the recipe may result in a lot of burnt sugar.
If you'd tried it but always end up burning the sugar add a 1/2 cup of water to your sugar in the beginning. The process will take longer as the water has to evaporate, but the sugar will cook more evenly.
Don't wait for the color to be dark. As soon as the sugar is melted it will be a medium amber color. That's the perfect color. Don't let the caramel get too dark and potentially burn. Add the butter as soon as the sugar is all melted.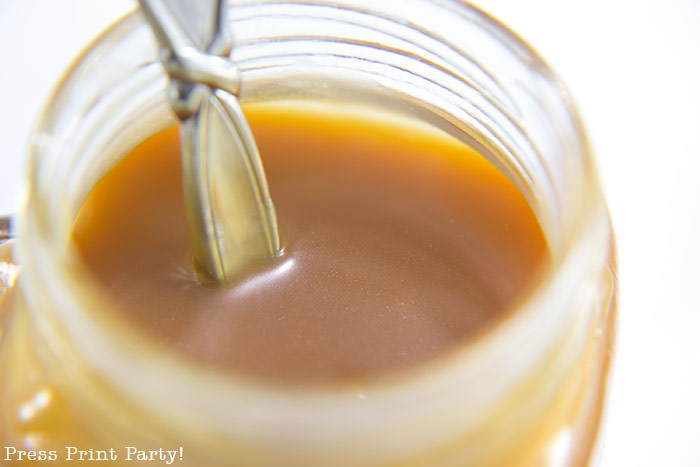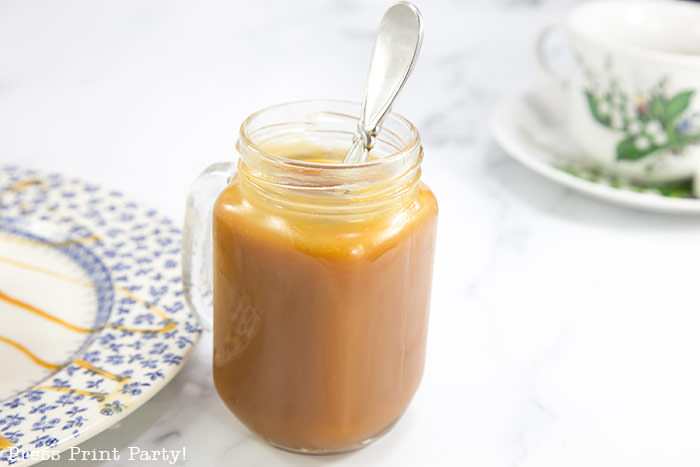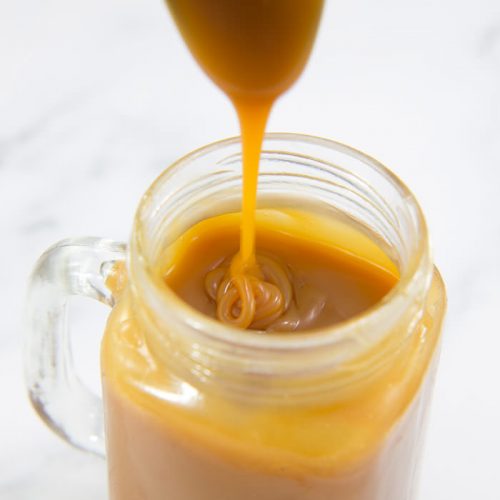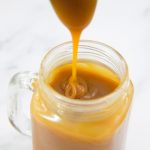 Easy Caramel Sauce
Ingredients
1

cup

white sugar

6

Tbsp

unsalted butter

1/2

cup

heavy whipping cream
Instructions
Heat the sugar in a heavy saucepan, something like 2 to 3 quarts, on medium-high heat until melted, constantly stirring with a whisk or wooden spoon. If the sugar boils, stop stirring and swirl your pan.

As soon as all the sugar has melted (it should be a medium amber color) add the butter to the pan and whisk until melted. (The sauce may bubble)

As soon as the butter has melted take the pan off the heat, wait 3-4 seconds, and slowly pour in the heavy cream while whisking. The sauce will foam up. That's why you need a bigger saucepan.

Whisk until smooth. Let cool in the pan for a couple of minutes then pour into a mason jar. Store in the refrigerator for up to 2 weeks. Serve warm. You'll love it!
Don't forget to pin it: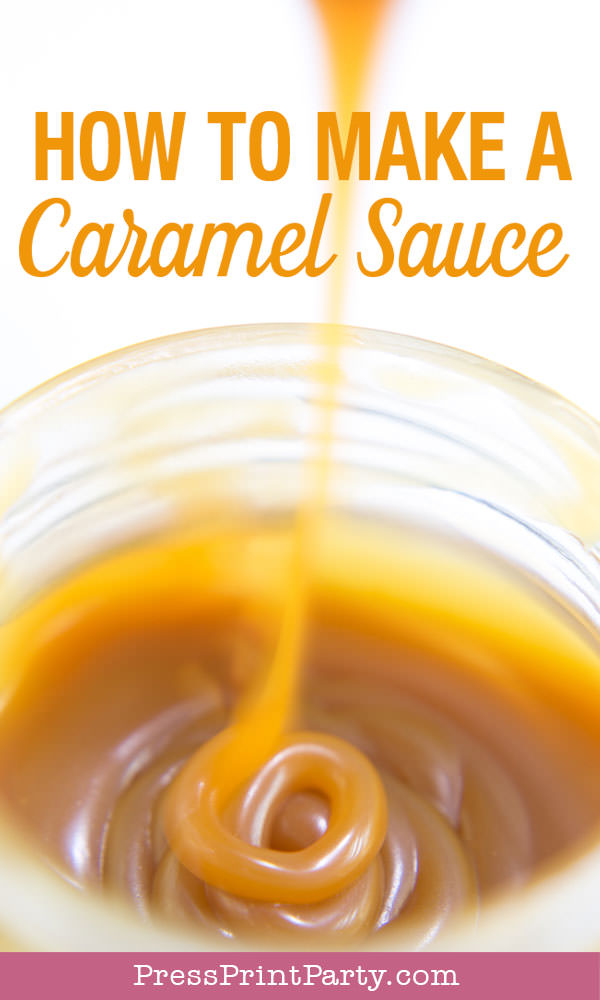 Check out our birthday printables