This easy recipe for banana bread is near and dear to my heart as it was the one my now-husband made on one of our first dates.
I understand recipe posts with backstories are made fun of, but this one is special to me. Of course, you can always just
Jump to Recipe.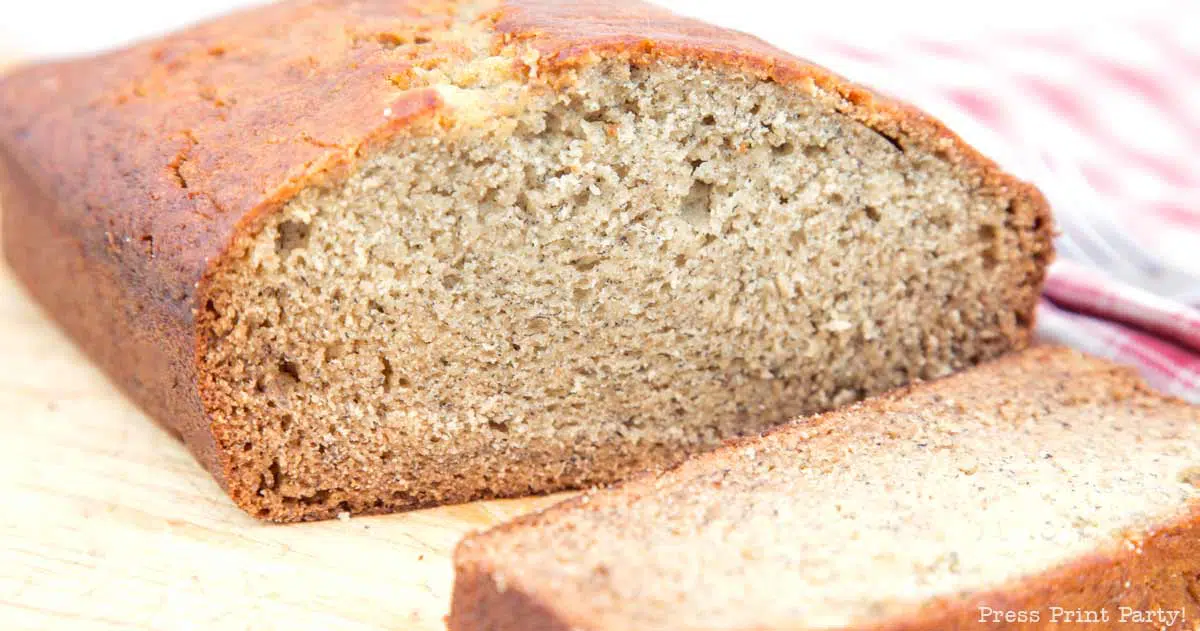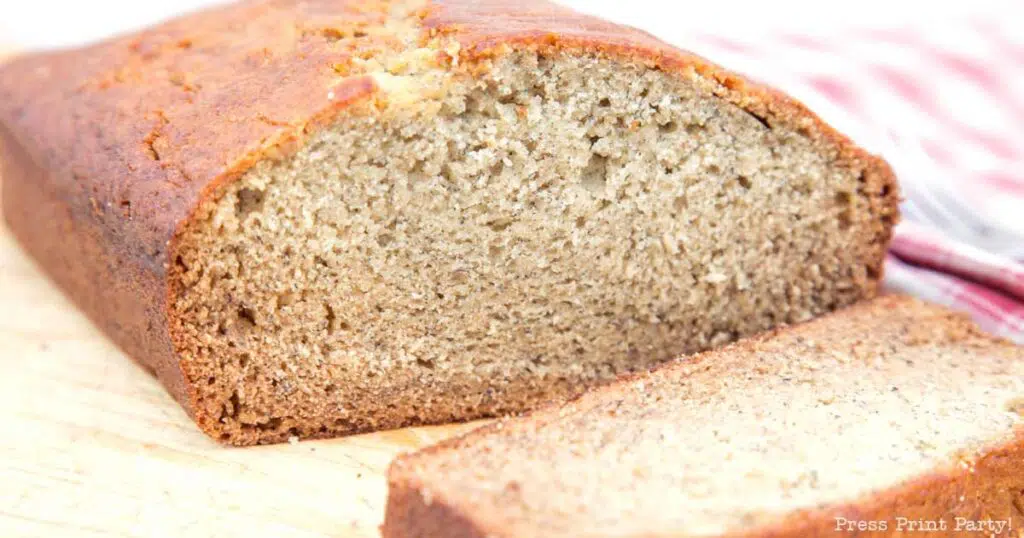 This post may contain affiliate links.
Recipe for Banana Bread Backstory
A long while back, on a lonely afternoon, my boyfriend called me up to see if he could come over.
I thought it was a little bizarre when he showed up with 3 black and shriveled bananas.
I don't know in what universe he thought maybe it was an appropriate gift to bring to your girlfriend's house.
Flowers? Yes!
Shriveled bananas? No!
Well, he proceeded to open a little piece of paper with a family recipe scribbled on it.
He raided my cupboards and in no time whipped up a loaf of banana bread.
The house smelled amazing and now I thought he was amazing. The guy can cook!
Little did I know this was pretty much the extent of his cooking ability and the only thing he knew how to bake.
But yes, I ended up marrying him and having two adorable kids with him, so you could say that was the recipe that won my heart.
Later, I modified the original recipe to add rum. I add rum or some kind of liquor to pretty much all my baking. Must be a French thing.
It's now our family's favorite banana bread recipe and my kids even bake banana nut muffins from this recipe for friends and family to raise money for summer camp.
Useful Tips for your Banana Bread
This homemade banana bread recipe will make 12 muffins or one loaf.
This quick bread recipe is a throw everything in one bowl, mix, pour, and bake recipe. Super easy!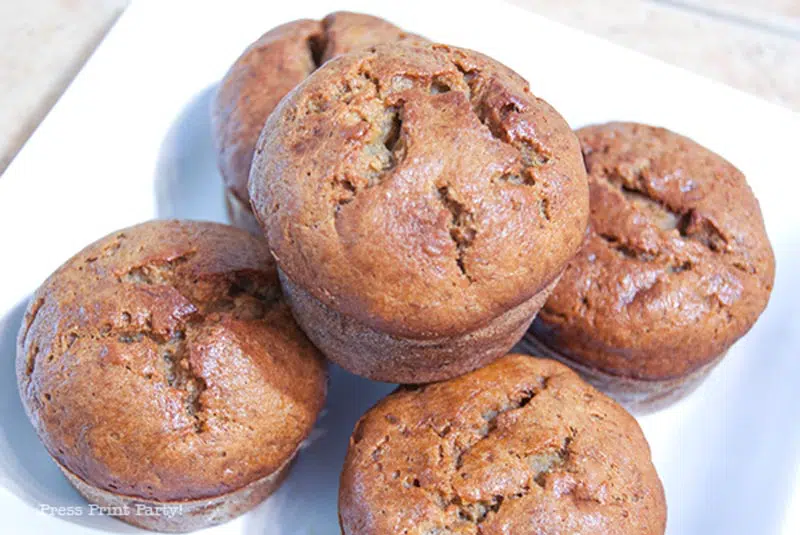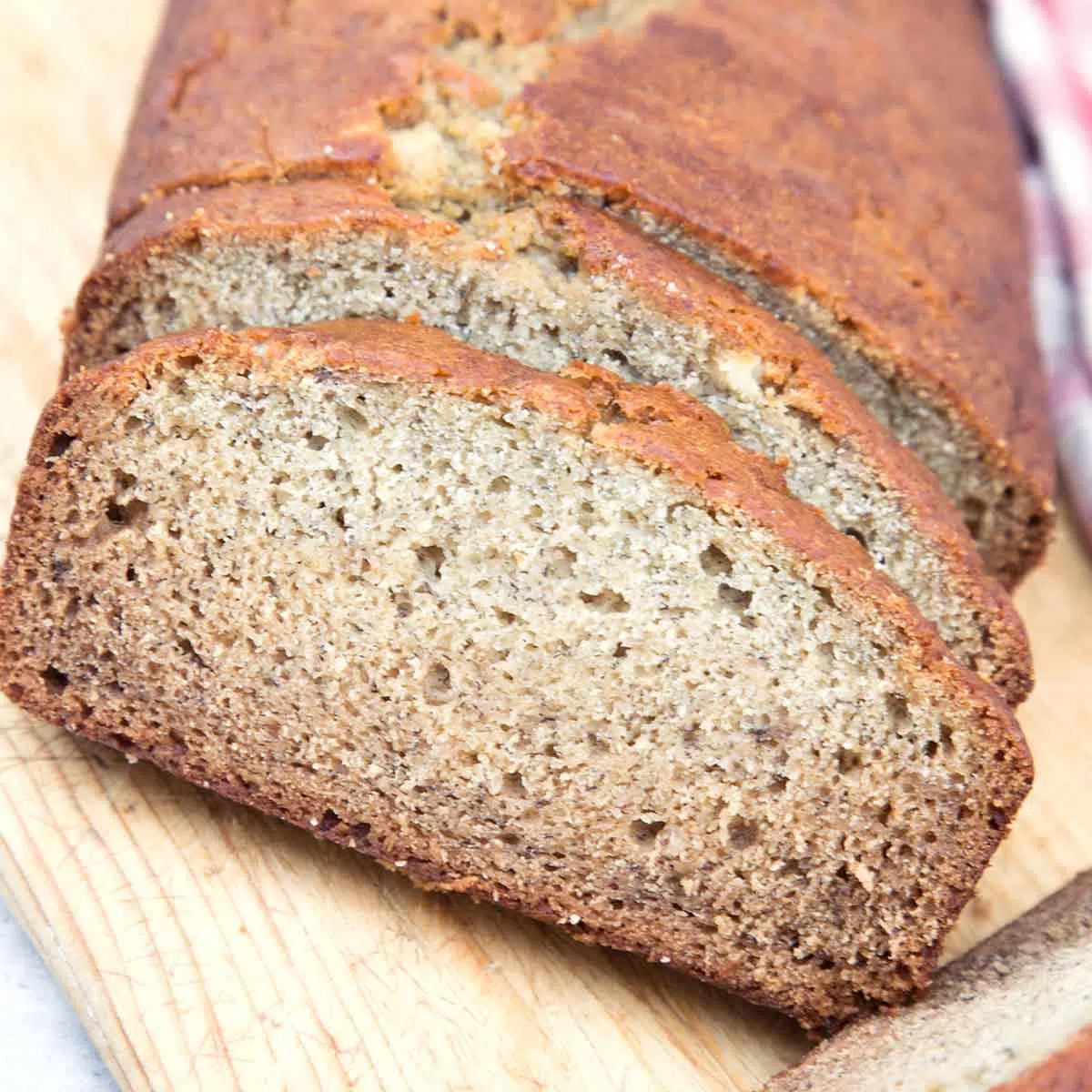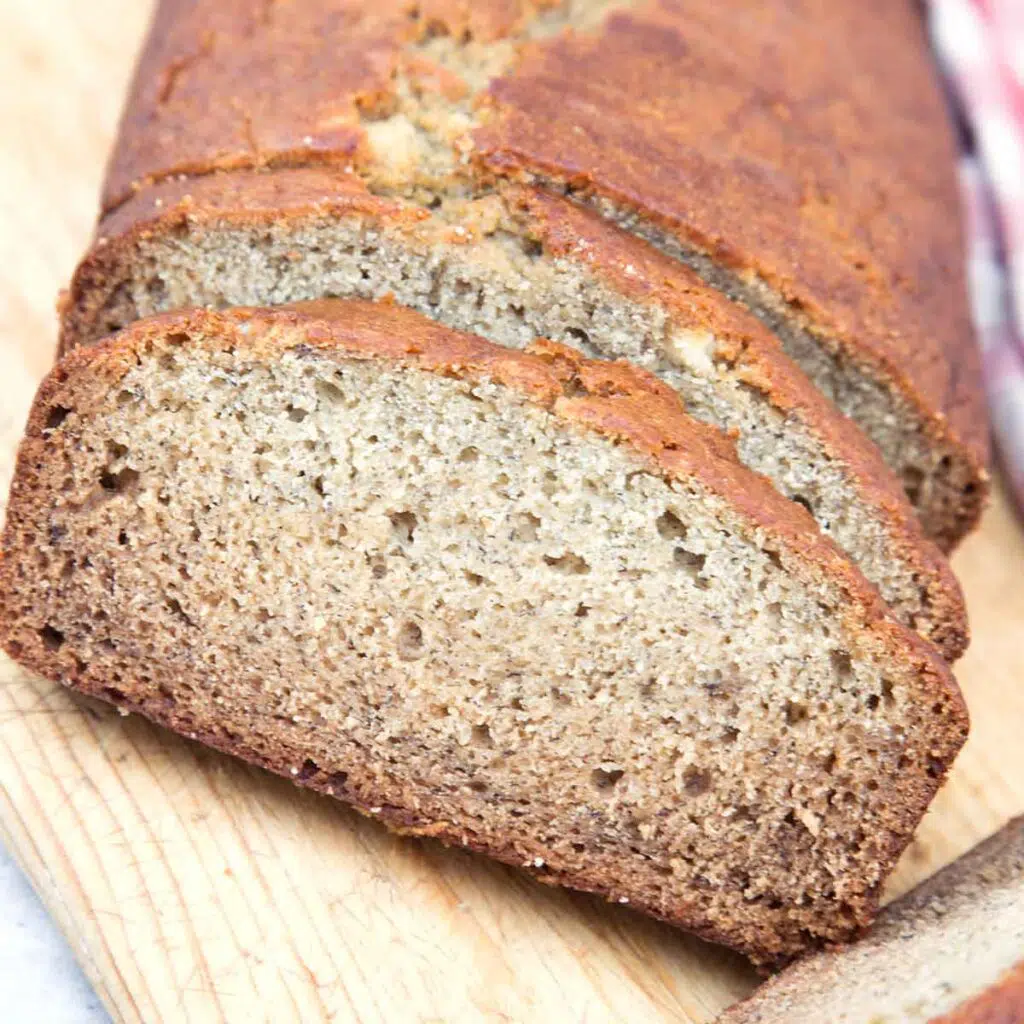 It's best to wait until your bread is cooled before you cut into it. That way you get nice clean individual slices.
I love baking my muffins with squares of parchment paper inserted in the cups. I think it looks fancy.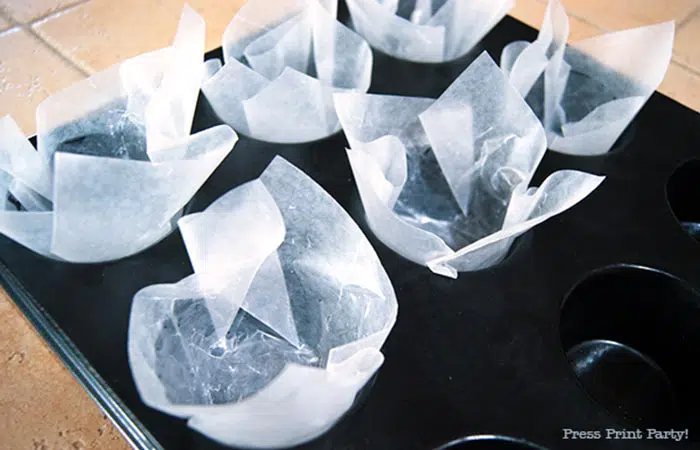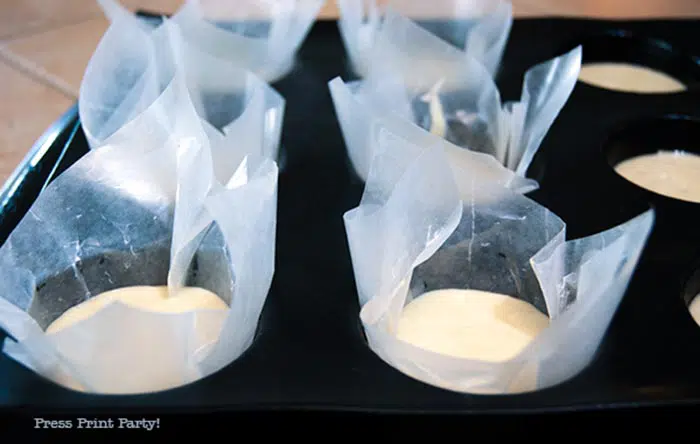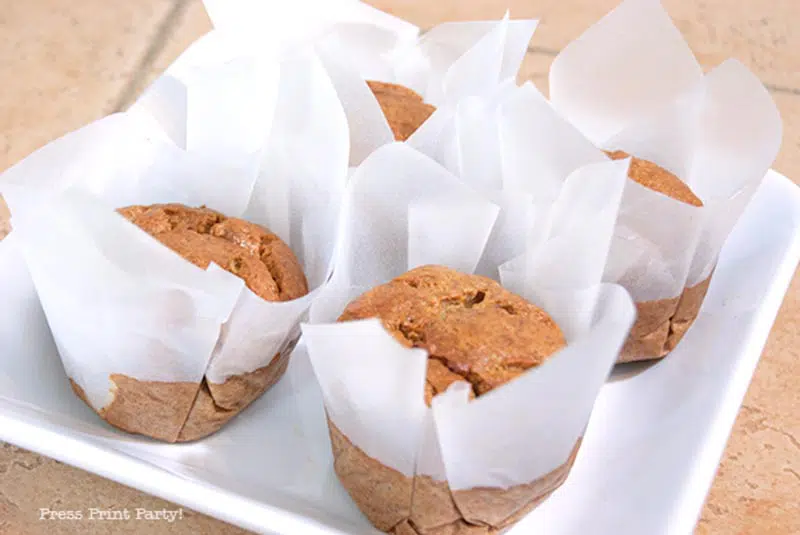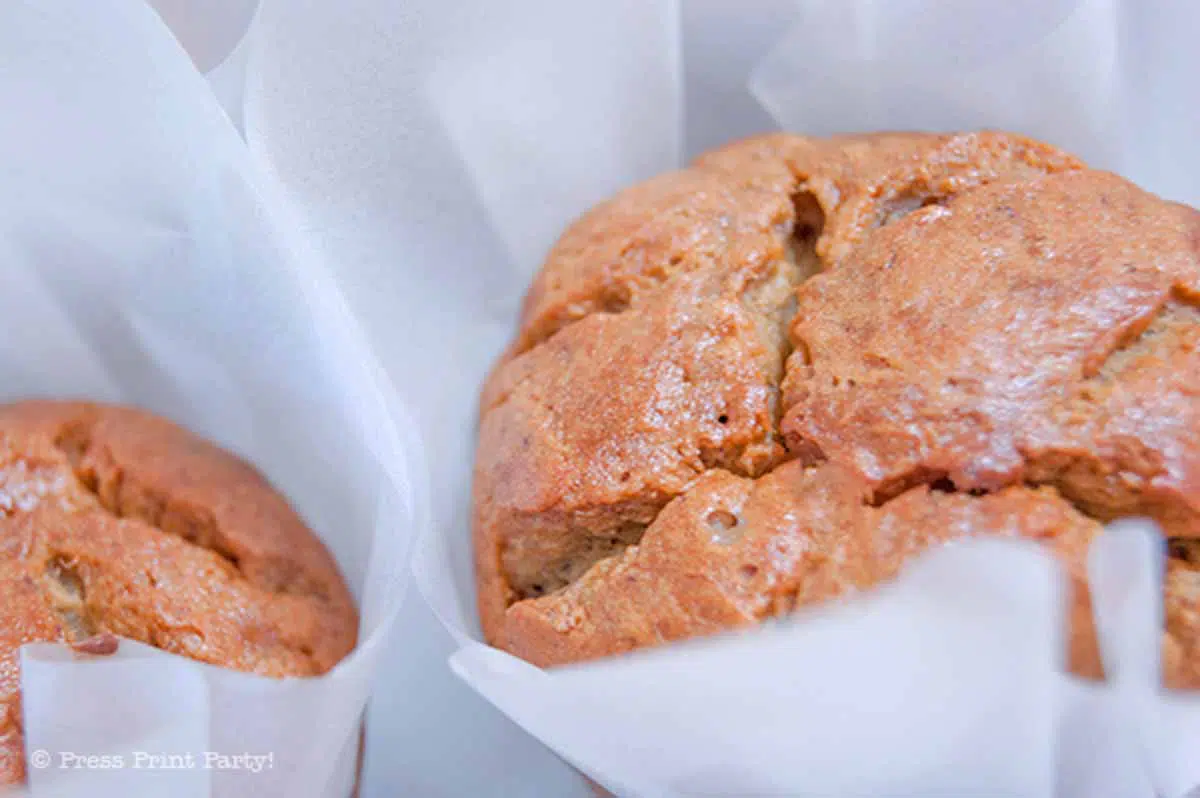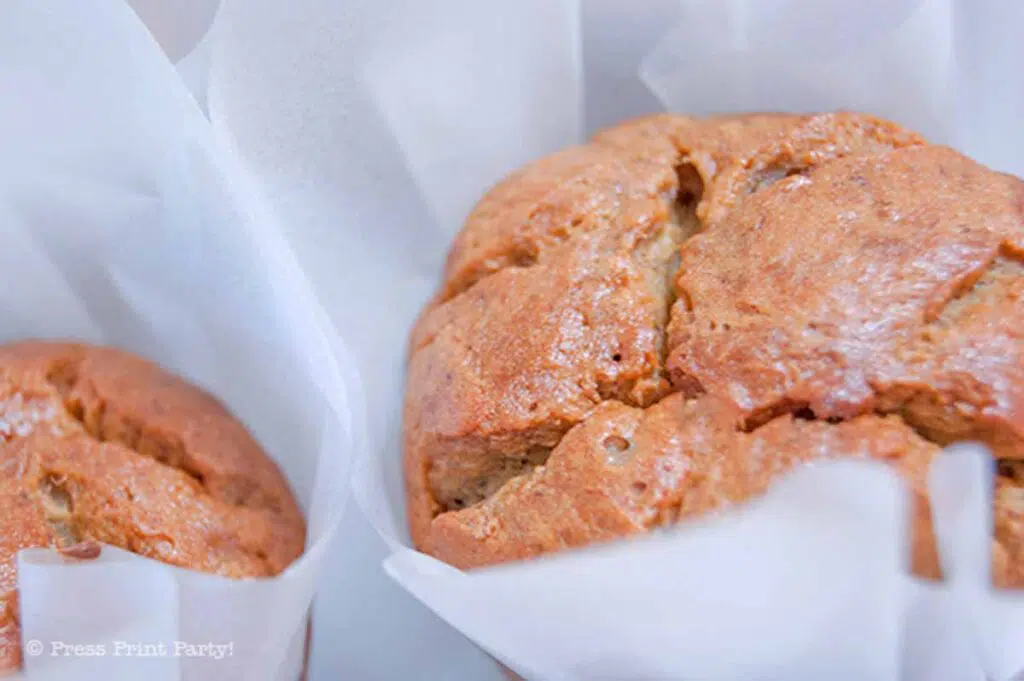 It's best not to use fresh bananas. For the best results, make sure you're using overripe bananas. The more overripe, the sweeter your banana bread will be. And if you're using a stand mixer, you don't even have to mash them first.
When your bananas are overripe but you don't have time to make banana bread, just throw them in the freezer. That way the next time you want some yummy banana bread you won't have to wait. I always have several black bananas frozen in a bag just for that.
You can make banana nut bread or chocolate chip banana bread just by adding either a 1/2 to 1 cup of crushed nuts or 1 cup of chocolate chips, or go wild! Add both!
Some banana bread recipes add Vanilla Extract. I would stay away from any extract for this recipe as you want the bananas to shine, not be overpowered.
And please don't ever use banana extract, that thing is nasty!
I typically use unsalted butter, but salted butter will work just fine. So I didn't specify which one to use in the recipe.
It has a super moist texture and can be stored on the counter under a towel at room temperature or in a brown paper bag for a couple of days.
I don't like to store it in an airtight container or a plastic wrap as it makes the crust gummy. I like to keep the crust a bit dry.
This simple recipe really is the best banana bread recipe, in our house it's usually gone within 15 minutes. So next time you may want to make 2!
Let's get started: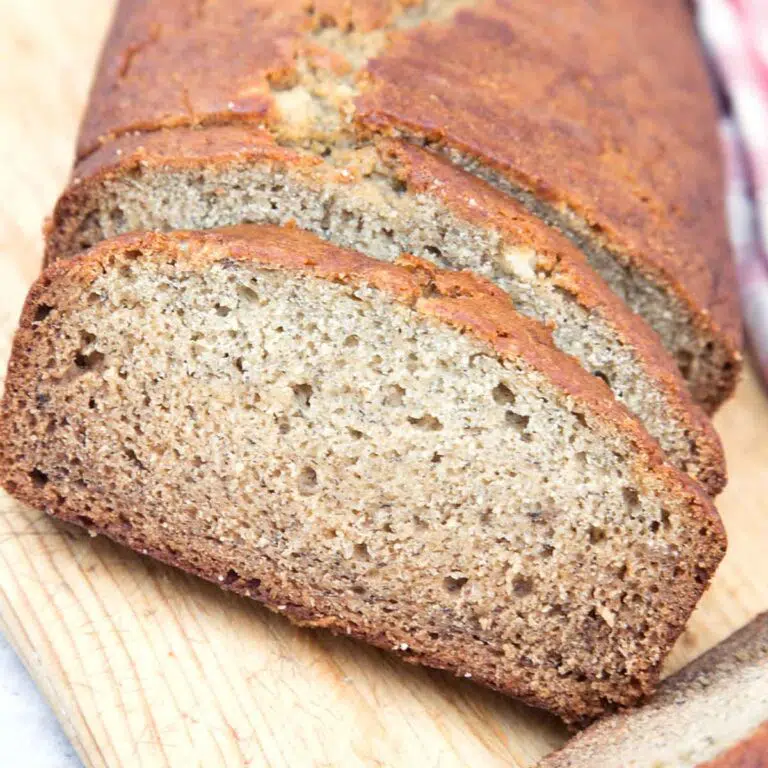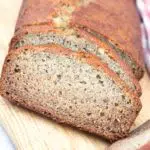 Easy Banana Bread Recipe
Ingredients
1

cup

sugar

1⅔

cups

all purpose flour

½

tsp

salt

¼

tsp

baking powder

2

eggs

3

ripe bananas

⅓

melted butter

⅓

cup

water+rum (½ and ½)
Instructions
Butter your loaf pan or muffin tin if necessary.

Add all dry ingredients to a large or medium bowl. Mix a little, then add the wet ingredients to the flour mixture.

Mix all ingredients together by hand or with a mixer. Do not over mix.

If using an electric mixer, mix on medium with the paddle attachment.

Pour batter in either one loaf pan or 12 muffin cups.

Bake in preheated oven for 45 mins for muffins or 1h15mins for bread.
Recipe Notes
Yes! You can add chocolate chips to this recipe. Put in as much as you'd like. We usually add about one cup.
You can also add nuts. 1/2 to 1 cup of chopped nuts is about right.
Don't forget to pin it: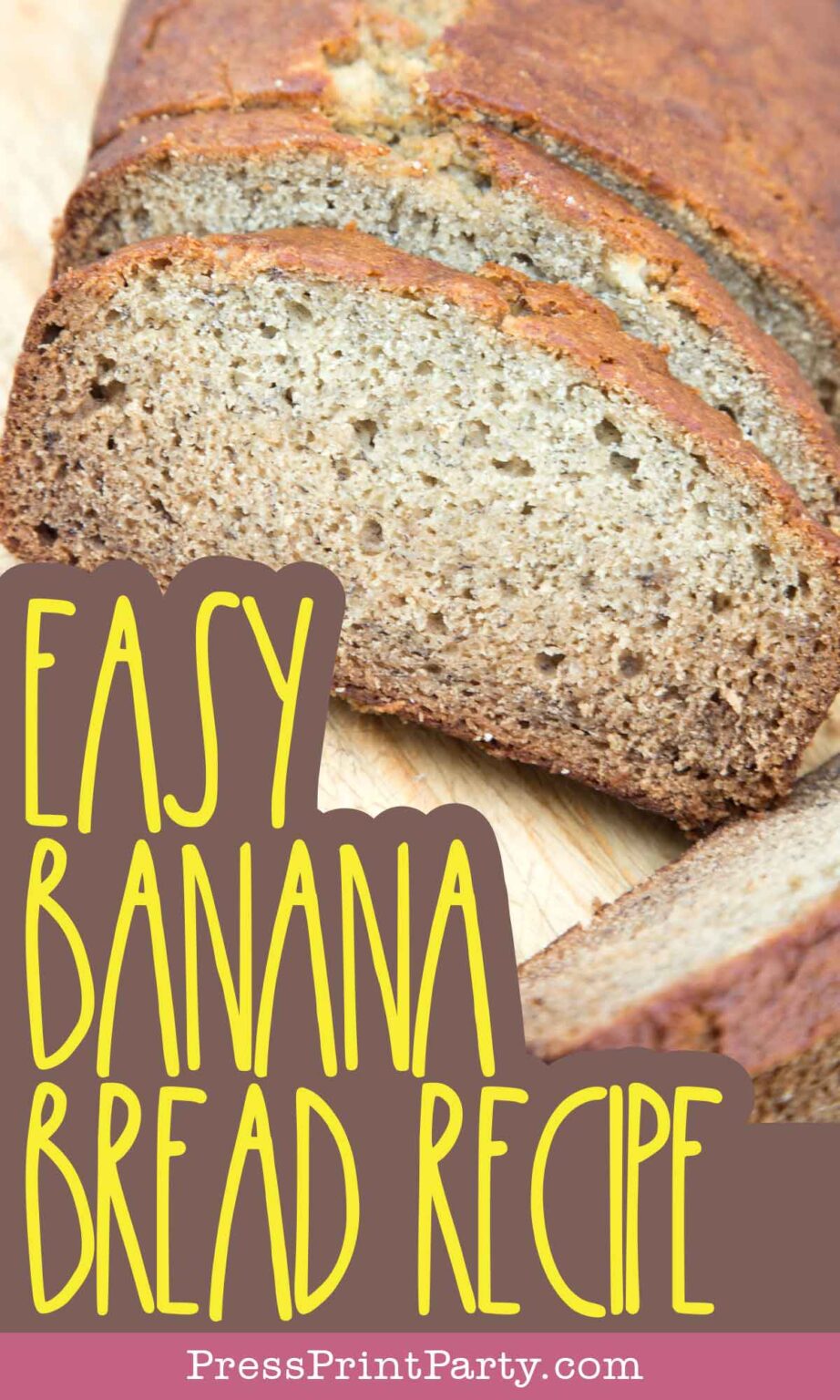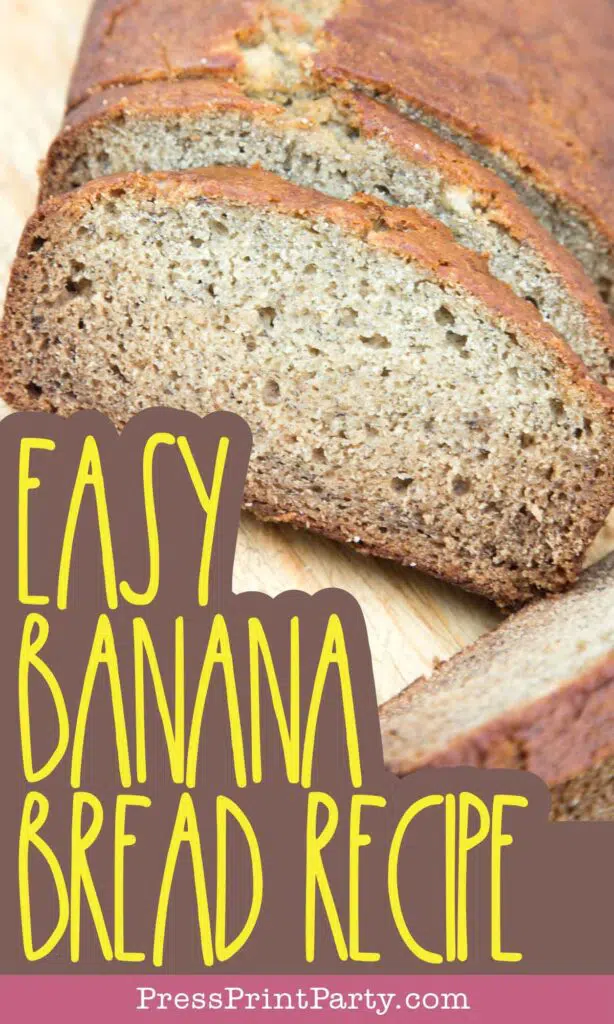 Check out our birthday printables