We all need a good list of easy party appetizers we can whip up in 5 minutes or less.  
If your pantry is pretty well stocked, you'll be able to make these easy appetizer recipes at the very last minute. And then you can still be a relaxed, welcoming host, even for last-minute guests.
They're also great, easy recipes to know if you want to make any get-together a little more elegant.
Because what are the best appetizers to serve at a party? The ones you already have the ingredients for, right at home.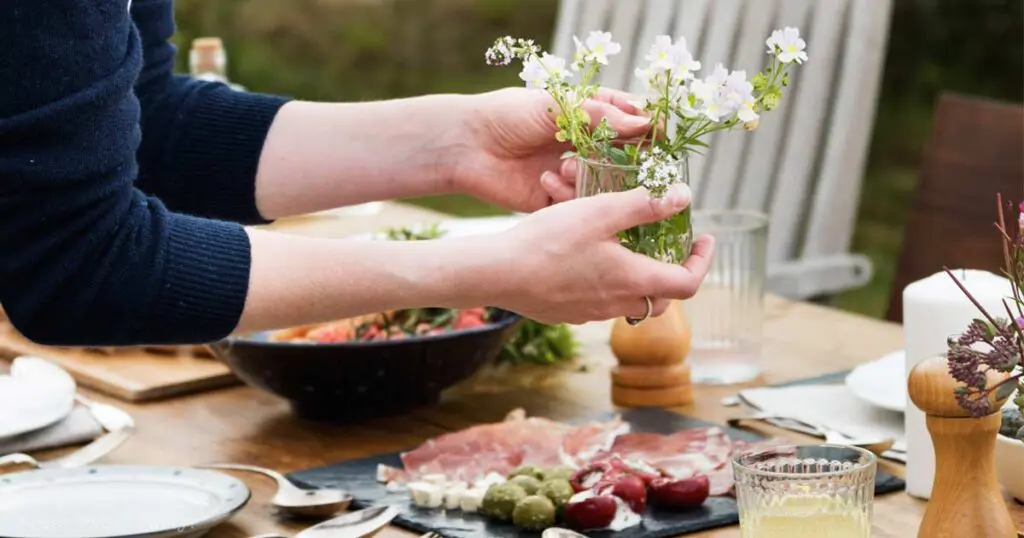 This post may contain affiliate links.
Most of these delicious appetizers are small bites or finger foods and are easy to make for a crowd. Most are no-cook appetizers and even though most ingredients are store-bought your friends will never know.
You don't need to be Martha Stewart. With a little presentation, your party appetizers can look super fancy without a single scrap of puff pastry.
1- Quick Cream cheese dip
This one is a staple in our home. Put an 8 oz block of room temperature cream cheese on a small plate and top with your favorite salsa or chutney. Serve with corn chips or hearty tortilla chips in a pretty bowl.
---
2- No Cook Artichoke dip
Drain a jar of artichoke hearts, chop them up, and mix them with Boursin cheese. Serve with your favorite cracker. It's easy and a lot quicker to make than the classic version of the hot spinach artichoke dip.
---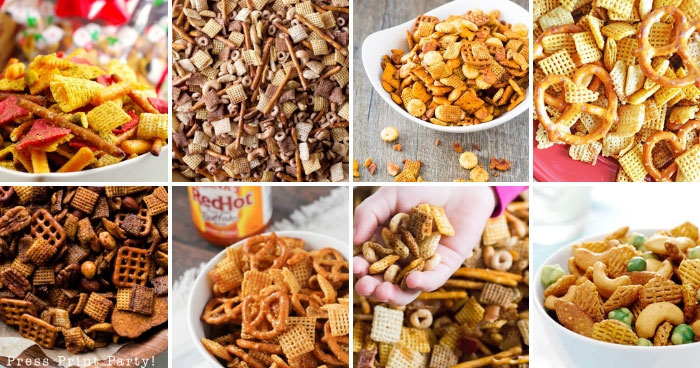 ---
---
---
5- Prosciutto and melon
Wrap 1-inch cubes or balls of cantaloupe with prosciutto and secure with a toothpick. Super easy and oh so good!
---
6- Cucumber toast
Slice rounds of cucumbers, combine chopped smoked salmon with soft cream cheese, and pipe on top of the slices of cucumbers. You can even buy lox cream cheese to save a little time. Garnish with some fresh dill and a caper. You can even sprinkle some lemon juice over the top for a little citrus punch.
---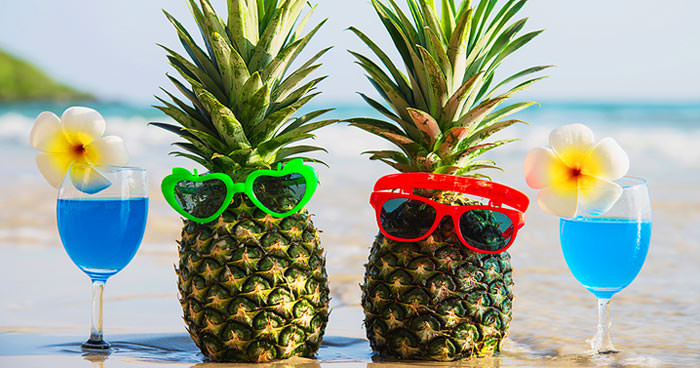 ---
7- Mini sausage skewers
Slice your favorite pre-cooked sausage and place it on toothpicks. Microwave on high for 1 minute and serve with Dijon mustard to give it a nice, spicy flavor. This is an easy appetizer for a crowd.
---
---
9- Warm Garlic Edamame
Heat some olive oil in a pan with a couple of chopped garlic cloves. Saute pre-cooked (shelled or not) edamame for a couple of minutes. Salt, and serve.
---
10- Mini Olive bar
Get several types of olives in jars or at your local Whole Foods olive bar. Drain and serve in little bowls with toothpicks. You can keep the different varieties separated or mix them up. If your olives have pits, don't forget to provide an empty bowl for discarding them. (The pits, not the guests)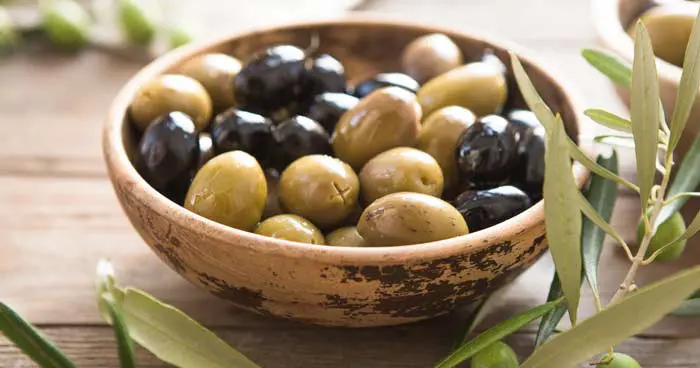 ---
11- Cheese & Meat tray (Charcuterie board)
A charcuterie board is made with a variety of cheeses, cured meats like prosciutto and salami, and crackers.
To create a great combination cheese board, choose at least one soft cheese like Brie or Boursin, goat cheese, or Camembert, one semi-hard cheese like Swiss, or cheddar cheese, and 1 pungent cheese like blue cheese or gorgonzola.
Arrange on a wooden cutting board mixing colors, shapes and textures. This classic appetizer is perfect for any time of the year and can be easily taken to the next level by adding grapes, dates, little pickles, dried fruits, olives, or nuts.
A charcuterie board also makes a great present for any hostess. Find more great gift ideas in my list of 10 thoughtful thank you gifts for the hostess.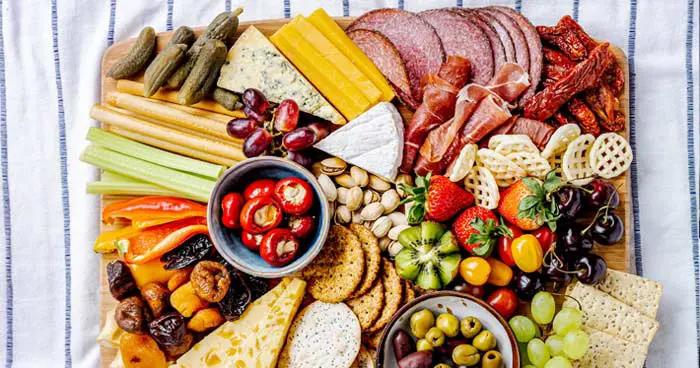 ---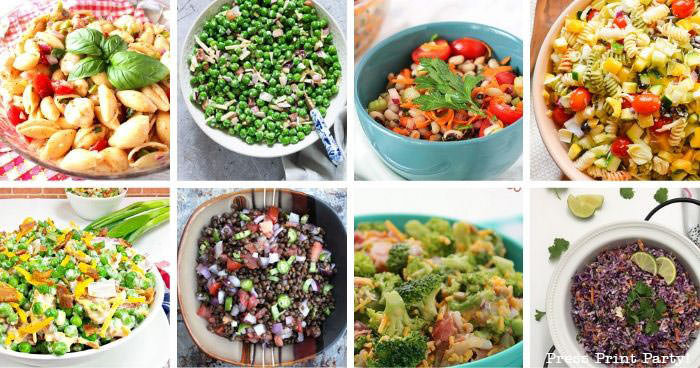 ---
12- Classic Veggie cups
Pour a little ranch into a small clear glass or plastic cup and arrange fresh, cut-up vegetables like celery, baby carrots, cucumber, red bell pepper, and green onions inside. The cups are a great idea if the guests at your party are up and mingling. They will enjoy having their own cup to pick up and walk around with.
---
---
14- Spiced watermelon
Cut watermelon into triangles and arrange on a platter. Sprinkle with Tajin spice blend for a little kick. If you've never had watermelon this way, I'd encourage you to try it. It's surprisingly addictive.
---
15- Fancy Potato Chips
Scatter kettle potato chips on a sheet pan and sprinkle with grated parmesan cheese and a teaspoon of any kind of dry BBQ rub or Old Bay seasoning. Bake in preheated 425º oven for 5 minutes.
---
Now that you have 15 easy appetizer recipes for your recipe box, I'd encourage you to keep some of these ingredients in your pantry or fridge at all times. That way you'll never be stressed when a good friend comes over unexpectedly.
They're also perfect party appetizers to take the stress out of the next holiday season. Most of these easy appetizers will work great for your Thanksgiving table, Christmas or New Year celebration.
If you have a little more time, try these delicious bacon wrapped dates appetizers or these 11 Spicy Chex Mix Recipes to Kick your Party up a Notch.
I also have more party food ideas that won't break the bank in my Party on a Budget Food Ideas That Don't Look Cheap post and if you're ready to think dessert, check out these 33 Easy Party Desserts – Finger Foods Ideas to Make for a Crowd.
Don't forget to pin it: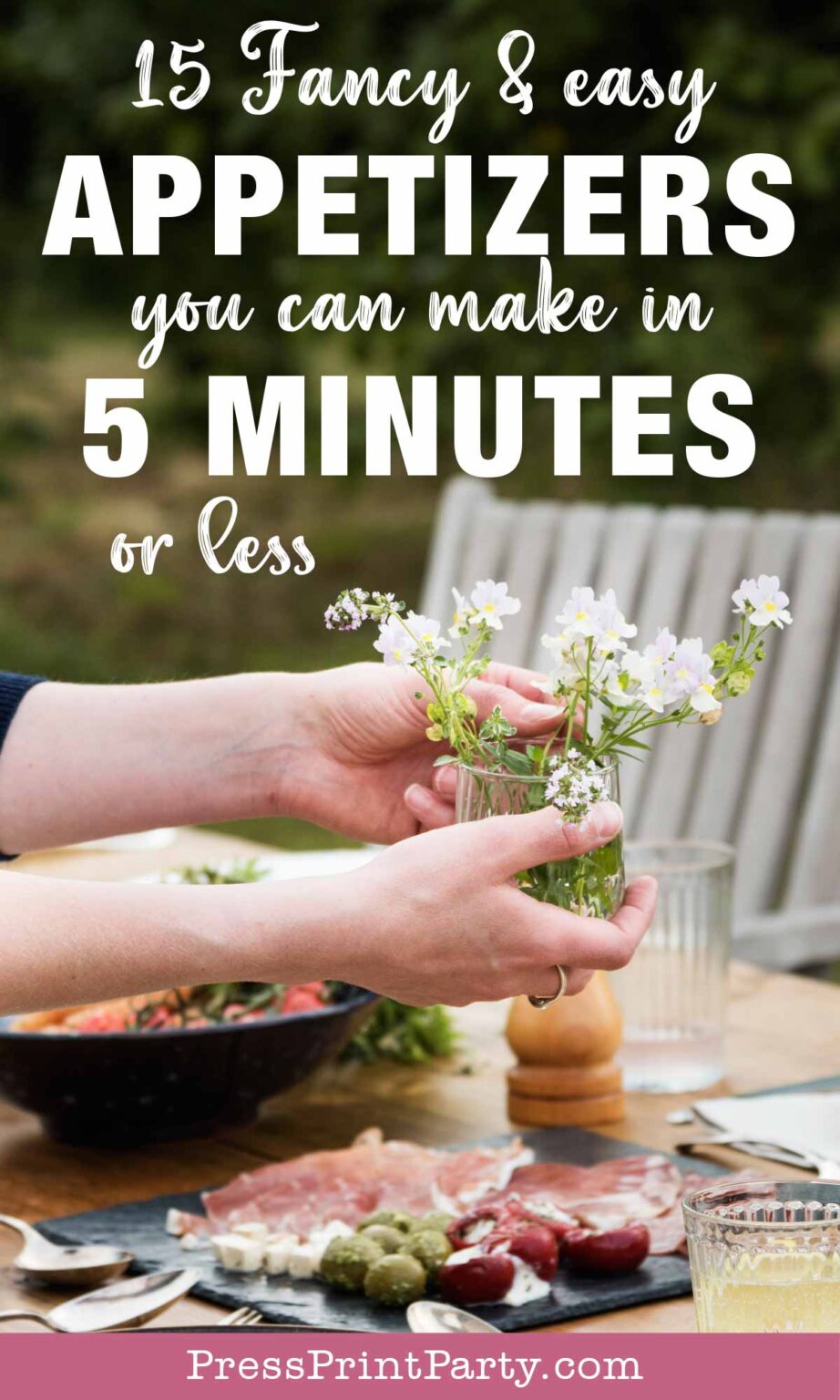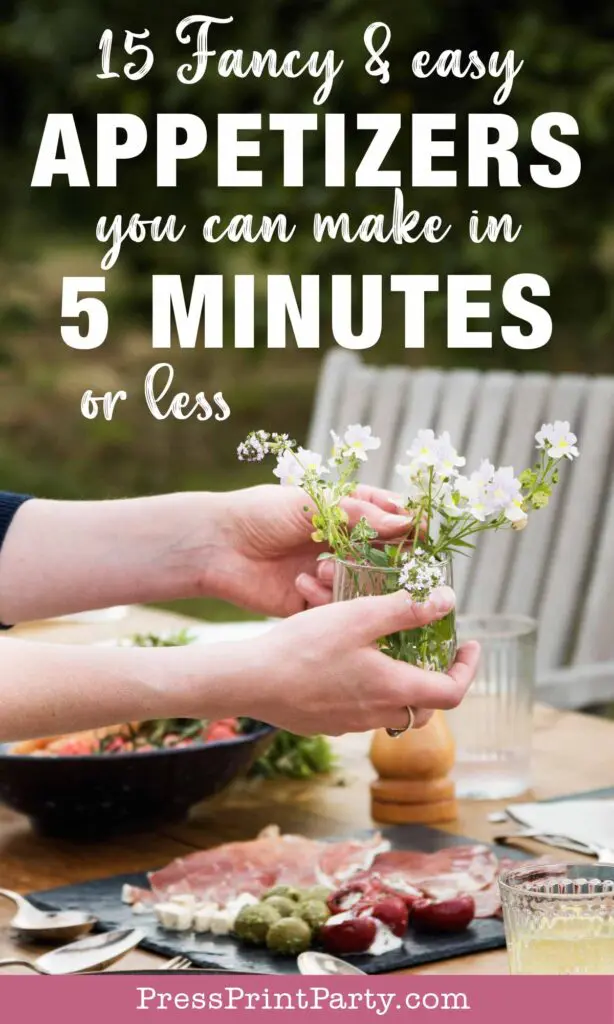 Check out our birthday printables