This pineapple birthday cake is fun and easy to make. Made with a coconut batter and a pineapple buttercream and shaped like a pineapple, it was the show stopper of our party. A must for any party like a pineapple themed party.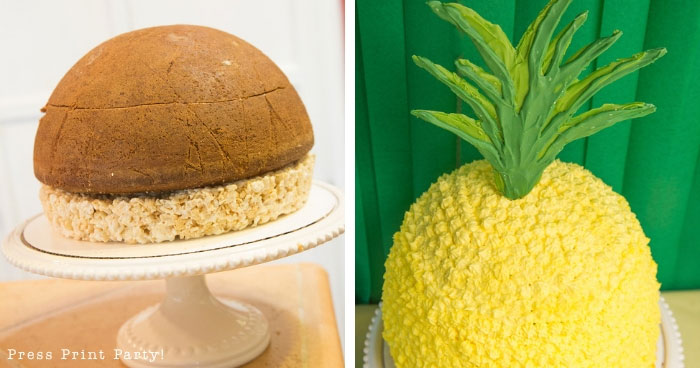 This post may contain affiliate links.
Pineapple Shaped Cake Materials
You will need: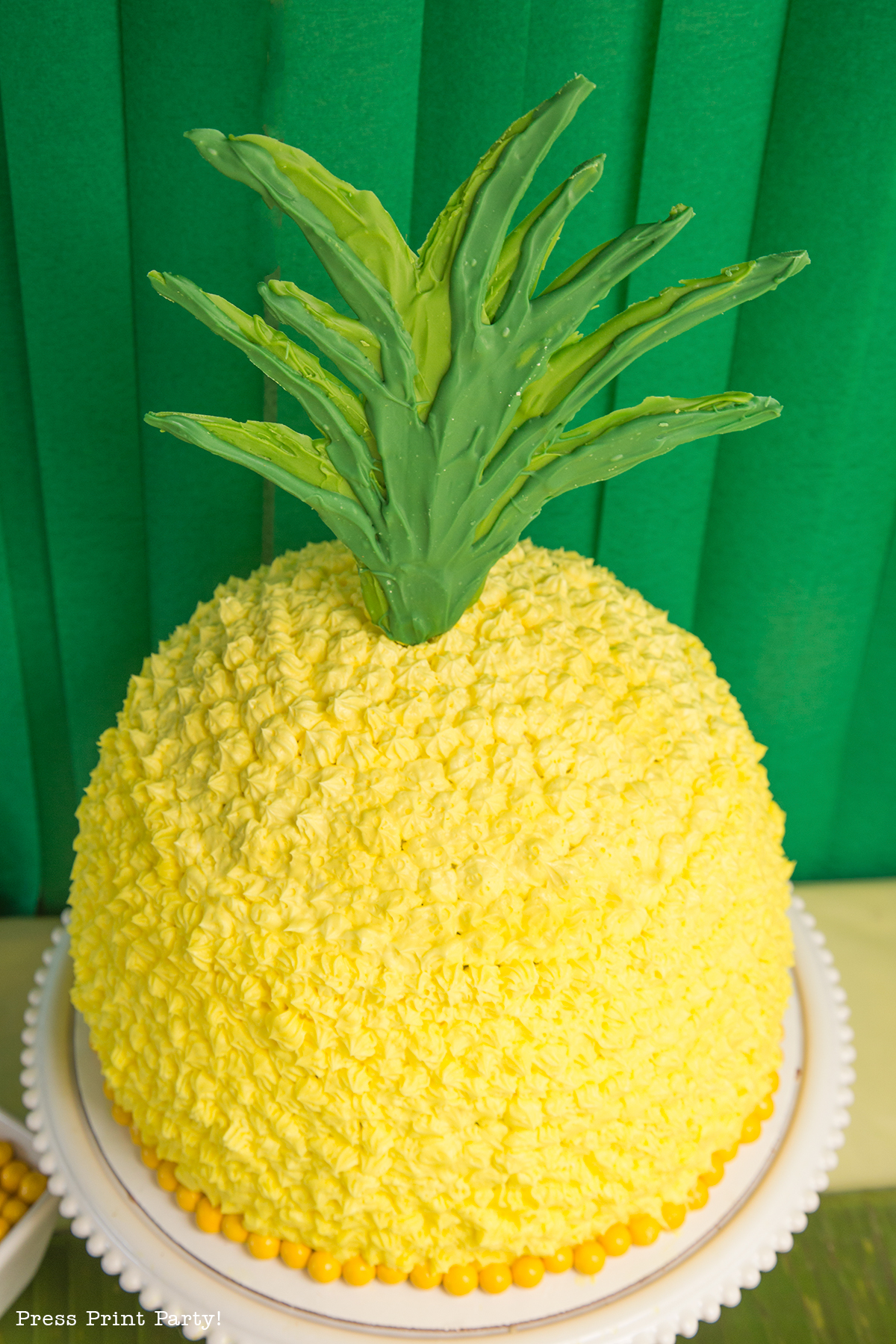 9 inch cardboard cake round
Coconut cake batter or your favorite boxed cake batter (2 boxes)
1 box of Rice Krispies + ingredients for 1 recipe of Rice Krispies treats.
Pineapple buttercream frosting for filling (see below)
Buttercream frosting for decorating (see below)
Yellow food coloring
Yellow Sixlets
Light green candy melts
Dark green candy melts
Wooden BBQ stick
Pineapple Cake Batter:
I used the coconut batter recipe from Martha Stewart Baking handbook. I've made it several times and guests always gush over it. Unfortunately, I wasn't able to find the recipe for free online. I'd really recommend you get the book as it contains all kinds of excellent basic recipes as well as some more advanced techniques. I take it out almost every time I bake unless I'm making my super moist birthday chocolate cake.
Totally acceptable to use your favorite boxed cake batter. You'll need 2 boxes for this pineapple cake.
Fill the half sphere cake pan with the batter so that it fills up to about 1″ from the top. About as much as 2 regular 9″ pans.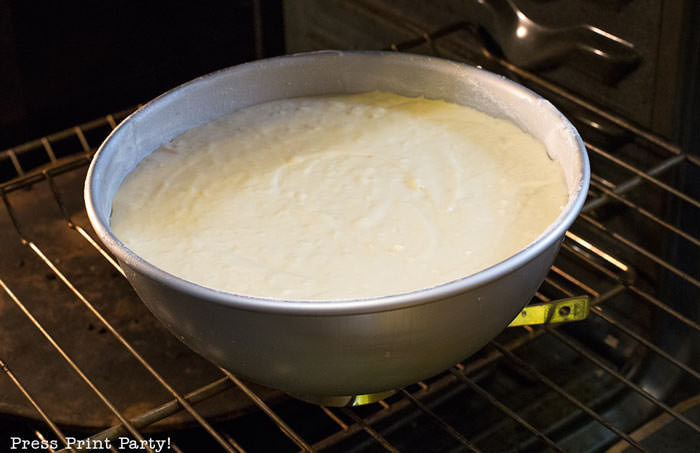 Keep you pan upright by placing a round cookie cutter at the bottom.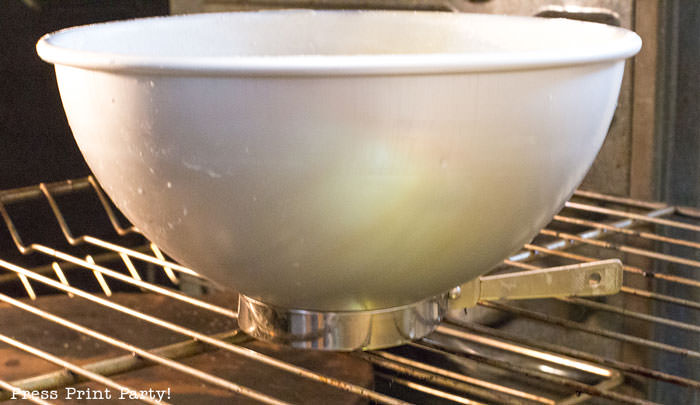 Level the cake once baked and cooled.
Pineapple Cake Base
A rice treat base will set the pineapple cake up and keep it strong. If you have a lot of guests you could bake another 9″ round cake and use it as a base.
Invert your half round cake on the base.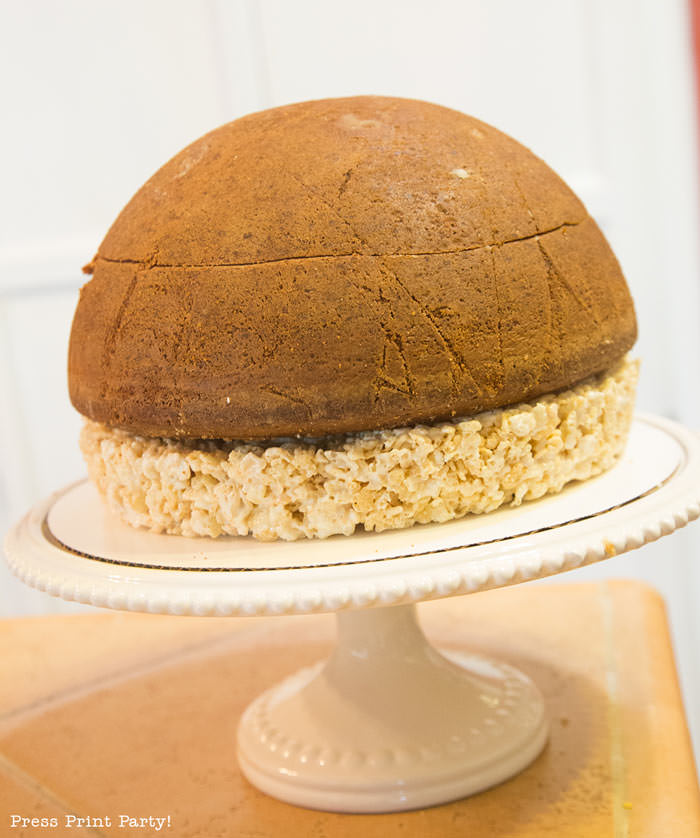 Pineapple Filling and Frosting:
I used my foolproof swiss meringue buttercream frosting recipe removing the vanilla.
I made 2 batches.
I used one batch for the filling in which I added 1 1/2 cups of puree pineapple and some pineapple chunks.
I used the second batch for frosting the cake in which I added a couple of tablespoons of pineapple juice and loads of yellow food coloring.
Cut a layer in the half sphere cake and fill with the pineapple filling. I also used it to adhere the rice base to the cake.
Make a crumb coat and you're ready to start pipping. (I should've made my crumb coat in the yellow frosting).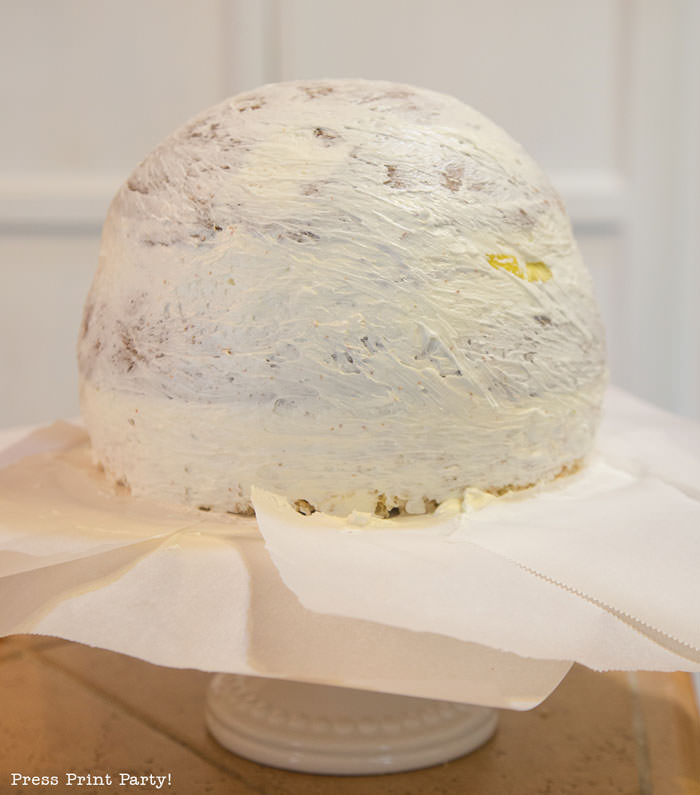 I piped rosettes with a small tip all around the cake and finished up with the yellow Sixlets at the bottom. I'm not the best at pipping but I achieved the overall effect I was looking for. It was also quite hot that day and my frosting kept melting.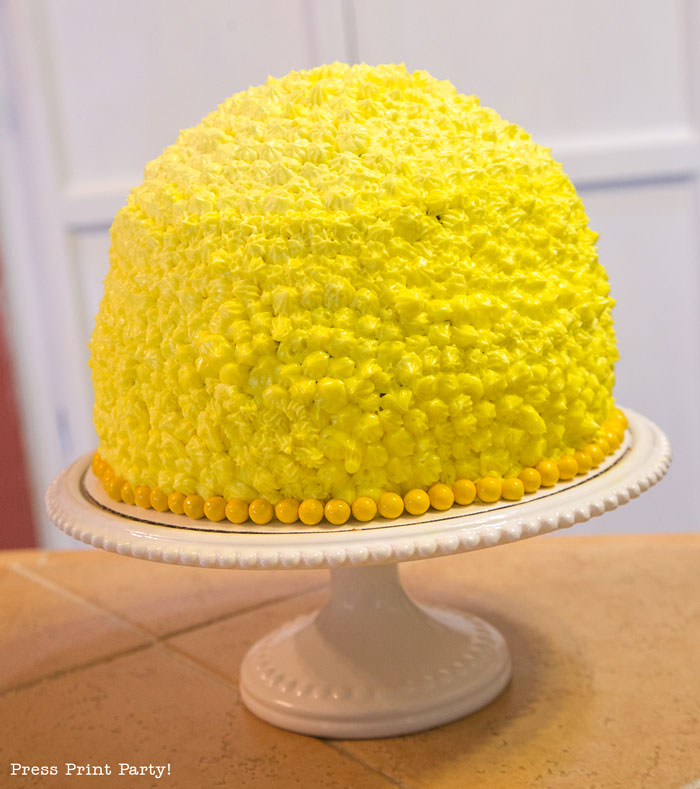 The Pineapple Cake Decorations:
Learning from making the pineapple macarons, I thought about using the candy melts to create a top for my pineapple themed cake.
I printed the pineapple top from my luau photo booth printables to use as a template. The size was just right.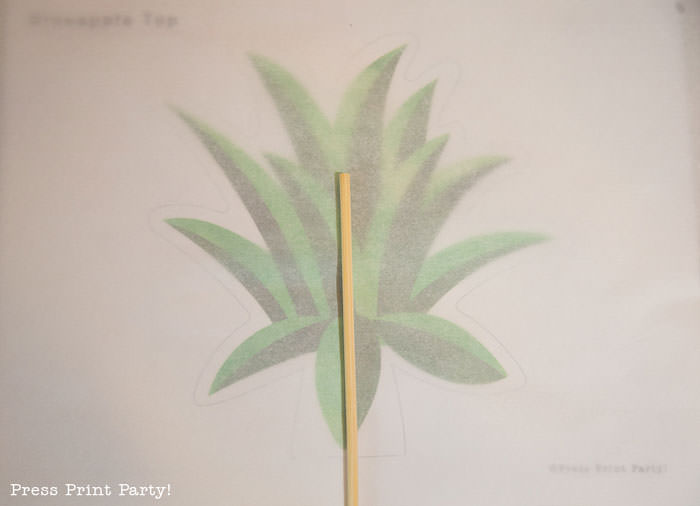 I placed a sheet of waxed paper on top and wooden stick on top of that.
First, I pipped the light candy melts, then the dark candy melts to create contrast.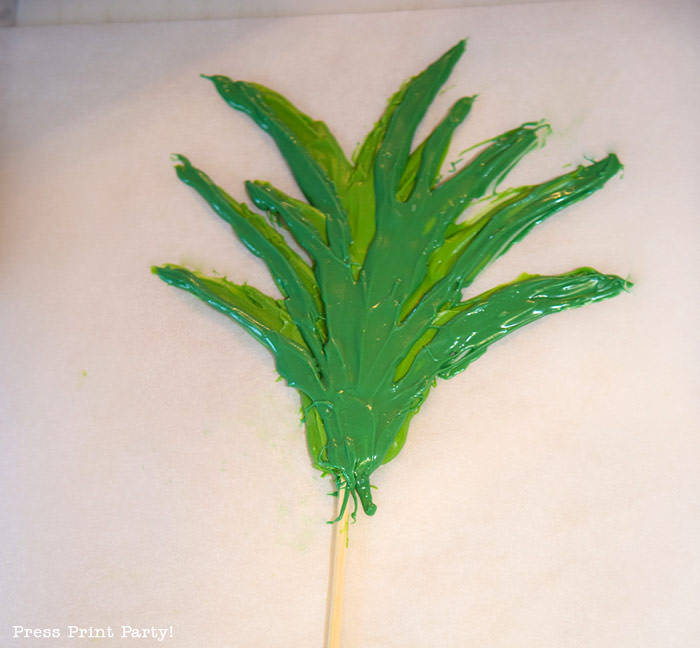 Let it harden in the fridge and insert it on top of your cake. Voila!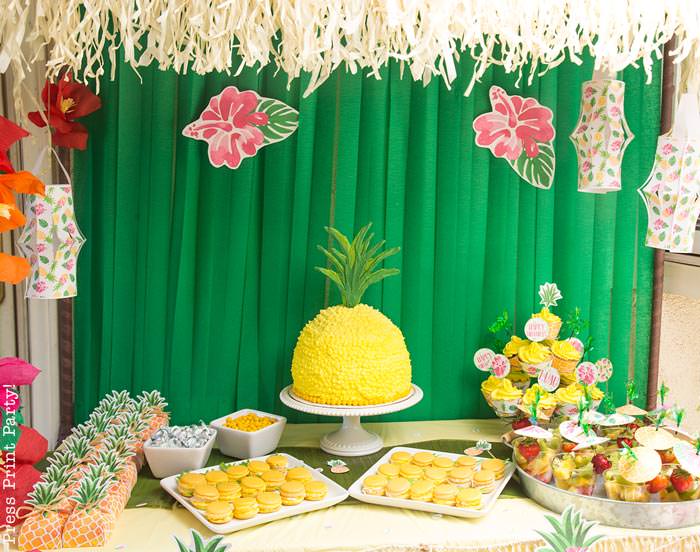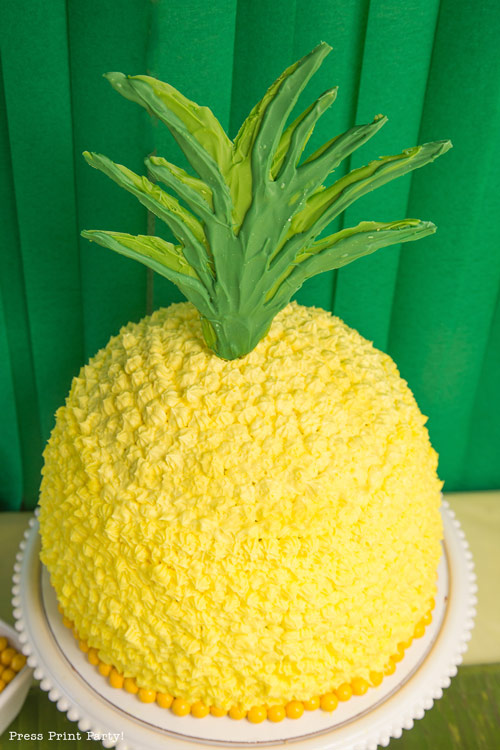 Don't forget to pin it: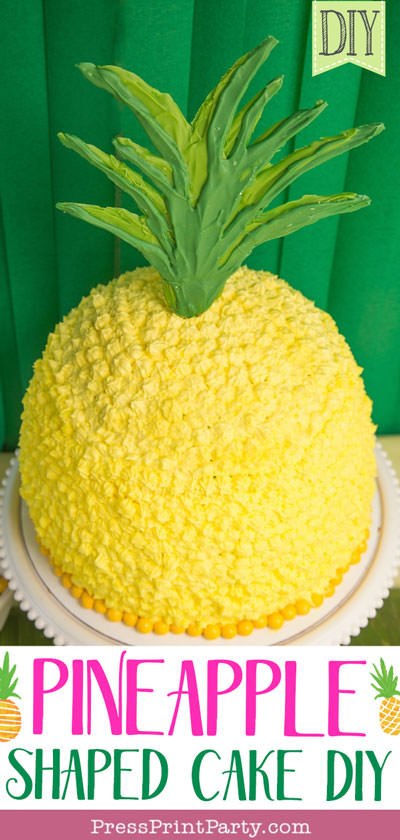 Pineapple Printables in the Shop
More Pineapple Party Fun:
Linked up to: