How do you "Party like a pineapple"? Well, to BE a pineapple you need to stand tall, wear a crown and be sweet on the inside.
In any case, have fun! And we sure did! I'm very excited to share with you our pineapple party we crafted this year. This is a long post full of original ideas. You'll find loads of pineapple decorations ideas, pineapple party foods, and pineapple games and fun.
Get ready for a slew of pineapple party posts in the coming weeks! This post may contain affiliate links because you need to know where to get all this cool stuff.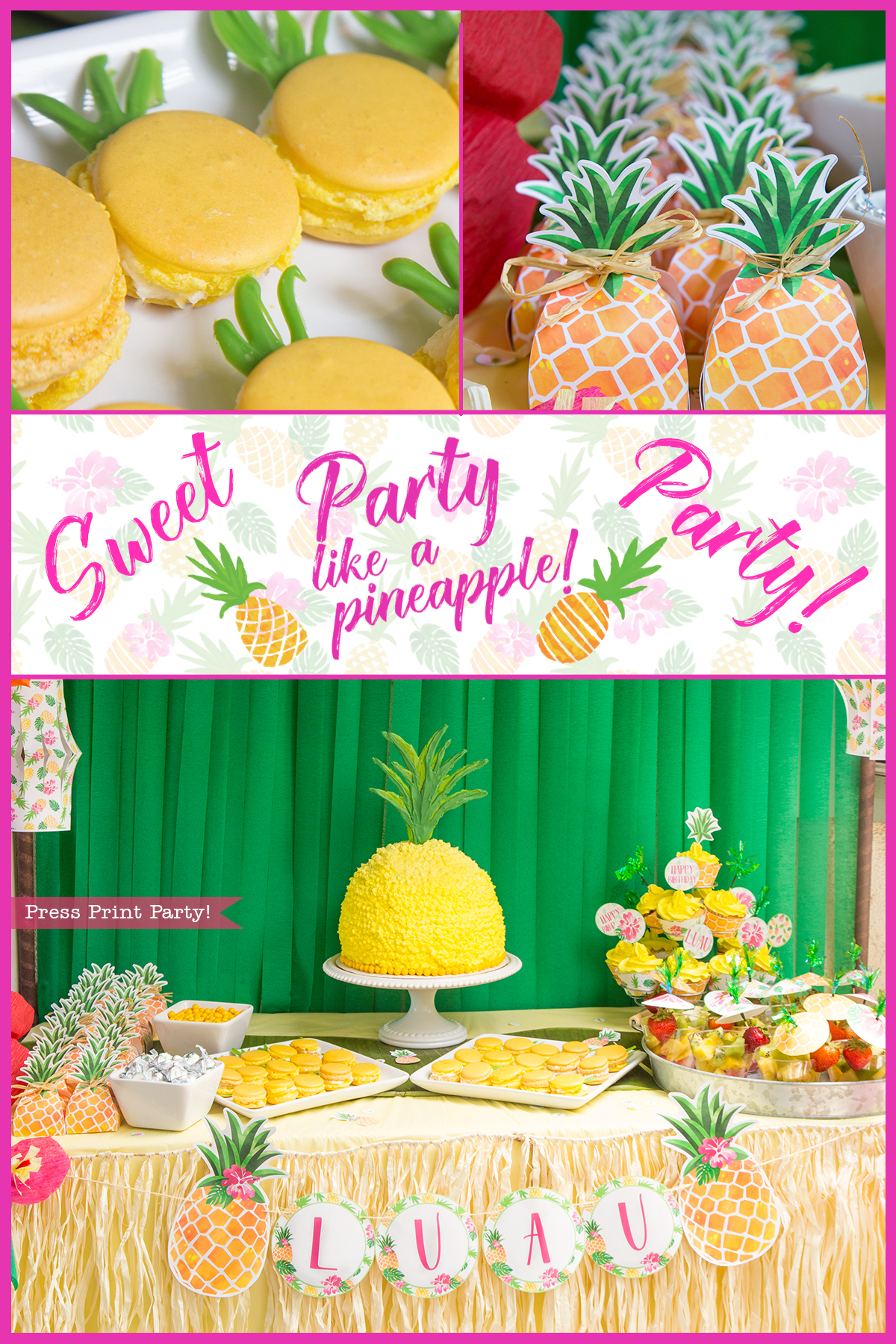 Pineapple Party Decorations:
Pineapple Party Printables
These pineapple party printables were so much fun to work on! The colors are bright and cheerful, it always put me in a good mood to work on them. All the elements were designed from water color designs. Everything you see and more is available in my Etsy shop!
A party starts with the invitation. There's real style in matching the invitation and the party decorations. And it's so easy when it all comes for you in one package.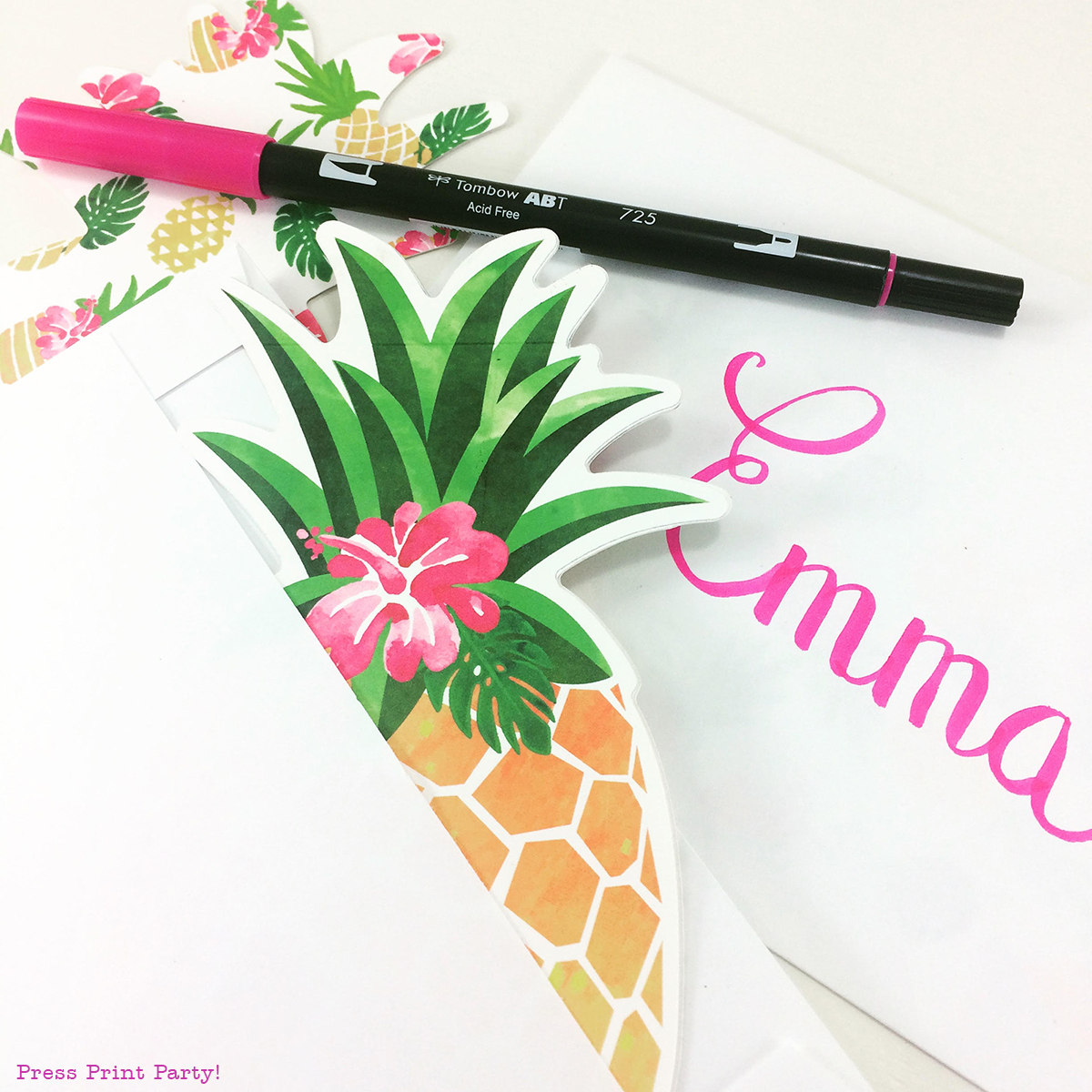 At the party, these little pineapple favor boxes looked so neat all in a row; and the lanterns, which I strung all over the patio, added to the festive mood.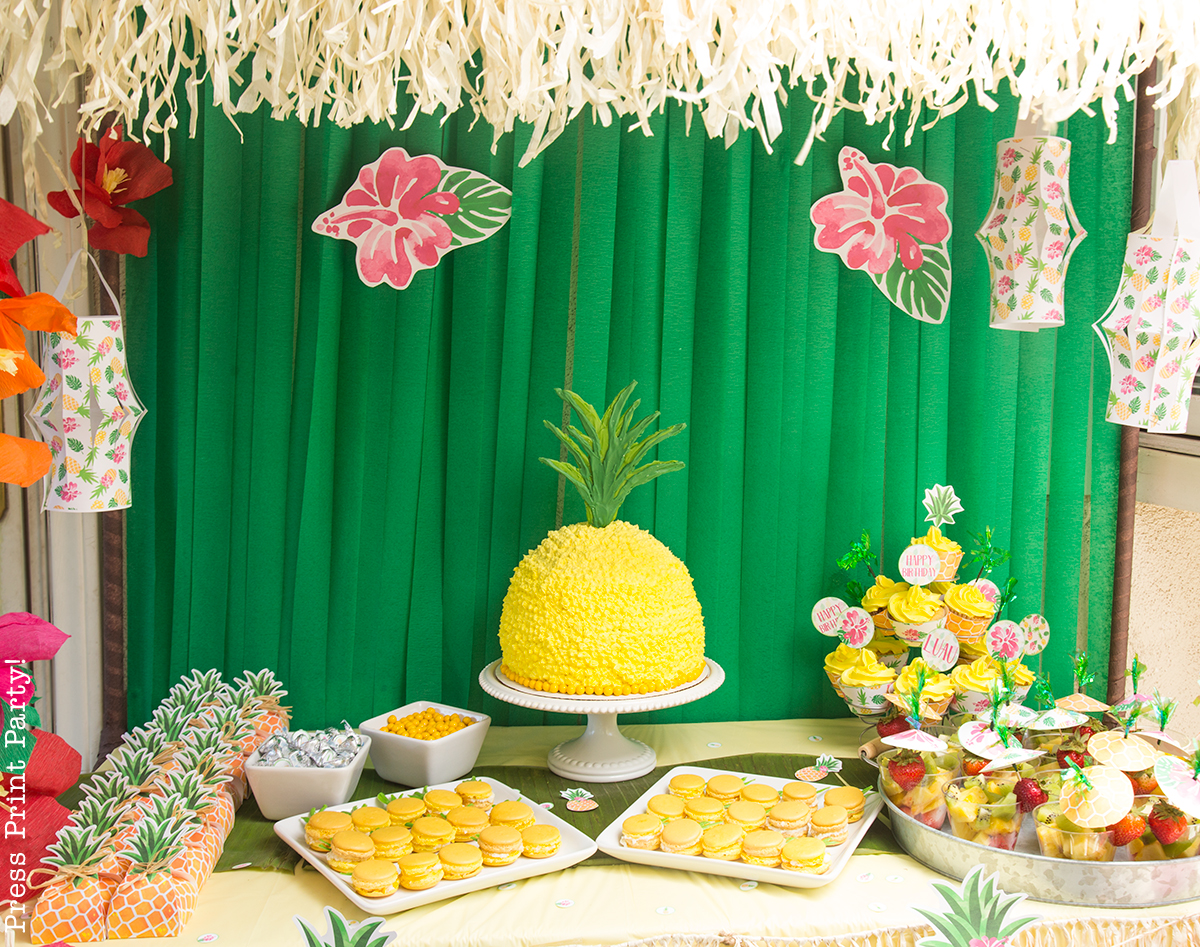 Tiki Hut
Yes, I made a Tiki hut! And you can too! It was mostly constructed out of PVC pipes and it was EASY! Blog post with all the instructions you need is coming soon. Please subscribe to be kept in the loop.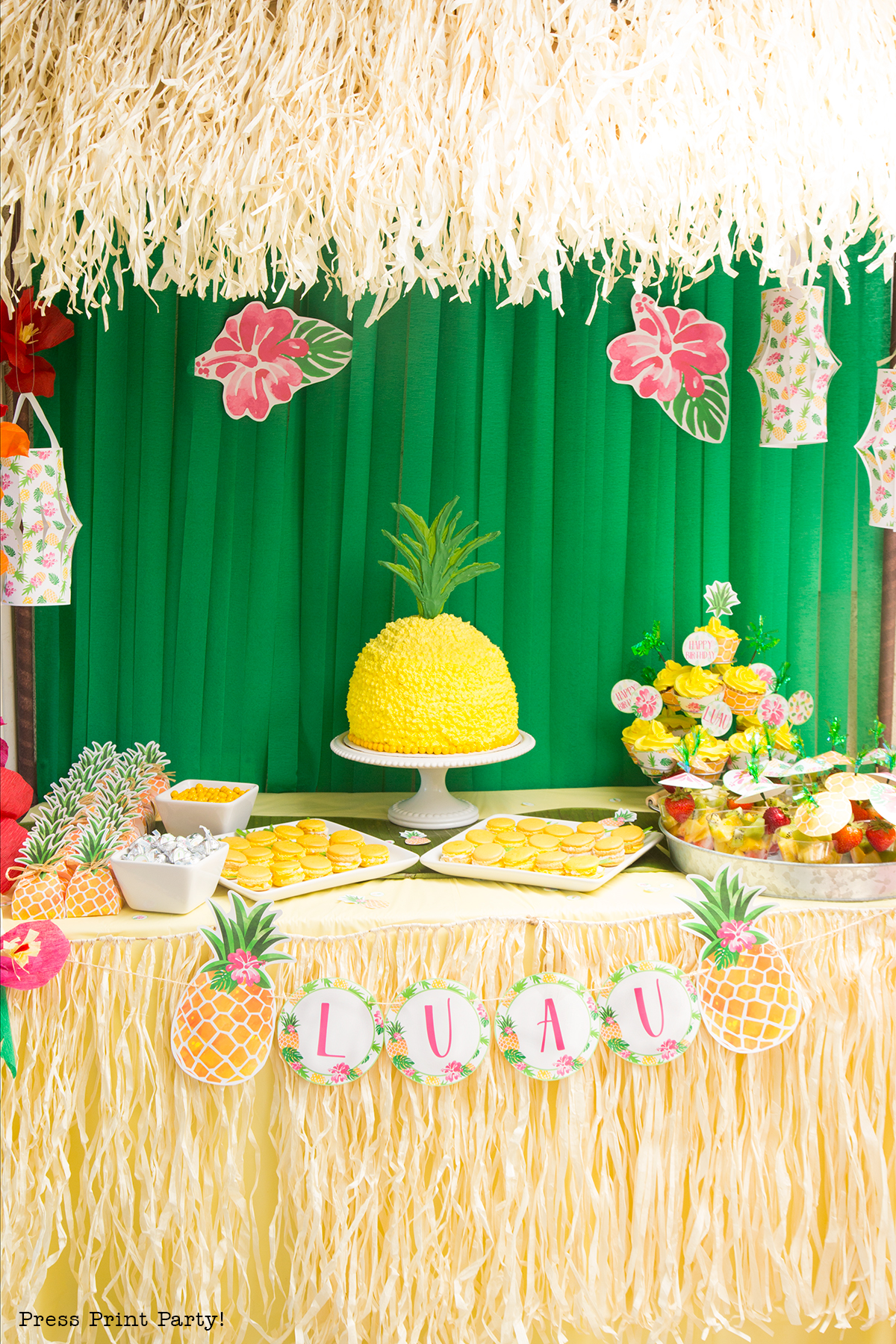 Balloons
I love balloons. They add joy to a party! I bought a whole pack of yellow pineapple balloons as well as a big mylar pineapple balloon to decorate the photo booth (which I also made out of PVC pipes).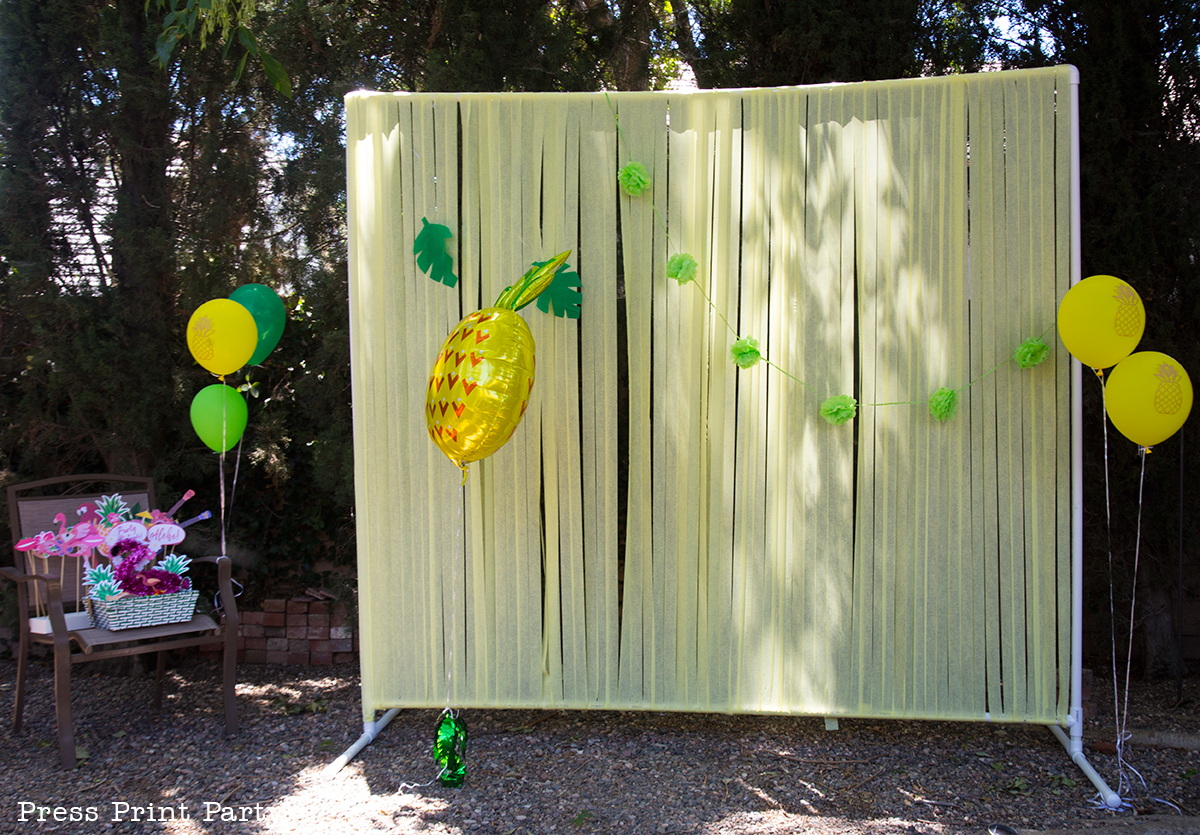 Pineapple party food:
Pineapple cake
The main show stopper was the magnificent cake! Piping all those rosettes took some time! But it was worth it. The cake itself was delicious too. I made a coconut cake with pineapple frosting. Super yum! I'll have the recipe and step by step DIY in a later post.

Pineapple Macarons
I had never made french macarons before (but I sure do know how to eat'em). I thought being French would somehow give me an advantage… hum..well … it was a good thing I tested those a couple of days in advance as the first batch looked more like a science experiment.
These are my second batch and I'll let you know in a future post just how I made them and what I learned.
Good thing I took a photo because they were gone in about 3.5 seconds.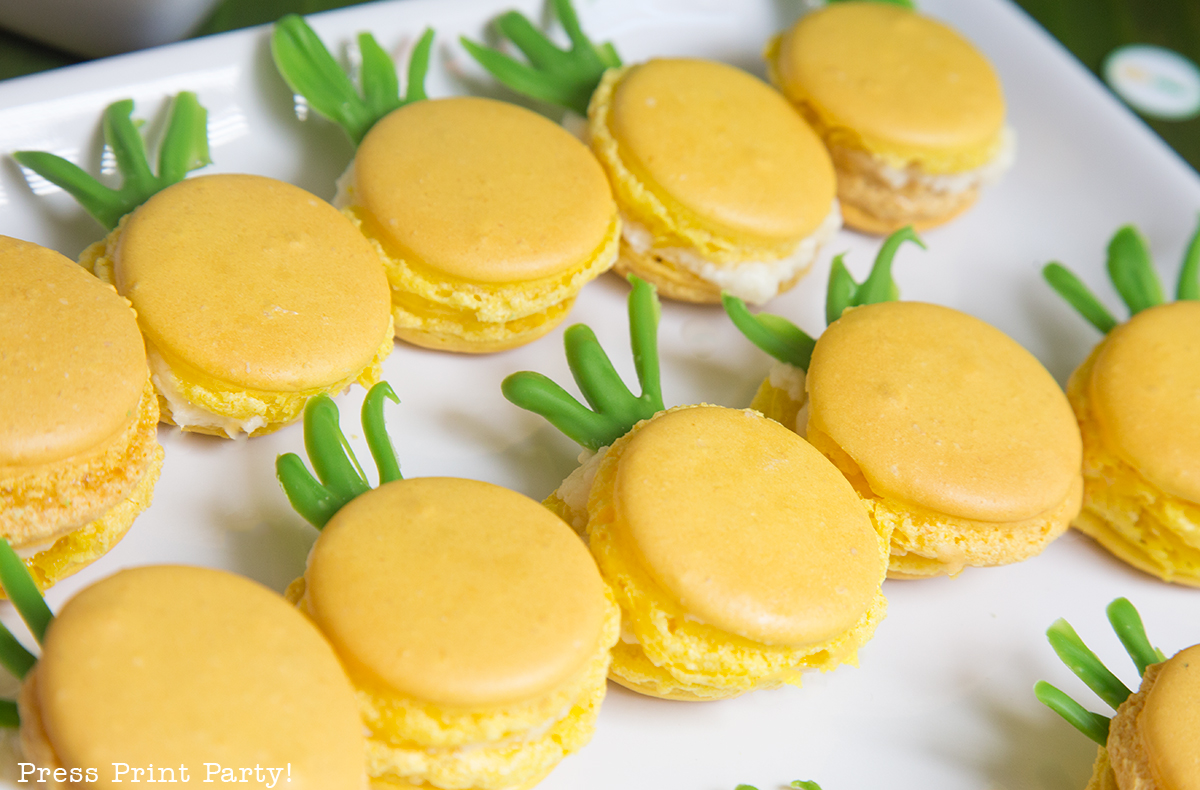 Pineapple Cupcakes
I totally ran out of time making the cake and the macarons that I cheated on the cupcakes. Since I knew some of the kids were not coconut fans (crazy I know), they're just a simple vanilla cupcake with pineapple frosting,
Some are made to LOOK like pineapples though, with the fun pineapple cupcake wraps and toppers.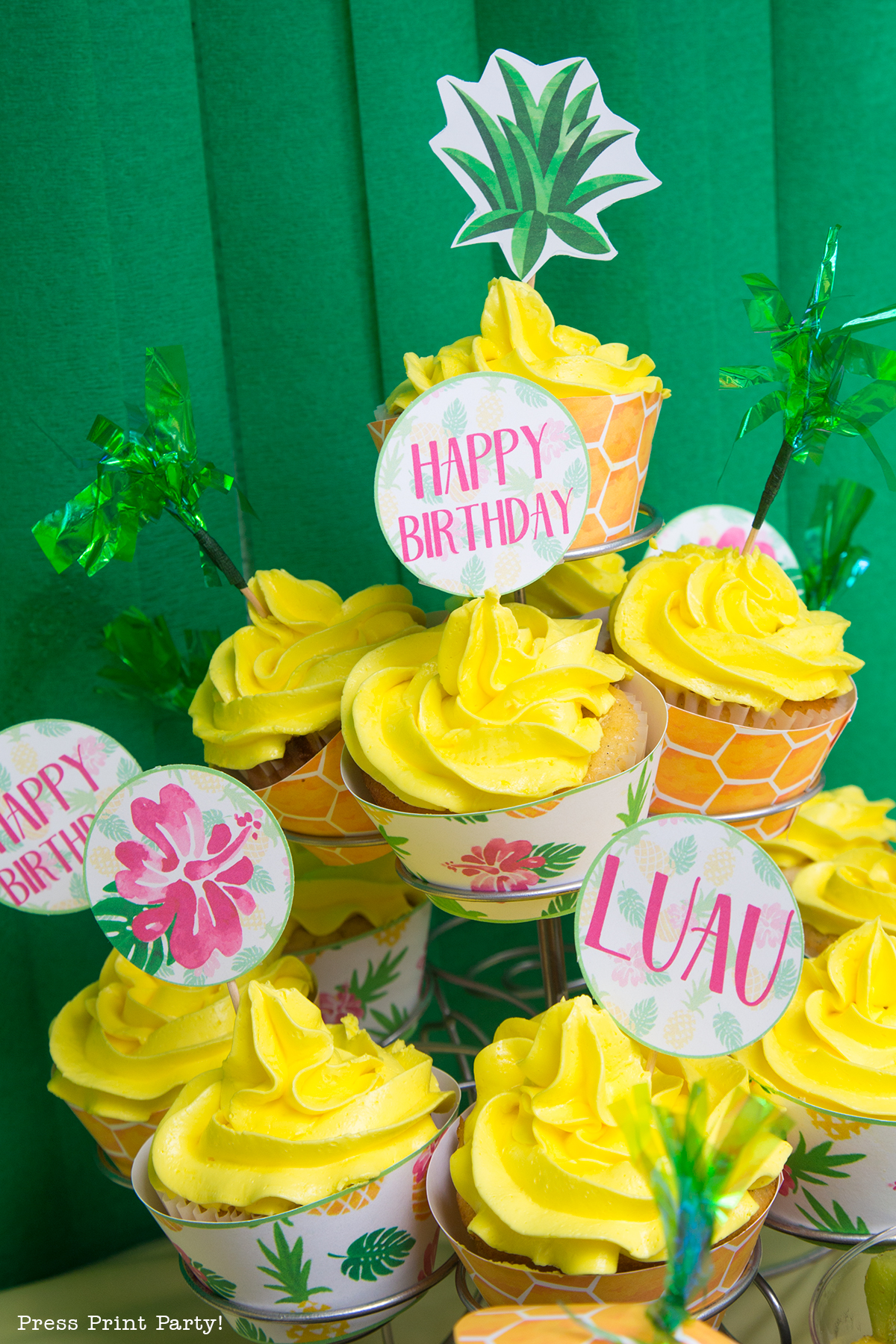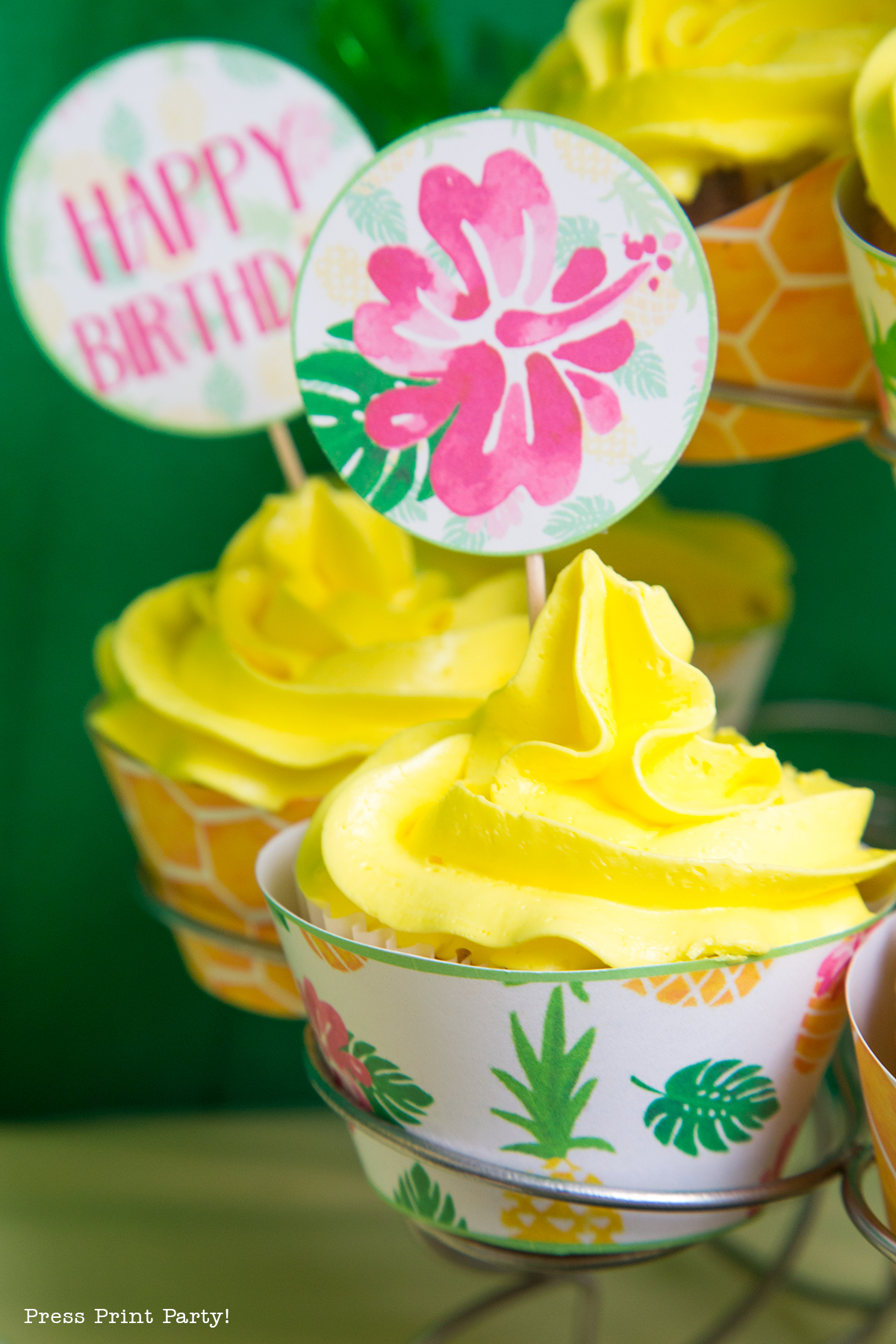 Pineapple Punch
The kids descended on this punch as if they hadn't had anything to drink for 3 days.
Do you think the ice cream had anything to do with it?
A simple combination of a 2L bottle of Ginger Ale, a bottle of tropical Juice (Pineapple Mango) and a quart of Vanilla ice cream did the trick. Good thing I bought enough for 2 batches!
The adorable pineapple straws were a hit too. I just taped the pineapple confetti from the pineapple party printables to striped yellow paper straws.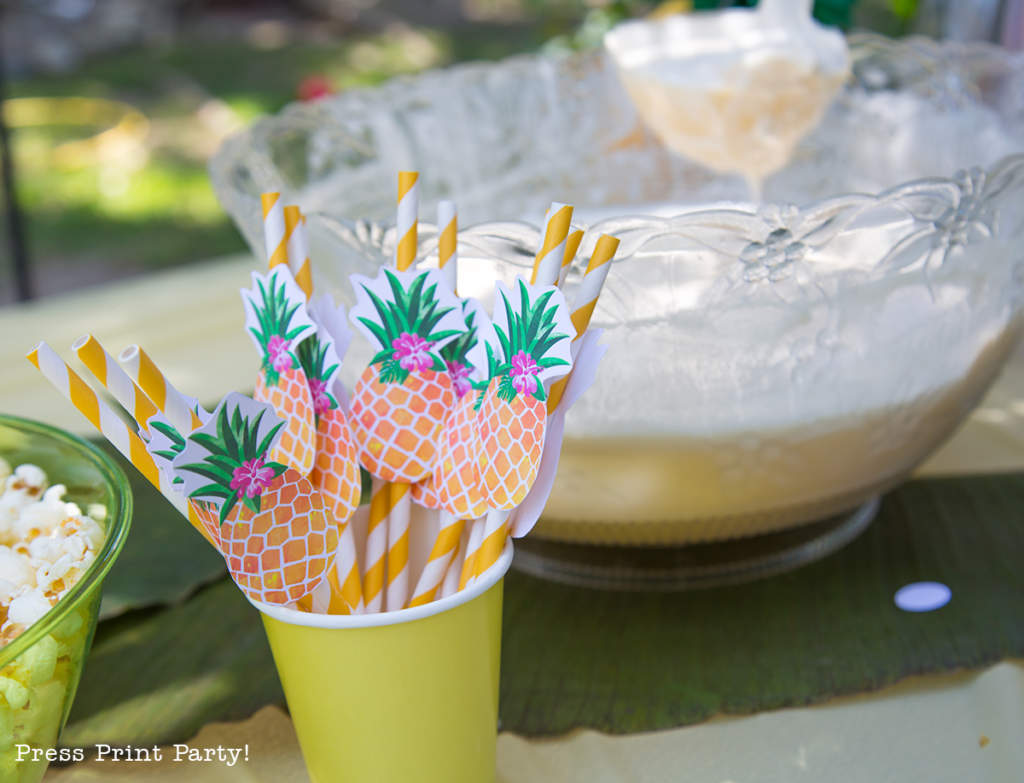 Pineapple Fruit Cups
Simple fruits cups with pineapple, kiwi, and strawberries was my healthy alternative to the ice cream punch.
They sure looked fun to eat with their little umbrellas and our homemade pineapple top picks.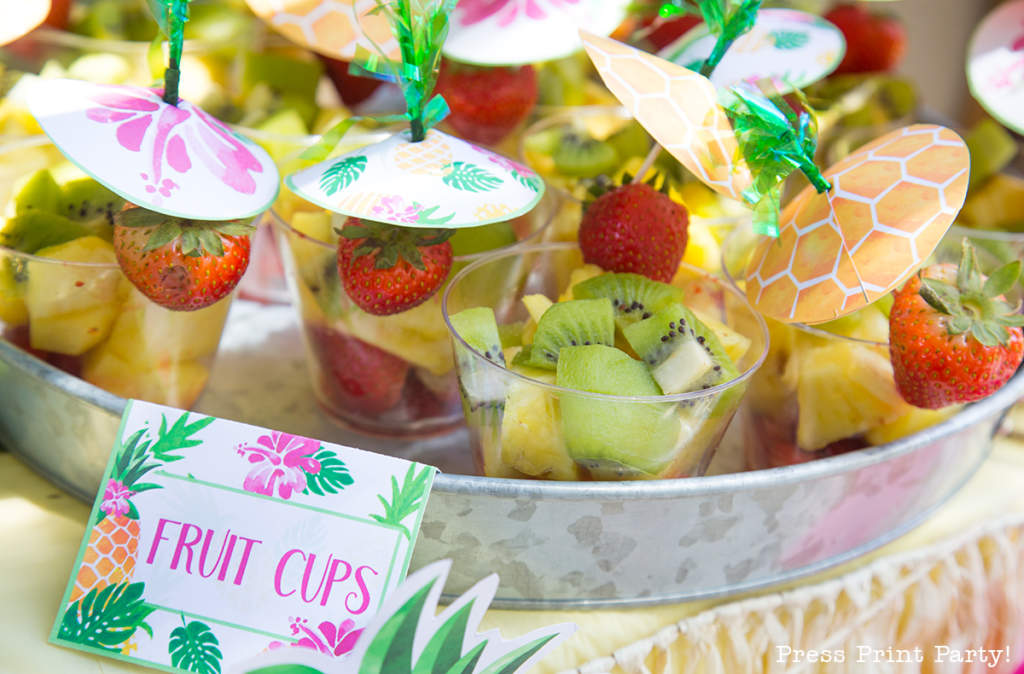 Pineapple Party Games and Fun
Pineapple Luau Photo Booth
Kids adore taking lots of fun pics in a photo booth. My new Luau photo booth props and a couple of dollar store finds worked fantastic!
Even the parents joined in the fun.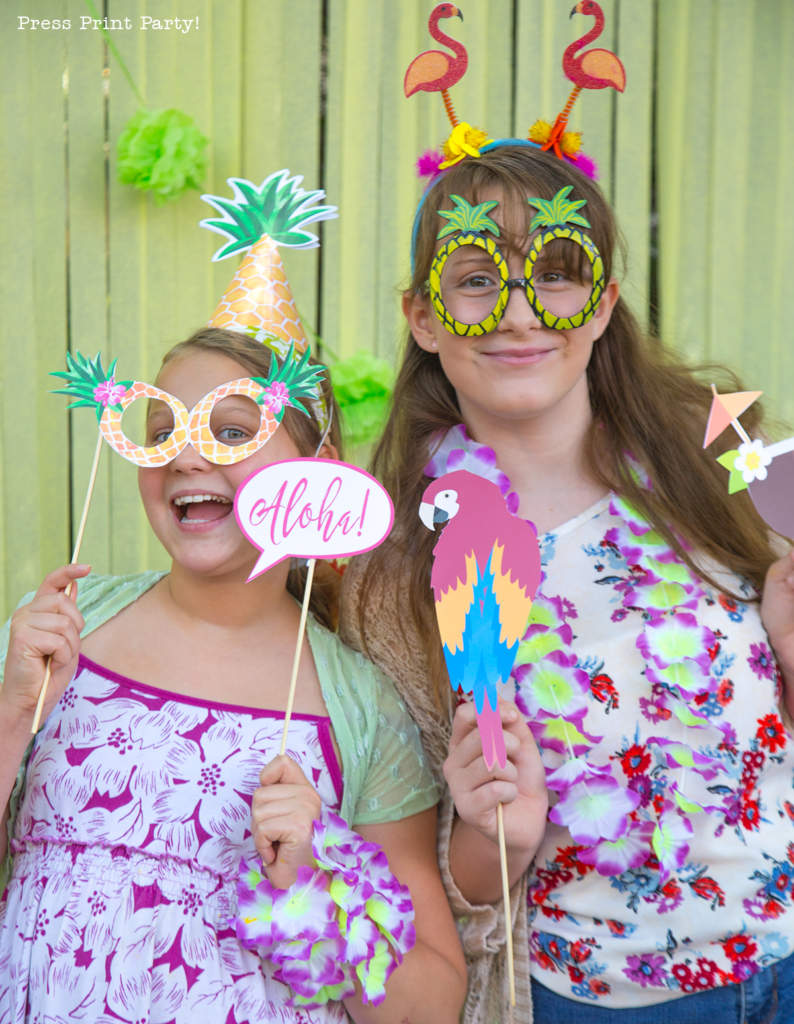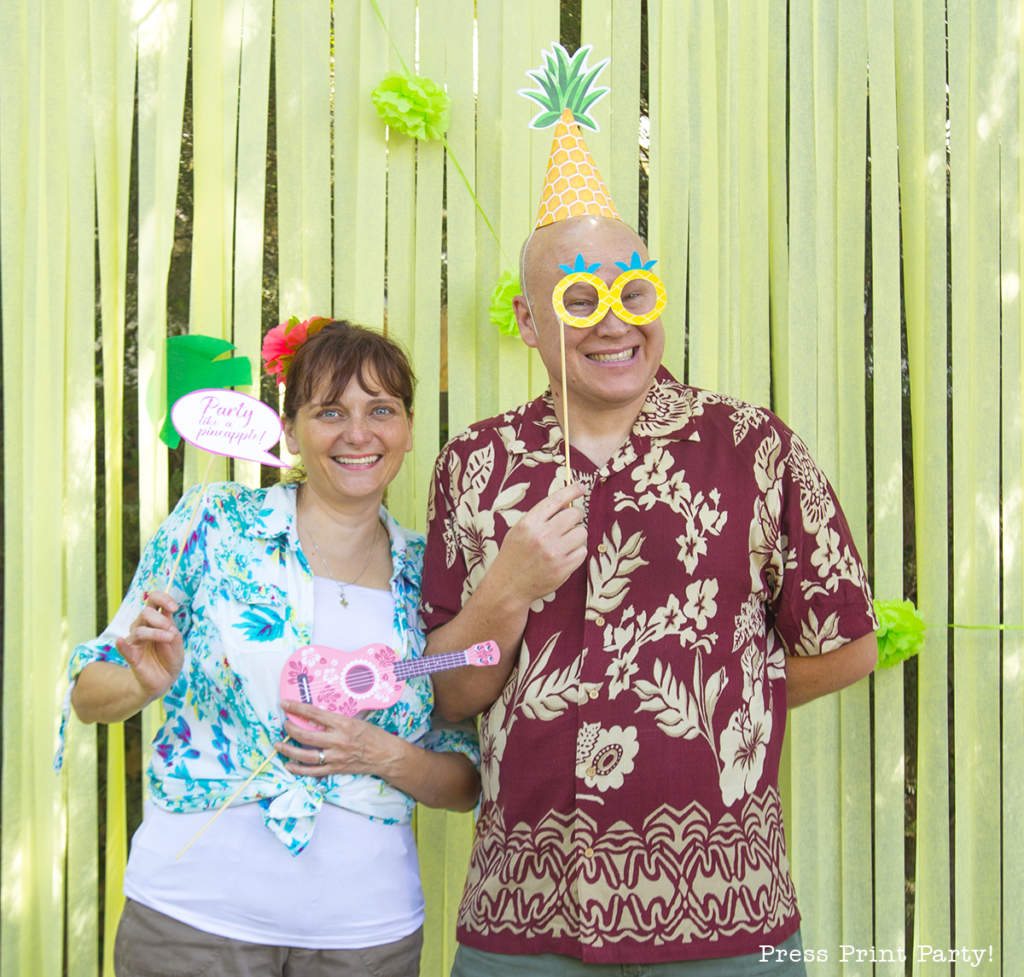 Pineapple Craft
Simple mason Jars painted yellow and some fun fringes taped on pens with green floral tape were transformed into fun pineapple pen holders.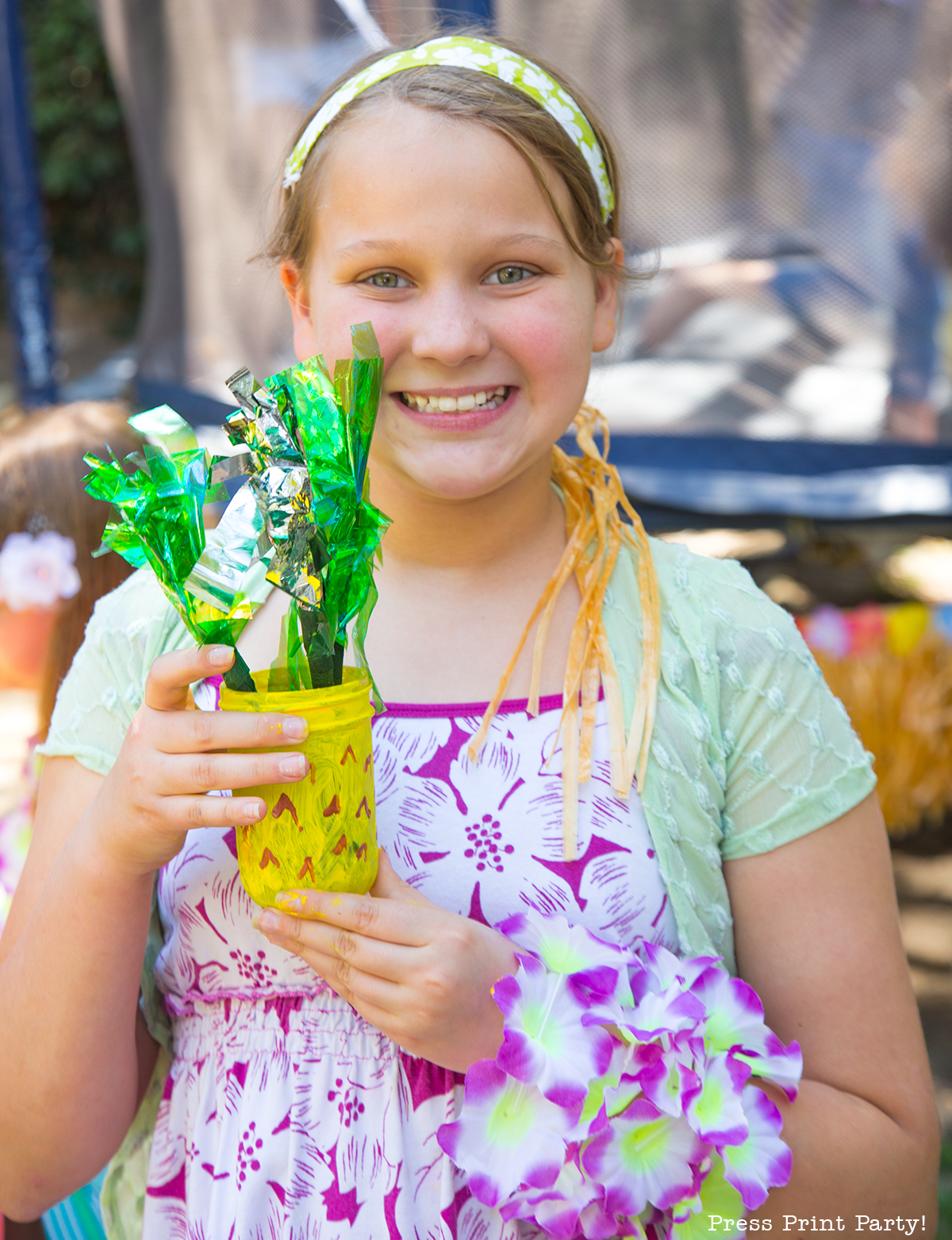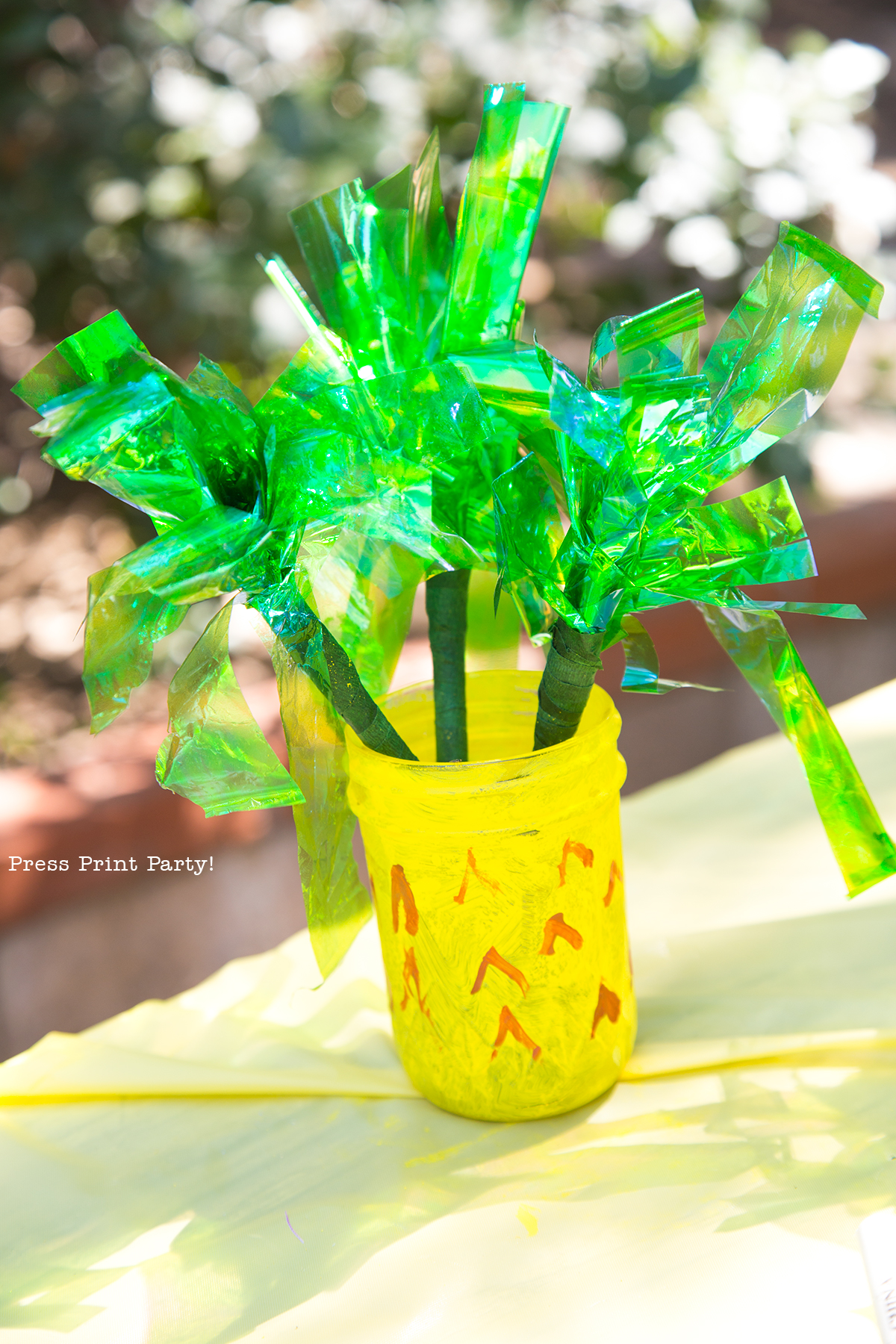 "Where's my pineapple?" game
I was amazed at how such a simple game ended up being so much fun. Everyone wanted a turn!
You can change the pineapple with any fruit or item to fit your party.
The object of the game is to get the pineapple all the way down the line without the spotter guessing where the pineapple is.
Line up all the kids front to back. The person at the beginning of the line is the spotter. She faces the line and holds the pineapple. She give the pineapple to the second person in line then turns around. The kids start passing the pineapple down the line. Each person has to touch the pineapple with both hands. No skipping.
After a few seconds the spotter says "Where's my pineapple?" then turns around. At that time the whole line freezes. The spotter needs to stay in place but can lean to look around then takes a guess who has the pineapple.
If the spotter guesses right, she wins. If she guesses wrong, she turns back around and in a few seconds says, "Where's my pineapple?" again and turns around. The games continues until either the spotter guesses right or the pineapple makes it all the way down the line. In this case the whole line cheers!
At any win, the spotter moves to the back of the line and the second in line becomes the spotter.
And so on!
The kids got really clever at disguising where the pineapple was. They would all freeze in a position where it could be believable they had it. It was a hilarious game and I highly recommend it. It was almost as fun for the adults to watch as it was the the kids to play.
Pineapple Pinata
My regular piñata guy disappointed me again this year. Last time he messed up was on the Eiffel Tower piñata that looked more like an Aztec temple (check out the post on how we made an amazing Eiffel Tower piñata). This year, the pineapple came back with a face! A weird face! on a Pineapple! I didn't ask for a face! And it was glued on so well.
My hubby is the piñata Nazi in the family so the pineapple face thing wasn't cutting it. The day before the party he and the kids fashioned a proper pineapple piñata. It actually turned out much better than I thought it would. I'll write a later post about how they made it, and all my husband's funny piñata woes.
Phew! If you made it this far down you're a real pineapple fan! Loads more to come in the coming weeks. Don't forget to subscribe to stay in the loop.
Featured on Bird's party Linky Party #8
Linked up to:
Shop all the summer party printables in my shop: